I still remember the joy of receiving my first box of crayons. School was always exciting because I get to draw all sorts of colorful things that my imaginative head could think of.
Today, art turned into a great passion of mine. From crayons, I explored different materials for my art. Recently, I've been into markers because of their vibrant and clean application.
But what frustrates me most is the limited range of skin tone shades. As an artist, I want to create art that closely represents the people and things that inspire my art. This has been challenging because I either have to work with the few available ones or try to blend my own color.
Fortunately, many arts and craft companies have released their lines of skin colored markers. I've bought my own set and you should, too! So here are my reviews of the best skin tone markers there are, together with some buying guides to help you get started.
Top 10 Skin Tone Marker Reviews
1. Copic Ciao Skin Markers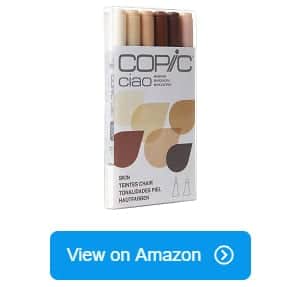 Copic is one of the leading players in this category. A lot of illustrators have expressed how much they love art supplies under this brand, especially the Copic Ciao Skin Markers. This set comes with six skin color sharpies ranging from light to dark shades.
A bit of introduction about the brand: it is a Japanese brand that manufactures alcohol-based markers. Eventually, its products were patronized by the country's comic industry. Based on these simple facts, you already know this brand is trusted because Japan is famously known for manga and anime.
A lot of illustrators have expressed how much they love these art supplies. They are as straightforward to use as any other pens. The sharpie skin color applies effortlessly, and it comes out beautifully once dried out.
This product is an upgrade of the classic markers. It has a super brush tip for detailed strokes and a medium broad one for wider coverage. Both nibs allow a smooth application and they complement each other well when blending tones.
Different from most brands, Copic markers are refillable. Instead of buying the whole set, you could just restock on ink to save up. They are also ideal for artists who have formed an attachment with their sharpies. In the end, they could keep their original ones and spend more years drawing.
Moreover, the nibs are also replaceable. Many artists end up with worn-out tips after using them frequently. They can be sold in a pack of three to five pieces. Again, these pens are a saver.
On the downside, buyers expressed that these pens are expensive. But the cost is justifiable with their amazing tones and application. Plus, the refillable inks and replaceable nibs will cut you the costs in the long run.
Pros
Six light to dark shades
Made by a Japanese brand that's trusted by manga artists
Straightforward, polished application
Made with refillable ink and replaceable tips
Super brush tips and broad tips
Undeniably, this set has high-quality markers. Treat yourself and invest in it because you will surely enjoy using it for years.
2. Arteza Skin Tone Art Markers
If you're looking for a wider range of skin shades, then these arteza skin tone markers are for you. A pack comes in 36 different but blendable pens that will give your art a subtle spectrum of colors.
This product is a combination of light and dark tones of browns, oranges, and pinks. Each one is pigmented but it mixes easily with other shades to create a wonderful variation. This is great for artists who are particular about smooth transitions and realistic drawings.
For example, the highlights and shadows on portraits greatly depend on lighting. With these pens, the brightness and sharpness of details can be captured precisely. The warmness of shades can also be encapsulated well to set the kind of mood you want to go for.
You can also use these skin-colored markers to draw tiny details that will complete the natural look of sketches. Add strokes of hair, a faint blush, or hazel eyes. Make your illustrations come to life with these sharpies.
The dual-nibbed pens are ideal for both sketching or coloring. They are built with a chisel tip for thick and sharp lines. The other end is fine for filling in small gaps and spaces, and for adding small enhancing features.
What's also great and unique is the individual casing. Each skin colored sharpie comes in a triangular shape with curved edges that make it easy to hold onto. Furthermore, it prevents the sharpies from rolling all over the place.
However, layering may be a bit of a problem. A hint of buildup appears when creating deep contrasts. I suggest being gentle with the blending. They still work amazingly with light contrasts.
Pros
Good range of flesh colored markers
Contains orange, brown and pink shades
Sharpness and brightness can be captured easily
Chisel and fine tips
Ideal for soft and light contrasting
Triangular with curved edges
Cons
Deep layering leaves build-up
To sum up, these are recommended for lovers of subtle shading and intricate details. They will expand your existing color palette and give life to your sketches.
3. Crayola Ultra-Clean Multicultural Markers
The next item is a throwback to our childhood days. I am genuinely excited to share my review of the Crayola Ultra-Clean Washable Markers. Firstly, it comes from an ultimate favorite art company. And secondly, it is a brand that is used by all ages.
These Crayola skin tone markers are a game-changer. As a kid, I would color my drawings of friends and family brown, or leave them blank because the shades just end up wrong. It was upsetting at that time because as young as I was, I wanted to properly represent the people I loved to draw.
Now, the company has a set of 10 multicultural tones. Parents have shared how much their kids love these markers. They do not simply allow children to accurately color different types of skins but they also teach them to appreciate the beauty and diversity of different people.
Aside from youngsters, this product is a great art material for adults. It is suitable for professional artists who are into cartoon illustrations and storybooks. Grown-ups who simply enjoy spending time with their children or a quiet time of journaling can have a share of the fun, too.
Some people would comment that the shades are too saturated and the marker nibs are too broad. Again, this Crayola we're talking about – it is made for children! Kids generally love bright colors and big drawings so there are no problems with these. Moreover, they have a non-toxic and washable formula, making them safe for children, and friendly on the skin, fabrics, and other surfaces.
Pros
Fun art material for kids and adults
Has 10 multicultural tones
Made with a non-toxic formulation
Washable if applied on skin and fabrics
Cons
For some people, the shades are too saturated and the nibs are too board
Truthfully, this product fits people of all ages. It is a creative and educational tool for children and an amusing art material for adults as well.
4. Tombow Portrait Pens
For art hobbyists or budding artists who want to venture into markers, the Tombow Dual Brush Portrait Pens should be your pick. They are beginner-friendly materials you can experiment on and expand your craft with. Above all, they are an affordable alternative!
Different from the previous products, these skin tone sharpies are water-based. This simply means they have a water solution instead of an alcohol and dye ink solution in most pens. Because of this, some tones end up lighter in comparison with the latter. But this doesn't mean one is better than the other — they just have their own charms.
Each of the ten colors comes out light when applied on a medium. Moreover, it can be easily mixed with other shades to create another. For a softer hue, it can be washed out with the colorless blender that comes with it. You get more of what you paid for at an affordable price.
The sharpies also come with two types of nibs – a brush tip and a fine one. Like any other paintbrushes, the brush tip is versatile to create light or heavy strokes depending on the angle and pressure made. On the other hand, the fine nib is sturdier for drawing, writing, or detailing. This set is a perfect option for painters and calligraphers.
They are also recommended for newbies who would like to try a watercolor effect on their art. The blending and layering are stress-free with their dual nibs. The brush especially glides smoothly on paper. The sight is satisfying as a subtle color emerges from the pens.
Sadly, professional artists may not enjoy them as they lack the vibrancy that alcohol-based brands offer. However, you have to consider that these are water solutions and they relatively cost less. I highly suggest starting with these before jumping into the costlier alcohol-based markers.
Pros
Blendable subtle shades
Equipped with a versatile brush tip and a fine one
Glides smoothly on paper
Budget-friendly alternative to alcohol-based pens
Ideal for beginners and hobbyists, painters and calligraphers
Cons
Generally less vibrant than alcohol-based markers
Nonetheless, this set is recommended for promising artists and calligraphers. They can explore and expand their world of sharpies with these economical but
quality art markers
.
5. Ohuhu Skin Tone Markers
If you're getting serious with your portrait art, then it is time to get your hands on the Ohuhu Skin Tone Markers. These are an alcohol-based pen set with an amazing range of 24 skin shades from palest to darkest.
First of all, this is a budget-friendly choice. Alcohol-based sharpies are more popular but expensive options because of their vibrancy and longevity. But this product gives you both quality and value without sacrificing either. Aspiring artists can invest in them as their first alcohol-based flesh tone markers without spending too much.
The ink is very pigmented, thus creating full and lively shades. The dark shades are deep, bold, and representative of beautiful dark skin, while the light ones are incredibly soft to the eyes to capture even the palest skin. There are also peach and pink tints for a warmer selection.
The pen has a brush tip that is partnered with a chisel one. Both tips give the user flexibility in changing the width of strokes depending on the pressure added. The former end helps create streaks, which is especially helpful in calligraphy or painting. The latter has a wider base for coloring large areas and drawing heavy lines.
Definitely, beginners should invest in these sharpies. The colors blend impeccably and the ink dries out fast. Moreover, the caps are color-coded and labeled and organized in a free case. You won't have to worry about smudges and messy working tables.
Regrettably, they are not refillable. You will need to buy a set again if your shades run out. But these markers work well and come at an affordable price, so they're worth it to me.
Pros
Beautiful range of pale and dark skin tones
Affordable, beginner-friendly alcohol-based pens
Brush tips for streaks, chisel tips for large-area coloring and heavy lines
Blend impeccably and dry quickly
Color-coded caps and free case
All in all, they have an admirable performance similar to higher-end ones. They are an excellent choice when experimenting with alcohol sharpies.
6. Copic Sketch Skin Tone Markers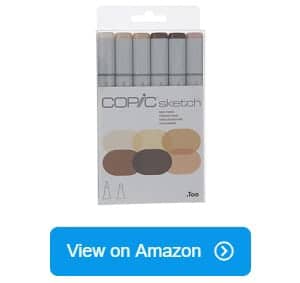 Another impressive product from Copic is the Copic Sketch Skin Tone Markers. They are known for their premium colors and incredible blending ability.
Equally remarkable as Ciao, Sketch can produce a vivid array of tones. Even for such a small line of six pens, it has a range of colors that includes light and dark skin tones. Altogether, they can also create contrasting but exquisite shades that will help you achieve an authentic look inspired by real-life lighting.
Because they're alcohol-based, the colors stay marvelously intact on the surface. Moreover, they are water-resistant and tear-free. Blending and layering can be done without trouble, and the shades last a lifetime.
But what makes them special is the amount of ink they have. Based on experience, they last longer than the Ciao sharpies. I have my own set that I've been using for years. So if you're a busy artist with a pile of sketches and designs to make, then these will keep you drawing for a while.
The individual casing leans towards a minimalistic look. Caps are color-coded on the tips. The lids are also labeled with the marker's item number and name. Picking out a color is faster this way.
On the other hand, buyers find them costly, though I have to say it is only on the first purchase. If the ink runs out or the nibs get overused, you can order ink refills and replacement tips instead. It is a smart move that this brand offers.
Pros
Beautiful and natural skin tone colors
Blending and layering can be done without trouble
Permanent, waterproof and tear-free
Generous ink amount
Color-coded tips and labeled lids
Ink and tips can be replaced
By and large, Copic skin tone markers have established the high standards for art pens. If you aspire to become a professional artist, then this set of sharpies is a wise choice that will get you there.
7. Adaxi Skin Tone Markers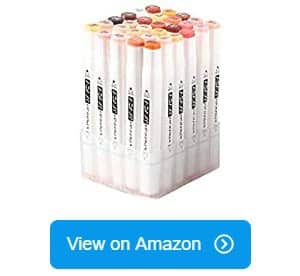 Expand your pen collection with the Adaxi Skin Tone Markers. It is a pack of 30 dual-tipped sharpies that will answer your skin color dilemmas. With its extensive range of hues, you won't have trouble finding the right one.
This set is an excellent choice for fans of earth tones. It has a variety of colors from pastels to browns that offer striking deep shades with lasting vividness. Each color works well on its own but they look better altogether. They can be used to draw lifelike portraits or scenic landscapes.
More importantly, the application is effortless. They glide smoothly and blend easily. Artists can create different kinds of artworks with these impeccable skin tone colored sharpies.
These art pens are double-sided. They have a fine bullet nib for detailing and a chiseled one for coloring. They are perfect for portrait drawing, fashion designing, and delicate journaling.
The whole packing is designed for people on the go. The pens come in a rectangular casing that keeps them from rolling. Everything is stored in a small black carrying bag with a clear plastic base inside that keeps them organized and upright.
I personally love this product. I can take it anywhere with its handy packaging. Since the colored caps are also labeled with shade's names and numbers, I can also quickly find the ones I need.
While the coded lids give convenience, their printed labels easily come off. I had to make my own color chart using the blank stock card that came with the sharpies. It is actually helpful because the color swatches are more precise than their cap colors.
Pros
Wide and vivid color choices, good for fans of earth tones
Flawless application and blending
Doubled-sided with bullet and chiseled nips
Anti-roll design
Organized with carrying bag and plastic base
Comes with a black stock card
Cons
Cap labels easily rub off
Cap colors are not precise
Overall, this set has a great range of skin and earth tone colors. It is also a convenient choice when sketching people and landscapes in different places.
8. Arrtx Skin Tone Markers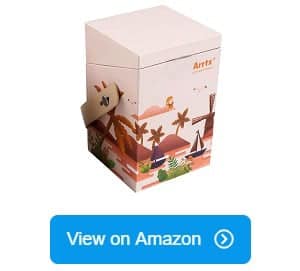 Another set that will widen your color selection is the Arrtx Skin Tone Markers. It has 36 double-tipped markers that are perfect for your sketching and coloring. What's more, you can share this joy by giving it in a gift box to your loved ones!
The tonal variations in this pack are close but I find them helpful. I'm the type of artist who is fussy about colors. I always want a particular shade on my art. A slight difference in lightness or darkness is noticeable so this product can give me the right shades with smooth tonal transitions.
The ink of the skin tone alcohol markers is pigmented. Both light and dark tones have a fair share of color so a single stroke may suffice for a rich application. All shades come out full and even on a medium. Blending and streaking have not been an issue with them.
The packaging is one of its kind. The markers are stored in a square box with a hinged lid that serves as a stand when in use. The pens are organized in rows with a grid that keeps them upright. After use, they can be easily stored away in your art supply rooms or left in place as part of your work table decor.
Moreover, they would make a great gift for an artsy friend. Their box is designed with pastel colors and dainty, summer-like details. It has a strap handle so it can be conveniently brought anywhere. Anyone would be ecstatic to receive a sweet present like this!
One minor drawback is the flimsy cap label. The writing is scratched off after some use. But I always do color swatches anyway for my own reference. I also put clear tapes on the ends for protection.
Pros
Extensive selection of pigmented skin tone colors
Closely similar shades
A single stroke may suffice for a rich application
Smooth blending and no streaking
Unique gift box design
Nevertheless, its color palette is lovely. Its distinct packaging also makes it an adorable gift for yourself or your loved ones.
9. L'émouchet Skin Tone Markers
Fancy more gorgeous tones for your skin-colored sharpies? Then grab the L'émouchet Skin Tone Markers. Don't be fooled by its posh name. It may sound expensive but these pens are actually a bargain.
These alcohol-based sharpies have a generous amount of ink. The shades are stunningly saturated and they stay on even when dried out. Furthermore, the color on the caps matches the actual shades. They don't lie when it comes to creating exquisite long-lasting colors.
I love its different tones of brown. There are 11 of them in total. Aside from the vibrant shades, there are muted colors for variety. These are highly useful when adding lighting variations to your illustrations.
Blending is certainly one of its strengths. Because of the product's outstanding range of pale and dark shades and dual tips, the tonal transitions are smooth, and contrasting is possible. Portraits and landscapes can be made as natural as your artistic inspirations.
A unique addition is the artist's glove. This is extremely helpful to avoid smudging. While the ink is permanent, it may take some time to dry on conventional media so it's always best to be careful.
This product also comes with a marker pad. These are 30 sheets of smooth and even paper that sharpies work best with. You can use this to practice color combinations and drawing.
However, the sharpies are not refillable. But since this is a convenient art set, I'm pretty sure you will soon get your second one after using them regularly.
Pros
Wide color and tonal variations at bargain price
Comes with a lot of ink and correct cap colors
Even application of stunning long-lasting shades
Comes with helpful artist glove and marker pad
As a whole, this is a good deal. It has many impressive shades with complimentary artist tools. And you could just get everything all in one purchase.
10. LymGazell Skin Tone Art Markers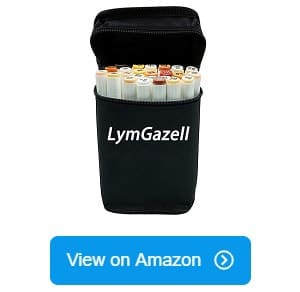 Take the risk and be adventurous with your imagination with the LymGazell Skin Tone Art Markers. Even as a fresh player in this category, its colors have a lot to offer.
First of all, the spectrum of light and dark shades is present within the 24 skin tone pens. You won't have difficulty blending or layering colors to create the right skin tone for you. Notice the subtle shift in warmness and brightness when you arrange them according to hues.
There is also a mix of pink and yellow undertones. I love that they are representative of the different skin types there are. They are suitable for portrait sketching because you can draw your models accurately.
This product achieved the standards that famous brands have established. The colors and quality of the alcohol-based ink are comparably diverse. These sharpies are also double-nibbed with broad and fine tips that provide versatility in sketches and styles. They also come with a colorless blender that will aid you in creating that seamless gradient in your art.
Similarly, they offer the convenience that other pen sets are getting into. The individual markers have an anti-roll and easy-grip feature with their triangular casing. The caps are color-coded and labeled for quick selection. There is also a free black bag for storing, organizing, and carrying your sharpies around.
These are all available for a very reasonable price. It is an all-in-one art set that will give you the satisfaction and performance that higher-end brands offer. Imagine the amount of money you could save with it.
However, because it is relatively new, buyers are hesitant to invest in this line. Rest assured that you will not be disappointed. It has everything you need for your art.
Pros
Comparable to well-known brands
Skin tone inclusive
Reasonably priced double-nibbed sharpies with triangular casing
Comes with a colorless blender, colored caps with labels
Convenient and organized storage
To conclude, even this new competitor can catch up in the art marker game. It is a low-cost broad assortment of exquisite skin tone colors that will surprise even the famous brands.
What to Look for When Buying Skin Tone Markers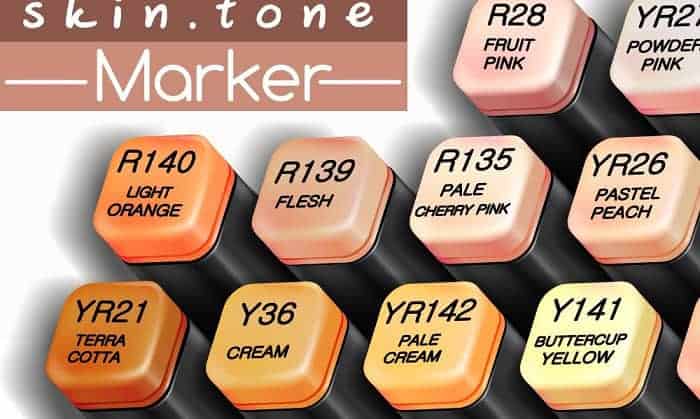 Everything on the list is amazing! I bet you are struggling right now in picking out the most suitable skin tone marker set for you. You could get everything if you want to, or refer to this list of considerations when finally adding your pick to cart.
Hence, here are buying guides you could rely on when choosing your skin color markers:
Type of Ink Solution
There are two types of ink solution: alcohol-based solution and water-based ones.
The ink in alcohol-based markers is permanent and fast-drying because of its alcohol content. The colors are also rich and the application is full because the ink is heavy.
On the other hand, water-based art pens have lighter and softer colors due to their watery solution.
Depending on your style and preference, you can choose between these two.
Range of Color
Obviously, a larger set has a wider variety of shades. It is also most likely that it will have undertones of pink or yellow in them. This is recommended if you are into shading, contrasting, and detailing. But if you are more into cartoonish illustrations and less gradient, a smaller palette might be enough for you.
Type of Tips/Nibs
While most of these sharpies are double-headed, the nibs are different among brands. There are three common types of art pen tips: fine, broad, or brush. Fine and broad nibs are usually firm, while brush ones are generally flexible in terms of movement. They also vary on the width of strokes. You may need to try them out first to figure out what fits you.
Convenience and Organization
If you're an artist who changes work stations, then a marker set with a carrying bag and a supporting grid inside is appropriate. Then the bag will be handy when moving about. A pen stand will also help you organize your art tools. After use, you can easily pack up and just go your way.
Shop Location and Shipping
The easiest and fastest way to get these skin tone markers is to buy from Michaels and Amazon. Michaels has physical stores in the United States and Canada that offer delivery services, but only in selected areas of these countries. A quick search using phrases like skin tone markers michaels should provide you with links to its website.
Amazon, in contrast, ships internationally. Aside from the US, you can search through its skin tone markers uk marketplace and that of other countries like Brazil and Japan. They have heaps of good deals and other art supplies to choose from.
Conclusion
Art is an interesting and creative activity. It is a pleasurable hobby for some, and a serious profession for passionate ones.
Honestly speaking, the best skin tone markers do not exist. Artists differ in taste and style. Their preferred art materials and medium vary likewise. No artist is better than another because each of us makes magnificent works of art that are incomparable. The same goes with art pens.
Having been tried and tested, the products I mentioned above have their own artistic charms. I sincerely believe their greatest creative potential can be reached when you find time to enjoy and develop your craft. You could select what suits you best based on the detailed reviews and buying guides I included.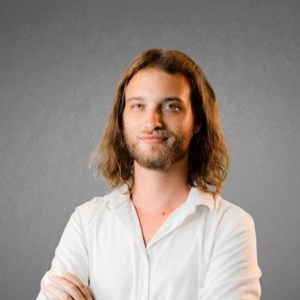 I am a former art teacher, so it is evident to me the importance of art in educating the new generation. We also want to help parents who plan to teach their children and desire the best tools and tips for them.