With watercolor paintings, masking the paper edges is among the essential parts of preparation. Yet, we should not use regular tapes, as they can be too sticky and end up ripping the paper when peeled. Meanwhile, blue tapes are not compatible with wet surfaces, thus unable to work with soaked and pre-stretched paper.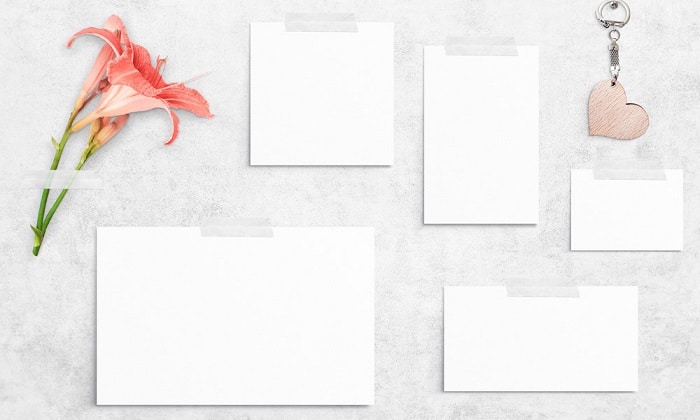 We can see that random products in the market cannot be our best tape for watercolor paper. So, after testing various pieces, here's the shortlist of twelve products that meet our requirements. Dig in to explore your best options available.
Best Tape for Watercolor Paper Reviews
1. Art Advantage Paper Tape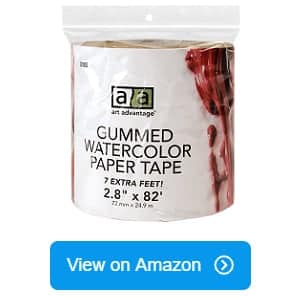 Our first pick, the Art Advantage Gummed Paper Tape, is among the reliable accessories to keep watercolor sheets from unwanted bleeding.
This product is a water-activated tape, which works when in contact with water. So you can easily activate its adhesive by wetting its bottom side with a sponge or a dispenser. Hence, this one is perfect to use with watercolor paper that we often soak before painting.
Once activated, the piece sticks well to your painting sheets, as it forms a firm bond to the surface. You should not worry that it might peel off too soon while you are in the middle of work. In truth, its adhesion is resilient enough to stay put on unfinished smooth wooden boards.
When exploring this one's function, I realized that its other side could absorb ink without smearing. So I was guaranteed a clean board without smears after taking this tape off the finished painting.
Plus, you can utilize this product for an extended time as it measures 82 feet. And with its 2.8-inch width, masking large paintings is a breeze.
Since its glue is tenacious, taking the tape off can take a little more effort. You can add some water and use a sharp tool to detach the piece gently.
Pros
A water-activated tape that works with soaked paper
Sticks well to the painting sheets
Stays put on watercolor paper and smooth wooden boards
The other side can absorb ink without smearing
Long tape, measuring 82 feet for long-lasting use
8-inch wide for masking large paintings
Cons
Tenacious glue that requires some effort to take off
Overall, the adhesion of this watercolor tape is unparalleled, as it assures excellent protection and stretching for our artwork.
2. Mr. Pen Masking Tape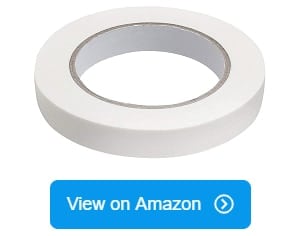 In my opinion, convenient use is the best attribute of the Masking Tape Roll from Mr. Pen. With this piece, we can expect quick and clean applications for watercolor paintings.
The most common use of these rolls is labeling cases and bottles made of different materials. In other words, it is a versatile product that sticks well on numerous surfaces, be it concrete walls, wooden boards, plastic bottles, and especially paper. Hence, you can rely on the tape to keep the edges of your painting from color smears.
For the concern that tape removal can ruin the paper, this masking roll is the solution. Such an issue will not occur with the product as it is made for breezy peeling. Notably, you will find no ugly residues after taking the tape off, ensuring a sleek and clean look for your artwork.
Acids found in adhesives would be another thing that we should be aware of, as it releases acid gasses and threatens to ruin the paper over time. Luckily, this product is formulated without acid, thus allowing us to preserve our work from discoloration and other damages accelerated by the harmful chemical.
I also find this purchase is a real bargain as it comes in a package of three at a low price. Such amount translates to 450 feet of masking tape for use in labeling and holding.
However, some users might find this product a bit too narrow for large artwork, as it only measures 0.6 inches wide.
Pros
Sticks well on concrete, wooden, plastic, and paper surfaces
Ideal for masking watercolor paper to prevent smearing
Easy removal without leaving residues or ruining the paper
Acid-free formula to avoid damaging effects over time
A bargain offering three tapes (450 feet in total)
Cons
Pretty narrow (0.6 inches wide)
Although this watercolor masking tape is quite small, it can handle various tasks with strong adhesive. And, if such a size is what you need, there is nothing left to hesitate.
3. Pro Art White Tape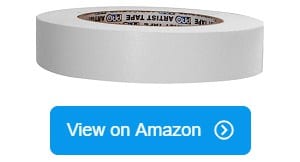 If you want a premium-quality product with excellent features, look no further than the Pro Art White Artist Tape. Its adhesive is applicable on almost any surface you want to mask and label.
From my experiences, this piece works like a charm on watercolor paper. In truth, its glue is formulated to stick well on display boards, thus adhering to different paper types is not challenging.
Yet, what surprises me is how the tape does well on other art materials such as dry media. You can confidently use them for charcoal and chalk drawings to enjoy the strong adhesive and clean removal. Staying true to the brand's promise, this one indeed "takes all forms of writing".
If you prefer pure white tape to go with your watercolor paper, this product is the perfect pick. But the remarkable thing is, in case you want to explore more color options, this one is available in black, blue, yellow, red, etc. Artists can enjoy all kinds of hues that match their tastes.
The roll tape contains no acid in its formula, ensuring no discoloration or texture weakening for your paper in the long term. Thus, you can enjoy 180 feet of this 1-inch tape for important work without worry.
Still, this product will cost you more than many paint tapes available. But for me, its incredible features can justify such a price tag.
Pros
Works well on watercolor paper due to strong glue
Ideal for charcoal, chalk & other writing forms
Comes in pure white serving aesthetic purpose
Available in different colors: black, blue, yellow, red, etc
Acid-free tape, creating no discoloration for paper texture weakening
Cons
Costs more than many available paint tapes
If you are willing to invest in this quality artist masking tape, you will not be disappointed with its glue, color, or applications.
4. 3M Safety Scotch Tape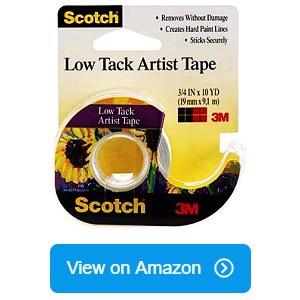 Most of us are familiar with 3M Safety and their wide ranges of premium tools for workers. And this Scotch Artist Tape is among their great adhesive products for painters.
A watercolor tape should prevent the paint from seeping under the paper and smearing its edges. Fortunately, this one can cater to such needs with its secure glue. Once stuck to the sheet, the tape holds on tightly without stringing.
But that does not mean the piece will damage the paper texture when getting peeled off it. In contrast, this tape allows easy repositioning during painting and removal after your work is completed, as it is a low-tack artist tape.
Such a sticky yet flexible glue's use is not limited to watercolor paper or any kinds of paper only. Many users find it handy on metal and plastic surfaces, perfect for labeling and marking stencils, artboards, and other objects made of said materials.
Another great feature of this scotch tape is its photo-safe adhesive. That means the direct contact of its glue on your art sheets does not leave acid on the surfaces. As a result, your artwork can be in good condition for a long time.
Beyond that, just be aware that this one does not excel at stretching paper already soaked in water. So if you intend to carry that process to prepare your watercolor paper, this scotch tape might not be ideal.
Pros
Precise and tight stick to prevent paint seeping and smearing
Low-tack tape for easy repositioning and removal
Versatile use on paper, metal, and plastic surfaces
Photo-safe adhesive leaving no acid on the paper surfaces
Cons
Not ideal for stretching wet paper
If you seek a tape that won't rip paper textures of your paintings, this scotch tape is the best deal. Since the product is true to its low-tack feature, it can afford no damage.
5. Art Alternatives White Tape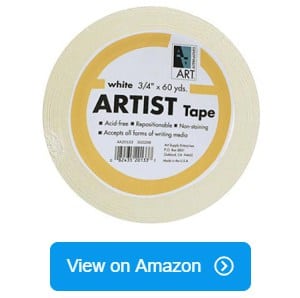 After being through many iterations of masking tapes, I settled for a product from Art Alternatives for a while. This Economy White Artists Tape truly stands out from the rest for its thickness and adhesion.
Right on the first use, you can see that it is not among the flimsy pieces that let go after several hours of sticking. This one, in truth, stays securely on your watercolor paper until getting removed.
Most users purchase this artist tape to stick their photos on frames or mirrors. And the surprising thing is that it does not leave residues when being taken off. The piece does not damage or stain their photos. Hence, you can rest assured that this tape can keep your paper edge clean when removed after your artwork is finished.
Furthermore, if you intend to use this product for other writing media besides watercolor, it will also work well. Just make sure its dimension, measuring 0.75 inches wide, meets your requirements because some users prefer broader pieces. Plus, it comes with a total length of 180 feet, providing abundant tape for various applications.
As expected, this pH-neutral product does not eat away your painting sheets with acidic effects. So, feel free to utilize it on expensive paper without worry about preservation.
Pros
Strong adhesive that sticks well on paper
Does not leave residues on paper edges
Suitable for various writing media
Measures 0.75 inches wide and 180 feet long, enough for various applications
Contains no acid that affects the preservation
Cons
Measures 0.75 inches only, might be too small for some uses
Although this product might be narrower than expected, its adhesion is never questionable. It is indeed a perfect tape used for painting on paper, especially for small and medium artwork.
6. Looneng Paper Tape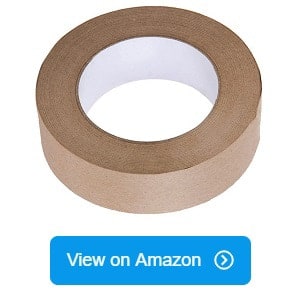 Another option for a water-activated roll is the Looneng Gummed Kraft Paper Tape. Its extra length and tenacious glue can support our work on another level.
This product can stretch your watercolor paper to be tight as a drum. I had the chance to experience such an impressive result, and I am sure you will be amazed by the tape's adhesive, too. For artists that often soak and pre-stretch their paper before painting, this one should be in their arsenal.
As you might already know, gummed tape requires moisture to activate its adhesion property. That means you can use a sponge or dispenser to wet it before sticking the piece to your painting boards. To remove it afterward, make sure to dampen this water-soluble piece again for breezy detaching.
Besides, this product scores big time as a recyclable paper, making it the ideal replacement for PVC adhesive rolls. Thus, you can contribute to environmental protection by utilizing tapes made of renewable natural resources like this one.
This tape might be aesthetically pleasing with the brown shade on white paper, yet its quality is premium. Users can take advantage of its functions for various purposes, including tamper-proofing, photo framing, or packaging.
We can also expect long-lasting and convenient use with its dimensions measuring 1.9 inches wide and up to 160 feet long.
Pros
Stretches watercolor paper tight as a drum
Ideal for paper gone through soaking and pre-stretching
Easy dampening to activate and remove
Recyclable tape for environmentally-friendly use
Multi-purpose tape for tamper-proofing, photo framing, or packaging
Long and convenient use (1.9 inches wide x 160 feet long)
Cons
Low-profile brown shade might not be aesthetically pleasing
Overall, I am glad to share with other buyers about such decent-quality gummed paper tape for watercolor that amazes us with its functionality.
7. ProTapes Pro Masking Tape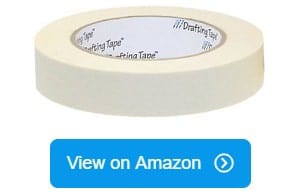 The ProTapes Pro Drafting Masking Tape is a tack industry-grade product ideal for oil and watercolor paintings. With its special adhesive formula, we are guaranteed comfortable creation experiences.
When looking up this recommendation from my friend, I found some qualifications of the product that convinced me to try it out. The piece meets ASTM standard for pressure-sensitive adhesive tape, proving its quality in masking and packaging purposes.
After a while of use, I am impressed by how this watercolor tape resists high temperatures, water solvents, and oils. With such features, the product ensures no seeping and leaking colored paints during our masking performances.
What's more, users are free of worry about repositioning and removing the tape when needed. This is possible due to its unique formula that allows temporary holding onto paper. Plus, it leaves little to no residue when being taken off your sheets, thus ensuring your artwork is clean.
I also love available options of its width, ranging from 0.5, 0.75 to 1 inch. Based on your current needs, you can pick a suitable size. Yet, whichever piece is your final choice, it will come with 180-foot tape for prolonged use.
However, this masking tape is not semi-transparent. If you need such a function, you might want to look for masking fluid instead.
Pros
Meets ASTM standard for pressure-sensitive adhesive tape
Resists high temperatures, water solvents, and oils
Ensures no paint seeping and leaking
Easy repositioning and removing
Leaves little to no residues on watercolor paper
Optional width, ranging from 0.5, 0.75 to 1 inch
Cons
Not a semi-transparent masking tape
This product is high-quality and adhesible for you to mask intricate details without worrying about color seeping. You should choose the right width and enjoy its functions.
8. WOD CFTC6 Console Tape
With the WOD CFTC6 Console Artist Tape in hand, you will no longer suffer from unfortunate situations like your painting paper getting ripped off along with the masking tape.
First-timers go for this product as it is a breeze to utilize, ensuring no unwanted incidents. All you need to do is hand-tear and stick the piece to the designated areas on your sheet.
What makes this tape suitable for watercolor paper painting must be its secure hold yet easy removal. The product can afford no damage to the paper texture and ruin your precious work. Also, rest assured that there are no ugly or sticky stains left on the surface afterward.
Besides, I appreciate its multiple color options as I am fed up with brown tape on my paintings. The brand introduces five shades, including bright red, yellow, orange, light blue, and white. These color variations also come in handy when we mark our stuff with this tape.
If you are still wary of trying this watercolor paper tape, please know that the brand offers a risk-free purchase. In detail, you will get a 100% refund upon dissatisfaction with the product quality.
I find the piece's thickness appropriate for my use, but some buyers complain that it is too thin for their likings. You can consider this factor before purchase.
Pros
Breezy use: hand-tear and stick on the paper
Easy to remove without ruining the paper texture
Does not stain the painting after removal
Multiple color choices: bright red, yellow, orange, light blue, and white
Risk-free purchase with 100% refund if not satisfied
Cons
Can be thinner than expected
I would conclude that this product is a masking tape that doesn't damage paper. Hence, you can confidently enjoy its adhesive and other beneficial attributes without worry.
9. Mr. Pen Colored Tape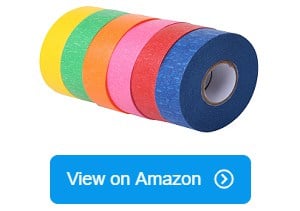 Besides choosing paper that can handle masking, you can opt for an easy-to-remove tape to ensure no wear and tear. In that case, the Mr. Pen Colored Masking Tape is among the practical options.
This collection will greet you with no dull or plain shades. Instead, you can get six pieces in bright colors, including red, yellow, orange, pink, blue, and green. Either we use them for watercolor painting, labeling, or crafting; such a cheerful assortment will indeed put a smile on our faces.
Besides, each tape is 45 feet long, offering extended use with an extra total length. If you intend to mask small artwork, its 0.6-inch width can be ideal. Otherwise, I am afraid that such a size might take you longer to finish masking larger ones.
Apart from that, the adhesive of masking tape is what makes it valuable to artists. And I am glad this product's firm hold is sufficient for professional use. It securely sticks to the sheet without curling and wrinkling. And when the job's done, we can remove it without tearing the paper or leaving ugly residues.
Also, if you work with expensive watercolor paper, you would appreciate its acid-free formula. Such a feature helps avoid discoloration and texture damages caused by acidic effects.
Pros
Comes in six vibrant and bright colors for practical use
Ideal for watercolor painting, labeling, and crafting
Each tape is 45 feet long, offering long-lasting use
Quality adhesive for secure sticking without wrinkling
Ensures no paper tear and ugly residues
Acid-free formula to avoid discoloration and texture damages
Cons
Measures 0.6 inch wide only
As expected from a reliable brand for art supplies, Mr. Pen does an incredible job with this artist masking tape for watercolor paper. Give it a try; this tape can potentially be your all-time favorite.
10. HIPPIE CRAFTER Artist Tape
Hippie Crafter is well-known for its Resin Kit Art. Not until I tried this product that I knew they also make superb Artist Tapes.
For your information, this piece can be responsible for making crisp masking lines in your watercolor painting. It adheres well to the surface without signs of wrinkling, thus ensuring that no paint will seep underneath and smear the lines.
While performing the masking technique, we might make mistakes and hope to modify the tapes. In such cases, this product shines the best for its repositionable feature. Worry not, as it does not leave sticky stains on the paper and make it hard for you to paint afterward.
Another incredible feature about this artist tape must be its extra length. It sounds crazy enough that this three-piece pack provides us with a total of 540-foot tape for various applications. As a result, we have sufficient amounts for photo mounting, framing, watercolor paper masking or labeling, etc.
Like any premium tape designed for artwork preservation, this one contains no acid in its adhesive. You should know that the brand has its products tested to meet trade-secret standards. Thus, working with high-end paper using this tape is indeed worry-free.
Still, this tape is another small-sized product that works well for small and medium artwork. Make sure your current tasks will benefit from its 0.6-inch width.
Pros
Makes crisp masking lines thanks to excellent adhesive
Allows repositioning without leaving sticky stains
Comes with three tapes measuring a total of 54 feet
Ideal for photo mounting, framing, watercolor paper masking, labeling, etc
Premium acid-free tape for work with high-end paper
Cons
Small-sized masking tape at 0.6 inches wide
Despite coming from a small family business, this paper tape for painting stands out for its decent quality and great features. I cannot recommend this more for watercolor painting artists.
11. Nova Supply Pro-Grade Tape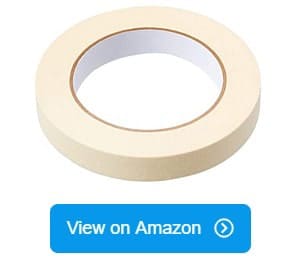 Nova Supply takes pride in its Pro-Grade Masking Tape for its no-residue feature. After trying the piece for several applications, I can attest to its fantastic use on shiny photos and watercolor canvas.
I find out that this masking tape is crepe paper, known for its thinly coated surfaces that allow easy stretching. With the combination of such material and sufficient adhesion, the product ensures easy removal without ruining the sensitive paper texture or removing watercolor paint.
Furthermore, it is a breeze to hand-tear this tape and apply it to the paper. Hence, you can comfortably tailor and arrange the piece to fit specific shapes for your masking purposes.
Knowing that we have different requirements about masking areas, the brand offers two options for the product width. You can go for the 1-inch or 2-inch piece to complete your work with minimal modification.
Other things like affordable price and responsive customer service make this tape my favorite pick. If you are not sure about purchasing a huge amount, you can try one or two rolls first. You can always return to get your money back if not satisfied.
Some people prefer pure white color rather than beige shade. But I do not think that is much of a disappointing factor of this
best tape for watercolor paper
.
Pros
Ideal for use on shiny photos and watercolor canvas
Crepe paper tape for easy stretching
Does not ruin the sensitive paper texture or removing the paint
Breezy to hand-tear and tailor its length
Two width choices: 1 inch or 2 inches
Affordable price and responsive customer service
Cons
Beige color is not everyone's favorite
Overall, I deem this option an amazing watercolor paper tape for its easy and clean removal. If you value such features, look no further than this product.
12. Molshine Natural Tape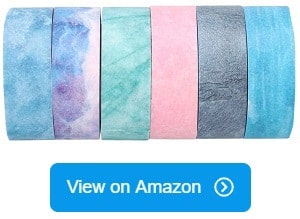 Usually, we do not use Washi tape for masking watercolor paintings. But the Molshine Natural Color Washi Masking Tape proves to be suitable because of its adhesion.
I find it hard to resist such a beautiful collection of adhesive tapes. Each piece comes with nice color blending patterns that surely motivate our DIY projects. Thus, this product is widely used for decorative applications like bullet-journaling, note-taking, and more.
Yet, due to their incredible adhesive, these washi tapes can serve as a masking tape for watercolor artwork. Once cut and applied to the paper, it sticks well without sudden peeling before our tasks are finished.
I was also pleased when tearing this tape away from the paper edge and seeing no adhesive residues left. It is an important feature that allows artists to continue working with the masked areas without cleaning the paper surfaces.
The great news for first-time buyers is the money-back policy. The brand really goes out of its way to stand with its product quality and ensure a satisfying experience for the customers.
However, this washi masking tape measures only 0.625 inches wide, slightly smaller than some users expected. So if you decorate and mask small and medium-sized work, this one will not disappoint.
Pros
Comes in various beautiful blending patterns
Ideal for decorative applications like bullet journaling, note-taking, etc
Great adhesive for masking watercolor paper
No-residue tape for clean and sleek paper surfaces
Money-back policy for buyers
Cons
Small tapes measuring 0.625 inches wide
I cannot leave out this aesthetically-pleasing washi masking tape when making this list, as it works well on watercolor paper, actually better than I expected. You should try it and see for yourself.
What to Look for When Buying Tapes for Watercolor Paper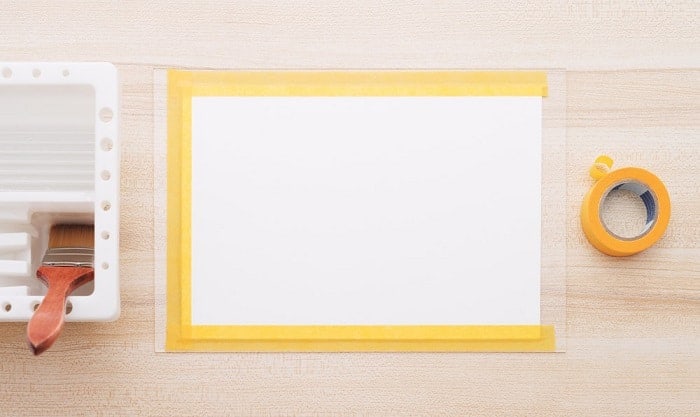 For a watercolor paper that requires soaking and pre-stretching, gummed paper tape is the best choice. This product is a strong paper roll featuring permanent adhesive on one side and regular paper on the other side. It comes with a unique adhesion property that sticks well on wet surfaces. This piece will help to stretch your paper tight as a drum.
Other than that, you might ponder over artist tape vs masking tape to choose a suitable one for your watercolor paintings. To compare these two, we should mention residues left after easy removal and some other features.
First of all, the masking tape is a quick-use product, meaning we glue it on a short time before tearing it off the surfaces to avoid ugly stains. This type of tape functions well with its secure hold, yet we suggest you do not leave it too long on your sheets.
On the other hand, artist tape is ideal for paintings, as it does not create residues after being lifted off the paper. You should not worry about its removal ruining the texture or watercolor paint. Plus, this type of tape does not pucker or buckle when being painted over, as it absorbs the solvents well.
Besides the type of tapes, users should also be aware of the product's formula, whether it contains acid or not. A pH-neutral piece will prevent the paintings from deteriorating effects caused by acids, such as discoloration or paper texture wear over time.
Furthermore, the tape dimension is another essential point that determines if a piece is ideal for our current work. Make sure you pick the one that is wide enough to cover the designed masking space on your paintings. Do not forget to check out the tape length to ensure the investment is valuable for long-term use.
The tape color might seem like a trivial factor, but it depends on different people's tastes. You should know that gummed paper tape often comes with a brown shade, so maybe do not expect beautiful colors from this type. Yet, artist, masking, or washi tape can feature exotic patterns and vibrant colors for your likings.
Can You Use Washi Tapes on Watercolor Paper
Washi tape is designed for decoration purposes, and it is often thin and narrow. Furthermore, its adhesive is not as impressive as scotch tapes or masking rolls formulated to resist water-based paints. So I recommend you stick to those specified products instead.
Yet, you can still use washi tape for watercolor painting as long as the areas are small, and you will be extra careful not to let the paint seep under the tape. There are some tutorials and tips on Youtube for first-timers. They might be helpful if you insist on trying.
How Do You Tape Watercolor Paper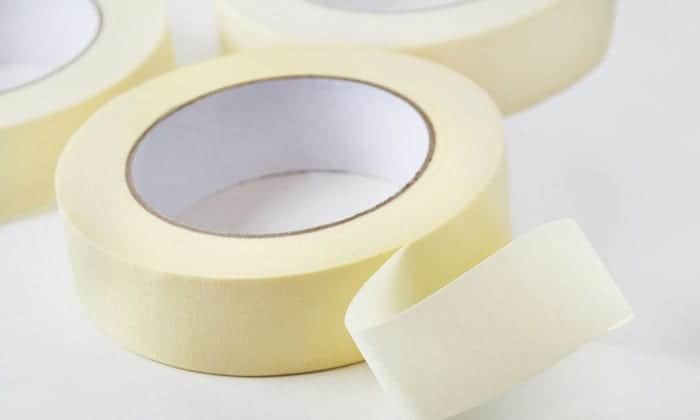 Mounting or taping watercolor paper is a breeze if you have your scissors, a ruler, and tape with you. After measuring the paper dimensions, straighten the piece and start cutting the tape to cover around 0.25 to 0.5 inches of the paper edges.
With gummed paper tape, you can activate its adhesion property by wetting the piece with a dispenser or sponge before sticking it to the paper surface. And with other types of tapes such as artist, masking, and washi tape, you only need to tailor its length and size to your requirements.
Conclusion
I find it enjoyable to pick accessories for watercolor paintings like watercolor brushes. So, I hope you can read this article with much joy as I had when writing it.
Also, choosing the Best Tape For Watercolor Paper is a breeze if you know which features to look for and what type of sheets you will use. Besides tape for watercolor paper, you can refer to glue for paper crafts, they also good choices. Hopefully, after checking out the recommended list above, you already have in mind the ideal option. Have fun with your endeavor!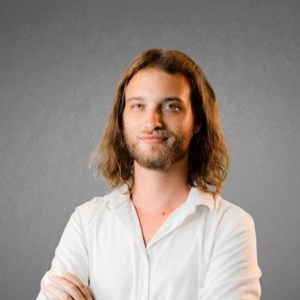 I am a former art teacher, so it is evident to me the importance of art in educating the new generation. We also want to help parents who plan to teach their children and desire the best tools and tips for them.