As teachers, we want our students to be involved in capturing and summarizing important learning contents. That's why creating an anchor chart is among the effective teaching methods to increase their engagement. This tool also benefits our own studying process as it presents all the main points straightforwardly.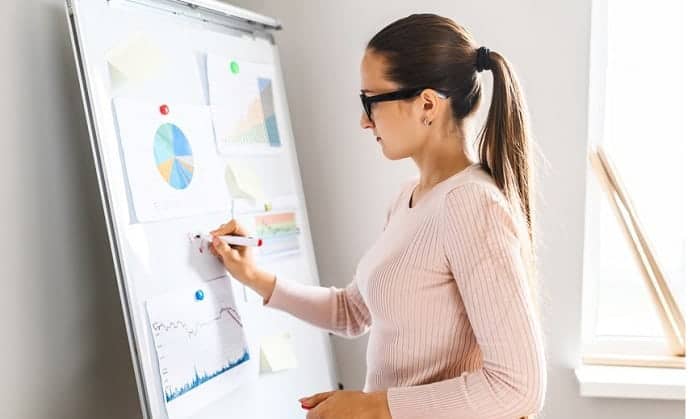 For whatever reason you want to make a DIY instruction chart, you are at the right place. This article will help you to find suitable markers and seek informative guides. Here's the list of some best anchor chart markers available. Read on to explore your options.
Best Anchor Chart Marker Reviews
1. Mr. Sketch Chisel Tip Marker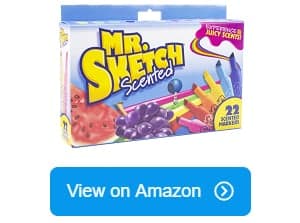 These markers from Mr.Sketch can literally be marketed as the "sweetest" collection. They smell incredible as each color presents a different fruit and food flavor. You would be surprised by how your students' creativity kicks in thanks to all these watermelon, cherry, or grape-scented pens.
Notably, this collection comes with twenty two colors in total, providing a world of possibility for your work. They write vivid and opaque lines for you to make an attention-grabbing anchor chart.
There are three reasons why this collection is ideal for kindergarten kids. Firstly, it is safe for children aged three and older, certified by AP for art materials. Also, all markers come with a chisel tip, ensuring bold and clear colorings. Finally, each piece is designed with a large cylinder for little hands to hold firmly and draw comfortably.
Yet, it would be perfect if the brand adds the scent's name on each marker, so the kid can learn about these colors with even more fun. And among these incredible scents, the nacho cheese one is far from being everyone's favorite.
Pros
Scented with different fruit and food flavor
Comes with 22 vivid and opaque colors
AP certified art material for children aged three and older
Chisel-tip marker makes bold and clear colorings
Features a large cylinder for kids to hold easily
Cons
No flavor name on each marker
The nacho cheese scent does not smell so good
Overall, these nearly perfect Mr. Sketch markers meet or exceed our expectations for anchor chart making. Together with our students, we can create a fun and unforgettable class with this colorful and sweet assortment.
2. Sharpie 22480PP Flip Chart Markers
Most of us must already be familiar with Sharpie's premium writing elements. Among those five-star worthy sets, their 22480PP Flip Chart Markers can create impressive visual tools for your teaching.
These eight commonly-used and highly-visible colors will indeed draw your students' attention. If you present your chart on a whiteboard, all contents can be seen clearly from the back of the class. Plus, the bullet point can afford smooth and silent marking, as its firm construction prevents squeaking issues.
You should also know about the water-based ink of these Sharpie markers. Such a formula promises no weird or unpleasant odor, ideal for using around your students and other colleagues.
Suppose you intend to leave your finished presentation for a prolonged period, throughout a semester at least. Worry not as this permanent marker will still show clear and vivid lines as time goes by.
Since this assortment is specially made for flip-chart paper, it can ensure little to
no bleeding and smearing
. As long as you do not use too-thin papers or loiter at one point too long, the marker will not ruin your multiple instruction pages.
Pros
Comes with eight commonly-used and highly-visible colors
Firm bullet point for smooth and silent marking
Water-based ink with no unpleasant odor
Permanent ink for prolonged vividness and clarity
Ensures no bleeding and smearing on thick paper
Cons
Not recommended on too-thin paper
All in all, with proper writings and markings, you will benefit a lot from this Sharpie
permanent marker collection
. Just make sure to choose anchor chart paper with a suitable thickness.
3. Mr. Sketch 1924061 Scented Markers
The next item is another marker collection from Mr.Sketch, with the same high quality and nicely-scented colors. Yet, it comes with fewer pieces, including all essential shades for marking, writing, coloring, and more.
As expected, we are guaranteed bright and visible lines marked by these pens. Creating detailed, medium, or wide strokes is a breeze with this flexible bevel tip. Thus, your creative anchor charts can feature different segments and levels of points for easy understanding.
Furthermore, most users deem this assortment a long-lasting product due to two amazing features. In detail, its tip is sturdy enough to handle hard pressing, hence preserving its fine point. Plus, the brand fills these markers with twice more ink than most competing models in the market, promoting prolonged use.
Best of all, this product delivers safe utilization for little kids, as it receives AP certification. Also, its non-toxic and water-based ink is easy to clean by damp cloth. So you can let your children play with these markers without worry.
However, this assortment is not recommended for dry-erase boards. Drawing on those boards may stain them, which could be inconvenient in some cases.
Pros
High-quality markers with scented colors
Bright and visible colors
Flexible points creating detailed, medium, or wide strokes
Long-lasting use with sturdy tip and much ink capacity
Ideal for kids: AP certified and easy to clean
Cons
May not suitable for dry-erase boards
If you seek a safe tool to get your students involved in learning, this high-quality marker set from Mr. Sketch will not disappoint.
4. Sharpie 1760445 Flip Chart Marker
As we often run out of black pens before other shades, purchasing an extra pack makes excellent sense. In this case, my go-to black marker set for anchor chart making is always the Sharpie 1760445.
This pen produces bold and highly-visible lines to help you deliver clear points. Its smooth-gliding tip is a typical feature of Sharpie products, ensuring no squeaky sound while writing.
When using these pens, we will not be irritated by unpleasant scents often found in solvent-based or alcohol-based markers. Since this collection uses water-based and non-toxic ink, it ensures a safe and pleasant experience for both kids and adults alike.
More importantly, these premium-quality markers will not ruin your work with smearing, smudging, or bleeding issues. Hence, you can utilize them to give important presentations at the office with optimal confidence.
I love this assortment's sleek and modern design. Plus, it is a convenient product coming in a pack of two, three, five, or eight pieces that we can purchase based on our current requirements.
Just a heads up, these markers are not quick-drying, so you might want to slow down a bit when making your anchor charts to prevent making a mess.
Pros
Creates bold and highly-visible lines
Smooth-gliding tips posing no squeaky sound
Low-odor, non-toxic and water-based ink for both kids and adults
Shows no smearing, smudging, or bleeding on paper
Convenient multi-package product (packs of 2, 3, 5, or 8 pieces are available)
Cons
Not a quick-drying marker
Despite its minor flaw, this Sharpie marker can help us create clear and straightforward presentations for our work at the office, school, and any other projects requiring anchor charts.
5. AmazaPens Twin Tip Colored Pens
The AmazaPens Twin Tip Colored Pens can be best described as a versatile and vibrant watercolor accessory for anchor-chart making.
This compact set of markers never ceases to amaze me with its multiple applications. Since each pen features two different tips on its ends, we can use them for anchor chart lettering, coloring, highlighting, and more.
In truth, the fine point measuring 0.5 – 1mm can create thin and intricate lines, ideal for details. On the other hand, the chisel tip measuring 2 – 4mm will produce thick and bold strokes that easily draw attention from a distance. These two tips complement each other, emphasizing the main parts of your presentations.
Meanwhile, its total of 24 vibrant colors can bring your anchor charts to life. You can find from the most commonly-used shade to exotic colors in this assortment. If you wish to blend its ink to produce a more opaque and soft visual or create more effects, use it with water brushes, fine liners, or pencils.
Plus, rest assured that they are entirely safe with a non-toxic and odor-free formula, so you can enjoy a pleasant and fun time working on your piece. Still, these fantastic watercolor pens come with a heftier price tag than other products on this list.
Pros
Versatile uses on lettering, coloring, highlighting, and more
Dual-point pens: chisel and fine tips
Includes 24 vibrant and saturated colors
Compatible with other tools such as brush, liners, or pencils
Non-toxic and odor-free ink formula
Cons
Comes with a pretty hefty price tag
All things considered, I deem investing in this versatile set worthwhile, as it brings lots of fun and sparks my creativity in creating teaching materials.
6. Staedtler Lumocolor Flipchart Marker
If you want to make dynamic and print-rich charts, choosing a color-intensive marker set is among the anchor chart hacks to follow. In this regard, there is no better choice than the Staedtler Lumocolor Marker.
While some color schemes are either too dull or too bright to be seen clearly from afar, this assortment offers rich and intense shades. Thus, you can write vivid lines and showcase highlighted points in your presentations.
What sets this collection apart from the rest must be its "ink technology for the forgetful." In detail, you can accidentally leave the marker uncapped for some time, yet it still writes smoothly with high precision. Besides, when in contact with the paper, the ink dries fast to prevent smearing. Thus, this product is ideal for kids and left-handers.
These markers are packed with multiple incredible functions that make them convenient. For instance, the airplane-safe design allows us to bring this assortment everywhere without worrying about its ink leaking due to cabin pressure.
Aso, its refillable cores allow us to reuse the marker, thus contributing a little to protect the environment. And, you can easily wash this water-based ink off any fabric without leaving ugly stains.
Beyond that, these markers with thick points do not perform well on small-sized and thin paper.
Pros
Color-intensive scheme offering clarity from a distance
Dries quickly on paper and does not dry after left uncapped
Ideal for forgetful people, kids, left-handers, …
Airplane-safe design for no leaking due to pressure
Refillable cores for prolonged use
Water-based ink can be washed off clothes
Cons
Not ideal for small and thin paper
With this collection, it doesn't matter where you put your anchor chart stand, your students can always see the presentations clearly.
7. FORAY Bullet Chart Markers
A set that can help you make straightforward anchor charts is the FORAY Bullet Chart Markers. You should not miss out on trying this budget-friendly yet effective assortment.
These eight striking colors are enough to visualize essential information and make your students want to learn about it. You have the basic shades such as black, blue, brown shades for writing and vibrant ones like orange, purple, yellow, red, or green for highlighting other points.
As you create bold and fluid marking on the anchor chart board, the ink will not smudge or bleed through its paper. That is another excellent feature of this assortment, as it writes full lines without ruining your working with uncontrollable ink flow.
Feel free to use these non-toxic markers to teach your children or kindergarten students. You can have peace of mind knowing that this art material is certified by AP's medical experts for its safe use.
Furthermore, I adore the comfortable grip this marker offers. In truth, its body is made with soft rubber, allowing both kids and adults to hold its barrel and feel supreme comfort while writing for long hours.
The only gripe you might encounter is its purple marker produces more of a pink shade. Still, that is not a deal-breaker for me as the rest are sharp and true to their colors.
Pros
Budget-friendly chart markers with striking colors
Comes in eight shades, including basic and vibrant colors
Writes bold and fluid markings without ink smearing and bleeding
Non-toxic formula with AP certification
Comfortable grip with soft rubber barrel
Cons
The purple pen creates a pinky shade
At this price point, it is tricky to find a more firm, clear, and vibrant chart marker than this set. Thus, I cannot recommend it enough for people with a tight budget seeking quality anchor board pens.
What to Look for When Buying Anchor Chart Markers
An anchor chart is a simple yet effective tool to visualize your teaching and working contents, making ways for a kick-ass presentation. And the good news is anchor chart making can be super easy and enjoyable, as long as we have the required accessories.
If you are still in the dark but eager to find out the best chart markers, here're some factors to pay attention to:
Color scheme – A colorful and vibrant collection can draw students' attention and make them focus on the highlighted parts on your chart. Yet, make sure you have at least one black pen for writing and listing points. It is highly advisable to purchase an extra pack of black markers, in case you run out of them.
Furthermore, you should pick bold and vivid shades that can be seen from a distance. Such a color scheme will benefit us when we teach or present in a large classroom with bright lighting.
The number of colors in the assortment is another factor that you might want to consider. If you intend to make anchor charts for little kids, it is best to opt for a set of many exotic and beautiful colors. Meanwhile, a formal presentation might only need 6 or 7 core shades. It is your call.
Marker tip – There are multiple options for you when it comes to marker tips. If you want to create both thick and thin lines while writing, markers with a chisel tip are your pick. Just by tilting its angle, you can confidently change its strokes, adding more artistic effects to your work.
Meanwhile, many quality marker assortments come with a bullet tip. Such a pen has a round point, promoting smooth and effortless writing and coloring. Plus, this type of marker tip is ideal for kids as it is easy to write. If you want your kindergarten students to be involved in creating an anchor board, this is your go-to product.
Best of all, there are versatile collections that come with dual-tip markers. They feature both fine point and chisel point for both broad and detailed coloring. You can write, highlight, letter, and sketch with these multi-purpose markers. They are often used alongside gel pens, fine liners, pencils, and paints to create striking charts.
Ink – For making anchor charts, we should opt for markers that do not smear or bleed through paper. On that matter, choosing a thick-enough surface to write on is also important. Plus, the marker ink should flow smoothly and dry quickly to prevent making a mess on our presentations.
Most users prefer water-based ink since it is low-odor and non-toxic, thus safe for use around and with kids. For peace of mind, you might want to go for pen collections certified by AP for safe use.
Besides, if you are worried about anchor chart storage, it is highly recommended that you pick permanent and lightfast ink. That way, your finished board will keep its vivid colors for as long as you desire.
Other features – Some teachers love scented markers that spark creativity and pique their students' interest. If that is the case for you, check out Mr. Sketch's products as they make the most incredibly scented pens with fruit and other sweet flavors.
Also, a comfortable grip is another thing that benefits your anchor chart writing and coloring. Markers with an ergonomic design and soft barrel allow us to work hours on end without hand fatigue. Plus, make sure you choose the collection with a suitable size for a small grip if you use them with little kids.
Conclusion
Shopping for accessories, then creating anchor charts can be enjoyable if you know your priority. After picking a pack of thick-enough paper, a suitable anchor chart holder, a set of the best anchor chart markers, you can start putting your ideas into words and images.
You can search for more tips on making your anchor charts more appealing and learning to combine the assorted shades in your marker collection to create stunning effects. Let your creativity lead the way. Good luck!
I am a former art teacher, so it is evident to me the importance of art in educating the new generation. We also want to help parents who plan to teach their children and desire the best tools and tips for them.