If you are in the market for economical and environmental-friendly brush pens, set your sights on the best refillable brush pen. The refillable functions of these brush pens make them such a great addition to your calligraphy and drawing repertoire. You will no longer have to buy an entire set of brush pens for drawing whenever you run out on ink.
A refillable ink brush pen can be used over and over again. High-quality ones can even be used for years. If these benefits appeal to you, you definitely should start your search for refillable brush pens that will work for your needs.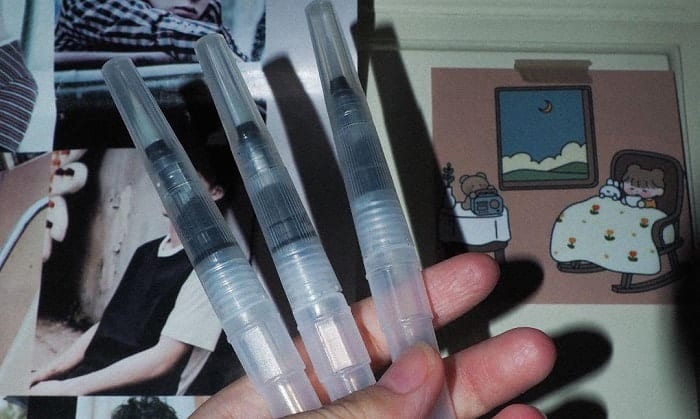 There are a lot of great options out there but they all have different properties that make them a great fit for users. Assess your needs and find the brush pen set that will address these needs.
You can also check out my product reviews and suggestions below:
Top 7 Refillable Brush Pen Reviews
1. DIY by Maddie Rae Refillable Brush Pen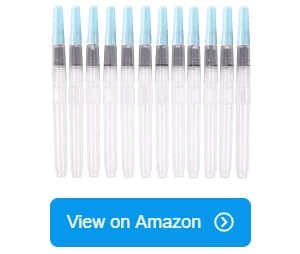 My hunt for an affordable but high-performing brush pen set led me to this one. It's a 12-piece brush pen set that comes with small to large-point brushes, great for the versatile artist and calligraphy. I thought that's a great deal for its relatively low price.
It's really more of a basic set of brush pens, ideal for beginners or those looking for practice pens that they can use easily and will not break the bank. On the other hand, it has good quality, similar to the quality you can find in other more expensive brands. It has nylon hair brush tips that occasionally frays but can be trimmed easily. The brush tips stay intact and don't wear out easily.
These brushes are easy to use. I did not have difficulties refilling it with ink. You can even add just a little bit of water if you like a watercolor effect. It saves time because you no longer have to dip it in paper.
You need to squeeze it a little bit to get the ink flowing, which can be a problem if younger kids are using this set. However, for adults like me, it's not a big problem. The brush tips spread ink uniformly. I also like how well it blends.
One good thing about this set is that it already comes with different sizes of brush tips. Whether you are a beginner or an experienced artist, you will find this set versatile.
It's not picky when it comes to ink types. I have had much success using inexpensive inks. It doesn't get clogged up. If there are ink residues, they are easy to wash off. Just disassemble the pen and then rinse it under running water. There are also no issues filling it up with different colors, so you can choose a wide array of colors.
The consistency is commendable. The lines you can make with the brush tips are crisp. They tend to wear out overtime but that's something to be expected when you use your brush pens all the time.
Pros
Affordable and easy to fill
Doesn't leak
Compatible with different inks
Brush nibs don't wear out easily
Cons
Can't be easily used by children
This is a good pen for all sorts of users. I wouldn't suggest it for younger users but for adults, who can control it better, this set is unbeatable. For its price, it has a decent quality. This brush pen set has lasted me for a long time and it will last you for a long time too, even if you spend a lot of time using it.
2. Kuretake Zig Cartoonist Brush Pen
This Kuretake refillable brush pen is a good choice if you are looking for the perfect pen that you can use for calligraphy. It's a slim pen with synthetic brush tips that offers flexibility. You won't have trouble making nuances in your strokes. You can easily create thick and thin lines.
One of the most likable things about this brush pen is its brush tip. The hair tip is compact and springy. It doesn't split or fray after some use, so even if you are using it for a long time, it's still as good as when you first used it. It has a fine tip, so if you are not used to writing with a fine tip, this might be an issue.
On the other hand, because this fountain brush pen has a fine tip, it can be used for making thin outlines. Just please don't use it for blending though. It only makes use of a black ink. It should be water-based so that it can be dispensed easily.
Once you run out of ink you can remove the ink cartridge inside and change it to a new one. Just make sure you are using water-based ink so that it will work with the pen.
The pen has an overall good quality. It doesn't feel flimsy. You can drop it and not worry that it will break easily or the parts will separate. The design is also stylish. It's slim and long. However, some people might find it too long. This can be hard to place in brush bags. It comes with a plastic case but if you want to store it with your other brush pens, you might find it a little cumbersome to store because of its length. Its length also affects its portability.
Be warned though. This refillable brush pen dispenses a lot of ink. It's not a big clump of ink but it can be bothersome if you struggle for optimum control. Additionally, this makes the ink more difficult to dry up. You need to give it more time to dry up before running your hands on the paper's surface.
It feels and looks elegant, as if it's a more expensive brush pen. It doesn't weigh a lot, which means this can be used for hours and not cause hand fatigue. On the other hand, some people might find it too lightweight. If you like a bit of heft to your brush pens, you might not find this an ideal choice.
Pros
Lightweight that enables smoothly writing
Affordable with stylish look
Brush tips hold their shape well
Great for calligraphy
Cons
Dispenses a lot of ink
Ink doesn't dry easily
If you're hunting for a good calligraphy pen that will not cost you a lot of money, you should get this one. It's not the most impressive pen out there but its refillable ink and sleek design are positive points. It comes with some downsides that is quite easy to overlook given how well it performs.
3. ColorIt Refillable Watercolor Brush Pen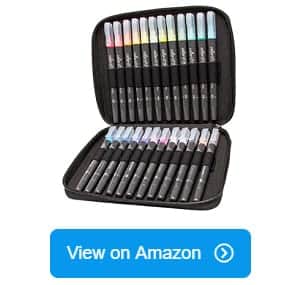 If you are a big fan of both refillable and watercolor brush pens, this refillable watercolor brush pen set can be the right response. I think this pen set is a genius creation. Just imagine water coloring without all the clean-up that is usually needed after.
You will appreciate how organized this pen set is. It comes along with a case. There are individual slots for the pens, so you can easily see if one is missing. You can also easily spot the color that you want.
Speaking of color, this set comes with an assortment of colors. They are all very pigmented and vivid. I like how the ink lays down on paper. It's very easy to blend. Even professional artists will like how well these pens blend together. The ink also dries nicely. It doesn't cause the paper to warp, which sometimes happens when the paper is satiated.
On the other hand, I find that not all of the pens lay down ink consistently. Some pens are juicier than the others. It's not a big problem, but if you are used to the other pen's consistency, you might find that the others might be a little harder to spread out.
These pens are refillable and it's not hard to find the corresponding ink refills. It's quite the economical choice as well. One refill can be used at least 15 times.
You can also let kids use these pens. They are easier to use and there's virtually no clean-up needed after, so it's really more convenient to use, especially if you are on the go. Try taking it with you on travels. This will surely keep kids busy for a long time. It also has a water-based dye ink, so it can be washed off easily if your kids accidentally brush some of the ink on their skin or clothes.
The brush tips are durable and tight. These can be maneuvered to make thin lines without problems. It also doesn't fray as easily as other pens.
The overall build of the pens is good. It has just the right thickness. It's not too thick or thin that you will have a hard time gripping it. I also like that you can stack the cap on the end of the pen, so you don't lose it.
It's not hard and messy to refill. The refill bottles are easy to pour in the ink receptacle.
Pros
Versatile with great color selection
Blends nicely and fast drying ink
Sturdy and lasts for a long time
Has a storage case
Cons
Not consistent with how they lay down ink
Some are not as juicy
This set is highly recommended for artists who want more color options. They are easy to use and the color choices are great. Considering the number of pens you get, this set is not expensive at all. If you love coloring but hate the hassle of using water, this can be a good alternative. Its refillable functions will also offer more savings in the future.
4. OOKU Watercolor Paint Brush Pen
This pen set is a package deal. It comes with different sizes of brushes. From small to broad tip brush pens, you have everything you might need to get started in doing watercolor art.
It has a unique filling system. The pen comes with a reservoir that is large enough to accommodate a lot of ink. The push button system allows you to have full control over how much ink it will dispense. Moreover, the self-moistening functions of the tip are reliable and convenient to use. Even when you are traveling, you can still use it. There is no need to get water. It's a mess-free way to enjoy water coloring.
The ink system of these brush pens is also great. If you are refilling it with ink, it's quite easy to mix different colors. The ink it comes with is pigmented and easy to blend. You can also layer colors with ease as the ink dries up nicely. The transparent in reservoir makes it easier to see if you are running out on ink.
It's also very easy to clean. You can just rinse the inside of the barrel. The brush tips can be rinsed in clean water to remove ink residues.
These pens last for a long time. The brush tips are sturdy and don't fray easily. Few nylon fibers will come off but that's easy to trim.
This set also comes with a wool felt pen organizer. You can bring this with you anywhere. It is compact and easy to bring on your travels as well.
The only downside I can see is that these pens tend to leak. If you don't secure them properly, the water can leak. It doesn't happen all the time but it can be an issue to some people.
The pens are comfortable to use. Although it can sometimes leak, it has a good feel and build. You can comfortably use it without feeling hand fatigue.
Pros
Blends well
Sturdy nibs
Portable and comfortable to use
Large reserve for easier filling
This is a good option for those looking for a complete set of refillable brush pens. The different sizes of tips will allow you to do different strokes. It's a versatile set that anyone can use, even more experienced artists looking for an inexpensive brush set.
5. Maxdot Twist Pens Empty Nail Oil Pen
These transparent twist brush pens have multiple uses. You can fill them up with ink for drawing or coloring. You can also fill them up with makeup or nail oil. It has wide brush tips, making them better for wider surface application.
Many people experienced issues with this twist pen mainly because it lacked information on how to use it. Some of them broke the twist caps and others experienced leaks; but when used properly, it works seamlessly. However, you shouldn't worry because the manufacturer will replace these pens if you encounter issues with it.
The transparent reservoir is big enough to hold a lot of ink and other liquids. It can accommodate up to 3ml of liquid. This set comes with 5 pens, so you can use it for different applications. It's good enough to be used as a portable art set. If you have kids who love doing coloring work but you don't want them to make a mess, you can use these pens instead. They are also cheap, so you won't feel bad in case they damage it.
It's very easy to refill and to use. Simply twist the pen and the liquid inside will go to the brush. After that, you can paint smoothly and easily.
It's not the sturdiest when it comes to build, although it has lasted me a long time. It is made from a lightweight plastic material. You need to be careful not to squash it in your bag. I suggest putting the pens in a sturdy case to prevent them from cracking inside your bag.
The brush tips lay down smoothly. There are no fraying tips. This can also be used repeatedly without wearing out the brush tips. Just make sure to put the cap back on after use or it might spill.
You also need to use water-based or non-acid liquids inside. The material might melt easily if you pour liquids that are acidic, alkaline or those with a high alcohol content.
Pros
Inexpensive
Great customer support
Multi-purpose
Easy to refill
Cons
Tends to leak when not upright
This is suitable for temporary refillable brush pen needs. If you are going on a trip and you want a brush pen that you can stash in your bag easily, this is a good option. Fill it up with watercolor ink and let your kids have fun with it. It's so versatile, you can also use this for other purposes like fill it up with oils and perfume.
6. US Art Supply Water Coloring Brush Pen
Looking for a complete pen set? Try getting this set which comes with 6 brush pens in different sizes. You are getting different sizes of brush tips, so you can do a wide variety of art applications.
These brush pens are self-moistening. That means you can fill them up with water and when you squeeze them, that water will moisten the bristles of the brush, so you can dip them in your watercolor paint. Moreover, they are made from a soft plastic barrel that is easy to squeeze but doesn't feel flimsy.
It's a convenient way to use your watercolor anywhere you want. Just fill them up with water and you are great to go. No need to set up water receptacles and throw them out when you don't need them.
Although these pens are made from plastic materials, they're not that flimsy. They're not the sturdiest given how affordable these are but the nylon brush tips are still resistant to wear and tear. However, the brushes feel like plastic so you might have a hard time getting the smoothest blending.
Pros
Comes with a lot of brush sizes
Doesn't drip
Easy to use and hold
Inexpensive set
Cons
Difficult to refill because of small opening
Brush tips have an artificial feel
This set is more ideal for people who are looking for affordable refillable brush pens. They are not as great as the more expensive ones out there but they are just right if you are looking for something temporary to use while you are out and about.
7. Faber-Castell Deluxe Water Brush Pen
Why bother with cheap but disposable brush pens when you can have something that will last for a long time such as this one from Faber-Castell? It's similar to the other brands in this list but you can tell the difference in quality right away.
This one feels and looks sturdier. It just has a better quality and build to it, ensuring that it will last you for many more uses. It has a translucent barrel to let you see how much ink you have left.
This is recommended for water-soluble ink such as watercolor or gelato. It picks up ink so smoothly and mixes it with a little bit of water, so you have full control over how saturated it should be. This is unlike other water brush pens that tend to put too much water, diluting the ink excessively.
This refillable brush pen also boasts of leak-proof properties. Even if there is leftover water inside, it doesn't leak easily, so you can confidently stash it in your bag.
The brush tips glide smoothly on paper as well. It doesn't feel synthetic and it blends ink and water nicely. It also doesn't fray easily.
It's a bit more expensive, but the price is something you can overlook if you are looking for a refillable brush pen that will last you for a long time.
Pros
Premium quality for picking up color easily
Dispenses the right amount of water
High quality brush fibers
Blends well and easy to squeeze
This is a good pen to have in your arsenal. If you want to avoid the hassle of filling cups with water to do your watercolor art, get this pen instead.
What to Look for When Buying Refillable Brush Pens
As you know, not all the refillable brush pens out there are the same. If you want to choose the best ones for your personal use, make sure you take these factors into account:
Refill Volume
Yes, it's refillable. But can it take in the right amount of ink? If it can only accommodate a small amount of ink at a time, it can be hard to use. You will have to keep on refilling it, which can get annoying. You would want to choose refillable inks that can take in a lot of ink for longer usage.
Additionally, look for brands that come with a good selection of refills. If the refills don't last that long, it would defeat the purpose of having refillable brush pens. Hence, you should consider buying those pens that come with refills that can be used at least three times.
Quality of Pen
If the reason you are buying this kind of pen is to use it for years, you would want to check the overall quality of the pen. Is it sturdy? If you drop it, will it chip or break easily? What is the barrel made of? Can it be cleaned easily?
Inspect the quality of the pen to make sure that it's going to last for a long time. If it feels flimsy and looks like it's going to break, look for something else. There are refillable pens made from high-quality plastic materials that will surely last for years. Look for platinum refillable carbon brush pens as well as this is made from materials that will not wear out easily.
Try buying something from a known brand. Something like the pentel pocket brush pen will last you for a long time. Buy a pentel brush pen if you want to get your money's worth.
Replaceable Nibs
Nibs wear out, too. If the nibs wear out easily, but they can't be replaced, you will have to replace the entire pen. You are here to take advantage of the benefits of refillable brush pens but if the nibs can't be replaced when they are worn out, you won't be able to make full use of their refillable functions.
In addition to the refillable functions of the pens, find replacement nibs properties. If it doesn't come with this feature, just make sure it comes with sturdy nibs. Check out the materials used for the brush tips to see whether they are long-lasting or not. Moreover, they should be resistant to wear and tear so you can maximize the use of the entire pen set.
Ergonomics
Check the feel of the pens. Are they comfortable to hold? Can you draw or write with them without straining your hands? It's really important to look for pens that are easy to use, especially if you are going to color, write or draw for hours.
Choose just the right size of thickness. If it's too thin, it might be more difficult to grip. If it's too thick, your hands might feel tired of holding them. Look for additional ergonomic features such as rubber grips or raised grips.
Ease of Use
How are you going to take out the ink tube and refill it? Does it have an easy refill mechanism? It shouldn't be a struggle to refill it with ink. Otherwise, you might waste more ink than expected.
Color Selection
Look for a refillable brush pen set that comes with the colors that you like. The refill for these colors should be easy to find. Find out where they are distributed. If you still need to have them shipped from another country, that means you will have to spend more just to get a refill.
Conclusion
Now that you know which pens out there are considered the best, you should mull over your choices. The best refillable brush pen is the one that ticks all the things in your must-have list. Make sure you pick a pen set that will last you for a long time. It should be sturdy and made from materials that won't easily break and get damaged. Happy looking!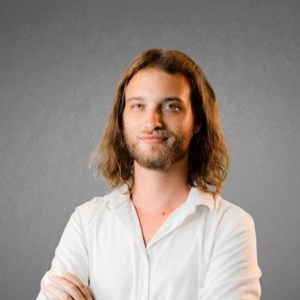 I am a former art teacher, so it is evident to me the importance of art in educating the new generation. We also want to help parents who plan to teach their children and desire the best tools and tips for them.