The days of writing in permanent ink are definitely over. Since the invention of the erasable ink, creativity has reached new heights. Imagine practicing your calligraphy without having to use many papers. Or if you have a small child learning to write, an erasable pen or highlighter is a good way to hone their skills. If you want to experiment or get creative a little, this is where the best erasable highlighters can come into good use.
If you want to get yourself a nice erasable highlighter, this is the perfect opportunity to get to know the most popular brands in the market these days.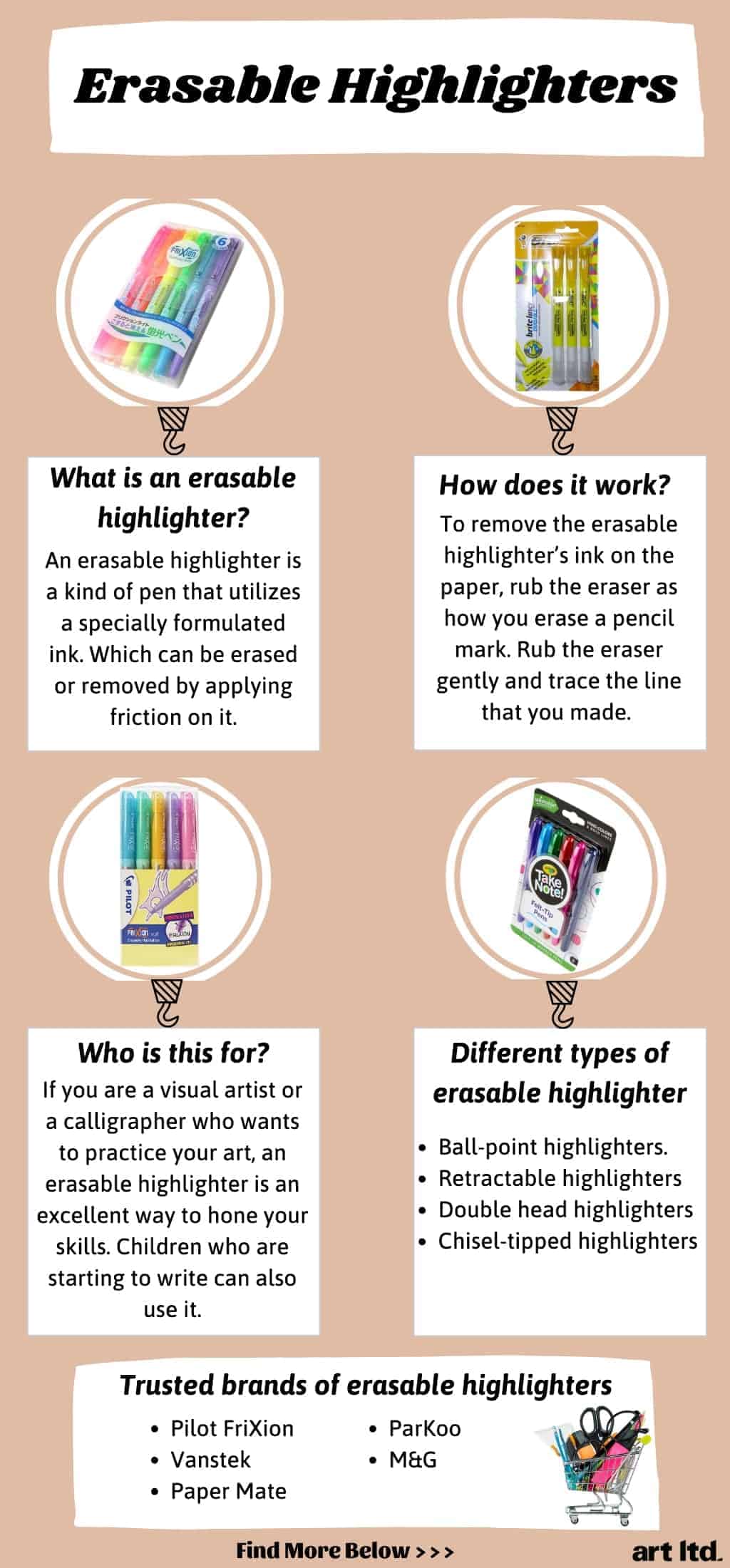 Top 10 Erasable Highlighter Reviews
1. Pilot Highlighter Frixion Light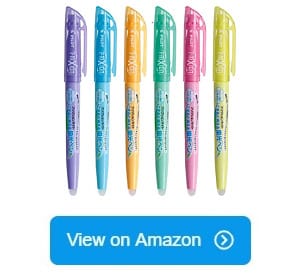 This eraser marker has been a long time favorite. I started using this when I was still in university to color code my notes and textbooks, so I'm excited to write this Pilot Frixion highlighter review.
What I love about this is they come in six subtle and soft colors (pink, orange, purple, yellow, blue and green). The low to medium saturation of the pastel colors is really pleasing to the eye. The pink and purple are my go-to highlighters on my bullet journal. And the remaining colors are basically used for projects at work.
This pen is made of opaque plastic and the color matches the ink color from the body to the cap. The sturdy cap clip is a plus because it securely holds on my organizers. Moreover, each pen measures 13.9 centimeters and the line width is 4 millimeters which are way better than an average highlighter. It has a durable plastic chisel tip and dries fast, approximately after two seconds. I use them daily at work and it does not bleed on printer paper. The ink also lasts for a long time.
These highlighters are the best because they are erasable, a feature you can hardly find on other brands. If you find yourself highlighting rental books or scriptures you're not supposed to write in, it will be a perfect solution. Just use the rubber eraser tip at the top of the highlighter and it will nicely disappear. However, regular eraser can't be used to erase the highlighter. I had tested several ink-types on this six soft color series. It works wonderfully on a ballpoint pen, ink-jet, and rollerball pens. One downside of this pen is it leaves smudges on gel pens.
Pros
Works on various ink-types
A rubber eraser tip erases highlighting
You can re-highlight after erasing
No bleed-through on thin paper
Cons
Leaves a smear on gel pens
Despite that, this highlighter is still a great tool especially if you want a lighter hue on your notes. I have used up a lot of these and would definitely buy again if they ever run out.
2. Crayola Take Note Erasable Highlighters
I was hunting for bright highlighters to match my colored pens and to my surprise, Crayola has this colorful and amazing tool. The vibrant colors are lovely compared to the old ones I bought from Macy's which are very pale.
I love that this highlighter's size is pretty similar to a regular pen so I was able to use them with ease. The hues make my calendar extra appealing and it is quite effective. I use different colors each month and separate areas for work and homes such as holidays, appointments and birthdays. It's nice that the chisel tips create thick and thin lines, very helpful on my budgeting worksheets. The caps snap on top tightly which prevents it from drying. The ink will definitely last long unless misplaced.
And the coolest part of this marker is how it instantly erases highlighted colors. My old highlighter doesn't have this feature at all. I have tons of articles at work and I use these almost every day. When highlighting mistakes are made, I just simply erase it with the clear ink tip on the opposite end of the highlighter. Oh, they don't bleed on thin paper too. I also found out that it is not affected by heat or cold which is wonderful. I don't have to worry if my journals are left in the car or if the temperature gets really high here in Florida. I'm positive that they will not disappear.
This safe and non-toxic highlighter set is perfect for everyone especially for kids and students who love arts and crafts. I purchased a few sets of these for my nephews and they are tickled in pink.
I totally love how these highlighters work except for the erased part, I can't write or draw over it. This part is my biggest disappointment.
Pros
Highlights and erases instantly
Versatile chisel tip features thick and thin lines
Product is safe and non-toxic
Not affected by heat
Cons
You can't write over an erased part
The color choices are really pretty and if you want to be creative, this Crayola's erasable highlighter will not disappoint.
3. MOACC Erasable Highlighters
I received these erasable highlighters as a present on my birthday. The set is stunning and became my go-to essential for bullet journaling these days. All 6 colors (yellow, pink, orange, green, blue and purple) are my favorite!
I did swatch all colors and they looked saturated at first but got lighter after a few seconds. Good thing I got this before purchasing the Frixion highlighters. I was skeptical to use them on my BoJu (bullet journal) because they are way too soft. I think this is a much better choice than highlighters which easily disappear when placed in hot temperatures.
The nice, moderate hues of this erasable highlighter suit my personal taste. I really appreciate that the ink does not bleed through the pages. It would be a mess if it did. It also feels comfortable in my hand because it's not too thick and not too thin. The colored tip is very smooth and glides beautifully on paper. The quick-drying ability is really good, it doesn't leave any smear at all.
My favorite part of this highlighter is how it effectively erases the ink on my journal. This makes it look nicer and neat. The chisel tip design is pretty nice. The thin part of the tip works nicely on underlining urgent tasks for my monthly log. And the thick part provides full coverage which I often use on notes that I don't want to forget. It's a lifesaver!
The highlighters can be used on coloring too. I remember how my little sister used it once on her sketchbook and the results are really cool. She wanted to get one for herself.
The color I like the least is the green highlighter, the ink is too dark when highlighting books. Sometimes, I can hardly see the word beneath.
Pros
Has incredible erasable ink & clean wear eraser
Good quality and has long-lasting ink
Does not bleed through thin paper
Lightweight and provides a comfortable grip
Cons
Green highlighter is too dark
Nonetheless, if you are looking for an erasable highlighter with a convenient design, this item is the best and a good value for the price.
4. PILOT FriXion Erasable Highlighters
When I first saw an ad about these erasable highlighters, I thought of a dreamy unicorn. Promptly, I searched for this Pilot collection online and was lucky to get three sets.
Originally, I was planning to use water-soluble oil pastels on a DIY project I was working on however, I had a change of heart. I love the stunning pastel hues!
The erasable FriXion Light Pastel came in a 5-pack of cute colors (yellow, pink, green, purple and blue). It looks like a pretty normal highlighter but it works magically. I was crafting my own mini postcards and used cardstock so it won't get destroyed in the mail.
Now, let's move toward the fun part. With the highlighter's chisel tip I was able to draw subtle and pastel lines for the address and a box for the stamp. Decorating the front is a breeze too. I added newspaper clippings and some photos to make it look vintage. I accidentally highlighted clippings in the wrong color but it was a breeze because the rubber piece on the other erases really well. The secret to this is not putting it on wet ink. Let it dry for 2 seconds then highlight as much as you want. Just avoid using it on inky gel pens because it may smudge the ink. It's amazing to have super neat postcards! Well, my mom was almost in tears when I sent her one.
This also contains a thermo-sensitive ink formula which means it can be erased with heat coming from friction. It would be really good for creative kids who love secret notes.
I'm in love with
this pastel collection
and I wish they are refillable so I can keep the nice-looking highlighters.
Pros
Erasing tip works flawlessly
Does not wear or damage paper
Precise chisel tip makes drawing easy
Has a unique erasable gel ink formula
Cons
Not designed to be refilled
Nonetheless, I had fun using it on my customized postcards. Aside from being cost-effective, it became more personal too. I highly recommend this to art and craft lovers out there.
5. BIC Brite Liner Erasable Highlighter
I've liked these highlighters from the first moment I tried them. It's pretty versatile and doesn't dry out even if the cap is left off for an hour or two. I often use it on my books and music sheets.
Looking at the outside, the plastic seems sturdy like a regular pen but not too thin. The cap snaps on extremely tight and makes an audible click that secures it in place. It is double-ended, the yellow chisel tip is for highlighting and the other end is a white eraser ink tip. I must say that this has a very upbeat fluorescent ink and stands out on pages. The precise tip creates a broad line that is perfect for highlighting and at the same time makes a fine line for underlining notes.
Another cool thing is, these Bic erasable highlighters erase unwanted marks on my rental books. I never thought erasing highlighted text will be this stress-free. I could always go back and erase those that I didn't mean to highlight.
I absolutely love to highlight phrases and quotes in my old book so I can use it on writing music and stuff. The bright yellow hue fades overtime or maybe because it's a dated book. It is still bright on my music sheets and when I erase notes, it does not leave any trace or blotch.
The only downside of this item is, you cannot re-highlight an erased spot. This is a disappointment because what if you made a mistake in your highlight, and you want it as smooth as possible. This somehow defeats the purpose of being erasable for me.
Pros
Edits highlight fast
No bleed-through on thin paper
Super-bright fluorescent ink
Ink doesn't dry out fast
Cons
Re-highlighting an erased part is not possible
These erasable highlighters work as promised and a perfect tool to make notes artsy and fun.
6. PILOT FriXion Light Erasable Highlighters
Highlighters are my all-time favorite budget planner tool. I used electronic planners before but I switched to the highlighter budgeting method which I learned from my sister. It may seem underrated, but using paper and pen brings out the creativity in me and I feel productive. I often use them to log our family's monthly expenses. Aside from adding life and color to my planner, highlighting also helps me to control spending and set goals each week.
As a busy mom, budgeting could become overwhelming but with the aid of these Pilot erasable highlighters, it is easier to see what we actually spend. The set came in three assorted colors (pink, yellow and orange). I made categories for groceries, bills, and paycheck and assigned all three in each category, which is enough to accentuate my planner.
I was amazed at how the chisel tip creates smooth and even strokes. My personal handwriting is really bad and to my surprise, it turned out nice. It quickly dries after a few seconds which makes highlighting look cleaner. I was not expecting that it would erase the errors I made but it did. Covering a single line of the category is so cool, unlike the previous markers I've used. It's impressive that the eraser works on a month old ink erase it without a hint! Needless to say, it's neat, no smudges and does not tear the pages.
I noticed that if the highlighter is exposed to a higher temperature, the ink becomes transparent when highlighting. I thought it dried out but the pigment of the ink was unbelievably restored after a few hours in the freezer. Awesome, right?
The only drawback is that it quickly runs out of ink. I have several different highlighters from other brands, so I tested this one with another pen. With the same usage, this highlighter ran out of ink first, while the other one still has about a third of ink.
Pros
Makes clean, fluorescent marks
Erases pretty well
Does not dry out fast
No bleed-through on thin papers
Cons
Runs out of ink faster than other brands
If you notice, I have written more than one pilot Frixion erasable highlighter review, and that is because I find this brand to be very reliable. At the end of the day, it all comes down to personal preference. These highlighters make budgeting more enjoyable and indulging for me.
7. Sobjap Erasable Highlighters
Highlighters are my weakness! They are the Holy Grail on my journals and study notes. I love the hues and mixtures of colors in this collection. The set has basic colors of yellow, pink, green, orange, blue and violet and 6 colors of pastel hues. I'm grateful that they added an extra eraser and clear case. I like that each pen is lightweight and easy to use. The hooded caps snap on securely. It is a two-piece instrument with a chisel tip on top and at the other end is the eraser.
The transparent design of the case makes it easy to see what's inside. I don't need to take them all out, I can say it's very handy and has enough room for the eraser and highlighters. The eraser provides a fine grip as well.
These Frixion highlighters are also great pens since they are soft pastel colors and create a lighter touch on my study notes. The other 6 bright highlighters are mainly used in my journals. Another cool thing is, I can easily erase any highlighted errors using the rubber on the tip of the pen and leaves no eraser shavings. The thin tip is useful for precise highlighting.. The best part is it does not cast any shadow or smear on the pages. A neat, clean look is important for me
Since the ink is erased by friction and heat, I don't recommend using print outs that need to be photocopied and don't leave your notes in a heated car. The good news is, you could restore the ink by tossing it in a freezer for a few hours. Another snag is that it erases text written using Frixion pens so I had to be very careful when highlighting.
Pros
Beautiful color variation
Erases mistakes flawlessly
Doesn't bleed on thin paper
Comes with a Frixion eraser and case for storage
Cons
Not advisable for highlighting text written with Fixion pens
All things considered, I am very satisfied with how these highlighters work. These are the best and prettiest highlighters I've ever bought.
8. Pilot Frixion Light Fluorescent Ink Erasable Highlighter
If you like calligraphy or have a planner or a notebook that you wish to highlight, you need a good highlighter to accomplish the task. However, if you have changed your mind or you need to make some corrections to your work, you need to be able to erase the highlighter quickly. This is where the Pilot Frixion Light comes into play.
I really love this particular highlighter. First of all, it is brightly-colored. Students will surely like using this one. This is sufficient for highlighting over a word in any book or reviewer before exams.
Another plus factor that I like is its ease of use. I don't have to use another tool to bring out the ink. Just a simple pop of the cap and the highlighter can be used instantly.
Finally, this product is very comfortable to use. It does not have any kind of bad smell. No matter how much ink comes out of this highlighter, it does not give off any kind of bad smell which can temporarily or permanently stop the person from using it.
While I really don't like about this erasable highlighter is the fact that it is not 100% erasable. I can still see traces of highlighter even after rubbing it. This may be okay for removing highlighter marks on a reviewer, however, it is not good for art projects. I can still see faint traces of the ink on the paper.
Pros
Available in six different colors
Colors are bright
Easy to use
The tips are thin
Does not bleed to the other side of the paper
After gathering all the information about this product, I can say that the Pilot Frixion is an amazing product. It is bright, dispenses ink evenly, and it does not bleed on the other side of the paper. With this pilot Frixion erasable highlighter review
9. Emraw Smooth Glide Solid Gel Fluorescent Erasable Highlighter
If you are a student who is researching for homework or wishes to pass an exam, you need to have a reliable highlighter to separate the words, phrases, and sentences that you wish to remember. Unfortunately, most highlighters make their mark permanently. For a safe and convenient studying, the Emraw Smooth Glide Erasable Highlighter is the right product for you to use.
I'm really impressed with this product. It is very lightweight and comfortable to hold. With 5.5 inches length, I can easily grip it without spraining my right hand. In addition, the ink is acid-free and toxic-free. This means that I don't have to worry about inhaling fumes from the ink that can have an adverse effect on my health.
The chisel tip is very firm. It does not dull easily no matter how much I use it. For me, this is very important because firm tips mean longer use. The longer I have this product, the more I can use it for my studies.
Another remarkable feature of this product is the smooth erasure process. Just one simple but a firm swipe of the eraser removes the ink. I have noticed that the ink completely disappears from the surface of the paper. It also does not ruin the page of the book or the piece of paper that I'm writing on. This is very advantageous because I can use the same paper again.
My only concern about this erasable highlighter is how it runs out of ink quickly. After only six days of using it, I had to use a new one because I still had a ton of papers to review. I just hope that in the future, the company would design a highlighter that's not only efficient but also economical.
Pros
Acid-free and toxic-free ink
Smooth and convenient erasure
Does not bleed
Easy on the eyes
No alcohol smell
All in all, I can say that I'm satisfied with the Emraw Smooth Glide Erasable Highlighter's performance. It is easy on the eyes, does not bleed on the other side of the page, and most of all, the erasure is a breeze. If you are looking for a reliable highlighter to help you through your homework and exams, you should definitely include this product in your shopping list!
10. Crayola Erasable Highlighters
Kids who are learning to write or just beginning to unlock their potential are usually delegated to one familiar instrument: pencil. This is because pencils are known for their ability to be erased at a moment's notice. If the kids insist on using pens, you will have no choice but to use another piece of paper or cross out their mistakes. If you want to bring out your kids' talent, the best product for your kids to use is this Crayola Erasable Highlighter.
This product is absolutely remarkable! The kids really love using this. Pre-school kids are notoriously known for writing on the walls and doors with crayons, markers, pens, and whatnot. However, because of this product, I'm not worried that the ink will stay on the walls and doors. The ink of this highlighter can be easily erased with one effortless stroke of the eraser.
The ink, on the other hand, is very bright. It does not bleed on the other side of the paper that the kids are using. With this, I'm not worried about my paper supply anymore. As a matter of fact, I was able to use it to highlight a schedule on my planner. The ink stayed only on the side of the page where I wanted it to be. Since the ink is yellow, I can easily spot it and locate the note that I wrote.
What I don't like about this erasable highlighter is the fact that it only comes in yellow. If I want to use other colors, I have to purchase them separately. I just wish that other colors would come in one package to give children other options.
Pros
Bright-colored
Erases well
Does not bleed on other side of the paper
Easy to use
No toxic smell
To wrap things up, I can say that the Crayola Erasable Highlighter is a wonderful product. It is easy to use, is brightly colored, has no toxic smell and does not bleed on the other side of the paper. In addition, the ink erases well. Kids and adults alike are definitely going to have fun using this erasable highlighter.
What to Look for When Buying Erasable Highlighters
Erasable highlighters are very fun to use. Not only can it be used to highlight specific phrases or sentences on a notebook during exam reviews, but also for art projects. Furthermore, a highlighter is a good alternative to watercolors, crayons, and oil-based paints. If you wish to create art on a paper, this product is definitely a good solution to your coloring needs.
Visiting a physical store is a good move if you wish to get an excellent erasable highlighter. This is because you need to see all the available brands and their performance. If you are looking for erasable highlighters, here are some things that you need to know before making a purchase:
Check the consistency of the ink. For the uninitiated, the consistency of the ink is often the most forgotten feature of the erasable highlighters. To know if the highlighter is consistent, test the highlighter on a piece of paper and see if it delivers the same amount of ink on each stroke. If it doesn't deliver the same amount of ink on the same stroke, then that particular highlighter is no good.There is a good reason why a highlighter is inconsistent. The ink must have been dried out for some time. If the highlighter has been left open for some time, or it has some leak, this would definitely cause the ink to dry out.
Check if the ink really disappears after rubbing it. There are highlighter brands that advertise their products are completely erasable. The truth is, the specially-formulated ink disappears or whenever friction is applied. This is the reason why rubbing the surface of the paper where the highlighter made its mark will erase or remove it. If the particular brand that you are planning to purchase does not completely remove the ink, then you should move on to the next brand on your list.To know if the ink is really erasable, test the highlighter on a piece of paper. After a few strokes or lines, try to erase it using the other end. If the ink stays there after a few tries, then the highlighter is not the one for you.
Check the consistency of the tips. There are cheap brands of erasable highlighters that have frail tips. As we all know, frail or weak tips can severely affect the quality of stroke you make with the highlighter. How then do you know if the tip is frail? Press the tip lightly and see if it deforms. If it does, it means that it is indeed frail.How, then, would a frail tip affect your erasable highlighter usage? Suppose you are using the highlighters on your calligraphy project. If the tip is frail, it surely would mess up your stroke, thus ruining your whole project. However, if the tip is firm, not only would you be able to evenly distribute the ink on every line, but also consistently produce good work in the process.
Check if the highlighter bleeds on the other side of the paper. Many highlighters dispense ink generously, thus leaking or bleeding the excess on the other side of the paper. This could lead to trouble especially if you are going to use the highlighter on a reviewer. When shopping for erasable highlighters, it is important that you test whether the brand you chose bleeds or not.
Check if the highlighter has an undesirable smell. As a matter of fact, some highlighters do smell like alcohol. The more they are used, the more smell it gives off. This feature is not good if children are going to use it for a long period of time. If you want children to be safe at all times, then choose the ones that have less or completely no alcohol smell. This way, you would not be exposing them to health hazards.
But what if the brand that you are looking for is not available on the physical store near you?
Check online stores. In this case, you can always go to online stores. Online shops such as Amazon.com is a perfect website to launch your search for erasable highlighters. Websites like this provide a good amount of information about the specific brand of highlighter that you want to consider shopping.From then on, you can read the online reviews written by customers. Through their reviews or their testimonies, you can determine how the highlighter brand performs under various conditions. Also, the reviews will help you know if the brand that you want can really support your highlighting needs.
Knowing these features is the key to successfully getting the best erasable highlighter for your projects. Without carefully studying each brand's performances, you will definitely end up buying a defective one. Testing will surely save you time and money. But if you don't have time to go to the store personally, you can always rely on online shopping sites. This way, you will have a broader selection of erasable highlighter brands to choose from. While you may not be able to conduct a performance test online, you can always rely on reviews to help you gauge the product's advantages and disadvantages.
Other Important Factors to Consider
What is an erasable highlighter?
An erasable highlighter is a kind of pen which utilizes a specially-formulated ink. Which can be erased or removed by applying friction on it. Furthermore, its tip has a wide variety of thicknesses. If you are into calligraphy or illustrating, thick tips will help you achieve your desired effects in no time at all. If you want to use one in your doodlings, you certainly need a thin tip to make thin lines.
How does an erasable highlighter work?
The secret behind the magic of an erasable highlighter is in the ink. The usual inks inside the regular pens are quite indelible or unerasable. However, the formulation behind this particular highlighter's ink makes it possible to be erased.
In order to remove the erasable highlighter's ink on the paper, all you have to do is to rub the eraser as how you erase a pencil mark. Rub the eraser gently and trace the line that you made. The friction between the eraser and the paper will produce heat, which in turn removes the ink efficiently.
Who is this for?
If you are a visual artist or a calligrapher who wants to practice your art, an erasable highlighter is an excellent way to hone your skills. Imagine the kind of art that you will create if you have an erasable highlighter at your disposal?
Children who are starting to write can also use this magnificent product. While pencils are readily erasable, highlighters can also help them learn and have fun. With this product, parents can use the same paper again and again.
This highlighter is also for students who tend to make mistakes when they are writing. This is also applicable for supplying information on paper forms. If you make a mistake writing on the wrong box, you can easily rectify it by erasing the ink and then write the correct information.
You have to know, however, that erasable highlighters should not be used when filling out legal forms. This is to prevent facing troubles especially if the information that you supplied eventually disappears.
What are the different types of erasable highlighter?
Not all erasable highlighters are created equal. Some are designed for specific needs. If this is your first time shopping for one, you need to know the different types so that you can maximize its use.
Here are the different types of erasable highlighters available in the market these days:
Ball-point highlighters. This is like a regular ball-point pen. The ink is dispensed using a tiny ball at the tip of the pen. The usual width of the ink is between 0.5 mm up to 1 mm.
Retractable highlighters. This kind of highlighter is usually known as the clicker. The inside of the pen is spring-loaded, making it possible to hide or retract the tip when not needed. To use this highlighter, just press the other end to expose the tip. Another press will hide it away. Through the retraction feature, the tip is partially covered, thus minimizing the exposure to air which can dry out the ink.
Double head highlighters. Double head highlighters have a functional tip on both ends. In order to prevent the ink from getting dry, both ends have their own caps.
Chisel-tipped highlighters. This type of erasable highlighter is for those who are dabbling in calligraphy. With the chisel-tipped type of highlighter, it is easy to control the width of the stroke each time you use it. If you are a student reviewing for exams, this is also perfect for highlighting words, phrases, and sentences in one swift stroke.
With these types of erasable highlighters at your disposal, you can certainly create endless possibilities. In addition, you will be able to eliminate the ink on the paper if you don't need it anymore. With this, you won't need to waste paper, just write and erase as long as you need it.
Why do you need erasable highlighters?
Have you ever written on a form using a pen, but made some mistakes along the way? This kind of an embarrassing situation can now be remedied using erasable highlighters.
Art students can benefit from using this kind of highlighter. If you want to draw or design something, you can make the best out of it because you can erase any mistakes that you make along the way. You can also eliminate any unwanted lines to give your project the effect that you desire.
If you have an examination or test, you can highlight the terms, phrases, and sentences that you wish to remember using this product. This can help you isolate the important things that you wish to retain in your mind. After the examination, you can promptly erase the highlighted phrases if you choose so.
Frequently Asked Questions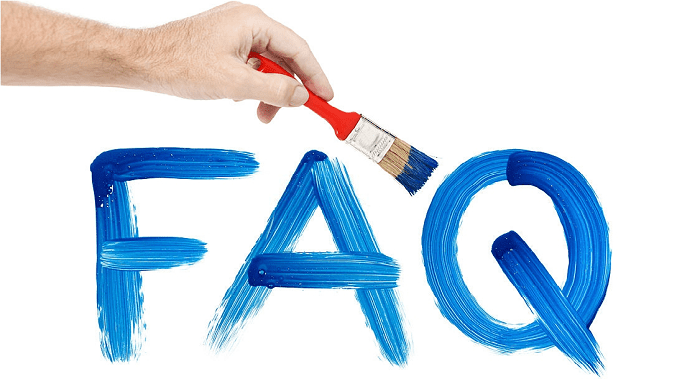 What are the most trusted brands of erasable highlighters?
There are different brands of erasable highlighters on the market these days. However, only a handful of them is truly trustworthy. If this is your first time shopping for one, you will truly get overwhelmed.
Here are some of the most trusted and excellent brands of erasable highlighters in the market today:
Pilot FriXion
Vanstek
Paper Mate
ParKoo
M&G
These brands have been known to deliver a consistent quality of performance. They are also highly recommended by satisfied customers all over the world. If you are looking for erasable highlighters for your art projects or just to practice your doodles, these are the brands that will provide you with superb performance.
Does erasable ink become permanent?
You have to know that when most markers make their contact on a paper, its stain or mark will be indelible. It would take an alcohol-based stain remover to eliminate the ink.
This is the issue that the makers of erasable highlighters tried to resolve. Through its specially-made ink, the mark that this kind of highlighter impresses on the paper becomes possible to erase.
By using friction, the heat it produces eliminates the ink on the surface of the paper. You have to be reminded, though, not to use erasable highlighters when writing on official documents or filling out legal forms. The ink that you used to write important information will be highly likely to fade or be erased over time.
How do you use erasable highlighters?
Using an erasable highlighter is a very easy task. It's just like using a regular pen or marker – you write on a piece of paper whatever you want until you are satisfied. However, if you made a mistake with a regular pen or marker, you will need to use another paper or use special paint to cover the mistake. But with an erasable highlighter, you can easily remove the ink that you consider a mistake without damaging the paper in the process.
Here's how to use an erasable highlighter:
Write whatever you want on a piece of paper.
Rub the opposite end of the highlighter on the part that you wish to erase.
The friction created between the eraser and the paper will heat the ink. The heat will then facilitate the removal of the ink on the paper.
Once you have removed the portion of the ink that you consider a mistake, you can now proceed to make the correction. Repeat the process until you achieve your desired effect.
Where to buy erasable highlighters?
Erasable highlighters can be purchased on any arts and crafts store. You can also buy your desired brand on Lowes, Walmart, and Home Depot.
If your preferred brand is not available in any of these stores, you can always try to search and purchase them online. You can always try websites such as Amazon.com to look for your choice erasable highlighters.
Conclusion
Undeniably, the possibilities an erasable highlighter can bring are totally endless. This is the reason why it pays to know the best erasable highlighter brands. Thanks to the specially-formulated inks that these highlighter brands employ, anyone can have endless fun writing, doodling, or just simply practice their skills. However, choosing a highlighter is always a personal choice. This is the reason why you should learn more about the product before purchasing it.
If you want to maximize the amount of fun that these particular highlighters can bring, you have to know how these products perform in the first place. By going to the school or art supplies stores, you will be able to see the quality and the richness of color of every available highlighter. If the brand or type of highlighter is not available, you can always try to shop online. From there, you can see a wide selection of highlighter brands.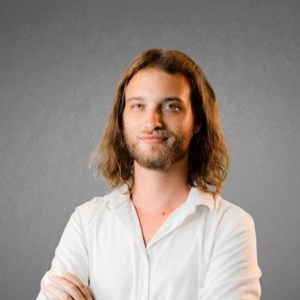 I am a former art teacher, so it is evident to me the importance of art in educating the new generation. We also want to help parents who plan to teach their children and desire the best tools and tips for them.