The unsightly reddish, yellowish, and even green coating forming on our metal furniture or tools is an unpleasant yet frequent occurrence. As we cannot let iron oxide cost us beautiful and expensive belongings, it is time to find a potent paint that takes away the problem.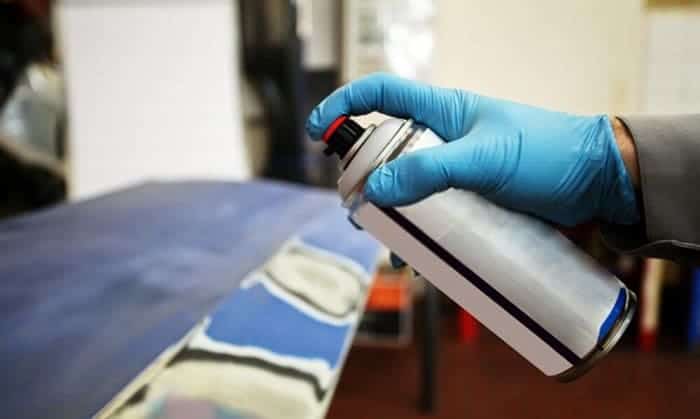 In this case, the easiest and fastest way is finding the best spray paint for rusty metal, and following the required steps to make the best use. If you are confused among the numerous options available, dig in the top-rated products tested and reviewed below.
Hopefully, with the chosen paint, you can say goodbye to the unpleasant sights and bring back the gorgeous look to your furniture.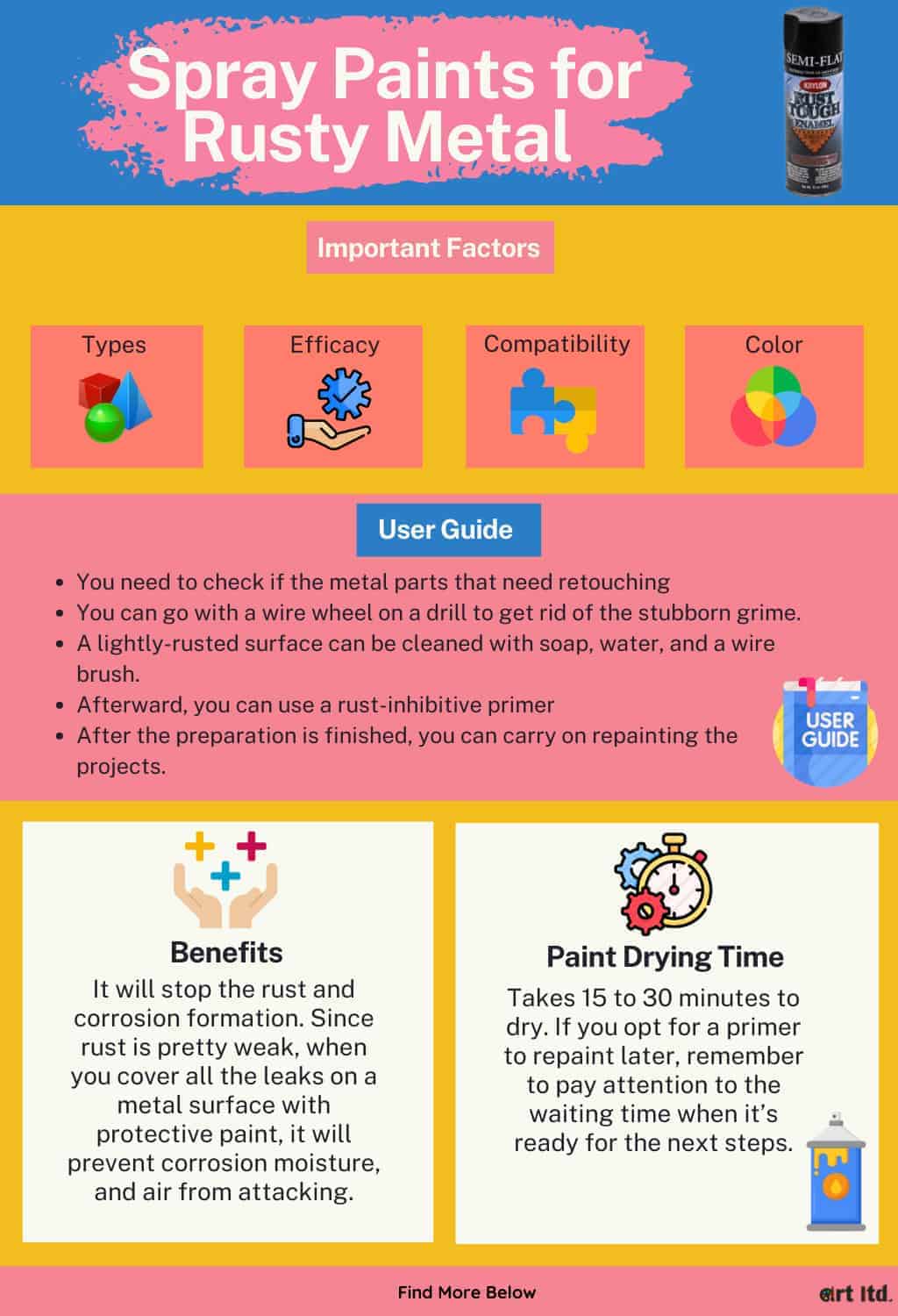 Best Spray Paint for Rusty Metal Reviews
1. Krylon K02732007 Fusion Spray Paint
Versatility and sleek color are what Krylon offers in their K02732007 Fusion All-In-One Spray Paint. I was amazed by the new look that the paint creates on the rusted patio furniture, so I recommend it to many friends.
If this is your first time performing a DIY project, fret not, as the product comes with clear instructions. It takes about one hour to repaint your furniture with three paint coatings. Plus, due to the all-direction spray nozzle and the fluid's quick-drying formula, there will be no dripping and running issues.
Regarding its versatile use, this Krylon paint works for both indoor and outdoor projects. Besides rusty metal pieces, DIY-ers can rely on the product to retouch wooden, PVC, or tile surfaces. Notably, they can handle such tasks without requirements for sanding or priming beforehand.
This paint leaves behind a durable and modern coating that stays gorgeous for a long time. You can choose among the matte, glossy, satin, textured effects, and more. It is hard to resist such a basic and classic look that never goes out of style.
An important note for you when working with this paint is wearing a mask and gloves. Make sure you carry the project in an open area to avoid its smell lingering on your stuff.
Pros
Easy-to-use spray paint with clear instructions
Comes with an all-direction spray nozzle and quick-drying formula
Versatile use for both indoor and outdoor furniture
Works well on rusted metal, wooden, PVC, and tile surfaces
Offers glossy, satin, matte, textured effects, etc
Cons
Requires application in an open area with gloves and mask on
As long as you are careful and thorough while working with this spray paint over rust, you will not be disappointed by its instant and long-term result.
2. Rust-Oleum 249131 Spray Paint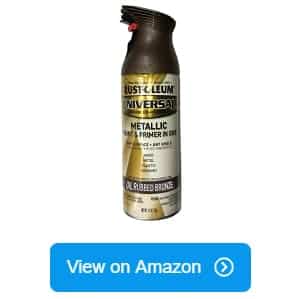 If the lack of colors is a huge disadvantage for you, the 249131 Universal All Surface Spray Paint from Rust-Oleum can fix the issue. With more than twenty hues from classic to exotic, the product stores an ideal pick for any buyer.
In detail, you can paint over your furniture to have any shimmering metal shade you want, be it bronze, steel, soft iron, copper, etc. One particular color that I love on my patio set is turquoise, which offers a tranquil blue and green vibe.
Apart from the impressive color range, this best spray paint for rusty metal can also cover a variety of surfaces. They are wood, metal, fiberglass, vinyl, plastic, to name a few. Hence, you can utilize this can measuring 11 ounces of potent paint to retouch different items around the house.
Not only serving aesthetic purposes, but this Rust-Oleum oil paint can also resist rust and corrosion for metal parts. You can rely on its durability and fade-resistance to expect a long-lasting finish for the redone project.
We choose a rust reformer in a spray can for a quick application; as a result, this product caters to that need excellently. Within 30 minutes, the paint is dry and ready for another layer. Thus, users can finish the whole process in an hour or two.
However, to achieve the ultimate even surface, you should clean and lightly sand the surface.
Pros
Provides more than twenty hues for metal
Offers a shimmering effect for bronze, steel, soft iron, copper
Works on various surfaces, including wood, fiberglass, vinyl, plastic, etc
Resists rust and corrosion
Durable and fade-resistant for long-lasting beauty
Spray can for quick application within one hour or two
Cons
Might require surface cleaning and light sanding for an even paint layer
All in all, the preparation step will help us make the best use of this rust prevention spray paint. So, we are guaranteed a beautiful and durable layer for a long while.
3. Loctite Extend Rust Neutralizer
If you are a fan of Loctite's paint-on product and aspire to experience a no-sweat application, check out the brand's Extend Rust Neutralizer. It offers the same decent-quality covering in a convenient spray bottle.
With this product, you will not have to leave out hard-to-reach or small areas when retouching complicated projects. Its spray nozzle can reach enclosed corners without heavy lifting, making this paint ideal for handicapped DIY-ers.
You might think of adding a primer layer over the rust neutralizer layer before repainting. Yet, this step is unnecessary when using this product, as it creates a rigid and smooth enough coating for direct paint. In my case with Rustoleum rusty metal primer vs rust reformer from Loctite, I used each for different projects.
The notable function of this fluid must be eliminating rust on old metal surfaces. If you are dealing with loose rust, make sure to get rid of it using a wire brush or coarse sandpaper first. Such preparation is not at all demanding yet important for an even finish later.
As it is easy enough to work with this rust neutralizing paint, you should perform the task in a well-ventilated space to avoid its pungent smell. Wearing a mask is also advisable, especially when you are sensitive to paint odor.
Pros
Convenient spraying paint for hard-to-reach and small areas
Allows repainting afterward without primer
Creates a smooth and tough enough coating
Eliminates rust on old metal surfaces
Offers an even coverage with surface preparation by wire brush or sandpaper
Cons
Requires wearing a mask while working in well-ventilated areas
Despite its strong smell, this product can breathe new life into your old bikes, furniture, or tools made of metal. You can save much money, time, and effort with such powerful spray paint to cover rust.
4. Krylon Rusty Metal Primer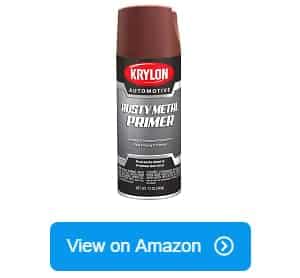 The Krylon Automotive Rusty Metal Primer is a must-have item in every DIY-er's tool kit. From my experience, it sprays well with a quick-drying, neat, and even covering.
What this primer does to the metal surface is removing corrosion and forming a protective layer that resists rust and water. Due to its durable shield, your furniture or automotive parts are ready for repainting afterward.
Most users are impressed with this Krylon products' adhesion as it sticks well on their old farm equipment. As long as the surface is adequately prepared with sanding, this spray paint can provide a smooth and perfect finish that lasts for a long time.
About the application process, three hours is the maximum time for your project to be dry to handle. Its fast-drying formula is responsible for a quick task as it dries to touch within 30 minutes.
From my experience, I adore the EZ touch Fanspray tip that promotes breezy pressing and optimal control while applying. Thus, even if you have no experience in priming a metal automotive part, it would be just fine.
However, the red color that appears on your project might not be true to the picture advertised.
Pros
Removes corrosion from the metal surface
Forms a protective layer that resists rust and water
Sticks well on farm equipment and automotive parts
Produces a smooth and long-lasting finish with proper surface preparation
Fast-drying formula requires 3 hours to dry to handle
Features EZ Touch Fanspray tip for easy application
Cons
The red color is not true to the picture advertised
If you are going to repaint the furniture, choosing this product to prepare the surface is recommendable since it serves as a great primer for rusted metal.
5. Rust-Oleum 248658 Rust Spray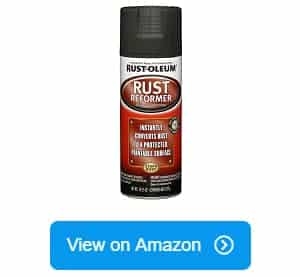 Another Rust-Oleum product that does not disappoint when dealing with corroded surfaces is the Black 248658 Rust Reformer Spray. You can trust this model to leave long-lasting protection on your furniture.
The primary purpose of this solution is to remove corrosion from metal pieces effectively. It offers a quick solution for those without much time and effort of sanding heavily-rusted parts yet will not settle for less than clean and bare metal surfaces.
As long as you follow the instructions provided by the brand, the paint can adhere and heal well, then become paintable. Its layer will dry within 20 to 40 minutes and be ready for topcoat after 24 hours.
After the whole process is finished, you are guaranteed a flat and smooth black covering. Notably, the color can last a long time even if you decide not to paint over it, proving this product's durability.
Also, users can burst the paint from all directions, allowing it to get into tiny spaces. I find such a nozzle design convenient to spray automotive parts that contain multiple details.
The only gripe I have with this otherwise fantastic rust reformer is its shorter shelf life than expected. That means leaving the paint too long in the can will result in clogging.
Pros
Removes corrosion from metal pieces effectively
Quick and effortless sanding heavily-rusted parts to bare surfaces
Comes with detailed instructions
Can adhere, heal well and become paintable after 24 hours
Offers a smooth and durable black covering
All-direction spray can that gets into tiny spaces
Cons
Can clog after a long while left unused
Overall, this anti rust paint for metal delivers its primary purposes outstandingly. If you do not want to waste the fluid, purchase it on an as-needed basis only.
6. Seymour 20-1686 Spray Paint
Different from multiple famous brands, Seymour is a smaller name that stands out by providing a safe and solid covering for rusty surfaces. Check out their 20-1686 Big Rig Spray Paint to see if this product is suitable for your current DIY project.
What convinced me to go for this model is its safety claim that shows no toxic chemicals in its formula. In detail, the brand does not add mercury, cadmium, lead, chromates, and chlorinated solvents to prevent harmful effects on users' health.
After my first work with the paint, its excellent adhesion on metal surfaces, especially steel parts, and its efficiency in removing rust leave a huge impression. The paint covers the designated areas well, as it forms a nice-looking and neat finish.
Another highlight about this Seymour product is its protective function against oil, gasoline, and corrosive chemicals, making it ideal for automotive parts. Also, since the coating can shield metal surfaces from weather conditions, you can use this paint for outdoor projects.
The color assortment is a nice touch from the brand, too, with nine high-pigment shade options. I picked the stainless-steel one to redo my bike and enjoyed the shiny and natural look of this color on it immensely.
Still, this protective spray paint will cost you a little more than standard products from competing brands.
Pros
Safe formula without mercury, cadmium, lead, chromates & chlorinated solvents
Great adhesion on metal and effective rust removal
Covers well with a nice-looking finish
Shields against oil, gasoline, corrosive chemicals, and weather conditions
Comes in 9 high-pigment colors
Cons
Costs a bit more than competing products
All in all, I deem this product a high-quality paint to stop rust on steel and other metal tools. If you are willing to invest in the piece, it can be a refreshing alternative to the ones you are familiar with.
7. Rust-Oleum Stops Rust Spray Paint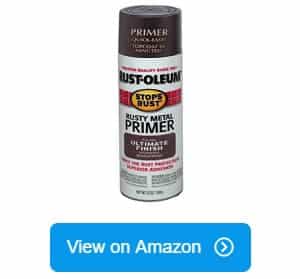 When it comes to reliable brands providing paint finish for furniture, Rust-Oleum is among the first names that come to mind. And, their 7769830 Spray was my pick after reading many rave Rustoleum rusty metal primer reviews.
With this bottle of prime fluid, we can repair heavily-rusted chairs, tables, ship decks, and much more. Since its formula contains enamels, the product can banish corrosive moisture and air often left out by other low-quality primers.
As this potent paint penetrates and stops rust, it forms a smooth surface for multiple topcoats later. Thus, if you want to further protect your furniture or ship deck from elements, this spray paint should be included in the first steps.
Other than such incredible effects, this product wins me over with its hassle-free application. In detail, its convenient spray nozzle features a wide finger pad that allows ease in pressing. We can burst paint evenly from all angles without worrying about the fluid pooling and dripping.
Notably, this 12-ounce bottle can cover around 20 square feet of rusty areas. Along with its durability that withstands outdoor use, the paint can be of fair use for various objects, from old farm tools to marine vessels.
It would be best if you use the whole bottle within 3 to 4 months. As its shelf life is not impressive, a longer period than that might result in uneven application.
Pros
Prime fluid repairs heavily-rusted tools
Enamels in its formula, banishing corrosive moisture and air
Penetrates and stops rust, then forms a smooth surface for topcoats
Hassle-free application with wide finger pad and all-angle burst tip
12-ounce of prime covering 20 square feet
Withstands outdoor use, ideal for old farm tools and vessels
Cons
Not impressive shelf life
All in all, as long as you strictly follow the product manuals, the result will be satisfying. Make sure you use it up before it goes bad to avoid wasting such a potent prime.
8. Seymour 16-841 Spray Paint
The final entry in this list is a formulated paint for hot-dip galvanized surfaces. Hence, the Seymour 16-841 Spray Paint can accompany you in various retouch tasks for marine equipment, guard raids or link fences, etc.
We can utilize this paint for nails, bolts, screws, and other tools with protective zinc coating. When these items face rust and corrosion over time, they need an extra layer of enhanced zinc to ensure long-lasting use. And this product provides just that to protect them from outer elements.
I appreciate how durable its coating is, as I witness first-hand the long-lasting finish not losing its shine after months. Furthermore, once dried, this paint layer can resist crack, thus ideal for transportation parts.
Furthermore, it can dry relatively fast, sparing me much time and effort, even with massive projects. You can wait for some minutes to spray another coating, making sure the final look is smooth and natural.
However, due to shipping issues, some buyers did not receive the nozzle or the knob. So you might want to check it carefully after unpacking to ask for a replacement if needed.
Pros
Formulated for hot-dip galvanized surfaces
Adds a protective zinc coating to prevent rust and corrosion
Offers a durable coating that resists crack and fades
Dries fasts to touch for a quick application
Smooth and natural look with multiple coatings
Cons
Shipping issues might lead to the nozzle or knob missing
After my great experience with the product, I intend to purchase more to redo the chain link fence for my little one's football games. If you also need a galvanized coating for metal tools or furniture, I cannot recommend this product more.
9. Krylon K09203007 Rust Enamel
The Krylon K09203007 Rust Preventive Enamel is popular for its adhesion, thickness, beautiful shades, and more. You can explore its excellent use by choosing the right color for your project.
Krylon does an incredible job of widening buyers' options, as the brand introduces up to 17 hues in this "rust tough" paint collection. We can also opt for either flat, semi-flat, or gloss paint to achieve the desired effects.
In detail, it ranges from aluminum, black, silver metallic ones for metal parts to unique models such as radiant red, forest green, or sun yellow, etc. Along with this paint's compatibility with wood, masonry, and plastic surfaces, we are guaranteed an ideal pick for any retouch projects around the house.
I am sure that many buyers will appreciate this enamel spray paint since it only requires one coating to eliminate rust and corrosion. This came as a huge surprise for me, too, as I always spray two or three light coats to ensure a proper protective layer.
Best of all, the paint comes with some fantastic features such as fade-resistance, easy-to-clean surface with soap and water, and low-odor formula.
Of course, this product has its minor flaw which is its drying time taking a bit longer than usual.
Pros
Offers 17 shades in total, ranging from basic to unique choices
Comes with flat, semi-flat, gloss effects
Compatible with metal, wood, masonry, and plastic
Requires ONE coating to eliminate rust and corrosion
Incredible features: fade-resistant, low-odor, and easy-to-clean
Cons
Takes a bit longer drying time to touch
This Krylon enamel paint delivers its promise with an efficient formula and provides multiple features for an incredible user experience. All things considered, it might be the best paint for rusty metal for many DIY-ers.
10. Pintyplus Evolution Spray Paint
If you want a convenient product that stops the rust on metal furniture, check out the Pintyplus Evolution Spray Paint. Many buyers purchase it in a package of 6 for multiple DIY projects, as they like its wide-ranging and easy application.
This paint creates a satin pure white coating on your furniture, whether the piece is made of steel, iron, wood, stone, or paper. This versatility feature makes it ideal for retouching different objects around the house, including chairs, tables, boards, and more.
When I say this spray fluid is perfect for quick manipulation, I mean highlighting its fast-drying Acrylic formula. Unlike most paints that take 20 to 40 minutes to dry, this one only requires 15 minutes. With pieces that need multiple coatings, 5 minutes is enough for repainting.
Just make sure you follow the manuals given by the brand, and you will be good. In truth, I shook the can for 1 minute to mix the solution. After cleaning the surface, you can spray thin layers by pointing the nozzle 25 cm away from the object.
Although the fume it emits is not as strong as other spray paints I have tried, I suggest you wear a mask and gloves when applying.
On the other hand, the bottle cap is a bit tricky to take off. You might have to use some force to open it, so be careful not to break the piece.
Pros
Offers a satin pure white coating
Works on steel, iron, wood, stone, or paper
Fast-drying Acrylic formula takes 15 minutes to dry, 5 minutes for repainting
The detailed manuals show how to achieve smooth covering
The smell is not as strong as other spray paints
Cons
The bottle cap might be hard to take off
Overall, other than its minor issue, this product delivers excellent results on various materials. Such a pure white coating can be a refreshing look for your old furniture.
What to Look for When Buying Spray Paint for Rusty Metal
To invest in the best metal paint to prevent rust, we need to consider several options that meet the requirements of your projects. Yet to build the shortlist of final products, we should consider factors such as its types, efficacy, compatibility, color, and more.
You must pick the paint formulated to work on metal surfaces. Suppose you intend to retouch various furniture pieces around the house. Then, it would be great if the paint is compatible with other materials, such as wood, plastic, masonry, etc.
Furthermore, the spray nozzle featured in the can should be easy to use. We cannot afford a messy application due to a clogged or misshaped tip. Also, all-direction nozzles can ensure no dripping and pooling issues.
Another factor to check out is the drying period that the paint takes. Most of us prefer a fast-drying formula that takes 15 to 30 minutes to dry. If you opt for a primer to repaint later, remember to pay attention to the waiting time when it's ready for the next steps.
Choosing a reliable brand is an important tip to quickly check out the high-quality paint trusted and used by many buyers. Plus, there are numerous color options, from standard to unique, and stand-out that those brands introduce to the market. After making sure all its functions and features meet your needs, picking a beautiful color can be great fun.
What Happens if I Spray Paint Over Rust
In truth, you can spray paint over rust. But it is recommended to prepare the surface beforehand using sandpaper or a wire brush. Also, you can use soap and water to remove all grime stuck on the furniture or tools. If you take off the loose corrosion first, the surface is clean and smooth for paint spraying.
Will Painting Over Rust Stop it
Yes, when you use the best paint over rust product for your metal pieces, it will stop the rust and corrosion formation. Since rust is pretty weak, when you cover all the leaks on a metal surface with protective paint, it will prevent corrosion moisture and air from attacking.
How to Prepare Rusted Metal for Painting
You need to check if the metal parts that need retouching are having light or heavy rust. If it is heavily corroded, rather than a wire brush, you can go with a wire wheel on a drill to get rid of the stubborn grime. Meanwhile, a lightly-rusted surface can be cleaned with soap, water, and a wire brush first.
Afterward, you can use a rust-inhibitive primer that gets the tools or furniture down to the bare metal. After the preparation is finished, you can carry on repainting the projects for aesthetic and protective purposes.
Conclusion
After reading our list of recommended spray paint for rusty metal, you might already have a perfect pick in mind. If not, you can pay attention to other products available, but make sure to check reviews of old users to see whether they deliver excellent results. Besides this spray paint, you can refer to other ones such as spray paint for guitar or spray paint for shoes.
Lastly, you will be guaranteed a successful DIY work when you follow the instructions attached in your best spray paint for rusty metal. So, good luck!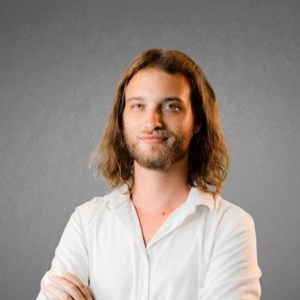 I am a former art teacher, so it is evident to me the importance of art in educating the new generation. We also want to help parents who plan to teach their children and desire the best tools and tips for them.