Good artists, especially painters and draftsmen, are very fastidious about their work. Aside from their art materials, they also use another important tool — kneaded erasers. Unlike a typical eraser, a kneaded eraser offers plenty of benefits and helps produce great art effects.
If you're an artist, blurring edges, lightening a specific part of an artwork, and keeping your art neat will never be a hassle with a kneaded eraser. You won't even have to worry about tearing or ripping your surface as it is very gentle on every paper type.
Are you in search of the best kneaded eraser? If yes, take some time to read this article as I will show you an informative guide and reviews to assist you in finding the ultimate pick that will perfectly suit your artistic preferences.
Best Kneaded Eraser Reviews
1. Faber-Castell 127220 Kneaded Eraser
It's no surprise that the most recommended kneaded eraser is from one of the most superior art manufacturers, Faber-Castell. Even Reddit reviews recommend this as among the best ones out there.
This kneaded eraser is a must-need for artists. It is extremely moldable and absorbent, and it is perfect for cleaning and making final drawing touches. It has superb versatility that allows you to execute different fading techniques, transforming your artwork into a remarkable masterpiece.
If you're using graphite and colored pencils, this top-quality kneaded eraser will be an excellent choice. I love using this kneaded eraser because it can effectively lighten charcoal and pastels while adding extra depth to it. Therefore, if you're in search of an eraser for charcoal, I recommend this one.
This ergonomically-shaped eraser is very reliable for corrections that require gentle dabbing as it is ultra-soft. It does not create any messy streaks on your paper. I love how it completely clears out my art surface without leaving any unnecessary marks.
I can easily roll this kneaded eraser on my sketches, create very subtle art effects, and perform intricate details and highlights. After every usage, I can simply fold it to hide the graphite and use the cleaner side of the eraser.
It is so malleable that you can shape it in any you want. I can pinch and pull out a piece whenever I want to correct very small errors that are hard to access. Furthermore, the eraser is absorbent, which helps erase specific areas or fine details without residue.
It erases effectively and neatly that it doesn't leave any dirty crumbs on the surface. Particularly, when you need a kneaded eraser for watercolor painting and remove pencil marks or lines around it.
For proper storage, it also comes with a plastic case so you can prevent the dust and residue from clinging to your eraser. In this way, you can maintain its longevity.
However, the drawback is it leaves a slightly sticky feeling in my hand.
Pros
Extremely soft and moldable
Leaves the paper streak-free
Perfect for creating intricate details
Ideal for performing fading techniques
Comes with a plastic case
Therefore, this high-grade kneaded eraser is definitely an excellent choice and I'm sure you'll be satisfied with its erasability. It allows you to create intricate details and subtle fading techniques that will enhance your artwork.
2. Mr. Pen KE16 Kneaded Eraser
If you want to ramp up your collection with colorful kneaded erasers, you're in for a treat with this 16-piece set from Mr. Pen. This set contains kneaded erasers in different colors such as blue, pink, yellow, and green.
In case you're already getting tired of the usual appearance and color of kneaded erasers, you might find yourself a great deal with this set. It has eye-pleasing colors that can also be perfect for young artists.
While the eye-candy colors make the erasers attractive, they also have an advantage in working on various creative projects using different art media types. I think it would be neat and organized if you'll have certain colored erasers for charcoal or colored pencils.
Aside from its very adorable appearance, I also like its efficiency, especially when it comes to correcting and lightening multiple art media such as charcoal, graphite, colored pencil, and pastels.
I highly recommended this multipurpose kneaded eraser to both experienced and beginner artists. It is compatible with almost every art medium used by artists. I must say that it is truly a necessary art tool.
I'm quite amazed at how moldable these kneaded erasers are. I can just effortlessly shape them according to my needs due to its ideal softness and flexibility. It can quickly be formed into any shape, making this easier to create sharp and tiny edges to access narrow spaces and adjust intricate details.
After every usage, this kneaded eraser effectively absorbs the art medium and clears out the errors. Plus, it doesn't dry out or quickly harden, even when it isn't stored well or exposed to a hot place.
The downside, on the other hand, is that it is stickier than other traditional white and gray kneaded erasers.
Pros
Available in 16 assorted colors
Compatible with different art media
Perfect for both beginner and expert artists
Ideal soft and great flexible
Extremely absorbent
Despite that minor issue, I'd still highly recommend this kneaded eraser set. It is an excellent option, especially if you're particular with appearance, a wide variety of colors, flexibility, and versatility.
3. June Gold 4336950583 Kneaded Rubber Erasers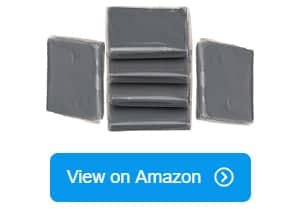 Are you on a hunt for an inexpensive yet high-quality kneaded eraser? This one from June Gold might be the perfect choice for you. This highly-absorbent kneaded eraser works effectively with dry art media such as colored pencils and charcoal.
This 6-pack kneaded eraser is among my favorites when it comes to creating fading techniques. I find it very efficient to brighten my sketches as it excellently adds maximum depth to my artwork.
Its malleability makes it very easy to twist, shape, and fold. It effortlessly molds into a smaller size, allowing it to get into narrow spaces or even create complex details and highlights.
Correcting errors is so much satisfying with this kneaded eraser. It glides very smoothly on rough surfaces without leaving any messy smudges and unwanted marks on the surface. Plus, I'm able to use it to blend shades and pick up charcoal and graphite with ease.
When the eraser gets dirty, I can just knead the eraser between my fingers. I also love it because it doesn't leave any dirty crumbs and residue on my working surface every time I use it.
If you're particular about comfort, grip, and portability, this kneaded eraser would be perfect for you. It has the ideal size for an eraser and it doesn't slip out every time you glide it.
One thing I don't like about this kneaded eraser is that it's a bit greasy.
Pros
Works effectively with dry art media
6-pack kneaded erasers
Ideal for fading techniques
Completely corrects errors without leaving smudges
Can be used to create complex details
Nevertheless, if you're into budget-friendly yet premium kneaded erasers, you won't be disappointed with this set. Its absorbency, malleability, and erasability make it an exceptional choice.
4. PRISMACOLOR SAN70531-3PK Design Eraser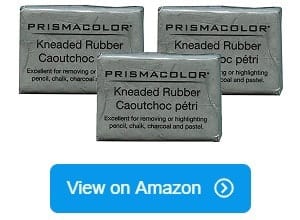 One thing that makes this Prismacolor kneaded eraser unique is that it isn't as soft as the other kneaded erasers. It is neither too hard nor too soft, making it flexible for molding and shaping.
Aside from that, it isn't sticky, unlike some kneaded erasers. It doesn't leave an uncomfortable sticky feeling to your hands.
Since it lends an optimum softness level, I can simply roll it on the surface to brighten sketches, blend shades, and add fade-out effects. This kneaded eraser allows me to create intense effects and accentuate even the smallest details on my artwork.
Even though it's a bit hard, it still flawlessly glides on various paper types, even if it has a rough surface. It can smoothly erase graphite and charcoal without tearing the paper. Other than that, it helps me correct errors as well as lightens areas without leaving unnecessary marks and crumbs.
There are times where I find it hard to reach tight spaces on my surface. Fortunately, I can mold this kneaded eraser to access those spaces or pinch a small piece to fix even the smallest errors.
Moreover, I can effortlessly erase or lighten some areas on my sketches by just dabbing them. There's no need to press it hard. Plus, it doesn't damage your paper, no matter how thin the paper is.
Though its hardness gives it a unique advantage, it can also be an issue. Since it is not as malleable as it should be, I'd have to knead it multiple times to make it more stretchable and kneadable.
Pros
Not sticky
A bit harder kneaded eraser that offers effective erasing
Flawless glides even on rough surfaces
Can smoothly erase or lighten graphite without tearing the paper
Does not leave any smudges and crumbs
Cons
Hard to mold and stretch sometimes
If you're not a fan of ultra-soft kneadable erasers, this one might be the perfect choice for you. Though it's a bit hard, it still has its unique erasing capacity, making it effective for lightening and erasing graphites dirt-free and smudge-free.
5. Faber-Castell 127220-P4 Kneaded Erasers
I think it's really annoying to have some excess graphite and dirt stuck on your kneaded eraser. Fortunately, this Faber-Castell kneaded eraser set comes with durable plastic storage cases to protect your erasers and keep them dirt-free at all times.
When it comes to creating highlights on your drawings, no doubt this kneaded eraser is a wonderful choice. It performs very well when it comes to highlighting, and it allows you to create subtle fade-out effects on your drawing.
It is very malleable, and that's why I didn't experience any difficulty pulling out a piece of it or molding it in a shape that I want. I can effortlessly turn it into a smaller eraser to perform intricate details and highlights and get into hard-to-reach areas.
It provides a great softness level that renders seamless performance, particularly when correcting any mistakes. It feels extra comfortable gliding this eraser because of its very flawless texture. It does not produce any dirty crumbs but instead leaves the surface very neat.
Moreover, its softness delivers smooth and effortless performance, allowing you to rectify any errors without damaging the surface or even delicate paper.
However, the only downside of this eraser is it can be sticky at times.
Pros
Comes with durable plastic storage cases
Perfect for creating subtle fade-out effects
Ideal for intricate highlighting
Very malleable
Leaves the surface neat and crumb-free
Cons
Can sometimes leave a sticky feeling
Anyhow, I would say that this high-grade kneaded eraser can still be an excellent choice, especially if you're fond of performing fading techniques. It works great with graphite and charcoal.
6. General Pencil Kneaded Eraser
There's no need to buy separate erasers because this kneaded eraser by General Pencil works excellently for removing and highlighting graphite, chalks, charcoals, and even pastels. This all-around eraser is a must-have for every artist!
This kneaded eraser is very pliable so that you can shape it according to your preferred size. It can even access the tiniest spots and effectively absorbs multiple art media, especially graphite and charcoal, without tearing the surface.
I also like how this latex-free eraser remains fresh-looking even after multiple usages. It has a superior level of absorbency that intensely picks up art media without actually smearing and leaving any messy marks on the surface.
I find it very easy to use because even with just a light dab, it quickly lifts graphite without ruining the paper — no need to add pressure when making erasures, fading techniques, and highlights.
It also has an ergonomic design that provides a very comfortable feeling to your hands. Even when I glide it across the paper, it lends a nice grip for trouble-free erasures.
It's very amazing to have a versatile eraser that is very affordable and effective, making it a perfect option for novice artists. You won't be disappointed with what it can do to enhance your artwork.
On the other hand, I noticed that after a few weeks of using this kneaded eraser, it became slightly hard to mold and stretch when not properly stored.
Pros
All-around; compatible with multiple art media
Highly absorbent
Does not leave messy marks on a surface
Effectively works with just gentle dabbing
Has a nice grip
Cons
Can easily harden without proper storage
Overall, I still think this kneaded eraser is a wise buy, just by focusing on its versatility, affordability, and comfort.
7. Sargent Art 36-0009 Set Kneaded Eraser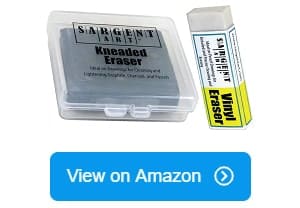 Do you hate erasure marks and crumbs? Well, it's probably the least you can worry about with this Sargent Art kneaded eraser. It is thoughtfully designed to perform its jobs efficiently while keeping your working surface smudge and crumb-free.
It offers a moderate softness that makes it easy to mold, shape, or pull apart. And even when I do so, it does not leave any uncomfortable sticky feeling.
If you want extra precise erasing and cleaning, this eraser is definitely a wise pick. You won't have to worry about accidental erasures as you can fold it over or mold it into any size and correct even the most delicate errors and strokes.
It works effectively with various art media such as graphite and pastels. I can execute different techniques with this kneaded eraser without leaving any damage on the paper. At the same time, it keeps the paper neat.
This kneaded eraser works properly even by just gently sliding and dabbing it. No need to hardly press it to remove errors or lighten shades!
It's also good to know that it comes with a plastic storage case to protect it against dust and unwanted particles that may affect the effectiveness of the eraser.
My only issue with this eraser is that it doesn't work well with charcoal. It slightly creates smears instead of erasing or lightening them.
Pros
Leaves surface smudge and crumb-free
Not sticky
Useful for intricate details and highlights
Provides precise erasing and cleaning
Comes with a plastic storage case
Cons
Does not work well with charcoal
It might not be the most versatile kneaded eraser out there, but it's still a competitive product with its unique features. It provides precise erasability while leaving your surface dust-free!
8. Mr. Pen Art Eraser Set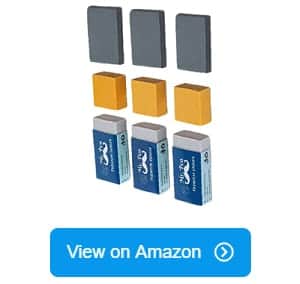 If you're looking for a kneaded eraser that can efficiently absorb graphite and smudges, this eraser set by Mr. Pen would be a great option. I find it reliable for lightening and correcting several art media like charcoal, pencil, and pastels.
The kneaded erasers here in this set are remarkably flexible. Each eraser can be used to smoothly remove all the errors without damaging and smearing the paper. If you're an artist who's very particular with tidiness and precision, this would be a good deal.
I find the kneaded eraser very dependable whenever I accidentally darken my drawing using my pencil. I just gently roll over my kneaded eraser and the picture starts to fade and lighten in a very subtle way.
It is also perfectly soft to produce specific highlights and continuous erasures without tearing out the paper. Therefore, if you need to be extra careful with delicate paper while erasing, you won't go wrong with this one.
Aside from its efficiency in correcting mistakes, this kneaded eraser is also suitable for performing fading techniques. I also like how you can clear out graphite even with just gentle strokes.
Crumbs are something that I really hate. Fortunately, this kneaded eraser doesn't leave any crumbs on my working surface every time I use it, keeping my workplace clean.
My only concern about this kneaded eraser is that it leaves an uncomfortable sticky feeling to my hands every after usage.
Pros
Compatible for multiple art media
Ultra-moldable
Does not damage and smear the paper
Perfect for performing fading techniques
Works well with thin-quality papers
Despite that issue, I must say that this kneaded eraser is still a good option, especially if you like incorporating fading techniques in your drawings.
9. MotBach Kneaded Erasers
One of the most common problems with some kneaded erasers is that they make your hands greasy. But that won't be a problem with these MotBach erasers as you can use them multiple times without leaving your hands with a greasy feeling.
Every eraser in this 8-pack set is made of high-quality, safe, and eco-friendly rubber material. You can easily shape it according to your drawing needs, and it works well with pencils, charcoals, and pastels.
It has an ideal level of malleability as it seamlessly transitions to your most preferred shape. You can also simply take a piece of it if you want to access hard-to-reach spaces in your art surface or perform detailed work.
Another impressive feature is that it doesn't leave a single scratch on my paper due to its ample softness. This allows you to work comfortably without worrying about damaging the paper.
What I like about this kneaded eraser is that it doesn't cling or stick to my hands every time I shape it. This allows me to remove the eraser effortlessly from my hand after use.
You won't have to worry about its conditions and effectiveness after using it repeatedly. It does not leave any messy residue on your working space; it can keep your surface clean and dust-free.
The only downside is that it quickly becomes very stiff when left in a hot area. I accidentally left it once in my car and it became so hard and difficult to knead.
Pros
Does not give a greasy feeling
Made out of eco-friendly rubber material
Compatible for multiple art media
Very soft and malleable
Does not leave residues
Cons
Quickly stiffens in a hot place
Anyhow, this grease-free kneaded eraser is still a good choice for your artistic needs. It can effectively preserve the neatness of your artwork and add creative effects to your drawings.
10. Lyra 100263 Art Kneadable Erasers
If you're looking for a high-quality, smudge-free, and versatile eraser, this Lyra kneaded eraser might be an awesome choice. It can easily lift off charcoal, graphite, and pastels without smudging the surface.
Say goodbye to accidental errors in your artwork since this kneadable eraser is very efficient in removing errors by just gently gliding or dabbing it. It is exceptionally absorbent, and it leaves your surface very neat and free from dust and residue.
I am amazed by its elasticity and softness. I'm able to mold it based on my artistic needs and preferences. Aside from that, it doesn't give me that annoying greasy or sticky feeling every time I use it.
It also comes with a handy plastic case that helps preserve the quality and longevity of the kneaded eraser as well as keeps it clean from dust.
I'm delighted with it because it can help create intricate details and execute fading effects. It smoothly slides on the surface without leaving any residues or eraser shavings.
Furthermore, this kneaded eraser is amazingly multifunctional. It can work with different art media, surfaces, and it can also produce both thick and thin erasures.
Even though it's a decent kneaded eraser, it falls short on its size and price. I think it's too pricey for its small size.
Pros
Smudge-free
Very moldable and shapeable
Not greasy
Comes with a handy plastic case
Smoothly slides on any surface
Cons
Too small and a bit pricey
If you're looking for the best kneaded eraser regardless of the price, I must say that this one still qualifies as a good choice. It adds emphasis to your art details and helps enhance the look of your artwork.
What to Look for When Buying Kneaded Erasers
Malleability
A kneaded eraser should be twisted, pinched, and stretched easily like bread dough. Because of its superb malleability, a kneaded eraser gives you the freedom to shape your eraser in any way you need to suit your drawing needs.
So if you're looking for a reliable kneaded eraser for artists, you need to make sure that it is made out of a malleable material. When doing art on a surface, there are small messy areas that can't be removed with a typical eraser. But with a malleable kneaded eraser, you can easily take a tiny piece of it and clean or fix those areas.
Unfortunately, some soft erasers quickly harden when exposed to heat. But as long as you comply with kneaded eraser care guidelines, such as putting it away in proper storage, this won't be an issue.
Erasability and Neatness
The main goal of using kneaded erasers is to keep your artwork neat and crumb-free. Therefore, if you're looking for a good kneaded eraser, you need to make sure that it is highly absorbent and can completely erase both dark and light shades of your art media without leaving any messy crumbs. A good kneaded eraser must maintain the neatness of your working surface.
Furthermore, you need to ensure that it can glide smoothly on the surface; otherwise, it could create accidental erasures, or worse, tear the paper apart. A kneaded eraser should properly work even with just a gentle press and glide.
Softness and Size
The perfect kneaded eraser has an exact level of softness. Therefore, it should neither be too soft that it can easily break with just a slight press nor too hard as it would cause terrible paper trauma.
Do know that the softness level of a kneaded eraser highly affects its versatility and malleability. That's why it's better to use soft kneaded erasers to effectively remove errors and flourish your work with artistic effects without worrying about damaging your surface.
Compatibility with Art Medium
Before buying a kneaded eraser, you need to identify first if it is completely compatible with your art medium. Thankfully, there are a lot of available kneaded erasers in the market that can work with various art media such as pencils, pastels, colored pencils, graphite, etc.
Moreover, some brands provide a vast lineup of multifunctional kneaded erasers to deal with multiple kinds of art media.
What are Kneaded Erasers for
Kneaded erasers are normally used to eliminate light or dark shades of graphite or charcoal and create fading effects. They are very useful for keeping your art surface neat and crumb-free. They are also reliable for adding a blurring effect and lightening a particular area.
Unlike typical erasers, kneaded erasers are perfect for ultra-precise erasing, making highlights, and executing work that needs intricate details.
What are Kneaded Erasers Made of
Kneaded erasers are generally made out of white or gray malleable gum-like materials such as rubber that resembles a putty or chewing gum. They can be easily shaped and molded. Moreover, kneaded erasers are also available in a variety of colors.
What Should I Do If My Kneaded Eraser is Hard
If your kneaded eraser is too hard or stiff, you can try breaking it into small pieces and knead them until they feel soft. You can stretch them as if you're playing with a piece of gum or a modeling-clay. Continue doing this until the eraser becomes softer.
After that, try to continuously press it to test its softness. Make sure that it becomes very moldable and firm. However, if this doesn't work, try rinsing your kneaded eraser with a little amount of warm water, then repeat the same technique.
What's the Difference Between a Regular Eraser and a Kneaded Eraser
A kneaded eraser is far different from a regular eraser. A kneaded eraser does not leave any messy crumbs and residues after every erasure, whereas a regular eraser releases plenty of dust and crumbs. The materials used in kneaded erasers aren't present in typical erasers.
Furthermore, regular erasers aren't malleable. They can't be shaped and torn apart as they are stiffer. Unlike kneaded erasers, you can resize and reshape them to perfectly fit your art-making needs and preferences.
Conclusion
To sum up, kneaded erasers are designed to maintain your working space's neatness and enhance art effects. They aren't your ordinary erasers; they play a very important role in improving your work and accomplishing a masterpiece. As a final reminder, you just need to be sure that you're going to choose a kneaded eraser that's malleable, soft, and effective.
Hopefully, this article helped you gain more knowledge about kneaded erasers and end up buying the best kneaded eraser that will complement your artistic needs!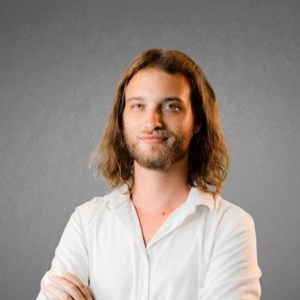 I am a former art teacher, so it is evident to me the importance of art in educating the new generation. We also want to help parents who plan to teach their children and desire the best tools and tips for them.