Markers are one of the versatile art tools that you can use for many purposes. From crafts to even advertising, this tool can transform anything to something eye-catching, helping you convey your message effectively. But with so many of them in the market, it sure is quite overwhelming to find the best wet erase markers. But, don't worry, I'm here to help you find the one that will suit your needs best.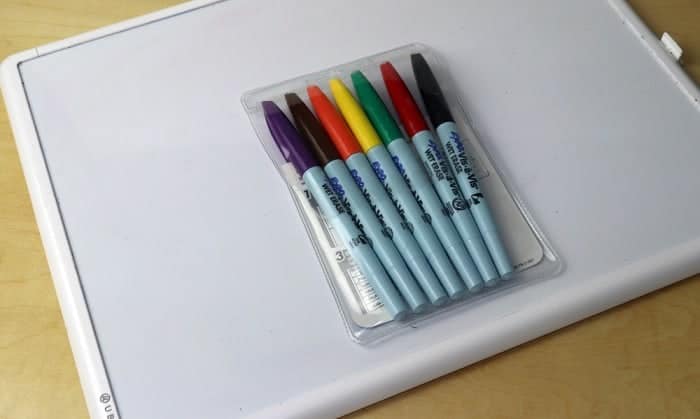 Contrary to what many people think, you don't just pick up some random white erase marker. Apparently, markers come in different sizes and styles. There are also specific markers meant for certain surfaces. So knowing the marker that you need is essential. To help you decide which one to buy, here are some of the top wet and dry erase markers that are worth buying in case you feel lost.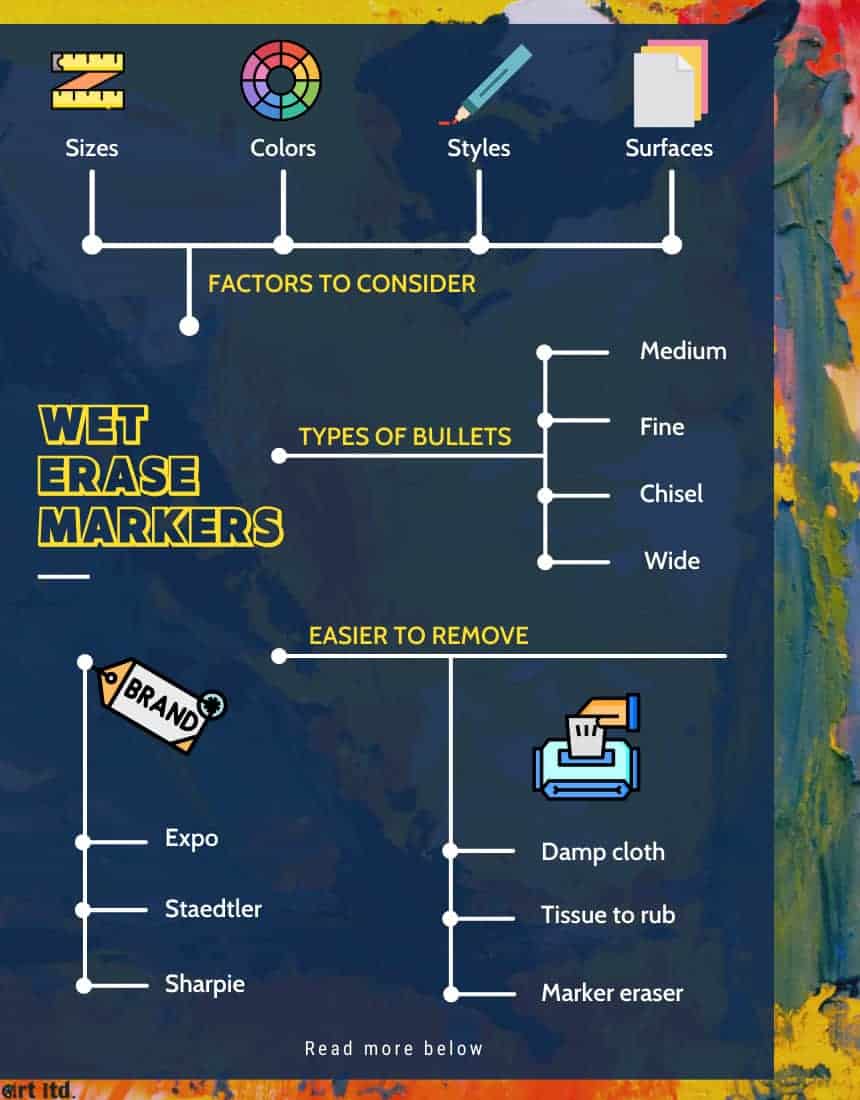 Best Wet Erase Marker Reviews
1. Expo 16078 Wet Erase Markers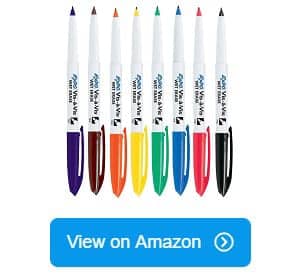 You're probably familiar with Expo as it has been around for years. But among the numerous Expo markers released, my favorite is the Vis-à-Vis Wet Erase.
This marker is great for office, school, and even for personal use. As this product is fade-resistant, you can use it on various types of films, including acetates, laminated calendars, and whiteboards.
Another thing to love about this marker is that it is excellent for children because it's easy to erase. Parents won't have to worry about their children staining their clothes with it. And if your kids accidentally do, you won't need too much effort in washing it off.
With such a fine tip, these makers make it effortless for younger users to write clearer and promote detailed drawings. Also, these fine tip erase markers are available in eight vibrant colors, encouraging your little one to practice their writing skills with excitement.
These markers are to rave for because of their fast-drying formula too. Smearing pens are the enemies of left-handed people. But these markers dry faster than other wet-erase markers I've tried. Hence, I can say that these are lefty-friendly.
However, it comes with a con. While it's easy to erase, I don't highly recommend leaving it on the surface too long. If you do, it will not easily come off, and it would require a little scrub. But the good news is that you can still erase all of it but only with more effort.
Pros
Fade-resistance for use on acetates, laminated calendars, whiteboards
Easy-to-erase formula makes it ideal for kids' use
Comes with fine tips more precise details for drawing and writing
Vibrant color variations encourage younger users
The quick-drying formula makes it lefty-friendly
Cons
Requires a little effort in removing when dry
This is one of Expo's best markers that I've tried. And whether you're a preschooler or an adult, a right or left-handed, I highly recommend it for its high-quality formula.
2. WallDeca Wet Erase Markers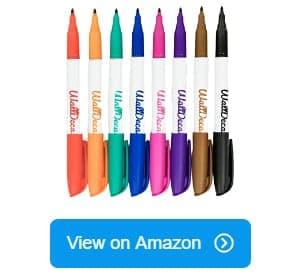 WallDeca is also a reliable brand that provides convenient office stationery. Among its widely-used collection, the Wet Erase Overhead Transparency Markers are also worth the buzz. It's perfect for many uses and people of all ages.
One of the things I love about this product is its low odor. Many markers tend to smell too strong that it causes nausea. This water-based marker from WallDeca, though, is excellent for those who are sensitive to unpleasant scents.
What makes this marker stand out more is its fine tip. Such a feature makes every stroke of letters more precise, and it is also useful for making arts and crafts. With this marker, you can create more detailed artworks. Even preschoolers will love what it can do to their drawings and writings.
This easy-to-clean marker assortment is ideal for small kids to showcase their creativity without making a huge mess. Due to its water-soluble formula, the ink is effortless to erase from surfaces and wash off from the hand.
In addition to that, this marker has bright colors. Its colors are vivid enough to catch kids' attention in classrooms, and they are great even for commercial use.
The only thing that I don't like about this marker is that it doesn't dry fast. You need to wait a bit for it to dry so it won't smear, which, for me, is not ideal for left-handed users.
Pros
Comes with low odor, great for users who are sensitive to smell
Fine tip makes writings and drawings more detailed and precise
Water-soluble ink is easy to clean on surfaces and skins
Vibrant and vivid colors attract attention
Cons
Not quick-drying, which is not quite ideal for left-handed
WallDeca's products are outstanding, and as expected, this marker is not an exception. If you don't mind waiting for it completely dry, this product is worth the try.
3. Staedtler 311WP8 Lumocolor Marker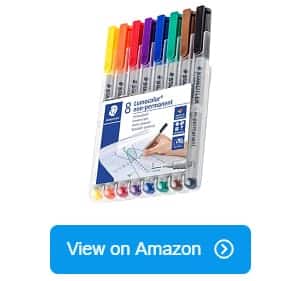 Staedtler has also been around the industry for years, and is widely loved for its quality products. Hence, it is the go-to of many creatives. But among its exceptional products, my favorite is Lumocolor Watersoluble Marker.
Office workers who handle tasks in fast-paced environments will appreciate the quick-drying formula of these markers. That means when using these pieces, you can comfortably work at high speed without smearing your writings.
Notably, this collection gives off no weird smell, even when brand new. Many markers usually have a strong smell, which can turn off some users. But this one doesn't since it is water-based.
And if you're a frequent traveler, you don't have to worry about bringing this marker with you. This is because it is airplane-safe, which is another huge plus for me. Some pens and markers usually leak due to the pressure in the cabin. But the good thing is this product has an automatic pressure equalizer. This prevents its ink from getting everywhere while you're on board.
This product is among smooth markers with the finest tip I've tried. It writes like a pen, making texts and drawing lines clearer and more precise. In my opinion, this collection is one of the best wet erase markers for planners and other smaller surfaces.
However, its fine tip can also be a con. I think it's not that great for classroom presentations because of how fine its tip is. The details would be too thin and won't easily be noticed from a distance. It's great for personal use, though.
Pros
Fast-drying formula ink for fast-paced work environments
Water-based formula makes it odor-free
Automatic pressure equalizer makes it safe even on airplanes
Fine tip writes like a pen
Cons
Fine tip makes it only ideal for personal use, and not for classroom presentations
If you're going to use it for personal use, I'd say go for this high-quality marker. But if you're planning to use it for classroom presentations, I suggest using another marker with a thicker tip than this.
4. MC Squares Tackie Markers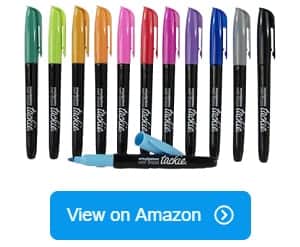 MC Squares is famous for many office supplies. One of the crowd favorites from this brand is the Tackie Markers because of its many useful features.
One of the reasons why this product is widely used for multiple applications is its smudge-proof formula. You don't have to wait long as it dries in just a few seconds. Writers and drawers neither have to worry about staining their hands nor fading or smudging their notes. Such a feature makes these pieces an excellent choice of wet erase markers on whiteboard.
Speaking of whiteboards, this is ideal for class or office presentations too. Since it has a bullet tip, the writing or drawing details are thicker. Furthermore, the tip is made of high-quality polyester fiber resin, ensuring neat writing on various surfaces.
Unlike most collections in the market, coming in 8 colors or less and leaving users with fewer options, this one provides 12 beautiful and vibrant shades, including cyan blue, lime green, pink, and lavender. Hence, you face no limit to create more colorful works or presentations.
When cleaning written lines off the whiteboards, you can use a wet piece of cloth. It will leave no ugly residue on the surface like stubborn makers.
There is one thing that I don't like about this product, though. While it's great for whiteboards and other broad surfaces, I think this marker is not ideal for creating neat checklists or other smaller notes because of how thick its tip is.
Pros
The smudge-proof formula for neat writings
Bullet tip creates thicker details, for class or office presentations
Packs 12 vibrant colors to create colorful works
Easy to wipe off with a wet cloth, leaving no ugly residue
Cons
Bullet tip makes it hard to write on smaller surfaces
If you need something to write on a whiteboard, this product is worth purchasing. It writes well on broad surfaces, making the writings visible even from a distance.
5. Expo 16665B Wet Erase Markers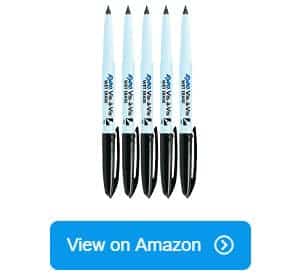 If you need black markers for writing and sketching, look no further than the Expo Vis-à-Vis Wet Erase Markers. At an affordable price, you can get a pack of five black markers.
What makes this product worth considering is the fact that it is odor-free. Prolonged exposure to high odor dry erase markers can be unpleasant. So using this product will ensure we are not bothered by any weird smell. Thus, it is pleasant and safe to use for people of all ages.
I also like how fine its point is. Because of this, your writings are more detailed and clean, which makes it one of the best wet erase markers for chessex mat. It's great to use on various surfaces such as boards, papers, laminated calendars, and more.
Also, when exposed to lamp heat, many maker inks tend to lose their vibrance, damaging your artwork. Luckily, you can avoid such an issue with this product, as it does not bubble under intense heat.
Beyond that, I'm not quite a fan of how firm its tip is. If you place heavy pressure on the pen as you write, its point might feather out.
Pros
Black color for sketching and writing
Sold at an affordable price
Odor-free formula, pleasant and safe for both adults and kids to use
Fine point makes writing clean and clear even on small surfaces
Does not fade due to intense heat
Cons
Too much pressure when writing can damage the tip
Overall, it's a fantastic product that you need to try, especially if you use black wet-erase markers often.
6. Erin Condren Wet Erase Markers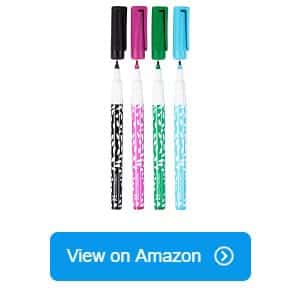 Erin Condren is widely known for its stationery supplies that combine fun and functionality. Because of its fresher take on such products, many people deem it their go-to brand. One of Erin Condren's products that I love the most is its Fine Tip Wet Erase Markers.
First, I like how its point is designed. As its name suggests, it has a fine tip, measuring 0.5mm. But what makes it unique is that it looks a bit thick at first glance. But when you use it, it writes like a pen. This is perfect for whiteboards, overhead projectors, and even on smaller surfaces. And because of its thin tip, it's easy to create clean checklists too.
Each pack of this product comes in 4 pieces, including kelly green, magenta, turquoise for highlighting the texts, and the basic black shade. This product's color combination is unique compared to other packs of markers. I like how different it is as they are not too light, yet they can catch attention quickly and spark creativity.
This marker dries fast too. It will only take a few seconds for it to dry completely. This is one of the ideal markers for those who are left-handed. In addition to that, it is easy to erase. It doesn't stain surfaces, so you don't need to spend effort in removing it.
While I love how fine its point is, it's not ideal for use in a classroom setup or the likes. Because this marker tip writes thin, it might not be easy to see it from a distance.
Pros
Thin tip is excellent for writing on small surfaces
Unique colors are not too light but are still attention-grabbing
Only takes a few seconds to dry, which is great for lefties
Erases easily and doesn't leave marks
Cons
Fine tip may not be visible from afar
With its tip, I don't recommend using it for class or office presentations. But if you're going to use it for personal notes, planners, calendars, and the likes, it's definitely worth your investment.
7. BXT Wet Erasable Colored Chalk Pen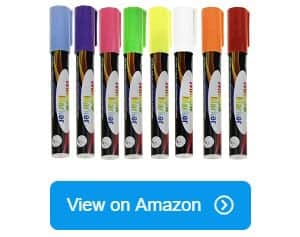 Another quality marker you shouldn't miss in the market is the Wet Erasable Colored Chalk Pen from BXT. The collection is functional and aesthetically pleasing.
One of the things that drew my attention, and will grab yours too, is its neon colors. Compared to other wet-erase markers I've tried, this has the most vibrant pigment. It comes in eight attention-grabbing colors: pink, orange, red, blue, yellow, white, green, and purple. Each color is so vibrant and will stand out on dark surfaces.
Because of its aesthetics, it isn't only ideal for classroom or office presentations. It also works great for special boards or ads in cafes, restaurants, and bars. It will stand out even more if you use it on LED message boards. Such a versatile collection!
What made me like this product more is it has a reversible tip. You can slightly change your writing angle to enjoy the round or brush tip, depending on which types of line you want to make.
On top of that, it erases easily. You won't need a special wet erase eraser to remove it. You can even just wipe it with your hands.
However, that's also a con for me. Since it's that easy to erase, using it on a restaurant's special boards or window would be a problem. A child could effortlessly erase it without you noticing it, ruining your message or ad.
Pros
Vibrant neon colors catch anyone's attention
Eye-catching aesthetics make it ideal for marketing
Reversible tip, either brush or round lines
No hard scrubbing is required to erase it
Cons
Rubs off easily, so it might get accidentally erased
Aesthetically speaking, this marker is one of my favorites, especially when you use it on dark surfaces of LED message boards. I'd recommend it to anyone. But make sure to keep an eye on your board if you're going to use it for display, as it can be wiped off easily.
8. Sharpie Wet Erase Chalk Marker
When talking about writing, Sharpie is probably one of the first brands that cross our minds. It has been around since the late 1800s and has been providing high-quality writing tools. One of my favorites from this brand is the Wet Erase Chalk Marker.
First off, I like it because of how it stands out on black or other dark surfaces. It gives a formal yet chic vibe. This chalk maker matches cafes and restaurants with a semi-formal vibe. I also love how it gives off a minimalist style, especially when you use it in your home for labeling stuff.
This marker doesn't only work on black or dark surfaces. You can also use it on light boards. Because it's just white, you can easily play with the colors of LED lights as any color would match it.
This product's tip is worth talking about, too. First, it is firm enough that it doesn't feather out when you use it with pressure. Even if you have a heavy-handed writing style, you don't have to worry as this marker can take the pressure and will still allow you to write clean and clear.
This marker has a medium tip, by the way. This means it is excellent for writing or creating big details. Plus, your writing can be easily seen even from afar with this marker.
I feel like it needs more color variants, though. The color white sure is sophisticated and minimalist. But with its quality, I think it would be better to enjoy more color options.
Pros
Noticeable on dark surfaces
The white color on dark backgrounds give a minimalist yet classy vibe
Stands out even more when paired with light boards
Firm tip to withstand heavy-handed writing style
Medium point makes writing visible from afar
This product writes well. It also gives a simple and unique feel when used on a black board. If only it has more color variations, I'd hoard more.
9. Staedtler 311WP4 Lumograph Marker
Another good product from Staedtler that should be in every writer's starter pack is the Lumograph Non-Permanent Marker. If you need a wet erase marker for your notes, calendars, planners, and the likes, this is another marker that I highly recommend.
This small collection comes in a durable handy stand-up case. Thus, it's easy to pack it in your bag, and you won't lose it. On top of that, it is airplane-safe. It comes with a pressure equalization feature that prevents it from leaking. Hence, you can bring it wherever you go.
I'm also a fan of its colors. Each pack contains four colors: black, red, blue, and green. They're not light, yet they're not too dark. You can use it even on dark surfaces, and they will still stand out. Even if they're not as luminous as neon markers, they can always make your notes look livelier.
The best part of it is that it has a tip that writes like a pen. You can use this on planners, laminated sheets, and the likes. With this, you can write precisely and neatly with ease. Its thin point also makes it a good erasable marker for creating graphs.
Best of all, we expect to sadly throw the markers that run out of ink. But with these refillable products, you can utilize them for a long time, saving money and effort finding a replacement and contributing a little to protect our environment.
However, when it stains your clothes, it doesn't easily come off. You'd have to scrub with more effort or use a nail polish remover to clean it. Hence, I don't recommend it for toddler use.
Pros
Comes in a compact and durable case to bring anywhere
Plane-safe product with a pressure equalization feature
Colors are not too light and can stand out even on dark surfaces
Thin tip helps you create clear-cut details
Refillable products for long-lasting use, thus less thrown-away markers
Cons
Not safe for kids as the ink is hard to remove from clothes
This product is one of Staedtler's best, for me. It has the right tip and pigment that I need, and I highly recommend it.
10. Zebra McKee Markers
Zebra also has excellent markers. One of the products from this Japanese brand that I highly recommend is its McKee Markers. It's great for both young and adult users because of its features.
One of the things that make it unique is its double-ended tip – one is fine, and the other is medium. This feature makes it a multipurpose product.
The ultra-fine point can be used for personal calendars, notes, as well as smaller surfaces. You can also use it to achieve writing or drawing smaller and intricate details because it's superthin.
Meanwhile, the medium tip gives thicker lines. This feature is ideal for class or office presentations, as you can achieve bigger and bolder details. With this, anyone from a distance can read your writings.
This kind of feature can also save you money. You won't have to buy another set of thinner or thicker point markers.
Another thing that will make you love this product is the durability of its tips. Both ends are firm enough, so they don't spread when pressure is applied. Thus, you can enjoy writing with this longer.
This product comes in eight colors per pack. It has both light and dark colors for people of all ages to enjoy. What makes me like it further is that the light-colored pens give playful vibes that encourage kids more.
The only problem I find with this marker is the opaqueness of the lighter colors. They look faded from afar, which makes it hard to read what's written.
Pros
Double nib feature adds versatility
Dual tip helps save money as you don't need to buy different sizes of markers
Durable point lasts longer even when writing with dense, heavy style
Colors are playful enough to encourage kids
Cons
Light colors are hard to see from afar
Zebra did a great job in creating this marker. It's versatile and can be used for various purposes. It's a product you wouldn't want to miss.
What to Look for When Buying Wet Erase Markers
Markers come in various sizes, colors, and styles. They also come in different formulations. Thus, grabbing a random marker from a store isn't ideal, especially if you need wet-erase markers.
Before you proceed to the cashier, make sure that you know what type of surface you're going to use it on. Does it work on wet erase sheets? How about on windows? On whiteboards?
Knowing the type of surface you'll use it for is important, as some wet-erase markers may leave stains or not work on non-compatible surfaces.
It is also necessary that you check if its tip has the right style that you need. Markers have different nib styles. There's the bullet tip, medium, fine, chisel, and wide.
The bullet tip is for creating bold but precise details. The medium tip is like the bullet point but creates bolder strokes and requires a larger surface area. On the other hand, the fine tip makes thinner lines and is great for writing smaller details. The chisel tip is like a combination of bullet and fine tips. As its name suggests, wide tip markers create broad lines.
Remember, the smaller its tip is, the more detailed your work will be. And if you're eyeing on markers with bigger nibs, note that it would result in thicker lines. This kind of tip also needs a wider surface area.
Of course, don't forget to take a look at the chemicals used for the markers. Some markers contain strong solvents that result in a strong smell. While some enjoy this kind of addicting scent, prolonged exposure to it could damage our health. So to be safe, I suggest that you choose the markers that are low or have no odor at all.
Remember to check if it has a non-toxic label on it, too, especially if you're going to let kids use it. Children will always swallow anything that they reach. So if you have kids at home, opt for non-toxic ones just to be sure.
Frequently Asked Questions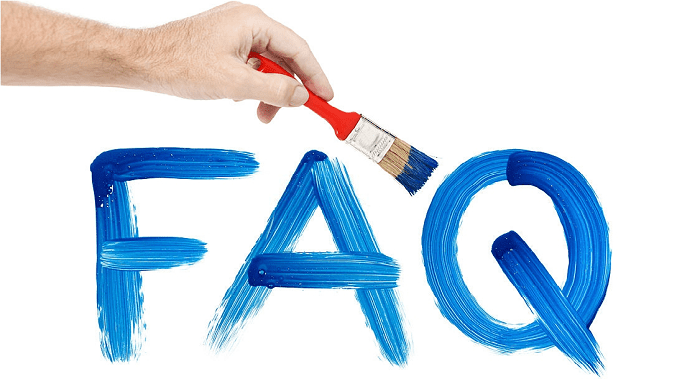 What is a wet erase marker?
Compared to the typical markers, wet erase markers have water-soluble dyes. Because of this, they are easier to remove on surfaces. All you need is a damp cloth or tissue to rub the ink out. Some of these markers also sometimes require a special wet erase marker eraser to remove the stains from boards completely.
What are the most trusted wet erase marker brands?
Expo, Staedtler, and Sharpie are some of the leading brands you can go for when you need wet-erase markers. These brands have been around for decades and are trusted for their high-quality pens and markers.
Can you use wet erase markers on a whiteboard?
Some wet-erase markers work well on whiteboards. So don't forget to check the written information that comes with the markers you're eyeing on. Also, choosing pieces with a vibrant yet dark color is recommended, so your written information can be seen from a distance.
How do you erase a wet erase marker?
Some manufacturers offer special erasers for their wet-erase markers to remove all stains on the surface. But most of these markers only require damp tissue or cloth. This is because the dye used in this type of marker can be dissolved in water.
Conclusion
It's quite hard to find the best wet erase markers with countless markers offered in the market. Especially if it's your first time purchasing this type of marker, choosing the right one might get a little confusing.
It's not enough to know the color that you want and need. It is also necessary to know its features. This quick guide might give you a hand in choosing the marker to check all of your needs. Good luck!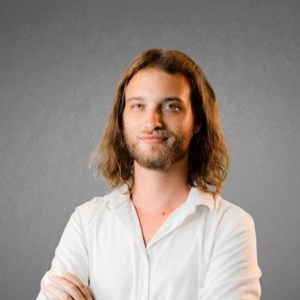 I am a former art teacher, so it is evident to me the importance of art in educating the new generation. We also want to help parents who plan to teach their children and desire the best tools and tips for them.