You have probably seen some electric erasers in your local art supplies shop and wondered if it's any good. After all, you have been using manual erasers and they work pretty well. So, why do you have to buy an electric eraser?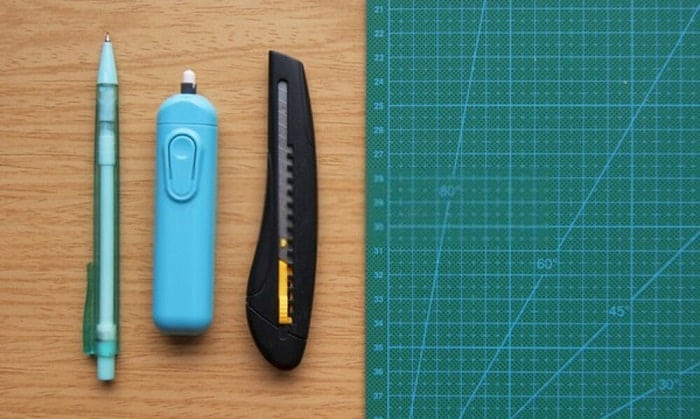 For starters, an electric pencil eraser has so much more to offer than manual erasers. Besides saving you from the trouble of manually scrubbing out your mistakes, it helps you target specific areas of your sketches without accidentally erasing the parts that you don't want to touch.
Beyond that, artists take advantage of these electric erasers to bring out those highlights or refine details in illustrations, such as the hair of a person or the fur of an animal. Let's go through the features of each product to help you choose the best electric eraser that matches your needs.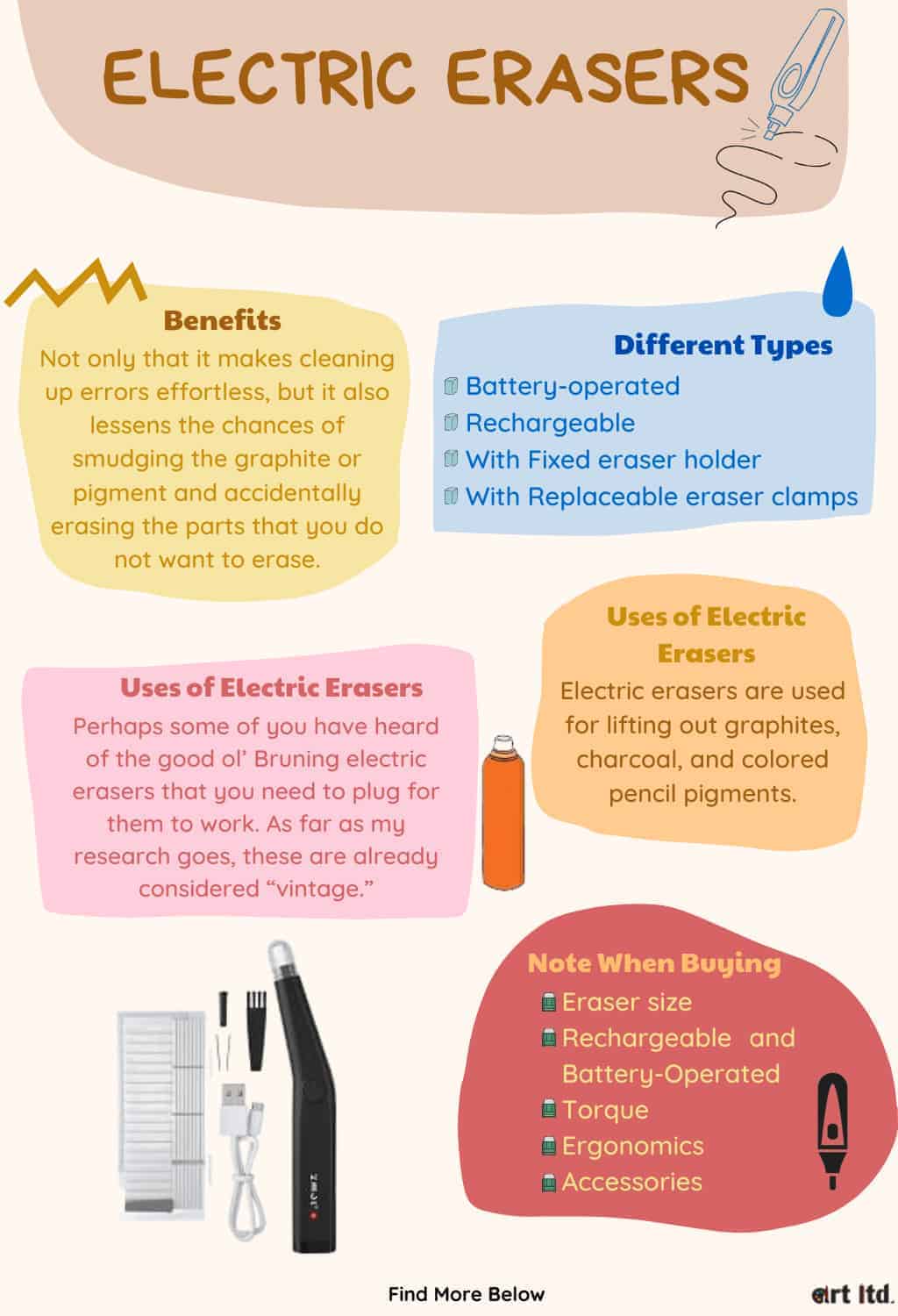 Best Electric Eraser Reviews
1. Derwent Battery Operated Eraser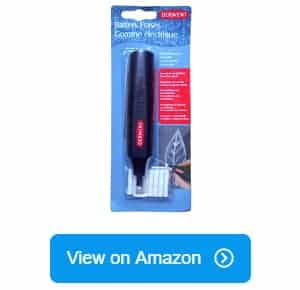 For over a century, Derwent has established itself as an excellent brand of art supplies. If you are a "perfectionist," this battery-operated eraser can help you achieve a flawless illustration.
One of the things that I like about this motorized eraser is that I don't have to press it hard onto the paper just to remove the graphite. The same goes for the charcoal and colored pencil sketches. Apart from undoing my mistakes, I also use it to create highlights with light strokes.
Compared to the other products I've tried, the motor is stronger and the eraser rotates faster. Yet it does not scrape off or accidentally crumple the paper. Moreover, it does not cause the graphite or pigment to smudge. After that, I simply sweep the residue off with a brush to avoid smudging.
Build to suit both left and right-handed artists, the gadget's body feels comfortable to hold. Meanwhile, this product includes 8 erasers. However, I also discovered that other brands of eraser refills also fit the clamp just fine. This particular model requires 2 pieces of AAA batteries, which is not hard to find. It takes a while before it runs out of battery.
Plus, the size fits my pen case so I can bring it anywhere with me. Perhaps, my only complaint is that it wobbles a little but I suspect that this is because of the motor. It's not a big issue since I got used to it after a while.
Affordable yet efficient, this battery-operated eraser is all you need to get those graphites and pigments out of the paper. Moreover, its smart design promotes comfort for both left and right-handers.
2. AFMAT Electric Eraser Kit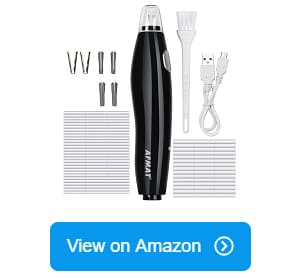 If you hate going out just to buy batteries, then try the AFMAT electric eraser! Ideal for thrifty artists, a single purchase includes a generous supply of clamps, erasers, and so much more. In other words, it saves you time and money!
What sets this product apart is that it offers 2 sizes of erasers, making it a versatile tool that illustrators should have. Normally, I use the bigger eraser to expunge larger darkened areas or create thicker highlights. Moreover, the erasers are gentle on paper.
On the other hand, the smaller eraser comes in handy. I can polish the edges of my charcoal sketches, erase graphites, and add thin highlights on colored pencil artworks.
Aside from its brilliant functionality, the erasers themselves are of good quality. While testing this, I was able to erase the graphite by touching the eraser lightly on the surface. Great for paper and canvas, it generates eraser dust that is easy to clean since this set conveniently comes with a brush!
As far as battery power is concerned, I noticed that the motor could last pretty long. I don't always have to constantly charge the gadget whenever I need to use it. Furthermore, it is pretty efficient in the sense that it makes erasing incredibly faster.
I have to admit that I find it a little difficult to hold at first. For me, this is a minor issue since I managed to learn how to use it eventually. Still, it is a decent starter pack for anyone interested in buying an electric eraser for the first time.
Pros
Has ample spare clamps and erasers
A fully charged battery lasts long
Erases graphites, charcoal, and colored pencils
The two eraser sizes give you full creative control
Includes a brush to sweep off eraser dust
Cons
A little difficult to hold
Highly recommended for artists who love precision, this electric eraser provides you with two sizes of erasers. Whether you want to clear up your mistakes or produce highlights, this product does the job well!
3. Ohuhu Electric Eraser Kit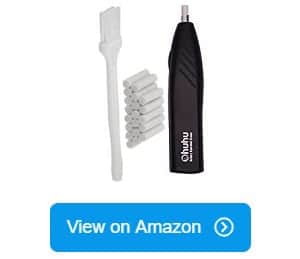 Nobody likes erasing those stubborn graphites and colored pencil pigments on paper. Good thing, this Ohuhu electric eraser makes scrubbing out your mistakes a whole lot easier for you!
As a heavy-handed illustrator, I had always struggled with erasing wax-based colored pencils until I discovered this art product! I managed to eliminate the colors without damaging the paper. Not only that it helps me save my artwork, but it also lets me work more efficiently.
Besides this, I love that this electric eraser does not smudge the graphites or colored pencil pigments. Thus, it keeps my illustrations neat even though I messed up. With the aid of the brush that's included in this set, I can clear off the residue and start over with my sketching.
Meanwhile, the shape and size of the eraser allow me to target small details that I want to erase. The powerful battery-operated motor lasts pretty long so I don't need to buy batteries now and then. Also, the kit provides 20 refills of eraser that can last me for months.
In terms of ergonomics, I'm happy to report that the body of this unit is great for both left and right-handers. It sits comfortably on my hand, giving me good control over the electric eraser. Because of that, I can erase it more accurately.
Just note that if you press hard, the eraser tip can slip through the clamp. However, this does not happen often. Usually, I just switch off the eraser to adjust the eraser tip. It's not a hassle for me. At any rate, I find this electric eraser very easy to use.
Pros
Erases graphites and colored pencils effectively
Includes a brush for you to remove residue
Allows you to precisely erase mistakes
Good ergonomics for left and right-handers
The battery-operated motor lasts long
Cons
Erasers can slip off the clamp
Neatness and precision make beautiful artworks so it is great to invest in this electric eraser. Even if you pressed your colored pencils hard, this product is the best choice to clean it up!
4. Zmol Electric Eraser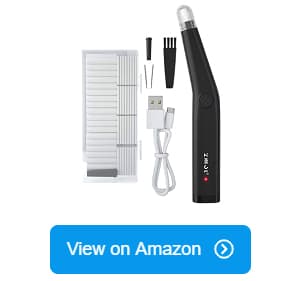 More than just an eraser, this product gives you everything you need to create clean illustrations. From a powerful motor to high-quality erasers, look no further than this Zmol electric eraser!
One particular feature that I love about this product is the shape of its body. The electric eraser looks a little like a boomerang. Apart from the fact that it is comfortable to hold, my hand is not getting in the view of the tiny detail I'm trying to rub out.
More than that, the eraser itself leaves the paper's texture unchanged when I remove the graphite out. Despite applying different graphite or colored pencils layers, the unit has enough torque to wipe off my mistakes cleanly. Plus, I can refine the edges of a shape I drew or create a more 3-dimensional artwork by adding highlights.
Another thing I love about this product is that it includes 2 sizes of erasers. As such, I don't have to carve the tips of the eraser just to reach the tiny details. The set comes with 170 eraser refills so it will take me a year or so before I would buy another refill. Even better, these erasers come with a box for storage.
Because this unit is rechargeable, I also don't have to keep buying batteries. For my use, the battery can last for a couple of days. I also love that it has a small light that indicates if the gadget is fully charged or not. It's a nice touch since I get some warning when I need to charge it.
My only complaint is that if I stay one spot too long while erasing, it tends to scuff the paper. Still, I think this is an awesome electric drafting eraser for illustrators, crafters, architects, and designers.
Pros
Cleanly erases graphites and colored pencils
Has a smart design that lets me see the area I'm erasing
Comfortable to hold
Includes a storage box for eraser refills
Indicates when the battery needs to be recharged
Cons
Scuffs the paper if you stayed on one spot too long
All in all, this rechargeable electric eraser meets the needs of every artist. The gadget's body is designed in such a way that it lets you hold it without obscuring the view of your artwork while erasing!
5. AFMAT Battery Electric Erasers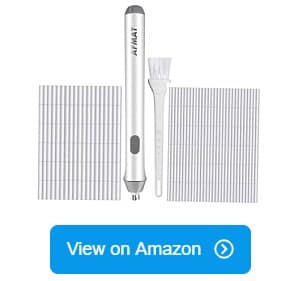 Another AFMAT product made the electric eraser review but this time, I'm featuring a slimmer model battery-operated eraser. At first glance, the body looks sleek but its features are just as impressive.
Unlike the other model, the body of this electric eraser is more like a marker. With an excellent combination of the smooth finish and lightweight body, holding it feels light and comfortable. When I push the button to erase, it vibrates slightly, so I don't have to tighten my grip just to keep it steady.
This unit can also accommodate 2 eraser sizes, giving me the same benefits as the other AFMAT product. For instance, I have the option to lift graphites to add some highlights to my illustrations using the small eraser. Meanwhile, the slightly bigger one is pretty useful if I need to rub out larger areas.
Even though this model is battery-operated, I don't see any difference in terms of performance. Besides graphite, it can erase the waxiest colored pencils on paper without causing visible damages to the sheet. Plus, it comes with a brush to whisk off the residue from the paper or canvas.
One of the reasons why I love this brand so much is that it includes plenty of eraser refills. On top of that, it provides a mesh pen case where I can store the electric eraser, a few refills, spare batteries, and some of my pencils. This lets me stay organized as I travel and work on my illustrations.
The only problem that I have here is that the plastic clamp is a little weak since it breaks after long use. Luckily, the set includes some spare parts.
Pros
Minimal vibration keeps the eraser steady
Accommodates two eraser sizes
Its compact size makes it ideal for traveling
Lifts graphites and colored pencils effectively
Suitable for paper and canvas
Cons
Its plastic clamp could break
If you prefer a slender electric eraser, this one is perfect for you! Besides the ease of use, it performs well on paper and canvas.
6. Meikeer Tihoo Electric Eraser Kit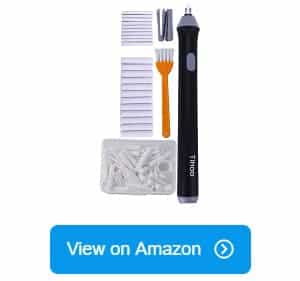 Despite its affordability, this Tihoo electric eraser packs a punch. Considering its function and performance, this product is ideal for artists, architects, designers, crafters, and students.
What makes this product appealing is that it is not as bulky as the other electric erasers. I can slip this in my pen case or pocket and it would not take up so much space. At the same time, the form of is body provides comfort, which contributes to a more precise erasing.
Apart from that, I love how well this electric eraser cleans up the graphite and colored pencils pigments without smudging them. Light pencil markings disappear in an instant. Because the unit can fit two eraser sizes, I can go over the tiniest detail that I want to remove or scrub out big parts of my illustration.
Besides erasing, I also use this gadget to add highlights or create some textures on my sketches. With the brush included in the set, I'm not limited to using it on paper. The brush comes in handy when I need to remove the dust from a toothy canvas.
Moreover, the package also includes additional clamps and several eraser refills. To be fair, the rubber clamps are pretty durable. After using this for months, it does not show any signs of breaking. This is great news since the electric erasing machine rotates pretty fast.
Based on experience, the electric eraser vibrates minimally, which keeps my hand from shaking while I erase. If there is one issue that I want to raise, it's that it tends to consume batteries faster. I would advise you to have rechargeable batteries in hand.
Pros
Has body that is compact and comfortable
Does not smudge graphite and colored pencil pigments
Can be used to erase and create highlights or textures
Works well on canvas and paper
Includes durable rubber clamps
Allowing to go beyond erasing, this electric eraser is a powerful tool that can bring out texture and highlights in your illustrations.
7. Amazon Basics Electric Eraser Kit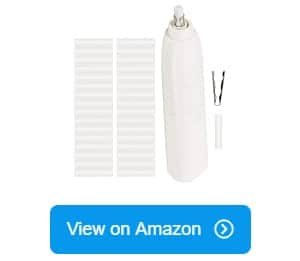 Here's another budget-friendly battery-powered eraser kit that's worth trying. But let me just say that do not underestimate this product just because it is on the cheap side!
First of all, this electric eraser is excellent for any type of paper. However, it also works fantastic on textured canvases. That said, I'm excited to share that it does not scratch the paper or the fabric of the canvas. As a result, the surface looks good as new.
For me, the size of the eraser tip is small enough to neatly erase specific areas. Just like the other electric eraser, it can lift graphites and colored pencils. This allows me to play with my illustrations a little bit more by adding some textures or highlights.
Another reason to like this set is that it includes many spare erasers. Since the clamp is made of metal, I'm pretty sure that it will never break. It holds the eraser firmly to prevent it from wobbling or slipping.
When it comes to size and form, the body of this model gives me substantial space to hold. In terms of weight, the unit itself feels light on my hands. Because of this superb ergonomic design, it's easier for me to remove graphites with better precision.
The only issue I found with this electric eraser is that it stops when I apply more pressure. That said, it is not a big deal since it does its job well with light presses. Also, the body is made of smooth plastic. I just wish that it has some sort of texture to give me a better grip.
Pros
Does not scratch the canvas or paper
Lifts graphites and colored pencils off the paper
Equipped with a durable metal clamp
Provides substantial space to hold
Lets you play with textures and highlights
Cons
Stops when heavy pressure is applied
Feels slippery to hold
Don't let budget get in the way of your creativity. With this electric eraser, you can erase those nasty pencil marks, as well as produce highlights and textures to make your illustrations pop.
8. Mont Marte Electric Eraser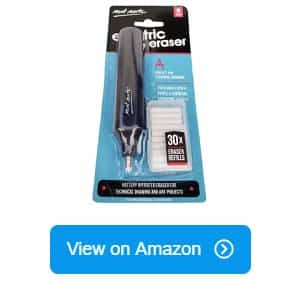 Erasing is part of the creative process, but with this electric eraser, you don't have to take so much time just to scrub out those stubborn pencil marks. If you make mistakes, this product will give you a clean slate to start anew.
From what I'm seeing, I think this electric eraser is great for illustrations that require precision, such as architectural or product designs. The eraser tips are narrow enough to clean up uneven edges or remove mistakes that are too hard for a manual eraser to reach. Furthermore, it can lift wax and oil-based colored pencil marks, which means I can also use this to produce highlights.
On top of that, I love the fact that the electric eraser works not just on paper but also on canvas or any surface that you draw on. I can confidently say that this is a must-have for mixed media artists. More importantly, it does not damage the surface even though it rotates pretty fast.
Since the eraser holder is made of metal, it is not prone to breaking. For the past months that I used this, the eraser never slipped from the clamp. Even though I use this frequently, the battery lasts pretty long.
However, I find the body of this electric eraser a little bulky for my small hand. From my experience, it poses a learning curve at first but I eventually got used to it.
Pros
Works on canvas, papers, and other surfaces
Scrubs out wax-based and oil-based colored pencils
Convenient for polishing edges and creating highlights
The eraser tip sizes fit small spaces
Has a durable metal clamp
Performance-wise, this battery-powered electric eraser is figuratively and literally on point! If accuracy matters to you, then consider getting this kit.
9. Sakura EE-3000 Electric Eraser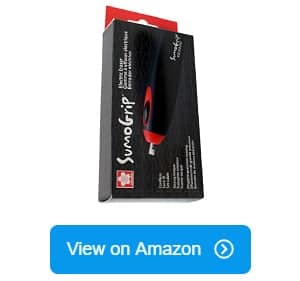 Made by a well-known brand in the art industry, expect no less from the Sakura electric eraser kit! Just like its competitors, you will find spare clamps and erasers along with the electric eraser, but there is more to this than meets the eye.
One of this electric eraser's strongest qualities is its durability. Believe it or not, it can last for a decade without breaking. Even if I accidentally dropped it, it still works. Moreover, its performance has been consistent throughout the years.
Also considered as an electric ink eraser, this model is powerful enough to lift computer ink on paper cleanly. Just the same, it works fantastic with the darkest applications of charcoal, graphite, and colored pencils. Without a doubt, I also find this useful for other creative applications such as adding highlights.
Besides its powerful erasing capabilities, the eraser clamp is snug as it firmly grips the eraser refills. So far, the eraser refill never slipped or wobbled while I used it, which contributes to precision. Despite its strong torque, the battery lasts a long while.
Design-wise, the shape and size of the electric eraser are ideal for both right and left-handed folks. Meanwhile, the button is placed where my thumb can access it. At the same time, I do not accidentally press it, which helps in conserving the battery.
I have to say that this product excelled in every aspect. Unlike the other brands, this includes 2 AAA batteries. For its price, however, I wished it included more refills and a brush as it is anything but cheap.
Pros
Best known for its durability
Scrubs out erasable mediums and printer ink
Has a snug eraser clamp
Excellent for left and right-handed folks
Has energy-efficient motor
Despite its expensive price tag, this electric eraser is a great investment. After all, its quality and performance do not change even if you use it for years!
10. Art-N-Fly Battery Pencil Eraser
If you are wondering how some artists have masterfully created highlights and shadows, then get one of these electronic erasers from Art-N-Fly! At an affordable price, this powerful tool helps you work efficiently.
Instead of using white gel pens to create highlights, I sometimes use this electric eraser to lift graphite, charcoal, or colored pencils in small and narrow sections of my sketches. I am amazed by its ability to remove the most stubborn pigments, which allows me to create a cleaner illustration. With just a light pressure, it expunges the markings and colors immediately.
Like most battery-operated electric erasers, this one requires 2 AAA batteries but I find the gadget energy-efficient. Despite working with it every day for a month, I still have not used up the battery. Even though the eraser spins fast, it does not ruin the texture of the paper or canvas.
When it comes to design, I love that the button is placed in an area where I do not accidentally press and unpress it while erasing. Meanwhile, the body of this model is comfortable to hold and easy to manipulate. Although it is made of plastic, it does not slip from my hand because both ends of the body are slightly wider.
Considering its price, I find the quantity of the electric eraser refills quite generous. The only issue that I found here is that the eraser holder does not seem to hold the eraser tightly. When I press it onto the paper, it feels a little loose.
Pros
Effective on graphites, charcoals, and colored pencils
Works well even with light pressure
Uses battery power efficiently
Has excellent non-slip design
Includes plenty of eraser refills
Cons
Its eraser holder is a little loose
Considering the quality and performance, this electric eraser is perfect for anyone who is working under a tight budget. On top of that, you get plenty of refills so you don't have to feel bad about making mistakes.
11. Ogrmar Electric Eraser Kit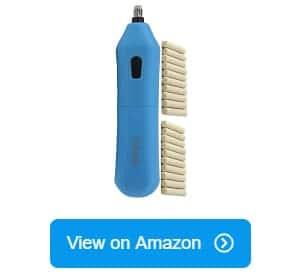 Saving your hand from the pain of scrubbing out the darkest pigments and graphites, these electric erasers show their magic with a click of a button. With 2 units of electric erasers in a pack, you can bring them out to work and leave one at home.
When I first used this, I was surprised by how quiet the motor is. Although it is not completely silent, it's an advantage to use this at school during exams where the class needs to be quiet. Even for personal use, it is much easier for me to concentrate on my drawing without the buzzing sound.
That does not mean that the motor is weaker. On the contrary, this electric eraser has a strong torque that effectively cleans up my graphite, charcoal, and colored pencil sketches. Whether it's for erasing or highlighting, I can count on it to refine my artwork and remove the grid marks I drew.
Helping me eraser more accurately, the size of the eraser is not too wide. It allows me to get into the nooks and crannies of the graphite sketch without accidentally erasing the parts I want to keep. Even better, the eraser does not get easily contaminated by the pigment or graphite and prevents smudging eventually.
As it is, the design of the electric eraser lets me control it with ease. The body of this model is slightly broader on both ends, which keeps the gadget from slipping from my hand. Meanwhile, the eraser refill fits the holder perfectly.
However, these electric erasers seem to consume batteries faster just like the other Tihoo product that I featured here. But for me, it is a small trade-off since I have rechargeable 2 AAA batteries. Overall, I am happy with this product since it works so well on paper and canvas.
Pros
Has a "quiet" motor that suits school settings
Comes with two units of electric erasers
Cleans erasable mediums on canvas or paper
Does not cause smudging
Very easy to use
If you need electric erasers for your class or work, I strongly recommend this kit. Besides its great functionality, the subtle sound of the motor is not disruptive, allowing you to focus on your work.
12. Helix Automatic Battery Eraser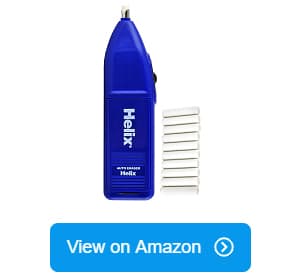 Despite being one of the most budget-friendly electric erasers, this model does a decent job of removing the darkest shades of graphites and colored pencils. Unlike the other brands, it runs out on AA batteries but let's see how this one performs.
Suitable for mixed media artists and crafters, this eraser can also lift acrylic paint and add texture to my spray-painted illustration. Moreover, it is great for erasing thin and small areas so I can emphasize the highlights to add some depth. When I tested this, I just pressed it lightly on the paper and it did not damage the texture.
Enabling me to erase neatly, it does not spread the graphite or colors. I can see that this is a great choice for those who want to use electric erasers to polish off the edges of a shape. The size of the tip is small enough to help me target the surface that I want to clean, which is why it is also excellent for technical drawings.
Based on experience, this electric eraser is pretty quiet, which makes it perfect for office or classroom use. Let's face it, the buzzing sound of the motor can be distracting. Even then, I find the motor quite strong as it rotates the eraser tip. Plus, it does not empty the battery too quickly!
Besides that, the design of the electric eraser lets me control the gadget with ease. The body of this unit is slightly wider compared to other brands but it feels comfortable to hold whether you are left or right-handed.
In my observation, this gadget's flaw is that the button is stiff. It does need a little bit of pressure to push it. The other thing I want to mention is that it is heavier than most electric erasers I've tried. Then again, it all boils down to your preference.
Pros
Picks up graphites, colored pencils, and acrylic paints
Great for adding textures and highlights
Prevents smudging and spreading pigments
Does not produce a loud noise
Equipped with an energy-efficient motor
Cons
The button is a little stiff to press
Feels heavy to hold
Not all electric erasers work on acrylic but this electric eraser does! With the power to wipe off graphites and pigments cleanly, it is a good addition to every artist, crafters, and designer's stash of art supplies.
What to Look for When Buying Electric Erasers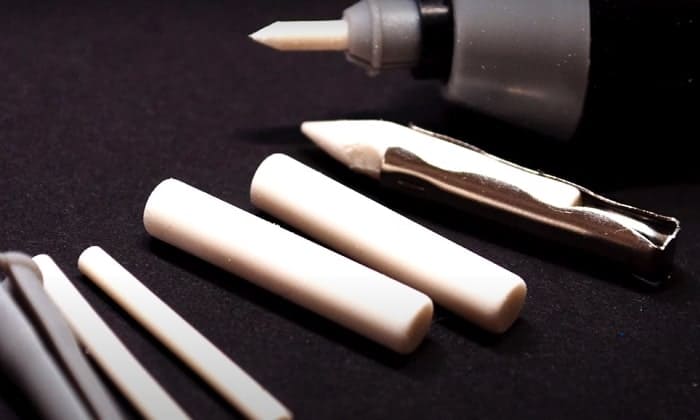 If you have spent the last couple of days weighing the pros and cons when choosing an electric eraser, let's make it quick and easy for you. Maybe you could not decide between battery-operated or rechargeable units. Perhaps, you don't even know if it is worth the money.
I know decision-making is not as easy as it seems. Some products are more expensive than others. If this is your first time buying, you probably have no idea what to look for.
But that's okay. Let me walk you through all the features you need to consider when buying an electric eraser.
Eraser size
Some electric eraser kits are built to accommodate 2 eraser sizes, while others can accommodate only 1 size of an eraser. It may be tempting to go for the one that lets you use 2 eraser sizes but this will depend on your style and preference as an artist. The bottom line is that you need to figure out the eraser size that you need.
Do you need an electric eraser to polish your details and create highlights? Do you just want to scrub out those hard-to-erase pencil marks?
Rechargeable vs. Battery-Operated
In this review, you have seen two types of electric erasers. One is a battery-operated eraser that requires AAA batteries, while the other includes a USB cable in the kit. There is no difference in the performance but it would be best to decide based on your preference.
That said, one of the advantages of a battery-operated electric eraser is that you don't need to wait for an hour or so to charge it. All you have to do is replace those empty batteries! If you want to bring your drawing tools when you travel, it is much easier to bring a USB and recharge the battery rather than pack all your charger and spare batteries.
Torque
To erase effectively, the electric eraser needs to spin the eraser super fast. Usually, the product description indicates that rotation per minute or "RPM." Of course, the higher the number, the faster the electric eraser rotates.
However, you also need to realize that a strong motor can cause the electric eraser to vibrate more and sometimes even produce louder noise. Of course, this does not mean that you just have to choose a model with minimal vibration or low noise. Your choice can depend on where you intend to use the gadget and your grip.
In a classroom or library, for example, a noise coming from an electric eraser can be distracting. But if you are just by yourself, then you may not need to worry so much about the noise.
Ergonomics
Electric erasers come in different shapes and sizes but what is important is that you can hold the gadget properly. Otherwise, you will not be able to target specific areas that you want to erase in a more precise manner. Most electric erasers are suitable for left and right-handers. Plus, you also need to consider some underlying conditions that you may have, such as arthritis.
Accessories
Manufacturers include different accessories in the electric eraser kits that they sell. Some provide generous eraser refills, extra clamps, chargers, and brushes. Meanwhile, others only offer a few refills but this is not always a disadvantage.
Of course, the brush included in a kit can be useful if you do not own one yet. As for the extra clamps, these are usually included because the electric eraser model allows for 2 sizes of erasers. At the end of the day, you need to decide based on what you need.
What is an Electric Eraser Used for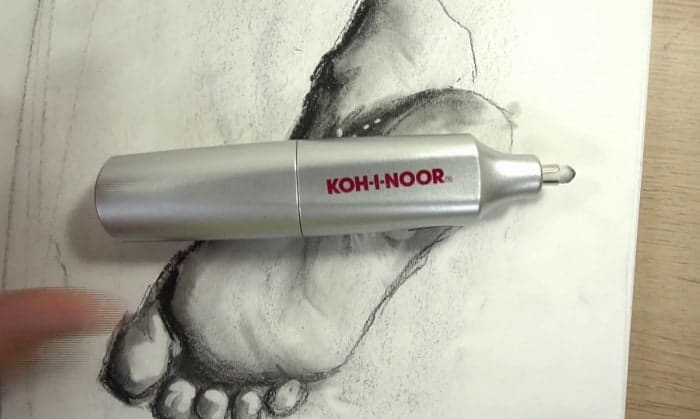 At the minimum, electric erasers are used for lifting out graphites, charcoal, and colored pencil pigments. Because the erasers rotate rapidly, you do not need to move your hand and wrists a lot.
Most electric erasers have slimmer erasers that allow you to go over the smallest details without accidentally removing the other parts of your sketches. Thus, this tool is also used for creating highlights, like the hair and eyes, and refining edges to make your illustrations look crisper.
What are Different Types of Electric Erasers
While most electric erasers have the same function, they differ from one another in terms of build and features. Here are some of the different types of electric erasers:
Battery-operated electric erasers
Rechargeable electric erasers
Electric erasers with fixed eraser holder
Electric erasers with replaceable eraser clamps
Are Electric Erasers Good
The answer is 100% yes! Electric erasers make the lives of artists, architects, designers, crafters, and students so much easier. Not only that it makes cleaning up errors effortless, but it also lessens the chances of smudging the graphite or pigment and accidentally erasing the parts that you do not want to erase.
What are the Most Trusted Electric Eraser Brands
Perhaps some of you have heard of the good ol' Bruning electric erasers that you need to plug for them to work. As far as my research goes, these are already considered "vintage." Luckily, we have tons of options of new wireless electric erasers to choose from.
How Do You Use an Electric Eraser
Unlike manual erasers, all you need to do is click the button on the electric eraser and go over the areas that you want to clean up. Depending on the brand and model, some erasers only work when you press and hold the power button. On the other hand, some electronic erasers require you to click the button to work and then click it again to switch off.
Conclusion
Every artist makes mistakes but that does not mean we cannot turn things around and make improvements! Thanks to modern technology, we don't have to stress out and spend too much time erasing those graphites, charcoals, and colored pencil pigments.
With just a click of a button, electric erasers give us a fresh start. This way, we are free to experiment with our lines, shading, and colors. More than that, it gives us more creative power to bring out those bright ideas and put them on paper neatly and accurately.
However, keep in mind that there is no one "best electric eraser." As an artist, you need to find the one that suits your grip, habits, and style. I hope that this review helps you decide which product to buy.
I am a former art teacher, so it is evident to me the importance of art in educating the new generation. We also want to help parents who plan to teach their children and desire the best tools and tips for them.