It is essential to choose the best non bleed markers because the right set of pens could significantly improve our journaling experience. Today, there are various options available, all of which are designed for several different applications.
In fact, with countless options to check out, picking the non-bleed marker that's right for us can be daunting. I am glad to share that the markers I've been using are undoubtedly a great help to me, especially when working on my journals.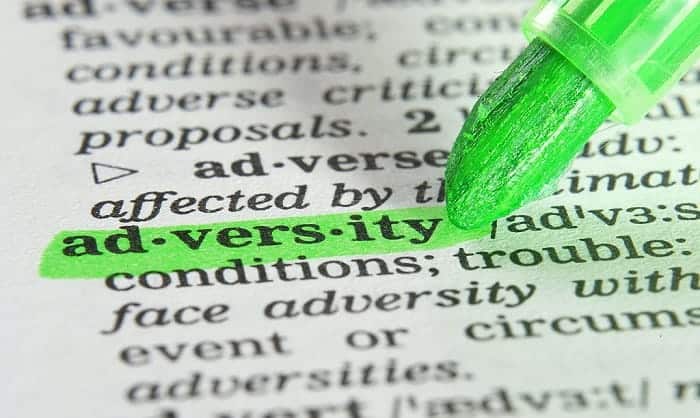 In this article, I have compared various journaling pens that are designed with different styles. So, regardless of your journaling preference, I am certain that there is a specific marker out there that can meet or exceed your expectations.
Let us get started and discover the best non-bleed marker alternatives that can work best for your requirements.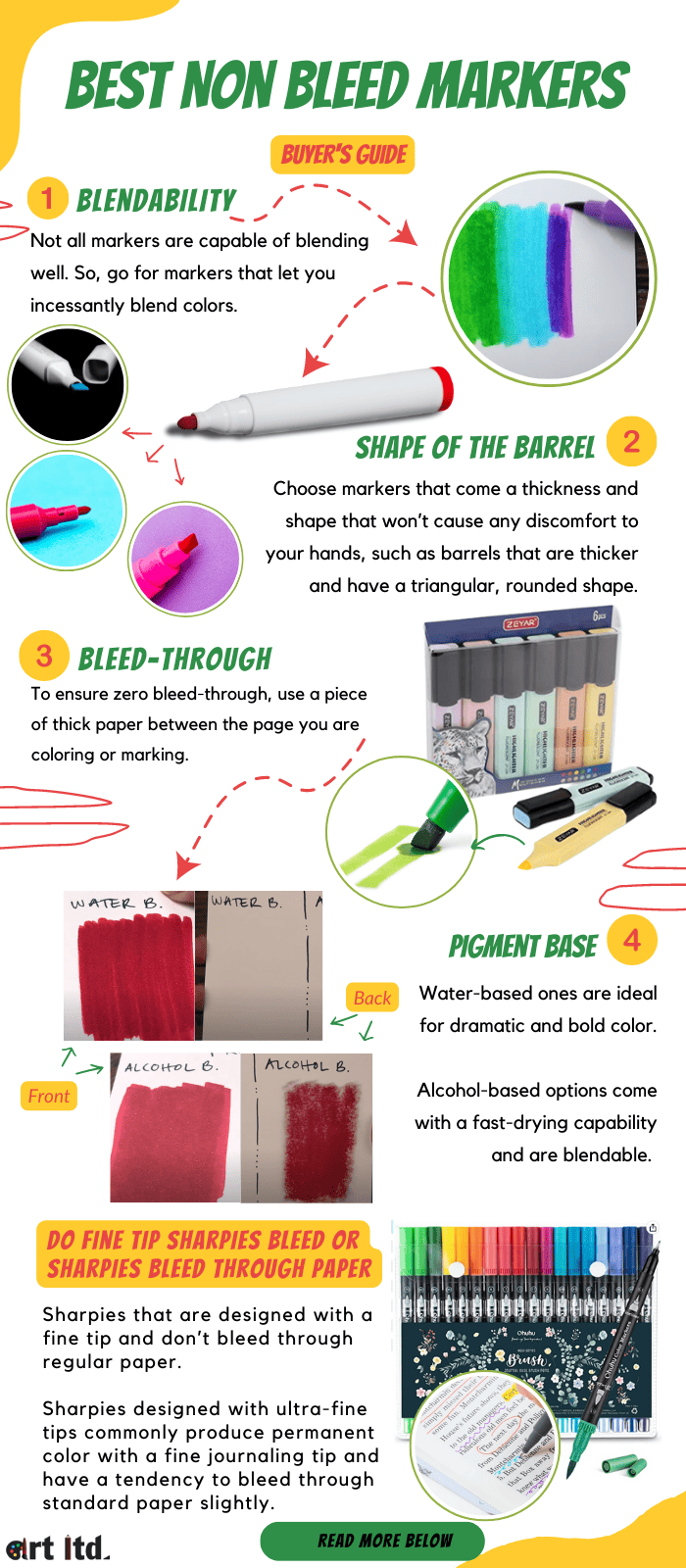 Best Non Bleed Marker Reviews
1. Mr. Pen No Bleed Gel Highlighter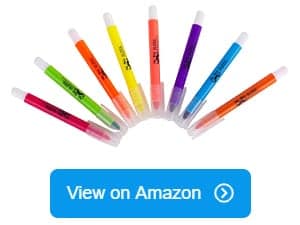 When I was looking for pens that don't bleed through thin paper, I came across these markers. The best part about these highlighters is that I can sharpen their tips before writing. I personally like their vivid colors- they are pleasing to the eyes.
Since I only have a limited budget, this set of highlighters is a great choice. Its ink dispenses sleekly. The pens do not bleed through even if you use them with a little hand pressure or doing a second layering.
Their quick-drying feature is impressive. The ink does not settle on the paper's surface, even if you use a glossy type of paper. It is easier to move to the next page without smudging the ink.
This set contains 8 gel bright and vividly-colored highlighters. Their bullet tips are more rounded compared to other options. I think this makes them ideal for covering a broader surface area, highlighting, and shading. Since I always tend to wear out my marker tips, I find this product practical for my needs.
On the other hand, these pen markers are available in limited color options. Luckily, the available color options are enough to satisfy my requirements.
Pros
Not prone to bleeding even on thin papers
Quick-drying and non-smudging ink, even on glossy paper
Tips can be sharpened before writing
Comes with round bullet tips, ideal for highlighting and shading
Comes with vivid colors
Cons
Comes with limited color options only
Overall, I recommend this set of non-bleed through markers because they are ideal for writing and highlighting applications.
2. Zebra 78115 Pen Mildliner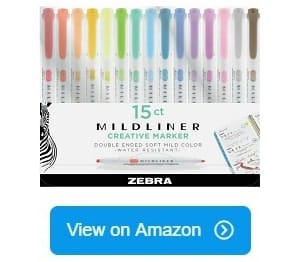 For buyers searching for top-quality colored markers that don't bleed, this brand is worth a shot. If you seek a reliable set for underlining, note-taking, color-coding, and reading, these pens can be your pick.
The ink dries faster, so it is less prone to smudge and causing any mess in my journals. I love these highlighters primarily because they help me express my ideas clearly. With a non-toxic formula, these highlighters are safe to use for everyone.
I can easily do some fine underlining and highlighting; this is thanks to the double-ended design. In truth, these markers feature a wide chisel tip and a fine bullet tip to make my creative projects accomplished properly.
The set contains a total of 15 subtle hues. Another practical feature of these items is their water-resistant attribute. The colors appear softly on any paper and create a more distinctive effect.
The reusable storage case of these markers offers a more convenient means of storing them. Hence, I can bring these pens with me whenever I go to different places. The sturdy barrel that comes with a cap is also a nice feature. It fits well and indicates the color of the marker.
Nonetheless, I find the quality and performance of these pen highlighters superb. So, this is probably the reason why this product is more expensive than other similar items.
Pros
No bleeding, no smudging and fast-drying ink ink
Wide chisel tip and a fine bullet tip for underlining and highlighting
Practical for color-coding, reading, note-taking, and underlining
Available in 15 subtle hues
Designed with quick-drying and water-resistant features
Easy to store with a reusable case
Cons
Priced higher than other similar options
As a whole, these non-bleeding markers are smart investments. They never fail me whenever I need to color-code, read, underscore, and take valuable notes.
3. iBayam Journal Planner Pens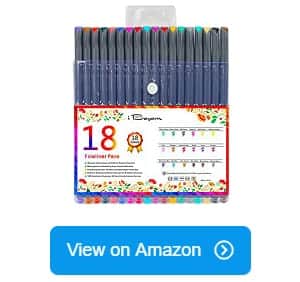 These no-bleed markers for journaling are my best buddies. They come in superbly vibrant colors are ideal for multiple applications. I find this set a practical gift, especially for students, office workers, and friends who are crafting, journaling, and some other creative projects.
Similarly, these markers are designed with a superfine tip that promotes smooth and detailed writings. I am fascinated by how they make delicate and intricate patterns. Thus, these items are perfect for many different studying and writing-related activities.
The pen highlighters are well-packaged in a clear vinyl storage bag, so organizing them after work is easier. The ink is water-based so that these markers won't cause any serious mess and unsightly smear on any paper. However, it is important to use them with extra care on thin papers.
The set contains 18 unique colors, which are perfect for my creative projects. I am grateful that these markers allow me to express myself with true color and style.
The only minor gripe I have with these pen highlighters is that a few of them are a little tricky to uncap. This is probably because the manufacturer wants to ensure that the ink remains in good condition and does not dry up instantly.
Pros
Comes with a superfine tip for smooth and detailed writings
Water-based and ensure minimal bleed-through
Well-packaged in a soft clear vinyl storage bag
Features 18 unique and vibrant colors
Cons
A few of these highlighters are difficult to uncap.
In general, these highlighters are the best bang for the money. They are recommendable for buyers who prefer a smooth writing experience and outstanding performance.
4. Ohuhu 36 Colors Art Markers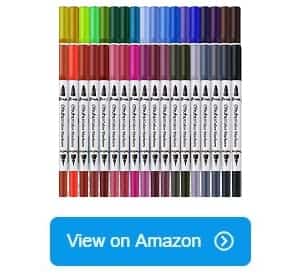 These no-bleed markers for coloring are designed with flexible dual tips. You can use the brush tip to do the shading, coloring, and blending. Meanwhile, the fine tip is more useful when creating smaller details.
Not to mention, this set contains a total of 36 colors that come with labeled color codes. The set includes both complementary and primary colors. They can blend well to ensure an additional dimension to my craft.
The ink dries quickly, which means mixing different colors, and layering becomes a piece of cake. I don't need to worry about causing an unsightly mess, blotches, and smudges in my artwork.
Storing and organizing these items are no sweat since they come with a container. The super handy barrel helps me arrange these pens so that I can use and store them instantly when needed. I find the color-coded caps handy as they allow us to quickly find the right color.
Nevertheless, a few of these markers are softer compared to others, especially those with brush ends. The softer ones come with more excellent pigment payout compared to firmer ones. Moreover, they seem to shred more quickly at the tip.
Pros
Comes with stunning 36 colors that contain labeled color codes
Ensures minimal blotches and smudges
Easy to store and organize after use with a container
Manufactured with very flexible dual tips
Cons
A few highlighters are softer than others.
To wrap up, these pen markers allow you to do almost all kinds of creative projects in a snap. They are multipurpose and won't force you to spend more.
5. ZEYAR Highlighter Pastel Colors
If you do not wish to spend more on top-quality no-bleed through markers, this product is worth considering. I am amazed at how affordable these markers are, considering their impressive quality and performance.
In my case, I chose this set because it is crafted with water-based, toxic-free, and safe to use ink. Besides, these markers are manufactured with fine-board line tip. The chisel tip allows me to draw fine lines easily and come up with a flexible writing width.
This set comes with a great assortment of colors that blends well with my different artworks. In detail, it contains six Macaron colors and 6 fluorescent colors. Such colors are perfect for my creative crafts. These pen markers boast a simple and low-profile look, ideal for people who value simplicity.
Since the ink used for these highlighters adheres to the ASTM D-4236 certificate, I have no worries, even if young kids in our home use them.
Most importantly, I can finally say goodbye to ugly mess, smear, and smudges on my notes because these pens promote no bleeding through standard papers.
However, these highlighters run out of ink faster than expected. As they do not last long, we will soon need to purchase a new set.
Pros
Crafted with fine-board tip design
Water-based, safe to use, and toxic-free ink
Comes with six Macaron colors and 6 fluorescent colors
Features clear and uncomplicated appearance design
Guarantees less smudges and bleed-through issues
Cons
Runs out of ink faster than expected
In summary, the colors of these markers are impressive. The chisel tip is highly recommended for calligraphy handwriting.
6. Tomaxis TM-D24 Watercolor Brush
Are you planning to buy premium quality markers that don't bleed for coloring? Then, I highly recommend these markers for your artwork.
The brush tip is comfortable to use and will be ideal for learning how to do lettering. I find the variety of colors a plus as well. The fine tip is practical for different applications and note-taking purposes. Since these markers can write both in thick and thin lines, you are able to craft different sketches, styles, and patterns with less effort.
For your information, these markers are perfectly safe to use around and with your kids since they are non-toxic and acid-free. Its ASTM D-4236 certification can bring you peace of mind when purchasing the set for daily use.
More importantly, we are guaranteed no bleeding and smearing on standard paper, even with thinner types.
Unlike other options, the ink does not come with a strong odor, and it is safe to use. These markers are portable, so I can conveniently carry them around. I like the space-conservative packaging of this product. The storage case is designed with fold-over snap closure, so I can conveniently put it in my bag.
Please be reminded that if you want to prolong the brush tip's excellent performance, you need to use it with extra care. This is because it appears prone to shredding sooner than expected, particularly if you use it with more pressure.
Pros
Non-toxic, odorless, and non-bleed water-based ink
No bleeding and smearing on standard paper
Allows users to write in both thick and thin lines
Feature portable and space-conservative design
Cons
The brush tip requires gentle handling.
Ultimately, these art brush markers are good deal. You can rely on them even if you are into different types of art projects.
7. Aen Art Dual Tip Marker Pens
Art enthusiasts absolutely prefer second to none markers that don't bleed through paper. If you wish not to waste money, this product is worth investing in.
For sure, you will also be impressed by these markers' multiple color options. These pens are loaded with cool features that you won't find in other available alternatives.
Additionally, they feature convenient dual tips- brush tip and fine tip. The brush tip can cover larger areas and is best for calligraphy and coloring. On the other hand, the fine tip is ideal for furthering details with thin lines and outlining. Luckily, both pen points create no messy smudging and bleeding through paper.
This set comes with a total of 24 commonly used color variants. These colors are also nicely pigmented. Hence, you can work on your creative projects inspired by picking the colors that could offer the top-rated blend.
Since I have a very sensitive sense of smell and prone to skin allergies, I find these highlighters a safer option for my condition. They are manufactured using non-toxic and harmless materials, so no worry about skin itchiness.
At a reasonable price point, this option fits the bill. I don't have enough money to spend on pen markers; luckily, these options are pocket-friendly. Anyhow, I highly suggest that it is best to keep these markers tightly closed to avoid premature drying.
Pros
Crafted with convenient dual tips
No bleeding or smudging with both points
Available in 24 common and pigmented color variants
Manufactured using safe to use and toxic-free materials
Great value for a budget-friendly highlighter set
Cons
Seems to be more prone to drying out faster than expected
To conclude, for a starter like me, or for those who prefer a less expensive highlighter set, this option can be your go-to.
8. Tombow 56167 Dual Brush Pen
Rather than investing in low-quality products, I prefer buying the best no bleed markers, even if it means spending more at first. This is why I am a loyal fan of Tombow highlighters. They are highly recommended for professional crafts and fine art.
These dual brush pens are designed with flexible and versatile nylon fiber brush tip on one edge. This is intended to form bold or medium strokes by altering the brush pressure. Meanwhile, the fine tip on the other end is for sleek straight lines or smooth writing. It is amazing the tips clean themselves after blending.
I use these art markers when working on watercolor illustrations, brush lettering, journaling, fine art, and calligraphy. I find these alternatives a better option because they are practical for several different purposes.
I like the colorless blender pen as it exceptionally blends and softens colors and forms a watercolor effect. Since the ink is easy to blend and water-based, I can utilize the colorless blender pen or utilize two colors together.
Like other first-rate options, this product is manufactured using non-bleeding, odor-free, non-toxic, and non-bleeding features.
For all that, since Tombow is a very well-known and trusted brand, it is expected that the products they manufacture are slightly priced higher than their competitors. Well, this is obviously because this brand does not disappoint shoppers worldwide.
Pros
Perfect for professional crafts and fine art
Feature super sturdy nylon brush tip
Fine tip can guarantee consistent lines
Includes colorless blender pen, and easy-to-blend ink
Designed with odorless, non-bleeding, and toxic-free feature
Cons
Not one of the most affordable options available
By and large, the versatility and flexibility of these markers are what make it a standout option among the other available non-bleeding highlighters out there.
9. Soucolor Dual Tip Brush Markers
These Soucolor dual-tip pen markers are highly recommended for drawing, writing, coloring, and lettering. They function fantastically, and I am glad that they complement my art collection quite well. These 32 color variants are vivid, as they unleash my creativity.
The dual tip design of these markers is convenient. The fine tip, measuring 0.4 mm, is ideal for detailing and drawing lines, doodles, intricate coloring books, and writing.
Simultaneously, the brush tip, measuring 1-2 mm, is for art projects, signing, hand-lettering, coloring, and other designing activities. As you can see, they can do almost all sorts of artwork.
If you opt for fine tip markers that don't bleed, this is one of the safest bets. They are not prone to leaks and only produce minimal bleed through the thinnest paper. These markers do not come with irking odors, unlike other options out there.
Undeniably, these pen markers are efficient school and office supplies that you shouldn't miss. Since they are handy, I can take them with me wherever I go, especially when I am out for work-related activities.
If you are thinking of a useful gift to give to your loved ones, friends, colleagues this holiday or on any occasion, these markers are safe, less expensive, and very practical options for you to consider.
Still and all, the colors indicated on the marker's cap do not precisely represent the actual color of the pen marker. This is inconvenient and might be confusing, especially when I am already too focused on my artwork.
Pros
The fine tip, measuring 0.4 mm, is ideal for detailed writings
The brush tip, measuring 1-2 mm, creates bold and vivid lines
Water-based, non-bleeding, non-leaking and odorless ink
Comes with a total of 32 color variants
A practical gift idea for art and craft lovers
Cons
The colors on the cap do not exactly represent the actual color of the marker.
Finally, pen markers were precisely what I was searching for at a price tag that couldn't be beaten for the value.
10. Crayola 58-7713 Fineline Markers
When I was looking for reliable yet affordable thin markers that don't bleed, my friend recommended this brand. Since then, I always make sure that I have them inside my bag.
These markers are practical to utilize for detail coloring. They are manufactured with toxic-free materials, so I can rest assured that they won't harm my health upon frequent use.
I like best about these markers as they can offer me a long-lasting color. These are great in terms of ensuring sleek laydown for bold outcomes. The fine line tips are specifically meant to provide accuracy even when coloring in tiny areas of complex designs.
Furthermore, this set contains a total of 12 classic colors. I am impressed by the way the colors are designed. They come in a soothing and opulent palette that helps me enjoy a colorful, cool, and calm outcome of every artwork.
Since these fine line markers are portable, I can continuously delight in my coloring projects wherever I go. In line with this, whether I am on the bus, car, or a couch, I can always enjoy a tranquil and creative way to relax and color.
These items would surely be a hit to give away as presents this holiday season or for other occasions. You won't even need to spend more on these markers.
One minor con I have observed on these markers is that the ink color does not match the marker's cap. I hope the manufacturer can improve this flaw so that users won't get confused, especially when they're already too caught up working on their craft.
Pros
Promotes no bleeding through paper
Made with toxic-free material
Guarantees sleek and relaxing laydown
Comes with brilliant and long-lasting colors
A portable set includes 12 classic colors
Cons
The ink color does not match the cap of the marker.
All things considered, these fine line markers are second to none alternatives for buyers looking for affordable yet quality options for detail, creative and relaxing coloring.
What to Look for When Buying Non Bleed Markers
Here is the buying guide when purchasing the best non-bleed marker for your needs:
Blendability
Even with wet pigment or water, not all markers are capable of blending well. So, if you want sleek, authentic-looking, and artistic shading, go for markers that let you incessantly blend colors.
Shape of the Barrel
Choose markers that come with thickness and shape that won't cause any discomfort to your hands. Remember that long coloring sessions don't need to be exhausting if the barrel is thicker and comes with a triangular, rounded shape.
Bleed-through
Nearly all decent quality markers are not fully exempted from bleed-through problems. But, some cause minimal bleed-through and do not cause any serious mess on your journals, paper, notes, or documents.
To ensure zero bleed-through, use a piece of thick paper between the page you are coloring or marking, as well as the one behind it. This is to keep the color from seeping onto the paper beneath.
Pigment Base
Various marker options are either water-based or alcohol-based. Each option has pros and cons. Water-based ones are ideal for dramatic and bold color; however, they dry more gradually and taint standard papers if you pile on several layers.
On the other hand, alcohol-based options come with a fast-drying capability and are blendable. Even so, they usually have a stronger odor that may irritate users with a sensitive sense of smell.
Do Fine Tip Sharpies Bleed/ Do Sharpies Bleed Through Paper
Sharpies that are designed with a fine tip are ideal since they write sleekly. Moreover, they don't bleed through regular paper. Meanwhile, sharpies designed with ultra-fine tips commonly produce permanent color with a fine journaling tip. Take note that there is a tendency for them to bleed through standard paper slightly.
Conclusion
The best non bleed markers are essential accessories to accomplish our creative projects to put things in perspective. If you love to write in large bold strokes or enhance your penmanship, the right marker is a necessity.
Indeed, with various color variants, applications, and tip sizes, high-quality markers will always have a special spot in our pencil case. Hopefully, the non-bleed marker products I have reviewed in this post can serve as your guide to develop a more confident final buying decision.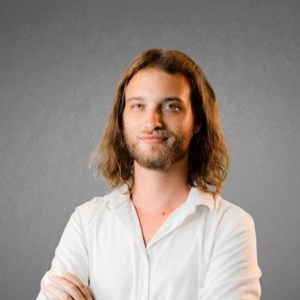 I am a former art teacher, so it is evident to me the importance of art in educating the new generation. We also want to help parents who plan to teach their children and desire the best tools and tips for them.