We can always take pictures and paint what's in the photograph. Still, nothing beats the old school plein air painting. In this manner, painters can depict the lighting and weather in the outdoors.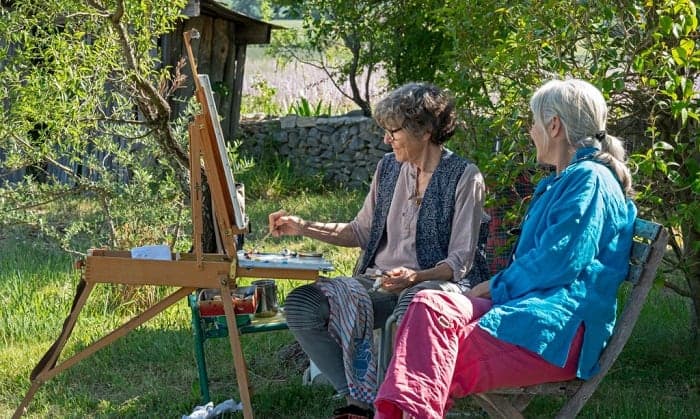 When we paint, we often think about the canvas, brush, and medium but the plein air easel we use is just as important. However, buying a plein air easel is not as easy as walking into an art supplies shop and choosing which one looks nice. You need to consider certain things, like the weight you can carry, your budget, or your habits.
The best plein air easel is the one that helps you meet your goals as a painter. On that note, I invite you to check out this review to get more information so you can choose the right one for you!
Best Plein Air Easel Reviews
1. Meeden Ultimate Pochade Box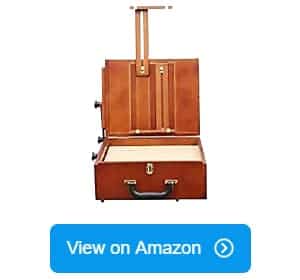 Carrying all your painting supplies along with the easel can be cumbersome. Design-wise, this pochade box is more than just pleasing to the eyes. Let me make a convincing case for this Meeden's Ultimate Pochade Box.
While it is built for the outdoors, I like that the pochade box is versatile since I can set it up in the studio. Thanks to the rubber bumpers at the bottom, I will not risk damaging my table. Featuring storage with 2 removable dividers, I can use it to organize my paint tubes, palette knives, and brushes however I want.
In terms of user-friendliness, the design of this pochade box is very intuitive, even for first-timers. I did not have a difficult time opening the lid or sliding the palette area. Traveling with it is extra-convenient as it allows me to transport not just one oil painting but up to three 8″ x 10″ or 9″ x 12″ panels.
Still, I can work on a canvas that is up to 17″ tall, with any width. Speaking of bigger artworks, I'm confident that stability is not an issue even if it is mounted on a tripod. Moreover, the pochade box is equipped with a universal tripod mounting plate. I don't have a hard time finding a compatible tripod if I decide to replace the old one.
On being "lightweight," I find this subjective. It is lighter compared to other pochade boxes, but this will depend on who will carry it. Personally, I still think it's a little heavy. Other than that, I would still go for this since it has other useful features like the towel holder and paintbrush tray.
Pros
Versatile pochade box for studio and plein air painting
Lets you organize your supplies however you like
Does not wobble when mounted on a tripod
Allows you to work on up to artworks with a height of 17″
Has a mounting plate that is compatible with most tripods
Great for both indoors and outdoors, this pochade box has room for you everything you need to paint. Best of all, you can transport your wet paintings without ruining them.
2. U.S. Art Supply E-500 Easel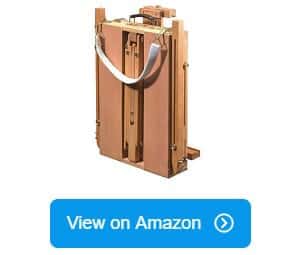 Dabble into plein air painting for the first time? You would probably shy away from the expensive french easels. Where price point is concerned, this all-in-one plein air easel is a practical choice for beginners.
Even as a newbie, I could not help but feel like a professional artist when using this classic plein air french style easel. Perhaps, the nice hand-sanded Beechwood contributed to this, but I prefer it more that it has a built-in tripod, so I don't have to buy separately. Adding to the ease of use, the legs are adjustable to any height, which lets me see the canvas as flat as possible to my eyes when I sit or stand.
Featuring ample storage space, I can keep all my art materials in one place wherever I go. Once I'm on location, I can just set up the plein air easel without transferring my supplies from another container. The dividers are removable so that I can organize my brushes and paints neatly.
On top of that, this unit features a drawer under the organizer for a small sketchbook and reference materials. Its palette is on waist-level, which lets me quickly access my materials while I paint. Plus, the easel comes with a shoulder strap, which is easy for me to carry.
My only complaint is that I need to make sure that wing nuts are tightened, which can be painful to turn with my hand. For the price point, I can safely say that it is no big deal for those who are new to plein air painting.
Pros
Affordable plein air easel for beginners
Has built-in adjustable tripod
Provides ample storage space for art supplies and references
Equipped with removable dividers to customize your storage
Palette and storage are on waist-level for easy access to materials
Cons
Wingnuts are hard to tighten and loosen
Considered the best French easel for beginners, this unit gives you a "professional" feel at an affordable price. Thanks to its built-in adjustable tripod legs, you can paint while standing or sitting.
3. Jack Richeson Sienna Plein Air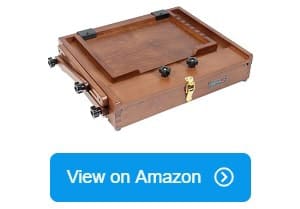 Striking a good balance between beauty and functionality, many plein air artists rave about the Sienna pochade box. Let's go through the features to see why many painters claim that this is suitable for oil painting.
First, this pochade box comes with a removable tempered glass palette. This particular piece wins me over as it is convenient for color mixing, yet it is very easy to clean. Furthermore, the paint stays wet on the palette for a while even if I close the box.
With this pochade box, I can "grab-and-go." For one, assembling it along with the canvas and tools is simple. Its knobs are not too tight and not too loose. Not only that I don't hurt my hands while setting up, but I also don't spend too much time setting it up with a tripod. On the other hand, I can work in the studio and use it as a tabletop easel.
Even though this pochade box does not come with storage compartments, I don't mind carrying my supplies in a bag. As a result, the load I end up carrying is a lot lighter compared to taking a wooden easel since there is a brush tray where I can put all my brushes, knives, and even my phone while I work.
By all means, this is the best pochade box if you want to travel light. The only downside I see is that the clips that hold the canvas are a little obtrusive. Some folks do not mind this, but for me, it can get in the way of painting the edges of the canvas.
Pros
Versatile pochade box for indoor and outdoor painting
Lets you prepare at a shorter time
Ideal for traveling light
Removable tempered glass is easy to clean
Has knobs that are not hard to loosen or tighten
Cons
Clips can get in the way of painting the edges of the canvas
Say goodbye to all the hassles in plein air painting as this Sienna Pochade Box lets you concentrate on the most important aspect of your creative process. Aside from being the perfect travel companion, you can also use it in your studio.
4. Delta Prime Savings Club Art Easel
For those who are looking for affordable french-style easels, look no further! Price-wise, you will get more than what you pay for.
Assembling this french-style easel does not require rocket science. Since it includes wing nuts, I don't need extra tools to adjust or lock the legs in place. By the same token, the telescoping legs ensure that the easel does not wobble even when I set it up on a bumpy surface. When working in the studio, I have the option to tuck the legs and place the easel on the table.
Beyond stability, the portable french easel allows me to experiment with colors with a large palette. Wherever I choose to work, the storage box gives me spacious compartments for my supplies. What's even amazing is that I can use bigger canvases since the holder can slide up to 71″ in height.
As far as traveling is concerned, the easel's folded length of 22" and width of 13.3" fits nicely in my big backpack. Alternatively, I can use the shoulder strap to carry the unit. Made of solid wood, I don't worry about deforming or breaking it while in transit.
Perhaps the only thing that annoyed me was the chemical odor that the product emitted when I unboxed it, although it went away at some point. Lastly, this is french easel weighs about 14.32 lbs without any supplies in it, so plan your plein air painting trip accordingly.
Pros
Very easy to transport and assemble
Can double as an easel for your studio
Has adjustable telescopic legs that ensure stability
Accommodates big canvases
Made of solid wood that does not break easily
Cons
The new unit emits an odor when you unbox it
May be heavy for some people
Complete with a storage system, a large wooden palette, and a shoulder strap, you can paint wherever you want. With this strong and sturdy french-style easel, nothing will stop you from pursuing plein air painting!
5. Creative Mark French Artist Easel
Whether you are a hobbyist or a professional painter, painting is not just self-expression but also about leaving a legacy. Described as a replica of Mabef Backpackers Easel, Creative Mark's Cezanne half box french easel is a practical choice.
Sometimes, I just need to carry a few supplies with me, and putting them in a half-box makes everything a whole lot lighter. The drawer is slightly narrow while still has sufficient room for long brushes and paint tubes. In case I want to bring a separate pastel box, I can put reference materials, pencils, and other items in the half-box.
Whether I choose to sit for long hours or stand up to paint, setting up this french easel is not cumbersome. At the same time, I can recline the canvas holder at any angle I like, which makes it suitable for drawing and watercolor painting. Since it is lighter compared to a full box, I'm inclined to use this if I travel by plane since I can store it in the overhead compartment.
After setting this up, I can see that this french-style easel's strongest suit is durable as it can last long. Despite being smaller, it gives me almost the same benefits as a full box, like its ability to hold up to a canvas with a height of 32″. Unlike other half-box easels, this unit's wooden palette is quite big and sturdy.
That said, I only found 2 minor issues. Firstly, the wing nuts loosen once in a while. Secondly, the product's finish is a little rough that requires me to sand it before using. Given that this easel is affordable, these small trade-offs are negligible.
Pros
Affordable french-style half box easel
Perfect for oil painting, watercolor, and drawing
The size of the easel is easy to transport
Can steadily hold up to 32″ canvases
Made to last a long time
Cons
The finish is a little rough
The wing nuts tend to loosen
With a gorgeous multi-functional design, this could easily be the best plein air easel for oil painting and any medium. Its size fits the bag, while its price fits the budget!
6. Meeden Ultimate Plein Air Set
Not all of us are interested in buying different parts to assemble a plein air easel. If you'd rather buy everything you need in one go, this pochade box with a tripod from Meeden is an excellent starter pack. It's explicitly made for beginners and hobbyists.
Designed for traveling, I just make a single purchase that includes a pochade box, a plein air tripod, and a bag. If you are buying your gears for plein air painting for the first time, you don't have to worry about compatibility issues. Even better, the box has a wet painting carrier that can fit up to 4 panels.
As for me, my favorite is the removable dividers. I can customize the storage compartment to fit all my tools of trade. Another thing that I love about this pochade box is that it is not hard to figure out how to set it up. With the quick-release plate, I can mount it on the tripod without holding the box in one hand while I extend the legs.
Both the tripod and the pochade box give me a steady work area on flat ground. Not to mention, this unit equips me with a wooden palette, brush tray, and a towel rack. It is almost like I'm working in my studio!
Without my tools inside, this unit weighs a hefty 16 lbs. The description of this item says it is lightweight, but I think you should take this with a grain of salt. Also, this is best used on an even ground. On a sloped or bumpy surface, you might find it a little wobbly.
Pros
Complete starter pack for first-time plein air painters
Lets you customize the drawer
Very easy to assemble
Provides stable work area on a flat ground
Equipped with brush holder, palette, and towel rack
Cons
A little wobbly on a bumpy or sloped surface
The unit is more on the heavy side
Discounting the minor drawbacks, the quality of this pochade box is pretty impressive. Beginners who want to try out plein air painting can start with this unit as it is a complete package.
7. New Wave 00702 u.go Plein Air
Experienced plein air painters know that lightweight pochade boxes and easels are almost like a myth. Well, let me introduce you to u.go Plein Air. Weighing a little over 2 lbs, this is the closest thing to lightweight.
What sets this durable pochade box apart is that it looks like a laptop. Unlike other pochade boxes, its smooth finish feels nice to touch and there are virtually no protruding parts. Consequently, I can put this in any backpack I have when I travel.
Despite its size, I can use the pochade box in a variety of mediums. For instance, it can lay flat, which is ideal for watercolor. On the other hand, the lid can be reclined to an angle I like for pastel or oil painting. Included in this plein air easel for pastel is a plastic palette that I can remove by detaching the sidewall to clean off the oil acrylic and other substances or replace it with a glass palette.
Also, I like that the panel and canvas holder does not take up too much of the panel or canvas' edges. Generally speaking, it lets me paint all the way through. Underneath it is a hole where I can securely fasten a universal 1/4″ tripod mount that is compatible with any camera tripod.
The pochade box does not come with a brush tray and its holder, which is a downer for me. Seeing the price tag, I wish it included the accessories. Furthermore, this box has magnets to secure the panel and other parts. However, these parts can be hard to remove as the magnets are so strong.
Pros
Durable laptop-like pochade box that fits most bags
The adjustable lid can lay flat
Has an easy-to-clean removable plastic palette
The panel and canvas holder does not cover the drawing surface
Compatible with any camera tripod
Cons
Does not include the brush tray and its holder
Dismantling the parts requires strength as the magnet is strong
Among all the products in this plein air easels review, this pochade box is the lightest. That said, it is perfect for artists who hate carrying bulky supplies and gears.
8. Jack Richeson PB-1012 Plein Air Easel
A lightweight pochade box has become popular among the plein air painting communities. However, the trade-off is that painting essentials like brush trays or other accessories are not included to minimize the weight. Fortunately, this pochade box has plenty to offer than just canvas holders.
One of the advantages of this unit is that it is made to last long. For some, it looks like a bulky laptop when compared to slim pochade boxes. For me, I am not weighed down when I travel with a backpack. It weighs 5 lbs but it already includes a tray for the brush and a tempered glass palette.
Moreover, I love mixing colors on the glass palette for oil painting as they are not hard to clean. In my experience, opening the lid and sliding the panel holders are effortless. Thanks to the star knobs, I can tilt the lid to an angle that lets me see the panel or canvas properly. Even better, the pochade box can lay flat if I want to paint watercolor.
When painting outdoors, I can always use a camera tripod to support the pochade box. Yet, I have the option to ditch the tripod and place it on my lap. Rather than being forced to carry a heavy french easel, I can choose a lightweight sketch box and other accessories.
Like other Sienna pochade boxes, the canvas holder covers a small area of the canvas or panel. For those who prioritize durability, ease of use, and value for money, this is not a major issue as it is workable.
Pros
Built to last long
Includes a tray and a glass palette
The adjustable easel can recline or lay flat
Does not weigh you down
Gives you the option to put on your lap or a tripod
Cons
The canvas holder slightly covers the edges of the canvas or panel
Painting outdoors is challenging as it is but with this pochade box, you are unstoppable. Aside from its classic design, it functions as a superb oil painting and watercolor plein air easel.
9. Artist Quality French Easel
Traditional french easels are not just relics from the past. Beyond its novelty, many modern-day artists still practice plein air painting as it challenges their artistic skills. That said, I invite you to push the boundaries of your creativity with this top-quality portable easel.
With the pull-out drawer, I can stand a little closer to my painting if I want to look at the details. Apart from that, it serves as roomy storage for plenty of supplies while traveling. Thus, I don't need to carry another paint box.
One of the things I love about this unit is that its large palette lets me play with colors. Meanwhile, the dove-tail joints contribute to the strength of this french-style easel. As for the canvas holder, it can accommodate both small and tall canvases or panels.
Painting outdoors is fun with this easel because its fully-adjustable telescoping legs are pretty stable. Supporting the legs, the rubber bumpers minimize wobbling or slipping, which is the main reason why I also use this in the studio. Alternatively, I can use it as a tabletop easel.
Truly, this easel for plein air is robust. I never agonize about breaking any part of the drawer that contains my supplies while I'm traveling. That said, the only flaw is that it can be cumbersome to bring when I need to take a plane. Its folded size takes up the bulk of the maximum dimensions of a carry on luggage.
Pros
Has a sturdy drawer that can fit a lot of supplies
Robust construction prevents damages while in transit
Can hold your canvas in a stable manner
Accommodates small and big canvases or panels
Can function as a tabletop easel
Cons
Folded size is big for carrying on luggage when traveling by plane
Aside from its old-world charm, this traditional french easel gives you the complete en plein air painting experience. Satisfying the need for reliability and versatility, you can never go wrong with this one!
10. ShowMaven Wooden Art Easel
Like it or not, plein air painting can be back-breaking but the results are often rewarding. Lest you forget, outdoor painting is not a weight-lifting contest. You can make things easier for you with this ShowMaven wheeled wooden french easel.
The whole idea of dragging the wheeled easel already relieves me from the stress, especially when I want to scout the perfect spot to paint. Plus, it has an extendable handle to pull it easily as I change directions while walking. Aside from that, I don't need a manual or a video to figure out how to fold and unfold the unit.
Once I finish the setup, the easel is stable. Even in the outdoors, I can adjust the legs to level the whole easel on uneven ground. If your studio floor is smooth, let me assure you that the non-skid feet effectively keep it in place. Truly versatile, it can easily be converted into a tabletop easel.
Beyond the intuitive design, the storage space has dividers. I love that I can put everything in the right order, which helps me find the tools I need easily. Like most french-style easels, it provides a large palette for me to mix plenty of colors. More importantly, it can accommodate up to 34″ canvases and panels.
The only catch is that the easel weighs close to 16 lbs. Of course, the wheels will make up for this. However, if you are traveling by plane, this unit alone will take up more than the prescribed weight for carry-on luggage. Besides, it can be difficult to drag on a bumpy surface, so you will end up carrying it at some point.
Pros
Easy-to-maneuver wheeled french-style easel
Folding and unfolding the unit is a breeze
Suitable for indoor and plein air painting
Provides roomy storage space for plenty of tools
Holds up to 34″ canvas or panel
Cons
May not be ideal for traveling by plane
Can be difficult to drag on a bumpy surface
Factoring all its excellent features, I can see that this french style easel is more suitable for land trips. Beyond that, it meets most of the necessary criteria for the best plein air easel.
11. SoHo Urban Artist Studio Easel
While reading all french easel reviews and testing each unit, I find SoHo Urban Artist's easel significantly lighter than most of its kind. With this, you can save your energy from carrying a heavy load and channel them into plein air painting.
Speaking of weight, let me just add that this is still lighter than other french easels even if I load this with my supplies. As far as storage space is concerned, I can load everything I need to bring inside the drawer. I can leave my palette box at home since the unit includes a palette.
When I first saw this, my first impression was that the french easel is elegant but I am also impressed by how stable it is. True to its promise, it has a lightweight yet it does not sacrifice its durability. Considering these qualities, I can use it both for painting outdoors and indoors.
Whether I use a canvas or a panel, the canvas holder holds it up well since it has two stabilizer arms. Even better, I can adjust the different angles or lay it flat to work with any medium. Thanks to the telescoping legs, I can modify the height of the french easel to a level that is comfortable for me.
Generally, I find this plein air easel is easy to set up but the legs can be slightly wobbly. I think it's not that bad since I can reinforce this by placing something heavy around the feet. Besides this, I do not see any major issue that affects my painting.
Pros
Significantly lighter than other french easels
Ideal for painting outdoors and indoors
The drawer provides ample space for supplies
Appropriate for most mediums
Very easy to set up
Cons
The telescoping legs are a little wobbly
If you prefer french easels over pochade boxes but still want to travel light, then this is for you! Elegant yet functional, this french-style easel is a must-have for en plein air painters.
12. En Plein Air Pro TS-PKG Traveler Series
Light and compact are probably the most accurate words to describe this En Plein Air Pro Traveler variant. Serving the specific needs of watercolor artists, painting outdoors is no longer burdensome!
Just by looking at it, I knew the En Plein Air Pro was not lying when they said the entire easel kit is light. Although the package deal includes a bag and a tripod, I can mix and match with another tripod since it has a universal mount. Carrying the whole system in the bag is not strenuous, and I love that it can fit this under the seat in the plane.
Apart from that, the En Plein Air Pro throws in other plein air watercolor essentials like a palette tray with a cup holder, a water pail hook, and a brush holder. I appreciate this because some lightweight products tend to exclude these accessories from the unit's total weight or price. Made of a robust ABS plastic, it is pretty firm and secure when placed on a tripod, which was a pleasant surprise for me.
The unit is slimmer than wooden plein air easels but assembling it was a no-brainer. Meanwhile, the canvas holder lets me modify the angle from vertical to flat so I can use this for other types of painting. Plus, I can place the easel on a table if I want to since it comes with a table leg.
That said, this En Plein Air Pro easel is close to perfection. Perhaps the only design flaw is the plastic palette that gets stained even after washing. Moreover, the mixing wells in the palette are a little shallow for the pigments and liquids. Hence, some colors get mixed up.
Pros
Easy to transport and set up
Its slim size can fit under the seat in an airplane
The easel can be reclined to any angle
Allows you to place on a tripod or a table
Cons
The plastic palette is hard to clean
Mixing well in the palette is shallow
Imperfections aside, I still think that this is the best plein air
watercolor easel
. Featuring a portable size, you will never have any problems with packing and transporting.
What to Look for When Buying Plein Air Easel
Now, you probably know that buying a plein air easel is not as easy as buying other art materials. Lugging all your painting paraphernalia is tiresome, especially when you are traveling out of town to capture the breathtaking vistas. It is crucial to get everything right in one trip. After all, you can't keep coming back to the location and expect the same lighting conditions.
For starters, you need to factor in your current set up and artistic goals. Perhaps you're the type of person who can carry all your painting materials on your own. Maybe you're new to painting and you're curious whether plain eir is something you would pursue.
If you need some help in figuring out which one to buy, you're in luck! I have gathered some things to consider when you purchase the best plein air easel.
Weight
Manufacturers are building lightweight plein air easels and pochade boxes. However, they can still be heavy, especially those that are made of wood. On top of that, you will be loading the compartments with your supplies. Also, you will be carrying other things like a water bottle or a foldable chair.
Also, think about how you are going to travel. Is it possible to drive your car to where you want to go? Are you going to walk or trek to get to the perfect location? The weather might be hot, which can suck the energy out of you. As you get tired, you can expect that your plein air easel will feel heavier.
Unless you have someone to help you bring your plein air easel, you will need to consider your physical challenges.
Setup
Artists love to personalize everything, including their workspace. Whether it's a pochade box, a french easel, a tripod-based easel, or a field easel, many artists will want to make adjustments to the design to fit their requirements. The fact is that not all units have the same features.
Some plein air easels or pochade boxes do not have compartments with movable parts. That's all well and good if you like your gear as it is. It is much quicker to set up a simple unit.
Furthermore, you should also determine the type of painting you want to do. If you intend to work with watercolor, check the accessories the plein air easel includes, such as a palette or cup holder. When working during the day, artists tend to attach umbrellas to the easel. You have to see whether the unit allows for such customization.
Measurement
Fortunately, many plein air easels come with either adjustable legs or a universal tripod mount. Sit or stand, you can set them up at the height that you are comfortable with.
Besides this, you need to check whether the size of the canvas fits the easel. Although the canvas holders are often adjustable, there is still a limitation. One way to go about this is to determine the sizes of the artworks that you usually make.
Apart from the canvas holder, think about whether you want to use your pochade box as storage for most of your painting supplies. If so, then you need to include the storage compartment as one of your priorities.
Durability
When you travel to far-flung places, there is always the possibility that your french easel and pochade box could break. We want something strong and sturdy, but these two qualities also correlate with the weight of the unit. In other words, lightweight easels and pochade boxes can be flimsier, and therefore, more prone to breaking.
As such, many painters prefer more robust products to avoid the hassle of dealing with a damaged easel. That said, you may have to carry a heavyweight french easel and pochade box wherever you go. Of course, this would not be a problem if you travel by car and paint somewhere close to where you parked.
However, if you have to carry around a plein air easel and other items, you may need to consider getting a more durable and lightweight unit. Whatever the case may be, you need to prioritize the features that make your work more convenient.
Budget
Beginner or professional, budget is a legitimate concern. There is no hard and fast rule of how much to spend on plein air painting easels. Perhaps you want to buy one easel that you will use forever. Maybe, you are thinking of buying another that offers the features you need for certain settings.
It would be a different case for beginners who just want to try out plein air painting. If you are not sure whether you are going to stick to the craft or not, then you are not obliged to get the fanciest or splurged on the most expensive easel and pochade box.
Other Important Factors to Consider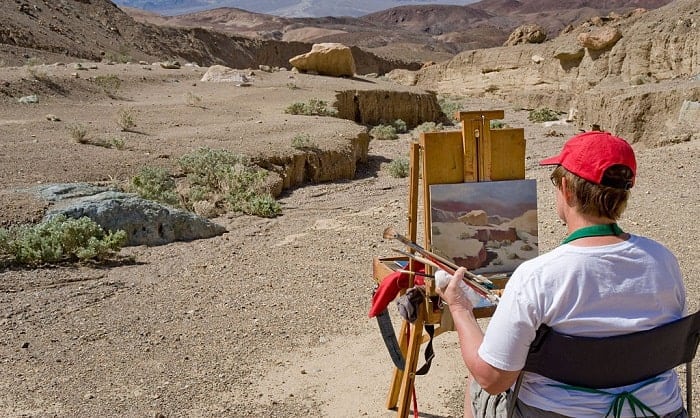 What is plein air easel? How does it work? Who is this for?
In a nutshell, a plein air easel is an easel that artists use for outdoor painting, or as artists put it, "en plein air." En plein air easel can be in the form of a french-style easel or a pochade box.
These portable pochade boxes and french-style easels share common design features but art supply manufacturers have come up with various designs to provide artists a better en plein air painting experience.
Many tabletop easels are equipped with tripod mounts that are compatible with any camera tripod. Some designs include adjustable legs. Meanwhile, there are also pochade boxes that have canvas holders and wet panel carriers.
In its most basic function, these easels hold the canvas while the artists paint. The adjustable canvas holders and legs or camera tripods let painters modify the easel's height so they can work comfortably.
Plein air easels are not just for experienced outdoor painters. Individuals who want to paint the great outdoors can buy one. Besides, many artists also use these easels for studio painting because of its functionality.
What are the different types of plein air easels?
For those who are not familiar with art supplies, easels look the same, but they are designed differently to address the specific painting methods and artistic habits. After all, each painter has his or her approach to producing a masterpiece.
Fortunately, we live in an era where manufacturers are coming up with smart features. This innovation has led to the creation of various designs of plein air easels. However, they are mainly classified into four types.
French-style easel
Tripod-based easel
Pochade box
Field easel
Why do you need a plein air easel?
Compared to working in a studio, painting outdoors is an entirely different experience. In the studio, you can access everything you need in your cabinets, drawers, and what-have-you. Within the confines of the walls and roof, you are protected against the elements as you work on your masterpiece.
That said, you can start painting anytime without feeling exhausted from the long trip. By nature, the studio provides a more fail-safe environment. En plein air painting is more than just painting as it requires intense planning and reliable tools.
Planning is another topic but you also want to make sure that you can count on your gears. This way, you will never have to change your plans when they break or discourage you from pursuing open-air painting altogether!
As such, manufacturers design the plein air easel to fool-proof your outdoor painting. When traveling to a location, this so-called "portable studio" is where you store your painting essentials and hang your blank canvas. Once you are where you need to be, all you have to do is set up your plein air easel and focus on painting.
Regular easels can't be easily transported and not all of them are equipped with storage systems as they are meant to serve the functions that artists need to work inside the studio.
Frequently Asked Questions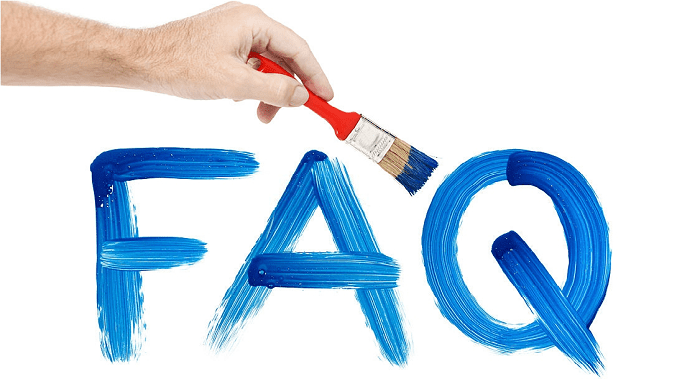 What are the most trusted plein air easel brands?
Since the art supplies market is oversaturated with brands, there is an abundant supply of plein air easels. On the bright side, you can pick something that truly matches your needs. On the flip side, it can be hard to tell whether the easel you are checking out in the shop is dependable or not.
Regardless of the design of plein air easel that you want to buy, the easel reviews you will find online could only tell you so much. However, I'm confident that any painter will be satisfied with Meeden, U.S. Art Supply, Sienna, Delta Prime Savings Club, Creative Mark, New Wave, French Easels, ShowMaven, SoHo Urban Artist, and En Plein Air Pro.
Aside from their popularity among the painting communities, these brands have a proven track record of producing high-quality easels. Moreover, most of the pochade boxes or easels are also compatible with the best tripod for plein air painting.
By all means, you should check out other brands and variants that I did not feature in this article. Other artists who share easel reviews also recommend Open Box M easel, Strada Plein Air easel, and Daytripper Plein Air easel.
How to set up a French easel?
Artists tend to get creative in setting up their studio, and the same can be said for a portable french easel. Note that if you opted for a highly customizable unit, then it is an entirely different subject. Some blogs tackle the nitty-gritty of fully-customized plein air easels. For this review, let's focus on the ready-made ones.
For a basic French easel, you can set it up by starting with the back leg that is folded tucked underneath the box. Unfold and extend the leg, then rest it on the floor while you hold the box. After that, you can unfold the second leg as you are holding the box. Once two legs are extended, you can unfold the last one.
Now that your French easel can stand on its own, you can make adjustments to each leg one by one. Last but not least, open the box and put your canvases on the holder.
How do you clean and care for a French easel?
French easels are made to withstand the elements but without proper maintenance, it can break or weaken over time. Even the top-rated plein air easels show signs of aging at some point. Caring for a french easel will depend on what it is made of and where you use it.
For starters, wipe the wooden parts of the french easel with linseed oil. This can be done at least once a year to boost the wood's weatherproofing. Aside from that, you also need to clean your palette regularly after you are done painting a piece.
If you paint at the beach, the sand will stick to the french easel. After your painting session, brush the sand away from the threads and apply a 3-in-1 oil on the threaded areas. This ensures that the thread will not wear away.
Over time, the dovetail joints of the french easel's box can pull apart but this design is easy to fix. While it is pulled apart, put a few drops of wood glue around the joints, and gently push or tap them back into place.
As your french easel age, its screws that hold the hinges of the box or the canvas holder may loosen. This may cause the easel to wobble and affect your painting session. It is advisable to carry around a small screwdriver to tighten up the screws.
After years of use, you may notice that the holes that hold the screws would grow bigger, making it impossible to tighten with a screwdriver. One way to work around this is to remove the hinges. Put some small strips of wood and some wood glue into the hole, then leave it overnight. You can cut off the excess wood and re-drill the hole. Rather than using the same size of screws, you can replace them with slightly bigger ones.
These are just some examples of how you can repair or maintain your plein air easels. Many brands include user manuals that also contain information on proper maintenance, while others publish instructions on their websites. You can check the manual or the website to know the specific ways on how to clean and care for your plein air easels.
Can you paint without an easel?
Technically, artists can paint without easels or pochade boxes but this poses limitations, especially toward plein air painting.
One of the benefits of pochade boxes and easels is that you do not have to put everything on your lap. Unlike working in a studio, you can't always find a table in the parks or beaches. Just imagine when you are sitting on the ground while painting. With an easel, you do not have to slouch!
On top of that, pochade boxes and plein air easels free your hands to paint and quickly grab supplies that you need. The adjustable canvas holder lets you change angles so you can work better. Another benefit is that you can always step back to see an overview of your work in progress.
Where to buy plein air easels?
Plein air easels are not hard to find. Most art and craft supplies shops like Blick Art sell a variety of plein air easels, be it french-style easels, field easels, pochade boxes, or tripod-based easels. Of course, you can always order one from e-Commerce sites like Amazon, DickBlick, and eBay. In these shops, you can choose the design that suits your painting habits, height, or means of travel.
https://youtu.be/9k0ofp8Li3s
Conclusion
No matter how far we are into the digital age, the market is still saturated with various plein air easels. Painting outdoors is still popular among professional artists and hobbyists alike.
From pochade boxes to french-style easels, each model of best plein air easel has a distinct design. Many of them are equipped with telescoping legs, while some can be paired with any camera tripod. Even if you checked all the artists' easel reviews, it can still be confusing since their experience may not apply to you.
Any painter would know that buying a brand new easel is an investment. In this review, I intend to provide you with as much information as you need to find the for you.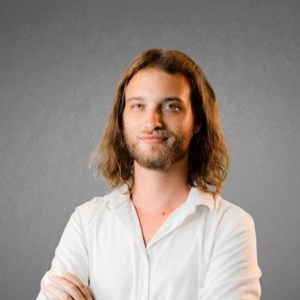 I am a former art teacher, so it is evident to me the importance of art in educating the new generation. We also want to help parents who plan to teach their children and desire the best tools and tips for them.