Many watercolorists are content with painting on sketch pads and loose sheets on a table surface. But if you're a professional watercolorist, you know how important it is to have your canvas held up to just the right angle by the best watercolor easel you can find.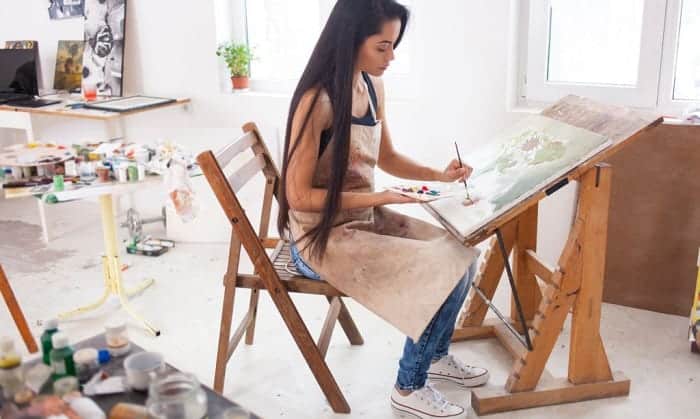 Having your work held upright helps you see your artwork at eye level, so you won't end up distorting your shapes and angles. This is especially helpful if you're working on a special piece you can't afford to paint on a flat surface.
Here are the best options for a watercolor easel today.
Best Watercolor Easel Reviews
1. MEEDEN Artist Watercolor Field Easel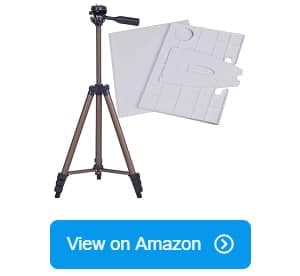 If you love to go outside your home and studio to work on your watercolor pieces, then you'll appreciate how easily portable this MEEDEN easel is.
Although this easel is made with thick, sturdy aluminum, it's incredibly lightweight, making it easy to bring around when you're mobile. All you have to do is fold up the legs to its shortest 17-inch length and stick it in your bag.
While it's light, this easel still offers some balance and stability when placed on the ground. It even has a non-slip base to make sure it has some grip on where it's standing.
I love that you can adjust the angle of your canvas from completely flat and horizontal to upright. It can also tilt to any angle in between! It's very convenient for artists who want to sketch and paint at a very specific angle.
There's also a built-in paint palette the artist can use right in front of the canvas. It's a convenient way to mix colors without bringing an extra palette with you. It also has a hole to hold a plastic cup, whether for dipping or drinking.
The only thing I don't quite like about this portable watercolor easel is that it's not heavy or strong enough to hold bigger canvases upright. It tends to go wobbly if you try to clamp huge canvases on it.
Pros
Made of thick aluminum for extra sturdiness
Has a non-slip base for stability on the ground
Lightweight and foldable, so it's easy to bring with you as you travel
The working surface can be adjusted from flat to vertical
Has a palette for your paints to go on, which includes a plastic cup holder
Cons
The tripod can be a bit wobbly if you try to use bigger canvases
This MEEDEN easel is terrific for plein air artists who love taking their easels and watercoloring tools with them wherever they go. It's easy to carry around and set up and has extra features for a seamless watercoloring session.
2. Creative Mark Soho Urban Artist Sketch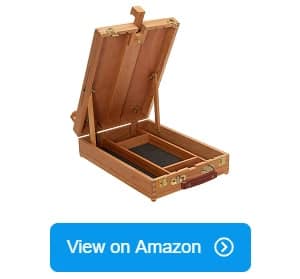 If you do your best work sitting comfortably at a table you can call your workspace for the day no matter where you are, you'll love this tabletop easel for watercolor painting.
This easel is irresistible to artists who love unique multi-purpose art tools. It's both an artist's toolbox and a tabletop easel, which is perfect for those who love to work from place to place regularly.
The lid of the box serves as the easel. The positioning can be adjusted from entirely horizontal to whatever angle you're most comfortable painting at. You can hold any canvas and watercolor paper pad up with this easel, so long as it's not taller than 25 ½ inches.
The box is made of deluxe hardwood and has a nice finish to it, giving it a rustic and charming yet very fashionable look. It has five compartments to place all your work tools in.
However, if you're a plein air artist who loves looking out at the fields or oceans to capture inspiration for your work, you may not find this easel useful. You can't use this box easel without a table to place it on, so unless you don't mind lugging around a table for your travels, go for something else.
Pros
Doubles as an artist's box and a tabletop easel for painters
The easel lid can be adjusted from a flat surface to an angled tilt
Can hold canvases and sheets up to 25 ½ inches tall
Made of deluxe finished hardwood for a rustic vibe
The box has five compartments to fit all your watercoloring tools
Cons
You can't use it for plein air painting unless you have a table
This is an awesome option if you're on the hunt for a cute and rustic artist's sketch box you can use every time you go out of your studio to work. You get a box for your tools and an easel all in one!
3. US Art Supply Solid Solana Desk Table Easel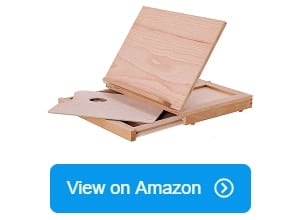 Another portable easel option is this miniature watercoloring drawer. It looks like a flat wooden box, but don't be fooled—it's an art drawer, easel, and palette all in one!
The easel feature of this drawer's lid is suited for smaller, standard-sized paintings. Unlike the previous tabletop watercolor easel we talked about, this one can hold upright smaller to more medium-sized artworks. It can accommodate works that are up to 14 inches tall.
You can adjust the easel on the lid to up to four different angles. There are stoppers along the back to guide your easel to remain at a certain angle, which is super convenient because you don't need to fuss around with screws.
This box has a removable storage drawer, so you can put your art materials wherever you'd like as you draw, be it beside you or under your desk.
The drawer has three compartments for all your tools to fit in. It also comes with a wooden palette for mixing paints, so you don't have to pack your own when you travel with this.
The box is made with high-quality, sanded beechwood made in Germany. You're assured of sturdy yet not so heavy material for your tabletop easel.
While I appreciate the innovation and cleverness of this drawer's design, I don't like that the drawers aren't that spacious. They can't hold bigger objects like large palettes and very long brushes because the compartments are small.
Pros
A miniature, portable water coloring drawer that serves as an easel too
Accommodates works that are up to 14 inches tall
You can adjust the angle of your canvas in four different angles without screws
Contains a removable storage drawer and wooden paint palette
The drawer has three compartments to store your materials
Made with high-quality sanded beechwood from Germany
Cons
The drawer isn't that spacious, so it can't hold bigger objects
If you're looking for a small easel you can bring to cafes and co-working spaces hassle-free, you can put your money on this one by US Art Supply. The best part is that it doubles as storage space for all your art materials.
4. conda Aluminum Table Easel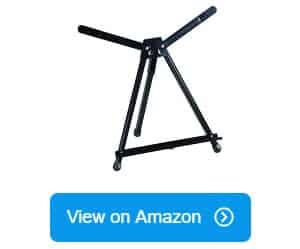 A more sleek and modern option to help keep your work upright as you create art is a watercolor easel tripod that you can easily place on top of your studio desk. One of my favorites is this one by conda.
This adjustable, tripod-style easel has three legs to hold your painting up. It's the foldable kind of tripod, so it's very easy to assemble and store after you use it. The third leg at the back of the easel controls the angle at which you want your painting to stand.
The easel has multi-angle extension wings to support the weight of your canvas near its middle or top portion, depending on the size of your canvas. It's recommended for this easel to carry something from 15 to 30 inches in both height and width.
This tripod is made with aluminum alloy of top-notch quality. However, it's still lightweight and a breeze to move from place to place.
It also has non-slip rubber feet to hold your painting in place as you work. The rubber legs provide sturdy and enhanced stability and protection for your table's surface.
My only complaint about this easel is that the extension arms are thin. I'm always fearful of them snapping when I place a particularly heavy canvas on the tripod, but as long as you don't go beyond the weight limit of 10 lbs, they should stay intact.
Pros
A three-leg folding tabletop easel that's easy to assemble and store
Has an adjustable back leg to help you customize the angle
Has multi-angle extension wings to support your canvas' weight
Can carry 15 to 30-inch canvases in both height and width
Made of top-notch aluminum alloy but is still lightweight
Has non-slip rubber feet for sturdy and enhanced stability on the table
Cons
The extension may snap if you use a canvas above the weight limit
I love this conda easel because it's simplistic and does the job as well as any other tripod on this list, but it has a sleek and modern twist—its tabletop design without the bulkiness.
5. Arteza Wooden Desktop Easel
Did those portable pochade boxes catch your eye? Here's another option by renowned art brand Arteza for those more comfortable with tools released by a tried and tested label.
This is another one of those wooden tool boxes that double as a watercolor easel because you can place your canvas on the lid and hold it up to the angle you want.
You can carry around all of your art materials in this storage drawer, from paints to personal effects. Because it's detachable, you can place your toolbox wherever it's easiest to grab what you need as you paint.
You can adjust the angle at which your canvas stands. Just unclasp the top of the lid and move your easel across the different stopper options that support its position until you find the angle you prefer.
This canvas is perfect for the standard 11 x 14 inch watercolor pad paper, and anything smaller. It's terrific for kids and students who have standard-size projects.
The box itself is made with beechwood, known to withstand wear and tear, and even shock. That means your easel will last you a long time.
However, it's important to note that the wood used to make this watercolor table easel isn't as smooth as the others. If you're quite clumsy like me, you should be careful, so you don't get splinters.
Pros
Serves as both an artist's toolbox and an easel
Detachable drawer to place your tools where they're most convenient
You can adjust your canvas angle
Perfect for standard 11 x 14 inch watercolor paper sheets
Made with sturdy beechwood, known to stand strong against wear
Cons
The wood isn't that smooth, so watch out for splinters
This Arteza box and easel is yet another terrific option if you want a simple yet multi-functional artist's box when you travel for painting.
6. Soho Urban Artist Pochade Box Artist Easel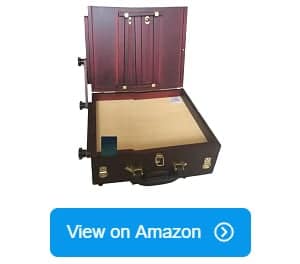 You can already probably tell that I love pochade boxes, or artist boxes that come with a built-in easel. Many pochade boxes look the same, but this box by Soho Urban Artist is aesthetically and functionally unique.
Unlike most pochade boxes we've seen so far, this one looks a lot more luxurious and fashionable. The wood is lacquered and deep-stained for a darker look. It also has brass-plated hardware for a fancy touch.
The box has an integrated easel to hold your canvas upright as you paint on it. I find it best holds up canvases and sketch pads that are around 9 x 12 inches—a pretty standard size for watercolor art.
There's an inside palette you can use to house your paints. It can be pulled sideways to reveal a 10-inch wide compartment that can hold so many more tools. This pull-out contains a magnetic brush holding tray.
The storage compartment is deep and spacious. You're able to carry up to six canvas panels. You can even place wet canvases in the panels without worrying about ruining them.
My only issue with this pochade box is that it's not as sturdy as it looks. The wood isn't exactly heavy-duty, so one accidental fall from the table to the floor is all it needs to fall apart.
Pros
The wood is lacquered and deep-stained, with brass plated hardware
Has an integrated easel to hold your canvas upright
Holds 9 x 12 inches sketch pads
You can pull out the inside palette to extend it to a 10-inch wide compartment
The pull-out contains a magnetic brush holding tray
The storage compartment is spacious and able to carry six canvas panels
Cons
The wood is not sturdy and can come apart with just one fall
I love using this pochade box as a watercolor travel easel because it holds everything I need and more when I plan to do some watercoloring en plein air. The fact that it looks so chic and stylish is a bonus that I love!
7. US Art Supply Tabletop Artist Studio Easel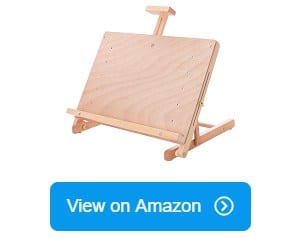 If you're not a fan of complicated pochade boxes and technical tripods, a basic, wooden tabletop easel will be great for you. This US Art Supply easel is perfect for holding up your art as you paint and displaying finished pieces for all to see.
This easel has six adjustable angle positions you can customize, from a completely flat surface to a straight 90-degree angle if you want it more vertical.
It also has an adjustable easel mast that can stretch upwards and support canvases of up to 23 ½ inches tall. The canvas is best used for small to medium works, but this mast makes it easy to accommodate slightly bigger canvases.
It folds flat, making it easy to store after use. Because it's horizontal when not in use, it's convenient to tuck this into small spaces for a cleaner work area.
The easel is made with solid and sturdy beechwood. This German wood was aged and oil-finished, so you know it looks and feels great. It also comes with metal hardware and hinges.
This easel is awesome for holding up and displaying art that you want your house or studio guests to see when you show them your work table. It can help you show off your best work.
The only thing I'm not so keen on is how much work it takes to raise or lower your canvas. You need to work with a lot of screws to adjust it, which can be time-consuming. It also snaps you out of your painting groove because it takes time to do.
Pros
Has six adjustable angle positions for you to customize a canvas
Has an easel mast that can support canvases up to 23 ½ inches tall
Folds flat for easy storing after use
Made with solid, sturdy, aged beechwood with oil finish and metal hardware
Perfect for displaying art works at a studio or home
Cons
You need to turn lots of screws to raise and lower your canvas
This is the
best watercolor easel
if you want something simple, without all the frills of tripods and storage compartments. It's something you can keep at all times at your designated work station.
8. Transon Art Easel Stand
Plein air painting is different for everyone. Some people do it on a table, while others love to sit or stand by the beach or cliffside to draw inspiration from their surroundings. Whatever painting style you go for outdoors, you'll love this Transon tripod easel to hold up your work.
It's made with sturdy, reinforced metal that is high-quality. It's not as light and flimsy as other tripods—it has just the right weight to hold canvases without being wobbly. It has a tray and a spring clamp to hold your canvas in place.
The magic of this tripod easel is in its telescoping legs. You can fold and adjust the height of these legs to accommodate different painting positions, from sitting on a tabletop surface to standing in an al fresco setting.
The tripod has non-slip feet to give it extra hold and stability on the ground, even when you're working outdoors.
To make it easier to transport, it comes with a Velcro strap for organized pack-up and a nylon bag to carry the folded tripod around easily as you travel.
One problem I have with this tripod easel is that the tray that holds the canvas can be quite sharp around the edges. When I'm not very careful, I scratch myself on these edges.
Pros
Made with sturdy, reinforced metal for the right amount of weight
Has a tray and a spring clamp to hold your canvas or paper in place
You can adjust its height through its telescoping legs
Has non-slip feet for stability
Comes with a free Velcro strap and a nylon bag to carry around in
9. MEEDEN Ultimate Pochade Box
While many pochade boxes are quite heavy, this MEEDEN box is lightweight and easy to bring along as you travel for plein air painting. It's the perfect artist's box for those who love painting outdoors because it stores all your materials.
The built-in easel can hold medium to large canvases. The adjustable mast can hold a canvas of up to 17 inches in height, so it's perfect for your taller paintings.
The box has a roomy storage area that is separated into three compartments. The two dividers separating these areas are removable, so you can take those out if you'd rather work with one huge area.
It's also built with a wet panel storage area. You can hold up to four of your wet canvases here without worrying about ruining them.
This box has a rich, brown color and gold-colored hardware for a chic and classic look. It also has a standard tripod socket, so you can use any camera tripod with it if you please.
The only con I can think of for this pochade box has to do with setting up the tripod. The box is quite big and bulky because of its roomy storage space, so it may be difficult to screw the tripod into the socket while keeping things balanced.
Pros
Lightweight and easy to bring along with you for plein air painting
Can hold medium to large canvases that go up to 17 inches in height
Has a roomy storage compartment separated by removable dividers
Built with a wet panel storage area that can hold four canvases
Has a rich brown color and gold hardware for a chic look
Has a standard tripod socket, so any camera tripod can be used with it
Cons
Because the box is bulky, screwing a tripod into it may be difficult
This is one of my favorite en plein air pro watercolor easel options because it gives artists the flexibility of using a tripod that can be folded for transportation.
10. US Art Supply H-Frame Easel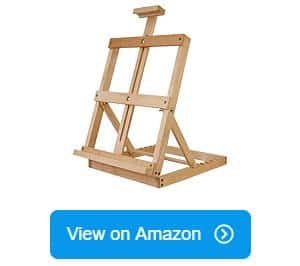 H-frame easels are a classic when you think of French easels that professional artists use in their studios. But this tabletop H-frame easel by US Art Supply is more of a modern take on the old classic.
This easel isn't as bulky as others you may have seen, but it still has a heavy-duty weight so you know it's high-quality and can hold up canvases. It has seven fixed angles you can experiment with to keep your canvas tilted in the angle you want.
This easel folds flat, so it's easy to store when not in use. But because of its simple and fuss-free design, you can keep it around to display finished artworks.
The easel is made with sanded beechwood and finished with a natural oil for a more luxe finish. This gives it a more quality look and vibe to it even if the design is basic.
Although this easel's made for small and medium sized canvases up to a height of 23 inches, it doesn't always seem to work as intended. One design flaw this easel has is that it can't hold canvases in place if they're under 18 inches tall.
Pros
The H-frame shape isn't as bulky as other easels but is still heavy-duty
Has seven fixed angles to keep your canvas tilted in according to your preference
Folds flat, so it's easy to store when not in use
Hand-crafted with sanded beechwood and finished with natural oil
A simple, fuss-free design that's suited for painting and for displaying artworks
Cons
It can't hold canvases under 18 inches tall
This is a great basic easel if you want something less bulky than a pochade box. It's friendly for beginners, but professional artists will also love it for its high-quality make.
11. Mont Marte Tabletop Box Easel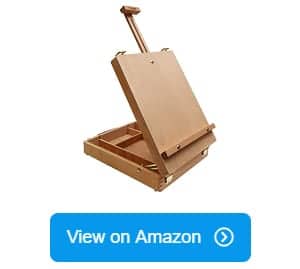 Mont Marte also offers an awesome tabletop box easel, which can be used at home or outdoors if you wish to do plein air painting.
This box easel has a unique sliding canvas adjuster to allow you to hold canvases taller than the usual. It holds up to 20.4 inches in height. The easel tilts anywhere between zero to 90 degrees depending on your preference.
Like all easel boxes, it has storage space with many compartments to hold your water coloring materials in. It also folds compact for easier storage and transport when you want to paint somewhere outside your home or studio space.
It has a leatherette handle that gives it a good grip and makes your box look extra stylish. It also makes it easy to carry around when you're outdoors.
However, whenever I hold the box vertically, the tools stored inside fall out of their designated compartment and jumble up together in the box. That means my organization was for naught. That's my only con about this box easel.
Pros
Has a sliding canvas adjuster to hold canvases of up to 20.4 inches tall
Contains storage space with many compartments for your tools and paints
Folds compact so it's easy to store and transport
Tilts anywhere between zero to 90 degrees for your benefit
Has a leatherette handle for easy grip and stylish design
Cons
When you hold the box vertically, the paints fall out of their compartments
This is a great simple box easel if you want storage space for your tools without an extravagant and bulky design. Its fuss-free and basic design also makes it ideal for kids' art projects!
12. SoHo Urban Artist Watercolor Field Easel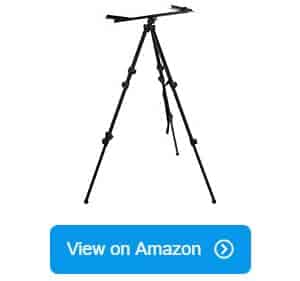 Easels are a godsend for plein air watercoloring, or painting outdoors to see and get inspiration from a scenery. That's where a plein air watercolor easel for the field comes in handy.
This easel is made with anodized aluminum, which means it's thicker than your average metal. That makes it very sturdy. However, it's still lightweight at just 3.5 lbs, so it's easy to transport and carry as you travel.
It has a frame holder to keep your canvas in place, so it doesn't move as you sketch and paint. It also has adjustable legs that you can fold and extend according to the easel height you prefer to make your watercoloring easier.
What's nice about this easel is that it has a sure-lock button that you can click to lock in your preferred adjustments for your telescoping legs.
While almost everything about this easel is easy breezy, I find that the canvas tray is quite difficult to assemble on the easel legs. The holes of the tray don't go on quite easily on the legs, so it takes a few tries to perfect.
Pros
Designed with anodized aluminum, so the metal is thick and sturdy
Lightweight at only 3.5 lbs, so it's easy to transport as you travel
Has a frame holder to keep your canvas in place as you paint
You can adjust the legs according to the height you're comfortable with
Has a sure-lock button to keep the telescoping legs at your preferred adjustments
Cons
The canvas tray is difficult to assemble
This is a great field easel to bring along with you for painting trips to beautiful sceneries. It holds up your canvas without being wobbly or toppling over on the grass, so you can paint en plein air worry-free.
What to Look for When Buying Watercolor Easels
Has adjustable legs to accommodate any height or position
Some artists like to sit by a table while they work, while others love to stand by scenery that inspires them as they paint. Your easel should accommodate either painting positions.
Your easel should have adjustable legs that can either go tall enough to stand on the ground or short and sturdy on a desk.
Easy to assemble and bring around, especially for outdoor painting
Watercoloring is a relaxing and exciting hobby—you don't need an overly technical easel to complicate things.
Make sure your easel is easy to assemble, especially when you carry it from place to place. It's also essential that your easel is easy to bring around for travel. Overall, foldable easels are the least difficult to handle.
Adjustable angle for the working surface at varying degrees, from horizontal to vertical
Every artist works best at an angle. The easel you go for must have the ability to adjust to varying degrees for your canvas to tilt in. Whether you want to work horizontally or with a more vertical canvas position, you should be able to adjust it to that.
Has practical accessory features like a trash brush tray or paint palette
It's useful to go for a watercolor easel with palette trays and brush holders to provide you with a seamless painting session.
When all your materials are within reach and are easily accessible to you, you can focus on your creative painting session without fussing around for your tools and color-mixing issues.
Has the storage space to keep all your tools organized
Pochade boxes are known for their built-in easels but are most useful for the amount of storage space they provide. These spaces and compartments are useful for your tools and brushes to go into so that if you were to paint en plein air, you need not bring a different toolbox for your materials.
Frequently Asked Questions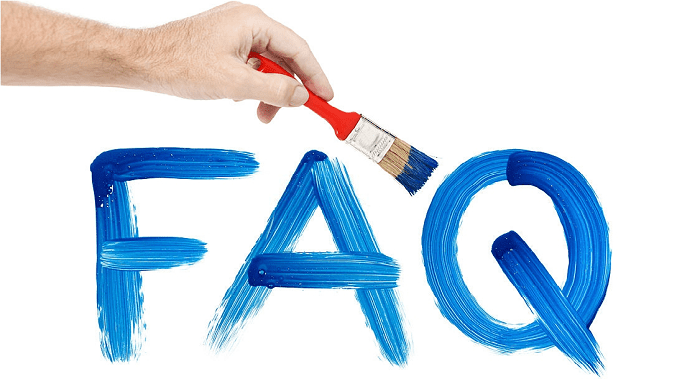 What are the most trusted watercolor easel brands?
Some of the most trusted brands for easels include US Art Supply, MEEDEN, Transon, conda, Arteza, and Soho Urban Artist. These brands design their easels thoughtfully to solve the issues of the average watercolorist.
What are the different types of watercolor easels?
The two most common types of watercolor easels are tabletop and tripod-style easels.
The tabletop easel will come in the form of either a basic folding easel or a pochade box with lots of space for painting tools. Either way, a tabletop easel will be short to give you the opportunity to see it at eye level as you paint while sitting in front of the table's surface.
Plein air or outdoor painting will need a taller easel since more often than not, it means the easel stays on the ground. This is where tripod easels come in. They usually have long legs that are adjustable according to your preferred height and non-slip feet perfect for staying stable on the ground.
Can I make a watercolor easel?
Yes! If you're on a tight budget, you can opt for a DIY watercolor easel. You can use scraps of hardwood to fashion your canvas holder and tray. If you have a camera tripod, you can use it to mount your DIY easel to keep it standing.
There are lots of sources online to learn to make your watercolor easel from scratch, like YouTube or social media forums. The important part is to be creative and resourceful.
Can you paint watercolor on an easel?
Yes, it's highly recommended that you do watercoloring on an easel. It helps keep your canvas in place, so it's not moving about so much as you paint.
How do you properly install and use a watercolor easel?
Installation is different depending on the brand and design of your easel. Most tabletop easels will be foldable, so all you have to do is adjust it to your preferred height and secure your canvas on.
A tripod-style watercolor field easel will be trickier—you need to adjust the legs to get the height you want and set up your canvas then.
Where can you buy a watercolor easel?
You can buy a watercolor easel at your local art supply store. Some of the most popular ones that are bound to have great-quality easels are Michaels and Hobby Lobby.
A better way to shop for your easel is by checking out your options in a much bigger space—the online marketplace. If you shop on Amazon, you can find dozens of easel brands to choose from.
The best part about shopping online is that you can find watercolor easel review sections for every item you're eyeing. That way, you can read up on fellow artists' experience with the product to help you decide which easel is right for you.
Conclusion
And there you have it! Some of the best watercolor easel options in the market for your painting needs. It may seem like too many options for such a basic water coloring tool, but trust me—you'll love that you have so many options, colors, and features to choose from.
My biggest tip for you as you pick out the perfect easel for your needs and watercoloring style is not to overthink it. An easel is an easel, and all of the ones listed in this roundup of products is of the utmost quality—whatever you choose will work incredibly well.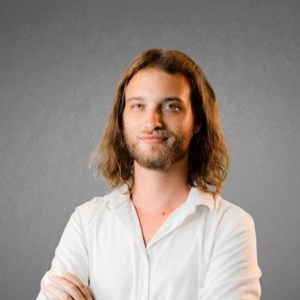 I am a former art teacher, so it is evident to me the importance of art in educating the new generation. We also want to help parents who plan to teach their children and desire the best tools and tips for them.