Do you have old and beat-up furniture that looks like it has seen better days? If you don't have the budget to replace it yet or it's an heirloom piece that you would want to hold on to for some time, you should get the best furniture touch-up markers to spruce it up and make it look brand new again.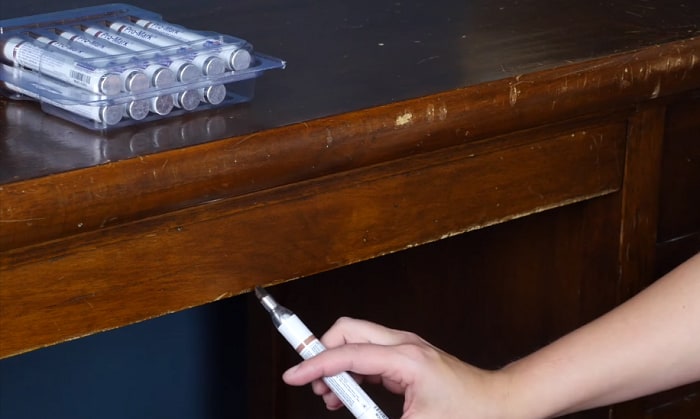 You can use furniture touch-up pens to hide those nicks and scratches on wood and even other types of materials. I'll help you choose the right furniture marker that will help you restore your furniture to its original glory.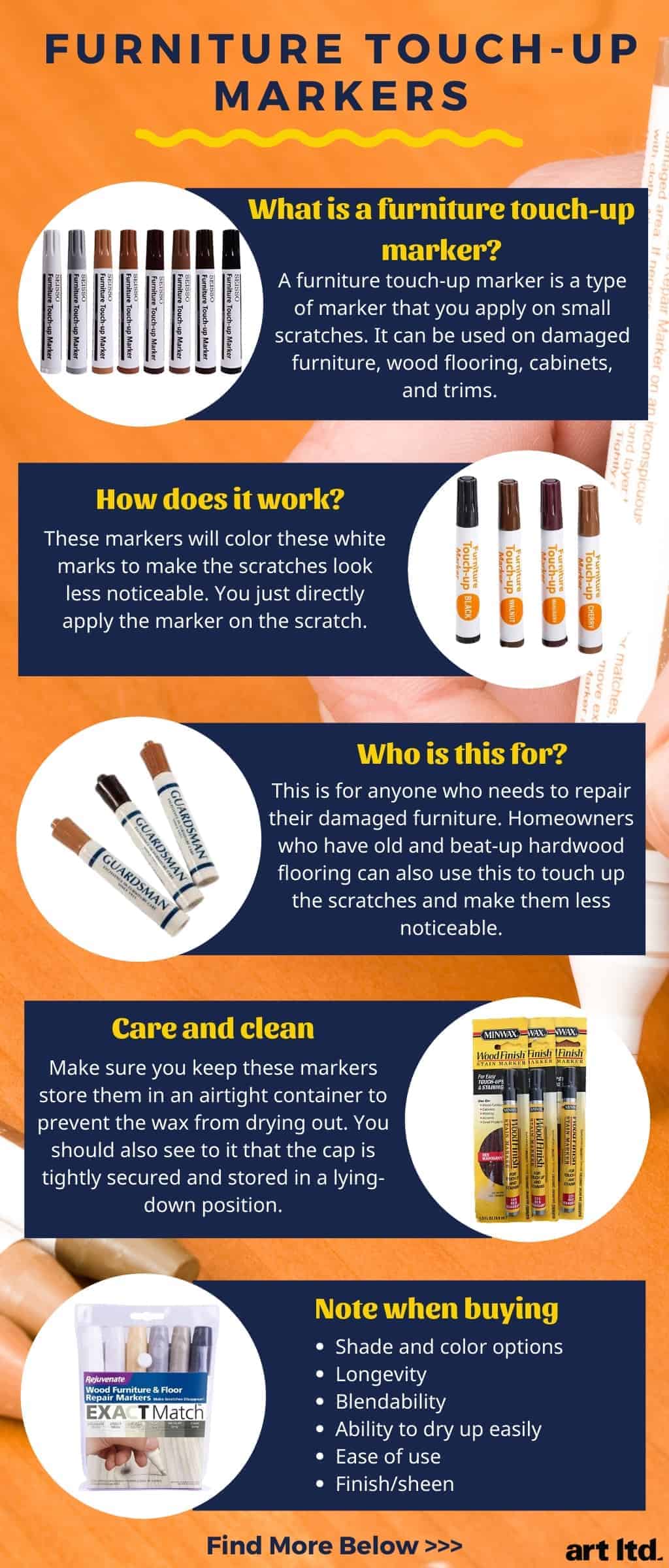 Top 10 Furniture Touch-Up Marker Reviews
1. Katzco Furniture Repair Kit Wood Markers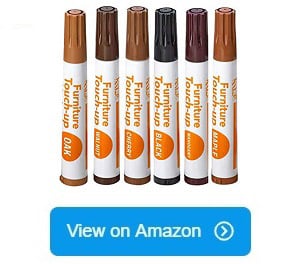 This furniture marker and wax kit are all you need to make small touch-ups on damaged furniture. It comes with 6 repair markers with different colors and 6 wax sticks that you can use to fill up those deeper gouges. It even comes with a wax stick sharpener to keep the tip of the wax sticks sharp.
The various color options for the markers are very useful. It's inevitable that you might find the colors too dark and too light, which is why you need to test it first on a small obscure spot. Don't worry though because the formulation of the ink is blendable. You can mix two different colors to get the color that matches your furniture. Apply the first color first and then blot it out with a cloth. Immediately apply the second color to get the shade you want.
The ink is very intense so I would suggest being light-handed when applying this. Because of the ink consistency, this can also be applied as a fresh coating to the furniture's entire surface. If you want to change the shade of your wood furniture, that can be done with these markers.
One marker contains a lot of ink, and that is why it lasts for a long time. If you apply it all over the furniture to change its finish, try applying it and then spreading it out with a brush or a soft cloth.
The markers are so easy to use. Just open the cap and start applying. Mixing different colors is fairly easy as well.
I like that it doesn't emit a strong odor. There are some ink finishes that tend to emit a chemical kind of smell that can be annoying. It also dries up easily so that there is no mess left behind. You still need to dry it up but so far, it doesn't get streaky and bleed on everything.
The wax, on the other hand, is a bit more difficult to use. It is trickier to match it with the shade of your furniture. You can also try blending it with other colors or start with a light color for the wax, and then top it off with a darker marker for better matching with your furniture color. It's also more difficult to hide deeper gouges.
This affordable wood touch-up pen works on different types of wood such as mahogany, oak, and cherry. You can use it on other wood features in your home, not just furniture.
It also comes with a satisfaction guarantee. If you need to find answers in the product, you can simply call the manufacturer's customer service hotline.
Pros
ntense colors
Can be combined to achieve the exact color you like
Markers are easy to use
Does not emit an annoying scent
Blends nicely
Cons
Not that great in hiding bigger and deeper gouges
Hard to find the exact color match for the wax sticks
These wood repair markers won't break the bank but will give you high-quality markers and waxes that you can use to fix your furniture. I think this is a great basic touch-up tool for anyone.
2. Rejuvenate Wood Furniture & Floor Repair Markers
Do you need markers only to fix small dings and scratches? I would suggest this product from Rejuvenate as it comes with 6 different colors of furniture repair markers. You will get maple, oak, cherry, walnut, mahogany, and espresso. They also come in a transparent case.
These markers have a sharp chisel tip that makes it easier to get the tips in the deeper gouges to fill up the damages more naturally. This product can be used on different wood surfaces, not just furniture. You can use it on cabinets and even laminate floors.
These furniture pens are easy to use because they are like regular markers. They are easy to blend as well. If you can't find the exact shade from the 6 marker colors included, you can combine them to create the shade you want.
Try using it on a hidden spot first to make sure you get the right color. It gets absorbed by the wood quickly, so you need to be quick in blending. Once it's there, it stays and doesn't bleed or smear.
It's not the best for deep scratches since the reviews find these wood touch-up markers ineffective when it comes to hiding the deeper gouges. You can still see them from up close. However, for shallow marks and scratches, they work just fine.
What I find disappointing with these markers is that it doesn't have a lot of ink volume. I think this is just great for adding stains to hide the markers, but if you want to change the finish of the entire furniture, this isn't your best bet.
The colors indicated on the caps are also not accurate. The ink color is deeper than that, which is why you need to swatch it first to know what the color really looks like.
However, it saturates the area quickly. I usually don't need to apply a second coating. It does the trick the first time around.
It's a good thing that these markers are quite cheap. If you need more, it's easy to buy them.
I did not notice a strong odor coming from the ink as well. It is also not acidic so that it won't ruin the area next to the damaged spot. Some acidic formulations tend to leave white marks behind.
Pros
Easy to blend
It gets absorbed by the wood quickly
Hides scratches easily
Hides small scratches with one swipe
Cons
Colors are darker than the colors indicated on the caps
Not too much ink volume
If you need furniture scratch markers for small issues, these markers should suffice. But don't expect them to work on deeper scratches. You will need a wax filler for that.
3. Ram-Pro Furniture Markers touch-up Repair System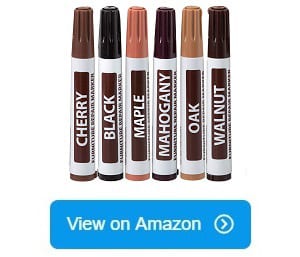 Restore your scratched-up furniture with these wood furniture markers and crayons. You have 6 different marker colors to choose from. If you are looking for different shades of brown marker for furniture, you need not look further. This will give you maple, cherry, mahogany, oak and walnut colors. It even includes a black color if you want to make them look darker.
Use the markers as a touch-up paint pen for furniture. They work best on small and shallow scratches. The crayon is better in treating deeper gouges and nicks.
The design of these pens is similar to that of the other markers. The cap has ridges to make them easier to remove.
The ink consistency is very similar to other markers. They fill up small nicks easily. The problem is that finding the right color to match the color of your furniture is a bit tricky. You still need to do some blending and mixing of colors to get the color to match your furniture.
The cap color is also different from the real color of the ink. It can be misleading, so you need to swatch it on a hidden part of the furniture first to see what it really looks like before blending it in or matching with other colors.
You can use these as wood floor markers as well. They can be used to treat scratches and stains that are difficult to remove on your flooring.
The felt tips are quite big and blunt. It's a little hard to fill in small scratches. You need to press harder so that the ink gets to the deeper parts of the scratch. What I do is to angle the tip so that it covers the scratch completely.
The wax crayons can be used to fill in deeper scratches but this one will also need color matching. The ones included might not match the color of your furniture. Again, you will have to blend different colors or top it off with a marker to get the shade that you want.
I like that once the deep scratches are filled in with the crayons, it stays there. You don't need to do complicated things to set them. It also doesn't get to the areas that are not scratched. I like that I don't have to do a lot of cleaning up later.
Pros
Easy to blend to get the colors you like
Dries up easily, doesn't smear
Easy on the budget
Wax sticks only on the affected scratch and doesn't get everywhere
Can be used on floors
Cons
Difficult to apply on smaller scratches because of the size of the tip
Cap colors do not match the colors of the ink
Whether you are touching wood furniture, cabinets or wood flooring, you will like this type of wood scratch pen. Once you get the color combinations right, the imperfection won't be noticeable anymore.
4. Cal-Flor ScratchCure 3 Shade Double Tipped Repair Pen
This hardwood floor touch-up pen made me do a double take. It's different from what I usually see in the market. It is a pen that comes with dual tips. One side has a chisel tip to provide more coverage for bigger gouges and scratches, and the other side has a fine tip to fill in and color those smaller scratches.
This pen has buildable color features. It starts up as a light color and then goes to a medium and then a dark color the more you apply it. This allows you to find the exact shade of color you prefer without excessively applying the ink. I like this better because you slowly build the color to find the exact match.
It comes with different color choices such as Maple, Oak, Cherry, Walnut, Mahogany, and Grey. You can combine these colors to see your desired results.
This is completely safe to use on furniture and floors and anywhere where kids may touch it. The ink is safe and doesn't contain toxic components. It's even safe enough to use to touch-up wood toys. You can even do different kinds of projects with it.
You would want to work quickly to get the blended shade you want. After that, this is pretty much permanent. It won't budge even if you mop it off your floor or wipe your furniture.
Because this is a marker only, it won't do anything to cover the deeper scratches or fill them up. It will just make them look less noticeable.
The ink volume is small though. If you are touching up a lot of furniture pieces or a lot of scratches on the floor, you might need to get two of these pens. They won't last as long as expected.
I like the pen design. It is easy to work with. I can hold the pen easily and work on flooring without struggling to keep it in my hands. Even the tips are easy to work with as well. I find chisel tips difficult to work with but in this case, the tips are sharp enough to get in those deeper gouges.
Pros
Buildable color
Comes with dual tips
Has a good staying power
Blends in nicely with other colors
Cons
Expensive for only one pen
Ink volume might not last for a long time
Although this furniture touch-up markers grey might be more expensive than others, it's actually a good value for your money. I like that it has a buildable color and that you can blend it with other colors to achieve the exact shade of furniture that you have.
5. Minwax Wood Finish Stain Marker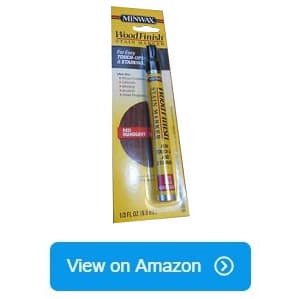 This is one of the most recognizable brands of wood stain markers. They make not just touch-up markers but other products like stains as well.
This one is your typical marker, albeit a more expensive find. It's not a set like some of the others in this list but just one pen. It comes in different color choices, so you can choose the one that matches your needs. I would say you need to buy one shade light and one shade darker than the furniture you are trying to match just so you can blend the colors for a perfect match.
This marker has a chisel tip that can get deeper in the indentations of the scratches. I do like that it has good coverage. You can fill up those scratches easily. However, the ink tends to have a shiny finish to it that makes it look obvious against a matte wood surface. Under natural lighting, it can be quite noticeable.
However, I like that this professional furniture touch-up kit works on smaller scratches. I think it works best on these minuscule scratches because they truly get absorbed by the wood for a more seamless look. For bigger scratches, you need wax for that.
One thing you should note about these markers is that they take such a long time to dry up. Even after 24 hours, the ink can still smudge. I don't see it working on fillers, and this is why it is better for small scratches only. Even if you put wax in deeper gouges, this ink will sit on top of the wax.
On the other hand, you don't have to work quickly. There is still plenty of time for you to mix different colors and blend them to your desired hue. You just need to help it dry a little. Put a fan on it or use a hairdryer in the lowest heat setting to dry up the ink.
It's a no-brainer to use. It works just like all other touch-up markers. The ink dispenses right away so you can start working on those small scratches.
A little bit goes a long way with this marker. Just a dab of the ink already spreads out evenly on the surface of the scratches.
Pros
Works better on small scratches
Easy to use
Comes from a recognizable brand
Blendable ink
Cons
Takes a long time to dry up
It doesn't work on fillers
I think you should get this marker if you are only working on smaller scratches. On smaller scratches, its shinier finish doesn't look as obvious.
6. Varathane Wood Stain Touch-Up Marker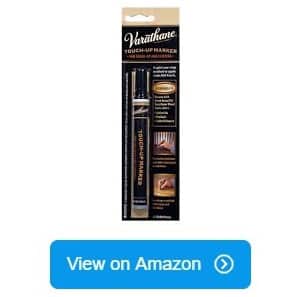 One of the best touch-up markers you can find out there is this marker from Varathane. You are getting just one pen but it is available in different colors. Unlike other markers that only have basic wood colors, this one has a more extensive color selection. There is dark walnut, cabernet, chestnut, early American, golden pecan, light walnut and many more.
Because there are more color choices, it is easier to find the perfect match for your damaged furniture. There is also no need to mix two colors together or do trial and error just to find the right match for your furniture.
These markers are perfect for touching up different wood features in your home. That includes flooring, furniture, cabinets, and even trim and moldings.
It's easy and straightforward to use. Just directly apply it on the affected area. A little dab of the ink goes a long way in covering a small scratch. Apply as needed and leave it there for 30 minutes until it dries quickly. After that, the scratch is barely noticeable. You will have a hard time locating it.
I like that the marker is thin enough that it can be easily maneuvered in tight areas. The marker tip is also easy to use. It can get deeper into the gouges without tearing or fraying. It's made from felt material that can withstand wear and tear.
It doesn't contain a lot of ink, so if you need it to cover more scratches, you might have to buy two markers. But for small scratches, one should suffice.
The Espresso color seems to be darker though. Against Espresso furniture, it is slightly more noticeable. You can't see it from afar but if you are a perfectionist, this might bother you.
I still need to use wax fillers for deeper scratches as this will just make the marks look noticeable, not completely fix them.
Pros
More color options
Perfect for small stains
Has accurate color choices
It blends easily and looks natural
Fine tips to reach deeper gouges
Cons
Still needs fillers for deeper gouges
A little pricey for just one marker
If you don't like to mix different colors to get the exact match for your furniture, try these markers instead. The color selection of these markers is top-notch.
7. Miller Wood Stain Scratch Fix Pen
There is a difference between a stain and ink. Stains get absorbed by the wood better compared to ink, which makes them last longer. They won't budge even if you wax or polish the surface. That is what you will get if you choose this stain pen.
It still comes in traditional marker styles so you can apply the stain on the scratches as if you are writing on paper. The pen itself is similar to that of a marker and the application is the same as well. Just remove the cap and then apply it.
It also comes in different color choices. With so many colors to choose from, you can easily find the best match for your furniture.
One of the key features of this pen is its filter tips. This kind of design controls how much stain liquid is being dispensed so you aren't getting a big glob of stain when using it the first time. It is easier to control how much stain you will use.
I like that it dries up quickly. This specialty allows you to see whether you have already achieved the right shade or if you need to add some more. Furthermore, because it dries up easily, it doesn't get everywhere. It doesn't bleed to the areas next to it and doesn't get on your hands either.
The ink is long-lasting. Feel free to polish or wax the surface or add a coating to match the finish with that of your furniture. Each pen is also capable of correcting a lot of scratches. The ink volume lasts long because it doesn't waste too much ink. It's just right.
There is no strong smell emanating from this marker. You can safely apply it even when there are kids around.
I do find the tips too thick. You have to be clever in getting it deeper into the scratches to fill up those spots. I would suggest dabbing it and then spreading it out with a tissue if you didn't get the tip to delve deeper.
Since this is a stain, it won't do anything to those deeper scratches. You still need a filler for those.
Pros
It's a wood stain, not an ink
Ink is easy to control
Does not leave off a strong smell
Dries up instantly so you can tell if you need to apply more
Can be waxed or polished
Cons
Won't fill in deeper scratches
I think this pen is a value for your money. It does its job well and has a permanent effect that will not give you a hard time when you buff or wax your furniture or flooring in the future.
8. Guardsman Wood Markers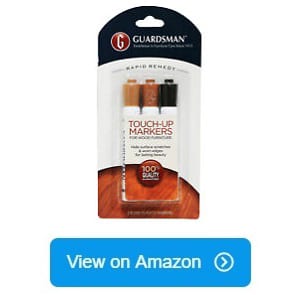 Guardsman is one of those manufacturers that have stood the test of time. They have been around since 1915 and they have a selection of wood care products. These wood markers are some of their best products, allowing you to correct scratches and minor imperfections on cabinets, doors, furniture and many other
This set gives you three shades. One light, one medium, and one dark. I think the goal of this set is to allow you to mix the colors, adding light or dark ink to match the furniture that you have. This can be tricky, so you need to swatch and mix the colors on a hidden spot or a disposable cup first to see what it will look like.
This product has been thoughtfully-designed. Its barrel and cap design that is convenient to use to its no-drip style of tip. I like that the no-drip style allows users to control how much ink is dispensed from the product so they don't accidentally use too much of it.
This has a chisel tip design. This tip provides more surface coverage, in case you are working with wider scratches, this should work. I had no problems using it on smaller scratches as well. It still did the trick. I just had to angle the tip so that it gets on the scratches, not on the other parts.
The ink formulation is superb. It dries up fast. A few seconds is all it takes for the ink to completely dry up. If you think you need to add more, that is easy to do.
What makes this unique and stand out from the other markers and stains is that it has UV absorbing properties. This feature helps prevent the ink from fading, makes the colors stay the same even though it is exposed to a lot of light.
Pros
Comes in three different shades that you can mix
No-drip style
Dries easily
Has UV absorbing properties to prevent fading
Has a chisel tip design
The marker is easy to hold and use
These markers are so simple to use and they come in blendable colors that will help you create the shade of the furniture or floor you want to touch up.
9. Weiman Wood Repair System Kit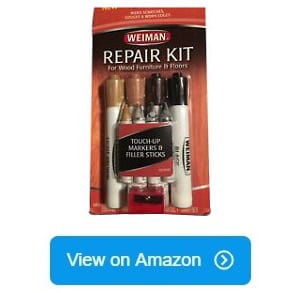 This is a repair kit that comes with 4 different colors of markers and 4 matching filler sticks. Use the wax sticks to fill up deeper gouges and top it off with the markers. Use the markers to hide minor imperfections and scratches on your floor, wood furniture, cabinets, and trims.
The markers are not meant to match the exact color of the furniture but are meant to be blended so that you can get the exact shade that you want. You should try starting with a light brown color and then add darker colors as you see fit.
The wax sticks are not as good because they are initially crumbly. If you apply it as it is, it can easily fall apart and might not work quite as well in filling up gaps. What you can do is try to heat it up a little bit to soften it and make it less crumbly.
Other than that, the markers are easy to apply. The tips go down deeper in the scratches so that there is an even coating to avoid inconsistencies. The ink also dispenses quite easily. It doesn't get dry. However, once you apply it on wood, the ink air dries fast, allowing you to layer as much ink as you want.
The markers also dry up well even if you layer it on top of the wax.
Let me just say something about the ergonomics of the pen. They are comfortable to hold and use. Even kids can play with it comfortably. The caps have ridges to them so that they are easier to remove.
Pros
Can hide small scratches easily
Markers can be used on top of the wax
Easy to apply
Blends well
Cons
Wax sticks crumble easily
Get these markers if you want to blend the colors to find the exact shade that will match your furniture.
10. Nadamoo Furniture Markers touch-up Wood Scratch Repair Pen
To get closer to the shade of wood you have, you need to have more colors to blend. That is what you can get with this furniture repair pen set from Nadamoo. Others only have wood colors but this includes colors like gray and white.
Use the gray and furniture touch-up markers white as a base when mixing with other marker colors. The white can help lighten the tone while the grey can add more color dimension to it if the wood has a grey undertone. The other shades include oak, cherry, walnut, maple, mahogany, and black.
The ink is true to color. What you see on the marker caps is what you get. A light application is all you need to cover small to medium scratches.
This wood touch-up paint set is a little bit more expensive than others, understandable considering that it comes with more colors. I would prefer to spend more money if it means having more color options.
The wax crayons included also have the same colors as the pens. They come in handy when filling in gaps from scratches and gouges. It even comes with a sharpener that you use for the crayons.
Keep in mind that this wood scratch pen set dries fast. Once you put it on, you should blot it right away. Use a tissue to get rid of the excess and quickly blend in the new color you prefer.
On the other hand, the ink is alcohol soluble. If you get it elsewhere, even on your hands, you just need to apply a little bit of alcohol to get the ink out. Also, if you don't like the way it looks or you made a mistake in blending the colors, you can still use alcohol to remove the ink you placed.
This furniture scratch repair kit has markers with a bullet tip. I prefer this tip size because it can fill up scratches easily. It can also reach the deeper areas of the scratch.
The crayons, on the other hand, are trickier to use. They feel a little crumbly, so you might want to warm them up first to make them more pliable. Just place them over a lighted candle to soften them up a little bit before using them. Just apply it like a regular crayon on the affected area and then wipe it off with a tissue to even it out. Top it off with the color of the marker you prefer and blend until you get your desired results.
Pros
It comes with grey and white colors
True to color
Gets washed off with alcohol
Light application
Cons
Wax crayons are crumbly
A little pricier than others
Use this wood floor touch-up pen if you are looking to get closer to the furniture color. It has more color blending choices, which makes this much easier to use.
What to Look for When Buying Furniture Touch-Up Markers
When buying furniture touch-up markers, here are a few things you need to consider:
Shade and Color Options
The most important thing to consider is the shade and marker color options. It's important that the ink matches the color of your furniture so that it will really hide the scratches and imperfections. Choose a marker with different color options or with different shades that you can easily blend and mix to create the perfect shade.
Some markers come in a repair kit form, while others are sold individually. You should check the cap colors and the description to find the right match for your furniture. But when in doubt, go for a lighter shade. It will allow you to build it up to the color that is right for the wood color that you have.
Longevity
The last thing you would want is to spend a long time trying to find the right blend of colors for the furniture only for it to be washed off easily. Make sure the ink has a good staying power. It should resist smudges and should be resistant to UV rays. UV rays have a tendency to cause fading in wood.
Blendability
Can you blend it easily? Look for markers that can work well with the other colors so that it creates the shade you want. You don't want the marker to just sit on top of the other color. They should work well together and should be absorbed by the wood effectively.
Ability to Dry Up Easily
Look for a marker that dries up in minutes. That will allow you to build up the colors to get the exact match.
Finish/Sheen
Some markers have a glossy sheen to them that makes them look noticeable when you apply it on wood that has a matte appearance. They might not look noticeable from afar but can be noticeable when you look at it up close.
Ease of Use
Is it easy to spread out? Look for markers with bullet tips that enable you to get the ink to the deeper areas of scratches. You should be able to apply the marker with ease and without getting it all over the place. Some markers are also more forgiving. You could wipe them off with alcohol if you made a mistake.
Other Important Factors to Consider
What is a Furniture touch-up Marker?
A furniture touch-up marker is a type of marker that you apply on small scratches. It can be used on damaged furniture, wood flooring, cabinets and trims. These markers usually come in shades of brown but can also come with other blending options like grey and white to get the exact shade you need.
The thing about touch-up markers is that they can be relied on only to make the furniture scratches look less noticeable. They are not supposed to fix the problem completely. Many people buy these markers with expectations that they will fix the scratches but that isn't the case. You should manage your expectations when buying these markers.
How Does It Work?
When you scratch your furniture, it looks noticeable because of the white marks. These markers will color these white marks to make the scratches look less noticeable. You just directly apply the marker on the scratch.
You need to find the exact shade of the ink first to match the color of your furniture. Some marker brands include different shades in their repair kit so you can blend them and create the color that will work.
Who Is This For?
This is for anyone who needs to repair their damaged furniture. Homeowners who have old and beat-up hardwood flooring can also use this to touch-up the scratches and make them less noticeable.
What Are The Different Types of Furniture touch-up Markers?
You can find markers that come with ink or stain. The ink ones are similar to that of regular markers. They are good when it comes to hiding the unsightly scratches and marks. However, there are formulations that make the ink not as long-lasting.
The ones that make use of stains, on the other hand, are more long-lasting. They can resist smudges, wiping, waxing and even polishing. If you want the corrections to stay there for a long time, using stains would be a great choice.
Why Do You Need Wood touch-up Markers?
You need wood touch-up markers if you have damaged furniture. If you moved into an old house and you have wood flooring that looks old and beat-up, you need these markers to breathe new life to them. It's just a temporary and a cosmetic solution, so if this is what you are looking for, you should get these markers.
Frequently Asked Questions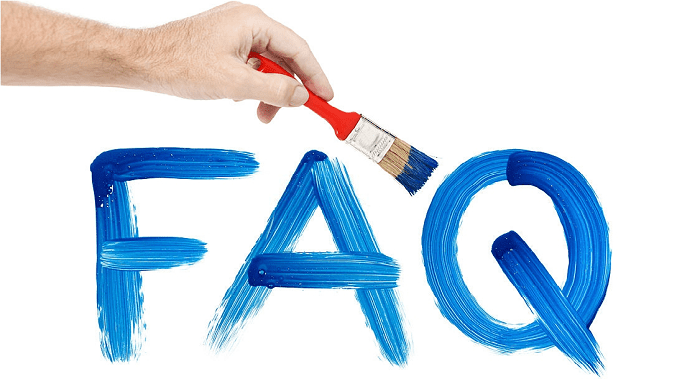 What Are The Most Trusted Furniture Touchup Marker Brands?
There are a lot of good touch-up marker brands such as Mohawk touch-up markers, Guardsman, and Minwax. They are excellent choices if you are looking for markers that can stand the test of time. They can last for a long time so you can use your furniture longer.
However, make sure you still give the other lesser-known brands a chance. You might still be able to find a repair kit from lesser-known brands that will give you your desired results.
How Do You Get touch-up Marker Off Furniture?
If it hasn't settled in yet, you can try using a tissue to blot it out. Spray a bit of water to remove the marker ink. If it's a stain, it will be hard to remove already because most stains are permanent. This is why you need to test it to an obscure part of the furniture first.
There are marker brands that are alcohol-soluble. This means the ink can be dissolved if you apply a little bit of alcohol on it. You can try spraying the area with alcohol, let it sit there for a few minutes and wipe it away with a clean cloth.
How to Use Furniture touch-up Markers?
First, try testing it on a hidden part of the furniture. Check if the color matches your furniture and see how fast it dries up. If you can't find an exact match from the markers that are included , you can start applying the lightest shade first and then top it with a darker one. Keep on blending and mixing until you get the shade you want.
After that, use the same formula to match the color of the furniture when treating the scratches. Just a dab of the ink will do. This is usually enough to spread out to smaller scratches. Let it dry up first before applying a second layer.
How Do You Use Wood touch-up Markers?
You use wood touch-up markers the same way you use the furniture markers. Test it on a hidden spot first and try blending it there to create the shade that will match the wood. Be sure to clean the wood first and get rid of residues that can contaminate the ink.
Use the tip of the marker to get the ink deeper in the grain. Once you have achieved the right color, you can wait for it to dry. Finish or coat it as needed.
Where to Buy Furniture touch-up Markers?
You can buy these markers from hardware stores or Home Depot. They are also widely available online. Amazon carries them as well.
What is the Warranty?
Some manufacturers include a 100% satisfaction guarantee. This basically means they will refund your money if you got a defective product. They might also be able to send you a replacement. To use your warranty, simply call their customer service representatives.
How to Care and Clean Furniture touch-up Markers?
Make sure you keep these markers in a pouch or bag away from the reach of children. They might mistake it as a regular marker. If it comes with a wax, store it in an airtight container to prevent the wax from drying out. You should also see to it that the cap is tightly secured. It is also better than they are stored in a lying down position so that the ends do not dry out.
Conclusion
Now that you know which of the best furniture touch-up markers out there are worth buying, it is time to try them out. Don't live with those unsightly marks and scratches on your furniture anymore. You can use these cosmetic treatments to make your furniture look new again.
Find the right treatment that will work for the type of furniture that you have. Try mixing different colors first to get the right shade that will not look noticeable when you apply it to your furniture.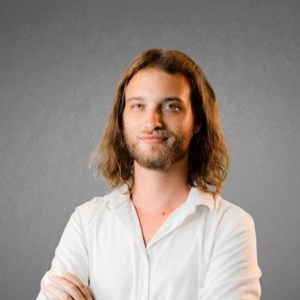 I am a former art teacher, so it is evident to me the importance of art in educating the new generation. We also want to help parents who plan to teach their children and desire the best tools and tips for them.