Spice up your journal entries, calligraphy, and artwork with the best glitter gel pens. These pens are like your regular gel pen, but these pens are better with specks of glitter making it look more aesthetically pleasing. Add a glitter gel pens set or two in your coloring arsenal and see all of your letterings and artworks come to life.
I'm sure you will have a hard time finding the right glitter gel pens for coloring though what with the many options you have out there. It's just confusing walking in a store and seeing the array of choices you have. Don't worry because this article will make sure you are headed in the right direction.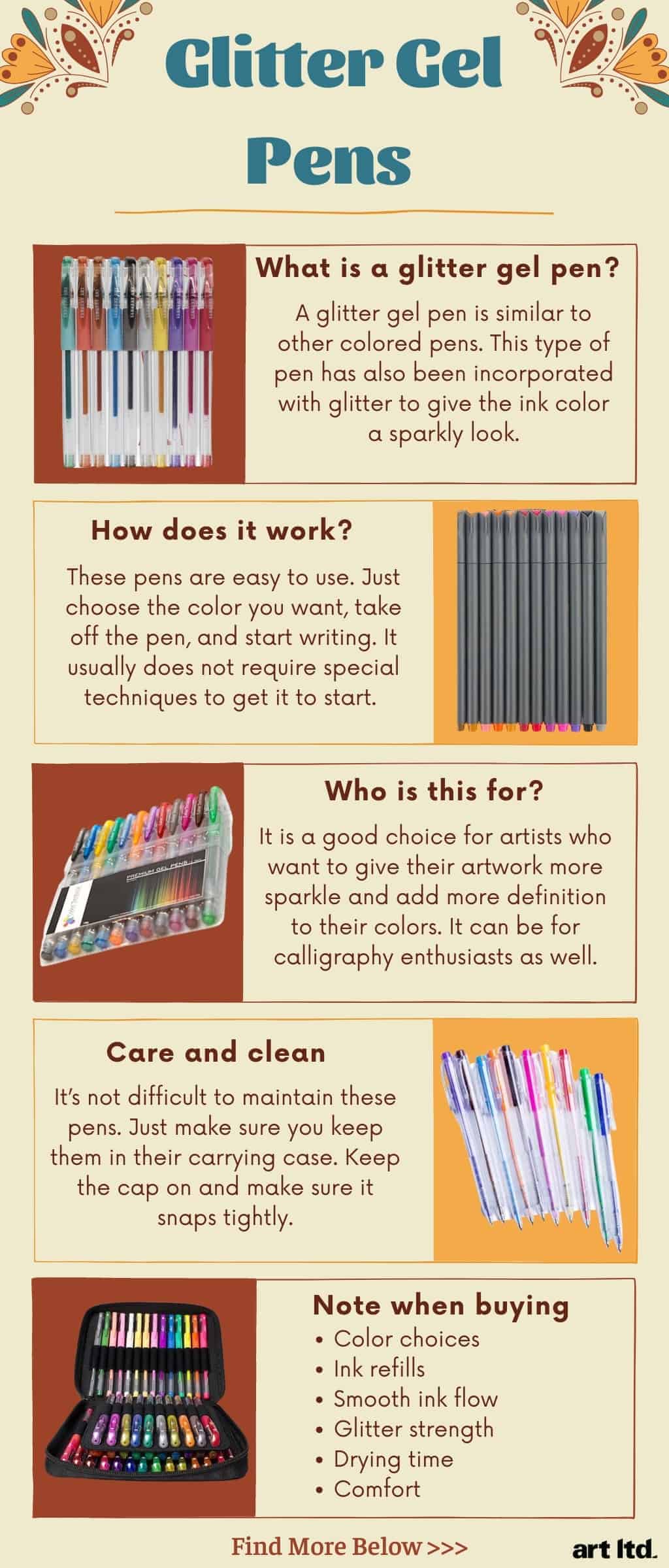 Top 10 Glitter Gel Pen Reviews
1. Color Technik Glitter Gel Pens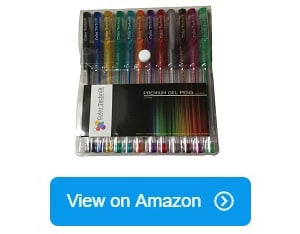 On a budget but still want the best glitter pens out there? You won't be disappointed with these. For a set of 12 glitter gel pens, this is right on the budget. The manufacturer even included 80% more ink compared to standard glitter gel pens out there so this will guarantee users have more hours for writing. You won't run out of ink soon.
I like the formulation of the gel ink. It flows smoothly without skipping. When you write or draw, you will find that the ink flows without stopping or without requiring a second layer. I also like the fact that it is a non-toxic formulation. Even if it gets on my hands, I don't have to worry that it will poison me or cause allergic reactions. Children can even use this glitter pen set safely.
The barrel is on the thick side. It is comfortable enough to use for hours without tiring your fingers out. It even has raised bumps on the barrel to provide more traction so that you won't put more effort trying to hold the pen properly. It's great for people with sweaty hands as well.
The cap has a tight seal. I find that after using it, the cap snaps back on easily and does not allow air to seep inside. This keeps the ink moist and it prevents excessive drying.
I love all the color options. It even includes a gold glitter pen, which is just gorgeous and perfect for special projects like writing on invitations. I do find the red shades very festive. I used them for Christmas cards and the vividness did not disappoint.
The glitter is just right. It's really more of a subtle glittery shade instead of a strong one, so if you don't like those glitter pens with glitter that gets too obnoxious, you will surely like this one. These pens come in a clear case so you can easily spot the color you prefer. The barrels are also labeled, making it easier to find the color you prefer.
Got a problem with your set? No worries because it is backed by a risk-free guarantee. If you have issues such as the ink drying out or leaks, you can call their customer service and get your money back.
Pros
Glitter is not too strong and just right
Writes smoothly
Durable tips
Excellent ergonomics and writing comfort
Tight cap
Cons
The barrel might not be that durable
These pens are great as a starting set. If you need reliable glitter gel pens for occasional coloring and lettering, choose this one.
2. Aen Art 100 Color Glitter Gel Pen Set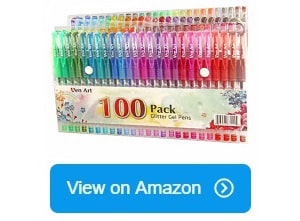 If you are going to buy a glitter gel pen set once in your life, let it be this set. It comes with 100 different colors of glitter gel pens! It's a tad more expensive than others but obviously, the number of colors you get and the quality of these pens more than makes up for the extra price.
If you do a lot of coloring and you collect gel glitter pens, you will love the fine selection of colors in this. There are different shades of the same color family making this a perfect art material choice when doing shading or when you want to achieve subtle gradation of colors. It even includes a silver glitter pen, something that you can't easily see in other gel pen sets.
But its quantity is not the only thing it can bring to the table. To top it off, this set also has one of the best ink qualities I have seen in glitter gel pens in a long while. The glitter is just right. It is noticeable, especially under bright light but not too much that it's all you see.
I just love how smoothly it glides on paper. The ink just comes consistently and without gaps. I do find that it's not the best on thin paper as it has a tendency to bleed. Just allow it to dry a little bit and it will not smear.
The ink barrel for this is thick. I think that's good because it means it has more ink volume than others. Like the previous pen brand, this one is also free from many toxic components and doesn't contain acids. There is no annoying and nauseating scent that you have to deal with.
You might be overwhelmed with the number of choices you have though. Some of the colors are too close to each other. I suggest choosing the colors you want before using them and separating them from the rest. Don't put them back in the case and just set them down on the table until you are done with your artwork. That way, you will be able to easily find the colors that you have previously used.
Pros
A myriad of color choices
Great gel ink consistency
Smooth ink flow
Beautiful glitters
Fat ink barrel for more volume
Cons
Has a tendency to bleed on thin paper
These are considered the top-rated glitter markers because of their dependability. And at such a reasonable price range, you already have almost all the colors you might need for your art and lettering projects. It's a value for your money if you ask me.
3. Taotree Tip Art Markers Set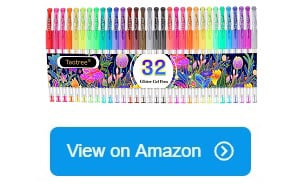 Another great option for people who are looking for more color options is this one from Taotree. What sets this apart from the others is it includes a black glitter pen as well as 14 neon-colored pens. All of these colors are reliable. Even the neon ones are vivid.
The ink consistency is nice. It is thick enough that it has a good opacity on paper but isn't too thick that it smears constantly. I like the fine tip. It has a size of 0.7mm to 1.0mm, which is just right when it comes to making intricate definitions on your artwork or when doing letterings.
The glitter really comes through. I like that it is easily detectable even when you are using darker colors. I can use it on top of plain colored gel pens without losing the glittery sheen.
The color choices in this set are good. They are easily identifiable even with those of the same color family. There are no colors that are too similar to each other, which is great as it isn't confusing when selecting the color you want to use.
It lays down so smoothly as well. The tip of the pen glides on paper without a hitch. The ink rolls down so smoothly that there are no skipped areas. I like that because I do not have to apply a second layer or backtrack to the areas that have been skipped.
It is a pretty comfortable glitter pen to use. It is thick enough so I can hold it for extended periods without feeling a strain. I also like that it has a rubber grip. That provides ample traction for when my hands get sweaty from too much coloring.
I just wish it comes with a refill. It doesn't seem to have as much volume as the others, so the ink can get used up fast. If it does come with a refill, it will be easier to replace the colors that you have used up instead of repurchase entire set.
Pros
Colors are easily identifiable
Smooth ink consistency
Does not create gaps
Has a rubber grip
Dries up fast
Cons
The ink isn't too long-lasting
If you are looking for color choices that are somewhere in the middle – not too many but not too little, this set will make you absolutely satisfied. The color choices are just right for occasional coloring or journaling.
4. Reaeon Glitter Gel Pens
These glitter gel ink pens will not break the bank. It is at the same price range as many other glitter gel pens out there but with more color choices. This one comes with 24 different colors, which is perfect for students, workers and art enthusiasts.
These pens come with a safe ink formulation. It is acid-free and does not contain toxic ingredients, making this safe even for children to use.
These pens are scented! They share the same scent as well. Each color has a different fruity scent that is really pleasing to the nose. I catch myself using these just to get a whiff of that pleasant scent. It's the perfect choice for making cards as well because of the scent.
One thing to note about these pens is how saturated the colors. They are really vivid. Even the lighter-colored ones still come out bright. You have plenty of color choices that are not duplicates of each other. The color choices are also not close to each other so it is easier to identify them.
I do find that some of the colors tend to have more metallic look rather than glittery. That is the case with the silver color. It doesn't have as much glitter as the others.
I find the tips easy to use. They glide smoothly on paper and there is no snagging action that can scratch your paper. However, some pens that need more pressure when being used so that the ink flows better. Otherwise, they tend to skip. The neon-colored ones are not as great when dispensing ink.
On a positive note, these pens don't smear easily. The ink seems to dry fast no matter what type of paper you use. They also don't bleed easily on paper, just make sure you don't use one that is too thin. But so far, I haven't messed up my drawings yet because the ink dries up fairly quickly.
Cons
Some of the pens have a tendency to skip
I would buy this again in a heartbeat if only for the scent. I do like that most of the pens are reliable and long-lasting. Anyone looking for more colors of gel pens should consider getting this one.
5. ColorIt 48 Glitter Gel Pens for Adult
I can say that this is one of the best, if not the top glitter gel pen set out there. It's a great value for many reasons. First, it offers 48 different glitter colors plus an additional 48 in refills. It's hard to find glitter gel pens today which comes with refills, so you know that this is really good value.
It comes with a zipped carrying case and inside it, there are individual slots for the pens. You can easily insert the pens in the stretchy bands to stay organized. I think this is the best when it comes to portability. I like that you can easily see the colors you want and take them out when you need to. I don't have to rummage through the contents of the case because everything is presented in one layer.
The color choices are impressive. There are different selections of purples, there are earth and metallic tones such as copper, bronze, and sienna, there are bright tones and there are the cool ones. There are also additional colors that you can't find elsewhere such as the champagne and crystal ones.
The pens are number-coded, something that you can't see in other gel pens. This feature can only be seen in colored pencils, so it is good that they considered adding this to their gel pens. It makes easier to identify which color you used for your previous artwork. It also makes organizing a lot easier since the slots are also coded.
The flow of ink is sometimes unpredictable to some colors. While most of the colors apply smoothly, there are those that still need more pressure to get the ink flowing. It's not a deal breaker though because once you give it a light tap, the ink will be activated.
The ink dries quickly. I can pass my hand over it and not worry that it will smear. I have also not experienced any issues like the ink bleeding through. It helps that this same company also produces coloring books. If you like coloring, you might want to consider getting their coloring books as well. Their coloring books are thicker and they also have an extra page for blotting out your gel pen first.
Pros
Comes with a portable carrying case
A lot of unique color choices
Reasonable price
Dries quickly and does not bleed through
Number-coded
Cons
Will require a little bit of time to get the other pens to flow
Tend to skip occasionally
Get these if you want more unique color choices packed in a portable carrying case. It is easier to stay organized with this glitter pen.
6. Sargent Art 10-Count Glitter Gel Pens
Are you on a tight budget and don't have a need for a wide selection of glitter gel pen colors? You will like this then. It comes with only 10 colors, perfect for those who only need this for lettering and journaling. This pen set won't break the bank.
The vividness of the colors does not disappoint. All the colors are accurate. There are no colors that look lighter than they are depicted on the packaging. The glitter component is just right as well. It's not overly glittery and isn't too metallic as well.
I like many colors here. They are basic but they still stand out. I also like that it comes with a black and a silver pen. I do wish it comes with gold but the coppery one should suffice.
The ink dispenses smoothly but I think that some of the pens tend to have rough nibs. They can scratch the surface of the paper. I would suggest trying them out on a blank piece of paper first just to get the ink flowing.
These are non-toxic pens as well. Young children can use them without worrying that they will be exposed to harsh chemical ingredients.
Although the case is not as good as the previous one, it's still quite sturdy. I have no issues keeping my gel pens inside. The case snaps on easily. I can see through it and easily find the color I want.
These may be cheap pens but the ink consistency is just as good as the expensive ones. Once you get the ink flowing, it dispenses ink thickly.
The colors are easily identifiable. I don't have trouble selecting the colors I have used before because there are no duplicates. These pens also have a tight seal. Air doesn't come in and dry up the tips easily.
These pens are comfortable to use even when writing for a long time. The rubber grips make them easier to hold.
Pros
Cheap choice
Bold and vivid colors
Visible glitter
Has a thick ink consistency
Comes with a study case
I think these pens would be perfect for those who often use up their pens. They are pretty much disposable since you can run through these pens easily. You won't have a hard time getting rid of them and getting a new set once needed.
7. Artistro Glitter Paint Pens for Rock Painting
These pens are different from the others because they are the acrylic type of pens. It has a different consistency to the traditional gel pens. It's a tad pricey for a set of 12 colors but if you want something that can be used on different art mediums, this should be an excellent choice.
It is a gorgeous set. It comes with a transparent barrel where you can see the ink clearly and determine how much ink you have left. All the pens have a fine bullet tip. The 0.7mm size is just right for writing. For shading and coloring, it might take more time to cover a bigger surface area.
These pens will give you bright and vivid colors. There are also metallic colors such as silver, bronze, and gold. However, it is more on the metallic side rather than glittery. The glitter can't be seen in some of the colors such as the blue one.
On paper, it dries up a little slowly. The water-based consistency might make it more difficult to dry up. You might want to wait for a few more seconds before allowing your hands touch it to prevent smearing. On materials such as rocks, it gets absorbed quickly.
I like the look of the pens. They are very attractive because the colors are seen from the barrel. They are fun to bring to school or work. They are perfect for journaling as well. Just make sure you use a thicker kind of paper to prevent bleeding.
Even when used on rough surfaces such as rocks, these pens have durable tips. They retain their shape even after being continuously used.
It needs to be activated first before using. Each pen comes with a plastic cover. You need to peel of first, which can be a hassle if you have small nails. Give the pen a shake. Take off the cap and then press the tip of the pen on the small indented spot at the tip of the cap. This will allow the air to escape. Press the tip down on a piece of paper to prime it. Test it on a piece of paper to see if it is already working.
Keep in mind that these pens have to be stored horizontally. Otherwise, the tips will dry out.
Pros
Bright and vivid colors
Durable tips
Colors are accurate
Does not have a toxic odor
Cons
A little expensive
Needs to be activated for it to flow
I think this is a good glitter pen if you want an all-around pen that you can use on different kinds of mediums, not just paper.
8. Color Technik Glitter Gel Pens
With 30 different colors of pens sold at a very affordable price, this is one of the best buys out there. All the colors are vivid, even the neon ones. Some glitter gel pens have neon options that tend to look washed out. This one doesn't. All the colors I have tested come out vividly and consistently.
The barrel design feels right. It has a soft rubber grip that prevents my fingers from rubbing against the barrel. This makes the pens so comfortable in coloring for hours.
The glitter on these pens is not too obnoxious. I feel like they are just right if you want an added sparkle to your artwork but without making it too glittery.
This set lasts for a long time. It seems like it has more ink volume than standard glitter gel pens out there. It is not very pleasant though that it doesn't have a white glitter pen. That would have made it even better. There are no options that come close to it and there are no metallic hues as well. It would have been nice to have a gold or a silver one.
That said, some of the colors look similar to each other. You might have a hard time determining which color you used the first time especially with some of the blues and the reds.
The tips are smooth and durable. I haven't had issues with ball scraping. And since the ink dries up quickly, I don't have to worry about the ink bleeding through.
The ink comes out consistently and does not require special methods to activate it. You can use it as it is. When I use it, the ink comes out easily so there are no annoying gaps that I have to go back to.
I like that the caps have a tight seal. I haven't had issues with leaking and even if I don't use a case for them, I don't have to worry that the ink will leak all over the contents of my bag.
Pros
Vivid colors, even the neon ones
Does not leak
Soft grip on the barrel
Glitter is just right, not too much
Contains more ink lasts longer than other brands
Cons
Some of the colors are actually very similar to each other
Whatever your needs are, whatever kind of gel pen user you are, you will find these pens great. The glittery consistency is perfect for all sorts of art and lettering projects.
9. Tanmit Glitter Gel Pens
Here is another affordable set of gel pens you can add to your collection. If you get this, you will surely have every color you might need for your artwork. It has 80 glitter pens with various shades that art aficionados out there will find useful.
If you like an assortment of glitter gel pens with shades with only subtle differences in depth of color, you will like this one. It's a perfect choice for achieving more color depth when doing shading for your artworks. However, since the colors are too close to each other, it might not be the best choice for those who need it for journaling. The pen colors just look too similar.
You won't be disappointed with the ink flow. This is one of those gel pens that I did not have issues getting the ink to come out every time I use it. It is not prone to drying, most likely because the cap has a good seal.
It writes as smoothly as butter. It doesn't rub against the surface of the paper and the ink dries into amazing glittery shades that are visible even from afar.
There are a lot of metallic options for this non-toxic and acid-free. The glitter is quite apparent and even if you apply it over another layer of gel pen, this still will come out vividly.
I have yet to experience skipping. As long as you have sufficient ink, it will dispense consistently. It also lasts for a long time so even if it's already affordable, it will last you for a long time. I just noticed that some of the pens have less ink than the others. The difference in ink volume might bother some buyers.
As for ergonomics, this is a good choice. It is thick enough that I have no problems holding it even for extended periods of time.
If you get this, your purchase will be backed by a 100% satisfaction guarantee. If you encounter problems with your pen or it arrives in bad condition, you should talk to their customer service and they will replace it or refund your money.
Pros
Good ink flow
Writes smoothly like butter
Ink lasts for a long time
Lots of metallic options
Doesn't skip and leak
I think this is a good choice for anyone looking for reliable and consistent glitter gel pens. It is affordable and has a lot of color options, great for writing and coloring.
10. Aen Art Glitter Gel Pen Colored Fine Tip Markers
If you love more neon glitter pen options, you should get this. It comes with 12 standard colors and 12 neon ones to give you more range and flexibility when drawing or writing. All of the colors are vivid and visible. It's hard to find glitter gel pens with vivid neon hues but this one doesn't disappoint.
It also comes with metallic color options. The gold and silver colors are beautiful. I use these a lot for letterings. They are perfect for fancier letterings.
The glitters are very obvious. These are true glitter pens, not just those with a pearly or a metallic sheen.
The flow of ink is also smooth and consistent. I did not experience any problems when it comes to how quickly it dispenses ink. As soon as the tip hits the surface of the paper, the ink flows out. There are no annoying gaps as well.
The ink dries up quickly but there are times when it can still get streaky. I would recommend waiting for a few more seconds for it to dry up before running your hands on the surface of the paper.
These are fine-tipped pens but they do have good coverage. They are easy to use as well even if you are left-handed. It also has a rubber grip to prevent the pen from sliding off.
The manufacturer also responds fast to complaints about their products. You just have to call their customer service and they will replace your pen.
There are times when the ink dries out. Just give it a little shake to reactive the ink and it should flow right out.
Pros
Glitter is visible
Has metallic colors like silver and gold
Comfortable to use even by left-handed people
Great flow of ink
Great coverage
Cons
Can get streak sometimes
Ink can dry out after some time
These affordable glitter gel pens can offer you more color options that are all vivid and noticeable. You will like all the options, particularly the neon ones that stand out from the rest.
What to Look for When Buying Glitter Gel Pens
Buying a glitter gel pen set does not have to be daunting. You should take these factors into consideration to get the best set that will last you for a long time:
Color Choices
Look for gel pens with the colors that you want to add in your writing or drawing arsenal. If you are lacking neon colors, go for the gel pen brands that specialize in creating neon hues. Not all the glitter pen sets out there include neon colors so you need to make sure that you know what you are getting.
There are glitter gel pen sets that come complete with neon and metallic colors in addition to their standard colors. Obviously, you will have to spend more money if you are buying more colors. If you want more color options, don't be afraid to spend a bit more money. If you only need it for occasional drawing or letterings, a few choices should work.
Ink Refills
Not all of the gel pens out there come with ink refills. It would be great to choose those that come with a refill so that you won't have to spend a lot of money buying a new set. It's also more eco-friendly this way. You are not disposing of the barrel and you might be able to use them for many more years to come.
Smooth Ink Flow
Choose gel pens that consistently dispense ink. It should be able to write down on paper with smooth tips and without chafing the surface of the paper. Some have tips that don't expel ink quite as well so they can leave scratch marks on paper.
Glitter Strength
They differ when it comes to the strength of the glitter. Some of these pens only look metallic or has a pearly sheen to them but not glittery. There are those that have glitters but don't come out strongly. Check the reviews of people and find out if they are satisfied with the glitter components of the pens. There are many people who upload their swatches online so you can personally see if they are visible or not.
Drying Time
Fast drying time is important unless you want to end up with streaky results. Look for the pens that dispense ink easily and gets absorbed by the paper without causing streaks and without the ink pooling on its surface.
Application
Does it apply smoothly or do you still have to force the ink out? Most glitter gel pens do not need to be activated before using. You can use them right out of the box. However, there are still those that have special instructions on how to use them. Such is the case of the acrylic pens.
Comfort
If you color for hours, choose glitter gel pens that are comfortable to use. The barrels that they come with are usually hard, which makes it difficult to write for hours. This is why you should look for those that come with a rubber grip.
Other Important Factors to Consider
What is a Glitter Gel Pen?
A glitter gel pen is similar to other colored pens. The difference is their ink formulation. The ink usually has a thicker consistency similar to a gel, hence the name. This type of pen has also been incorporated with glitter to give the ink color a sparkly look.
How Does It Work?
These pens are easy to use. Just choose the color you want, take off the pen and start writing. It usually does not require special techniques to get it to start. However, some brands, where you might have to activate the ink first. To do this, you need to press the tip of the pen first before using it. It will allow the air to dissipate. Now press the tip down on a piece of paper. This will encourage the flow of ink. Give it a little shake if it doesn't dispense ink. The ink should dry up in a few seconds.
Who Is This For?
These pens can be for anyone who needs fun and attractive pen colors. It is a good choice for artists who want to give their artworks more sparkle and for adding more definition to your colors. It can be for calligraphy enthusiasts as well. It makes your letterings even prettier with its glittery hue.
It is also recommended for people who like to do journaling. It can be used to make your journal entries look more aesthetically pleasing.
What are the Different Types for Glitter Pens?
Most glitter gel pens are the same as they have a gel-like ink consistency. There is no specific type of glitter pens. However, there are those that have acrylic ink. They tend to be thicker and they don't dry up as quickly as the completely gel ones.
Why Do You Need a Glitter Gel Pen Set?
You should consider getting a glitter gel pen if you are an avid gel pen collector. It is a great addition to your collection because the glittery ones are for special projects, colorings, and letterings. You can use a glitter gel pen set to make artwork on cards or to do calligraphy work and write on invitations.
There are many special uses for a glitter gel pen but nothing should stop you from getting them if you just want to jazz up your writing. For students, using a glitter gel pen when writing can help in memory retention.
Frequently Asked Questions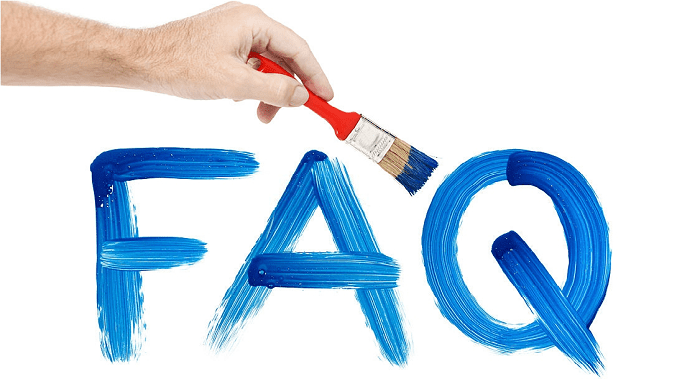 What are the Most Trusted Glitter Pen Brands?
The brands mentioned above are usually compared with more recognizable brands such as Sakura and Copic Spica. But the latter options are usually more expensive, which is why people look for alternatives. If you are on a budget and you don't want to blow all your cash on glitter gel pens, go for the ones mentioned above. However, if you want to splurge and don't mind getting glitter gel pens that can last you for many uses, these brands would be worth looking for.
How to Use?
It doesn't really require a special procedure. You just need to uncap your choice of pen and write or draw with it. It's a very simple process. It's unlike many other pens and markers out there that still need to be reactivated, meaning you need to get the ink flowing. With most gel pens, the ink flows right out.
Where to Buy?
These products are readily available in many stores such as Home Depot and Walmart. If you want to be able to choose the product leisurely, go buy them from Amazon. That way, you can still see the reviews and what the reactions of the buyers are. These pens should be available at a local stationery store as well. You can also buy them directly from the manufacturer.
What is the Warranty?
Most manufacturers offer a no-questions-asked warranty. They will replace your purchase if you encounter any issues with it from the time you bought it and before using it all up. You can call any time you have a problem with your purchase.
How to Care and Clean?
It's not difficult to maintain these pens. Just make sure you keep them in their carrying case. If you see ink streaks on the barrel of the gel pen, simply wipe them off. Keep the cap on and make sure it snaps tightly. That way, you can prevent air from getting inside and drying up the ink.
Can Glitter Gel Pens Be Used On Surfaces Other Than Paper?
Most of these gel pens are designed to work on paper. However, there are also a few select ones that can be used on other surfaces such as rocks and wood. They are not gel pens exactly but are more of acrylic pens that tend to work better on hard and porous surfaces.
Conclusion
Finding the best glitter gel pens no need to become frustrating and challenging. There are various options out there that cater to the needs of different artists and individuals. Whether you are looking for a gel pen to use for writing in journals or for studying or you are an artist in need of glitter pens to add to your pen collection, you will definitely like these ones.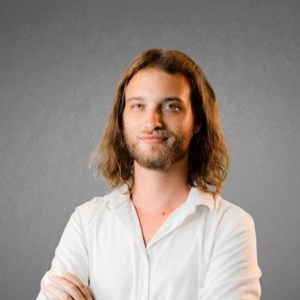 I am a former art teacher, so it is evident to me the importance of art in educating the new generation. We also want to help parents who plan to teach their children and desire the best tools and tips for them.