Paper has always been a staple for every artist. The right choice of paper can make or break an artist's work. If you're into creating mixed media involving various types of materials, you'll need to ensure that your chosen paper can hold these different textures, weights, and finishes altogether.
Nothing can beat mixed media paper in this category. As its name suggests, mixed media paper is a type of paper that can facilitate different art mediumsㅡink, markers, opaque paint, and acrylic paint, to name a few.


The surfaces of a mixed media paper is uniquely rougher than other types of paper. It also has more 'tooth' which allows each chosen medium to bind seamlessly into the paper. Mixed media can handle various medium layers on top of the other with utmost attention to detail.
With numerous brands and products of mixed media paper, I've picked out best mixed media papers that won't disappoint every type of creatives.
Best Mixed Media Paper Reviews
1. Canson 100516254 Mixed Media Paper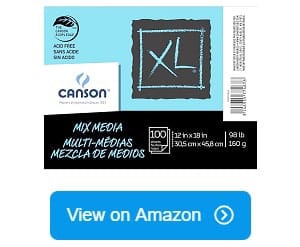 Being a classic brand of art materials, Canson stayed competitive in its game because of the stellar quality of their XL Mixed Media Paper. This product boasts dimensions of 12 by 18 inches with plenty of room for different types of medium, as well as paper weight of 300 gsm, which is exactly an excellent one for holding volume of wet media.
The Canson XL Media Paper exists in three forms: pads, individual sheets, and wire-bound. The wire-bound variant consists of perforated pages so you can tear, display, or bring your work with you on-the-go.
Looking at the texture, each sheet has a relatively rougher side that works well with holding inks and pigments. The paper also demonstrates resilience despite saturating and staining it with a lot of color. However, if you're planning to sketch with pencils, vertical streaks occur while sketching, especially using pencils that aren't oil-based and with blunt tips.
I would never miss trying out this multimedia paper with watercolor, and I'm satisfied with the results. Due to the paper's texture, it's easier to dissolve the colors and manipulate them. Another excellent point of this paper is its performance when I used a wet on wet and glazing technique comparable to watercolor papers.
If you're using a lot of watercolor, the grain pattern shows up once the pigments settle. Nonetheless, it will still boil down to individual preference.

The only issue I had with the sheets is that the perforation doesn't work well in the wire-bound variant. I always end up tearing the perforated side unevenly, so you might want to tear out the entire page before the perforation.
Pros
Affordable and ideal for practice work
Minimal to no feathering of ink over watercolor
Handles pigment well and maintains their vibrancy
No warping and buckling despite heavy volume of wet media
Performs superior than watercolor papers
Cons
Poor quality of perforation
The Canson XL Mixed Media Paper proved that it isn't just XL in terms of sizing, but also XL in quality. This mixed media paper is ideal for students and amateur artists with budget in mind, yet still want to achieve exceptional quality that is a good match against pricier ones.
2. UCreate Mixed Media Art Paper
This art paper from UCreate is an underdog of mixed media surfaces. Given that you'll get a mixed media paper bulk of 500 sheets for an affordable price, it's an excellent multi media paper for practicing with graphite, charcoal, oil pastels, markers, and wet media. Every sheet of this product offers plenty of space, specifically white sulphite paper measuring 18 by 24 inches.
A huge issue that many artists might find in this media paper is its ink smearing and poor drying. After drawing with a fineliner pen and adding wet media on top of it, the fineliner ink smears like crazy and mixes with the other pigments. Markers with thick ends also dry slower in this paper, requiring you to wait for a while before putting another layer of color on top.
When using wet media alone on this paper, I didn't experience any smearing and bleeding, but it's notorious for its holding and drying properties. Since it can't hold too much water using watercolor, it leaves obvious water trails that aren't suitable for wet on wet watercolor technique.

Thus, this paper will suit artists that work with dry media, involving graphite, charcoal, chalks, and pastels. However, be careful of rubber erasers as they tend to smear slightly. If you're only starting with your art journey, I'd highly recommend this media paper for sketching and scribbling before working your way up to wet and mixed media.
Pros
Excellent value for money
Great size perfect for several sketching in each sheet
Features white, crispy, and smooth paper
Performs excellently using dry media
Heavyweight with no warping and buckling
Cons
Poor drying that results to smearing of ink
Unable to hold large volume of wet media
Encourage children to explore their art skills early on with the help of this UCreate Mixed Media Art Paper, which has the perfect size and quantity for curious minds!
3. Strathmore 400 Series Mixed Media Paper
The clash between the quality and price of the Strathmore 400 Series is what made my purchase noteworthy. Strathmore is known as a great artist companion with a stellar selection of products for every type of artist. Particularly, this 400 Series Mixed Paper is placed between the budget 300 Series and premium Artist 500 Series, which present the best of both worlds: achieving artist-grade work without breaking the bank.
I played with both dry and wet media to test out my expectations for this Strathmore mixed media paper. First of all, it holds water outstandingly well without any signs of warping and buckling. There's slight pilling when more volume of pigment is applied, but it's not rare in most watercolor and mixed media papers in the market.
Also, I didn't have to worry about experimenting with water-based and alcohol-based markers as they perform quite well without bleeding. While Strathmore has less tooth than the Canson mixed media paper, their ability to hold pigment was almost on par.

This paper series stars a thick, smooth surface that I was first concerned about. Surprisingly, the lack of grain and smoothness of the paper made it possible to create a better blending of colors, which I really appreciate when
using colored pencils
. Moreover, I didn't have to put a lot of layers of pigment to overpower the grainy texture, thus resulting in colors that blended naturally.
Pros
Thicker than most mixed media papers
Had minimal warping, buckling, and bleeding
Boasts a premium-like smoothness of paper
Facilitates color blending excellently
Cons
Demonstrates slight pilling
If you're adventurous with both light and dark colors, and quite afraid of the paper not handling a large volume of pigment without warping, this product is absolutely one of the best paper you can get.
4. Arteza Mixed Media Sketchbook
Right off the bat, this mixed media sketchbook was a godsent for me. Personally, I love using sketchbooks rather than mixed media paper sheets and pads as I tend to look back on my sketchbook exactly met my expectations―just the right balance between versatility in dry, wet, and mixed media.
The product sports 60 pages of 11 by 14-inch of acid-free and micro-perforated paper. Despite having a lighter weight of 180 gsm than standard mixed media paper, it achieves quite a satisfactory finish.
Also, it has a good level of roughness for binding pigment, and it wasn't too distracting while doing pencil sketches. It picks up the graphite satisfactorily and it holds up to smearing during erasing that some mixed media papers can't.

However, this paper favors light washes of paint more as it tends to warp and buckle if there's too many layers of wet media. If you're a wet media artist, you won't appreciate this as much as dry media artists.
Comparing the perforation in this sketchbook to Canson's, the pages in this sketchbook are easier and less messy to tear out. The acid-free feature of this paper also guarantees that your artwork will not easily fade out over time, which is perfect for displaying your art. I have only tested out my watercolor painting for a few days and there are no noticeable fading. I might give an update soon about how it fades out after a few months.

Pros
Best used with graphite sketches
Unexpectedly powerful even with its lighter weight
Excellent perforation with true-to-size sheets
Has an acid-free feature
Cons
May warp and buckle from large volume of wet media
Haven't found the perfect paper for dry media yet? If you're a dry media enthusiast and explore the wonders of wet media, this Arteza Mixed Sketchbook is a no-frills, affordable mixed media paper that will deliver your exact needs. Watch out for 3-in-1 promos to save more on purchasing this paper!
5. C&T Publishing Lutradur Mixed Media Sheets
Being the most versatile of the bunch, the C&T Publishing Lutradur Mixed Media Sheets is a fabric-like paper derived from non-woven polyester. This mixed media paper isn't your ordinary surface, as it feels like a hybrid of fabric and paper.
According to the website of C&T Publishing, you can sew, paint, inkjet print, stencil, stamp, pleat, dye, distress, die-cut, sculpt, fold, weave, and needle felt on the paper, which left me amazed and excited to test out this mixed media paper for acrylic, watercolor, ink, graphite, and even stencils and prints.
In the world of lutradur papers, this product is an ordinary lutradur. However, when comparing this with mixed media papers, this product is indeed nothing like the ordinary. This non-woven paper can't be ripped but you can cut the paper through mechanical cutting and heating.
The sheets exist in two product variants with different weights: the regular 100-gram and ultra-light 25-gram lutradur mixed sheets. While both weights make a good stabilizer, the ultra-light variant is perfect for making airy layers, while the regular one is ideal for printing and making art with thicker layers.

Personally, there's no need for an artist like me to use lutradur papers as I don't prefer doing art leaning on the three-dimensional mediums. Ordinary mixed media papers will always be my go-to. Yet, this lutradur paper further increased my standards of choosing good papers.
Since the surfaces are bound like a web, pigments from wet media will pass through the lutradur onto the layer behind it. Therefore, it's best to have another surface underneath that has the capacity to absorb paint like cloth. Some artists may be uncomfortable to use cloth underneath while painting.

Pros
Works with most types of media texture- and form-wise
Clean and flawless cutting
Accurate retention of pigments
Performs exceptionally in art involving textures, such as needle felt, scrapbooking, and decor making
Exists in a variety of colors
Cons
May feel awkward to first-time users of lutradur
Wet pigment passes through the surface, even with the heaviest weight
If you're an artist who wishes to explore mixed media in a plethora of surfaces, this is the friendliest and safest bet.
6. Pacon Art1st Mixed Media Art Paper
Next on the list is another lesser-known product in the mixed media world. First off, I'm going to start with the product's incredibly affordable price that already contains 60 sheets per pack. Usually, this amount of paper in one pack is ideal for practice work or making arts and crafts with children.
The set appears pristine white with a large sizing of 18 by 24 inches which can facilitate a large artwork or multiple small artworks at once. It's made through sulphite pulping that guarantees the best quality for what you're paying for.
Since you're paying a cheap price for every sheet of mixed media paper, expect that it can't compete with premium quality and expensive media paper, especially in its ability of holding water. Still, you can achieve good results of wet media in this paper as long as you control the pigment volume.
In fact, this product is under the same branding as the two UCreate mixed media papers in this list, that's why you might feel a similarity between them. Between these three products from Pacon, I recommend trying out all of them and see to how they personally feel like when being used.

The only thing that I dislike about this product is the wrinkling and warping when I use watercolor and other wet media. Since I accomplish more wet media, the flaw of this product is acceptable for me because it justifies the price. Really, who am I to complain?
Pros
Perfect pair for dry media
Contains a lot of paper, each pack with an affordable price
Artist-friendly particularly for beginning artists and students
Huge surface area for different types of media
One of the most sketch-friendly in this list due to its medium tooth
Cons
Obvious wrinkling and warping with wet media
Slight bleeding at the back
To sum up the qualities of this mixed media paper is undoubtedly an all-rounder, thanks to its extra sizing, smooth, white surface, and ability to retain dry media and sparingly wet media.
7. UCreate Pacon Mixed Media Art Paper
Last but not least on my stellar lineup of the best mixed media paper is the same UCreate Mixed Media Art Paper but in a different size. This paper measuring 12 by 18 inches is the best match to free-spirited, artistic souls who love to explore different mediums. While it's obviously smaller than the same product mentioned earlier, the size is the only thing that will restrict artists from experimenting.
Since this is exactly the same product as the second one on the list, yet packed into a smaller size, I don't have anything else to add when it comes to the product's performance and quality. However, I realized that it will take too long to finish one pack of this product given its 500 sheets, so I think this will serve for groups of people!

While this is great for personal use, I recommend that products like these that come in bulk are best for creating art with other people, such as with your friends, studio members, and art classroom. This product is also great for brainstorming and planning in dry media involving sketches and illustrations using pencil, markers, and fineliners.
Pros
Compelling quality given its affordable price
Economical and cost-efficient because of its number of sheets
Heavier, if not, almost on par with famous mixed media paper brands
Resists warping and buckling
Cons
Takes too long to dry, thus more prone to smearing
If you're an artist who works mostly on dry media and on the hunt for a mixed media paper with just the right size, price, and quality, you and this paper in 12" x 18" would create the perfect pair.
What to Look for When Buying Mixed Media Paper

Your chosen mixed media paper will become the surface where you channel your creativity. Therefore, it's important to find a mixed media paper that will fit your creative needs. Reading my review is helpful for your cause, but only take it as a grain of salt, as the decision will be based entirely upon you.
Therefore, I've rounded up the most important features and characteristics to consider when buying mixed media paper:
Size: Sizing plays a vital role in choosing your mixed media sketchbook. If portability is important to you, then smaller, pocket-sized pads and sheets are more ideal. Conversely, if you prefer making multiple art in each sheet, mixed media paper with larger sizes will be better.
Binding: Both spiral-bound and hardbound have distinct advantages. If you want the freedom to flip your sketchbook pages, spiral sketchbooks are capable of this, but they're less durable and portable than hardbound variants.
Weight: Paper weight is important once the art takes into action. This will make the dry mediums look enhanced without bleeding and ensure that the watery mediums will not cause extreme warping and buckling of the paper. A mixed media paper for watercolor should have a heavier weight than a mixed paper paper for pencil sketches.
Tooth: Some types of medium adhere on a specific paper, that's why you'll have to look carefully at the tooth of the paper, which describes how the surface feels. The more teeth it has, the rougher it is. Depending on which medium you use, your choice of paper tooth will differ. If you work with charcoal and wet media more, cold press paper with more teeth is better to retain water and pigment. On the other hand, hot press paper with less teeth is typically used for ink, pencils, and markers.
Acid-free: Always choose an acid-free paper to guarantee that your artwork will have minimal to no fading and yellowing over time. The acid content in paper causes it to deteriorate. If you don't plan to store your work for too long, the acid-free feature will not be a priority.
What is Mixed Media Paper Used for

Mixed media papers are for the limitless, creative minds. As mixed media art paper can accommodate different mediums, you can blend various types of art together while following the right layering techniques. For example, mixed media papers can work with charcoal, markers, and pastel. However, they won't work as much as they would if you choose charcoal as the last layer.
Generally, mixed media sheets are used for the following art mediums:
Paint work involving watercolor, gouache, and acrylic paint
Colored pens and markers
Charcoal and graphite
Ink
When using mixed media paper, it's important to know your way around in layering and blending your desired mediums with one another. No matter how expensive and premium-quality your mixed media sketchbooks and pads are, you won't succeed in making a good mixed media art without these fundamental art skills.

Conclusion
Wrapping up, it's important to read product descriptions and reviews first to help narrow down your choices. While there's no one-size-fits-all guide in choosing the best mixed media, there are specific features and qualities of a mixed media board or paper that you should take into account.
If you'll take my advice, the Strathmore 400 Series Mixed Media Paper, Canson XL Mixed Media Paper, and Arteza Mixed Media Sketchbook bagged the top spots for the best mixed media paper. They satisfy an excellent quality of paper in terms of weight and tooth, without going overboard with the price tags.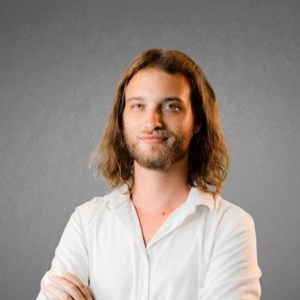 I am a former art teacher, so it is evident to me the importance of art in educating the new generation. We also want to help parents who plan to teach their children and desire the best tools and tips for them.