Body art has soon become a language for our originality in the form of tattoos, body jewelry, body paints, and more. Some of us might not be ready for a permanent imprint, yet we want to play with the endless possibility of beautiful images on our skin. That is why colorful and sophisticated drawings by markers become the norm.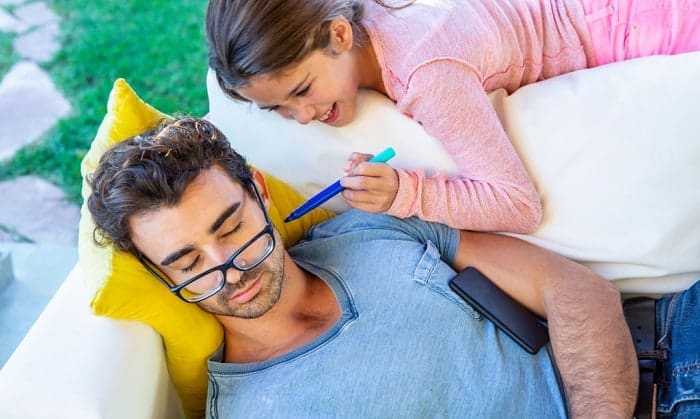 But we cannot randomly uncap a permanent marker and paint it on our body since not all ink formulas are safe for our skin. In that case, seeking the best markers to draw on skin requires thorough consideration.
Suppose you are new to this type of artwork and want to save much time and effort scouring the internet for the right product. Then, you should check out our list of the most top-rated options below.
Best Marker to Draw on Skin Reviews
1. Bic BodyMark Temporary Tattoo Markers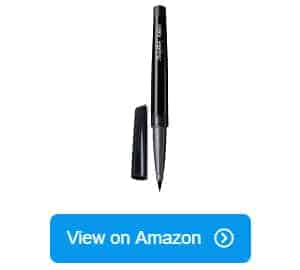 Safety comes first but without the compromise on beauty. If that's what you expect, the Bic BodyMark Temporary Tattoo Markers will not disappoint.
As the brand claims, this art tool can turn your body into your creative canvas with lively drawings. With its flexible tip, we can create thin lines for detailed images or broad and thick strokes to show daring messages on our bodies. It is just a matter of force and angle changes when we press the marker point.
You are going to have much fun playing around with this pen as its ink appears bright and clear on your skin. Its standard black ink allows tattoo artists to test their designed work before permanently ink their customers.
The drawing can last for quite some time, as you might need to rub soap with a little force to get it off. Best of all, it will leave no sticky and ugly residue after that.
More importantly, this product is safe for the skin for several days without causing redness or irritation. You just need to avoid drawing on open wounds or near your eyes, and you will be fine.
However, it does not stay well on wet surfaces. And if not dried completely, the ink can stick on your clothes. In that case, it is tricky to wash them off.
Pros
Flexible tip creating both fine and broad lines.
Appears bright and clear on the skin
Black ink is ideal for sampling a tattoo.
Lasts up to several days and leaves no sticky residues
Safe to use on skin (not on wounded areas or near eyes)
Cons
Better use on dry surfaces rather than on wet skin
Remember to dry it off well as wet marks can stain your clothes
Overall, I find this product from BIC a skin safe pen that allows us to have fun with our creative side. When used with caution, the marker can offer us an enjoyable time.
2. Skin Companion Twin-Tip Tattoo Pen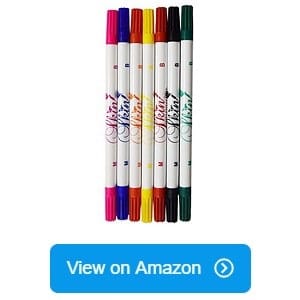 If you want more than a black marker to create vivid images on your skin, look no further than this set of Skin Companion Twin Tip Tattoo Pen.
This budget-friendly package comes with seven colors, including all basic shades for a vibrant drawing. Whether you want to paint colorful flowers or writing calligraphy, these markers can suffice with its assortment of red, green, blue, pink, yellow, blue, and black ink.
For your information, each pen comes with twin tips; one is slim enough for outlining, and the other is broad for shading. Due to these smooth points, you will experience no clogging or smearing issues while sampling a detailed tattoo.
Plus, this quick-drying ink formula results in a clean and enjoyable drawing session for both professionals and beginners. So if you just want to play around, no need to hesitate. In case you want to erase a drawing or a miswritten line quickly, prepare an alcohol swab or a nail paint remover beforehand.
What convinces me to keep utilizing this product is its safety property. After several tries, it amazes me how this product's ink is applicable to sensitive skin areas such as our face. Also, you can draw lovely images on your kids' skin without worry about allergic reactions.
However, they do not last as long as you might expect, as maybe a shower or two will wash them away.
Pros
Offers seven vivid colors in a budget-friendly package
Comes with twin tips, ideal for outlining and shading
Smooth tip ensures no clogging or smearing issues.
Quick-drying ink formula for a clean and enjoyable drawing session
Can be quickly erased by either a nail paint remover or an alcohol swab
Safe ink formula for kid's skin and on faces
Cons
Should avoid getting in touch with water for longevity
These skin safe markers can be our companions during fun times of painting our body with beautiful images. They are of decent-quality for tattoo artists to draw their designs, too.
3. Toysmith Ink-a-Do Tattoo Pens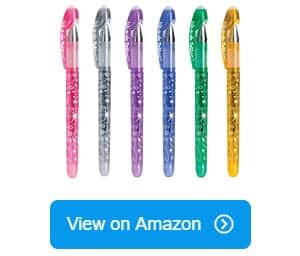 Instead of spending hours playing games on a tablet, your kid can enjoy and develop their painting hobby with this safe and adorable collection of Toysmith Ink-a-Do Tattoo Pens.
Parents must be delighted to see how these shiny pens are packed in a lovely case. On opening the set, your little ones will have in hand six markers covered in twinkle flower patterns. Each of them is in small sizes, just like a usual writing pen for easy holding.
To deliver optimal safety for all small artists, the brand adopts a non-toxic and easy-to-wash ink formula when producing these markers. Hence, students and children aged six and up can freely create new drawings on each other's hands and legs, having endless fun just like the short and fun slogan for this assortment "ink, wash, & repeat."
Yet, the best thing about this pen is its shimmery effects. Each line marked by it on the skin will sparkle and glitter, making it the ideal birthday gift for your little daughters.
Besides, it is very thoughtful of the brand to put three plastic stencils with cool and exotic images. Your kids can take some ideas from these models to start the first line of their own design.
Still, this assortment might not be ideal for professional use as it will lose its sparkling effect after some hours.
Pros
Six markers covered in twinkle patterns packed in a lovely case.
Pen-like design for comfortable holding
Non-toxic and easy-to-wash ink, perfect for small kids
Draws lines with shimmery effects
Comes with three stencils of cool images
Cons
Not ideal for professional use
Your kids will love this sparkle and adorable collection very much if they are often excited about using markers for drawing on skin.
4. BIC BodyMark Temporary Tattoo Marker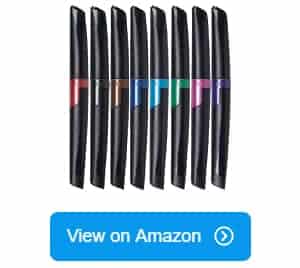 If you are already into body painting for a while, BIC's BodyMark collection must be familiar accessories for your projects. Suppose you are new to this, make sure to check out their Temporary Tattoo Marker assortment of eight vibrant colors.
Numerous tattoo artists have trusted and used these pens for a long time due to their high-quality ink. Make-up artists can also rely on this collection when painting for customers who join a party, fashion show, and other events. These premium pens will indeed leave shiny and beautiful images that make them stand out.
There is no limit to which styles we can follow with this versatile assortment. They promote various drawing, coloring, and writing methods. In truth, you can make both wide and thin lines with this flexible tip. Just slightly angle its point differently, with a little more or less force to achieve the desired thickness.
We can safely use these markers on our skin because it conforms to cosmetic regulations. All the chemicals used to formulate this product and detailed warnings are listed on its package.
Still, I suggest that you read the instruction carefully before deciding to purchase the product, just in case your medical records show that you are allergic to any of its elements.
Just a heads up, this long-lasting ink will require a bit of scrubbing and much soap to disappear on your skin completely.
Pros
Includes eight vibrant colors creating shiny drawings
High-quality ink for both tattoo and make-up artists
Versatile markers with a flexible tip for drawing, lining, shading, etc
Safe formula conforming to cosmetic regulations
All chemicals and user warnings are listed.
Leaves long-lasting marks
Cons
Requires a bit of scrubbing and much soap to erase it
Overall, this collection from BIC packs all the necessary functions and features for the best pens for drawing on skin.
5. Blue Squid Face Paint Crayons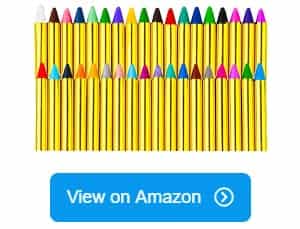 Are you adventuring out to find an affordable package of body safe markers for your little one's Halloween party or daily drawing games? Your long search can end with the Blue Squid Face Paint Crayons for Kids.
Ready to be amazed? There you go: this set provides thirty-six markers at the same price point as standard 6 to 8-piece assortments. If you decide to purchase this package, your kids and friends will have endless fun hours with these many colors. Plus, it comes with a robust case that packs all the crayons neatly for traveling or storing.
Among these pieces, twenty-eight crayons are in classic colors, and eight of them are metallic. That means your kids can add shiny sheen to their beautiful drawings, making the final images even more vibrant and outstanding.
The main reason why this assortment became most parents' go-to product for face and body paints is its safety compliance. In detail, its pigment is qualified for cosmetic-grade make-up even on sensitive skin. These crayons prove to be hypoallergenic, ensuring no irritation or redness on your little one's skin.
Plus, after your kids and their friends are done with their painting games, you can quickly wash their drawings off with some soap and warm water. No scrubbing is needed, and everyone will be clean and ready for dinner time!
Still, these crayons come with pretty soft tips, so with too much pressure, they might smudge quite often. But for a kid's game, that might be a fun part.
Pros
A cost-effective investment of thirty-six markers
Comes with a robust case for neat traveling and storing
Sparks creativity with twenty-eight classic crayons and eigh metallic pens
A cosmetic-grade make-up assortment for sensitive skin
Easily washable with warm water and soap, no scrubbing required
Cons
Soft tips might smudge if using too much pressure
All in all, our children and we can benefit much from such a versatile and beautiful collection of crayons.
6. Vanli's Temporary Tattoo Pens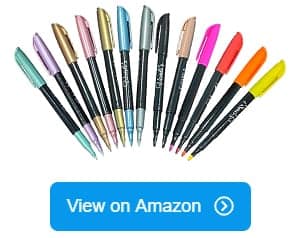 The Vanli's Temporary Tattoo Pens offer everything we can possibly ask from a marker collection for body art: certified safe use, beautiful colors, and guaranteed quality.
Let's see what is included in this wide-ranging set. First of all, there are six key colors, featuring fine points for intricate drawings, writing, and outlining. Your choice of art styles extends with seven brush pens with vivid metallic shades of bronze, gold, silver, and more.
Not to mention, fifty either adorable, sophisticated, or creative tattoo models come in five stencils for you to draw on your skin. Beginner-level artists who are curious about creating body tattoos can take inspiration from these beautiful images.
This product is worthy of our recommendations as it is safe for use on the skin. In fact, this marker collection meets US cosmetic and ASTM standards. Still, make sure not to let its ink enter your eyes, lips, or near any sensitive or allergic skin.
Suppose your experience with these markers for skin tattoos does not meet your expectations of safety and quality. Then, you can return the product and get your money back under the brand's enthusiastic support.
However, these henna markers may gradually fade to none if you soak the drawings in water. Other than that, it can stay for quite an extended period.
Pros
Beautiful set with six key colors with a fine and thin point
Includes extra seven brush pens creating metallic shades
Comes with fifty tattoo designs in five stencils
Meets US cosmetic standards and ASTM for safe use on skin
Money-back policy if not satisfied.
Cons
Advisable to avoid water.
All things considered, these washable skin markers can be our ultimate companion in creating outstanding body arts.
7. ZXUEZHENG Surgical Tip Markers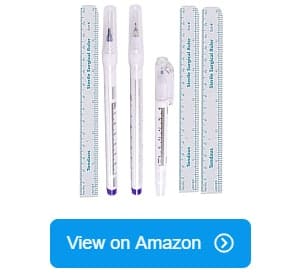 What these do best is transferring pre-designed tattoos flawlessly onto the skin. You can trust its quality nib and safe pigment for daily drawings.
Most users find this package of three pens ideal for creating neat lines of varying thickness. In detail, the finest pen comes with a thin point measuring 0.5 mm; the other two comes with thicker tips with 1mm and 1.5mm-tip.
Due to these different-sized pen points, these markers are the go-to accessory for microblade and tattoo artists. They can use each pen to produce different strokes, depending on the designs and lines required.
What appeals the most to me about this collection must be its non-toxic medical ink and high-quality nib. Leaving this pigment on your skin for hours on end will not trigger any irritation and redness, proving the product's non-stimulating formula. Besides, you can comfortably press a bit hard without worrying about breaking its point any time soon.
Another feature that might be both this tool's selling point and the drawback is its stubborn stick on our skin. Such a long-lasting marker that does not fade when exposed to water and sunlight can benefit users in certain situations.
In other cases, when wanting to remove them immediately, we might need to scrub kind of hard with a soaped cloth and warm water. The good news is low-concentration acid alcohol can quickly remove them.
Pros
Three pens with points measuring 0.5, 1, and 1.5mm, respectively
Ideal tools for microblade and tattoo artists
Non-toxic medical ink triggers no irritation on the skin
The high-quality nib can handle pressure when writing.
Sticks well despite exposure underwater and sunlight
Cons
Takes some effort to erase without low-concentration acid alcohol.
Overall, non toxic pens for skin cannot get better than this versatile collection. We are guaranteed long-lasting use and ultimate safety in one package of the best pen to write on skin.
8. Brino Tattoo Marking Pen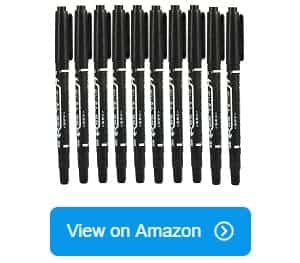 If you intend to mostly use black markers for doing body arts, the Brino Tattoo Marking Pen might be precisely what you need.
As expected, users' safety is the priority of Brino when manufacturing these pens. Body art drawings can be perfectly safe when we use this non-toxic product to write and paint directly on the skin.
Flexible use is among the best things this collection offers. Each pen features two tips for changing the stroke thickness quickly, sparing us much effort and money seeking different pen collections. Thus, you can create both slim outlines and thick shading using either the ultra-fine point or regular point.
Practical is the right word to describe this assortment of black markers. They come in ten pieces at an affordable price, making it a perfect deal for tattoo artists who mainly utilize black ink. Plus, this pen-like design is lightweight and comfortable to hold, thus ideal for their detailed and long-hour performances.
Besides, if you intend to leave the decorations on your body skin for several days, picking this long-lasting ink pen makes excellent sense. However, these markers can dry real quick if you leave them uncapped or unused for a while.
Pros
Safe and non-toxic markers to use directly on the skin
Promotes flexible us with two tips in one pen: ultra-fine and regular
Comes in ten pieces at an affordable price
Black ink and comfortable hold, ideal for tattoo artists
Long-lasting ink that stays on your skin for several days
Cons
Can dry quickly when uncapped or unused for some time
If you find everything you need in this package of non toxic markers for skin, make sure you use them frequently and store them carefully to avoid wasting such quality products.
9. Professional Body Art by Velvet Pens and Eyeliner
For make-up purposes, most markers might be too thick or easy to smudge and smear. We cannot afford to use such a product for face painting, especially for intricate eye and lip drawing. In that case, the Professional Body Art Pens and Eyeliner is truly a game-changer.
With this black goth eyeliner, we can create sharp and slender lines on our faces. Its velvet-like point slides smoothly on our skin, having no trouble leaving flawless drawings without ugly smudges.
Furthermore, its water-based ink formula is magical for creating arts. It dries fast when in contact with our skin, giving us the ultimate confidence to go with our creativity flow. Yet, it draws long-lasting and waterproof images, which are hard to erase without make-up remover.
Due to its safe pigment, make-up and tattoo artists can use the pen directly on people's lips and sensitive areas near the eyes. You can purchase this set to draw for your little one's Halloween or Birthday theme party, as it poses no hazards to the kid's skin, either.
If you are wary of its functions, you still can try the product as purchasing it is risk-free. In truth, the brand offers a 30-day money-back policy for customers who are not happy with their experiences with this collection.
Still, compared to many marker assortments available, this professional-grade product's price tag is on the hefty side.
Pros
Black goth eyeliner creating sharp and slender lines
Velvet-like point for smooth writings without smudges
Water-based ink dries fast and leaves long-lasting marks.
Safe pigment for use on lips, areas near the eyes, and kid's skin
Risk-free purchase with a 30-day money-back policy
If you are willing to invest in premium-quality products for creating body arts, this is the best skin ink pen for your work.
10. Take Your Mark Semi-Permanent Ink Skin Markers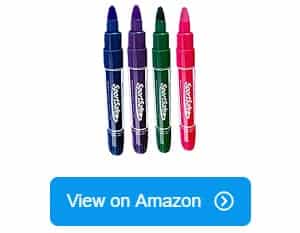 The final entry on our list is another cosmetic product that ensures optimal safety for users. If none of the above markers meet your requirements, this Take Your Mark Pens might be your best pick.
Most users only have good things to say about this product's waterproof and sweatproof formula. Once the pen writes on our skin, the images can be soaked in moisture without fading out too soon. Thus, this collection is an excellent match for swim meets or sports events that require skin marking.
These key colors do an excellent job of showing our unique self with supportive, positive, or daring messages. You can combine the green, purple, pink, and blue shades to express yourself in the best way. Plus, the ink dries quickly, allowing you to jump in the pool right after some minutes of drawing.
Besides, if you are sensitive to weird scents and cannot stand using alcoholic or solvent-based markers, it is ideal to use these odor-less pieces. They emit no chemical smell that triggers an allergic reaction.
You can expect a thoughtful buying guide from this brand to choose the right marker tip for specific purposes. Yet, the majority of their products can stay vivid within the event duration until you scrub them off with soap or hand sanitizer.
The only drawback of this otherwise excellent skin marker is it not working well with sunscreen. You should write on dry skin to enjoy its optimal features.
Pros
Waterproof and sweatproof ink formula
Green, purple, pink, and blue shades vividly paint on the skin.
Provides a fast-drying pigment
Without chemical smell or weird scent
Sticks on the skin within the desired duration
Accompanied by a thoughtful buying guide
Cons
Recommended using on dry skin without sunscreen.
These washable body markers will make a change in the way we express ourselves in certain situations. They are indeed safe and beautiful for everyday use.
What to Look for When Buying Markers to Draw on Skin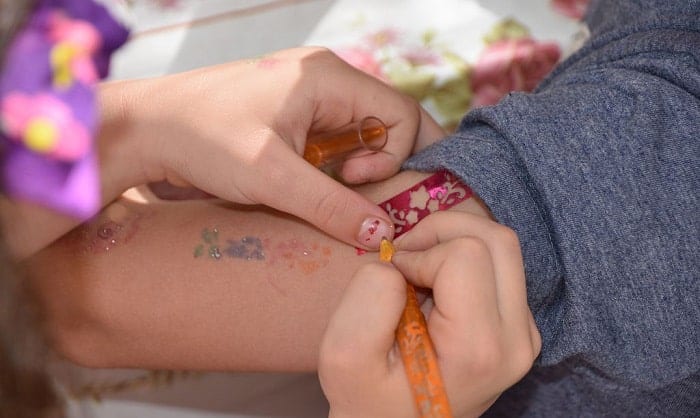 When choosing the best markers to draw on skin, we should pay attention to some factors below:
Safe and washable ink – Needless to say, that safety always comes first when you purchase a product to use directly on your body. Thus, it is best to pick one that complies with ASTM standards or receives US cosmetic certifications. For your peace of mind, using a qualifying product that is medically safe is highly recommended.
Some brands list all the chemical elements used and all warnings on their packages or instructions for customers to be aware. If you find out that you are allergic to any of the substances, it is best to opt for something else rather than risking it.
More importantly, when you purchase a collection for your kids to play around with their friends, make sure the pigment formula is non-toxic and low-odor.
Since body arts written by markers should only stay for several days max, we should be able to wash them off without hassle. Some products require nail polish remover, while others only need low-concentration acid alcohol or hand sanitizer to be erased. A permanent marker for skin may require specialized products to be removed.
Make sure you read the information first and be well prepared in case the painting goes wrong.
Marker tips – If you want to create slim lines and detailed images, it is advisable to go for a fine or extra-fine point that measures around 5mm. You can easily achieve a slender and smooth outlining with a body art pen that works as an eyeliner.
Simultaneously, we might need a brush pen for filling colors and shading with thick strokes. If that is the case for you, picking a maker with 1.5mm points or bigger makes excellent sense. Small kids also love this kind of brush markers, and they will adore crayons that promote breezy coloring and soft tips.
The good news is that users can have dual-tip collections that fulfill all those writing, drawing, and painting purposes. Such pieces often come with a fine point on one end and a regular or brush point on the other. They are the most convenient and versatile tattoo pens for skin that we can ask for.
Colors – The number of colors and their effects should also be a determining element. For professional tattoo artists that often utilize black pens, multiple packages of this very type will suffice. But for other body art drawers, young painters, and people who love to explore endless art forms, a set with multiple vibrant colors is the perfect pick.
For your information, some collections are loyal with key colors, varying from six to eight classic choices. Meanwhile, other assortments include typical markers and some metallic ones to create a shimmery effect for your artwork. Or else, you might be interested in crayons' vibrancy and clarity.
Are Prismacolor Sharpie and Crayola Markers Safe on Skin
Crayola already confirms that their products are non-toxic yet not manufactured for cosmetic use. Their markers, crayons, and pens are not going through rigorous testing for such intended use on the skin. Thus, we should not go against the brand's claim and try it.
Prismacolor produces utterly safe products for professional use. However, some of their markers promote alcohol or dye-based ink that should not stay near our sensitive skin or eyes, lips areas. Thus, we do not recommend leaving this marker pigment on your body.
Sharpie art on skin might be pretty popular as some tattoo artists still draw their designs with Sharpie markers. However, this might lead to some allergic reactions that result in long-healed tattoos. So, you might want to be careful when letting the ink touch your open wounds.
Conclusion
The best markers to draw on skin should be the one that is safe, smooth, and vibrant enough to create beautiful images. Hopefully, after going through all worth-considering factors, you already have an ideal assortment of body markers in mind. In that case, all that's left to do is start creating and having fun!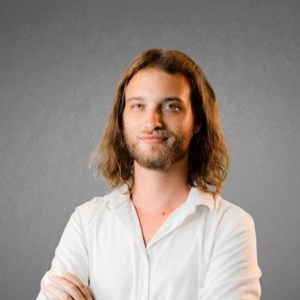 I am a former art teacher, so it is evident to me the importance of art in educating the new generation. We also want to help parents who plan to teach their children and desire the best tools and tips for them.