Do you need to hide confidential information away from prying and inquisitive eyes? Get yourself the best redacting marker then. There are a lot of redacting pens out there, each with its own benefits. It's good to have a reliable redaction marker or two just in case you need to hide snippets of information without going out of your way to hide the document.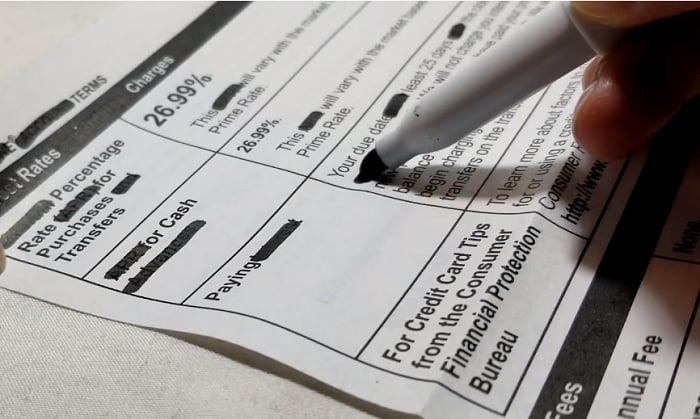 I can help you find the perfect blackout marker. After checking out the market, I narrowed it down to the products listed below. Go check them out and see which of the security markers out there are the perfect options for your needs.
Top 5 Redacting Marker Reviews
1. Artline Secure Marker Redacting Pen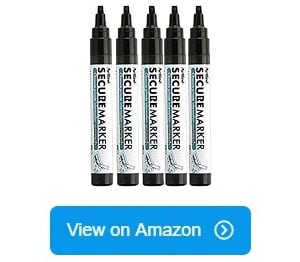 Don't mistake these for your ordinary whiteboard marker although they may look similar. These markers are different. If you are looking for a blackout pen that does its job well, this would be a perfect choice.
This is a set that comes with 5 markers although you also have the option of buying the 12-piece set. I think it would make the perfect gift for your officemates. It would be nice to have a few extra pens in case you have a lot of documents that need hiding from prying eyes.
As far as redacting goes, these markers do a great job. They hide markings quite easily, although I do find that I need to use more ink when hiding pencil or pen marks. Printed ink isn't as difficult to hide. Additionally, I find it more difficult to use on colored ink. The manufacturer did say that it works best on black ink, so if you are working on colored ink, it might take a few swipes to hide the words completely.
It's not just documents that this redaction pen is capable of hiding. It can also hide specific information on your prescription bottles. It works on glass, paper, and even wood.
It does need some practice to get used to it. I find that if you don't use a lot of pressure when writing, it doesn't dispense as much ink. You need to press it down a little bit harder to keep the ink flowing. If you notice that the ink seems to reduce in amount, just press it harder to allow the ink to gush out. Just be careful not to press down too much if you don't need a lot of ink or you could be left with a big glob of ink.
I am satisfied with the coverage of this privacy marker. It has a wide coverage, so even one swipe works in hiding ink. It's similar in consistency to paint rather than ink.
I also like that it doesn't emit a strong chemical smell like many other markers out there. I expected it to have a smell but I can barely detect it if I don't put my nose closer to the paper. It's a good option if you hate the smell of ink and you are sensitive to it.
I do like how thick these markers are. It makes them easier to use. When I need to press down harder on the paper to get my desired ink coverage, it's not difficult to do because the thickness of the pen itself is just right.
The nibs also seem to last for a long time. However, I do feel like it doesn't have as much ink volume as it appears. Some of the markers also have a tendency to get clogged up, so you do need to shake them from time to time to get the ink flowing.
Pros
Great coverage similar to paint
Doesn't have an awful smell
The nibs are wide enough
Durable nibs
Excellent customer service
Cons
Has a tendency to get clogged
Does not have a lot of ink
The Artline secure marker is a must-buy if you are looking for an effective but affordable marker set that will help you hide important details in documents. It's reliable and it has good coverage that will help you get the job done effectively.
2. ExcelMark Redaction Marker
If you are looking for an affordable security blackout marker, you should set your sights on this. At a reasonable price, you are already getting 6 markers that will last you for a long time. It also comes in a set of 12 markers in case you need more.
It does what it says to do. I like that the nibs are straighter than other markers, so I can easily go over the information I want to redact without having to angle the marker. It works best on regular paper but I find that if you use it on shiny paper or you go over glossy ink, it's still quite visible. It can still be seen if you shine a light on it, so make sure you go over it a second or third time to completely secure your document.
This particular redaction marker pen doesn't dry up instantly. You have to wait for a few more seconds for the ink to completely dry before adding a second layer or else, it will saturate the paper. It's not a big deal but if you have a lot of documents to redact, you might find it annoying to wait for a few more seconds before applying a second layer to hide the text.
It's a secure redacting marker that is easy to use. First, you need to shake the marker to get the ink flowing. On a piece of paper, press the tips of the marker until the nib pulls back or retracts. Once you see that ink is starting to flow, release the tip.
It's a no-brainer to use. The ink volume is good. It doesn't run out quickly. The nibs are also durable and also work on stickers on prescription bottles. It glides easily with minimal snagging. I also did not have issues with it ripping the paper or similar problems.
I do find that because these markers are saturated, you need to be careful about how you store them. They still have a tendency to leak. Make sure you set them upright so that the ink does not pool all the way down to the ink.
Ergonomics-wise, these markers are not difficult to hold. I think the thickness is just right. It's not too thick but it's not very flimsy and thin either. I also don't smell a strong scent, so it's good for people who are sensitive to marker smell.
Pros
Works perfectly, especially on regular paper
Works even on prescription bottles
Good ink volume
Great value for your money
Durable nibs
Cons
Takes a bit more time to dry
Has a tendency to leak
These are redacting pen staples if you do a lot of document discarding. You don't have to use your shredding machine quite as much if you have these markers in tow. You are getting a lot of pens for its price, so it's a great option for people who are on a tight budget. The ink volume will ensure that each pen will last for a long time.
3. Artline Secure Marker 4.mm Chisel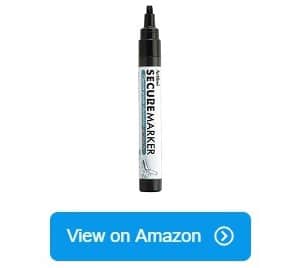 This is an information marker that won't break the bank. It's the perfect choice for people who just need a pen or two for small redacting needs. If you only have a few documents to redact, you should go ahead and try this one.
It's very similar to the previous secure marker from this brand. However, this one has a different nib. It has more coverage because of its bigger nib. If you are working on bigger texts, this should be an ideal choice.
What I don't like about this is that it doesn't have a lot of ink. If you are going to use it on a lot of documents, you would have to get a few more markers. One marker won't suffice. It's a good thing that it's affordable, so buying more markers isn't heavy on the budget.
On the plus side, these markers dry up quickly. I do sometimes need a second coating to completely conceal the text. However, since it dries up quickly, it's not that hard to do. With other markers, you need to wait for the ink to dry up completely. This one has a paint-like consistency to it, so it really does provide good coverage.
It also doesn't bleed. I like that on standard paper, it doesn't saturate the paper so much. It probably won't matter to others but if you still want to preserve the other parts of the document, this would be a useful feature.
You do need to shake this marker regularly. The nibs have a tendency to dry and the ink can recede. You can also point it down on a piece of scrap paper to get the ink flowing again.
Pros
Works just as well as advertised
Dries fast
Affordable option
Has a good coverage
Cons
Needs to be shaken before using
Not enough ink volume
It's a good security blackout marker pen that should be enough if you don't have a lot of documents to redact. I recommend this to office workers. It's a good pen to have at home as well just in case you have documents you want to redact or you have prescription medications that you need to discard.
4. Sharpie Permanent Markers
These are permanent markers, not specifically a redacting marker. However, if you are looking for a less expensive way to block out your sensitive documents, you can use this one as an alternative. It still does a good job in hiding information.
These markers have chisel tips, so they have a lot of coverage. At first, they do dispense a good amount of ink although I find that later on, they can get a bit dry.
Once you put it on paper, it's very vivid. The color is crisp and hides black ink easily. I have also tried it on colored ink and you will need to put a few more layers to conceal them completely.
It does dry easily, so if you need to add another layer to amp up its concealing powers, you can easily do so.
Redacting marker vs sharpie? I think redacting markers is still better in concealing although Sharpie gives it a run for its money. I do like having a black Sharpie pen because it can be used primarily as a marker but flexible enough to provide redacting benefits.
I also like how Sharpie looks. They are very compact, even if the barrel is rounded and thick. That makes them easy to hold and bring with you anywhere.
I like how durable the barrels are. However, I do find the caps difficult to use. If you have arthritic hands, that can be a problem.
Pros
Less expensive than redacting markers
Dark ink
Easy to use
Can be used as a regular marker
Has a good coverage
Cons
Not very juicy
The caps are difficult to take off if you have arthritic hands
I think this is a good alternative to traditional redacting markers. Some people might not like spending so much money on a redacting marker and would rather be more practical and use it on a multi-purpose marker that is multi-purpose. If this is you, you would like this kind of marker.
5. Secure ID and Secure Marker Combo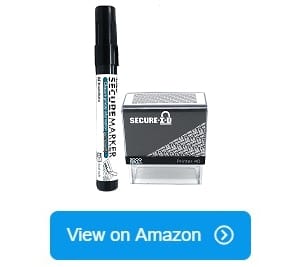 You don't have to deal with your noisy shredder ever again. This combo features a marker and a stamp. The marker is the same one from Artline, so you can expect this to have the same features and qualities featured previously.
The marker has excellent coverage. It effectively covers sensitive information, so that people who need to cover details like credit card information, name, address, and many more can hide that without destroying the entire document.
What's great about this is that it comes with a stamp. It creates an impression with a size of 7/8-inch by 2-3/8 inches. It's not very big but it's a great alternative if you ran out of the ink. It's also easy to use. Just stamp it on the areas that you want to cover.
The stamp has enough ink to give you up to 7,000 impressions. The problem is that occasionally, the ink starts to fade. If this happens to you, you can just stamp the document again.
I do like that both marker and stamp are durable. They hold up well even with frequent usage. They are also easier to use. They are easier to bring with you, so you can hide sensitive information on documents easily and without the need to look for a paper shredder. It's very convenient.
The stamp needs to be refilled a couple of times. I find that quite annoying sometimes but it's not too hard to accomplish.
Pros
Comes with a stamp
Works effectively
Stamps are long-lasting
Easy to use
Cons
You need to keep on refilling the stamp
The Xstamper Secure Redacting Marker is the perfect option if you just have a couple of documents that you need to block out. It also comes with a marker, which makes it a good value for your money. Should you decide that you don't like the marker, you can always use the stamp.
What to Look for When Buying Redacting Markers
Finding the right redacting markers suitable for your needs is easier if you take these factors into consideration:
Darkness of Ink
It all boils down to the quality of the ink. If it doesn't have a paint-like quality to the ink, you will have a hard time concealing what you have to conceal, especially if you need to conceal bright-colored writings or text.
Bear in mind that just because the ink is black doesn't mean it has good coverage. Some redacting markers might work well on printed text but not so much on written text. Pencil marks, for instance, might still be visible if you angle the paper a certain way or if you shine a light on it.
Make sure what you are buying will work on all kinds of markings, even the markings on glossy paper like stickers used on prescription medications.
Ease of Use
Is it a marker that is easy to use? If you have to struggle to get the ink flowing every time you use it, forget it. Just look for something else. You are after convenience here, so make sure that you pick a marker that dispenses ink properly and does not dry up easily.
Ink Volume
It's disappointing when you pick a marker and only get to use it a few times because it doesn't have enough ink. Choose markers that are juicy and comes with a lot of ink, so you can still use it for a long time.
Price
Compare the prices of the markers. If you need a lot of redaction markers because you deal with sensitive documents regularly, it makes more sense to buy the bundle packages or the ones that come with 5 or 6 markers. You can save more money if you choose these markers.
Other Important Factors to Consider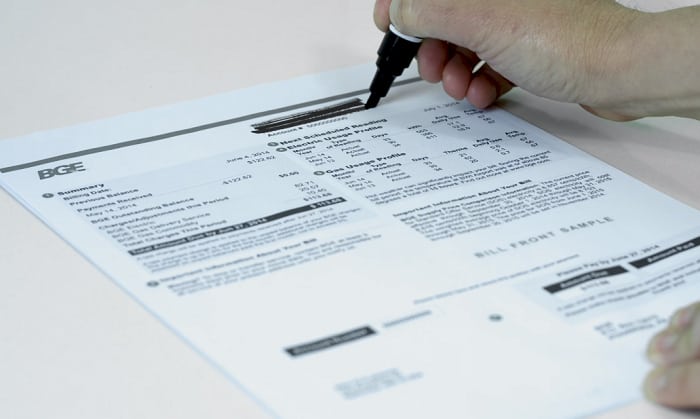 What is a Redacting Marker?
A redacting marker is a type of marker that provides more coverage than a typical marker. It is typically used to hide sensitive information. This type of marker is used in office settings. Rather than destroy the entire document using a shredder, a redacting marker can be used alternatively instead. Users can mark sensitive details like name or address. It is often used to prevent stolen information and identity theft.
Redacting markers are typically made from a thicker kind of ink. If a regular marker has a thin ink consistency that also tends to be watery, redacting markers have a paint-like consistency to them, which is what makes them more capable in concealing text. These markers don't fade easily as well.
How Does it Work?
You need to activate them first. You just press the tip down on a piece of paper and allow the nib to retract. Once the ink is starting to flow, you can release the nib. Start using it already. In some cases, you might need to shake the marker before every use to make sure the ink flows properly.
Who is This For?
These markers are used by office workers and employers. If you are discarding sensitive documents and you don't want others to see the contents of that document, especially personal information, you can use the redacting markers to conceal them. It can be used by anyone who needs to protect the documents they throw out.
It can also be used in the medical industry. If you throw away prescription medications and you don't want other people to see the prescription, the redacting markers can be used to conceal the information.
Why Do You Need Redacting Marker?
You need these markers to prevent information from being stolen. People can take advantage of the information they get from your documents or prescription medications. Some people have also fallen prey to identity theft because they threw out sensitive information that others took advantage of. If you don't want this to happen to you, you definitely need this kind of marker.
Frequently Asked Questions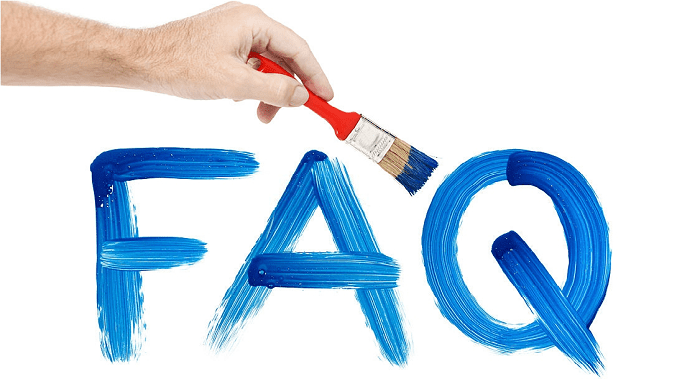 What are the Most Trusted Redacting Marker Brands?
Artline makes the most favorite redacting markers. They are affordable as well, so if you are on a tight budget, you should have no problems buying these markers. Alternatively, you can opt for Sharpie pens. They are not redacting pens but the black ones are very pigmented, which can also be effective in concealing sensitive information. As long as you are hiding black text, you shouldn't have problems using Sharpie pens.
How Do You Black Out Confidential Information?
Just use your redacting marker on the confidential information you want to conceal. Usually, one layer of the ink is enough to cover the information. However, you can let the first layer of ink dry up before adding a second layer if it needs more concealing. Be sure to check it from all angles to make sure you can no longer read the information that has been blacked out.
Where to Buy?
These markers are available in school, office supply stores; also available in online shops like Amazon. Moreover, you can even find them at Walmart or Target. They have a good selection of redacting markers to choose from.
How to Care and Clean?
Some redacting markers tend to leak, so be sure to keep these markers in an upright position to prevent the ink from spilling. If you accidentally get the ink on the barrel, just wipe it clean with a tissue paper. You can wet the tissue paper with alcohol and this should help in cleaning the ink.
https://www.youtube.com/watch?v=B0aElSMWouA
Conclusion
Make sure you have the best redacting marker with you all the time. You never know when you might have to discard a document with sensitive information on it. It's always nice to have this pen to secure your confidential information. You don't want these documents to fall in the hands of the wrong people. Usually, shredding alone won't suffice in protecting you from others because they can still be pieced together. But with redacting markers, the ink can be concealed effectively.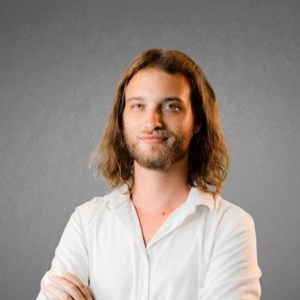 I am a former art teacher, so it is evident to me the importance of art in educating the new generation. We also want to help parents who plan to teach their children and desire the best tools and tips for them.