When amateur golfers feel the need to improve their skills in ball aiming and putting, the most helpful device to help them to reach the goal is a golf ball alignment tool. Inside a tool package like this, almost every brand will include an additional permanent marker in mini size with different vibrant ink hues.
Several basic requirements for the best permanent marker for golf balls on the market would be a consistent flow that does not bleed, dry out or smear. It is not easy to write neatly on a round surface like golf balls, but I believe the items I am about to introduce are effective. Let's dive into the details of these markers!
Top 10 Permanent Marker for Golf Balls Reviews
1. Pro Active Sports Line M Up Pro Precision Golf Ball Alignment
The golf ball alignment tool from ProActive Sports is engineered to be able to snap firmly right on the balls to enable precise marking without smearing over other areas. There are various options on this tool for users to align and mark onto their golf balls. You can improve aiming and stroking skills in golf with it.
For more amateur golfers, I assure the ball identification tool will point you to the correct direction to aim for as its lines help line up shots. This package also includes a functional driver tee around 3 ¼ inches to improve distance in playing golf. A bunch of redundant strokes is saved when marking the ball.
Among all famous golf ball stamp markers, I am glad this brand chooses a Sharpie permanent marker. It is nice how the pen is directly attached to this tool so you can take advantage of it whenever possible with no fear of losing such a mini marker. The fine point helps create precise and clean lines on balls.
However, most customers received a package with a permanent green marker instead of black ink as the advertisement. Some people do not wish to have green lines marked on their golf balls; therefore, I think it should not happen to large quantities of this ball alignment tool. The brand should better improve it.
Pros
Precise lines for ball alignment.
Contains a 3 ¼-inch driver tee.
Directly attached black marker.
Fine point with permanent ink.
Cons
Many markers sent are green.
As you can see, the ProActive Sports golf ball lining tool package includes all of the most basic equipment to help you with golf training in general. Other than the tool and a tee, its Sharpie marker is guaranteed not to let you down. The permanent ink can stay on golf balls and survive through extended uses.
2. Golf-EZ Golf Ball Marker Line Drawing Alignment
Because there are 2 packs of golf ball alignment tools with different mix color choices, I would recommend giving it to a group of golfers for ball identification. This tool also includes straight arrows to draw on golf balls. Most people improve their swing and putting alignment with it.
Moreover, the tool is made to have a clipping design so it will not slip off while users are drawing lines on their golf balls. This brand Golf-EZ offers a durable carry case in the kit so you can bring all of the rest parts along. It already has a clip to be capable of attaching with a larger golf bag to head out to a course.
This kit even brings its customers a series of 4 golf ball pens in different ink shades of black, green, red and blue. The general length of these markers is 3.5 inches, which is a considerable body for sufficient ink volume. Each of the pens come with a small hoop on top so that the markers can be hung easily.
Most golfers reported that the golf markers in this package run and get blurry if their ink gets wet from moisture, for example, dew. It is quite disappointing that this marker ink is not permanent; thus, it will not last after several ball strokes.
Pros
2 tool packs in different colors.
An extra carry case with clip.
Contains 4 pens for golf balls.
A top hoop to attach markers.
Cons
The ink is messed up if wet.
The variation of both this alignment tool for golf balls and its drawing markers is a highlight feature that I would like to concentrate on. Hence, I strongly believe that a group of friends who play golf together can find joy in improving their overall skills with this kit.
3. FINGER TEN Golf Ball Line Marker Tool
With a special tongs design, users can easily place golf balls inside this lining tool and take them off to play afterward. There are 4 identical ones in the set and they are all manufactured in a compact size to stay comfortably inside a bag pocket or pouch. FINGER TEN offers diverse color selections for this tool.
In order to check for alignment before swinging or putting in golf, the tool will be beneficial for you to set straight lines on the balls. By adding colorful lines on golf balls, you would be able to find them at ease later on the course. As long as they like to play golf, customers of all ages are welcomed to use the kit.
In addition, 3 golf ball alignment markers in blue, black and red are inside the pack for golfers to quickly draw alignment lines on balls. The markers are small and simple to handle, with little hoops on their tops to hook on anywhere convenient. Since 3 ink hues are available, you can have different lines on a ball.
Sadly, these golf balls markers still have a downside of forming accumulated ink at their endpoints. That necessarily causes users to clean after every ball and even every pass of the pens. They have to do this to eliminate the chance of unwanted ink left on their golf balls. This brand should better repair them.
Pros
Compact tool with tongs design.
Suitable for both adults & kids.
3 different hues of marker ink.
Small convenient marker size.
Cons
Excessive ink is formed in use.
By having a tongs form, it would be much easier for users to pick up the golf ball directly then use the provided markers to paint precise lines on it. Putting guidelines can be achieved easily via stenciling with this tool and 3 markers. As a result, it is no exaggeration to say that this kit is undoubtedly one of the most recommended tools with easy steps.
4. Greenkeepers Line M Up Pro Precision Golf Ball Alignment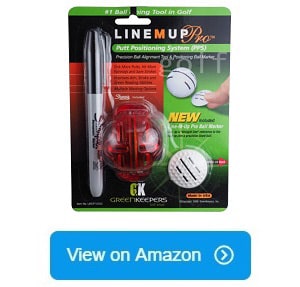 The commendation about this package of Greenkeepers alignment tool as the number 1 ball lining tool in golf is real. Not only me, but it also has been verified by a lot of customers. Golfers can hit more fairways and sink more putts with a high level of precision via this tool. It snaps directly onto golf balls, therefore helps users draw lines without difficulties.
It is good how the package holds a ball marker preference. Sometimes, new golfers get confused and do not clearly know how to use alignment tools for the balls. With a specific demonstration that comes along in the package, you would acquire how to aim a precision lined ball to enhance personal golfing skills.
Its included Sharpie golf ball identification marker is also worth mentioning. The marker has a fine point with permanent black ink and a fair size to be conveniently stored inside jacket pockets. Needless to say, this marker brand always has all of their products certified to the non-toxic ACMI qualifications.
The only remaining problem with this golf ball alignment tool is that users need to move the ball while making lines due to the difficulty of drawing on both sides. I can only mark one side of golf balls with the tool since I fear misalignment will occur. I hope the brand can figure out quickly how to adjust it to a better form.
Pros
Improves stroking for golfers.
Extra ball pen lining reference.
Compact size permanent pen.
ACMI certified for non-toxic ink.
Cons
Cannot draw on both ball sides.
I do not find any issues concerning the Sharpie permanent marker in the set so I think it can perform well for a large number of users. It is possible to trust this brand about their statements of toxic-free ink since that has been a long time tradition for their art supplies. Feel free to use it on multiple golf balls.
5. EyeLine Golf Ball Liner
This brand EyeLine Golf offers a brilliant package of golf ball marker tool in 3 units of red color. Its users are able to bring their regular golf practice into the course. This alignment tool ensures a target line and impact line are drawn on your balls, with the impact line being parallel to your putter face for precise aiming.
A small original permanent marker from the brand is contained in this pack of golf ball identification tools. I find the marker delivers smooth permanent black ink quite well that allows us to have clear trace lines to golf balls. It is manufactured in a mini size so that the storing process would not become a big deal for inconvenient people.
Nonetheless, a large number of previous customers made a grievance about this permanent marker to bleed ink out of the tool lines. This unstable ink flow causes the marker to smear all over golf balls and makes it hard for users to clear the stains. I expect this brand to find the best solution to this issue.
Pros
Provides a target & impact line.
Small pen with permanent ink.
Cons
Its ink can bleed much in use.
It is not rare for permanent markers to bleed excessive ink but I hope it can be repaired soon enough. Other than that, the entire golf ball alignment tool set from Eyeline Golf and its included marker are seen as one of the best choices.
6. ProActive Sports Green Keeper Line M Ball Alignment Tool
If you find small thin lines usually made on golf balls are hard to read from a distance, then you can consider this golf ball alignment tool with fat lines as an alternative. Stroking and green reading should not be a problem for golfers of all levels anymore. I also like that the product is manufactured and distributed from the USA.
Similar to most popular kits of golf ball alignment & identification tools, this one carries two other functional accessories of a driver tee and a permanent pen from Sharpie. Ink produced from this type of pen is known to be rich and it also has a large chisel tip to ensure lines are wider for golfers to read easier.
This package contains a driver tee of 3 ¼ inches so the stroking distance will be improved while playing golf. To match with this ProActive Sports tool, its Sharpie golf ball putting line marker has a large chisel tip that provides 2X wider lines. The tool colors are compatible with the shades of permanent ink.
Unfortunately, even though the online pictures show that there are 3 color choices for this ball identification tool and the marker, no options were offered when ordering. It means customers are highly likely to receive a package with random colored coverings and permanent ink. I think it should be added soon.
Pros
Manufactured in the USA.
Free bonus of a driver tee.
Permanent chisel tip pen.
Enables 2X wider ink lines.
Cons
No color selections offered.
If you find thin ball liners is not enough for you, this set with nice fat lines on golf balls can live up all your expectations.
7. Tattoo Golf Golf Ball Stamp
For differs from using a permanent marker to mark lines on golf balls, I would like to suggest another fun method that involves a stamping tool. The Tattoo Golf logo will be pressed onto your golf balls so that identification would not be so challenging on a crowded course. It fits balls up to 85% as golfers expected.
You can choose between black, red and blue ink to stamp on golf balls. The self-contained ink is not refillable but it has been guaranteed to last for a long time. This tool does not help much in improving alignment in stroking golf balls but the stamping device certainly helps to create a unique skull mark on them.
One of the most obvious disadvantages that this stamping tool for golf balls has is related to its insufficient ink volume. As you can see, the tool body is not big and there is not much ink in there to be stamped on a lot of balls. It is really difficult to refill as well, so people should not expect a large amount of ink.
Pros
Pressed directly on golf balls.
A high percentage of ball fitting.
3 shades of ink to pick from.
The ink lasts for long on balls.
Cons
The amount of inner ink is low.
If you wish to create a personal mark with the iconic skull logo of Tattoo Golf on golf balls, I believe this stamp would be ideal for making those balls stand out.
8. meekoo Golf Brush Golf Club Ball Line Drawing Marking Alignment Tool
Instead of acquiring an expensive and bulky golf ball marking machine unit, why don't you look for a complete set for golf ball lining and golf club cleaning like this one from meekoo? The tool has a tongs shape so users can pick up balls easily with it. Its overall small size is suitable to be stored inside a golf bag.
With a fine slotted design on its surface, this alignment tool enables users to make straight and clean lines on golf balls. You can mark the double sides of a golf ball without having to reposition the tool. Its 2 golf club cleaners are good for cleaning plastic and wood surfaces and have 2-feet retractable keychains.
The markers for drawing alignment lines on golf balls in this package provide 4 different basic ink hues. Each of these markers is 9-inch long, which is a fairly small and compact size to be carried inside bag pockets while playing golf. Their upper hoops help to cling the entire pen onto anywhere convenient.
I am quite stunned to find out that there are no critical reviews of this 6-piece specialized set for golf ball alignment from meekoo. A majority of customers are completely satisfied with what they receive and how it performs until now.
Pros
Tongs-shaped stencil for balls.
Small brushes for golf clubs.
9-inch markers of 4 ink colors.
Cons
No defections recorded so far.
Because the package includes 4 pieces of ball alignment tools, 2 cleaners for golf clubs and 4 colorful mini markers, you would be able to draw neat lines on golf balls. Thanks to perfection in manufacturing, no one could complain even a bit about this set. It is great how you can brush off the dust on golf clubs as well.
9. WILLBOND 2 Pack Golf Ball Line Liner Drawing Marking Alignment Putting Tool
The WILLBOND golf ball alignment set carries 2 tool packs in clear black and their diameter of approximately 1.7 inches. This small sizing helps to ensure a comfortable fit into golf bags. Lines created by this tool are effective for golfers to check the alignment to swing or put. You can have much better angles with it.
Brands tend to create a tongs form for their alignment tools and this one is not an exception. This structure makes it less hard to pick up golf balls and draw straight neat lines on them. While people complain that they have to alter the ball's position to draw on both sides, that problem will not occur if you use this tool.
Of course, the paint pen on golf balls contained inside this pack is provided in 2 of black and red permanent ink. Their length is measured about 9 cm so users are able to store them comfortably away after use. Since this tool can draw on both ball sides, the marker will help to enable a personal mark for identification.
Online feedback of this permanent marker for golf balls said that its ink is not waterproof and it wears off quickly in wet outdoor conditions. This is a serious disadvantage for its customers because the applied ink would not be able to remain in place if the golf ball gets wet. It should be altered to obtain better endurance.
Pros
Enables better putting angles.
Can be drawn on both sides.
9 cm permanent markers of 2.
Creates marking identification.
Cons
The ink fades off if it gets wet.
So far, I have faith that this golf ball alignment tool package from WILLBOND is one of the most effective choices. Its lining tool is able to be used on both sides of a golf ball and the permanent marker allows fine ink that stays for a long time on it. I assure a lot of users may enjoy this kit for putting alignment.
10. FINGER TEN Golf Ball Marker Line Drawing Tool
Last but not least, the brand FINGER TEN has provided their customers with various selections for the ball alignment tool colors. It also allows us to pick whether we would like to obtain the regular clipping or the new snap-in design. People barely struggle to use this tool because it is easy to take on and off balls.
With the shape of optimal tongs, alignment lines are set far easier onto golf balls prior to the play. Among multiple other golf balls on the course, you may easily identify yours thanks to these special putting lines. In case you want to give it to any friends or family that play golf, it comes with a lovely present set.
Undeniably, golf ball alignment tool sets cannot be completed without the most favorite golf ball line marker. There are 3 permanent markers of black, blue and red ink shades in the package so customers can have a variety of colored lines on their balls. Their caps are attached with small top hoops to enable quick hang.
I am seriously concerned, however, that a large number of its previous buyers have reported that these permanent pens are leaking markers. It is difficult to make normal clean lines on golf balls because there will always be a smudge of ink on one or another end of the lines. I look forward to its future restoration.
Pros
Simple to take on & off balls.
A thoughtful gift for a golfer.
A total of 3 basic color pens.
Easily hung with a top hoop.
Cons
Its ink may bleed & smudge.
Even though there are some unwanted defections with permanent pens, I know that FINGER TEN would attempt to fix this problem soon. Besides that, I highly believe that most amateur golfers, who require to level up their personal skills will love such a gift set. All of these units can serve most long-term uses.
What to Look for When Buying Permanent Markers for Golf Balls
Aside from the central unit to enable golf ball alignment and identification for swinging and putting, I would also like to discuss the significance of those attached markers. Included pens help users to quickly draw and aim lines on golf balls; therefore, their overall standards need to be considered thoroughly.
High-quality ink – In order to write proper alignment lines on golf balls with a permanent marker, golfers need to make sure that it contains high-quality ink so as the lines will survive for a lot of plays. I guarantee that no one wishes for the hassle of repeatedly writing new lines on existing faded ones after several strokes.
The fundamental criteria to assess marker ink quality is actually simple. It is best that the ink stays on golf ball surfaces permanently and does not smear while drawing. It should not turn dry quickly or bleed excessive ink out of a sudden because the applied lines would no longer be neat and accurate on balls.
Furthermore, its color has to be bold and vibrant to be seen from a distance with ease. Both fine point tips and chisel tips can create high-quality ink as long as the marker pump system performs smoothly without delays in ink flow. Remember to preserve the markers in an appropriate way to maintain their ink quality.
Compact sizing – In most golf ball alignment tool packages, the provided golf marker pen(s) is usually built in a mini size of 3.6 inches that is convenient to bring along out the golf course. After being used, these markers are often put inside bag pockets so their sizing should be the most optimal for easy storage.
Of course, not all permanent markers for golf balls are manufactured to be tiny but in general, they are small enough for people to hold inside their hands. As being said earlier, these markers usually have small top hoops for golfers to hang them with no worries of loss. You should better notice these details while shopping.
Because the common golf ball permanent marker size is miniature, I would not expect any pens like that to contain a considerable amount of ink. However, it is a relief that there will always be enough for extended use in a short period. If you conduct some further researches, some markers for golf balls are even refillable.
Storage case – It is not surprising that very few brands include a container in their golf ball accessories kits, which results in customers having to purchase one separately. Since most of the units are made small, there is a high chance you might lose something after use if they were not being stored inside a bag.
I think that a lot of people tend to underestimate a fine carrying case for all of these golf ball tools and that is so wrong of them. I bet you would not want to be stuck with a handful of stuff for alignment when it is already the time to play golf. Therefore, I would suggest acquiring a decent bag for tools and markers storage.
In case the tool kit you plan to get is not attached to a free storage case in the first place, there is no need to hesitate to purchase a suitable one separately. From my perspective, you should prioritize what is most convenient to assist you in playing golf. A tool container needs to be at the top of this shopping list.
Also, I have a list of caricature markers I've used for your reference. Furthermore, check top-rated anchor chart markers and a list of high-quality markers for architecture for right choice.
How to Write on Golf Balls Permanently
From what I can tell, a permanent marker does not function only for putting alignment but it also serves the purpose of ball identification on a golf course. That explains why its ink should be able to endure lots of plays without fading away rapidly. Here are a few personal tips for writing on golf balls permanently.
Though most brands would claim that their markers contain quick-drying ink, it always takes some time to dry up completely on golf ball surfaces. The pen ink should not be exposed instantly with external pressure to avoid smearing or blurring. Wiping off ink stains on golf balls would be the last thing you wish for.
Despite common sense, in fact, Sharpie is not the only brand with reliable golf ball permanent markers on the market at present. People also choose a Marki permanent golf ball marker pen because it is indeed permanent on multiple surfaces, while the ink flow is consistent, delivering straight and near lines on balls at ease.
Conclusion
I expect that a random best permanent marker for golf balls on this list is enough to catch your attention. I have strived my best to collect their details and present you with comprehensive product reviews; therefore, I hope they are helpful for your shopping time. Buying such permanent pens is not that challenging.
The buying guide is loaded with shopping tips based on my personal knowledge and experience in purchasing permanent marker for golf balls. Even if there is no item in this article that feels tempting in your point of view, feel free to take advantage of my buying guide in the future. Thank you for reading.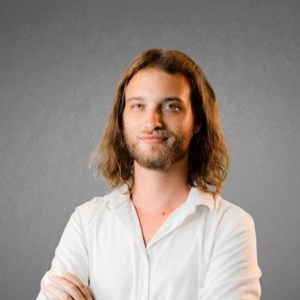 I am a former art teacher, so it is evident to me the importance of art in educating the new generation. We also want to help parents who plan to teach their children and desire the best tools and tips for them.