Glass is my favorite surface to write on. I can do so many creative projects such as label glass jars, make pretty wedding signages and even write welcome notes on my glass doors! If blackboards are perfect for rustic settings, glass boards are just the thing you need for a modern aesthetic.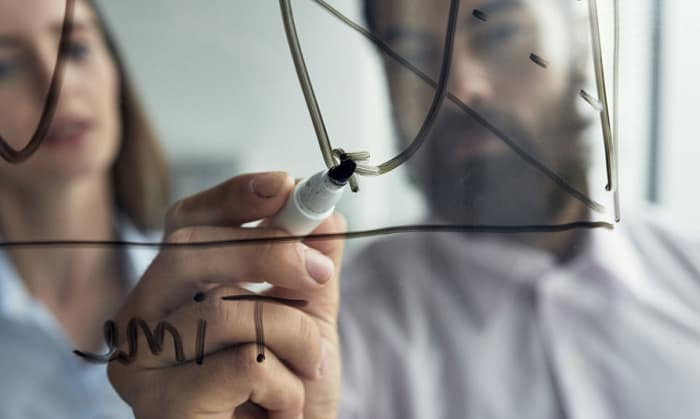 After using markers for glass, I realized how versatile this writing material really is. That started my quest to find the best markers for glass. It was not an easy quest, mind you, so varied are the options out there. If you are in a similar case, let me help you out. The last thing you would want is to inadvertently choose a marker that isn't intended for glass and end up having permanent marks on your glass surface! That's a catastrophe waiting to happen if you don't scrutinize your choices well. Use this carefully-crafted guide to steer you in the right buying direction.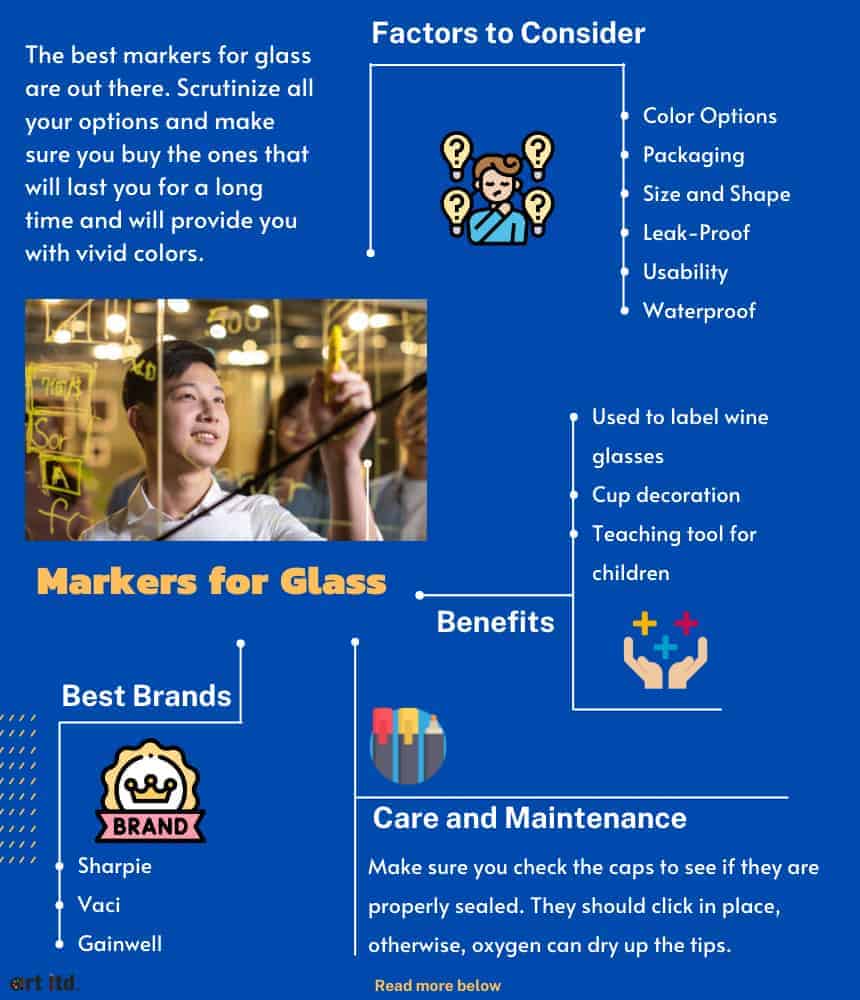 Top 10 Marker for Glass Reviews
1. Gainwell Wine Glass Markers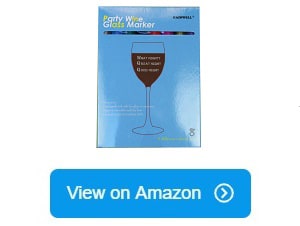 This cheap glass marker set that contains 8 different colors of markers in one pack is advertised as a wine glass marker. Do you know how in parties, your glass always gets mixed up with others when you set it down on a table? Do you often wonder which one is yours? This marker solves that problem. However, I find that it is more versatile than that. It is more than just a wine glass marker.
I actually like this marker on mirrors as well. You can write reminders and even affirmations on your bathroom mirror. It stays there even when your bathroom mirror gets fogged up and only goes away if you wipe it with a cloth or a tissue. The ink dries up fairly well and doesn't smear even when you write on your wine glass and your hands touch the writings frequently.
I find the metallic colors so festive. Gold and silver are perfect for fancier letterings. However, some of the other colors will need to be used twice before you can get your preferred depth color. The colors tend to look washed out, especially if you write on sweaty glasses. I also find that if you are decorating a wine glass that contains light-colored white like white wine or rosé, it's no longer easy to see the markings. They are vivid against dark-colored cocktail drinks and red wine though.
These markers are easy to use and a big hit at parties. Guests have fun decorating their own glasses. It's a great conversation-starter. I find that it is easier to just write on the glasses before you pour anything on it. You should hand out the glasses and ask your guests to "personalize" them before pouring them a drink.
As for cleaning it up, I didn't really do anything special to get rid of the marks. They come off with just a swipe. Sometimes, the guests even just directly put the glasses in the dishwasher and the writings came off without issues.
I like how these markers are non-toxic. I would worry about them if they get in the dishwasher but since there are no harmful components in them, that's actually one less thing to worry about.
Pros
Easy to use and stays long
Great for labeling wine glasses
Writings come off easily and cleanly
Great metallic color options
Inexpensive for the number of markers you are getting
Cons
Some colors do not look vivid, especially when the drink is light-colored
I highly recommend these markers for budget-conscious buyers. It won't break the bank but it doesn't compromise on quality as well.
2. EXPO Neon Dry Erase Markers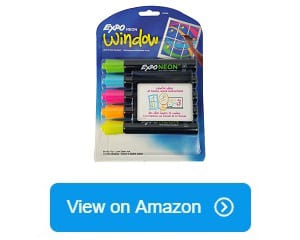 I bought these dry erase markers because the colors are fun. These are neon colors, perfect for making bold letterings and for highlighting important points when you are presenting or teaching. I find that neon colors complement darker-colored markers and really give more point of interest to what I'm writing.
This set comes with 5 different colors sold at an affordable price. I bought a few sets of it to last me for a long time, or just in case I lose a few of them. I find the design of the markers convenient to use. Although the ink is not streaky, the black-colored body prevents the marker from looking dirty and grimy after a long time of use.
The cap is also easy to remove and closes tightly. I don't have to worry about the cap loosening up in my bag, staining everything it comes to contact with.
The color looks more vivid if you write on a white glass board. However, it's still quite vivid for a neon color even if you write on transparent glass. It can be used on windows and mirrors.
It's worth noting that even after hours of usage, the bullet tip point still holds its shape. It does not wear out like the cheap markers out there. I guess that is a part of the perks of using it on a non-porous surface like glass but it's still something you need to consider.
These are also quite easy to write with. I don't have to put too much pressure just to get the vividness of color I like. The marker stays vivid even when you just put light pressure on it when using it to write.
I've had no issues cleaning it up. Although the colors are bright, they come off easily if you use a glass marker eraser. Even a clean cloth will do. It doesn't leave flecks of dried up ink behind, which I find annoying to clean up, especially if they are on clear glass.
Pros
Fun neon colors to write with
Inexpensive and accessible price
Has a vivid color even when you don't use too much writing force
Cap closes firmly to prevent drying out
Bullet point tip is durable
Cons
Ink is not as long-lasting as others
If you like to have a more extensive color selection, I would suggest getting these markers. At such an affordable price, you can get marker colors that are fun to use.
3. Glass Artist Wine Glass Markers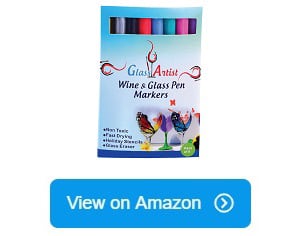 It's hard not to get these wine glass markers in attention since the color options will draw you to them. I love all the 8 color options. The black and silver ones are great for doing basic lettering and the other colors are perfect for adding more style to your projects. They got a lot of good uses at parties and events, especially for decorating windows.
These are the best markers to write on glass because the ink adheres to the glass easily even when said glass is a little moist or hasn't been dried up properly. The ink does not smear and doesn't get everywhere like what you will expect from a regular marker. It does not have a runny consistency, which is why they dry up quickly.
Aside from using them to mark cocktail or wine glasses, they were also quite handy and useful in labeling glass jars. Since they are erasable, I was able to add a few more information to the glass such as the date I added the ingredient, and I can keep track of how long that has stayed in my pantry.
My only gripe is that the lighter colors are not as vivid as I wanted them to be. They need a second application if you want a more vivid hue, especially if the contents of your glass are light. I don't really think it's a deal-breaker but that is worth noting since you will go through the ink faster this way.
Price-wise, these markers are great. For 8 color options, the price is comparable to those that have only 5 markers.
I wished the tip of the markers was more flexible though. If you are working on a heavily-curved glass, it can be difficult to get a lot of the tip on the surface of the glass, which creates thinner writings. You will have to position the marker closer to its side to get better results.
Pros
Great color choices
Inexpensive marker set
Can dry up easily and isn't streaky
Writing comes off easily and can be erased even when you use a dishwasher
Cons
A little lighter and will need additional coatings
All in all, these markers are reliable for all sorts of purposes. Whether you are only going to use these for special occasions or for labeling jars, it will deliver.
4. The Original Wine Glass Markers
If you are in the market for markers that write on glass and wipe off easily, you won't be disappointed with these. Although they are still within my budget range, they are a bit more expensive than the others. However, I will gladly pay extra for another set of these glass markers, so well do these perform. Besides, you will save money on these for wine glass markings compared to buying individual tags, especially if you are hosting a big party with over a hundred guests.
I did not have problems with the ink adhering to the glass. As long as there isn't too much condensation, you should be fine. Wipe the glass first and then use these markers for writing on glass. It does have a slight problem with smearing but only if moisture gets on the ink. To be fair, I think this would be a problem with all other markers.
As for taking the writings off, I have yet to have an issue with it. I just simply put the wine glasses in the dishwasher and they wash off beautifully. There is no need to do a second wiping or cleaning, which is very convenient. There are no traces of ink either once the glasses have dried up.
I did not encounter issues with writing on curved glasses. Find that these pens that write on glass have a more forgiving tip than the others. They are more flexible, so I can do fancy letterings without being impeded by its tip.
I wished they lasted a lot longer though for its price. After a number of uses, the ink started to fade. If you are going to use them a lot, you will find them too expensive but if you will only use them occasionally, the price difference isn't too off-putting.
Pros
Great value for your money
Beautiful color options
Can work on many surfaces aside from glass
The design is easy to handle
Comes with a lifetime guarantee from the manufacturer
Cons
Has a tendency to smear even with a little bit of moisture
These markers are convenient to use. If you hate a fussy marker that takes a long time to wipe off, you will like this one.
5. Arteza Wine Glass Metallic Markers
I had high expectations of these metallic markers from Arteza. Are the most favorite pens for writing on glass? Are they as impressive as they look? These were the thoughts running in my head while buying it.
The verdict? Yes, they are as good as they look. First, I didn't really think they would look too metallic. I've had metallic writing on glass markers in the past that failed to deliver. They looked washed out, so any metallic sparkles they might have are barely imperceptible.
These ones though are metallic through and through. They are stunning on glass but even more so on porous surfaces. They really pop out. If you fancy yourself an artist and you are quite discriminating about your markers, these will not disappoint. The sparkles really come through even on glass.
I did not have problems using it. It dispenses ink like no other. With other markers, you will have to shake them to activate the ink and get them to run to the tip. With this pen to write on glass, there is no such problem. It's more convenient to use.
The color selection is stunning as well. I find that they look better against dark glasses or glasses filled with dark-colored things. If you need a second coating, just let it dry a little bit and apply another coat. They can be erased easily by just using a cloth or tissue.
As for the markers, they look great. I would have loved to have these when I was still in school. They would have made a great addition to my marker collection. But this would still be worth bringing to work or just to have at home.
I like that they feel and hold like pens. They are slim and easy to hold even when writing on a slippery surface like glass. Jumbo pens for writing on glass can be awkward to use. The caps on these pens are also long, so they cover the tip quite easily, reducing the chances of drying out.
Pros
Genuine metallic look
Can work even on paper and other surfaces
Isn't streaky and doesn't smudge
Can be removed easily
Fairly reasonable price
Cons
Might need a second layer when used on glass
These are true metallic-colored markers. You will enjoy using them because the metallic properties stand out.
6. Reload Joy Rich Metallic Markers
Although these markers are slightly more expensive than regular marker set since it only contains 5 markers, I feel like they are still worth buying if only for their vivid colors and nice packaging.
I'm a big fan of the packaging. It's the kind of marker set that you won't be ashamed to give as a gift because it looks more expensive than it is. The markers also have a high-end look to them. It even comes with some accessories such as a microfiber cleaning cloth and some printable templates and an eBook. With a lot of freebies, I'd gladly pay more the next time I buy it.
The manufacturer also backed it up with quality construction. The entire marker is made from top-notch materials to make them impervious to damage. Even the exterior has metallic particles mixed with the plastic material to create a unique and eye-catching design.
The bullet tips are thick enough to create bold writings but the lighter colors have a tendency to fade so you might need to add another layer to thicken the color. However, I find it easy to make intricate letterings because the top has more flexibility to it.
I wished there were more color options though. That said, I did like the gold and silver, perhaps the best gold and silver I have seen in metallic markers. They have a good staying power. Even when you write it on glass with condensation, it still works well. It faded a little bit if it got mixed up with some liquid, but for the most part, it lasted throughout the entire party.
I hate it when marker ink rubs off on your fingers but I did not experience that problem with this set. Even when the ink got mixed with some moisture and it faded a little, you won't find that on your fingers.
They are easy to clean as well. Just wipe it with a clean cloth or stick it in your dishwasher and it will do the cleaning work for you. The microfiber cloth is a great addition though. It's handy to have in your bag if you use these markers a lot for your work.
Pros
Great quality
Lasts for a long time and doesn't chip or break
Bullet tip point does not wear out easily
Vivid metallic colors
High-end design
If you have more money to spare, I suggest getting these markers that are slightly more expensive but are vivid and reliable.
7. Sharpie Oil Based Paint Markers
Who doesn't know Sharpie? It's a widely recognizable marker brand so when I saw this, I definitely had to have it just gauge if it's as good as its reputation. It didn't disappoint.
This marker set that comes with 5 different colors has an oil base. Because it is oil-based, it tends to have a thicker ink consistency that allows it to dispense colors more vividly.
If you are looking for a marker that will truly stay, you will love this and rave about it too. It is resistant to fading and stays on even when you handle the writing surface a lot. It doesn't smear. Because of this, it is more permanent. If you want to write on glass, make sure you don't have intentions of erasing it quickly. It works well on other surfaces such as metal.
The chisel point tip creates bolder letterings but you can also get this same type of marker in other tip sizes. They have it in fine, extra-fine, medium and bold tips, perfect for those who do calligraphy and bullet journaling.
Because it has permanent ink, it's the perfect marker to use for projects that require letterings that won't be washed off. I have used it to write my name on a ceramic mug and it did not come off in the dishwasher.
It is more opaque than I prefer though, but I don't think there are any issues with doubling the lettering. It's just that sometimes the uneven paint tends to make the writing look imperfect if you are going for bolder lettering.
This marker is easy to handle because of its thicker shape. The cap also stays on. It doesn't come off even if you put it in your bag and it tumbles with your other stuff. The ink does not easily bleed as well even if you put the markers with the tip side down.
I highly suggest these for people who do a lot of ceramic work. It sets once you bake it and looks great when set against a white ceramic color.
Pros
Stays put and doesn't get washed off
Solid and bold lines
Easy to use
Tip does not dry up easily
Cons
Not good for people looking for a washable marker.
If you are a Sharpie fan, add this to your collection. However, just about anyone will find these markers great to use.
8. Wine Glass Writer Markers Original Metallic
At first, I wasn't ready to fork out this much money on just three glass markers. Curiosity won. I just had to know what makes this set of three markers a cut above the rest.
If you think these wine glass markers are familiar, you are right! If there is a celebrity when it comes to glass markers, this would be it. It has actually been featured in several Food Network Shows such as The Chew and Martha Stewart's show. It has also been featured in Good Housekeeping as well as in the ABC's Today Show.
It is the pioneer of glass markers and set the bar high for others to follow. Aside from using it to mark your wine glasses, it can also be used to write on other surfaces such as ceramic mugs, mirrors, and windows. I use it to label glass jars as well and it worked fine. To use it, just write it on the glass surface and wait for up to three minutes for it to completely dry up before handling the glass.
This marker is completely washable though so you shouldn't have qualms labeling your plates or saucers with it. It's highly useful for parties when you need to label your dishes so your guests won't keep on asking what the food is.
I do find that these don't work quite as well on glasses with some condensation. The markings don't stay put. However, with room temperature drinks, I did not have issues with it.
Another caveat to this is that the markings don't completely wash off in the dishwasher. Some of it gets left behind but nothing that a little wiping won't fix. I just needed a bit more time to wipe the glasses but it shouldn't be a big deal unless you are washing hundreds of glasses from a party then that would be a serious problem.
Pros
Good quality
Stays on dry surfaces
Easy to write with
Dispenses ink easily
Tip does not wear out easily
Cons
Expensive for three markers
These markers are popular for a reason. If you are curious to find out what they have to offer, you should get them.
9. Vaci Markers Wine Glass Markers
Out of all the markers out there, I loved the color options in this set the most. They are all pretty, especially the purple and the blue-green one. When you buy this, you are getting 7 markers with different colors plus 4 wine glass charms. Your guests will never mix up their glass with others anymore.
It comes in a pretty gift box that actually makes a great gift set idea for Christmas or for a housewarming party. Turn this into a party favor as well. For its price, you are getting quite a lot of markers and even some freebies. The case is also compact, so it's easy to bring anywhere you like.
These did not stay on chilled and condensed glasses though. They have a tendency to rub off once it gets mixed with a little bit of water. If you are serving cold drinks, this might not work quite as well as one would expect.
The markers are not as big as the others. They are on the small side, which is a disappointment because that means they won't have enough ink to last you for many uses. But since the price is low, it still seems like a fair trade-off.
It has a fairly good marking as well. I don't find the need to use the markers a second time. It stays vivid. I also like the tips. I can make fancy letterings using them and the color options allow me to be more creative.
These take very little effort to wash off. Unlike others where some ink stays even after you run it in the dishwasher, this one comes out squeaky clean. No residues are left behind.
Pros
Excellent color choices
Comes in a cute box
Can be given away as a gift
Inexpensive option
You get some free charms
Cons
It doesn't stay on glass for a long time if you have a cold drink
The consistency and reliability of these markers make them a great choice for anyone looking for good quality markers that can last for a long time.
10. MCOMCE Markers for Writing on Any Glass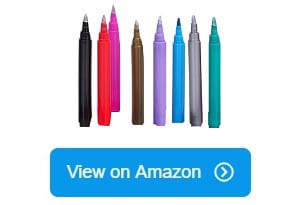 This marker set is the best value for your money. They are inexpensive and they give you 8 different color choices. If you prefer bolder colors, you won't be disappointed with these. I personally like having bolder color options in my marker collection because they tend to be the most visible when you use them on the glass.
I like the fun colors as well when used on a ceramic mug. The metallic shades stand out more if you use them against a white surface.
The packaging is very basic. There's nothing impressive about it since it is just in a clear plastic container. I don't mind though since I can just transfer the markers in a nicer pouch and I didn't have to pay extra for a packaging that I will just discard later.
It did what it was supposed to do. The markings are neat and legible and I did not find the need to fill it up a second time because it was already solid and bold when I write the first time.
The most impressive thing about this though is its staying power. It barely smudged. There was still some smudging but only minimal. You can still read the writings on the glass.
I wish the markers look different from ordinary markers. I think I would mix this up with paper markers or a child can mistake it as a marker for coloring books. Not that it's not suitable for that, it still is, but for its price, you would want it to serve its purpose, which is to mark glasses.
The size of the tip is just right. I can't make bolder letterings but it works just fine if you don't need to do that. Just for simple writing works.
As for cleaning it, I did not encounter problems as well. It washed out with a minimum effort. Just put the glass in your dishwasher and after one cycle, it comes out completely clean.
Pros
More fun colors to choose from
Vivid colors even when used on glass
Does not smear easily
Can be used even on condensed surfaces
Inexpensive for the number of markers you are getting
Cons
Basic design that does not stand out from the rest of the markers you might have
These markers are better for buyers who like bolder-colored markers.
What to Look for When Buying Markers for Glass
Since markers for glass don't perform uniformly, it's important to be more discerning when buying. To narrow down your choices, here are some factors you need to consider:
Color Options
It really depends on what you are looking for. There are marker sets that can offer you more color options. However, these marker sets would be more expensive to buy. The metallic ones are great because the metallic specks on them make the ink stands out against darker drinks. It's a good idea to collect markers with a lot of color options, so you can be as creative as you want when writing on surfaces.
Packaging
This really isn't a deal-breaker but if you are anything like me, you would want to check out the packaging. If you want to give it as a gift or you want to showcase it to your friends, it helps that it comes in a cute packaging or container. There are markers that are more expensive because they have fancier packaging. These would be perfect for giving away as gifts on special events or occasions. If you are throwing a party and you are looking for inexpensive giveaways, go for those markers with fancy packaging and that will turn into your party giveaway.
Also, make sure the marker itself is sturdy. There are markers with a flimsy exterior cover that if you accidentally step on it, it will crack right away, spilling all the ink out. Best avoid these cheap plastic markers and go for the ones that feel sturdy.
Tip Size and Shape
This will tell you what kind of writings you can do with the pen. If you prefer thinner markings, a fine tip pen would be a good choice but for regular everyday markings, the trusty bullet tip always works. I like having an extra set of chisel tip markers as well, just in case I need bolder letterings. They're great as well when writing on mirrors and windows as decorations for parties. At the end of the day, what kind of tip size you will get will depend on your writing needs.
Water and Abrasion-Resistant Properties
Not all of the markers for glass out there are resistant to abrasions and water. There are those that get streaky. If you write on glasses with condensation, the ink washes off easily. So, make sure you look for a marker set with a good staying power and that sets and dries quickly.
Leak-Proof
I've had one too many instances when markers bled into the inside fabric of my bag. Hence, I prefer keeping my markers in a leather pouch to prevent this from happening. It's a good thing though that many makers today are already leak proof and have a tight seal.
Usability
Is the pen easy to hold? Is the cap easy to take off? Can you set it on the table without it rolling away every second or so? These are some of the things you need to ask when buying.
Also, make sure you can clean up the writings easily. Avoid buying markers that leave streaks and dried up residues behind.
Frequently Asked Questions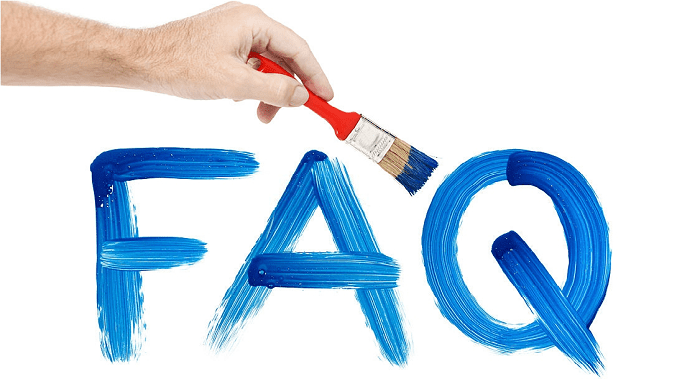 To learn more about markers for glass, here are a few frequently asked questions you need to know:
What are the Most Trusted Markers for Glass Brands?
There are so many out of them today but the best ones you should look for are those from valuable brands as Sharpie, Vaci, and Gainwell. They do offer so many things such as longevity and vivid colors. It's hard to go wrong with these brand options. Their products are also backed by a warranty, so that is another thing you should consider.
Why Do You Need Glass Markers?
These glass markers are very useful. They can be used to label wine glasses. In parties, glasses tend to get mixed up a lot when you set it down with all the other glasses. Some people try to determine which one is theirs from the color of lip stains on the glass. Others use glass charms to identify the glasses but this isn't cost-effective if you are catering to a lot of people. Glass charms are also pricier.
Glass markers solve that problem. With this type of marker, you can now label your wine glasses and identify them easily. You can customize your wine glass to make it easier to identify from all the other wine glasses out there.
These markers are a versatile lot as well. They can work on ceramic mugs. There are even those oil-based markers that leave permanent marks on ceramic mugs after being baked. That can turn into a great DIY project.
Can You Use Whiteboard Markers on Glass?
Yes, these markers can be used on glass. However, their effect on glass can vary. Some whiteboard markers tend to leave residues on glass. There are dry erase and wet erase markers out there. The dry erase ones can be removed with the use of an erase while the wet erase ones need to be dampened first before the ink will come off.
For glass, it is better to look for those that are intended for use on non-porous surfaces. If it works on surfaces like windows and mirrors, it can work on glass.
Can Sharpie Be Removed from Glass?
It really depends on what kind of Sharpie you are using. Some are water-based and can be easily wiped off. There are others such as the oil-based ones mentioned above that are more permanent. They don't come off easily, so they leave permanent marks on the glass. It's important to determine what kind of Sharpie glass marker you are getting. You don't want to accidentally use the permanent ones on the glass when you have the intention to erase them.
What Kind of Marker Writes on Mirrors?
Markers that are used on glass and windows can also be used on mirrors. You can use a dry erase or a wet erase marker or the markers for glass. They are visible against mirror surfaces and can still be washed away with ease.
Where Can You Buy Markers for Glass?
It's not hard to find markers for glass. If you don't have time to run to the store to buy a set, you can check out Amazon and other online stores. They are also available at bookstores and popular chain stores like Walmart and Lowes.
How Do You Store Markers for Glass?
They are not that difficult to store. You can store them the same way you store your other markers – in a separate pouch when stashing it in your bag or in an upright container when putting it in a table. Make sure you check the caps to see if they are properly sealed. They should click in place, otherwise, oxygen can dry up the tips. It is also better to put the tips down so that the ink will moisten them properly to prevent drying.
How Long Do Markers for Glass Last?
Their life span depends on how much ink they have and how often you use them. If you use them a lot, you might get a month's worth of usage from them. They are fairly long-lasting, just make sure you prevent them from drying out. If used only on small surfaces and you write only small letterings, they can last for months.
Conclusion
The best markers for glass are out there. Scrutinize all your options and make sure you buy the ones that will last you for a long time and will provide you with vivid colors. Give them to a friend and keep a set with you for your own lettering needs. Collect more colors so you can have more fun in creating artistic letterings.
I am a former art teacher, so it is evident to me the importance of art in educating the new generation. We also want to help parents who plan to teach their children and desire the best tools and tips for them.