Nowadays, we can write and draw with our gadgets. Still, many people opt for good old-fashioned hand-made letters and illustrations because they add a personal touch to what you want to express. Aside from that, pens prove appropriate for other tasks such as mind-mapping, journaling, labeling, signing, and sketching.
Although you can write with any instrument, the felt-tip pen is one of the most convenient and versatile writing tools that has ever been invented. Because it is light, small, and slender, you can slip it into your pocket or put it in your bag. Using it is a no-brainer; simply open the cap and start composing your thoughts on paper.
The best felt tip pens I reviewed for this article come in a variety of designs and colors. In the spirit of sharing, I also included other nifty features that would help you decide which one is a good match for you.
Top 12 Felt Tip Pen Reviews
1. Paper Mate Flair Felt Tip Pens
Colors make writing fun and engaging. Even more exciting, the Paper Mate's felt-tip pens boast stellar features that are useful in more ways than one.
A single package offers 12 colors of felt tip pens that have many practical applications. This variety lets me underline important words using bright colors. By just glancing, the vibrant inks make my markings in my notebooks and books visible.
Smearing inks will be a thing of the past with these felt tip pens, which is favorable for left-handed writers. Without skipping issues, I managed to produce crisp lines with consistent thickness. Measuring 0.7mm, the nib also works well when writing legible text and drawing illustrations.
Alongside the smooth ink flow, I find the medium point size more convenient to fill shapes with color and create fancy hand-lettering. In effect, the pen gives me to experience the coloring ability similar to a marker and the nib's sturdiness for comfortable writing.
Prolonging the pen's life is the "Point Guard" that protects the nib from fraying. In terms of ergonomics, the round barrel is smooth and does not feel awkward to hold. The cap latches onto the pen's body securely so it does not loosen up while inside the pen casing or bag.
On medium and heavyweight papers, the inks stay on the surface, leaving the backside of page 100% usable. Unfortunately, it is not the same with ordinary composition notebooks that we normally use for school. While the inks do not bleed, they cause a considerable amount of paper ghosting.
Pros
Vibrant colors make markers
Smooth ink flow renders neat writing and drawing
No skipping, bleeding and smearing issues
Versatile medium point size
Point Guard protects nibs
Good ergonomic design
Cons
Paper ghosting on composition notebooks
Writing, drawing, and marking will never be boring with these colored felt tip pens. They are best paired with medium to heavyweight loose papers and notebooks or sketchbooks with thick sheets.
2. INC OPTIMUS Felt Tip Pens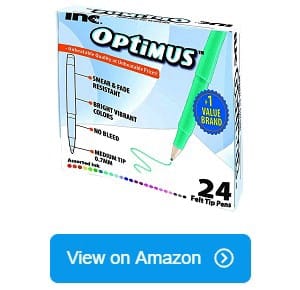 Containing 24 felt tip writing pens in a pack, this set is one of the most dependable products in the affordable range. After testing them, I realized that these writing instruments have a lot more to offer than the assortment of colors.
There is no dull moment with these pens as the highly-saturated inks stand out on any type of white paper. No matter which pen I use, they all produce the same opaque, vibrant colors so my writings are readable. Each color is distinct, making them ideal for color-coding activities, projects in my bullet journals.
Contributing to the neat writing is the smooth-flowing and fast-drying ink that the pens release. This allows me to focus on writing since I do not have to deal with skipping and smearing. Because the inks do not bleed on regular notebooks, the back page is clean and fit to use.
Thanks to the 0.7 mm tips, jotting small text neatly in between the lines or the squares of a graphing paper poses no problem. Built for the long haul, the nibs feel steady and sturdy when I use them. When it comes to comfort, the light and easy-to-grip pens promote painless long writing sessions.
So far, everything is going so well with these pens. What I noticed is that one-third of the pens are on the pink and violet side of the spectrum. In all fairness, each pen has a unique color but it would be nice to see more variety.
Pros
Highly-saturated inks that stand out
Opaque colors make writing readable
Smooth-flowing ink
Prevents smearing and bleeding
7 mm tips make small writing easy
Nibs are steady and sturdy
Cons
One-third of the set are variations of pink and violet
Taking affordability into account, this set of felt-tip pens guarantees neat renditions and clean pages. Its overall functionality truly makes this product worth the money.
3. iBayam Black Ink Felt Tip Pens
Black inks are widely used for filling out application forms, answering exam papers, and signing documents. Great for sketching, artists and designers also carry a handful of black felt-tip pens with them. For any task, this budget-friendly set of black fine felt tip pens fit the bill.
Contrasting beautifully on any shade of white paper, the opaque black ink renders clear block and cursive letters. The fine point is most appropriate for filling out forms with tight writing spaces, making it easier to inscribe small text. Not to mention, illustrators choose these felt-tips for precise detailing or cross-hatching.
Upon testing, the ink oozes out of the nib swimmingly and keeps up with my speed despite a long session of continuous writing. Unless I use a very thin paper, the water-based formula keeps bleeding and smearing in check most of the time. The black ink stays on the top of the sheet and it dries quickly.
Providing 18 pens in a set, I sense that it would take a long while before I buy another pack. Just store one in the office, at home, and in the bag. Hence, I would never be caught in a situation where I do not have anything to write with.
On the subject of design, the stopper on the cap is a nice touch as it keeps the pen from rolling off the table. Removing the cap, the 6-inch body gives enough space for me to hold. However, the body is slim and may feel uncomfortable to grip at first, but I think I can get used to it.
Pros
Budget-friendly pack of 18 felt-tip pens
Opaque black ink contrasts beautifully on white paper
Appropriate for writing in small spaces
Can be used for precise sketching
No issues of bleeding or smearing on most papers
Good for long continuous writing
Cons
The slim body feels uncomfortable to hold
For everyday writing and sketching, the quality of these modest felt-tip pens surpasses expectations. Considering the price, this set of 18 pens is definitely a great value.
4. Crayola Take Note Felt Tip Pens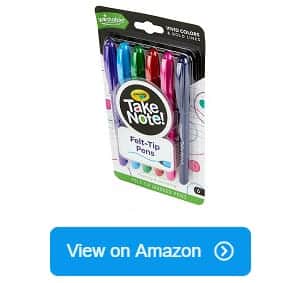 Children usually start with art instruments like pencils, crayons, paints, and thick markers as they learn hand-and-eye coordination and motor skills. Once they are old enough, they can explore other tools like felt tip pens. For that, let us dive into the features of Crayola's felt-tip pens.
Suitable for 8-year-olds and above, these Take Note pens are amazing tools even for adults. In general, the colors have a good intensity as they stick out on different tones of white. Shading with these felt tip pens generates smooth colors with little to no streaks. Even more fun, children can create color combinations to learn which hues work together.
Made for young learners, offer non-toxic and washable inks to make activities mess-free and manageable for parents and educators. With a fast-drying formula, children will not smear their work and get the substance on their hands. Even if they do, the inks can be washed off with soap and water.
The round body is comfortable to grip for both kids and adults. As for point size, the nibs are thinner than a marker but thicker than the average felt-tip pens. From what I see, this product is more appropriate for art projects, headings the sections of a journal, and sketching rather than note-taking.
If you color an area over and over, the ink build-up tends to bleed through the paper. This is perhaps the only drawback that I see. Just to be safe, place a scratch paper on your child's work area so you do not have to clean off the desk.
Pros
Suitable for children and adults
Non-toxic, washable inks
Good color intensity
Fast-drying ink that prevents smearing
Comfortable to grip
Cons
Heavy application causes bleed
Acquainting your child with new art instruments to explore gives them a headstart in their creative journey. For both home and classroom activities, this set of felt tip colored pens will open them up to new possibilities.
5. AmazonBasics Felt Tip Pens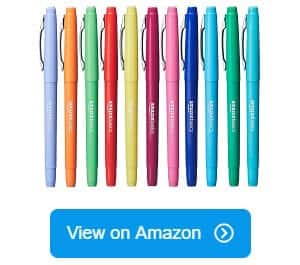 Another contender for most trusted felt pens within the economic range is this set of 12 from AmazonBasics. The product description on the website looks promising but will the pens live up to the brand's bold claims? Let's look into the features, one by one.
At a glance, the color selection is impressive as they are distinguishable. The well-balanced options of the warm and cool hues enable me to color-code notes, activities, and goal-trackers in the journals. Since the inks are all highly-pigmented, the pens produce stark colors on paper.
Sporting white plastic porous tips, writing with the medium point feels almost as if I am writing with a fine nib. I could fit the letters between the lines of a ruled notebook and they all look neat and legible. The sturdy nibs hold up nicely and move across the paper effortlessly.
Going into the design details, the cap is not hard to remove and it snaps back on the barrels securely. Although the barrel of the pen is girthy, it still feels comfortable to write with. Coupled with excellent ink flow, I do not have to apply force just to make the pen work.
In any case, I should mention that a couple of pens have inks that do not dry as quickly as I expected. A few colors smeared while others did not so it is best to test them first. For this reason, I recommend them for activities that can be done at a slower pace.
Pros
Each color is distinguishable
Highly-pigmented inks
Promotes neat, legible writing
Sturdy nibs glide effortlessly
Cap is easy to remove and put back on the pen
The barrel gives good control of the pen
Combining all the terrific qualities, the felt tip marker pens' overall performance makes them reliable for slow-paced writing. For its price, I can confidently say that the set is a good purchase.
6. Paper Mate 8432452PP Felt Tip Pens
While most of us are going digital, there are some people who still prefer the traditional way of writing. Thus, a basic set of black felt tip ink pens like this one is essential.
Included in the packaging are two black felt-tip pens that you can use for work and casual writing. Serving the needs of students, authors, or anyone who spends long hours of writing, the steady flow of water-based ink is guaranteed. It minimizes distractions like skipping, smearing, and a strong smell of chemicals. Artists can also benefit from this ink quality to sketch outlines and details.
Known for its durability, the porous tip can take a beating yet still produce consistent line thickness. For those who have a tight grip, this is welcoming news since they do not have to worry about fraying the nibs. In case I want to add some visual hierarchy in my notes, the same medium-point tip enables me to write bold headings, subheadings, and paragraphs.
Working alongside the porous felt-tips, the ink's fluidity aids in rendering crisp lines, texts, and signatures. As far as color is concerned, the black ink contrasts well on white paper. It does writing or drawing clearer, the original copy translates well on scanners and photocopy machines to send as professional-looking documents.
Compared to most pens, these are slightly bigger, giving me a substantial surface to grip, making writing a whole lot comfier. However, the inks in the pens dry out a little sooner than predicted. Sold at a reasonable price, these are more useful for signing a lot of papers and writing than coloring.
Pros
Steady ink flow aids in distraction-free writing
The durable porous tip produces consistent line thickness
Suitable for headings and paragraphs
Free of chemical smell
Black color translates well on scanners and photocopy
Gives substantial surface area to grip
Cons
Inks in the pens dry sooner
Considered as the top-rated felt tip pens for note-taking, this set goes above and beyond in both performance and quality. Besides basic writing, the black inks prime your hand-written notes and documents for scanning and photocopying.
7. Mr. Pen Felt Tip Pens
Studying and working can be a drag but this set of fine point felt tip pens could brighten up your day. Whether you are reviewing for exams or setting goals on paper, the colors of these pens are more than aesthetically pleasing.
Keeping up with your speed, the flow of ink that does not skip while in use so you can draw perfect lines. Instead of getting caught up with the bleeding and smearing issues, these felt-tip pens let you concentrate on writing. On the rare occasion that they do bleed, it is usually very minimal that you may not be bothered by it.
Although the product description classifies the nibs as a medium point, the pens draw relatively thinner lines compared to other brands' medium-sized tips. Featuring a 0.7 mm, you can fit your handwriting neatly in between the lines of college-ruled notebooks. The nibs move across the page fluidly, which helps you write with more control.
Regarding its ergonomics of smooth, round barrel, holding the pen does not feel harsh in the hand, even for long periods of writing. Since these pens have tight-fitting caps, the nibs and inks are well-protected.
With 8 pens in a pack, you get ample colors to play with if you want to jazz up your notes and journals. While the inks are vibrant, they appear lighter than the colors indicated on the pen caps. Despite this minor issue, the felt-tip pens can render legible handwriting.
Pros
Rarely bleeding, smearing, and skipping issues
Tip size is optimal for writing in college-ruled notebooks
Ink flow keeps up with your writing speed
Tight-fitting caps protect inks and nibs
Cons
Ink colors do not match the caps
Bleeding and smearing are nuisances that get in the way of focusing on your task. Definitely, worth your money, this pack of 8 high-quality felt pens will relieve you from such inconveniences.
8. WallDeca Felt Tip Pens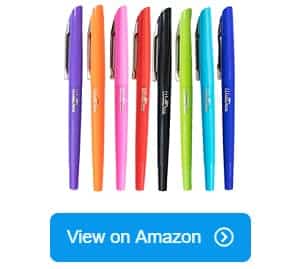 Several studies show that colors improve our ability to recall. Mind-mapping and organizing tasks according to priority with a dash of colors are far more effective but using too many hues would confuse you. Having 8 different colors like this set of felt tip pens is enough to get us going.
One would expect that fine felt tip markers with juicy inks would bleed, but this pen set seems to know how to keep this issue at bay. Even on a thin paper, the colors did not seep through and marked the other pages. Filled with a fast-drying ink formula, you can forget about smearing and focus on the writing neatly on your notebook or journal.
Beyond note-taking, these pens are also made for coloring artworks. The colors are vibrant, but as acid-free composition, they will never fade for the years to come. Apart from that, the water-based inks are made of non-toxic ingredients that are safe for a child to use.
Categorized as a fine point, the 0.5 mm tips contribute to readable handwriting even on the narrowest spaces of ruled books and application forms. On top of the combination of durable nibs and consistent ink flow, the pen's body is easy to grip. All these factors would naturally result in comfortable writing experiences.
Everything is going smoothly but let me give you a heads up regarding the pens' caps. They are tighter than most pens so you need to exert some effort to remove them. Looking at the bright side, this guarantees no loose caps, which often causes the inks to evaporate.
Pros
Juicy, vibrant inks for writing and coloring
Absolutely no bleeding and smearing issues
Acid-free prevents color fading
Non-toxic ingredients are safe for children
Fine point tips offer readable writing
Easy to grip pen body
We can always write with basic black pens but infusing some colors in your notes, calendars, and journals is so much easier on the eyes. For school or work purposes, this set of 8 colors provides a good range of colors that will make your writing pop.
9. Kuretake Bimoji Felt Tip Brush Pen
Crafted by a Japanese brand, Kuratake's felt tip pens for artists feature super fine brush-like nibs. Advertised as a pen for manga and calligraphy, there is more to this pen than what the product description says.
Not to be confused with a brush pen, the brush-shaped felt tip's sensitivity responds quickly to adjustments in pressure and angle. Consequently, you can change the line thickness as you sketch or write, which may not be possible with a regular felt-tip pen. Furthermore, its point size is sufficiently thin for small, intricate details and letters.
For an affordable product, the pen contains plenty of ink that can last you a long while. Flaunting a rich, dark tone of black, the water-based ink contrasts nicely on a white paper and registers beautifully when scanned or photocopied. In conjunction with the brush-shaped nib, the strokes look more organic than mechanical.
Padded with rubber, working with this pen is generally pleasant as it feels softer on the fingers. If you own a handful of these brush-tips from this brand, the clear cap helps you spot the brush size you need to use immediately. Elegant and durable, the pen's body has a nice tan color and does a great job of ensuring the inks do not leak on your hands.
Now that I have walked you through all the brilliant features, I just want to bring up one minor issue that I found about the nib. Applying too much pressure on the pen weakens the nib and makes it a little mushy. You can keep the tip intact by being a little bit more gentle in your writing. After all, the ink flow is pretty smooth.
Pros
Produces a range of line thicknesses
Contains plenty of ink
Rich, dark black water-based ink
Rubber padding adds comfort
Elegant and durable design
Cons
Too much pressure can break the nib
It is not hard to see why the Bimoji series is popular among illustrators, crafters, and calligraphers but this super-fine point variant stood out for its flexibility. Moreover, this pen adds an artistic touch to the greeting cards, postcards, and hand-written letters you want to send out to your loved ones.
10. Reaeon 60 Colored Felt-Tips
If a pack of 12 pens is not enough for you, this inexpensive rainbow set of 60 has what it takes to satisfy your need for more colors. Aside from taking notes and adorning your journal, you can use the pens for various arts and crafts projects.
Available in a point size of 0.4mm, the fineliners can color tiny details of an intricate design or draw details in your illustrations. Just the same, you can squeeze in small writing if your planners print small writing spaces.
In addition to visual appeal, your hand-made work will surely appear neat as the inks do not smudge or smear. Splendid on paper, the vibrant inks breathe life into the pages of your notebook, journals, and reading materials. The range of hues includes light and dark shades, as well as warm and cool colors.
Supported by a metal covering, the fine nibs are secured in place to give you better control over your strokes. Together with the smooth-flowing ink, you do not need to grip too firmly to write or sketch. Even if you use it for long hours, the barrel feels light and comfortable on the hands.
Encased in gift-ready packaging, all you need is a gift card to attach before you give it to the lucky recipient. If you are buying this for yourself, the cylindrical casing is sturdy enough to function as a storage for all your pens.
With so many pens, my only problem is that the pens do not indicate the names of the colors. Since the ink color is slightly different from the cap, I have to label the pens with names I can come up with and swatch accordingly. This workaround helps me find the exact color that I need.
Pros
Great for details and coloring
Makes writing in small spaces easy
Smudge-free ink keeps artwork and writing neatly
Wonderful selection of color for arts and crafts
Metal-clad nibs for better control in writing
Comes with a gift-ready packaging
Cons
Ink colors do not match the cap
Pens do not come with names of colors
These may be cheap pens but do not underestimate their quality. As fineliners, they are effective instruments that you can use to write in small spaces and detail work with high precision.
11. Zebra Sarasa Fine Felt Pen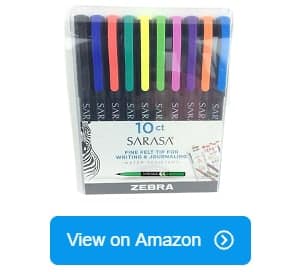 Fact: A felt-tip pen's performance affects our strokes. If precision matters to you, then this set of Sarasa Fine Felt Pens is a good candidate.
Optimizing your writing and drawing experience, the 0.8 mm porous nib is braced with a metal cover that prevents it from breaking. This feature not only prolongs the life of the sensitive tip but also plays a part in making precise renditions. Gliding this against a ruler, it ensures the pen is steady so you can draw a straight line.
Apart from artists and crafters, anyone will love the pens' performance, especially if they write fast. Regardless of your speed, the nibs let out a continuous flow of inks even if you do not apply too much pressure. Keeping your strokes on point, the quick-drying inks effectively curb feather or smear on both smooth and medium-textured sheets.
Meanwhile, the vibrant inks enhance the readability of your writing and make drawings more eye-catching. The selection of colors provides a light and dark tone of each color, which is useful if you want to add some depth to your illustration. But what sets this apart is the ink's superb archival quality that preserves the vivid colors you applied on paper.
Because the body is made of plastic, the pens feel light and smooth. To avoid losing your pen, the clip on the cap is flexible enough for you to lift and securely fasten on the fabric of your pocket or folder. Both the cap and the barrel indicate the color of the ink so you can grab the pen you like in just a glance.
Even though this set can be used for illustrations, there are limits as to what it can do. For example, the inks are not waterproof. Artists who are looking for a fineliner to combine with other mediums should keep this in mind.
Pros
Top choice for precise strokes
Archival quality preserves color vibrance
Ink flow keeps up with your speed
Metal reinforcement keeps the nib stable
Suitable for general writing tasks and art projects
A good weapon of choice for precision, these pens release fast-drying inks that guarantee no smearing and feathering on most papers. Designed by a well-established brand, you can only expect the best.
12. Monami Plus Pen
Satisfying a diverse set of consumers, Monami's pack of 12 black felt-tip pens is the ultimate all-around writing instrument. When it comes to performance and quality, this product is dependable despite its cheap price tag.
One of the things that I appreciate about this non-permanent fineliner is that each pen lasts pretty long. Filled to the brim with opaque, rich black ink, they render strokes on paper that make handwriting and signatures readable on any paper. So far, there have been no bleeding issues on most papers I tested these pens.
By applying minimal pressure, it releases the ink smoothly as it glides on the paper without skipping. Even so, the strong fine point tip withstands frequent usage. Throughout the pen's lifespan, it produces a consistent line thickness that is great for sketching.
Described as lightweight, the pen's body is slender yet it still has an ample surface to grip. This is more suitable for those who find stocky pens harder to control. You can write for a long duration as it hardly hurts your hand. On the other hand, the snug-fitting cap secures the nib and ink even if you keep it inside your bag.
Bear in mind that these affordable felt-tip pens are not perfect. A couple of pens splattered dots of ink a few times but I would count this as minor hiccups since they did not cause any serious damages to the notebook. You can count on them for everyday writing and rough sketches.
Pros
Inexpensive 12-pack felt-tip pens for everyday writing
Durable nibs renders consistent line thickness
Loaded with plenty of ink that lasts long
Fine point tip produces neat lines and legible text
Slender body and lightweight for painless writing
Cons
Occasionally splatters inks
A true workhorse, this is perhaps the most favorite felt tip pen for writing for those who do not want to spend a lot of money on office supplies. With durable nibs and full of inks, you will not buy another set for a long time.
What to Look for When Buying Felt Tip Pens
Choosing the best felt tip markers for your needs would need some careful consideration. For one, our hands and our preferences are the same. Just to give you an example, the pen that I find comfortable to hold may not be your cup of tea.
Apart from that, we need pens for various types of tasks and activities. Professionals work in different industries, while students have different styles of learning. Each of them will gravitate towards a set of felt-tip pens that apply to their daily needs.
If you feel lost, don't worry! I have gathered some pointers that you can keep in mind when buying felt-tip pens.
Point size
Manufacturers offer a variety of point sizes for felt-tip pens but these measurements are not standardized across all brands. Some packaging indicates the size in numbers while others simply tag the pens as "medium" or "fine" points.
If you are not familiar with the brand, be sure to check out the description on the package and some of the reviews so you can get a clear idea of what the tips are like. There are sources of reliable information online, such as on e-Commerce sites, Youtube, or Reddit forums.
Color options
Colors play an important role in visual cues to guide our eyes, aside from artistic expression. A simple set of black felt-tip pens is sufficient for document signing and basic writing tasks. On the other hand, the use of colors may be necessary for certain tasks.
Educators commonly use red felt-tip pens to grade a student's work. Many people use bright yellow, orange, green, or aqua to underline important text in books where the pages are printed with black text. This way, they can quickly see the text they highlighted for future reference.
Technically, you are free to use your felt-tip pens however you like. However, knowing what you want to use it for will help determine how many colors you want to buy.
Ergonomics
Like most writing instruments, felt-tip pens come in assorted shapes, sizes, and weight, which affects the way we hold them.
Those with small or slender hands tend to favor slimmer pens, whereas those with bigger, heavier hands prefer bulkier barrels. Of course, these are just generalizations. Sometimes, we are just used to a specific type of design because we bought the same trusty pen for years.
There are no strict rules as to which pen is better for which type of hand. You just have to find the one that is comfortable for you.
Ink Quality
Different companies formulate a variety of inks for felt-tip pens. Alcohol-based and oil-based inks are more water-resistant compared to water-based inks. This means water-based inks will smear if you spill liquid on your writing or drawing, so they are not always suitable for mixed-media artworks.
For everyday use, any felt-tip pen would do. If the document or artwork is intended to be preserved, then a felt-tip pen with archival quality is your best bet.
Budget
The budget is a very nuanced topic as it applies differently in various scenarios. For instance, if you need to buy felt-tip pens for your company's employees, you should consider more on the office's budget than the needs of individuals.
It will be a completely different case if you are buying for yourself. My advice is to spend on felt-tip pens that truly match your preference. This approach could save you money in the long run since you do not have to buy another pen.
Other Important Factors to Consider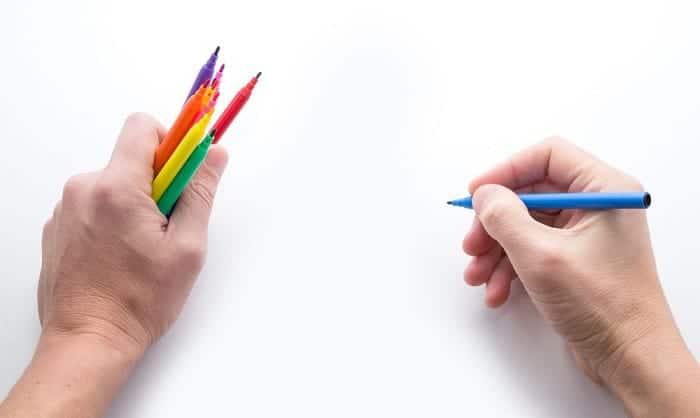 What is a felt tip marker?
Felt-tip markers go by many names depending on which country you live in but they are more commonly known as felt-tip pen, marking pen, and fineliner.
Essentially, this type of pen has a tip that is composed of pressed fiber like felt. The barrel, which is often made of plastic or glass, contains a vessel where the ink source is housed. Let's not forget about the cap as it protects the ink from drying and the tip from fraying.
How does a felt tip pen work?
Generally speaking, felt-tip pens are versatile. We can switch from writing to drawing on a whim and get equally good results because of the choices of point sizes and vibrant ink colors. This capability makes them appropriate for writing and sketching, and sometimes even coloring.
Unlike an acrylic marker or a fountain pen, you do not need to prime a felt-tip pen. Its ink is contained in a tube inside the pen's barrel. When you write, its porous tip dispenses ink immediately.
In other words, a felt-tip pen works like a marker. The only difference between the two is that felt-tips have fine to medium-sized nibs, while the markers' nibs can be broader.
What do you use tip pens for?
Despite its simplicity, the felt-tip pen has many functions and is popular among diverse consumers. When bullet journaling became a trend, people bought packs of these marking pens to decorate their dot grid notebooks. The wide selection of colors comes in handy for organizing tasks, calendars, and goal-setting charts in the journal.
Students use felt-tip pens for note-taking, underlining important text in their books, and other school projects. In the office, they are perfect for various tasks, including brainstorming and mind-mapping. At home, these writing instruments are essential for labeling containers and other supplies.
For the creative community, the free-flowing ink of the felt-tip markers renders smooth, neat lines. Because the nibs come in different sizes, these pens can be used both for line-drawing and coloring.
What are the different types of felt tip pens?
Characterized by its porous tip, felt-tip pens are grouped with pens but they are basically markers with finer point sizes. Just like markers, these writing instruments have different colors and ink compositions.
To give some distinction, markers are more suitable for larger drawing surfaces like poster-size paper or whiteboards. Felt-tip pens are commonly used for everyday writing, document-signing, and sketching. Alternatively, they can be used for line art and coloring tight spaces.
Here are some of the felt-tip pens that you can use to write, sign, and sketch:
Medium point felt-tip pens
Fine point felt-tip pens
Fineliner pens
Brush-like felt-tip pens
Why do you need felt tip pens?
Even though our gadgets make tasks more efficient, nothing comes close to the experience of writing and drawing with our hands. The process could be slower but our hand-writing and our strokes show our unique personalities. While there are many instruments we can use like pencils, ballpoint pens, and markers, the felt tip pens offer versatility.
For instance, the felt tip pens have tips that make it easy to write between the lines of ruled notebooks and journals. Since they are available in a wide range of colors, we can also use them to underline text, draw charts and graphs, mind-map, and sketch.
Moreover, we can express our love and appreciation to our loved-ones by writing colorful messages in cards on special occasions. These hand-written notes show more of who we are than the fonts installed on our devices.
Frequently Asked Questions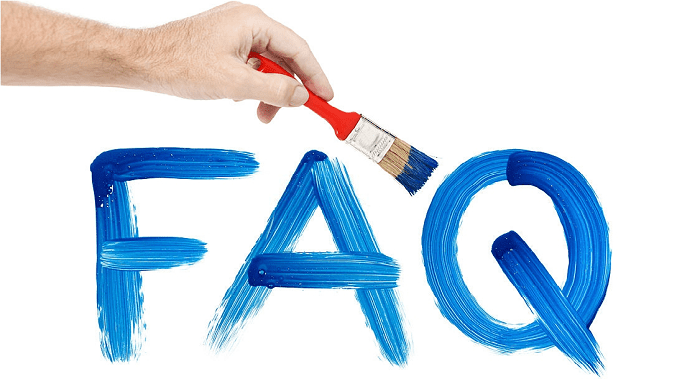 What are the most trusted felt tip pen brands?
These days, we see a lot of brands of felt-tip pens sprouting everywhere. Life is too short to test them all, even for an avid pen collector. Luckily, we can check out reviews online to see how each one performs before we buy them.
Some of the brands that have earned the trust of diverse groups of consumers include Paper Mate, INC Optimus, iBayam, Crayola, AmazonBasics, Mr. Pen, WallDeca, Kuretake, Reaeon, Zebra, and Monami. By diverse groups, I am referring to students, professionals, bullet journal junkies, crafters, and artists. It is a pretty wide net to cast in the market but that only proves how useful the felt-tip pens are.
Do felt tip pens bleed?
Yes and no. Bleeding is not always caused by a mistake in the ink formula. Sometimes, the paper you use could be too thin for any felt-tip pen.
This does not mean that there are no "defective" felt-tip pens. What I'm saying here is that we need to be aware that both the paper and the writing instrument we use can contribute to bleeding issues. If you prefer felt-tip pens for note-taking and journaling, be sure to buy notebooks and planners that have thicker sheets of paper.
Understanding how each type of paper and felt-tip pen together would help you achieve the results you want and avoid issues like bleeding.
How to use a felt-tip pen?
Felt-tip pens are ready to use. All you have to do is open the cap and start writing, marking, or drawing. Unless you have a retractable felt tip pen, then you need to click the button on top to release the tip.
At any rate, you do not need elaborate preparation to make a felt-tip pen work. Likewise, it is pretty low maintenance. Once you are done using it, put the cap back so the ink would not dry.
Conclusion
Figuring out which set of felt-pens can be time-consuming, especially when we are presented with a plethora of products. Each of them offers something unique that would stop us in our tracks, prompting us to overthink our choices. Then we would walk out of the shop, wondering if we bought the right stuff.
Now that you have read this article, I hope that you are armed with more information and insights about some of the best felt tip pens to make an accurate decision. However, it goes without saying that other brands are worth checking out. What matters most is the felt-tip pens meet your criteria.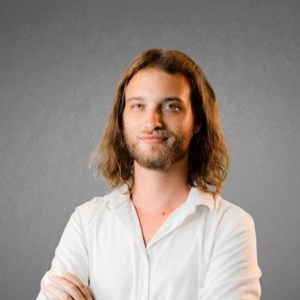 I am a former art teacher, so it is evident to me the importance of art in educating the new generation. We also want to help parents who plan to teach their children and desire the best tools and tips for them.