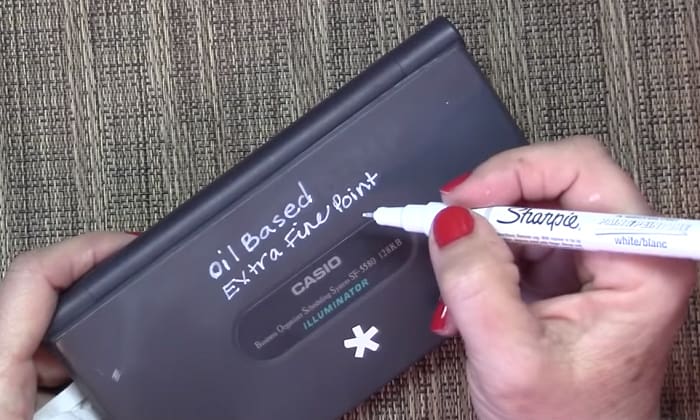 Investing in the best marker for metal is worth it. You might think all markers will work on metal but some will wipe right off as soon as your fingers touch the ink. After that, it's a streaky mess. It's really hard to measure metal when doing metalworking if you have a marker that wipes off easily. This is why I highly recommend getting a marker that specifically writes on metal. Trust me, you are going to need it. It saves you the trouble of cleaning up streaks of ink on your metal and helps you breeze through your metal projects. Don't worry because these paint markers for metal are versatile enough to be used on other surfaces as well. Stick around to find out what I recommend and why.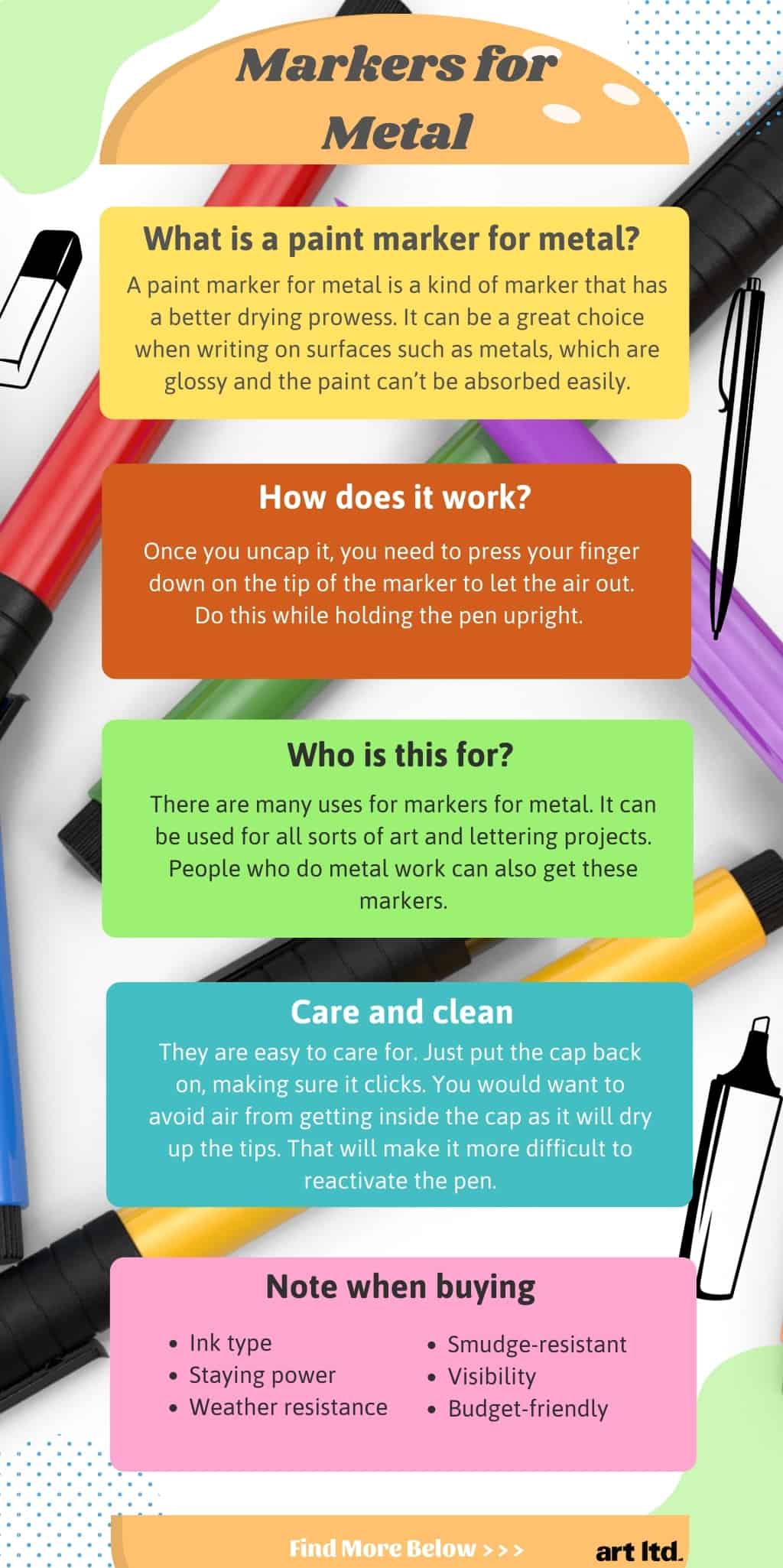 Top 10 Marker for Metal Reviews
1. Sharpie Oil-Based Paint Markers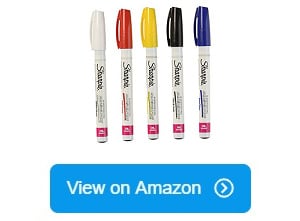 It's hard to go wrong with these markers. I always think the top-rated pen to write on metal are the ones with an oil base because they do not wipe off or fade easily. They stay on the surface of the metal almost permanently or until such a time that you want to remove them.
What better brand to rely on than Sharpie? It's really one of the best brands out there because of the ink quality they produce. This set of metal marker pens won't break the bank. At a fairly reasonable price, you are getting 5 basic colors of pen. I think the color selection is just right for basic metal works and projects.
I also love the vividness of the colors. Even when working with a glossy and dark surface like metal, the ink colors still pop and stays vivid. Other markers tend to get washed out when the surface is already reflective but I did not experience that problem with these markers.
I find the round bulleted tips of these paint marker pens for metal just right for my needs. They are not too thin that they are barely legible but not too think that they are garish. If you want to do some shading, that's possible with these pens. If you want to do some lettering, these pens will also deliver.
It does require some warming up. Open the cap and then press your finger against the tip, making sure to get rid of the air inside the tips. Once done, put the cap back on and then give the pen a shake. Uncap it and then point the tip down on a writing surface. Press it. Do this repeatedly until the ink comes out evenly.
I have yet to be disappointed with its drying prowess. It does what it claims to do. It's one I would expect from oil-based paint. The ink really doesn't budge. In fact, I have used this on ceramic cups as well. They have been washed in the dryer and placed in the oven for baking and it still manages to hold on.
Pros
Long staying power
Vivid colors even on the glassy surface
Value for your money
Durable tips
Cons
Hard to activate at first
These pens are quite versatile pieces. They are great not just for writing on metals but also for other mediums such as posters, glass, rocks and even scrapbooks. Whatever you are using, these markers will deliver.
2. Morfone Metallic Marker Pens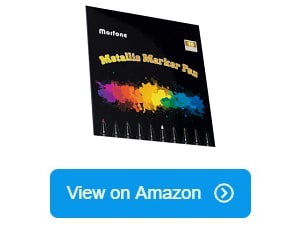 I just love the classy look of these metallic marker pens. The sleek design makes it look professional, definitely not to be mistaken as a child's marker. The pen tubes are all uniform-looking and the caps indicate the colors. I like the design because it makes the pens clean-looking. Even if I smear the ink on the body, they won't look grimy easily.
This affordable set of paint pen for metal has 10 different metallic colors. It even comes with a white color that becomes opaque once the ink has settled. I think that comes handy when writing on a dark metal surface. It really stands out. As for the other colors, they are vivid enough to be seen on metal surfaces.
Unlike the previous one from Sharpie, these markers for metal surfaces are water-based. One advantage of water-based markers is that they are easier to work with. It doesn't take a long time for the ink to dispense.
The 2mm tip of these best paint markers for metal is just right for a variety of writing needs. I find this the sweet spot when it comes to marker tip sizes because it can do different writing and artworks. You can also make your letterings thicker if that is what you like.
The ink does not stay on glossy surfaces right away. It takes some time to dry up but this gives you some more time to change your art or writing before it completely dries up. It's very forgiving for beginners because if you make mistakes, you can still erase it using a damp cloth.
It's not the best on darker surfaces, especially fabrics. The colors don't come through and look washed out when using these mediums. I also think the tips are not the most durable. If you use these pens a lot, they do wear out fast. However, they are still usable and I did not have issues writing with them even if they dulled out a little bit.
The cap colors are not accurate though. I still think it's necessary to swatch the markers on paper before using them so you know if you like the shade for your project.
Pros
Easy to use with high-quality ink
Unique metallic shades
Affordable price
Caps come with a clip
You can still erase if you made a mistake
Cons
Time taken to dry completely
Smearing can be an issue
Although it does take a bit more time to completely dry up, it's still a good marker that has excellent ink quality and vividness. You won't regret buying this.
3. Flymax White Paint Pen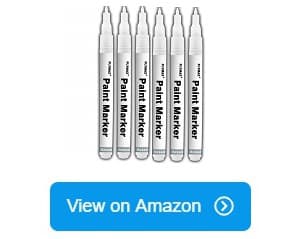 I really believe every artist needs a good white paint pen. It's a versatile color that can do everything from marking measurements to adding more details to an art piece. If you are looking for a white metal marking pen, you should seriously consider getting this one.
Aside from metal, this paint pen can be used on different mediums such as wood, glass, stone, and fabric. It has a safe-to-use ink formulation. It is devoid of harmful chemicals that can cause headaches or toxicity.
One thing I like about this is that it doesn't leak. I feel safe putting it in my bag, knowing that the ink won't get everywhere.
You do need to shake the markers well to activate the ink. It also mixes the paint inside. If you hear a rattling sound, that is the indication that the paint is being mixed up. Use a finger to press down the nib while holding it upright. Do this a few times until you see the ink effusing.
It dries up easily as well. These are the most trusted permanent markers for metal because the ink does not budge. It has a quick-drying action that makes it so easy to use.
I just wish the manufacturer will make a looser cap. I appreciate that it's airtight, but if you have clammy hands like me, they can be a bit difficult to remove.
The fine tips of these paint pens for metal surfaces are easy to write with. I can do different things with it. Making letterings is easy. They are not the perfect choices for shading, but for its intended purpose, it does a good job. However, if you don't like thin markers, you will find these inadequate.
These white steel marking pens really lasted me for a long time. I thought the price is a good value for the longevity of the pens. They are great for people who are on a budget and who don't want to keep on spending money on different pens.
I have yet to wear out This white paint pen for metal as well. The tips seem to hold up well even when I use them on rough surfaces like wood.
Pros
Vivid white color
Easy to write with
Dries up easily and is not streaky
Can last for a long time
Good flow of ink
Cons
Tip size can be too thin for some people
If you are on the lookout for a good white marker for metal, you will like the white color in this set. Overall, these markers are easy to use and they dry up quickly.
4. Forney 70822 Marker Paint
A little burst of sunshine is just the thing you need to make your day better. This is why I gravitated towards these yellow pens that write on metal. If you are on the lookout specifically for a yellow marker for writing on stainless steel, you won't be disappointed with this choice.
Let me tell you, this paint marker doesn't budge! It's due to its oil-based ink that settles and dries up on surfaces easily, even shiny and glossy ones like metals. In fact, even when you expose it to varying weather conditions, rain or shine, you will be pleasantly surprised to find it still there.
It's just one color of paint marker but they gave it a lot of thought when it comes to its design. The paint dispenses ink easily but there is a precision valve that allows users to control just how much paint will come out.
I did not have issues whatsoever with the visibility of this paint marker. It has a very intense color, not surprising since it includes 10 cc's marker paint. You just need to give it a little shake to let the paint run. But be sure to remember to put the cap on before shaking as if you don't, the nib has a tendency to fall out.
It is a long-lasting pen if you only use it occasionally. I've been using this for months and it's still going strong. Some had it for years and they are only just now replacing it with a second one.
I do find that if you use it on rough surfaces, the nib wears out. Just be careful if you are using it on porous surfaces like wood or canvas. Don't use high pressure to retain the shape of the nibs.
It is a bit pricey considering you are only getting one color. I think it's a specialized color and one you should get if you have a specific need for it.
When using it for the first time, make sure you follow the specific instructions on proper usage. The ink does not flow out right away.
Pros
Vivid ink
Ink stands the test of time and is weatherproof
Can be used for outdoor painting
Can easily control how much ink goes out
Just for letterings
Cons
Can be tricky to use at first because the ink does not dispense easily
Although it is pricier, I think it's worth the price since it is a long-lasting and highly visible color pen.
5. Uchida 300-C-GLD Marvy Paint Marker
This is one of those permanent paint markers for metal that has a versatile appeal. Aside from metal, I have tried using it on other mediums such as glass, wood, stone, and porcelain with much success. It's definitely a staple in my arts and crafts set up.
This is gold-colored paint color. It's opaque and different from others due to its xylem formulation. It is oil-based as well, so it stays and leaves behind a nice glossy finish. This marker is devoid of acid and lead, which makes it safe to use even for little ones. It does have a slight paint-like scent upon opening it but it's faint and not too bothersome.
I can say this marker is also great for outdoor use. If you need a marker to use on most materials that have to stay outdoors and be exposed to all of the elements, get this one instead.
It is a highly pigmented marker. The gold-brass color naturally stands out. I have used this to restore many shiny knobs at home and it stayed well even when the painted area gets used a lot. There were no issues when it came to ink transfer and I did not see any bubbling on the painted surface. It just dried up smoothly.
I did find that it takes a few coatings before it can reach the opacity I want. Luckily, it seems to have a considerable ink volume and even if I have used it for a lot of DIY projects, I have yet to use it up completely.
Usage-wise, it's a little temperamental. There are times when ink just effuses fast without warning and then there are times when you have to give it a little nudge to get the ink flowing. I think it also depends on how it was stored and the room temperature.
I do think it has a bit of a learning curve if you are a novice but once you use it multiple times, you will get the hang of it.
The price is not too bad for the quality of the marker you will get. I have bought more expensive ones that did not perform, so if you want something for retouches at home, I say go get this one. It is well worth the price.
Pros
Good pigmentation
Has a brassy gold look great on metal surfaces
Does not smear and does not form bubbles
Can be exposed to harsh elements
Has a good coverage
The vividness of these markers stand out against metal surfaces, which makes them such a great buy for artists who work on metal all the time. They are weather-resistant, too.
6. Sharpie Oil-Based Paint Marker
Another marker staple that you should always have is a black marker. This color for metal parking paint pens is versatile. It can do everything from letterings to retouching DIY projects you have at home. You can make window art with this or use it to create things on metal surfaces.
This particular Sharpie formulation has an oil base. Like the previous Sharpie marker in this list, this is also fade-proof. Even if you constantly rub the area you applied the marker on, it still stays. If you need a marker to use on metal surfaces where it will be exposed to external elements such as rain, wind, and sun, this would be an ideal choice.
It is thick from the start. I usually don't need to add a second layer because it is already opaque as it is. The tip is fine and chiseled and I like to use that for letterings. You do need to shake this marker vigorously before using it to get the ink flowing. Just make sure you do this while the cap is on to prevent the nib from flying off.
What I really like about this is that it is very durable. It has withstood a lot of damage. I frequently drop it even without its cap on while doing letterings on metals and so far, I don't see visible issues.
The caveat is that the paint consistency changes after some time. I notice that as I use up the ink, it starts getting duller and duller. The paint flow is not as good as the first few times you use it as well. I guess that is just the effect of the ink running out but this can be a downside to some people.
I would recommend blotting it out on a piece of paper first. It does tend to expel a good amount of ink when you use it the first time and that can leave behind a big black mess.
After many uses, there is a bit of fraying in the nib but nothing too significant. It still works well. I would just caution people who will use this on rough and porous surfaces. Using too much pressure can wear out the nib.
Pros
Good ink quality
Dries up quickly
Can resist friction and external weather conditions
Durable tube
Cons
Can dull out as time passes by
These markers are resistant to weather and external conditions as well although they do have a tendency to dull out. I still think they are worth buying if you are looking for a marker set that has excellent ink quality.
7. Testors Black Marker
If you are working with metal, glass, fabric, wood, stone and Styrofoam, get this one. It's not ideal for plastics and other synthetic materials. This lead-free marker is a great paint-like marker to use for your DIY projects. I highly recommend this if you need to paint larger areas and surfaces.
The tip of this marker is just right for covering larger surfaces. It can be used for lining as well.
Using it is much like how you would use other markers. Just remove the cap and then shake it for a few seconds. Press the tip to allow the ink to flow. Do this a few times until the ink comes out. You might also need to do this repeatedly whenever you use your marker.
Some might find the applicator tricky to use. You just really need to get used to it.
This is one of the best options out there when it comes to retouching metals and even some gadgets that have metals. The tip has a larger size that works well in providing good coverage. Just be gentle since it's not one of the most durable nibs out there. When used roughly, the nibs have a tendency to fray and wear out.
It has a black matte finish to it, which is why it is also great for touching up black leather shoes that have succumbed to wear and tear. It dries up easily and seems to hold its own even when subjected to harsh external conditions. However, if you are using it on metal surfaces, you do need to add a top coat to add more shine to it.
I can attest to its longevity. The markings stay put and don't wear out even if you scruff it multiple times. Months after applying it on a surface, it's still there. There were those people who have successfully used this to touch up their cars and cameras. It does hide small ding and scratches.
The price is not so bad for its quality and consistency. I also use it sparingly, so one marker lasts me for a long time. I wouldn't mind buying a second one though when needed. That is how reliable it is.
Pros
Long-lasting
Hides flaws easily
Has a good pigmentation
the flow of ink is just right
Creates a matte finish
Cons
Can be tricky to use at first
You will love these markers for a long time because they don't run out easily and they are perfect for those small jobs due to the consistency of their finish.
8. Rolodex Uni-Paint PX-20 Oil-Based Paint Marker
It's easy to understand why this is the favorite paint marker of many people. First, it offers more color options than other markers out there. Each set comes with 6 different colors of makers.
These markers have a rounded tip, which is ideal for making letterings and shading. It's similar to the regular markers you use for a whiteboard. The ink is free from acids, lead and many other harmful chemicals. It is also oil-based so it has good staying power. In fact, it is permanent, great for projects where you need the ink to stay put.
I did not have problems getting the ink out. Even after not using it for a long time, it still has a good flow of ink. The ink consistency and quality are great, too. I did not need to get a second coating, especially for the darker colors.
One disappointing thing I experienced with this one is the white marker. I wasn't able to get a lot of use from it. The ink dried up and could not reactivate it, so it had to be thrown out. Be careful not to put too much pressure on the nibs as well. The tip can jam up if you press down too hard.
The ink on these markers is more on the thick side. If you like that kind of consistency and you don't like something too runny like the water-based markers out there, you will find this a good option.
Be careful not to leave a tip open for a long time. It will dry out quickly and there is no way to revive it after that.
I also like that it has a metal tube rather than a plastic one. Even if I drop it, I don't have to worry that the casing will break.
After getting these pens, I was surprised that they are smaller than your regular metal markers. In pictures, they do look bigger. If you are going to use them sparingly or only for touch-ups and special projects, I think these will last for a long time. However, for more significant needs, you might need to get an extra set just to make sure you don't run out while in the middle of your project.
Pros
Great ink consistency and color
Has a good staying power
A lot of color options
Affordable price
Great quality of tubes
Cons
Has a tendency to dry out
If you need to do a lot of shading and lettering projects, these markers are right for you. The shape and quality of their nibs make them great for these specific jobs.
9. Pilot Metallic Permanent Paint Markers
If you are on the lookout for silver and gold metallic paint markers only, you should set your sights on these ones from Pilot. These are created purely for decorative purposes; moreover, can be used not just on metal surfaces but also on plastic, wood, glass, and paper.
Pilot takes pride in their ink delivery system and this one isn't an exception. I have tried many of their pens and markers before and they have yet to disappoint. This one has a fine tip with only 0.5 mm of tip size, which would be good in making fine details and markings. They aren't great for bold letterings and shading so that is one thing you should consider.
I love the consistency of the ink. Although metallic pens have a tendency to look washed out against metal surfaces, this one holds its own. I still occasionally need to double the lines I make but otherwise, I'm satisfied with how it looks.
Be careful because I think these pens don't have an airtight seal when the cap is one. Air still tends to seep inside, which can dry up the tip. One way to rectify this is by putting tape around the meeting point of the cap and the body. It's a bit of a hassle taking it off whenever you use it but is a great way to make your marker last longer.
These look great on any surface but particularly on glossy ones like glass. I also like how handy these are. These feel more like pens rather than markers, which makes them easier to work with when doing finer and more intricate details.
I like the reflective effect. It also doesn't stay on the surface as well and has a reasonable staying power. I haven't experienced smudging.
Make sure you store these pens upright so they don't clog the tips and the ink will not leak.
Pros
Great for making more intricate artwork
Visible even on glass and metals
Good quality ink that dispenses easily
Easy to work with
Lasts for a long time
Cons
Tips can dry up when exposed to air
If you are looking for a fine-tipped pen, you should get this. It has all the qualities and specifications that one might look for in a pen.
10. SteelWriter Marker Pen
Arguably one of the most affordable metal markers you will find today is this one from SteelWriter. It stays on when you want it to stay on and can be erased with a wet cloth. It's the perfect choice when making temporary markings on metals and those you intend to erase later on.
It wipes away cleanly and does not leave traces of ink. Also, there really are no ghosting marks on metal surfaces like what it claimed.
The paint formulation is just right. It's not too thick that I have a hard time writing evenly but not too thin that it is runny. I had no issues with smudging, even on glossy surfaces like metals.
I also like that the paint doesn't have a strong smell. It is non-toxic and does not contain chloride as well.
I would recommend these markers to people who need to mark metal projects and then wipe them off right after. It is easy to clean and leaves no traces behind.
This comes in different colors but for just one marker, I think the price is a bit steeper than others. If you are on a budget, you are better off with those that come with multiple colors.
I do like that the tips of these markers are long and rounded. Even when I use it on rough surfaces, they don't wear out easily. Even if there is a bit of fraying, it doesn't affect the functionality of the marker.
I think it is one of the easiest markers to use out there. It doesn't dry up easily, like many other oil-based markers. It also has a vivid color that is visible on metal surfaces. My favorite is the white and black ones. They are perfect for labelling metal pots and containers at home.
Pros
Can be washed off when needed
Very pigmented
Easy to use
Durable tips
Don't miss out on the excellent staying powers of these markers. They are perfect for projects that require the markers to be weather-resistant.
What to Look for When Buying Markers for Metal
If you want to know how to write on metal permanently, you should first find a good metal marker. Here are a few factors you should keep in mind when choosing a good metal marker:
Ink Type
You have two basic choices when buying metal markers. The first one is oil-based paint. It is a common choice for writing on metal because it is thicker and more visible on glossy surfaces such as metal. However, they can be a little hard to work with because the ink doesn't easily dispense. However, it is a good choice because it lasts long and generally resistant to smudges.
Water-based metal markers are also available. They are usually thinner and easier to work with. If you plan on still erasing the marks, these might be better. Just let it sit longer so that it will dry up and not get smudgy.
Staying Power
How long it will last on the surface will depend on your needs. If you want something that will last for a long time, choose something that will dry up easily but will be resistant to abrasions and other forms of damage that will erase it. If you intend to erase the markings, just like when doing metal projects, you should get something that is less permanent.
Weather Resistance
If the marker ink is exposed to external weather conditions such as rain, sun or snow, make sure it is weatherproof. Not all of the metal markers out there can last when exposed to rain. So if you plan on using it for metal parts of outdoor materials and equipment like bicycles, you need to make sure that it is intended even for outdoor use.
Visibility
Metal markers can come in different colors but many offer them in basic colors such as black and white. Get the colors that will be of use to you. If you need more colors, there are sets that come in 5 or 6 different colors. There are also metallic ones that are great for doing calligraphy work and other art projects.
Smudge-Resistant
It's really hard to work on metal surfaces simply because it doesn't absorb the ink quickly. The ink is basically on its own, left on its own devices to dry up. That means if it doesn't dry up easily, it could sit on the metal surface and if you accidentally touch it, the ink can get everywhere. Look for one that has a thick ink quality that easily dries up.
Budget-Friendly
Set a budget that you are comfortable spending and go for those markers that fit that budget. Make sure you are getting back for your buck by choosing high quality markers and those that will last you for a long time. Even if it doesn't cost a lot of money, if the ink only lasts a couple of uses, it still isn't a great value for your money. It is better to buy something that is more expensive but will last you for a long time.
Other Important Factors to Consider
What is a Paint Marker for Metal?
A paint marker for metal is a kind of marker that has a better drying prowess. It usually doesn't wipe away easily, so it can be a great choice when writing on surfaces such as metals, where is glossy and the paint can't be absorbed easily.
Paint markers for metal are usually resistant to external elements like rain but there are also those that can be wiped away using a damp cloth.
How Does it Work?
These marks work much like all other markers. But with the oil-based ones, they usually have a thicker ink so they need to be activated. Once you uncap it, you need to press your finger down on the tip of the marker to let the air out. Do this while holding the pen upright. Put the cap back on and shake it. Take off the cap and try pressing the tip on a piece of paper. Do this repeatedly until the ink starts running out.
Just place the cap back on if you don't need it anymore. You usually need to let the ink dry up for a couple of minutes just to make sure it stays and don't smudge up. You can mix and match colors if you are doing art or go for something simple like black and white when doing markings on metal projects.
Who is this For?
There are many uses for markers for metal. It can be used for all sorts of art and lettering projects. Many people now use metals when doing calligraphy. It's an interesting medium for wedding signages and many other art projects.
This can be used to write on equipment as well. If you want to label your equipment for identification, these are the markers you should look for.
People who do metal works can also get these markers. Metalworking requires precision and you need to make sure that you indicate the right measurements to get quality results.
What are the Different Types of Markers for Metal?
They can be categorized by type of ink. As mentioned earlier, you can get the ones with oil-based or water-based ink. The oil-based ones tend to have thicker ink that does not wipe away easily. Many are even permanent markers that have long-lasting power. The water-based ones are generally easier to wipe off.
There really isn't a difference in these metal markers except the ink formulation. When you are buying, make sure you check out their ink formulation to know which one will work better for your needs.
Why Do You Need Paint Marker Pens for Metal?
If you frequently work with metals and you need to add labels or indicate markings, you will need marker pens for metal. It is essential for metalworkers who frequently have to put measurements on the metals. This can be used to put labels on parts of equipment or can be used as a general, all-around art marker. Most marker pens for metals can be used on other mediums such as wood, glass and ceramic.
Frequently Asked Questions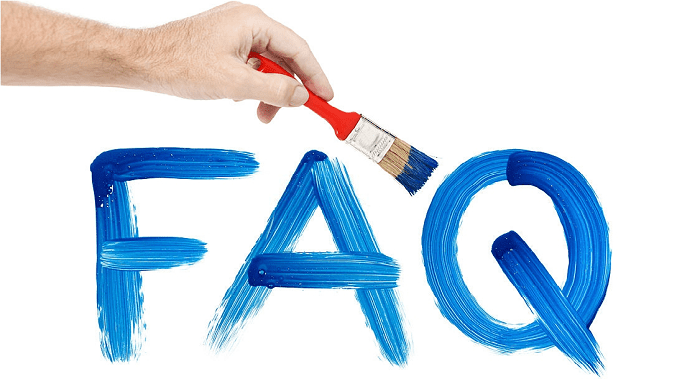 Can You Write on Stainless Steel?
Yes, you can, provided that you use the right writing material. Regular pens won't work because the ink and the tip will just glide on the surface of the steel. What you should use instead are markers for metals. They are specifically created for metals. The difference of these markers with others is that they look vivid even on glossy surfaces such as stainless steel.
It is better to use these markers specifically for stainless steel because if you wish to wipe them off, that can be done. There is no ghosting effect that will make the writings still visible even if the ink is already gone.
What are the Most Trusted Metal Marker Pen Brands?
The above-mentioned names are some of the most trusted brands for metal marker pens. You should set your sights on recognizable names in the industry such as Sharpie and Pilot. There are also lesser-known brands but buying them is often a risk because you don't know much about their quality. What you should do instead is do your research to find out which of these brands really provides the best quality of pens.
How to Write on Stainless Steel?
First, find a good stainless steel or metal marker pen. Choose the color that you want. Activate that pen. Many markers still need to be activated, meaning you need to open the cap, push the tip of the pen and let the air out first. Shake the pen as how you would shake a spray paint can. Usually, these markers have a ball inside that will shake the ink and make them flow out easily once more.
Press the tip down on the writing surface and you are good too. Occasionally, you might need to shake the pens to get the paint flowing. There are times when the ink will become stagnant and will dry up.
Wipe the surface of the stainless steel to make sure there is no excess moisture or grease that can prevent the ink from adhering and drying up better.
How to Use?
As mentioned earlier, you need to activate the pens first. Once the ink is flowing, you can start using them to write. Just simply use them like how you would use a regular marker.
Where to Buy?
There are many places to buy these markers. They are available online at stores like Amazon or at local shops like Walmart, Home Depot, etc. They may also be available at construction supply stores.
What is the Warranty?
There is no indication of the warranty of most of these products but in case you have a problem, there is no harm in contacting them and asking them for their help. They may be able to refund your money or send you a better set.
How to Care and Clean?
They are easy to care for. Just put the cap back on, making sure it clicks. You would want to avoid air from getting inside the cap as it will dry up the tips. That will make it more difficult to reactivate the pen. Some pens tend to have a loose cap or tend to have caps that don't have an airtight seal. If you find that your marker dries up easily, you can try putting a piece of tape around the cap to seal it.
Are Markers for Metals Expensive?
They are no more expensive than the other markers. You can find affordable ones but there are also the ones that are expensive. Usually, the expensive ones are worth the money. They might be more expensive because they have good qualities such as quick-drying functions or no-smear functions. If you are working on metals that are placed outdoors, it is better to invest in slightly more expensive but high-quality markers, which will not fade easily.
Can I Erase the Ink of Markers for Metal?
This depends on the marker you are using. Some markers have a permanent ink which means you will have a hard time removing them unless you use something strong like acetone to remove it. There are also those that can be wiped away easily or can be wiped with just the use of a damp cloth. Be sure to check out what kind of marker you are using and whether it is permanent or not.
What Should I Do to a Marker for Metal That Has Dried Up?
I would suggest soaking the tip in either alcohol or thinner to loosen up the ink. Leave it there overnight before wiping it off the next day. Usually, this will do the trick but if it doesn't, it probably means your marker is beyond saving.
Conclusion
Now that you know what to buy and how to choose the best marker for metal to fit your needs, it is time to go out and hunt the best one. Make sure you think about your needs and preferences first to find a marker that won't break the bank but will still give you the quality that you are looking for. Set aside a more reasonable budget so you don't have to skimp on quality and consistency.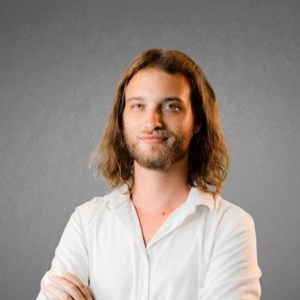 I am a former art teacher, so it is evident to me the importance of art in educating the new generation. We also want to help parents who plan to teach their children and desire the best tools and tips for them.