I love using colored pencils to create vibrant illustrations because they have drawing pencils' ease of use and the pop of color paint and watercolor. Colored pencils are a fuss-free combo of both, so I can do sketching without having to set up paint palettes or multiple tins of water.
But while making art with colored pencils is easy and low-maintenance, this dry art medium performs best when used on certain types of paper. The key to crafting beautiful colored pencil illustrations is using the best paper for colored pencils available.


Not all drawing papers are made equal. Some are more suitable for top-quality colored pencils, like Prismacolor ones, than others. You want to look for smooth yet sturdy paper that won't fade colors over time.
But it can be hard to pinpoint the paper for coloured pencils if you don't know what to look for. In this guide, I'll take you through some of the best options in the market today.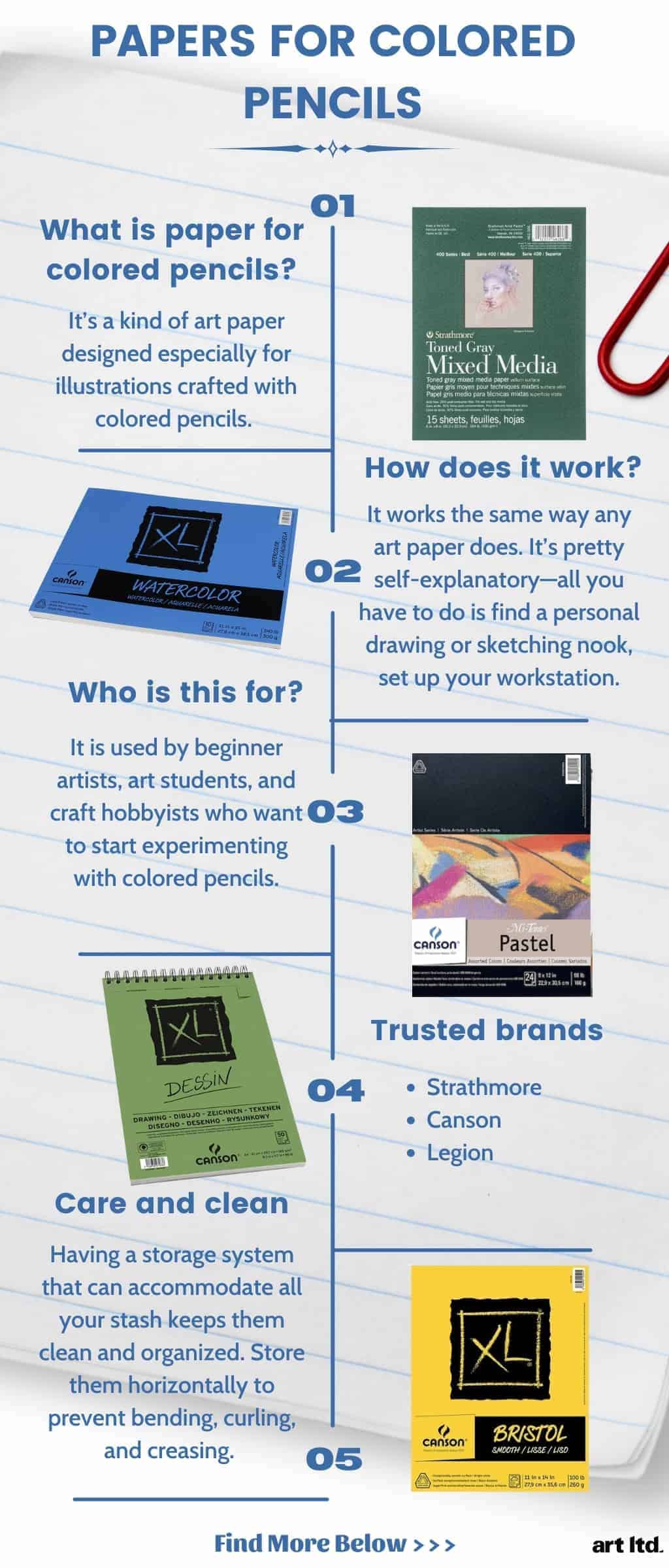 Top 10 Paper for Colored Pencils Reviews
1. Strathmore 300 Series Bristol Smooth Pad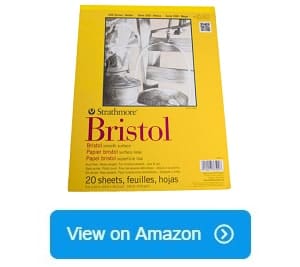 Strathmore is one of those art brands that you could call the gold standard for art papers. They have a series of Bristol papers specially made for traditional sketching with pencils, and this smooth pad doesn't disappoint.
The sheets are made with heavyweight Bristol paper, weighing in at 270gsm, so they aren't flimsy like regular paper. Bristol paper is ideal for drawing with pencils, whether mechanical, regular lead, or colored pencils.
All the sheets are acid-free, which means they won't fade to yellow or brown over the years. With these papers, you can rest assured that your colorful designs and art will stand the test of time.
The paper's surface is incredibly smooth, making it suitable for colored pencil sketches that require fine and articulate details. Your colored pencils will deposit even strokes throughout the page because the texture won't disturb your sketching.
The paper is also thick enough to use wet media on it. So if you're looking for paper for Prismacolor markers, not just pencils, then this is the one for you.
The sheets are glue-bound, so they're very easy to tear. This feature comes in handy if you like to keep your artworks in a particular place or hang them up.

My only issue with this pad is that there are only 20 sheets. That means I may run out of sheets quite fast, and I'll have to buy a new one altogether.
Pros
Made of heavyweight Bristol paper at 270gsm
All the sheets are acid-free to preserve the life of your finished artwork.
The surface is super smooth, perfect for very articulate sketching.
The paper is thick enough to hold wet media, like pen and marker ink.
The sheets are glue-bound and are easy to tear out cleanly.
Cons
20 sheets per pad may run out fast if used often
Read any Strathmore colored pencil paper review out there, and you'll see how well-loved this pad is by artists. It's the quintessential model for good quality paper for colored pencils because of its thickness and smoothness.
2. Canson XL Series Bristol Pad
Color contrast is a big deal when it comes to colored pencil art. It's always a lot of fun to see all your colors pop against a plain but bright white background. This pad by Canson has exactly that.
The papers in this pad are made of sturdy and heavy Bristol sheets that weigh 260gsm apiece. Bristol board paper is amazing for finished artwork because they're less likely to fold and tear.
The sheets are bright white but aren't glaring. The color of the sheets gives a beautiful contrast to the vibrant hues you use to draw and shade your illustrations. The bright white paper is the best paper for Prismacolor pencils that you want to be very eye-catching in your work, so that's a plus.
It's effortless to erase mistakes and unintended strokes on this paper, unlike other types that leave a lot of smudging. It goes back to clean white with no trace of erasures.
The paper this pad is made with is acid-free, so you can be sure your work won't look old after a few months or years. The background will still look white, and your colors will remain bold and vivid.
The sheets work very well with dry media, like colored pencils, mechanical pencils, pastels, and more.

But because this pad was designed specifically for dry media, it doesn't work entirely well for wet media. Paints bleed very quickly when used on these sheets, and they buckle too. So you may not want to use this pad with watercolor pencils.
Pros
Made of sturdy and heavy Bristol paper at 260gsm for smooth illustrations
The papers are bright white to contrast beautifully with your colored pencils.
Has easy erasability that leaves the page clean without leftover smudges
Works very well with dry media like mechanical and colored pencils
The paper is acid-free, so the color stays for a long time.
Cons
Not recommended for watercolor pencils
This Canson pad has high-quality paper for colored pencil art that you want to shine against a bright white background. It's an excellent
sketchbook for colored pencils
if you want something simple yet hassle-free because of its easy erasability.
3. Yupo Paper Legion Stonehenge Pad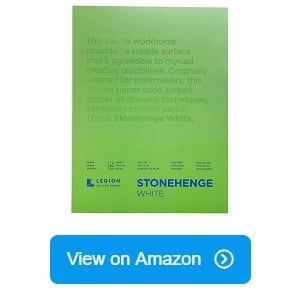 Stonehenge paper is a favorite among colored pencil artists because it's top-class for dry media, rooted in its rich history as a high-quality printmaking paper back in the day. This pad from Legion provides that classic Stonehenge texture and cotton material for your finished artworks.
It's fantastic to use Stonehenge paper for colored pencils because layers of wax don't build up. It's the perfect paper to use your Prismacolor blending pencil on!
The paper is 100% cotton, so you know you're getting top-notch and very sturdy sheets. The cotton paper can hold many art disciplines, from dry media, like pencils and charcoal, to wet media, like pen and ink.
And when you use extremely wet media, like watercolors, the pages know how to retain their shape, drying in a flat position even if it buckles a little bit when the paper is wet.
The paper is completely acid-free, so your colors will stay bright and pretty after months. You won't have to worry about your work aging or fading.

However, note that this Stonehenge's product is a grainier texture compared to other papers used for colored pencils. Because it can be quite rough and toothy, you may experience uneven strokes of color.
If you're used to doing fine, articulate lines for your colored pencil sketches, I suggest looking for smoother paper.
Pros
High-quality Stonehenge printmaking paper
100% cotton sturdy paper sheets
Can be used across a myriad of creative disciplines
Acid-free papers that won't fade your illustration's bold colors over time
Retains its shape when used with wet media, great for mixed media art
Cons
Has a grainier texture compared to other colored pencil paper
Stonehenge is an ideal drawing paper for colored pencils, and for a good reason. It's durable, thick, and long-lasting because it's free of acid, so it's the perfect canvas for your colorful illustrations—whether it's exclusively made with colored pencils or mixed with wet media.
4. Canson Mi-Teintes Pastel Pad
Using colored pencils for toned paper isn't ideal for many who prefer their color to show up against a white background. But for imaginative artists who want a rustic or innovative touch to their art, colored paper works wonders.
Canson's pad comes in assorted colors and contains suitable paper for Prismacolor colored pencils, among others. There are six industrial colors available in this pad: white, champagne, buff, moonstone, steel gray, and light blue. There are four sheets of each color.
The pastel papers are made of 50% cotton and are gelatin-sized. This blend makes the papers relatively thick at 160gsm. They're also acid-free, so their tone and color will remain, as well as the colored illustrations you create on them.
Each sheet in this pad is dual-sided. You can use one side, which is smooth, and then flip it over to work on its other side, which has some roughness. It's great if you like to switch between fine drawings and rough sketching and coloring.
Though these papers were initially designed for pastels, the pages take colored pencil pigment very well. It seems that color pencils glide smoothly and effortlessly on them.

One thing I don't quite appreciate about these papers is that they don't allow for many layers of colored pencil pigment. It's difficult to blend in colors if there is a lot of product buildup in one area of the paper, and can sometimes buckle the paper if layers are forced onto it.
Pros
The papers are a blend of cotton and gelatin for thickness and build.
The sheets are acid-free and have a fair weight of 160gsm.
It has six assorted colors, with four sheets of each color.
Each sheet is dual-surfaced.
Both sides take colored pencil pigment effortlessly.
Cons
It doesn't allow for a lot of layers of colored pencil pigment.
If you want an extra pop of color to your colored pencil illustration ideas, try these Canson papers out. There are warm, neutral, and cool tones, so there's always something for any color palette you want to work with.
5. Strathmore Paper 400 Series Artagain Pad
Another option for toned paper is this Artagain drawing pad by Strathmore 400 Series. It comes in an assortment of tints and colors you can try out to enhance your unique colored pencil art ideas.
These papers were designed specifically for dry media like pastels and charcoals, and it's perfect for colored pencils as well. That means you can use this paper for Faber Castell Polychromos or your favorite Prismacolor set—any bold and brilliant pencil set will do.
The difference between this set and other toned paper pads for colored pencils is that this one meets advanced artists' standards. If you're a professional artist or have expert-level skills, you'll find the quality of these papers exquisite for a wide range of drawing techniques.
The papers are enriched with 30% post-consumer fiber, which means the manufacturer takes recycled materials and makes them new again. That makes this paper friendly not just to an advanced artist with a meticulous eye but also to the environment.
The result of this fiber enhancement is a flannel-like texture with medium tooth to properly hold thicker drawing tools, like charcoal and pastel.

But if you love to use your colored pencils to draw true-to-life, detail-oriented images that require fine lines, this might not be the drawing pad for you. There's too much texture and roughness to draw thin, natural strokes without uneven coloring across the paper.
Pros
Comes in assorted tints and colors to enhance your art
Designed specifically for dry media like colored pencils and charcoal
Top paper quality crafted to suit the standards of advanced artists
The papers are enriched with fiber and have a flannel-like texture
Contains 30% recycled fiber, so it's friendly to the environment
Cons
Has too much texture to draw fine, articulate details in your illustrations
These Strathmore sheets make for awesome colored pencil drawing paper if you want some extra oomph to your artwork. The selection of tints is excitable and will get your creative ideas brewing in your head about what illustration you should do with which color paper.
6. Strathmore 400 Series Colored Pencil Pad
If you're looking for a simple and basic but extremely high-quality paper pad for your colored pencil artworks, try this one by Strathmore. It's built specifically for illustrating and sketching with colored pencils, so it's perfect for that medium.
The sheets in this paper pad are clean and white, so it's the perfect shade to make your colored pencils shine through and be as vivid as possible. The papers are also acid-free, so they'll stay very striking even when time goes by. There are 30 sheets in each pad, which is very generous for artist-grade pads.
The papers have a smooth surface to make all your strokes and light shading even and consistent. You won't have to worry about specific lines looking darker than others because of the rough texture, as you would with other sketchpads.
There's also durability to the sheets, so even if you go all out with erasing and reworking certain areas of your illustration, the paper will hold without thinning out. It also leaves no trace of erasures when you do so thoroughly.
I love this sketchpad because it's wire-bound and micro-perforated so that it's easy to tear out every page. It's perfect for giving illustrations away to loved ones or just hanging them up on your bedroom wall as a poster.

While this colored pencil sketchbook is a great option for a concept pad for your creative ideas, it may not be as suitable for fully-shade and colored illustrations. Though the sheets are thick, it can be challenging to get colors to blend. It seems that the paper can't take on too many layers of wax and pigment.
Pros
The acid-free sheets are a clean white, so your colors stand out
The papers have a smooth surface for even and consistent strokes
Has a durable surface that can withstand many erasures and reworking
You get 30 sheets in a single pad, which is generous
Wire-bound and micro-perforated for easy tearing
Cons
It's hard to blend shades because the paper can't take too many wax layers
This Strathmore pad has fantastic paper to use with Prismacolor pencils when sketching and drawing.
7. Stonehenge Legion Paper Stonehenge Pad
If Legion's Stonehenge pad that we talked about earlier caught your eye, this multicolor version might be of interest too! It's the same printmaking paper that works beautifully with colored pencils, but just in different tones depending on your mood or art concept.
Stonehenge is an archival paper that's been used for printmaking for centuries. Because of those, the paper is thick and sturdy but is soft and comfortable to work with when it comes to dry media like charcoal, pastels, and of course, colored pencils.
This paper holds layers of colored pencil pigment and wax beautifully, even when you blend and stack the colors one on top of the other. It's a dream for an artist who loves to color and blend endlessly with pencils.
This pad has papers in five neutral tones that will perfectly complement your unique and innovative illustration ideas. The shades available are natural, fawn, cream, pearl gray, and warm white. Each one creates a different mood and atmosphere for your work.
The sheets are 100% cotton, so you know they're the crème de la crème of printmaking and colored pencil art papers. The smooth surface makes it versatile and useful for all kinds of art techniques, but colored pencil is my favorite to use on it.

While I love the industrial tones and tints of the papers in this pad, I do wish there were more sheets. Fifteen sheets is not quite enough for active artists like me, and three sheets per color are too few for me, especially since I want to experiment with what each color can bring to the table.
Pros
A high-class archival paper that is thick but soft at the same time
The paper blends layers of colors nicely
Comes in five neutral mid-tone colors to give your illustrations more character
100% cotton papers, so it's sturdy and of top-notch quality
Has a smooth surface that is versatile for many art techniques
Cons
Only has 15 sheets and three pages of each color included in the pad
Stonehenge is more famous for archiving and printmaking. Still, I would say that it's the perfect printer paper for colored pencils, as made very clear by this terrific pad of Stonehenge papers. It's such a breeze to use, especially for coloring!
8. Sketchbook For Colored Pencils
Maybe you're just starting out with sketching and illustrating with colored pencils. Or, you're an art student that needs an affordable and handy sketchpad to do your concept art. If so, this is a great option.
This sketchpad may not be in the same league as bigger name brands in the art community when it comes to high-quality papers for pencil art. Still, they're designed specifically for colored pencils, so they're worth a shot.
It comes in 50 high-quality sheets at 90gsm, which may not be as thick as expert-grade paper for pencil art, but is still thicker than your usual sketchbook. Because the pages are dual-sided, you can draw on them back-to-back, giving you a total of 100 pages to draw on.
It comes in a standard 8.5 x 11-inch size. While giving you enough space to draw decent-sized illustrations and artworks, it's still easy to carry around in a handbag or backpack.

The only thing I'm kind of iffy with when it comes to this sketchbook is the fact that it comes with a glossy softbound cover. Don't get me wrong; I love a classic glossy cover for a personal notebook. But a softbound cover doesn't give your artworks and illustrations the same protection a hardbound cover can.
Keep in mind that because the cover is soft, your pages are more susceptible to folds and small tears, especially when they're stuffed in a bag.
Pros
Designed specifically for colored pencils, so they're not very rough
Made with 50 high-quality sheets that are relatively thicker than the usual
Has 100 pages so that you can draw as many illustrations as you like
Comes in a standard 8.5 x 11-inch size that is spacious but portable
Perfect for beginners who need some practice with colored pencils
Cons
May not protect the pages as well as a hardbound one can
If you need to practice your colored pencil art but aren't ready to invest in an expensive and branded sketchpad, you can try this one out for size. This pad has sufficient paper for Faber Castell colored pencils, Prismacolor sets, and whatever pencils you'd like to practice with as a beginner.
9. Canson XL Series Watercolor Textured Paper Pad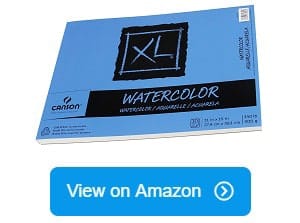 Who says an artist can't use watercolor paper for colored pencils? With a good set of watercolor pencils, you sure can. My favorite watercolor drawing pad to use for pencils is this thick, textured paper pad by Canson.
These sheets are very heavyweight at 300gsm, making them perfectly sturdy and thick. That's great for your finished artworks, so they don't become flimsy over time, especially if you plan on tearing them out of the pad.
The papers are cold press, so they have a roughness to their surface texture. This cold press roughness doesn't make it necessarily difficult to use pencils on them. In fact, it gives coloring and shading a lot more character.
Because of its texture and thickness, these papers are suitable for mixed media art. That means it can accommodate not just dry media, like colored pencils and charcoal, but also wet media. So they're perfect for watercolor pencils!
If you do choose to elevate the look of your illustration by doing washes with your watercolor pencils, keep in mind that the sheets are durable enough to withstand light watercolor washes.
The cold press papers are also acid-free, which means your color will last pretty much forever because the paper won't fade to yellow or brown or give it an antiquated look.

But one thing to note is that these cold press papers are not 100% cotton. It's made with cellulose, which is decent but may not hold up as well as premium cotton sheets, especially when you're using a lot of water.
Pros
Very heavyweight sheets at 300gsm for sturdy finished artworks.
The papers have a cold press texture that gives the surface some roughness.
Suitable for mixed media art, can accommodate dry and wet materials
Durable enough to withstand light washes, perfect for watercolor pencils
The sheets are acid-free, can retain your color for a long time.
Cons
The papers aren't made of 100% cotton.
Watercolor pencils are fun to use, especially with beginner kids. This Canson cold press pad is perfect to use with watercolor pencils, and I recommend you try it even if you don't usually use watercolor pencils.
10. Strathmore Toned Gray Mixed Media Pad
It isn't easy for an artist to come up with innovative and unique concepts and illustration ideas for the toned paper. But if you're an expert with colored pencils and are up for the challenge, try out this gray-toned mixed media pad by Strathmore.
The gray papers give you a chance to play around with light and dark colored pencils. You can practice and perfect how to let contrasting hues shine through against a unique background color.
The sheets are heavy at 300gsm and are very thick too. They're great at holding both dry and wet media, making it perfect for mixed media art.
The papers have a unique vellum surface, so it's not super smooth and has some tooth and roughness to it that will come in handy if you mix dry and wet media. The paper will have more grip on colors and inks.
This pad is bound by glue, so if you have to tear out your finished works of art, it will be very easy to do so.
I also seriously appreciate how Strathmore does its part to help the planet by incorporating recycled ingredients into their paper-making. These papers are made with 30% post-consumer fiber to enrich the paper and help give it texture.

The only downside to this drawing pad is that it only comes with 15 sheets. If you're new to gray-toned paper and need more practice, that might not be enough.
Pros
Has a gray tone to let your light and dark pencils shine through
The sheets are heavyweight at 300gsm; can hold dry and wet media.
Has a vellum surface, giving it a bit of a toothy surface
Bound with glue, so the pages are easy to tear out and come out clean.
The environment-friendly sheets are 30% post-consumer fibers
Cons
Comes in only 15 sheets, require stocking up if used frequently
If you've mastered bright rainbow colors against white, maybe it's time to level up and hone your skills playing with contrasting light and dark hues against this gray-toned paper. This is the top-rated paper with gray tones I've come across.
What to Look for When Buying Paper for Colored Pencils

Heavyweight papers for sturdy finished pieces
Keep in mind that you should have a good canvas and foundation for your colored pencil illustrations. That's why you must find thick and heavy paper. You don't want flimsy bond paper holding up your prized work of art, do you?
Try looking for papers that are thicker than your usual art pads and sketchbooks that you can find in any random bookstore. Look for something at around 90gsm if you're using your papers for practice.
Go for something at around 200-300gsm if you're a professional wanting only the best base for the pieces you pour your heart and soul into.
Has a smooth paper surface for fine sketching details
If you love to draw pictures with fine and detailed strokes and lines, your paper's texture shouldn't be too rough. A toothy and grainy texture can give you less control of your strokes of color, so some lines may end up darker than others.
Keep in mind that the trick is to find a smooth paper that your colored pencils will glide onto effortlessly. This will give you an even distribution of wax and pigment from your pencils for consistent color across your illustration.
To find smooth paper, look out for sketchpads that say their sheets are hot press. Cold press paper is a mixed media paper because of its roughness, but smoother textures are better for your drawings' more refined details. Cold press should be reserved for wet and dry media combos.
Acid-free paper to preserve your artwork's color
Using colored pencils for your art almost always means your finished work is colorful, vibrant, and bold. The worst thing that can happen to your illustration is losing that vitality and spirit with fading colors.
It's crucial to look for papers that don't contain any acid. Acid makes the paper more susceptible to fading to yellow or brown over the years, giving it an antiquated, rust-colored tint. Your illustration is also likely to look duller because the colors you used to spice it up could fade too.
If you're a serious artist, hoose an acid-free paper for your art so that you can extend the lifespan of your colors. Acid-free papers offer not just aesthetic beauty but also longevity of something you worked hard on—and that's always worth it.
Made with a generous number of sheets for more sketches
If you're an art student or someone who is just starting to explore the world of colored pencils, it would be wise of you to go for a pad with a generous number of sheets. You'll need a lot of practice to hone your drawing and sketching skills, so the more pages you can work on, the better.
If you're lucky, you can find high-quality paper pads that offer 50 or more sheets of paper. And if you want to be extra resourceful, you can use both sides of all those sheets to extend your yield to up to 100 usable pages.
Should be suitable for wet media for watercolor pencils
If you're looking to use watercolor pencils, don't make the mistake of buying art paper that's on the thinner and lighter end of the spectrum. You need the paper that can hold wet media without buckling, so go for thicker paper.
Take a look at the cover of the pad. It usually tells you if the paper in it is suitable for wet media. If there's no indication, just try to feel the thickness of the paper. If you feel it's too thin, look for something better.
Easy erasability that won't leave any trace of erasures
Artists make mistakes too. Luckily, colored pencils are easy to erase and rework. Many art papers out there make erasing pencil strokes such a hassle because it leaves smudges or somehow ends up ripping or thinning out the paper.
That's why you should take a look at papers that offer easy erasability and won't leave any smudging. Keep in mind that Stonehenge paper is really good for this.
Look for the top-tier papers that will leave no trace of any mistake or erasure you've had. Trust me—a small erasure smudge can be very distracting and ruin your work's overall vibe and aesthetic potential.
White paper that will let your colors shine
When you're working with colored pencils, you really want those bright and bold colors to shine. Many artists will look for clean and bright white paper because it's a terrific plain background to let your pencils' true colors show up against.
Most high-quality sketchbooks and paper pads will have white sheets of paper. But it's important that you keep an eye out for papers that claim to be white but can look a bit dull or off-white.
If you intend to let your colors shine through and be as vibrant as they can, it might not work out for you if you accidentally end up with a paper that isn't as white as you expected. Many of the papers out there are crisp white.
Toned paper to level up your creativity and innovation
If you want to be a little more innovative with your colored pencil pieces and play around with your overall style and aesthetic, try using toned paper. Toned paper has a tint to it, so instead of being plain white, it can be gray, blue, pink, or any color under the sun.
Some fun ones to try are cream-toned papers for your slice-of-life portraits and drawings, to give it a more rustic, warm, and homey feel. Expert artists also play around with gray-toned paper to show the contrasts between light and dark colored pencils.
Toned paper is also a favorite among kids who just want an extra pop of color when they draw with colored pencils. Try them out the next time you have an arts and crafts session with children—they will love you for it.
Other Important Factors to Consider

What is paper for colored pencils?
It's a kind of art paper designed especially for illustrations crafted with colored pencils. This kind of paper is also called dry media paper, which means it has a good hold on materials like pencils, charcoal, graphite, pastels, and more materials that aren't water-based or ink-based.
This paper is usually thick, especially when they're artist-grade and need to be presentable as finished artworks. The size is usually quite large (around the size of bond paper).
Paper for colored pencils can come in different tones and colors, but the most popular is clean and bright white. White really makes colors pop out of your illustration to bring your work to life.
How does it work?
It works the same way any art paper does. It's pretty self-explanatory—all you have to do is find a personal drawing or sketching nook, set up your work station, and illustrate away in your sketchbook or paper pad.
When you're done with a particular piece of art, you can either leave it in your sketchbook or pad for safekeeping, or tear it out if you plan on submitting it for an art class, framing it, or giving it to someone as a gift.
Who are these colored pencil art papers for?
Art papers that accommodate colored pencil artworks come in different thicknesses and textures depending on who will use them. Newbie colorists will probably need pads with more sheets of thinner paper, while professionals will be happy with few pages with the heaviest weight possible.
Beginner artists, art students, and craft hobbyists who want to start experimenting with colored pencils don't need those expensive sketch paper pads with 300gsm-thick sheets. All you really need to get started is a good sketch paper pad with a hefty amount of pages that they can practice drawing on.
Expert-level artists will want thicker, sturdier sheets that are made of 100% cotton. Quality matters a lot more when art is your profession, and there are artist-grade level papers for colored pencils made, especially for them.
Papers for colored pencils will also greatly benefit mixed media artists who are talented in both dry materials, like pencils and charcoal, and wet media, like paints and inks. A lot of art papers are very thick and durable enough to hold both types of media. So if one wants to combine colored pencils with acrylics or watercolors, there's definitely art paper options that can hold both of them nicely.
There are also colored pencil art papers useful for those who want to level up their pencil sketches with paper made with different colored tones. This helps hone the skills of artists, no matter how good they are at their craft. Toned paper is always a challenge to work with, so it's helpful for those who want to do even better.
What are the different types of paper for colored pencils?
Numerous types of paper can be used for colored pencil art. But for now, I'll break down three of the most popular ones—namely Bristol, Stonehenge, and Vellum papers—and explain how they differ.
Bristol paper is a type of art paper that is thick and sturdy, but still has a smooth surface that is easy to work with if you're using solely colored pencils. It allows your colored pencils' pigment to glide across the page so that you can create even, feathery strokes to come up with very detailed pictures and portraits.
Stonehenge paper, on the other hand, has a rich history. It's a thick and textured paper that has been used for centuries for printmaking and archiving, which both attest to how good the quality of the paper is.
This type of paper is known for its ability to take on layers and layers of colored pigment and wax from colored pencils, so it's a walk in the park blending colors together with this paper. It's a favorite among colorists because shading is always smooth sailing with Stonehenge paper.
And lastly, for those who love to combine colored pencils with wet media, there's always vellum surface paper. This paper is rough and can hold all kinds of art materials easily. Other art papers with rough textures include those that are fiber-enriched for extra tooth and grain.
Why do you need paper for Prismacolor pencils?
Prismacolor pencils are among the most high-quality colored pencils you can find in the market today. Any artist will tell you that you shouldn't be wasting their creamy and waxy Prismacolor pencils on regular papers that might be too thin or too rough.
Prismacolor pencils will work best on art paper, so you really have to pick out the best one you can to get the most out of your exquisite set of colored pencils.
Frequently Asked Questions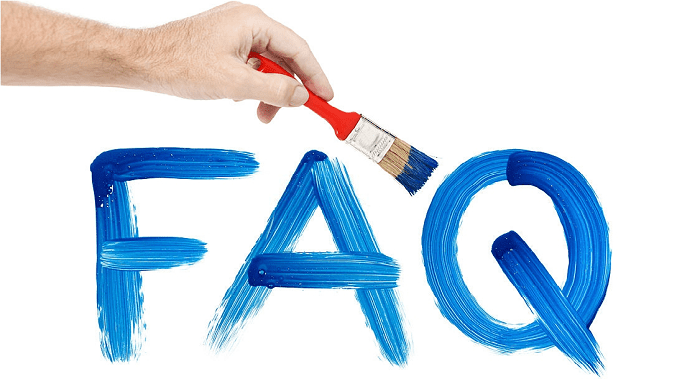 What are the most trusted colored pencils paper brands?
There are many top-notch papers for colored pencils, but only a few brands make it to the top tier of paper pads and sketchbooks. These include brands like Strathmore, Canson, and Legion.
If you couldn't already tell from the products I recommended, I truly believe that they're the best brands for colored pencil art. They're the best artists can go for because of their heavyweight paper and special surfaces designed specifically for either dry or mixed media art.
What is the best paper to use with a set of Prismacolor pencils?
With high-quality waxy colored pencils like the Prismacolor pencils, an artist will need a durable and sturdy paper for them to go along with. You don't want to waste the top-rated colored pencils on regular paper, would you?
Keep in mind that Prismacolor pencils do well on artist-grade papers designed for dry media, such as the Strathmore 400 Series Colored Pencil Pad or the Canson XL Series Bristol Pad. If you want to experiment with printmaking paper, you can also go for the Legion Stonehenge Pad, whether it's the basic pad or the one with assorted colors.
Can you use watercolor paper for art made with colored pencils?
Yes, watercolor paper for beginners is great for colored pencils because they're usually made to accommodate not just wet media but dry materials too.
If you love to use watercolor pencils and try to level up your colored pencil art by combining it with light washes of water, watercolor paper is definitely what you should go for. You should also use it if you love to experiment and combine your colored pencil illustrations with other wet media.
What colored pencils do artists use?
Professionals use expert-grade colored pencil sets with a wide color selection to bring their art to life in the best way an artist can. Some of the most popular colored pencil brands come from Europe or the Americas. These include Prismacolor pencils, Faber Castell, Lyra Rembrandt, and Spectrum Noir.
What kind of art can I make with paper for colored pencils?
An artist can create sketches and articulate, true-to-life drawings with their colored pencils if they have smooth paper. If you have a sketch paper pad with more texture, you can create art with more shading. And if your papers are heavyweight and thick enough, you can mix wet media with your colored pencil art too.
There are no set rules about what kinds of art you can do with colored pencils. They're very versatile, so you can do anything you set your mind to when you let your creative juices flow, be it simple doodles or a still-life portrait. It really just depends on your skill level and how much time you have on your hands.
Is it better to make art on loose paper or a sketchbook?
It's a lot easier for an artist to create their illustrations in a sketchbook or paper pad. That's because they commonly have a hard backing that can serve as support to keep your page laying flat on whatever surface you're working on. Loose, single sheets can move around a lot, which can disrupt your strokes and shading.
But the great thing about sketchpads is that they find ways to help you tear out your finished artworks easily. Some pads are glue-bound, so you can remove each sheet smoothly and without ripping. Others have micro-perforated lines to help you tear the pages out in a breeze, so they can become single sheets.
That way, they can come loose from the bundle of papers, and you can do whatever you please with the finished artwork. You can hang them up, give them to friends and family, or just store them in a particular place if you want to keep your work private.
Where can I buy paper for colored pencils?
You can buy these kinds of papers at the art store nearest your area. Good examples of art supply stores that most likely carry good brands of colored pencil pads are Michaels, Hobby Lobby, Jo-Ann Stores, and Ben Franklin.
It's good to feel the paper's surface and texture firsthand to see if they'll fit your style and preference, so it's great to check them out in-store.
But if you are a bit of a more discerning artist than the type to just feel for texture with your fingers, it's best to purchase your papers from online channels, like Amazon. You can also do your own research on every product you're eyeing at the touch of a button.
When you shop online, you also have access to countless product reviews from other artists. They also give tips and techniques about how to work with the paper, so that's always nice.

Conclusion
As an artist and colored pencil sketching enthusiast, I'm quite picky about what papers I use to sketch my illustrations. I hope that by imparting what I know about art, pencils, and papers, I've helped you be a little more discerning about what you think is the best paper for colored pencils.
When you choose the paper that suits your drawing techniques best, keep in mind that you'll have an awesome time creating more colorful sketches.
So make sure you only get paper that will allow you to sketch comfortably, color smoothly, and keep your artwork for a long time!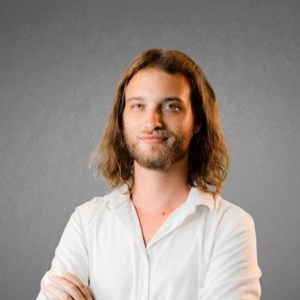 I am a former art teacher, so it is evident to me the importance of art in educating the new generation. We also want to help parents who plan to teach their children and desire the best tools and tips for them.