Many crafters and artists are taking advantage of aerosol paints' ability to cover surfaces uniformly with vibrant colors. With origami, the layers of paint strengthen the paper to retain the shape. When it comes to illustrations, you can use spray paints to produce interesting effects. Plus, it does not leave any brush marks.
That said, you need to find supplies that are compatible with one another. Here are some of the key points to consider when buying the best spray paint for paper and other supplies for your project:
Spray paint colors and finish: More than just coloring tools, spray paints allow you to apply certain techniques that may not be possible with paintbrushes alone. Available in a wide array of colors, you can use spray paints for different papercrafts and illustration projects. Meanwhile, clear protective sprays safeguard your artwork against impurities regardless of the medium. Just be sure that the aerosol paint is suitable for paper.
Type of paper and stencils: Poster board works well with spray paints but you can use any paper that has features similar to a poster board. The key is to find a paper that is thick, smooth, and glossy. Aside from functioning as a painting surface, you can use paper for spray paint stencils. For multiple projects, I recommend washable vinyl stencils.
Type of masking: With light sprays of paint, you can protect your work area with newspaper. If you are planning to use the aerosol paint heavily, don't think twice about buying a masking film. Most masking films are inexpensive yet it saves you from the trouble of cleaning up the furniture, walls, or floors after working.
Knowing all these tools and features will make your work easier, but feel free to check out the "Buying Guide" below for more details. I have handpicked specific spray paints, papers, stencils, and masking films that work well together in this following section.
Best Spray Paint for Paper Reviews
1. Krylon K01305 UV-Resistant Coating Spray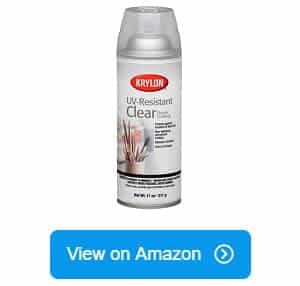 You may be using archival paper for your artwork but adding a layer of protection to your artwork will increase its value. Hence, you need a high-quality acrylic coating like Krylon's. Apart from its UV-resistant formula, this product shields surfaces against moisture and dirt. You will never have to worry about discoloration!
I like the acrylic coating's glossy finish because it enhances the overall aesthetic of my paintings. Light coatings often result in a satin-like finish but I can add more to achieve a glossier look. None of my DIY projects or paintings look cloudy after applying this product and the textures come through beautifully.
This nifty all-around product adheres to various surfaces, including paper and paper mache! That's why I use it for both art and home improvement work. As it comes in a spray can, I can cover large surfaces faster compared to using a brush. Regardless of the shape, it lets me reach the nooks and crannies of any object.
Usually, I get the project done within the day as the acrylic paint is dry enough to handle in about five hours. However, it takes more than three coats for the glossiness to become more visible. If you are working with big surfaces, you may end up using an entire can.
Pros
Offers durable protection against UV and moisture
Useful for art and home improvement projects
Has a beautiful glossy finish that enhances artworks
Easy to apply on objects of any shape
Takes 5 hours to be dry enough to handle
Cons
Needs more coating to appear glossy
Taking an extra step to protect your artworks with this clear acrylic coating that keeps colors vibrant for a long time. Suitable for a broad range of surfaces, you can also use the same spray can for home improvement projects!
2. Pintyplus Aqua Spray Paint Set
Designed with artists and crafters in mind, this set of ultra-matte spray paint is ideal for small arts and crafts projects. I love this product because it has water-based paint with a minimal odor so I can work indoors. If you're a parent looking for kid-friendly spray paint, this set is a great choice!
Included in the set are eight colors that I can mix and match as I work on various themed projects. Within an hour, the multi-surface paint dries up but it only takes another 30 minutes to repaint. On surfaces like glass, the paint can still be removed with soap and water as long as it has not yet dried.
Widely used as spray paint for paper crafts, the product has a low pressure, thereby, minimizing the chances of an overspray. I can work with small pieces on my desk covered in newspaper and no paint ever gets onto the floor or chair. Also, it does not seep through spray paint art paper nor does it drip from three-dimensional objects. What's more, it keeps the color smooth and uniform on surfaces.
However, the spray can is smaller compared to regular aerosol paints. It is not surprising that I ran out of paint quickly. If you are only working on a few small projects, the quantity of paint will be sufficient. Nevertheless, the product's versatility, gorgeous colors, and low odor compensate for this minor issue.
Pros
Safe for children and indoor use
Prevents bleeding and dripping
Color options are easy to mix and match
Appropriate for small projects
Colors appear uniform on different surfaces
Cons
Quantity may not be enough for big surfaces
Perfect for small arts and crafts projects, this set of eight spray paints provides excellent ultra-matte colors that adhere to any surface. With low overspray and minimal odor, you can use this with your kids and work indoors!
3. Krylon KSCS053 Short Cuts Aerosol Spray Paint
For details and minor touch-ups, this small can of Krylon is adequate. Besides the interesting color options, this "Short Cut" is a spray paint for art variant that can go hand-in-hand with the brand's paint pens. I highly recommend this to artists who like to experiment with creative techniques.
The gold color lets me create spray paint art galaxy effects that sparkles. Featuring a glossy finish, this aerosol spray adds an elegant touch to surfaces like wood, metal, ceramic, and paper. Its durable adhesion guarantees no chipping and peeling while its acid-free formula ensures that the vibrant colors will not fade.
Aside from commissioned art pieces, I use this aerosol paint for small-scale home improvement and upcycling projects. While the can is small, I like that it takes only a few coatings for good coverage even on dark surfaces. Plus, it applies uniformly on any surface.
In addition to all these promising qualities, I'm most impressed by the paint's ability to dry fast. In just 3 hours, the paint is good to handle. Although this product is meant for indoor objects, I would advise you against working indoors because of the strong smell that tends to linger. Even if you're spray painting outside, make sure to wear a mask.
Pros
Ideal for art and home improvement projects
Offers several fade-proof color choices
Strong adhesion resists chipping and peeling
Excellent coverage on multiple surfaces
Takes only 3 hours to dry
Cons
Has a strong chemical smell
Ideal for various spray paint art techniques, this is one of the
best spray paints for paper that
made for artists who love to experiment with colors. This product offers a powerful combination of acid-free and durable adhesion, so you will never have to deal with fading or chipping.
4. Rust-Oleum 7791830 Stops Rust Spray Paint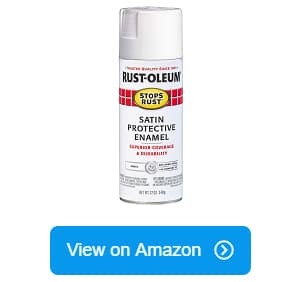 Known for its superb rust prevention formula, Rust-Oleum is often advertised as a product for home improvement projects. Suitable for both indoor and outdoor objects, this spray paint effectively protects surfaces against the elements. Consequently, this "Stops Rust" variant has become a top choice for crafts, home improvement, and upcycling projects.
With the wide selection of vibrant colors, I can produce unique designs for my papercrafts. Using the same spray paint, I also work with concrete, glass, wood, metal, and other paintable materials. Even on dark objects, the paint performs exceptionally well in terms of coverage as it takes me only a few coatings to conceal the surface.
Another feature that sets this spray paint apart from the other brands is its innovative design. For instance, I find it easier to press the trigger because of the "comfort tip". As I change angles, the nozzle continues to dispense paint. It helps me paint three-dimensional paper mache uniformly. I don't have to wait for one side to dry just to move the object so I can reach the rest of the surface.
All in all, this spray paint is impressive but it emits a strong chemical smell even as the paint dries. Besides wearing a mask, I strongly suggest that you work in a well-ventilated area.
Pros
Perfect for crafts and home improvement projects
Offers rust prevention for metal surfaces
Produces solid coverage
Easy to use for three-dimensional objects
Works on various surfaces
Cons
Emits a strong chemical smell
If you need spray paint for different types of projects, you can never go wrong with Rust-Oleum. From paper crafts to home improvement tasks, its well-designed nozzle will make DIY projects literally and figuratively painless.
5. Acid Tactical Vinyl Airbrush Spray Paint Stencils
Now, let's talk about another must-have for spray painting projects: Stencils. Artists make their own stencils but if you are not confident with your sketching, try this set from Acid Tactical. There are eight unique patterns intended for camouflaging cars and guns, but you can also use them for DIY crafts and art projects.
When working with these stencils, I tape the sides to prevent them from shifting and cover the rest of the spray paint paper with a scrap poster board. As a result, the edges of the pattern appear sharp and neat once I lift the stencil. I can further customize the design by taping off the parts of the stencil that I don't want to show up in the artwork. Moreover, I can combine each pattern to produce new designs.
Because the stencils are made of vinyl, I just need to wash the paint off with a solvent or water and store them again for future use. This is something that I cannot do with cardboard stencils as they get soaked in paint after several applications. Since the vinyl sheet is flexible, I can stick them on cylindrical objects like vases or ceramic pots.
For someone who needs to paint multiple objects or big surfaces, this pack of stencils is a good deal. I just wish that they were packed properly so that they do not stick to the envelope's flaps, which makes it hard to take apart.
Pros
Produces neat designs with sharp edges
Made of flexible vinyl for cylindrical or flat surfaces
Offers 8 unique patterns in a set
Excellent for a wide variety of DIY and art projects
Easy to wash with solvent or water
Cons
Packaging can be improved
Regardless of whether you're painting a flat or cylindrical surface, these ready-made stencils will conform to the shape of the object. One set can go a long way as these washable vinyl sheets offer unique designs that let you produce many cool camouflage patterns and artworks.
6. Kellyer Pre-Taped Masking Film
Sometimes, I don't have enough newspaper to cover furniture or massive surfaces to protect them against overspray. Another common issue is that low-quality masking paper for spray painting does not adhere to the surface properly, and thus, can cause the paint to leak. That's why I prefer using this pre-taped plastic masking film.
Irrespective of the size of the project, I can cover up any surface or object using just one roll of masking film. At 65 feet by 5 feet, I can conceal walls and ceilings. Alternatively, I can cut it up into smaller pieces to wrap my desk before I start spray painting on paper.
As the product name implies, this masking film paper features adhesive tape that sticks to any surface. The good news is that it does not damage the object nor leave a residue when I peel it off. No drops of paint seep through the thin plastic. I can go crazy with spray painting and not worry too much about cleaning up afterward.
My only complaint is that the film is thin and delicate. I have to be very careful in putting this on an uneven surface as it can rip. But I'd rather deal with that than spend hours cleaning my work area.
Pros
One roll can cover big surfaces
Clings on to any type of surface
Does not damage or leave residue on furniture
Protects surfaces against overspray
Allows you to clean up faster
Cons
The plastic film is prone to ripping
Sticking this masking film on different surfaces is extra work but it will reduce the hassle of scrubbing overspray from your work area. Thanks to its huge size, you can cover an entire room with masking film and focus on spray painting.
7. Impresa Polypropylene Art Paper
Do you need 300 grams of glossy paper for spray paint? Then, check out this heavyweight paper made of 100% polypropylene! Illustrators love to sketch with alcohol-based markers on the paper's slick surface but let me explain why it is also suitable for spray-paint art.
Unlike toothy mixed-media sheets that absorb liquids, the smooth paper allows the paint to sit on top of the surface. This feature lets me lift the paint to create textures. While the paper is not as glossy as Yupo's, I think it is an advantage as it lets me create details more precisely.
Furthermore, the product's versatility and durability make it appropriate for card-making, papercrafts, and painting. Normally, I reserve these spray paint sheets for my final artwork because of the paper's acid-free and pH-neutral properties that keep the colors from fading. Apart from wet mediums, the paper holds up well when I use it for embossing and debossing.
Regarding size, this paper pad fits most bags. It's a great alternative to a typical poster board for spray paint art that can be quite inconvenient to carry. The only thing I dislike is that it tends to buckle after several layers of wet medium.
Pros
Has thick sheets support wet medium and ink
Offers a slick surface for blending and layering
Can be used for card-making and papercrafts
Comes in an easy-to-carry paper pad format
Equipped with fade-proof sheets for final pieces
Cons
Several layers of paint can cause buckling
Considering all its good qualities, I can safely say that this is the best paper for spray paint art and all kinds of crafts. With smooth and non-absorbent sheets, this paper pad performs well with any medium.
What to Look for When Buying Spray Paint for Paper
Remember: When making spray paint art, every medium and material has to be compatible with one another. Whether you end up following my recommendations or exploring other brands, choose the products that meet the following criteria:
Durability
The word "durability" can mean different things for different products. In the context of spray paints and top coats, it refers to the paint's strong adhesion on various surfaces. If we're talking about outdoor surfaces, the paint can withstand harsh weather conditions.
A durable paper, on the other hand, does not tear when you apply several layers of paint. Just the same, the masking film or stencil should not break apart when you put them on non-flat surfaces.
Versatility
Even though this article is about spray painting on paper, the supplies I listed above apply to all types of DIY work. Think about all the surfaces and types of projects you can use with aerosol paint, papers, stencils, or masking films so you can make the most out of your purchase. Brands like Rust-Oleum, for instance, provide paints that can protect outdoor surfaces against rust.
Acid-free
Acid-free materials prevent the artwork from turning yellow. To be clear, acid-free is not the same as archival. Environmental factors like light, temperature, and humidity contribute to the paper's deterioration. Hence, you need to apply a protective coating on your final artwork to prevent discoloration or brittleness.
Product Design
Spray paints are notoriously known for causing finger fatigue. Luckily, more innovative brands are now manufacturing easy-to-press nozzles. These ergonomic spray cans give you better control, especially in projects that require precision.
If you are not working with loose poster boards, I recommend easy-to-tear pads so you can detach the paper without damaging its glued side. As for vinyl stencils and masking films, get products that are encased in sturdy packaging because they are pretty delicate.
Mess-free
It is almost impossible to imagine doing glossy poster board spray paint art without making a mess. We know for a fact that spray paints often produce overspray. But you can minimize the mess by using low-pressure aerosol paints for small-scale projects or wrapping your work area with masking films.
Can Spray Paint be Used on Paper
Generally speaking, spray paints apply to all types of surfaces. Nevertheless, some products are crafted for specific materials. For instance, spray paints with a mirror-like finish only work on glass. Always double-check the label to see if the aerosol paint is appropriate for the paper you have.
Likewise, you need to use the correct paper. Smooth, glossy, and thick poster board, cardstock, or any non-absorbent synthetic paper is the way to go. Their slick surfaces allow you to manipulate the color using different creative techniques.
How Do You Spray Paint on Paper
Applying aerosol paint on paper is similar to any type of surface. Start by covering your work area with newspaper, scrap paper, or masking film. Do a spot test on a spare sheet of paper before you begin your final artwork.
Hold the can about 8 to 12 inches away from the surface and spray lightly. You can build up layers to produce a more solid coverage. Allow the paint to dry in between layers to prevent the paper from getting too soaked with paint.
Conclusion
Choosing colors and finish are exciting but you need to factor in other features of the spray paints if you want to use them on paper. Some spray paints can be wiped off from surfaces like glass while wet but are permanent on paper. Even with glossy paper for spray painting, it is impossible to completely erase the color.
Every professional artist knows that the best spray paint for paper is the one that you've learned to use well. Thus, it is important not just to invest in the tools but also in skill and knowledge. Through this article, I hope I have helped you understand how each material and medium works, so you can avoid common pitfalls that can ruin your project.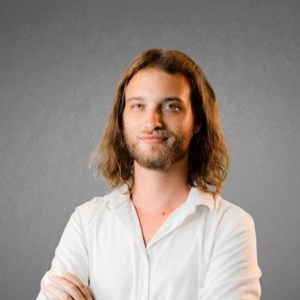 I am a former art teacher, so it is evident to me the importance of art in educating the new generation. We also want to help parents who plan to teach their children and desire the best tools and tips for them.