Simple and yet soothing, Zentangle has gained traction across the globe as an alternative to traditional meditation. Not to be confused with doodling, this method was invented by Rick Roberts and Mary Thomas to help anyone calm down, focus, expand their creativity, and many more.
While Zentangle is more of a personal project than a commission work, this activity requires specific art supplies to illustrate ornate abstract patterns. At the minimum, you can start a basic set of a sketchbook, pencils, an eraser, and 3 fineliners. Once you are ready to explore with more materials, then you can start adding new pens with different point sizes and add some colors.
As you embark on your mindful creative journey, I invite you to read this article to learn more about the best pens for Zentangle. Popularity aside, these multi-functional drawing tools enable you to compose elegant patterns with rigor and exactitude. So sit back, relax, and enjoy this review.
Top 10 Pen for Zentangle Reviews
1. Sakura 50115 Zentangle Pen Set
In case you are looking for quality pens to begin your Zentangle practice, it is highly recommended to start with the minimal tools. A simple 3-piece pen set is a powerful starter kit for novices as it lets you focus more on tangling and getting used to the habit.
For those who are not familiar with this product, the higher the number indicated on the pen, the thicker the nib. Knowing that people draw more fine lines and tiny details, this set includes two #5 fine tipped. Meanwhile, the #10 pen with a thicker nib helps artists emphasize outlines in their Zentangle work.
I'm impressed with the versatility of Sakura's Pigma Micron pens as they produce work on almost any paper type. This is favorable for those who want to sketch on their own paper supply like index cards, marker pad, or Bristol card stock instead of the Original Zentangle Tiles.
The most important factor when working with different types of paper for Zentangle is the least smudging tendency and the resistance to fading. You can trust its fast-drying pigmented inks that avoid any smeared marks or bleed-throughs. The colors last for a long time and show up nicely on paper since this acid-free pen dispenses vivid and dark black ink.
Since this brand is known for its smart innovation, I'd also like to mention that the transparent caps are a nice touch. Without a label, you can immediately identify your chosen nib. Truly, these pens are fantastic but I wish they come with ink refills.
Pros
Fast-drying acid-free archival inks
Dispenses vivid and strong black ink
Versatile pen that doesn't smear
Two nib sizes for different line thicknesses
Nice design of transparent pen caps
Joining the Zentangle bandwagon does not require plenty of tools. A basic set is enough for a creative person to produce tons of whimsical patterns. Thanks to the archival quality of the inks, your artworks can last a long time.
2. Sakura Pigma 30062 Pen Set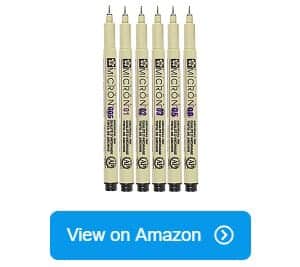 Another exceptional product from a reputable brand, the set of Pigma 30062 Micron Blister Card Ink is perfect for line art. Offering 6 pens with archival quality inks, this is a great addition to your Zentangle toolbox.
Commonly used by the pros, these pens have also won the hearts of the Zentangle tribe because of its rich black color. I think it's probably because the molecules of the pigment ink are 100 times bigger compared to molecules in a normal dye ink, keeping it on top of the paper instead of bleeding through the sheet.
These signature archival Pigma pens are waterproof, quick-drying, and resistant to fading. Gliding its tip across the paper, I noticed that the ink did not skip, smear, or feather. As a result, I can create nice crisp lines with consistent thickness without difficulties.
Inside the packaging are pens with six different point sizes, from 0.20mm to 0.50mm. With this variety, it is easier to draw patterns on smaller spaces. If you want to add depth and dimension to your shapes, take advantage of the finer nibs to shade specific areas with parallel hatching or cross-hatching techniques.
When using this pen, keep in mind not to push it too hard against the paper because the tips are fragile. If you apply too much pressure when drawing, it may cause the tips to break.
Pros
Produces consistently crips lines
6 fine-tipped rich black pens
Fast-drying archival inks
Does not bleed through paper
Perfect tools for adding depth to your shapes
The whole point of drawing patterns is to put yourself in a meditative state so you can calm down. With the Pigma 30062 Micron pens, you can create tangles without stressing over skipping lines, smears, or bleeding.
3. Sakura Pigma 30067 Pen Set
From time to time, working with fineliners can be limiting even if they come with a variety of point sizes. This situation makes us want to try something new, like a brush tip to make our Zentangle patterns more captivating. For that, let me introduce you to this Pigma 30067 Micron set.
As you may already know, the brand maintained its favorable status in the industry by inventing a quick-drying archival ink. Filling the pens with this formula, you can expect high-quality, vivid pigment-based black inks without fading, bleeding or smudging in this set.
What makes this product different is that it includes a brush tip and a graphic 1 mm tip apart from the 6 fine-tipped pens.Besides coloring large areas, you can use its brush tip to create swirly ribbons or a single line with varying thickness. The brush-tipped pen will come in handy for hand lettering projects to alternate with your Zentangle.
Next is the graphic 1 mm tip, one of the most coveted pens among many arts and crafts communities. With this, you can create bold outlines and color the small shapes in your patterns.
Since the pens generally have delicate nibs, the tips may break if you press it too hard on the paper. Besides, there is no need to apply so much pressure when drawing because the ink flows smoothly. You need to put the cap back on to protect the nib.
Pros
Versatile brush nib to create ribbon-like lines
Includes graphic nib for bolder lines
6 choices of fine-tipped pens for details
Fast-drying, fade resistant and vivid black ink
Leaves no smudge or bleed-through
Cons
Tips may break if pressed too hard
Having 8 different tip sizes and styles in one set levels up your game. Widely recognized in the creative industry, these pens are also great for hand lettering, illustrations, and many other art projects.
4. Shuttle Art Micro Line Pens
Many members of the Zentangle movement started with an assortment of black pens, playing with dots, lines, and shapes. Eventually, some of these folks thought of adding color to spice up their art projects. If I may suggest, this 18 ultra-fine tip pens set will definitely be perfect for embellishing your designs.
We often see that black pens are heavily used in drawing tangles or outlines, yet they are either sold separately or in sets of three. But that's not the case for this art product since it offers 7 black pens in different point sizes. More options mean that you can render foreground, midground, and background in otherwise flat patterns.
As for the 11 color pens, you will find a nice mix of bright warm and cool tones to play with. At micro-size of 0.3 mm, these are wonderful instruments that transform your plain black and white Zentangle patterns into prismatic graphics.
Categorized as "felt-tip," these markers glide smoothly on paper. Best of all, you do not have to fret about the inks bleeding through, even if you are drawing on thin pages. On top of that, this archival, water-proof ink also does not smudge, smear, or skip.
It is worth mentioning that while coloring, I noticed that some of the colored pens tend to be lighter than expected. Perhaps, some artists prefer the colors this way. As for me, I will make another layer until they look more solid.
Pros
Comes with 7 black tip sizes
11 bright colored pens
Felt-tips that glide smoothly on paper
No bleeding, skipping, smudging, or smearing
Very pigmented
Cons
Colors appear lighter than expected
Taking into account all the positive qualities of
felt-tip pens
, it is not surprising that many professionals in different creative fields are taking this art product. Seeing this, I believe that even those who want to create pigmented and colored Zentangle can benefit from these pens.
5. Dyvicl Black Fineliner Ink Pens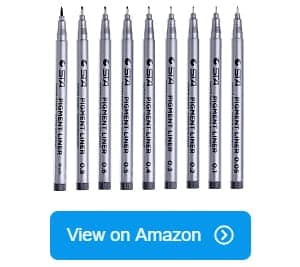 Some of you may desire a more affordable set of pens that boast of excellent quality to produce professional Zentangle artworks. A lineup of 9 black unique tip pens in your creative toolbox is the right choice to create gorgeous abstract patterns. This is why I added this product to my article.
Allowing to create fine dots, crisp lines, and brush strokes like a pro, the pack contains a soft brush tip and a diverse size of fineliners. This provides some sort of "midtone" to an otherwise sharp contrast between thick and thin lines. Using the brush nib, you can give a more organic feel to your designs.
Zentangle practitioners who spruce up patterns with colors will be fascinated by the fact that the inks are waterproof. They don't fade, skip or smear, so the set can work great with both water-based, alcohol-based markers, as well as watercolors to make many color hues and effects.
Favored by architects, illustrators, and designers, the pens work well on tracing paper, vellum, and many other paper types. Besides its versatility, I am happy that these fineliners glide smoothly without clumping even on Zentangle tiles. Since many of us sketch with graphite pencils before applying permanent markers, these pens cover them well with its dark black ink.
On toothy papers, the pens with finer points can be a little challenging to use. But it would be better and easier to achieve crisp lines with a consistent thickness if you write on smooth papers.
Pros
Affordable set with professional quality
Can be used with other mediums
The versatile set works well on different paper types
Good ink flow provides a smooth writing
No ink running, smear or fade
Cons
A little hard to use on toothy papers
In conclusion, this is an excellent set of black pens for Zentangle that has the good quality of expensive sets. The art pens prove that anyone can create stunning Zentangle artworks without burning a hole in their wallet.
6. Taortee 24 Fineliner Color Pens Set
While the set of colored fineliners were initially crafted for journaling and coloring, these markers effectively work as a Zentangle pen set. Since this art product falls under the "Fineliner" category, you can expect the pens to have the same quality of fine points like many other brands. Allow me to explain why this set is one-of-a-kind.
One feature to highlight is the wide range of colors, which is ideal for Zentangle art to express yourself in endless ways. There is an equal selection of cool and warm hues without duplicates in this collection. It gives you more flexibility to complete your artwork with vibrant colors. With its water based ink, you also can mix two colors for more shades and hues.
All pens have micro nib size of 0.38 mm fine point tips to work on small intricate details and patterns. If you want to change the thickness of the line, just press down with a little pressure since the tip is thin and can break if you press too hard on them.
I really like writing with these pens as they glide effortlessly even on the toothiest papers. With a gentle grip, I can sketch without worrying about skipping, thanks to the free-flowing ink. Furthermore, the decent color options enable me to use it in numerous ways. Besides Zentangle and journaling, I can underline important text in books or utilize it for mind-mapping.
Considering the number of pens you get in one purchase, I am surprised by how affordable this art product is. Plus, the packaging is made of durable clear vinyl, so I carry them with me to any place.
The pens bleed minimally on paper, which is not exactly a big deal. However, applying a second layer of color does leave a spot on the back of the paper. If you are working on a sketchbook, my advice is to place a scrap paper underneath the page you are working on.
Pros
Includes 24 vibrant colors
Easy to hold and write smoothly
Superfine tips for small and intricate details
Useful for Zentanlge, writing, drawing, and coloring
An affordable set
Cons
Bleeds on the paper when heavily applied
Regarded as a versatile collection of fineliners, you can write, draw tangles, and add bright colors to your artwork. Checking the price tag, I can do with such an affordable art product. For Zentangle, this set is truly a must-have.
7. Misulove Micro-Pen Fineliner Ink Pens
What you need to bring your creative imagination to life is an ample set of pens with diverse nib sizes and types. The fact is, you do not need to splurge on expensive tools to get such a kit. You can simply get this budget-friendly Misulove that comes with 8 micro-nib sizes and a soft brush pen.
Just its expensive counterpart, the archival inks are non-toxic, odorless, and photocopy-safe. Performance-wise, this pack of black pens are just as impressive as the inks do not skip, smear, or bleed through paper. Hence, it can apply to Zentangle tiles, vellum, trace paper, and many other types of sheets.
Offering different fine tips, the set is suitable for architecture, technical drawings, sketching, journaling, note-taking, and of course, Zentangle. The fine line tips will help you when you are working on minute details and crisp lines. With one brush tip pen included, creating wide strokes or coloring large areas can be done faster.
Because the inks are waterproof, you can also use watercolor and markers along with these fineliners to complete your artwork. Note that for watercolor, you need to wait for a few minutes until the ink or paint dries before applying the second layer. To achieve the best results, use these pens with acid-free papers.
Since the ink is non-refillable, you should close the cap right away after use as the tips tend to dry out really quickly than expected. To get the ink flow back normally, you will need to reactivate the pen. Besides this, I do not see any other issue that would discourage anyone from buying this art product.
Pros
Budget-friendly set of pens
9 micro tips to work on small patterns
A brush tip for wide strokes
Works well with most types of papers and mediums
Odorless and high pigmented ink
Cons
Dries up too quickly without caps
A satisfactory set that will make your Zentangle drawing a lot easier. At the same time, because of its affordability, you can save money and produce professional-quality patterns.
8. Sakura Micron Pen Set Zentangle
Dubbed as one of the top-rated pens for Zentangle art, you can produce professional-quality abstract art. Not many first-timers realize that refining illustrating skills can be accomplished with a few black pens.
In this basic set, you get a 0.45 mm and two 0.25 mm tip. Based on experience, I believe the logic behind this offering is that there are usually more details in a pattern compared to outlines. Aside from drawing details, I also use the smaller tip for shading. Because the nib is extremely fine and the pen is comfortable to hold, I can execute the shading with better control.
As the go-to pens for many artists, the waterproof inks do not smear, feather, or bleed through the paper even when you work with watercolor paints. Just like the other pens made by this brand, these fineliners contain quality archival black inks that can resist fading.
On another note, I observed that these pens work best on smooth papers, including Zentangle tiles. When it comes to toothy paper, the fine 0.25 mm pen does not glide as smoothly.
Lastly, make sure not to press the tips too hard on the paper to avoid breaking them. Even the expensive one with a thin nib can break under hard presses, so this drawback is almost insignificant.
Pros
Archival inks that resist fading
Can work well with water-based mediums
Does not smudge, smear or bleed-through
Fineliner with 0.45 mm tip is great for outlines
25 mm pens help you draw with precision
Cons
25 mm is difficult to use on toothy paper
Fragile tips
Preferred by the Zentangle founders, this top-of-the-line art product was crafted to address the needs of the people who are just getting practice with this meditative creative endeavor.
9. Sakura Zentangle Artist Tool Set
Since the creators of Zentangle tied up with Sakura, the black and brown pens in the packaging have 0.25 mm tips. To complete the set, you will also find a black pencil, a white pencil, 2 tortillions, and 5 tan Zentangle tiles. With this, there is no need to buy many different sets to get full tools.
What I love about the black graphite Zentangle pencil is that it has a soft tip but sturdy enough for not getting break easily. I use it to sketch light lines on the paper and shading patterns. Meanwhile, the black and brown fineliners glide effortlessly on Zentangle tiles. Furthermore, the brown pen adds color to make stunning designs.
For a more 3-dimensional look, the white pencil does an excellent job in shading colored paper. Using the tortillion, I smooth out the gradients I created with my pencils. The tan Zentangle tiles are a little gritty, making it easy to blend the black and white pencils but it is a little tricky with the fineliners' fragile tips.
If you are left-handed or using a graphite pencil for the first time, be careful as it smudges easily. Individually, the quality of each product in the set is impressive. In terms of convenience, getting a kit with the Zentangle pens and paper, among others, takes away the hassle of finding supplies in other places.
Pros
Gritty Zentangle tiles make blending easy
Graphite pencil does not break easily
Includes a black and a brown pens
Comes with tortillion
A complete set for Zentangle
Cons
Graphite pencil smudges easily
Fineliners' tips are a little fragile
One of the advantages of getting this complete set for Zentangle is that you do not have to worry about whether you have all the right tools or not. Everything you need to get started is in this pack.
10. Boxlin Premium 3 Colors Gel Pen Set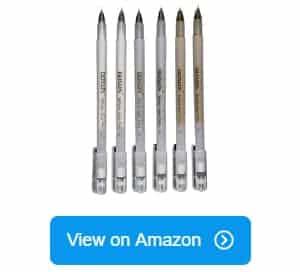 Have you tried drawing on black or dark-colored papers? Well, it's time for you to think out of the box and take your designs to a whole new level. With these gel pens for Zentangle, whatever you draw against a dark background will stand out.
Before I dive into the features, let me just state that this set includes 2 whites, 2 silvers, and 2 golds. In effect, you do not have to buy another set right away if you emptied one of your pens. One purchase can last you a long while.
Loaded with premium water-based gel inks, these pens are non-toxic and acid-free. By the same token, they appear bright on dark backgrounds. Plus, they dry fast on papers with a matte surface.
Just because this product is advertised as pens for black paper doesn't mean they could not work on regular paper. For Zentangle purposes, I accentuate my black and white designs with silver and gold. Sometimes, I add some highlights using the white pen.
At size 0.8mm, the rollerball head tips are not exactly "fineliners" if you compare it to other nib sizes but they work wonders. You can achieve the thicknesses of strokes by adjusting the pressure on the nibs. Concerning the ink flow, I like how they glide perfectly on black sketchbooks, envelopes, cards, and journal pages.
Every feature of this art product is superb. Perhaps I'm niggling about details but I noticed that they skip. Luckily, this happened only a few times.
Pros
Offers 6 pens in white, silver, and gold
8mm rollerball head tips
Appears bright on dark paper
Fast-drying on matte paper
Multi-purpose gel pens
Most of us are used to drawing on white papers. Working on a dark background can be challenging but these pens contrast so well against black papers. Besides Zentangle, I can use this to make stylish greeting cards.
What to Look for When Buying Pens for Zentangle
There are plenty of pens out there with more or less the same features. Sometimes, it is only when you start drawing with them that you discover whether they meet your needs or not. For simple tasks such as note-taking, any writing instrument would do but for Zentangle, you will need more than just an ordinary pen.
In this section, I will walk you through some factors to consider when buying pens for Zentangle.
Archival-quality
More than just a hobby or a meditative practice, Zentangle is a relaxing method that unlocks your creative potential. This is why you need to invest in the right tools, like pens that contain archival inks.
One important reason is it keeps your artwork from fading. After all, making art is not just a pastime.
Fast-drying inks
Waiting for the inks to dry before you can apply another medium like watercolor paints or markers can take away the "Zen" in Zentangle. What's even more annoying is that once you added watercolor, the patterns you work so hard to make are smeared. This issue can easily be avoided if you use pens with fast-drying inks.
On that note, be sure to check the packaging where manufacturers usually indicate if the ink is "fast-drying" or not.
Fine tips or fineliners
The tips of your pens are just as important as the inks you use. If you are filling a big space, you can draw strings and tangles with broad tip markers. On 3.5 inches Zentangle tiles, you will be better off with a set of fineliners.
Fine tips are easier to manipulate in small spaces. Because fineliners come with a variety of point sizes, you can render lines with different thickness. The finer the point size, the easier it is for you to create minute details. Aside from that, fineliners are excellent tools for shading.
Compatible with your choice of paper
If you are working on a textured or toothy paper as some would call it, you will notice that the pen glides differently on the surface compared to the smoother ones. Likewise, the glossy paper absorbs the ink differently compared to the matte paper.
Remember that there is no such thing as a perfect paper. By being aware of how the surface impacts the artwork, we can decide which pens to use.
Quality of colors
The purists in the Zentangle community want to stick to black and white. Meanwhile, others want to play with colors. Either way, make sure that the inks will pop on the Zentangle tile you bought.
As you know, the Zentangle tiles come in white, tan, and black so it's best to find a set of pens that can help you draw solid lines and shapes no matter which background color you choose.
What Pen Do You Use for Zentangle
In principle, it is possible to use any type of pen, pencil, and paper to practice Zentangle. It is not a bad idea to utilize what you already have at home, especially if you just want to try it out to see if this method works for you. Once you get serious with it, you need to upgrade your art supplies so you can render lines accurately.
Of course, the most popular pens for Zentangle are the Pigma Micron sets. These pens are called "fineliners" precisely because their tips are fine. If you are searching for other options, I recommend gel ink pens and India ink pens.
All these pens are available in retail stores like Walmart or e-commerce stores like Amazon or eBay.
What is the Difference Between Zentangle and Doodle
In many ways, Zentangle and doodle are similar since both practices involve drawing with the use of pens, pencils, and markers. For one, they do not require elaborate planning to produce an expected result. Anything goes!
One major difference between Zentangle and doodle is that the former requires the person to intentionally focus on drawing patterns or "tangles", which brings the mind into a meditative state. The latter can be accomplished without an individual's full attention.
Of course, I am not saying that one is better than the other because these two activities have vastly different goals. While Zentangle is all about making patterns, doodling is pretty much an open theme. Many of us have doodled on the back pages of our notebooks during class without conforming to a particular style.
Conclusion
If you do not consider yourself creative, you may find it surprising to know that several members of the Zentangle community once claimed that they were not artists. With patience, perseverance, and the right tools, they developed creative skills and confidence in showing their masterpieces to the rest of the world.
Whether you are just starting out or already making beautiful abstract patterns for some time, this article aims to provide you with a list of some of the best pens for Zentangle. Still, you are free to look for other options. As long as they let you draw to your heart's content, you are good to go!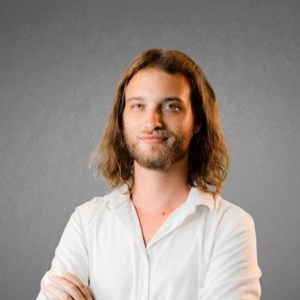 I am a former art teacher, so it is evident to me the importance of art in educating the new generation. We also want to help parents who plan to teach their children and desire the best tools and tips for them.