In our traditional and conventional black on a white universe of writing and imprinting on boards and other surfaces, we have gotten used to using black markers on bare whiteboards and papers. It could be the reason why the tonal and color switch-up makes it compelling and unprecedented when it comes to drawing and writing using white paint pens on black surfaces.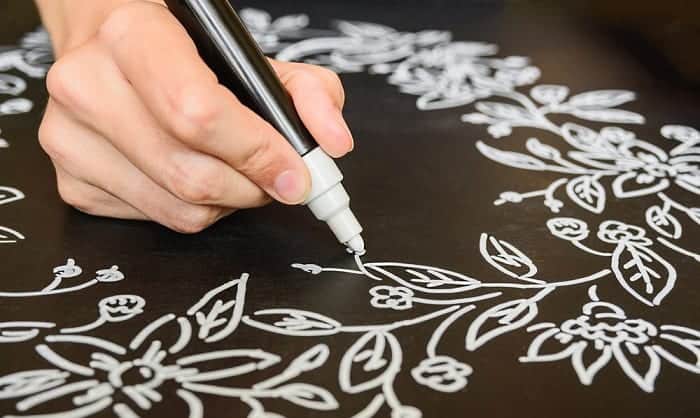 However, choosing and discovering the best white pens that will look great on black and other dark-colored papers can be challenging and burdensome. If you are new to the contemporary art of white on black, this list is for you. Go ahead and check it out!
Top 12 White Pen Reviews
1. Sakura Gelly Roll 37488
When making intricate and elaborate artworks, the detail is what we look at the most. Stars on a dark sky, a freckle on someone's cheek, and even the light shining on an apple, the Sakura white gel pen is one of those products that can help you achieve those detailed and meticulous lines.
Its 0.8mm medium-point tip is ideal for me to create juicy and full medium lines. This white gel pen comes in milky white opaque ink great for writing, drawing, and highlighting dark and colored papers. Each pack includes three gelly roll white pens, perfect for more significant projects, so I never worry about running out of ink as I work.
I enjoy creating art by writing in scrapbooks and journals, and even rocks and glass. Its high-quality white ink writes consistently smooth lines and will not smear or smudge. This white pen is waterproof, chemical proof, resistant to fading, and meets the ASTM and ACMI nontoxicity standards. So it is safe to use with children. Its white ink is also quick-drying. It only took three seconds before I was able to write over it again.
Although the ink is permanent, it is best not to use this white pen on clothes and fabrics you intend to wash and even ceramics. It will quickly fade or disappear after the first wash. I find that these white gel pens work best on dark-colored papers and even my phone cases.
I find that when I write slowly using this white gel pen, I can create the thickest lines. However, quick and fast scribbles and sketches effectuate to a less full and tangible outcome.
Pros
The gel pen is medium tip creates thick lines
Gel pen is safe for children's use
Best on dark paper
High-quality and free-flow ink
Cons
Fast scribbles have a less opaque effect
White ink quickly fade on fabrics after the first wash
Overall, this white gel pen is excellent for detailed work and probably one of the top-rated white pens I have tried. It can make your drawings look more realistic by adding some highlights and a little bit of shading. I believe this pen is one of the right pens that write on black paper.
2. Uni-ball Signo Broad 153
The Uni-ball Signo broad is said to be the best white gel pen professional art creators and hobbyists enjoy using. Most professional sketchers, cartoonists, and crafters use this product due to its reliability and dependability. It is due to its greatly milky, thick flowing, and viscous ink.
I find writing using this gel pen very satisfying because of its super smooth white ink flow. I like using this product for large projects because the barrel's design houses a rubber grip that provides comfort, command, and control while I am writing and drawing.
The Uni-ball Signo is also very convenient for me to use thanks to its white ink ball point pen's transparent body, so I can see how much white ink remains on the pen. The white ink is acid-free and archival safe, which means it is chemically stable. It is also water-resistant and quick-dry.
Most paint markers and oil based pens need a little warm-up by trying the pen on a scratch paper before starting the project, but with this white pen, the ink consistently writes silky lines from start to finish. However, if the white ink happens to skip, I can always go back for touch up without ruining the already laid ink.
I used this product on different surfaces, even on my art journal, white paper and black paper, the ball point pen's white ink still appeared bright and stable. This white pen is straightforward to use because of its 0.1mm point; therefore, I can produce thick and thin lines. I can also write over lines and put multiple layers to make my drawing look broader.
Since this white pen produces thick ink, it releases more, in turn, taking a little longer to dry. It also occasionally clogs up the tip but scribbling on a scratch paper will get the ink flowing quickly again.
Pros
Very opaque white ink
Smooth and silky white ink flow and line
Convenient design of transparent body
Ball point pen has ergonomic rubber grip
Versatile use that works on most surfaces
Cons
Longer drying time
The tip sometimes clogs due to thick white ink
Feel and work like a professional when you use this white gel pen for artists. I'm sure you will be surprised how much better your artworks turn out using this fine tip white pen.
3. Flymax White Paint Pen
This six-pack white paint pen set is the best choice to work on various surfaces such as rocks, wood, leather, art journal, black paper and white paper. Using a pump-action, this white pen for drawing houses a 0.7mm extra fine tip to give me the perfect control, accuracy, and precision. I can use this paint marker for shading, creating gradients, drawing fine and delicate lines, or any artistic projects.
I like it as Flymax white paint marker pens have a water-based acrylic paint that dries quickly, which allows my drawing's color to last a long time. Its white ink is non-toxic, conforming to ASTM D-4236. These paint markers are the right white pens safe for children, students, and art creators to create labels, decorate chalkboards for special occasions, paint glass, smooth stones, and other exciting art projects.
To get the best outcome and effects, as soon as I received the set, I shook this white ink paint marker until I heard the ball rattle inside to ensure that the paint was mixing well. I pressed the nib twice per second until its ink flowed out. And like other white coloring pens, I tested it on a scratch of balck paper before using them.
Just in case the tip dries out because you leave the cap off for too long, you can press it again and wait for the ink to discharge. For permanent results on your artworks, let the ink dry overnight. For glass, ceramic, and porcelain projects, I suggest baking it for one hour at 350 degrees Fahrenheit.
It's always useful to prep before using this marker, but in my experience, it took me roughly three to five minutes before the white ink of the paint diffused to the tip.
Pros
A paint marker has extra fine tip for detailed work
Works on different surfaces
Non-toxic and safe white ink pen
Cons
Took a while to prep the marker
Purchasing this white pen is worry-free because the company assures that if you are not satisfied with their white ink paint marker, give them a call, and they will refund your money. Leave comments on their page if you love their white ink paint marker. Put your email address so they can respond properly.
4. Art-n-Fly White Gel Pen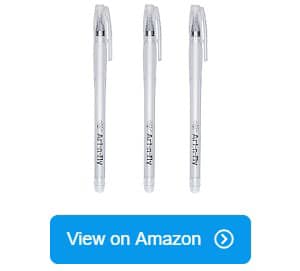 Art-n-Fly came out with one of the most trusted white gel pens for art. This versatile and all-around white jelly pen writes brightly and cleanly on dark-toned and black paper.
This white gel pen writes well on photo paper. With white ink that flows smoothly and effortlessly, this prime ball point and white gel ink pen combination allows me to draw, sketch, illustrate, and color comfortably and efficiently.
I like that this white gel pen houses archival ink designed to be waterproof and resistant to weathering and fading, so my paintings can last a long time. It is safe to use at home, at work, and in school, because it is non-toxic, odorless, and acid-free.
The gel pens 0.7mm fine tip lets me draw and illustrate intricate and delicate detailed pictures, especially on black paper. I'm sure it is great for highlighting, adding color and shading. I can also make art for more extended periods because this white pen is comfortable to hold thanks to its helpful rubber grip.
Moreover, I can produce a wide variety of artistic projects using these white gel pens because it is compatible with most writing instruments. This white gel pen blends well with water-based colors markers, watercolors, pen, pencils, and markers.
On occasion, the ink would suddenly stop flowing. All you have to do is to shake these white gel pens or make sure the tip is clear from any blockage.
Pros
Write clearly with bright white ink on most types of paper
The fine tip allows detailed drawings
These gel pens are compatible with most writing mediums
Uses archival white ink
Cons
Dried ink sometimes blocks tip
Among all the white gel pens, this one is great for writing on black paper. The white ink is bright and opaque. I'm sure that using this gel pen to highlight the key features of artworks is one of the best ways to use it.
5. Pentel Milky Pop Gel Pen
This gel pen comes from a company with over 70 years of experience in the industry and is known to supply the market with high-quality products, so you're sure to get a good white gel pen that is worth your money.
I can make my artworks pop using the Pentel Milky Pop pastel gel pens. I also love spending hours creating beautiful works of art care-free and comfortably with its extra-long body and ergonomic latex-free grip.
This white pen bears a 0.8mm medium point tip that is ideal for filling in large surfaces with ease. I'm impressed how the lines come out bold and flashy on dark and black paper with every stroke by just using this white gel pen.
Its smooth and sleek white gel ink writes and draws on any light and dark colored paper. I like how I can use photo paper to make stunning and striking drawings. Moreover, I can make eye-catching and attractive drawings on scrapbooks, stationeries, posters, and even send out hand-made invitations for special occasions.
Since the ink is a white gel, it takes a while to dry. If you are not patient, some smearing may occur. Always remember that perfection takes time, so wait a few seconds or minutes, depending on how big the surface you have drawn.
Pros
The white gel ink writes and draws bold lines
Produces stunning white gel colors
Can write on photo paper, dark-toned and black papers
Perfect to color large area
Extra-long body for comfort
Cons
The ink takes a while to dry
Overall, I believe this white pen makes decorating more enjoyable. Indeed, this is one of the best opaque white pens that you should try.
6. Sakura Gelly Roll 57454
If you prefer having an all-in-one gel pen white, I would recommend the Sakura Gelly Roll pack to you.
This white gel pen comes in three different sized tip gel paint markers. The 0.5mm tip helps create thin lines for detail; the 0.8mm is the medium tip ideal for drawings, and the 1.0mm bold thick tip is great for lettering and filling-in large surfaces. Despite its width, this Sakura white pen allows me surprising control of the lines and your drawings.
I like to put it on my list as this white pen pack is an all-in-one set to assist with complicated tasks using different shapes and sizes. It has smaller and larger tips providing specific purposes of helping your artworks stand-out, especially on dark-toned and black paper.
I like how the white gel ink is waterproof, resistant to fading, and chemical-free. I can confidently use it on different projects because it is a durable white pen that does not bleed through pages. This white gel pen is perfect for scrapbooking, making invitations, collages, presentations, and vision boards. And because the ink is reliable, smooth, and writes consistently, I also use it for calligraphy.
When adding highlights and shading, I sometimes write over different ink-like paint and markers. I find that this white pen writes very well over any liquid ink. Opacity helps to cover and write over drawings using a variety of ink. This gel pen from Sakura is also a good white gel pen for watercolor.
Although this marker can write on most surfaces, I advise you to stay away from chalk pastels because the dust tends to clog its pen's tip. Ink skipping may occur.
Pros
Weather-proof and non-acidic white ink
All-in-one gel pen set
Writes well over paint and marker ink
Can be a correction tool
Cons
Not compatible with chalk pastels
Overall, this multi-pack is also multipurpose. Not only is this Sakura white gel pen great for doing art projects, but you can also use it as a correction tool to erase errors made by other colored pens and paint markers. It is not as messy as other white-out fluids.
7. Aristro White Paint Pens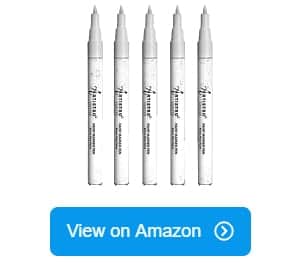 Next on my list is an elegant design – the Aristro White Pens. I love it as this white paint pen utilizes bright and vivid acrylic ink that is quick-drying. This oil based white ink paint marker produces a highly opaque, sleek, and glossy finish on most surfaces.
This is an all-around paint pen that aids in crafting and designing projects. I can create art or add color on various surfaces like stones, rocks, metal, ceramic, smooth wood, plastic, paper and photos. I used this paint marker to create detailing for works of art and made unique gifts for my family and friends. Its non-toxic and odor-free acrylic white paint conforms to ASTM D-4236, so this oil based paint marker is safe to use in school during group art projects.
Since this paint marker set comes with five white pens. I was pleasantly surprised when I decorated a big rock to use as a paperweight because it barely made a dent on the first pen I used. In the end, I still had four more to use on many more art projects.
This paint marker is straightforward to use, which helps DIY projects more uncomplicated and more fundamental. I had no trouble decorating my skateboard with this white pen because the ink flowed continuously like paint on a brush.
When priming the paint pens, it could take a while to get the paint moving. Once it does, you won't have any problems with the ink. Just give each pen at least five minutes to get to its tip with constant shaking. Also, always store these white paint pens horizontally with the cap on.
Pros
Sleek and cool design paint pens
Works great on wood, rocks and paper
User-friendly white paint pen
Overall, I believe this is one of the most affordable white markers on the market. You will enjoy using this paint pen on different types of projects on a wide variety of surfaces.
8. Pandafly White Gel Pens
What I like about Pandafly white pen is that this white pen is the perfect white pen for black paper and toned paper. Its 0.8mm fine point houses a white gel ink that is ideal for intricate line, coloring, drawing, calligraphy, and illustration.
Pandafly gel pen writes smoothly on paper thanks to its high-quality ball point tip and white gel ink. I think this white pen is excellent as it boasts gel ink that flows effortlessly and doesn't skip. I can use these gel pens white to highlight over paint marker ink with ease and create illustrations with 3D effects. As I see, it also works well on smooth wood, stones, paper, and photos.
The gel ink is waterproof so that I can highlight my watercolor paintings with no fuzz at all. The white ink dries quickly and is resistant to smearing. It is also non-toxic and acid-free. I can keep memories in an artistic and savvy way by making my scrapbook.
This 12-piece gel pens set is a good buy because I can use it on essential projects. I didn't have to worry about stopping in the middle of my activity to get new gel pens, and having plenty of pens helps me stay in the zone when I am being artistic.
One thing I like about these white gel pens is that they do not bleed through quality paper. However, if you use cheap materials like construction paper, they will bleed. But for me, that's the paper's fault, not the gel pen.
Pros
Fine point great for details
Smooth, waterproof, and non-toxic white gel ink
Able to highlight over watercolor
Plenty of extra gel pens
High-quality ball point tip
Cons
Bleeds through cheap paper
As a whole, this white gel pens set is one of the most favorite white ink pens I have tried. Your projects will surely shine and catch people's attention. With this gel pen, you can also make great gifts for yourself and your friends.
9. Arteza White Gel Pen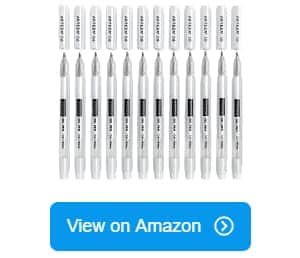 It's ideal to add a final stroke and line to your artworks using the Arteza white gel pens. After applying all colors to your work, add a few highlights and other details, you can easily see the difference by simply using this gel pen.
What impresses me about this white gel pen is that it works on any surface with color. Its opaque white ink stays milky white and dries quickly on all black surfaces and other colored finishes. I believe they are reliable markers that write on black paper.
This smooth, skip-free white gel pen comes in twelve bold and bright markers with three 0.6mm and five 0.8mm fine point pens and four 1.0mm medium-tip gel pens. While I was writing and drawing, I didn't experience any ink skipping, clumping, or clustering. Also, I was able to go over line after line as much as I wanted since its ink dries immediately.
I find this gel pen very convenient to use it on top of different media types like paint marker, colored pencils, and paint.
I see this purchase as a risk-free buy because the company believes in their white gel pens so much that if the customer is not satisfied with the items they received, they are willing to replace the item or give a full refund. Don't forget to put your email address so they can answer your queries.
If this white gel pen is not handled and stored correctly, some leaking may occur. Make sure to put the cap back on and keep these white ink pens in an upright position when not in use.
Pros
Three tip sizes
Write on various medias
Milky and quick-dried ink
White gel pen Works on any surface
Cons
May leak if not stored properly
These are one of the top-rated white markers for black paper. I'm sure that you won't regret trying this gel pen.
10. Chalky Crown White Chalk Markers
Chalky Crownchalk markers are ideal for writing on chalkboards, windows, glass, and other nonporous materials. You can utilize this nifty white ink paint marker to decorate your walls, create eye-catching menu boards, sticker paper art, label your mason jars, and design wine glasses.
I love sharing my hobby with kids because these chalk markers are dustless, non-toxic, and eco-friendly. Gone are the days where I cannot use chalk to decorate and draw because of all the dust it produces. I have replaced them with this white pen without the fear of fine particles starting up my allergies.
One thing I like most is that the chalk does not smudge or erase easily once dried. This paint-like type of ink requires water to remove. Cleaning up is hassle-free. I can wipe the marker off with a wet paper towel.
It is worth noting that this paint marker writes a sharp and thick line. Once it is on the surface, it will be difficult not to notice them. I also like how its ink flows consistently from the pen. This white ink pen does not dry out in the middle of writing.
If you are still on the fence about this white chalk marker, don't worry because they offer a 100% guarantee that they will give you a full refund if you are not satisfied and pleased with their work. Using your email address, leave comments about how you feel or something you noticed about these white ink pens, and expect a favorable response from them.
As I see, this white paint marker is great for large surfaces like signs and menu boards. However, using them on smaller surfaces like wine bottles could be difficult, but not impossible because of its wide tip. It takes a little bit of practice before trying this white paint marker on smaller sample bottles, for example.
Pros
Easy cleanup white ink pen
Perfect when covering large areas
Consistent ink flow
Writes clearly on various surfaces
Not smudge or erase easily
Cons
Challenging to use in small areas
Overall, this white chalk marker performed well when I tried it on different surfaces and finishes. If you are looking for a paint marker that will help your artworks stand out, this is the set for you.
11. Faber-Castell FC167401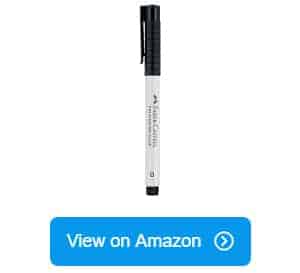 A familiar name to professionals and hobbyists alike, Faber-Castell is a brand globally well-known and loved for its pens and pencils. This brand is the world's leading manufacturer and producer of prime, inventive artistic instruments. I'm sure they are the preferred brand for most art creators throughout the years.
I really love it as this exceptional marker produces maximum flexibility for sketches, mixed media, detailed work, and coloring. It houses a premium-quality Indian oil based ink that is archival and acid-free. Its ink pen is also odorless and pH balanced. This white ink is water-resistant, opaque, and unrivaled resistance to fading.
Another thing I like is that this particular pen brush is seen as a unique and exciting medium for other professionals. Its durability, expressions, and strokes can be incorporated with various types of drawing and writing techniques. This multipurpose white pen has combined the benefits of artists' ink with user-friendly disposable pens, functionality, and practicality.
With this white pen, I can easily highlight any parts I see lacking light and brightness. I can also paint over any color on the canvas that turned out too dark for my liking. For me, blending and shading colors with this white ink pen's help have become more manageable than an ordinary brush.
Although it is excellent for highlights to make any masterpiece come to life, I think this white pen looks a little translucent when used for calligraphy. It might not have the same effect when using this pen for coloring, blending, and shading. In my opinion, this paint marker is the ideal white ink pen for drawing.
Pros
Durable pen
Acid-free premium-quality Indian ink
Ink is lightfast and water-resistant
Can cover other mediums of art
Two in one white marker
Cons
Not ideal for calligraphy
All in all, I find this white marker as a handy and helpful tool to have in handy when I am painting. The amount of various ways you can utilize the product is endless. If you are looking for a white highlighter pen for drawing, you've found the product for you.
12. Uni Posca White Marker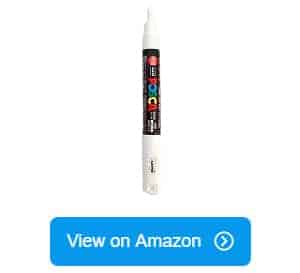 This extra fine tip marker creates lines of about 1mm in width. Uni Posca white markers use bright and vivid opaque ink on almost all surfaces like paper, photographs, wood, plastic, glass, and metal. Its ink is water-based, waterproof, low-odor, and non-toxic.
I like how the white ink displays well on both dark and light surfaces. They dry very quickly, and it is easy to write over them using other Posca products without the fear of smudging, smearing, and bleed-through. I also love how I can easily scrape off the white ink from glass to remove mistakes, but the ink stays permanent on paper.
This white pen works best after prepping. You can start by shaking the cap to mix the paint inside, then press down its tip on paper a couple of times until the ink begins to flow. Once this is done, these white ink pens will continuously produce smooth and silky ink to make all your artworks shine.
After I had finished prepping the pen, I used it on almost all kinds of art projects and drawing. I started by decorating brown paper bags to use as an eco-friendly gift wrapper.
I also used these white paint markers to add a little flair and panache on the bag by drawing dots, stripes, swirls, and other geometric patterns. I was also able to decorate my glass vase since the ink was very milky and bright; it complemented well with the colorful flowers.
Storing these pens properly after using is as important as activating the markers. Always keep them in a cool and dry area in an upright position. If not stored correctly, some leaking may occur.
Pros
Smoothly writes on most surfaces
Non-toxic ink
Ink flows consistently and dries quickly
Can perform different techniques
Cons
Leaks when stored horizontally
Some call it a tool with no limits; I call it my most favorite white pen yet. This white ink pen can do various artistic techniques like layering, blending, and best of all, it is water-soluble. Add water, and you will create gradients that professionals take years to master.
What to Look for When Buying White Pens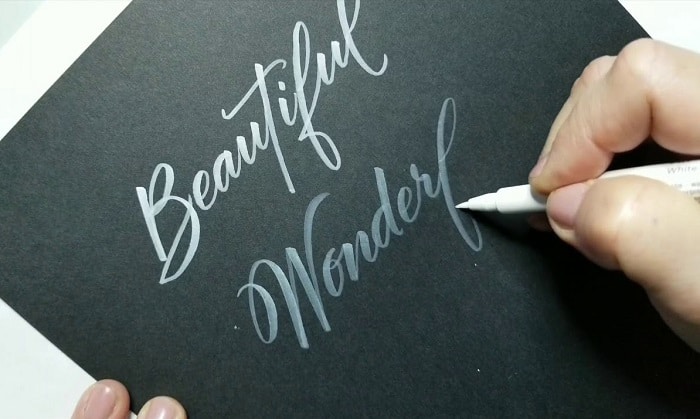 With various brands and types on the markets, choosing quality white pens and markers can be confusing and complicated, especially for amateurs. If you would like a more comprehensive and detailed guide to find out what pens work best on black paper, here's a short buying guide that might help.
Opacity
Opaque inks produce more contrast, so choosing a more opaque pen for projects that necessitate high visibility is the right choice. Transparent or translucent inks are less opaque and will allow the underlying or base color to show through, which would result in a more subtle and delicate look. Transparent inks are great for blending colors.
Line Width
Just like most markers, white pens have different sized tips for varying purposes. White ink pens with fine nibs are great for laying down details like adding highlights to a project. Most people use a white micron pen for better control and command. Contrastingly, if you are making a big sign that requires to be noticeable or seen from a distance, broad or wide tipped markers are the better choice for the task. Thicker-tipped white pens may take longer to dry.
Tip Material
Most white pens carry felt tips that produce and display bold strokes and lines depending on the amount of pressure you apply on the medium's surface. Metal tips found on gel ink pens create consistent and thin lines.
With a type of art that requires smooth and crisp lines, the look of a perfect line is important to choose the right white ink pen and marker that is best suited for you.
Price
It is always a good idea to check the price range of each white pen before making a purchase. Keep in mind that the most expensive set or item does not automatically mean it is the white marker. Most often than not, the price does not define the quality of the white ink pens or markers.
You can end up finding a cheaper but still perfect set for you and your artwork. If you would like to try a new hobby, then I would suggest getting the cheapest one on this list first.
If these white pens drive and inspire you to create and produce colorful and meaningful works of art, it doesn't matter how much you pay for the tools. In the end, how you feel during the creative process and seeing the results after you have finished is priceless.
Safe and Non-Toxic
If you are planning on using these materials with your children, it is always a good idea to choose the white pens that are chemical-free and non-poisonous.
Some paint markers carry harmful chemicals inside its barrels, so it is good to be cautious and check whether the white ink pens you are using are safe for children. You will enjoy creating art, knowing you are using tools that won't harm your kids.
Other Important Factors to Consider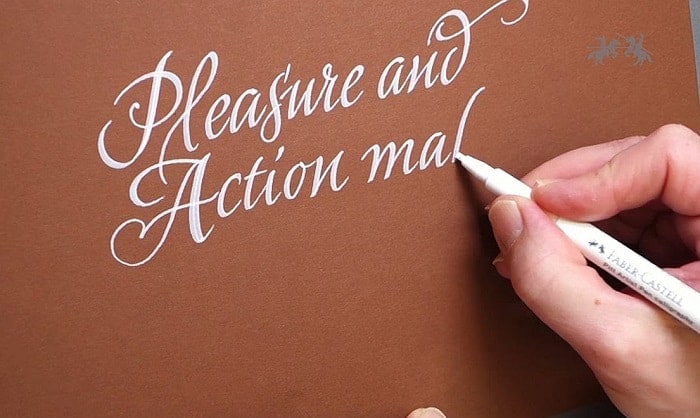 What is a white pen?
White pens carry white ink that creates and produces one-of-a-kind distinction and contrast on dark-colored surfaces and areas. It is a valuable and vital writing and drawing tool to different types of artists, cartoonists, designers, hobbyists, and scrapbookers.
White pens have various types for different kinds of applications and techniques. Its opaque white ink also acts as a correction fluid, which can be extremely helpful when you accidentally color or paint over negative space or fix tiny and small details. It is also an excellent tool for highlighting and shading artworks.
How does it work?
White pens come in a variety of different functions. Some pens are great for creating details like the Recollections white pens that house fine tips. There are other white pens for bullet journals, scrapbooks, and diaries such as the Ranger white opaque pen because they write smoothly and consistently like ordinary ball point pens.
Some white ink pens use pump action to get the markers to work like Posca pens. Posca pens usually have wide tips that are great for making signs on large surfaces.
Who is this for?
This white marker is perfect for anyone who enjoys creating art using different mediums. These white pens are user-friendly, so amateurs and professionals will use these paint markers with ease. Most markers bear safe and non-toxic ink, so children of all ages can also have a great time using them for school art projects.
What are the different types of white pens?
White pens and markers come in various types. There are gel white pens, white ink marker pens, and chalk markers. Each marker has a specific function and purpose.
Why do you need white pens?
If you want your artworks and masterpiece to stand-out on dark paper, these white pens will help. They aid in highlighting, shading, and adding more personality and charm in your works. They also serve as white-outs so you can correct errors made by other colored pens while you work.
Frequently Asked Questions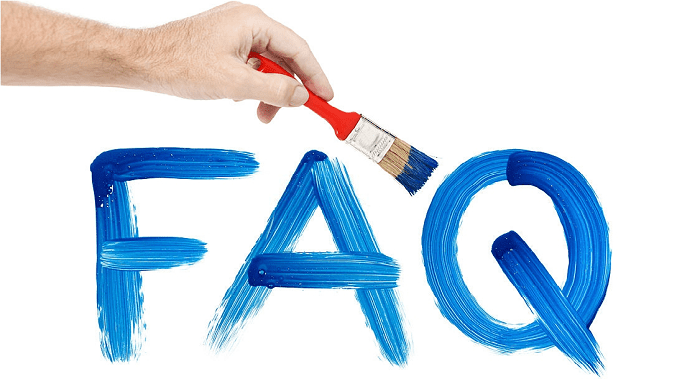 What are the most trusted white pen brands?
For white ink gel pens, the Uni-ball Signo pens are considered the top-selling white gel pen in the market. Hobbyists, non-professionals, and professional artists alike love the highly opaque, succulent, and viscous ink. It writes consistently and smoothly against all surfaces, and the ink is archival safe and resistant to weathering.
The Sakura Gelly Roll is also a white gelly pen worth mentioning because of its bold tip size that provides juicy and thick ink lines. Their medium and fine-tipped products showcase vivid and bright white lines ideal for complex projects. The white ink is less prone to drying out, so this white pen is perfect for people who will only use it for their hobbies. The ink is also resistant to fading, archival safe, and waterproof.
For white ink marker pens, the Uni Posca paint marker is the top marker used by most professionals. This pen writes smoothly on glass, wood, rocks, stones, metal, fabric, and paper. It is ideal for complex and large projects. The ink dries quickly and has the least odor amongst other markers and pens.
Lastly, for white chalk markers, the Chalky Crown white chalk markers are the best ones. You can write on chalkboard signs to add a charming and sweet touch to coffee shops, weddings, birthdays, and other special occasions. These chalk markers are hassle-free to erase. You can wipe the ink away using a wet cloth.
What white pen or paint marker do artists use?
When artists create works of art, they use different colors and techniques. White gel pens are some of the most critical components to help make their masterpiece more memorable.
These white gel pens help create depth and complexity in their works. Highlighting and shading might seem like an unnecessary task for someone who has an untrained eye, but for professionals and artists, these strokes and techniques are what completes the whole picture.
Some artists express writing and painting on walls. Graffiti has been around for a long time; however, it has become illegal in most states and cities. So, these artists have learned to expand their horizons and turned to glass art.
With the help of white chalk markers, they can draw and write calligraphy on glass walls and windows with ease. These white pens give out a significant effect that is visible even from far away. They are permanent and can only be removed if you use a wet cloth to erase it.
How to care and clean?
Caring and cleaning your white pens and markers are pretty straightforward and easy. Remember to clean the surface you are going to use. Make sure there are no small particles that might potentially clog or ruin your pen's tips. Most markers' nibs are soft and brush-like, so if a foreign particle gets on it, it might destroy the tip and have skipping lines, sequentially, ruining your artworks in the process.
If your set comes with a case, use it. It will help you keep track of your white pens. Always close the caps tightly before putting them away to avoid ink leaking out of your white ink pens and paint markers.
Most packs require you to store your white pens horizontally and some vertically. So, you should read the instructions carefully to ensure you are putting them away correctly.
What is the most versatile white marker?
One of the most versatile and multipurpose white markers is the Flymax paint marker six-pack set. This set writes on most surfaces you can imagine. It writes smoothly and skip-free on surfaces and areas like leather, ceramic, wood, plastic, fabric, canvas, glass, and chalkboards.
The fine point tip helps you fill in tight spots and draw thick lines to cover broad areas. It will leave your projects with a gloss-like finish.
You can also use this marker to cover up faded paint on tires and chipped paint from doors. The possibilities are endless.
What is the difference between oil-based ink and water-based ink?
Oil-based ink, when initially applied, gives off a shiny and glossy effect. However, this type of ink tends to dull and fade over time. Water-based ink has a lower gloss finish but would typically maintain its sheen level for a more extended period.
Oil inks take longer to dry versus water-based inks but provide excellent resistance to abrasion and damage. Since these white pens have oil in them, it loses its durability over time and is prone to cracks, dry, and chalky. It is also known to turn yellow in the long run.
Some recent updates have been done to water-based inks that make them more resistant to wear and tear. This upgrade allows this ink for expansion and contraction to adjust to any weather condition, making it less prone, cracking and crumbling.
For exterior applications, water-based inks are the better choice because it has UV protection. On the other hand, since oil-based ink has very little flexibility, this type of paint cannot expand and contract to different harsh weather conditions, making paint cracking more probable.
Conclusion
Though not as widespread and popular as black and red, there are certain instances where white paint pens flourish. With many unique functions of white markers, more people are starting to notice them.
With these white paint markers, you'll be able to take command of the writing instrument just like a normal ball point pen but with a smoother and more consistent writing experience perfect for different occasions.
You can check out my recommended best white pens and markers list to help your works of art come to life.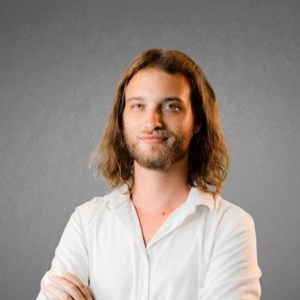 I am a former art teacher, so it is evident to me the importance of art in educating the new generation. We also want to help parents who plan to teach their children and desire the best tools and tips for them.