One of the nicest things about journaling is that you can write about your day or your thoughts in any format and any notebook, diary, or sketchbook. As for writing instruments, any pen that does not skip, bleed, or blot will do. Otherwise, you will not enjoy journaling.
For a better writing experience, you need to consider certain factors. Perhaps you like to use colors to decorate your journal or organize your tasks in your bullet journal. Maybe you like an ink pen set black but your handwriting looks better with a specific type of point size.
Let's explore some of the best pens for journaling so you can find the one that matches your preference.
Best Journaling Pen Reviews
1. Sakura 30062 Pigma Micron
If precision is important to you, you can never go wrong with this Pigma Micron pen. As one of the most versatile writing instruments, its quality proves useful to many professionals across various industries.
In the package are six pens of different tip sizes, making these top-rated pens appropriate for bold letterings and paragraphs, as well as bullet journal and journaling. Since journaling does not always involve writing, these pens are also great for doodling and sketching. When I tested them, each pen dispensed consistent line thickness that enabled legible handwriting and neat illustrations.
You might ask, "Do Micron pens bleed?" The answer is no. Even better, the ink flows smoothly without skipping, or smearing, allowing you to focus on composing sketches or essays. Not to mention, the ink is waterproof, so I did not see any feathering when I used it with other mediums like watercolor for art journaling.
Boasting superb archival ink, don't be surprised if your journal entries have not dulled down years later. Aside from the vivid black pigment, I also like this pen as the fine tip is sturdy and stable even for heavy-handed journalers. Writing for hours feels painless for me because the pen's body is light.
Just a heads up, the tips can fray the longer you use them. Keep in mind that this also depends on the amount of pressure you apply when writing. Besides that, these pens are generally reliable in terms of quality.
Pros
All-around pens for writing and sketching
Enables neat drawing and writing
Compatible with wet mediums
Bleed-proof, smear-proof, and fade-proof
Features sturdy tips and light body
Cons
The tips are prone to fraying
For this pen set, versatility is the name of the game. As these are fine point pens that don't bleed, you can use both sides of your journal pages.
2. Vitoler Journaling Pens
Colored pens make bullet journal and journaling more than just basic writing. Apart from color-coding tasks in your bullet journal, you can go all out in expressing yourself and jazzy up your diary. For that, I'd like to introduce you to this set of 24 colored fiber-tipped pens.
As fineliners, the 0.4 mm nib sizes are exactly what I need for clear penmanship. More than just a writing tool, the fine point helps me cross out or encircle items on a list neatly in my bullet journal. Working alongside the durable nibs, the smooth ink flow enhances my line drawing.
These pens are great even if you are an artist or a student. Kids who keep diaries can use this product due to the non-toxic water-based formula. No matter how rough they are in using it, the no-bleed pens can also prevent smearing. With acid-free composition, journalers will love looking back to their vibrant journal pages years later.
Elegant and functional, the pen's design keeps the ink from drying and nibs from breaking. For instance, the cap snaps back securely when I put it back on. I don't have to worry about them loosening up while inside my pen case. On top of that, I don't have to change the way I grip my pen to avoid breaking a nib since the metal-clad tip is pretty sturdy.
With a slim body, the pen is light but it may not be comfortable enough to grip for some people. Another thing to note is that some colors look similar to each other. However, these are just observations on my end since the pen generally works well.
Pros
Promotes clear penmanship and neat drawings
Useful for color-coding tasks bullet journals
Suitable for children and adults
Has fade-proof vibrant inks
Prevents damaging tips and drying inks
Cons
Some colors look the similar
The slim body may be uncomfortable to grip for some people
Considering its quality, this set of fine point pens are highly recommended for color lovers. In addition to its child-safe ink formula, the product is one of the top-rated pens for journaling.
3. Mr. Pen No Bleed Pens
Journaling can have a therapeutic effect but let's be real! It drives us crazy when the inks seep through the pages of our precious diaries. Don't worry, this brand is great for bullet journaling as Mr. Pen offers pens that don't bleed through paper.
Composed of 6 unique colors in a pack, the text I wrote was highly visible. While these pens are advertised as retractable pens for bible journaling, the vibrant hues meet the criteria for basic drawing, too. Besides, you do not need dozens of pens if you plan to write more than sketch full-blown illustrations.
From cute borders to simple illustrations, I did not smear my creations thanks to the fast-drying ink. In conjunction with the 0.7mm tip, the ink flows without skipping. This saves me from the trouble of applying more pressure or shaking the pen to make it work.
Apart from the cool aesthetics, I love retractable pens as they have low maintenance. If you hate removing tight caps like me, then you will be amazed by the ease of pressing the button on the top of the pen to release the nib. The best part is that this mechanism hardly breaks.
Equipped with rubber padding, it feels comfortable to grip the barrel, especially if you have sensitive hands. Truly, these pens are made for long hours of writing. Overall, everything about the product is excellent, except for the fact that the highly-pigmented inks are prone to paper ghosting. It seems to me that they are more appropriate for thicker papers.
Pros
Highly-pigmented inks make writing visible
Excellent color selection for basic drawing
No smudging, skipping, and bleeding
Low maintenance and durable click pens
Suitable for long writing
Giving you ample color choices, these no bleed pens are ideal for marking, underlining, writing, and sprucing up your notebooks and books. Its vibrant inks will make sure that you never miss the important text you wrote or underlined.
4. Aen Art Fineliner Color Pens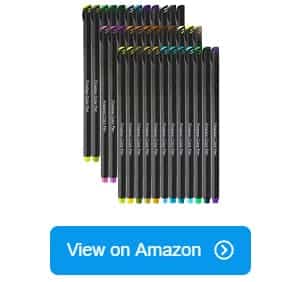 With this pack of 36 pens, you can unleash your creativity in both writing and illustrations. Beyond the wide selection of colors, there is more to this product than meets the eye.
In the set, I see several pens with darker tones that are helpful for basic note-taking. Yet, the ink pen set also includes a handful of lighter tones for underlining and other forms of marking. Suitable for art journaling, the smooth flowing inks let me sketch and color my drawings.
Besides that, I recommend this pen for bullet journal or journaling because fast-drying inks guarantee no smearing and feathering. For those who want to get their kids into journaling, these pens are perfect for them due to the non-toxic formula. Years later, their documentation of their memories and ideas will remain vivid because of the acid-free inks.
Another strength that I have found in these pens for bullet journaling is their durable nibs. Characterized as extra-fine tips, I can produce a crisp line width that results in neat handwriting and intricate details. Furthermore, the felt-tips of these pens move swimmingly on the journal pages.
To avoid issues like breaking and wiggling nibs, the metal-clad tip adds to the stability of the pen when using it. Despite its awesome performance, the ink tends to bleed on thin paper. That said, you can maximize these pens by opting for a journal that has thicker pages.
Pros
A wide selection of colors for writing and sketching
Safe for children
Acid-free inks remain vivid for years
Metal-clad tips ensure stable writing
Produces fine crisp lines
Make your bullet journal or journaling extra fun and colorful with this pen set! With 36 colored pens, you can pour your heart out in your sketchbook or diary.
5. COLNK Colored Gel Pen
Smearing is the bane of writers and illustrators. While plenty of manufacturers make fast-drying inks, this brand claims that their pens possess gel ink that can dry 5x faster. Could this be true? Let's find out.
Included in the ink pen set are 8 unique colored gel pens with highly pigmented inks. Providing a good mix of basic black ink and vibrant hues, this product lets me use any pen to produce clear and visible writing. As the perfect study or work companion, the assortment of colors gives me enough choices to mark texts in a book or bullet journal and doodle.
Upon testing, each pen releases a consistent flow of ink while the nib moves on the paper effortlessly. Keeping its promise, left-handers will be delighted by how fast the gel ink dries up. As a result, there was no need for me to adjust or slightly lift my hand to avoid accidental smearing.
When you run out of ink, just avail of the refill instead of buying a brand new pen set. Not only does this pen save you money, but it reassures you that you get the same color and quality of ink. Since these retractable pens come with silica grips, holding the barrel feels comfortable even for sensitive hands.
Even so, this pen has a minor glitch. Although this does not happen often, I just want to mention that the inks tend to skip when I write too fast. Other than that, you can rely on these pens' performance.
Pros
Produce clear and visible writing
Highly-pigmented inks
No need to adjust your hand to avoid smearing
Refillable inks
Silica grips on the barrel for a more comfortable grip
What sets these gel pens apart is the combination of fast-drying ink and marvelous pen design. You can write continuously without adjusting your grip to keep your hands off the paper.
6. Paper Mate Gel Pens
Known for its Paper Mate Flair Felt Tip Pen variant, this brand also manufactures high-quality gel pen sets that students, office workers, and journalists love. Aside from black ink, the pack includes 13 eye-catching colors that are fitting for any kind of journaling.
Winning the approval of many left-handers, this Paper Mate Flair Felt Tip pen's quick-drying ink minimizes smearing. While writing, these flair felt tip pens can release ink continuously that keeps up with my speed. Free of issues like skipping or leaking, it removes the hassle of going over what I have already penned.
Conducive for bullet journaling, the vibrant colors are extremely useful for marking my list and color-coding my tasks. Although these are not exactly drawing pens, I can decorate journal pages with some doodles. Despite heavy application, the gel ink hardly bled.
Another thing I adore about this set is the pen's durable design. Alongside the ink, the 0.7 mm tip writes paragraphs legibly even on ruled or grid pages. Yet, I can also use this Paper Mate Flair Felt Tip pen for bigger text heading.
Also, the body is not too slim and not too thick, thus it is easy for me to grip and control the pen. Because these flairs felt tip pens feature a rollerball nib, heavy-handed folks can forget about fraying. Moreover, it ensures a consistent line width even after using the pen several times.
Truth be told, I cannot find anything bad about these pens for bullet journaling, but I just wish that the inks are acid-free so it can be prone to discoloration. Personally, this is not a deal-breaker since I don't necessarily need archival quality for my bullet journal reminders.
Pros
Great for left-handed and heavy-handed writers
Can be used for a variety of journaling activities
Easy to grip and control
Has ink flow that keeps up with any writing speed
Ensures consistent line width
Overall, these flairs felt tip pens give you gel pens that don't bleed, skip, or smear. To make things even better for you, its barrel is easy to hold and manipulate for clearer penmanship on your journal.
7. Mr. Pen Felt Tip Pens
Buying a rainbow set can be exciting until I realize that I could not use all of the pens because there's just too much. Sometimes, having a set of 8 writing pens for journaling is more than enough. With this product, nothing will go to waste.
Aside from the assortment of colors, the ink of each felt-tip pen is visible against the white paper and easy on the eyes. Since the inks are fade-resistant, my writing will be visible years later. Even for a lighter color like orange, I didn't have to squint just to read what I wrote properly. That is why they are one of the top-quality pens for journaling.
With nib sizes that measure 0.7mm, I can compose essays in ruled notebooks and bolder stylish headings with the same pens. Plus, the pens respond to the movement of my hand to catch up with my speed without skipping. Smearing is out of the question due to the quick-drying ink.
Taking writing experience a notch higher, these pens for bullet journaling are slightly smaller but they provide substantial space to hold. Removing the caps is not hard and they snap securely when I put them back. Even if I apply some pressure, tips are pretty sturdy so it is safe to assume that the line width will not change despite frequent usage.
A word of advice: These pens need to be swatched before using them for anything because the colors of the caps do not match the inks. This is just optional since some of you may find it helpful to know how the colors will look on paper. Lastly, I can pretty much guarantee that the inks will not bleed through pages but expect paper ghosting on thinner sheets.
Pros
Make writing readable
Versatile tips for essay writing, stylish headings, and drawing
Can catch up with any writing speed
Inks do not smear
Sturdy felt tips ensure consistent line width
Cons
Ink colors are different from the colors of the caps
Expect some degree of paper ghosting on thinner paper
Discounting the minor inconveniences I mentioned, these felt-tip pens are multi-functional. If you want to use every color for writing, you can be sure that they are all readable.
8. Toshine Gel Ink Pens
On the outside, these pens for bullet journaling look charming but the fact is that we need a writing tool that works. Thankfully, these pens work just fine!
First of all, I like how each gel pen has a distinct ink color. Generally speaking, they all look vibrant against the white pages of my journal. Working in tandem with the 0.7 mm, the inks boost the clarity of the marking and text I produce to test this product.
Concerning the quality of the ink, these fine-tip pens can render lines without visible feathering or blotting. Because of that, I can rely on them to write smaller letters and bigger text headings. Due to the smooth-flowing quick-dry inks, I can also use these pens to add some details and color patterns to the journal.
Although the nibs of these pens look like a needle, they are pretty sturdy. In effect, I can draw straight lines with a ruler and not worry about any of them wiggling. Moreover, the caps fasten well on the barrels of the pens so the nibs are protected.
Plus, this pen set comes with a plastic pen case that helps me in keeping them organized. Since the pens are so cute, it also makes me want to give them as a gift. With the container, I can wrap this product with a gift wrapper neatly.
Of course, these pens have their imperfections. For one, I have noticed that the pens run out of ink relatively faster than other brands. However, this will depend heavily on how you use them. For another, the cute design of the pens peels off the longer you use it.
Pros
Boosts clarity of text and marking
No visible feathering and blotting
Sturdy fine-tips prevent wiggling
Charming pen designs
Caps fastens on the barrels securely
Cons
Runs out of ink faster compared to other brands
Colorful patterns on the barrels tend to peel
As a whole, this set is sufficient for everyday writing tasks, marking, and basic sketching. Alternatively, you can also give these cute gel pens as a gift to friends who are into bullet journaling!
9. KACO K1017 Gel Pens
Even though the aesthetic of these retractable gel pens is on the minimalist side, they are dazzling in their own right. Based on experience, I think they can be the most favorite pens for note-taking so here me out.
Consisting of 20 pens in a pack, the candy color appeal of these writing instruments is not just pleasing for the eyes. Their inks are also rich and vivid that make bullet journaling even more engaging. More importantly, the colors do not fade, which is why I also use these pens for some sketching.
Coupled with the smudge-proof inks, the fine-tips help me produce cleaner handwriting and drawing, especially for left-handers. Sporting 0.5 mm, I can pen essays in narrow college ruled and grid notebooks. Just the same, the crisp lines these multifunctional pens render make them appropriate for underlining or marking texts on a list or in books.
Another reason why I love these pens is that the matte finish is soft to touch. Suitable for long writing, holding the barrel feels light and gentle. Furthermore, the pens' end caps are very responsive. When I click the cap, the pen releases the nib and retracts without getting stuck. This is a huge advantage because it eliminates problems like loose or tight caps.
One thing to note is that the white pen's ink is brown. This is not a big deal since the shade is beautiful, but it confuses folks who may be looking for white ink. On top of that, I find some of the colors of the pens have subtle differences that they almost look repetitive.
Pros
Dazzling candy-colored inks and barrels
Optimal for bullet journal, journaling, long writing, and sketching
Fast-drying ink
Vivid inks do not fade
Light and gentle to hold barrels
Right and left-handers will find this pen set beneficial for a variety of activities. Be it writing, goal-setting, or sketching, your journals will look stunning because of the colors of these gel pens.
10. Tombow 56185 Markers
A favorite among the communities of illustrators and hand-lettering artists, the Tombow Dual Brush Pen is popular even for diarists. At first glance, you may get in the impression that these pens for art journaling are for artists but just like any tool, anyone can use them for different purposes.
In the set, you get 9 colored pens and a blender. Loaded with water-based inks, these artist pens have a brush pen on one side and a fine tip on the other to give my journal an artistic touch. Because these inks are blendable, I can manage to play with tones and shades to add some depth to my creation. The Tombow Dual Brush Pen also lets me add water to produce a watercolor effect.
The inks can retain its vibrance for years since they are acid-free. As I swatched the Tombow Dual Brush Pen, both brush and bullet nibs dispensed a continuous flow of ink. The colorless blender is self-cleaning so I don't have to scrub the tips on another surface to remove the ink this brush pen picked up while blending.
Regarding the bullet nibs, they perform splendidly when writing and rendering lines with consistent thickness. While testing the brush tip, I like that it is soft as it aids me in producing lines with varying thickness. Yet, it has some firmness to this Tombow Dual Brush Pen, which gives me full control when maneuvering the pen without splitting the tip.
More suitable for journals and sketchbooks with medium to heavyweight paper, these markers tend to bleed on thinner sheets. Also, note that the markers' fine tips are not the same as the "fine tips" you see on felt-tip pens or fineliners. There is no doubt that you can write with them, but they can be a little thick for essay writing.
Pros
Dual-brush feature
Self-cleaning colorless blender
Acid-free inks can retain color vibrance for years
Bullet nibs render consistent line thickness
Brush tips respond well to your strokes
Cons
Bleeds on thin journal pages
Fine tips are not the same size as fineliners
Expressing yourself in your journal does not always have to involve writing. If you think that feelings are better conveyed through art, then these Tombow Dual Brush Pens may be the right one for you.
11. Aen Art Coloring Pens
When it comes to crafting pens with the right nibs for sketching and writing, Aen Art pens are perfect! Whether you are an illustrator, a writer, or both, these pens for bullet journaling are a must-have.
As the product name implies, this is a 2-in-1 product that lets me do a lot of things in my journal. On one end of the barrel, I get a fine-tip pen that has 1-2 mm nib sizes. Appropriate for writing, this nib size renders neat handwriting even on a ruled or grid diary.
On the other side of the pen, the brush tip is perfect for bold strokes and elegant swirls that I need for lettering and illustrations. After testing, I like how it glides on paper as it makes coloring large areas so easy. Giving me good control, the juicy inks do not make the brush too slippery.
Speaking of juicy ink, all 18 colors are opaque and vibrant, making them apt for producing finished artworks. Using the fine point, the assortment provides ample darker options for legible penmanship aside from the black ink.
For neat compositions, the water-based inks do not leak, skip, or smear. Not to mention, they are also acid-free so my writings and drawings will never discolor.
In my observation, the fine tip pens widened slightly after using them several times. Besides, these brush pens are not as firm as I would like it to be. This is not a problem for coloring but it can be a little challenging for lettering since it requires more precision.
Pros
Multi-functional instruments
Fine-tip pens support neat handwriting
Juicy inks produce solid coverage
The quality of ink aids you in composing neatly
Acid-free inks keep writings and drawings vibrant
Cons
Fine tip pens tend to widen after frequent usage
Soft brush pen can be challenging for a precise rendition
Factoring in all the strong points, this could be a good candidate for the most reliable colored pens for journaling. Pair this with your fancy journals and you will have a blast while you document your life.
12. BLIEVE Bible Pens
Bible journaling has found its niche in the large journaling market. After all, this particular activity requires pens with certain features and BLIEVE has nailed both functionality and affordability.
Considering the design of most bible journals, the manufacturer crafted gel pens that don't bleed through thin paper. Likewise, I see that the ink dries almost immediately, which effectively prevents me from obscuring the important text with smears. Plus, the smooth flowing ink boosts the ease of use. I didn't have to go over the words I wrote just because the ink skipped.
Upon swatching each color, I can write legibly even with the relatively lighter hue, like orange. Generally, they contrast well against the white pages and black text so I can spot the underlined passages right away. Featuring 8 fun colors in a set, I can color-code my notes and reflections.
Meanwhile, the medium point makes these journaling pens appropriate for other writing tasks and markings. For instance, the line thickness it produces can fit my handwriting ruled notebooks and grid papers. On top of that, the ballpoint nib is sturdy, which makes it suitable for tight-gripping writers.
I know I'm just nitpicking but the only flaw I see in this product that they cause paper ghosting on thin pages. On the bright side, the pen set is affordable, even though its quality is awe-inspiring. Still, these are some of the pens for bible journaling that anyone can have.
Pros
Prevents bleeding, smearing, and skipping
Writes legibly on paper
Great for color-coding notes and tasks
Line thickness can fit handwriting in ruled and grid notebooks
Sturdy nibs make it suitable for tight-gripping writers
Cons
Causes paper ghosting on thin sheets
Just because these pens are advertised for bible journaling, doesn't mean it can't be used for anything else. You can make the most of each ballpoint pen with other tasks.
What to Look for When Buying Pens for Journaling
When buying pens for bullet journaling, it is not a bad idea to take the time to think things through. Do you want to use the same journaling pens for note-taking, school, and office work? Are you looking for the right pens that are exclusively for bible or bullet journaling? Would you rather sketch than write?
Aside from usage, we all have certain habits when writing that we need to consider. Based on research and experience, here are some of the things to think about when buying pens for bullet journaling. Note that some of the scenarios I shared below are just examples to give you a better idea of how each feature works.
Ink quality
Technically, you can write and sketch with any ink but you would probably notice that some inks are better for a specific task. To date, we can find water-based, alcohol-based, and oil-based inks. They are mixed with dyes, pigments, or both. As a result, they react differently to various types of paper.
Note that each brand concocts their ink formula. For instance, the inks of the Pigma Micron set is different from a set of Staedtler Triplus Fineliners or Le Pens.
Knowing your style and habits in journaling will help determine which ink is more suitable for you. For instance, if you are left-handed, you may want to go for inks that dry immediately to avoid smearing. If you want to read your journal entries years later, your writing will never fade with acid-free or archival ink pens.
On the other hand, those who like to draw or make letterings may go for inks that have nice coverage. To add some depth, water-based blendable inks are a great option!
Nibs
Sure, a regular ballpoint is sufficient for most tasks but it cannot produce the effects that you want for lettering.
Besides this, you also need to consider how you grip your pens. Felt-tip pens are all-around instruments but the fibers on the nibs soften or split when you apply more pressure. Rollerballs and micro-tip pens have stable and sturdy nibs that can withstand heavy hands.
This does not mean that you should switch to rollerballs if you are heavy-handed by nature. If you are meticulous about line width, you need high-quality felt-tips and markers that have stronger tips.
For stylish lettering and illustrations, I recommend a brush pen set. The brush tips can make coloring feel like you're painting. Plus, they are somewhat firm so you get better control when sketching.
Beyond that, pens now come in different point sizes, which vary from one brand to another. In the context of bullet journaling, you can take advantage of the line thickness to include some visual hierarchy in your entries. The thicker ones can be used for headings or emphasizing important things, while the thinner ones can be used for the text body.
Colors
Whether it's organizing tasks or expressing emotions, we all use colors to communicate or emphasize something. At the minimum, we use at least one color to write our thoughts. To underline or highlight, using brighter colors like yellow or red lets us see a word or a phrase immediately when we scan through our notes that are normally in black ink.
The number of pens you need for your bible journal, planner, or diary will depend on the kind of journaling you intend to do. Artsy folks would go for more colors, especially if they intend to draw full-blown illustrations in their journals. Bullet journal and bible journal aficionados may only need fewer colors to keep their entries more organized. Folks who like to keep things simple and classy use black ink most of the time.
As I said, there is no right or wrong way to practice bullet journal and journaling. What matters is that you are happy with your choice of colors!
Form
When a pen has a body that is hard to hold, it will naturally affect our writing. Remember, this is neither our hands nor the pens' fault. It's just a matter of finding the one that feels comfortable to grip.
Many pens have grips made of rubber or silica attached to the barrel to cushion your fingers. On the flip side, some people find it easier to control lighter, slimmer pens. Rather than relying on other people's opinions, it's best to try the pen out for yourself since our hands have very different shapes.
Aside from that, you should also factor in your habits. If you tend to lose your pen's cap, or just hate tight caps in general, perhaps retractable pens are better for you.
Moreover, some folks may have underlying conditions like arthritis or carpal tunnel syndrome. If this is the case for you, you need to consult a specialist to know what type of pen suits you.
Function
Nowadays, it is hard to categorize each pen according to its type since manufacturers have designed "hybrids" like dual-tipped markers. Let's focus on the most common types of pens that are included in this review as they are all recommended for bullet journal and journaling.
For heavy writing, ballpoint pens and rollerball pens are recommended because they dispense quick-drying inks that prevent smearing.
Gel pens have inks that dry almost instantly and these instruments offer more colors, which include glittery, metallic, and neon versions. This selection gives you more ways to decorate your journals.
Markers and felt-tips are perfect for writing, labeling, coloring, and sketching. Some markers have blendable inks and brush nibs that let you render effects to make your journal entry like pieces of art.
Other Important Factors to Consider
What are pens for journaling?
Pens for bullet journaling are just like any pen but they are designed to meet the needs of a specific type of customer: An avid diarist.
While any writing instruments can do, these journaling pens should at least have fast-drying and skip-free inks so that the pages look neat after penning your essays or jotting down a list of your tasks. Since journal writing is more expressive, diarists maximize a pen set's variety of tip sizes and ink colors to decorate, organize, or draw.
How do pens for journaling work?
Using a pen is very straight forward: Open the cap and start writing or sketching. Remember to put the cap back on to avoid damaging the nibs and drying the inks. If you own a retractable pen, simply click the end cap to release the nib. Then click the end cap again after use.
Aside from the pens, you also need to factor in the paper you use for journaling. A bullet journal can be thick but it may be prone to paper ghosting or bleeding if you use a brush pen that contains juicy ink. A sketchbook in a journal format may have thicker pages for mixed-media but it does not have a grid that you need for bullet journaling. This way, you can use your journaling pens to your advantage.
Who is this for?
Journaling is for everyone, which means anyone who wants to practice bullet journal and journaling should buy journaling pens.
By now, you are aware that each type of pen is suitable for specific activities. Creative individuals who want to sketch their thoughts and days can benefit from gel pens, felt-tip pens, or brush pens. Journalers who want to write personal essays can go for any fine point or medium point felt-tip pens or gel pens. Bullet journaling folks may go for some colorful pen set.
As I've said, don't take these examples too literally. I see some people are old school and write with fountain pens. Your journal is your private space where you can write anything and let it all out. Use whatever pen set that suits your style and habit.
What are the different types of journaling pens?
These days, pen manufacturers have invented a wide range of writing instruments. Yet not all of them work well on the journal that you have. For future reference, here are some pens for different kinds of journaling:
Felt-tip pen
Gel pen
Rollerball pen
Marker
Brush pen
Why do you need colored pens for journaling?
People respond to colors. For example, designers use red to create a "Sale" sign in retail stores to immediately grab our attention. The red stoplight tells us to stop to prevent road accidents. In the same way, people use a bullet journal system to assign symbols and colors to organize their tasks, calendars, and the goals to track. This is why I strongly suggest that you use colored pens for bullet journal and journaling.
Some tasks, events, and goals are more important than others. As such, colored pens help you indicate the level of priority or a list of tasks and events under a specific project. Not only it helps us sort our daily activities, we see our reminders immediately.
Similarly, books contain important information, quotable quotes, and insights that we want to remember either for school, work, or personal endeavors. Bible journals provide scriptures and space for you to write your reflection on specific passages. While it is okay to use just one color, it is easier to find what you wrote and the corresponding passage in the future.
Colors also help us express our thoughts creatively. The most obvious example is sketching illustrations to show snippets of our day. At the same time, we can use colored pens to embellish our writing with shapes or borders. With brush pens, we can draw vibrant brush lettering for the heading.
Frequently Asked Questions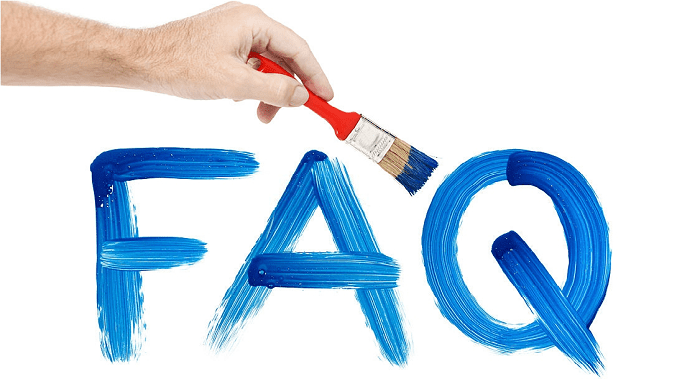 What are the most trusted journaling pen brands?
In this day and age, we see tons of pens in both online and physical retail shops. Unless you are a blogger who reviews writing instruments or an avid pen collector, you won't always have the time and energy to try and compare pens.
Brands like Sakura, Vitoler, Mr. Pen, Aen Art, COLNK, Paper Mate, Toshine, KACO, Tombow, and BLIEVE stand out for me. In my experience, these are the most favorite pens for journaling.
You are welcome to try out other brands and variants. Across the internet, you will find others who would recommend Faber Castell Pitt Artist, Le Pens, Paper Mate Flair, Staedtler Triplus fineliners, or a Sharpie Pen. What's important is that the pens possess the qualities that match the notebook, bible journal, bullet journal, or sketchbook that you have.
How to use pens for journaling?
First of all, figure out what kind of journaling you want to do and your style. Most pens that we find in the stores today have similar features. They are either retractable or capped but their tips and inks vary.
To give you an idea, journalers use brush pens to describe their thoughts through illustrations. This is the weapon of choice for brush lettering but it poses some learning curve for first-time users. It takes practice to familiarize yourself with brush pens but the results are worth it.
Of course, this approach is not everyone's cup of tea. Some people would rather use a medium point for the heading and a fine point pen to write essays or a list of tasks. You can find these nib sizes in a fineliner or gel pen set and these are good examples of the most trusted pen for journal writing.
Where to buy journaling pens?
Among all writing instruments, pens are not hard to find, especially the trusted brands like Sharpie pen, Tombow, because even small convenience stores sell them. However, the best pens can be found in office supplies, as well as arts and crafts sections of both e-commerce websites like Amazon and physical retail shops. You can also buy directly from the websites of the pen manufacturers.
Conclusion
There is no one way to document your life in a journal. How you want to express yourself is a personal choice but each approach will require a specific type of journal and pens. In this review, I tackled some of the best pens for journaling in the market but I encourage you to try other brands as well.
Ultimately, your style, your habits, and your grip that should inform your decision. It's okay to read reviews and forums on Reddit, Youtube, and other websites but sometimes it is better to test out the pens for yourself. This way you can see if they work exactly how you want them to. Take other people's opinion about the product with a grain of salt.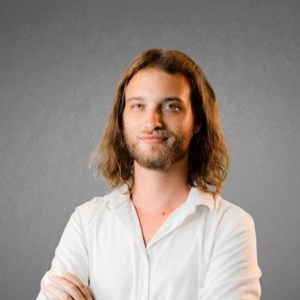 I am a former art teacher, so it is evident to me the importance of art in educating the new generation. We also want to help parents who plan to teach their children and desire the best tools and tips for them.