Artists know that watercolor brushes are essential tools to express their creative ideas in paintings and various crafts. However, the results are sometimes unpredictable and can either end up as a stunning masterpiece or awful chaos.
Having said that, it leads us to a crucial fact: paint brushes for watercolor can make a significant impact on a painting or artwork. In case you are an artist and deciding which brushes to choose, keep in mind that investing in the best watercolor brushes can help you flourish your artistic projects.
The challenge is, they come in a variety of sizes, shapes, and hair types. Some are synthetic while others have natural hair brushes. Moreover, these brushes are labeled with numbers, which can be quite confusing, especially for beginners and students.
Therefore, which brushes for watercolor suit your needs and skills the best? How can you find the perfect pick among the plethora of watercolor paint brushes on the market? Well, you are not alone in this dilemma. The options might seem intimidating but this in-depth buying guide and reviews will help you find the watercolor brush set you are looking for.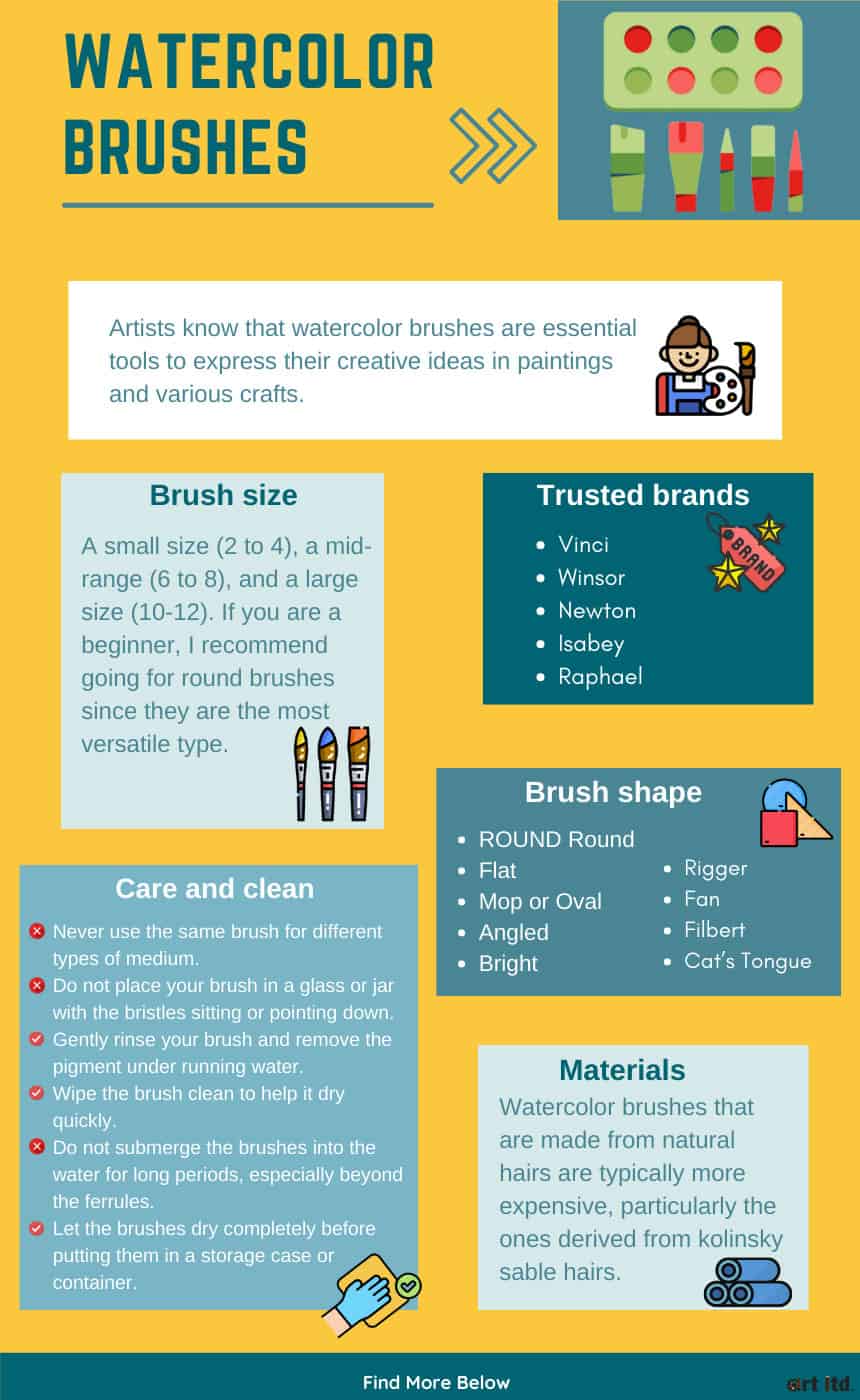 Top 12 Watercolor Brush Reviews
1. Dugato Artist Watercolor Paint Brush Set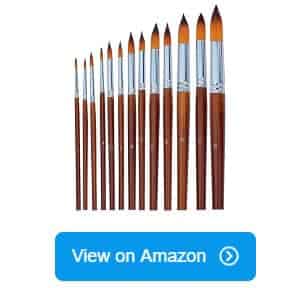 Versatility comes first for this 13-piece watercolor brush set. Since there are different types of watercolor brushes, I bet both professional and beginner artists can take delight in this assortment to create fine lines, intricate details, and broad strokes.
Aside from that, one of its highlighted features is the durable bristle design. As it is derived from nylon, I was initially skeptical about the longevity and performance of these brushes. Surprisingly, it was the other way around.
The nylon bristles are flexible and do not split easily, even when used several times. Excellent absorption is among the major factors I consider, and these brushes did not fail to provide that. It can hold a lot of paint, lay down the colors seamlessly, and revert to its original shape nicely.
Moreover, it seems true that the bristles are anti-shedding. So far, I haven't seen some bristle fallouts, making the brushes reliable for exhaustive detailing, particularly the smaller sizes.
Thanks to the high-quality aluminum crimp ferrules, the brushes do not feel wobbly, reinforcing their durability and stability. Plus, the ergonomic solid wooden handles are exceptionally long to deliver consistent strokes while keeping the comfort and balance on point.
Although the length of the handles is an advantage, it can also be a drawback for some artists. It can be a little difficult to maneuver sometimes.
Pros
Includes various sizes for versatile applications
Made of premium quality nylon for durable bristle design
Flexible and anti-shedding bristles
Offers strong absorption that holds paint efficiently
Designed with high-quality aluminum crimp ferrules for stability
Cons
Length of the handles might feel uncomfortable to hold sometimes
The variety of sizes and durability of nylon bristles make this set one of the top-rated synthetic watercolor brushes to try. The absorptive capacity and flexibility allow artists of all levels to paint comfortably and effectively.
2. Transon TR2620 Round Watercolor Brushes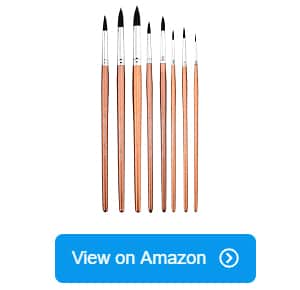 Among the watercolor brush shapes, a round tip is the most versatile, and I am sure you can do more if you have these round watercolor brushes in different sizes. Good thing that this 8-piece set is not difficult to find.
The impressive array of sizes of these brushes can provide various consistencies. It includes #0, #1, #2, #3, #4, #5, #6, and #7 brushes, which are the common sizes that can render basic strokes and applications.
Besides the variety, I want to highlight the unique and durable blend of goat hair and nylon in these brushes. They are soft, smooth, and mimic the spring of sable brushes, holding their shape excellently for efficient and steady release.
The large ones do not splay and can hold an optimum amount of paint, filling in vast areas seamlessly. The smaller brushes, moreover, are reliable for intricate details and precise outlining or adding embellishments.
Since the filaments are soft and pliable, they can absorb paint and water efficiently. Moreover, once you let them glide across the surface, the brushes go smoothly and distribute the paint quite well.
Aside from the sturdy bristle design, the nickel-plated copper ferrules secure the bristles and keep them intact. Thus, they do not wobble, making it more convenient to work on different strokes.
However, as much as I want to say that the quality lasts long, I am not sure it does. Unfortunately, some of the brushes frayed after several uses. I also have to deal with some shedding at times, which can be really annoying. But considering its price point, I think that is somehow not a surprise.
Pros
Includes various sizes of round brushes for versatile applications
Excellent absorption
Features sable-like spring and performance
Uses natural goat hair and nylon for soft and pliable bristle design
Has nickel-plated copper ferrules that keep the bristles intact
Cons
Frays easily
Can shed sometimes
Overall, these elegant and decent quality watercolor brushes do what they are designed to do – lay paint and create diverse lines and strokes. They are easy to use and can provide great results, making them ideal for beginners and students.
3. da Vinci 10-5/0 Watercolor Maestro Paint Brush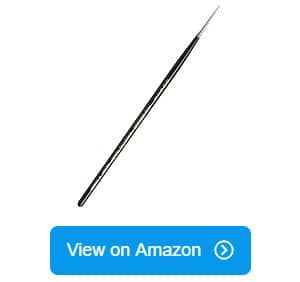 It requires a specific type and size of a watercolor brush to render precise lines and strokes. With that in mind, there is nothing I could think of but select from my favorite and watercolor brushes brand, da Vinci.
Among the da Vinci watercolor brushes I have tried, this series 10 size 5/0 is probably one of the sharpest. If you have a keen attention to details like strands of hair in a portrait or other complex strokes, you can create and highlight them using this brush.
Apart from its delicate size, this brush boasts a premium quality bristle design. It may not seem noticeable with a brush this size, but the kolinsky red sable hair does make a difference. Not to mention that it is derived from premium quality sable hair in Eastern Siberia.
The bristles have excellent spring and a carefully shaped tip with a snap. This allows you to refine details and apply intricate touches without a hitch. Moreover, it quickly reverts to its original shape even when you use it with watercolors or gouache to render intricate illustrations.
Another impressive feature is that it provides a high capacity for holding color and water. Thus, it lays down paint and colors beautifully without any streaks. Plus, it does not splay, keeping a perfect point for consistent and accurate strokes.
One more thing that fascinates me is that the handle is made with sustainable wood in Germany. The ergonomic length and design enhance the comfort, and I can tell that it is sturdy as well. Moreover, the nickel-plated ferrules are rust-resistant, long-lasting, and can also add a sophisticated touch.
The downside is that this brush is not as versatile as the other brushes, considering its size. This only works great on small and very fine details and is not ideal for filling in large spaces.
Pros
A Series 10 Size 5/0 brush that creates super-fine and accurate strokes
Made of premium quality kolinsky red sable hair
Absorbs a lot of paint for efficient applications
Features an ergonomic handle made of sustainable wood
Designed with rust-resistant and long-lasting nickel-plated ferrules
Cons
Not ideal for painting or coloring large spaces
When a painting or artwork calls for precision and exceptional performance, this brush is an excellent addition to your brush essentials. It absorbs and releases paint efficiently that accentuates even the tiniest details in your work.
4. Silver Brush Limited 3000S10 Watercolor Brush
Contrary to the da Vinci small brush that produces fine lines, this Silver Brush Limited 3000S in size 10 is one of the top picks for watercolor washes and solid color fill. Unlike other watercolor brushes, this brush is a combination of natural hairs and synthetic materials or fibers.
The squirrel hairs lend a soft and flexible design that absorbs a lot of paint so you do not have to dip them in the paint more often. One more thing I noticed is that the softness of the brush makes it possible to deliver a smooth paint flow.
The bristles have an optimum spring that lets the brush maintain its shape when laying down the paint. Therefore, it wards off any blotches or messy paint washes. Additionally, the ergonomic short handle ramps up the comfort as you hold it.
Moreover, the brush size can produce wide strokes, which I find suitable for colorful wash techniques when painting the skies or breathtaking sceneries. Since it is composed of durable synthetic fibers, the tip exhibits a fine point that can be used for intricate lines.
In terms of appearance, the black and silver tones give off a straightforward and elegant look. Plus, the nickel-plated brass ferrule prevents the brushes from wobbling.
However, the brush has some issues with shedding. Although it is minimal, it can be a little cumbersome to see hairs falling everywhere on a watercolor painting.
Pros
A size 10 brush for wide and fine strokes as well as watercolor washes
Features a luxurious filament blend of natural squirrel hair and synthetic fibers
Soft and flexible bristles
Elegant appearance
Designed with a short handle for added comfort
Nonetheless, this brush ensures proper color retention that can provide beautiful washes on your watercolor painting. The mixed filaments spruce up the versatility of this brush that can polish your work with wide and fine strokes.
5. Winsor & Newton 5007004 Sable Watercolor Brush
When browsing the Winsor & Newton Series 7 kolinsky sable watercolor brushes, the #4 round brush is definitely one of the brushes I end up with when it comes to superb snap and spring.
There is a lot to love about this brush, especially if you are done dealing with substandard watercolor brushes. As mentioned, this brush has an ample spring that lets you control the brush without worrying about laying down messy paint blotches or dumping a lot of water load.
Due to its excellent snap, the brush snaps or reverts to its original shape, making it a lot easier to glide across the surface and deliver consistent strokes. As it deters deformation, these natural kolinsky sable bristles do not fray quickly and can stay intact at all times.
In addition to that, the premium quality bristles have a high capacity to hold paint. This means decreased times of constantly loading your brush with paint. I like how you can just dip it in paint and go at it without interruptions or frequent breaks to reload more paint while working.
Although the kolinsky sable hair makes a huge difference to its performance and flow rate, the belly of the brush contributes to effortless gestural painting techniques. Whether it is for broad strokes or very fine lines, this brush does a great job.
Aside from that, the brush features a nickel-plated brass design that reinforces the positioning of bristles. This also elevates balance as well as durability so the bristles will not shed or fall off.
The only problem is that it does not hold a point at times, which conflicts with what the manufacturer claims.
Pros
Offers excellent spring and snap for consistent strokes
Able to absorb a lot of paint that saves time from frequent dipping or reloading
Made of kolinsky sable hair that wards off fraying
Designed with a nickel-plated brass ferrule for stability and durability
Convenient to use and hold due to its ergonomic belly
Cons
It does not hold a point sometimes
Despite that, this brush stands out with its kolinsky sable hair that delivers incredible results. It works perfectly for watercolor washes, broad strokes, and solid color fill.
6. da Vinci 5359 Maestro Watercolor Brush Set
One of the best options I have found for professional watercolor brushes is this 5-piece da Vinci brush set. It includes round brushes in sizes 0, 1, 2, 4, and 6. Therefore, these quality watercolor brushes work best for small work or rendering intricate details.
Although they are intended for detailed work, these brushes highlight their maximum holding capacity. Each brush offers ample absorption so you can draw or color effortlessly without dipping into paint or water constantly.
Since they are derived from Russian red sable hair, these brushes impressively perform with remarkable snap and spring. I am impressed by how they can retain their shape, making it so seamless to lay down colors and make washes without the bristles splayed out.
In addition to that, the brushes can form a pointed tip, which I find useful for making delicate outlines, crisp edges, and even the littlest details you need for a portrait or any subject.
The wooden handles have the optimum length that makes the brushes comfortable to hold. The sturdy ferrules keep the bristles in place, not to mention their straightforward and elegant features that make the brushes look professional.
There is just a slight setback with the bristle design as some hairs flare out sometimes.
Pros
A set of small round brushes for complex and delicate details
Offers ample absorption for effortless applications
Made from Russian red sable hair that provides excellent spring and snap
Holds a point for rendering super-fine strokes
Sturdy and elegant ferrules
The Russian red sable bristles are more than just a luxurious natural blend of hairs. They deliver superb performance as long as proper storage and cleaning are applied. These brushes might not be the best quality for detail work but they can get the job done beautifully.
7. Princeton P4750SET300 Neptune Artist Brush
When a full brush set seems intimidating, there is always an option to try a few pieces first. That is something you can do with Princeton Artist brushes, especially if you want to broaden your collection gradually.
What I appreciate about this set is you get to try small to medium sizes. This set contains a ¾ aquarelle brush, 4 and 12 round brushes, and ½ oval wash. There is a great balance between the brush sizes since you can have the small ones to highlight fine lines and complex details while the larger ones are for solid colors and washes.
For starters, working with varying consistencies and line widths can be challenging. However, versatile and responsive brushes, such as the ones in this set, can wane down any difficulties to make painting more enjoyable to do.
The bristles are made of synthetic bristles that mimic the characteristics and performance of squirrel hair. They are soft and supple, which can hold a reservoir of paint and water to deliver beautiful and consistent strokes.
The wooden handles feature an ergonomic length and shape, enhancing comfort while painting. It is also much easier to control and maneuver, particularly when rendering super-fine lines. I haven't noticed any shedding as well.
One downside is that the brushes do not seem to hold a point.
Pros
A mini selection of diverse brush shapes and sizes for various painting styles
Delivers smooth and consistent strokes
Can create thick and thin lines
Made of synthetic bristles that perform like squirrel hair
Comfortable to hold and maneuver
Cons
The brushes do not hold a point at times
These are great quality synthetic brushes for beginners. It offers a
good variety of watercolor brushes
that can execute many different painting styles and help you learn more about specific brush shapes and sizes.
8. Soucolor Acrylic Paint Brushes Set
When budget is the primary concern, the most affordable watercolor brushes I have found so far are the ones from Soucolor. For its price range, this pack includes 20 brushes in a variety of sizes and shapes.
That seems too good to be true but I consider the quality of these brushes pretty awesome, with the softness and versatility in particular. I cannot compare them with high-end brands but they are exceptionally good and reliable for making stunning watercolor effects and washes.
The soft and durable bristles hold water and paint very well. Since there is an assortment of sizes and shapes, the coverage expands as well, making it easier to create broad lines, solid colors, soft washes, and delicate details.
Aside from that, the bristles do not shed as you press it across the surface, keeping the artwork and paintings free from messy fallouts. The wooden handles are short and sturdy, which provides more comfort and control while painting. They are easy to clean as well.
The main issue with these brushes is that they wear out over a short period. Hence, the cheap price range. You might notice some wobbles and bristle fallouts after several uses.
Pros
Includes 20 brushes of different sizes and shapes for various applications
Very affordable
Can create bold, thin, and thick strokes
Soft and flexible synthetic bristles
Ergonomic handles for added comfort and control
Cons
Not long-lasting quality
Tends to wobble and shed after several uses
These are budget-friendly watercolor brushes that will introduce you to different types of brushes and sizes. These may not be professional quality brushes but they are useful for basic and entry-level skills.
9. ARTIFY Watercolor Paint Brushes
For beginners who need or want to expand their brush essentials, I suggest going for this set from Artify. At a low cost, this 12-piece set includes a selection of brushes of different sizes and shapes.
There are round brushes, flat brushes, a rigger brush, and a cat's tongue or oval wash. Aside from saving some money, I am sure that the variety of brushes can be quite useful for practicing different painting techniques.
Besides the practicality, these brushes are pretty impressive in terms of bristle design, absorption, and shape retention. Considering the price, I did not have any high expectations from these brushes but I am surprised how they perform effectively.
They hold paint and water very well. There were no drips and messy paint or water pooling. The soft nylon bristles, particularly from the round brushes, can deliver fine and broad lines and washes.
Aside from that, they can hold a point, which is incredibly useful for intricate details. The oval wash and flat brushes work great on sharp edges and crisp lines.
Moreover, there are no stray bristles anywhere and the shedding has not been an issue for me. The bristles are soft and easy to maneuver, particularly when producing washes.
Just some heads up, do not expect too much about these brushes. The quality is not cheap but not the best either. There are also some issues with durability like the flimsy ferrules. I also experience some wiggles sometimes.
Pros
An inexpensive set of various brush sizes and shapes for versatile applications
Made of soft nylon bristle for flexibility and even paint distribution
Absorbs paint and water well
Can produce varying consistencies
The bristles do not shed easily
Cons
Can be wobbly sometimes
The ferrules are not very durable
Overall, these are decent-quality brushes that beginners will find useful to practice and learn different painting styles. They are inexpensive and easy to use.
10. Winsor & Newton 5390604 Short Handle Brush
The best thing about the Winsor & Newton Cotman brush set is the delicate design. The options might be limited but if you are into detailed work, I bet you will find these watercolor brushes promising.
It includes 3 round brushes and a flat brush; each exhibits an elegant yet sturdy structure, suitable for precise rendering. I have been a fan of the brushes from this brand and I am glad that this brush set did not fail to impress with their superb quality.
The soft and flexible filaments absorb watercolor efficiently and deliver smoothly, just as I expect great quality brushes should perform. Every after application, it is nice to see the brushes maintain their shape, allowing neat and even distribution of paint.
Moreover, the bristles are springy and not too stiff. They bounce back after pressing on the surface and laying down the colors. Thanks to the unique blend of synthetic fibers, there is no trouble executing various styles, especially when painting complex details and super-fine lines.
There is just a slight pitfall with the quality of ferrules. They feel flimsy and are prone to dents.
Pros
A set of small round and flat brushes for rendering delicate details
Made of high-quality synthetic bristles for flexibility
Strong and durable filaments
Offers excellent spring and absorption
Can deliver varying thicknesses
Cons
The quality of ferrules seem to be substandard
This watercolor paint brush set is a good deal for its price. The small round and flat brushes can flourish creative paintings and watercolor projects with exquisite and dainty details.
11. Nicpro Professional Watercolor Brushes
There is no denying that painting with watercolor becomes more fun and exciting when you have a wide and diverse selection of brush shapes and sizes. Having said that, this Nicpro 15-piece set offers good watercolor brushes that can elevate versatility and painting quality.
It includes 11 round brushes, 1 liner brush, 1 cat's tongue or oval wash, and 2 flat brushes. The count might seem intimidating but the variety of shapes and sizes allow you to explore different painting techniques and watercolor effects.
Since the sizes range from small to large, it becomes enjoyable to mix and play with various consistencies. For example, the flat brushes can create sharp edges while the liner and smaller round brushes can accentuate intricate details.
Mind you, these are synthetic brushes that mimic the properties of squirrel hair. One of its key features is its high capacity and ample absorption. Therefore, it can absorb a lot of paint and water and deliver a consistent flow rate.
Although it is best with watercolor, it can also be used with acrylic and oil painting. They do not shed, and the sturdy aluminum crimp ferrules hold the bristles in place. Plus, the birchwood handles are comfortable to hold and seem to be resilient.
My only issue with these brushes is their durability. The first thing I noticed is that some ferrules feel loose, making them wobbly at times. Some bristles also kept falling out.
Pros
A 15-piece brush set with various shapes and sizes for versatility
Offers ample absorption and high capacity
Can produce thick and thin lines as well as washes and effects
Delivers a consistent flow rate
A great selection for beginners
Cons
Some bristles fall off
The ferrules feel flimsy
Given the lower price range, I did not expect a lot from these brushes. However, they do not settle for substandard quality, and you can try different brush shapes and sizes without spending a massive outlay. Thus, they can provide decent results and basic applications that beginners can practice with.
12. Dainayw Professional Mop Watercolor Brushes
The main advantage of mop watercolor brushes is their impeccable absorption and capacity that can hold water and paint efficiently. They also work great with washes and covering large areas. That's why I knew that investing in these Dainayw mop brushes or watercolor wash brushes was a no-brainer.
This set includes 4 brushes in sizes 1, 2, 4, and 6. They range from small to medium brush sizes, which I consider suitable for beginners. Besides the fewer selection, it is easier to practice with these sizes, especially if you are just starting with watercolor.
Moreover, each brush holds a point, allowing you to create small details and fine lines aside from colorful washes and wide strokes. The pointed tip can spruce up your artwork, especially if you want to highlight the littlest details like when creating hair strands or flower stems.
All of these are possible with the premium quality blend of synthetic materials and natural bristles, which are squirrel and horsehair.
These bristles do not shed or fall off easily, leaving your artwork neat and free from fallouts. I believe this is because the bristles are secured tightly with metal rings.
Furthermore, the ferrules are made of plastic, minimizing any damages or discoloration when submerged in water. The wooden handles come in a handy length, making them more comfortable to hold while making washes.
One more thing I noticed is their ability to retain the shape even when rendering washes and strokes across the surface. Therefore, they do not splay and cause messy paint blotches and uneven applications.
Although this is one of its primary merits, it is sad to say that these brushes failed at some point, particularly with the shedding issues. The first few days and weeks were good but after a while, the brushes started to shed a few hairs, the biggest brush in particular.
Pros
A set of mop brushes for watercolor in sizes 1, 2, 4, and 6 for various applications
Features a blend of natural and synthetic hairs for optimum absorption
Holds a point that creates fine lines and detailed work
Designed with ergonomic handles for added comfort
Brushes have sturdy plastic ferrules that secure the bristles
Cons
Some brushes started shedding after a few days
Nevertheless, this is a decent brush set for beginners. The variety of sizes and flexibility can provide beautiful watercolor washes and polished intricate lines.
What to Look for When Buying Watercolor Brushes
Brush Size
When looking for the best brushes for watercolor, among the main features to consider are the brush shapes and sizes.
Choosing the perfect size relies on your painting techniques and preferred textural effects. Therefore, washes, bold colors, and solid strokes need large brushes while small brushes are ideal for detail work and intricate outlines.
Manufacturers always indicate these sizes on brush labels. The numbers 2 to 6 usually fall under small brushes, 6 to 8 for medium or mid-range brushes, and 10 to 12 for the large ones. The sizes range from 0000 up to 50 wherein a higher number usually defines a larger brush size.
However, the sizing varies from brand to brand; thus, there is no standard basis or measurement for the brushes. That is why it is imperative to refer to the brand's size chart to identify the exact sizes.
Brush Shape
Watercolor brushes come in different shapes. Round and flat are the common shapes that many artists use to exhibit diverse painting styles, strokes, and artistic washes and effects. But as you work on your techniques and expand your stash of brushes, you will come across different brush shapes that provide particular applications. Take a look at the following list:
ROUND Round: The most popular and versatile watercolor brush. Ideal for making bold colors, solid lines, and small details.
Flat: It is very reliable for producing colorful washes and crisp edges and controlled strokes.
Mop or Oval: It is most useful for creating artistic washes and covering large areas.
Angled: It resembles a flat brush but with an angled shape. It is usually used for flat washes, defining polished edges, and highlighting crisp edges or corners.
Bright: It is a flat brush but with shorter bristles, forming a square shape. Just like flat brushes, it can be used for flat washes as well as producing controlled strokes and linear edges.
Rigger: It is one of the top-rated watercolor brushes that can create complex details, refined outlines, pointed strokes, and thin lines.
Fan: The shape looks like a hand fan that is useful for making various textural effects and adding colorful embellishments.
Filbert: It is flat, oval-shaped, and has a rounded head that is suitable for blending and brushing out the colors for soft and subtle edges.
Cat's Tongue: You probably know what this brush resembles. It is a flat brush that features a very pointy tip. If you can't imagine what a cat's tongue looks like, think of the Kisses chocolate but slightly longer!
Sometimes called Oval Wash, this hybrid of round and flat brushes is ideal for producing washes or solid colors like flower petals. Since it is 2-in-1, the sharp edge and the pointed tip are useful for intricate lines and details like flower stems.
Synthetic VS Natural Bristles
Both synthetic bristles and natural hair brushes provide benefits that can be useful when working with watercolor. Their differences usually fall under fluid retention, flow rate, absorption, durability, and price.
A lot of professional artists prefer animal hairs or natural bristles over synthetic materials due to their impeccable durability as well as excellent snap and spring. Their soft bristles absorb water and paint very well, allowing the brush to distribute paint smoothly on the surface without deforming its shape.
These natural brushes are typically obtained from goat, squirrel, hog, ox, pony, and sable. Kolinsky sable or Kolinsky red sable hairs are among the most common and popular options for watercolor brushes.
Many watercolor artists also consider them the most favorite for watercolor brushes. Probably the drawback of natural brushes is that they are usually more expensive than most brush types.
Meanwhile, synthetic brushes are not inferior to natural brushes. Nowadays, a lot of manufacturers offer premium quality synthetic brushes that imitate the properties and performance of natural brushes. They are typically derived from nylon or Taklon and polyester fibers.
Moreover, synthetic brushes display remarkable durability, absorption, and shape retention. However, they are not as durable as natural bristles. But the good news is they are more affordable.
Durability and Design
Apart from the bristle type, sifting through the structure and features of brushes define their quality and durability in general. This includes the handles, ferrules, and the materials used for these parts. A lot of brands highlight these parts not only for aesthetic features but also to ensure stability and long-lasting quality.
For example, some brands use nickel-plated brass ferrules to secure the bristles effectively and keep the brushes from wobbling. Other brands boast sustainable wood handles that ramp up longevity and comfort.
Why are Watercolor Brushes So Expensive
It depends on several factors: the bristle type, brand, and overall design.
Watercolor brushes that are made from natural hairs are typically more expensive, particularly the ones derived from kolinsky sable hairs. Synthetic brushes are more affordable but sometimes become expensive when combined with natural hairs.
The brand name is another significant factor. Popular brands such as da Vinci, Winsor and Newton, Isabey, and Raphael offer a vast array of durable and remarkable brushes or brush sets. However, they usually come with hefty price tags due to their premium quality natural brushes.
Moreover, some brands elevate the durability and aesthetic features of the handles or ferrules, making the brushes more expensive than usual.
What Size Watercolor Brush Do You Need
It depends on your skill or level. But if you are a beginner, the recommended watercolor brushes should allow you to execute basic strokes and achieve various line widths. This means getting one of every brush size: a small size (2 to 4), a mid-range (6 to 8), and a large size (10-12). In terms of the brush shape, I recommend going for round brushes since they are the most versatile type.
As you practice your skills and techniques, you can gradually expand your brush collection, including the shapes you want or need. You may consider getting flat brushes or wash brushes from every brush size (one small, one mid-range, and one large size). In this way, you can try and experiment with different brush sizes and keep the ones you will use often.
Professional artists can choose whichever brush sizes they need for their watercolor art projects. Fortunately, a lot of brands offer a vast range of watercolor brush sets that include various brush sizes and shapes.
Beginners may also consider trying out brush sets although I suggest starting with fewer pieces so you won't get confused with the variety.
How Do You Store Watercolor Brushes
The usual way is to wash them after use and lay the brushes flat to dry. However, there are more other ways to do to store your watercolor brushes properly:
Never use the same brush for different types of medium. Use one brush for every medium to prevent shape deformation and other damages to the bristles.
Do not place your brush in a glass or jar with the bristles sitting or pointing down. Put them in an upright position while keeping enough room for one another to ward off any molds.
Gently rinse your brush and remove the pigment under running water.
Wipe the brush clean to help it dry quickly. Do this for all the parts of the brush and not just the bristles, especially the ferrules to prevent any damages and secure its adhesive properties.
Do not submerge the brushes into the water for long periods, especially beyond the ferrules. Otherwise, water will seep into it, causing the glue to come off and the handle to crack and loosen in or detach from the ferrule.
Let the brushes dry completely before putting them in a storage case or container. Never store them while damp to avoid mold and mildew growth.
What's the Difference Between Acrylic and Watercolor Brushes
The ultimate difference is the bristle versatility and durability. Acrylic paint is chemical-based, making it more elastic and relatively thicker than watercolor. Hence, acrylic brushes are innovatively designed to accommodate the consistency of acrylic paint.
This is also the reason why acrylic brushes are typically derived from synthetic fibers or materials because the chemical components of acrylic can damage or ruin the quality and formation of natural brushes.
On the other hand, watercolor brushes highlight their ability to cater to the elements of watercolor, which is the fluidity and thinness of watercolor paints. Thus, watercolor brushes should absorb paint and water efficiently.
Can You Use the Same Brushes for Watercolor and Gouache
Although watercolor and gouache are both water-based, I do not suggest using the same brushes due to certain differences in their composition. Gouache is thicker and exhibits an opaque and bold color while watercolor is quite the opposite; it is light and transparent.
Therefore, watercolor is more fluid and provides various textural effects that are typically achieved through adding water and making wash techniques. Thus, I recommend watercolor brushes with natural hairs because they hold more water.
Meanwhile, gouache is the other way around. You do not need to dilute the pigments to produce lighter colors or add more water to make washes. It is thicker and more concentrated, which works great with synthetic brushes or unique blends of natural hair and synthetic fiber.
Conclusion
Besides the skills, techniques, and quality of your medium, showcasing a fine watercolor artwork depends greatly on the brushes you are using. In that case, investing in the best watercolor brushes is crucial.
There might be a lot of options to check out and try. However, it is easier to weigh the pros and cons across brush brands and types if you delve into their primary features: brush size and shape, bristle type, durability, and versatility. Ultimately, the decision all comes down to your personal needs and preferences, no matter which brand or how many brushes you choose.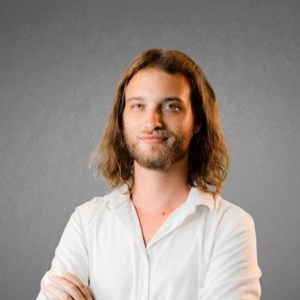 I am a former art teacher, so it is evident to me the importance of art in educating the new generation. We also want to help parents who plan to teach their children and desire the best tools and tips for them.