Don't you find it easier to study or prepare documents if you highlight essential sentences or words? I don't go anywhere without a highlighter pen stashed in my bag. Those products are useful writing material that you can rely on whenever you need to make your notes more appealing.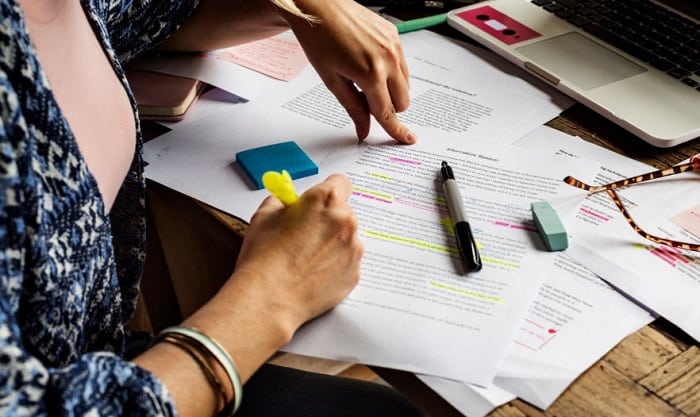 If you are on the lookout for the best highlighter pen, you came to the right place. Let me help you find the right highlighter marker that you can use quickly. Best of all, you will know how to pick ones that won't give problems such as leaking and bleeding. Check out below what these best recommendations are.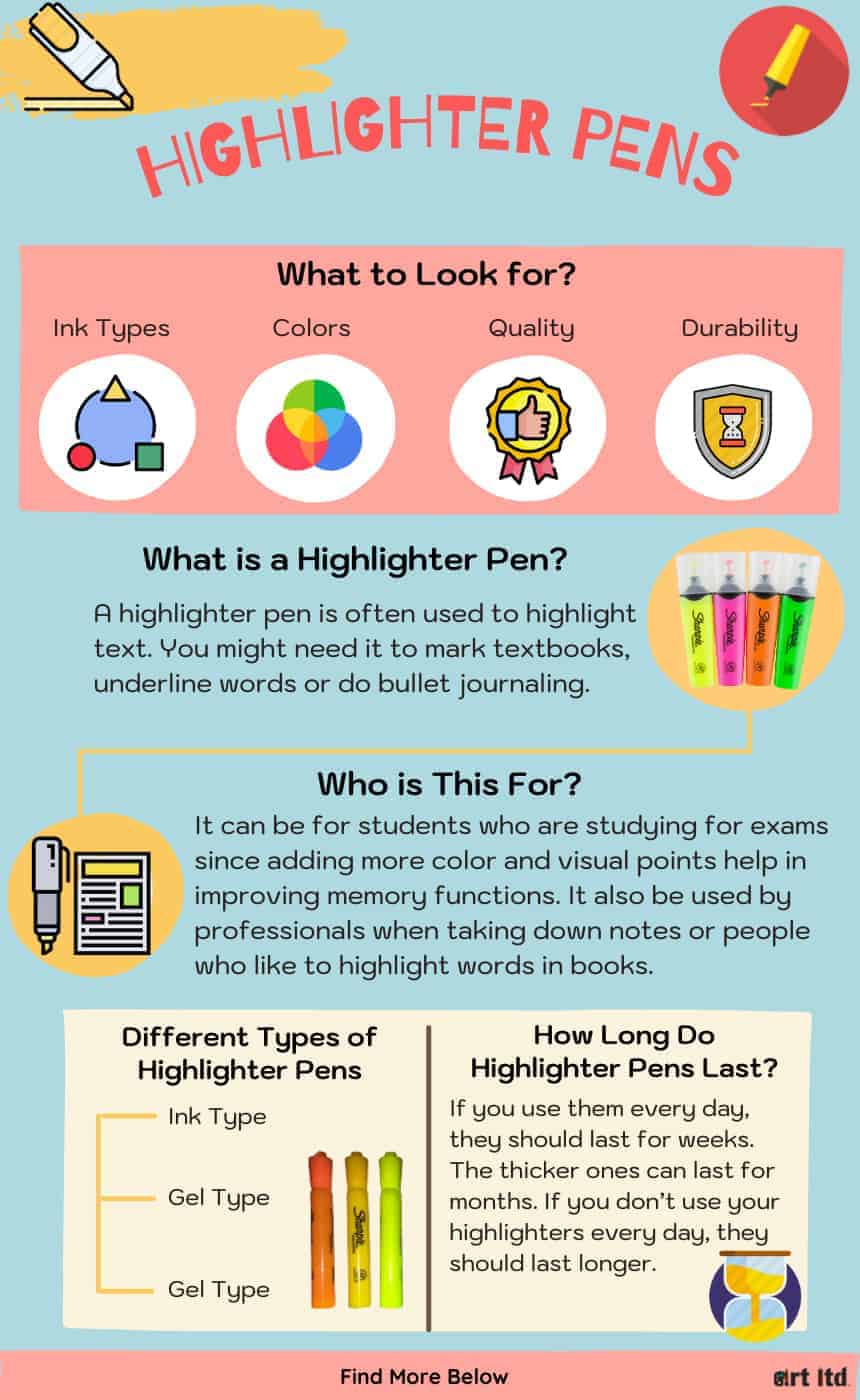 Top 12 Highlighter Pen Reviews
1. Sharpie 27145 Pocket Highlighters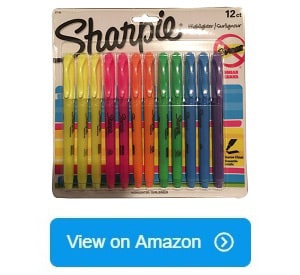 Investing in the Sharpie 27145 Pocket Highlighters brings a good value for your money since the combo includes 12 pieces of no-bleed highlighters.
These pens come in five colors, which are three yellow markers, two pink, orange, green and blue markers, and one purple. One set can last you for a long time since you have multiple pieces for one color.
These markers are known for their smear-proof properties, and I can say that they are true to their promise.. They dry up easily and don't streak when you run your hands over the shaded part of the paper's surface. Best of all, it doesn't bleed for most paper types unless you are using extra thin paper.
It's one of the longest-lasting highlighters I have ever used. That is mainly because there are many markers included per color but also because it has a lot of ink volume.
The size and shape of this product are comfortable to hold, unlike other thick and flat markers out there. They are pen-like, so they are convenient to use and great for studying for hours. Bringing these items to the class is not a challenge since they don't take up a lot of space in my marker case.
The design of the barrel also makes it easier to find the color you want. Speaking of colors, they are the top-rated highlighters for school use because of their beautiful colors. You can make your notes look more attractive. The ink is quite pigmented but doesn't hide the text.
I also like that the tip has good coverage. I don't need to run it over the text a second time. It glides smoothly even if the paper is a little rough.
My only gripe is that the yellows and the pinks are not as pigmented as I would have liked. They are lighter compared to the others. The yellow also does not have as much ink volume as the others.
Pros
Beautiful colors
The ink is very pigmented
Writes smoothly, doesn't snag
Lasts for a long time
Don't bleed through thicker paper
Cons
Yellows and pinks don't contain a lot of ink and look lighter than the others
Overall, these are some good pens that don't smear with a highlighter. You will find these easy to use if you are a student, and it's a must-have for workers who deal with a lot of documents.
2. Zebra Pen Double Ended Highlighters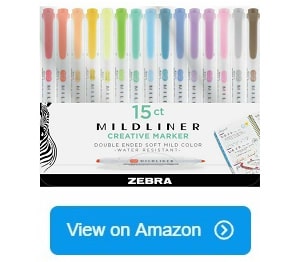 Are you on the lookout for an all-around highlighter? Perhaps a book highlighter that you can also use for journaling so that you aren't spending too much money on different highlighters? These Zebra Pen Double Ended models come with 15 pens, all unique color options.
Purchasing the collection means having an extensive selection of colors for bullet journaling. It makes highlighting more fun. The colors in this pen set are all pretty, especially the pastel ones. Most people love that there are darker color options and earth tones such as the brown one. Not all highlighters have these colors.
These milliners come with dual tips, a chisel tip and a bullet tip. The chisel tip is perfect for calligraphy. It's quite easy to work with even if you are a novice in such tasks. The pen is easy to hold, and the chisel tip glides smoothly on the surface of the paper. I like to use the bullet tip for making graphs and doing letterings. They are also useful for adding details to drawings.
I think one swipe is right enough for these pens. Use them a second time on the same spot, and the ink tends to eat away the paper. I particularly enjoy using those pastel colors. They are pretty to look at, but they are still vivid.
The clean and minimalist design of the highlighters is also eye-catching. I can still quickly tell what color it is from the color guide on the barrel and the cap. Plus, there is no difficulty storing this collection in your small bag.
Pros
Perfect for bullet journaling
Easy to do calligraphy
Pretty color options
Has pastel colors
Double-sided feature is versatile
Easy to store and keep away
Cons
It tends to bleed if you run it over the same line two times
These non bleeding highlighters are a must-have! If you are looking for good-quality pens with unparalleled versatility, you won't be disappointed with these.
3. BIC Brite Liner Highlighter
One of the low-priced non-bleeding highlighters you can buy out there is the BIC Brite Liner Highlighter.
At such an affordable price, you will get five unique colors of the brightest highlighters. These highlighter pens showcase fluorescent colors that look vibrant against the paper. Remarkably, you can still see the text, so they are perfect for all highlighter needs.
This only comes with a chisel tip, but I find that it's a versatile shape. You can highlight over a larger surface, or you can underline using the edge of the chisel tip.. It's comfortable to hold because of its pen shape. Just take off the cap and start using it.
Beyond that, it doesn't emit a strong smell since the ink has non-toxic properties recognized even by ACMI. Children can safely use this.
It's interesting to note that these highlighters have excellent drying properties. Once you lay them out on paper, the ink air dries fast. Hence, you can keep on highlighting without worrying that it will smear.
People love this because the tips don't dry up quickly when you accidentally leave the cap off for hours.. However, I wouldn't suggest doing this if you don't want the ink to leak everywhere.. They should also be stored in an upright position to prevent the ink from pooling to the tips.
I like the ergonomics of the pens as well. It's not too thick. It has a pen-like style so you can easily hold it. It doesn't cause hand fatigue, either.
Pros
Fluorescent ink is bright and eye-catching
The tips are durable and don't wear out easily
Does not dry out easily
Does not bleed through, even when you use it on cheap paper
No-smear properties
cheap
Just because you are on a budget doesn't mean you have to be stuck with low-quality highlighter marker brands. It's a good thing these highlighters exist because they don't break the bank, but they are also kind enough to surpass the quality of the more expensive brands.
4. Sharpie 28101 Accent Retractable Highlighters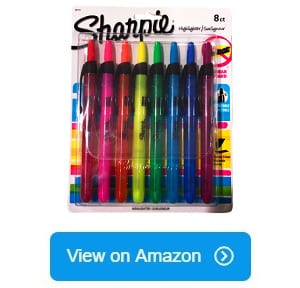 Retractable highlighters like the Sharpie 28101 Accent Retractable Highlighters are convenient to use. You don't have to worry about losing the caps or leaving them out to dry if you forget to put the cap back on. Especially, with just a push of a button, the highlighter pen will come out. If you like this feature, you should put these highlighters in your to-buy list.
These are non bleed through highlighters. I've had the chance to try them on most types of paper and they do as promised. Even on cheaper quality paper, they still retained their no-bleed properties.
The tips of these pens don't dry up easily so you won't find the need to reactive the pen by shaking it. It always dispenses ink whenever you need it. Also, I can say that the ink dries up nicely. It doesn't smear like many of the highlighter pens out there even when you use it on glossy paper. The smear guard feature works on different kinds of paper.
One downside that I think might be a dealbreaker to some users is its rough glide. It's not as smooth as the other highlighters I have tried from the same brand and can be more noticeable if you use a rough kind of paper.
Additionally, the tips for these highlighters are slightly thinner. They don't have as much coverage as the average chisel tip highlighter, so you might need to get a second swipe to cover the text.
I do find the pocket clip very convenient to use. I can just clip it on a notebook whenever I need to be always on the go. These pens also have slightly stutter barrels that others might find easier to grip.
These are reasonably-priced highlighter pens as well. If you are on a budget, you will still find them worth buying.
Pros
Tips don't dry up easily
Does not bleed through paper
Retractable feature works smoothly
Ink doesn't smear
Reasonable price
Cons
Has a rough glide
Tips are slightly thinner, so they have a smaller coverage
These are the top-rated no bleed through highlighters if you are looking for some with retractable features. These are highlighters that don't smear, eliminating the mess that usually comes with using highlighters.
5. Mr. Pen Gel Highlighters
This Mr. Pen product is a value for your money. At a reasonable price, you are getting a bright highlighter color for studying. Each pack comes with 20 pieces of highlighters with multiple colors of red, pink, purple, blue, orange, dark red, green and yellow.
These items are similar to gel pens. The ink has a wax-like consistency to it which is similar to crayons. It's a top rated product because of how vivid the ink is, making the colors come out well. When it's running out, you can sharpen it like a crayon and it will work again. This is why it has a long life span.
I like how the tips glide smoothly on paper, even on rough kinds of paper. It also dispenses a consistent amount of ink. I did not have problems with it emitting big globs of ink, which can sometimes happen with other highlighter ink.
You are going to love the fluorescent colors of these markers. They stay bright and vivid even after a long time. Once the ink dries up, it doesn't budge. I also like that it doesn't stick to the back of the paper when you close the book.
Keep in mind that these pens come with bullet tips, similar to crayons. You just need to twist the ends once the tips have dulled out and then sharpen it when needed. Because it isn't technically an "ink", you can leave the caps off and not worry that it will dry out. The pens also won't get on everything even if you leave them uncapped in your bag.
I do like how simple the design is. Even kids can use it without a problem. It also does not emit a toxic scent.
Pros
Glides smoothly
Dispenses an even and consistent amount of ink
Doesn't leave chunks of ink behind
Does not bleed even on thin paper
Dries quickly, does not smear
You can maximize the ink, you can sharpen it
Cons
Others might not like its wax-like consistency
This is ideal for students or teachers who do a lot of highlighting. It can also be
used for bible studies
. Since it comes with 20 pieces of highlighter pens, I would say this is a good bang for your buck.
6. AmazonBasics Chisel Tip Highlighters
Without spending so much money, you are getting five different colors of the AmazonBasics Chisel Tip Highlighters.
These highlighters have pastel-colored barrel save for the purple one. It's visually appealing with the colors that they have chosen. You are offered fluorescent yellow, blue, pink, orange, green and purple options.
It's one of the most comfortable highlighter pens I have used. I like its ideal thickness, not too much that writing on paper is difficult. It is similar to a pen and has an exterior material that doesn't slip easily. Therefore, you won't feel tired even after hours of using this.
Users can remove the cap easily, and it clicks back on securely to keep the inside air-tight. There is also a clip that allows you to attach the pen to a book cover or page.
Happy customers have many good things to say about the quality of ink. First, it seamlessly glides on paper. There is no snagging effect and there is very little resistance. They also compliment on the vibrancy, which is a little more impressive than your average fluorescent ink. Some find the ink too vivid but I don't really mind since it does not hide the texts.
The nibs are also long-lasting. Even when I use these highlighters frequently, they don't wear out easily. I don't see any signs of fraying.
The chisel tips have a good amount of coverage. The ink dries up easily without bleeding through paper. I can do calligraphy as well since the chisel tips are easy to maneuver. It covers text easily without the need to add a second coating.
If you leave the caps off for a long time, the nibs will dry out and it will be difficult to reactivate the ink.
Pros
Lasts for a long time
Does not bleed
Has vibrant colors
Smooth tips, glides on surfaces easily
Nibs don't wear out easily
Great price
Cons
Some colors are too vibrant
Tips dry out easily when left open for a long time
These highlighter pens suit the budget needs of students and it offers good quality ink that can be used on different types of paper.
7. Avery Hi-Liter Pen-Style Highlighters
These Avery Hi-Liter Pen-Style Highlighters won't fail you regarding its consistent performances. This particular set comes with 6 different fluorescent colors to entertain you and make note-taking a lot more fun.
The chisel tips of these highlighters are slightly smaller than the average highlighter pen. It is, however, good for highlight handwriting and smaller texts. All the colors come through easily. They are vivid without obstructing the view of the contents.
These items are incredibly durable. Aside from the fact that the ink lasts for a long time, the nibs are also sturdy enough to withstand significant abuse.
Aside from that, there is no smearing due to the quick drying process. However, I find that it might bleed through thinner paper. I wouldn't suggest using this for bible pages but for thicker papers like notebook or book, this should be good.
I like how comfortable these highlighters pens are. They are similar in size to regular pens, so they are easy to hold. They won't wear your hands out after a long time of use.
The ink consistency is good as well. In detail, it does not dispense so much ink to blur the texts. I also like that it doesn't leave a glob of ink at the end, which often happens with other highlighters.
It is exciting to know that there is no nauseating smell because the ink formulation is non-toxic. Additionally, I would buy these pens again because of the affordable price. It matched my needs on the basic qualities of the pen but without me spending too much money.
Pros
Chisel tip is easy to use
Good fluorescent shade
Does not smear
Does not bleed through
Easy to use because of its pen style
Nibs don't fray
Non-toxic ink composition
Affordable options
Cons
Can bleed through bible pages
Has smaller tips
I would recommend these highlighters for students. The price is just right and you get good quality highlighter pens that will last for a long time. The ink is vivid enough to make your notes stand out but isn't too much when studying.
8. Sharpie Clear View Highlighters
There is one thing that sets Sharpie Clear View Highlighters apart from the others: their see-through tips! The purpose of this is for you to be able to see where you are highlighting. I didn't know I needed this feature until I had a chance to try it out. It's a total game-changer!
Being able to see what you are highlighting makes it easier to know where to stop. I sometimes find myself over highlighting because I can't see where to stop. With this, I don't have such a problem anymore. It also makes it easier to form straight and precise lines.
Each pack comes with 4 colors. You will get a green, an orange, a pink and a yellow highlighter. Unlike the others featuring pen-style, these ones have a flat barrel with chiseled tips. If you are not used to this kind of design, you might find the barrel quite chunky and difficult to hold. I would say they are not as great for making calligraphy because of the shape, but they are perfect for highlighting.
The colors did not disappoint me. They are vibrant and can be easily seen. The smear guard properties worked for me although it can be a bit selective on different types of paper. There are times when it did not bleed through but it did dissolve some of the ink and it smeared printed ink.
The ink quality is good and it dispenses a good amount of ink each time. There are no issues of clumping or leaving behind a glob of ink. You should always put the cover back on after using it to prevent the nibs from drying out.
Pros
Has transparent tips to help you see what you are highlighting
Comes with smear guard properties – prevents the ink from smearing
Glides easily on paper
The ink dries up quickly
Unique flat barrel shape
Bright colors
Cons
Has a tendency to smear and dissolve printed ink
A little bulky to hold
These are unique markers that would make a great addition to your highlighter collection. The transparent nibs are so effective, making it easier to see what you are doing. Try buying these and see what a difference they can make to your journaling or note-taking.
9. Crayola Take Note Chisel Tip Erasable Highlighters
Whoever thought of erasable highlighters is a genius. The Crayola Take Note models come in handy when you want to write on documents or textbook but don't want the ink to be permanent. With this, you can still erase your markings so those materials can still be used by other people.
It's also convenient to use when you make mistakes. If you accidentally highlighted the wrong part, for instance, you can still erase them. Also, when we overlap on another already highlighted part, only the top part will be removed. As a result, we can still preserve the bottom texts.
The colors are so vibrant and vivid thatk it can get too vibrant sometimes, especially if the text you are highlighting is faint. I would say you should use light pressure when highlighting. That should suffice since it still looks vibrant and pigmented.
The chisel tips of these markers are easy to use. They have good coverage, so you don't have to do a second swipe to cover the text you want. I also like all the colors that are included. You are getting purple, pink, blue, green, yellow and orange. it is also effortless to angle the chisel tips to underline text.
Because these highlighters are similar to pens in style, they are easier to use and hold. I can use them for hours and not feel tired. Notably, the beautiful barrel makes these pens worth showcasing and bringing to school.
They are great to use on thick paper but be wary of using these on thinner paper like a bible. I also would suggest waiting for a few seconds to allow the ink to dry completely and prevent smearing.
Pros
Completely erasable
Pretty colors
Convenient to use
Affordable
Pretty packaging
Ergonomic and easy to use
Cons
Colors are darker than other highlighters
Can bleed through thin paper
You should get these pens if you like a non-permanent pen that you can easily erase if you make mistakes. These are reasonably-priced and have long-lasting ink that you will enjoy using for a long time.
10. Pilot FriXion Light Pastel Collection Erasable Highlighters
I had a unique experience with these Pilot FriXion highlighters. Unlike other available products, this one has a gel-like consistency. Because of this, it doesn't have a glaringly color like other highlighters that have a fluorescent look.
The erasable functions are nifty. When making a mistake, I can confidently erase it. If you are like me and you like borrowing books, you can confidently mark on the books and not worry that they will stay. All traces of the ink are removed without damaging the paper.
These pens have a chisel tip. The tip is just the right size, great for covering a good amount of area. I can easily cover text and small handwriting with these pens.
You are going to love how flawlessly these pens write. They just glide through any book surface, even the rough ones. The tips don't have resistance, which makes for a great writing experience.
Being made of top-quality materials, these items are perfect for long-term use. They may not be as vivid as other pens but the ink is consistent. The pens dispense ink smoothly and evenly so you can make clean highlights or underlines. I don't have to get frustrated over clumps of ink or dark and uneven markings.
The pen style of these highlighters makes them easy to use. Unlike the other stocky and bulky highlighters that are difficult to hold, these ones don't have such a problem.
Pros
Erases quickly
Easy to use
Beautiful design of pen
Smooth and even ink formula
Cons
Not as vivid as other highlighters
Runs out of ink quickly
Don't pass up the opportunity to get these markers. These are not your ordinary markers since they can be erased. If you want to protect your book or allow other people to use your notebooks and documents, these markers will come in handy.
11. Javapen Rainbow Pastel Highlighter Brush Chisel Tip Pens
These are some pretty interesting highlighter pens that come with pastel colors. If you already have way too many fluorescent highlighters and you are looking for something new, these Javapen Rainbow highlighter pens would be a good alternative.
It is excellent to find out that this collection does not cost us a fortune. Since they come in a set of 12 unique-colored pens, we can utilize these pieces for an extended time.
Most customers, including me, love that there are more color options in this pen. It even comes with a grey shade, which can't be easily found in other highlighter sets. The design of the highlighters is very pretty and I find the bulleted look very sleek.
These are chisel tip pens, perfect for shading but can also be used for writing calligraphy and underlining. You will enjoy using these markers because the chisel tips are flexible and they glide smoothly on paper.
While I do like the lighter shades, some such as the mild yellow and the mild green hues tend to look washed out. They are too opaque, so you might need to add a second shade just to get the color intensity you want.
Pros
Pretty pastel colors
Inexpensive choices
There are hard-to-find colors
Dries up easily and doesn't get streaky
Cons
Some of the shades are quite opaque
These are highly recommended to people who want a more extensive color selection for highlighting. At such a reasonable price, you can get different colors. Try pastel colors for a change.
12. Sharpie Accent Tank-Style Highlighters
What makes these Sharpie Accent markers different from the others are their bigger barrels. The unique shape of the caps is also interesting.
I find the bigger barrels easy to use when highlighting. I can just hold the highlighters loosely with one hand and not worry that they will slip off. Be warned that these markers are very pigmented, so it's important to be light-handed when using them.
One set will give you 7 different colors. It is reasonably-priced and because these highlighter pens have a bigger barrel. They contain more ink, making them a more cost-effective option for people who are on a tight budget. Those pens can last you longer than the regular pen-style highlighters.
The ink glides smoothly on paper and it settles easily without bleeding through. It also dries up easily so they don't smear. The ink also stays and does not fade even after a long time.
Compared to other highlighter pens from the same brand though, these ones have a runnier consistency. That can be an issue for others who prefer something thicker. Additionally, the blue one tends to dry up easily, so make sure you keep the cap on all the time to prevent this from happening.
Pros
Very pigmented
Lasts longer
Unique design
Bigger barrels that are easier to grip
Inexpensive choice
Does not smear
Cons
Tends to have a runny consistency
Blue one dries up easily
Get these pens if you prefer stouter highlighters that come with more ink. They are worth buying because not only are these markers cheap, the ink also lasts for a long time.
What to Look for When Buying Highlighter Pens
Finding the right highlighter pens can be tedious because of so many choices out there. Don't let that deter you. Here are some factors to consider that will help you choose the right highlighter pen for your needs:
Ink Type
There are different kinds of highlighter pens out there. The most common one is the usual ink form similar to other markers. These are usually more vivid and have a long-lasting ink quality. However, these are also the ones that can bleed through paper easily. There are those no-bleed options out there, so be sure to choose the ones with this feature.
Another option is the gel kind of highlighter. It has a thicker consistency, so you might find it more difficult to spread out. However, the colors of these highlighters are generally prettier and have a good staying power. They also dry up easily so you don't have to worry about smearing.
Also, wax highlighter pens can be a game-changer for your tasks. These are different because they don't have "ink" inside. Instead, they have a wax stick similar to that of crayon, but with more fluorescent color as the regular highlighters. These pens can be sharpened, so you can maximize every bit of it.
Choose the type of ink that suits your writing and highlighting needs the most.
Color Choices
Some come with just 4 colors, others as extensive as 20 colors. It depends on your needs. For regular highlighting, 4-6 colors should suffice. If you like to do bullet journaling, you might enjoy having more color options. Just make sure you know what you are getting. Some highlighter collections come with a lot of pens but may only have 4-6 shades so there are multiples of each color in one set. If you don't need that many pens, you are better off with just a few options as they are cheaper.
Vividness/Opacity
If it is too solid, it will be hard to see through it. You might have a hard time reading the text already. On the other hand, you don't want it to be too light that you have a hard time determining where you highlighted it. There should be a fine balance in between.
Tip Style
Most highlighters come with a chisel tip. You need more coverage when highlighting text, so such a design is the most efficient one. However, you can also find a double ended highlighter where one end is a chisel tip while the other end is a bullet tip. This is a more versatile kind of highlighter that is not just perfect for lettering but also great for underlining.
Ergonomics
The flat and thick highlighter pens out there might be more difficult to hold. If you want to do calligraphy, you should go with the pen-style markers because they are easier to use. The flat ones are better for shading.
Ink Quality
People often look for pens that have a good ink quality and consistency. Avoid those that have a tendency to clump up or to dispel big amounts of ink in one go.
Durability of the Nibs
The nibs should be made from a material that glides easily on paper. You don't want the nibs to snag and eventually fray.
Other Important Factors to Consider
What is a Highlighter Pen?
A highlighter pen is often used to highlight text. You might need it to mark textbooks, underline words or do bullet journaling. This type of pen usually has a fluorescent color and has a chisel tip.
How Does It Work?
Highlighter pens can be used the same way as pens. You open the cap or push a button if it's a retractable type of highlighter pen and then glide it over the text you want to highlight. Usually, the ink dries up quickly but if it has a runny consistency, leave it to dry for a few more seconds to prevent smearing.
Who is This For?
It can be for students who are studying for exams since adding more color and visual points help in improving memory functions. It puts emphasis to words and can improve a person's recall.
This can also be used by professionals when taking down notes or people who like to highlight words in books. You can also use it when doing bible studies.
What are the Different Types of Highlighter Pens?
Ink Type. These types of highlighter pens have the same ink consistency as that of regular markers. The liquid is runnier so the ink glides smoothly on paper and dries up easily. These have a good level of vividness.
Gel Type. These types of pens have an ink consistency that is thicker, similar to that of gel pens. They also tend to be more vibrant and generally have a strong staying power.
Wax Type. These are similar to crayons but have an effect that is in between ink and gel types of highlighter pens. They dry up easily and do not bleed through. They can also be sharpened once the edges have dulled out.
Why Do You Need No Bleed Highlighters?
You need no-bleed highlighters to prevent the ink from seeping through the page and destroying the back portion. It will be hard to read what's at the back of the page if the ink has bled through. Make sure you check the specifications of those products, especially for use on thinner kinds of paper such as in bibles.
Frequently Asked Questions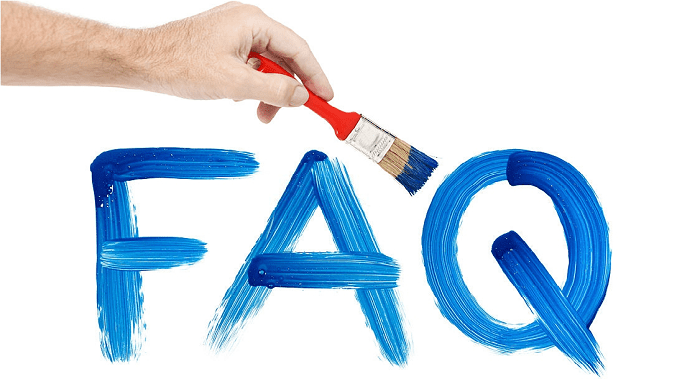 What are the Most Trusted Highlighter Pen Brand?
Sharpie has a lot of good options when it comes to highlighters but you can also check out the ones from Pilot and Crayola. There are some good innovations out there. The Zebra JustFit Mojini Line highlighters have also been getting a lot of good responses from people who used them.
How Long Do Highlighter Pens Last?
It really depends on usage. If you use them every day, they should last for weeks. The thicker ones can last for months. If you don't use your highlighters every day, they should last longer. It would usually take months before you might need to replace them.
What Do You Do With Highlighter Pens?
You use these pens to highlight the text you want to highlight. If you are studying, they would make great tools to make it easier to memorize what you are reading. You can use them when taking down notes.
Professionals can use these pens to highlight documents. It can also be used for art activities. As long as you need something to write with, these pens will serve a purpose.
What Color is a Highlighter?
Highlighters come in different colors but mostly fluorescent ones since you would want them to stand out when applying them over texts. Most sets contain yellow, pink, blue and green but there are also others that have a more extensive color selection.
How to Remove Highlighter Pen from Clothes?
Get a clean cloth or paper towels. Put rubbing alcohol on it. Dab and press it on the affected area. This will help lift away the ink. Make sure you don't rub the paper towel. Just dab it to prevent the ink from spreading. Do this until the ink fades. You can also use bleach for clothes if your clothes are white. That should remove the pen marks.
Where to Buy?
These markers are readily available where you can get school supplies. You can find them at Target and Walmart but they are also easily available online. Amazon has a lot of good options.
How to Care and Clean?
First, keep your highlighter pen closed all the time to prevent the tips from drying out. Wipe away any excess on the barrel with a paper towel. Use one with a little bit of alcohol to remove dried out ink on the barrel. Organize it in a marker bag and then keep your pens upright.
https://www.youtube.com/watch?v=Ym16zvBG6Y8
Conclusion
Finding the best highlighter pen shouldn't take up a lot of your time. I suggest starting your search with the ones stated above. Try different brands and styles of highlighter pen to make it easier to find the one that will match your needs. You might also want to start with only a few colors and expand as you see fit.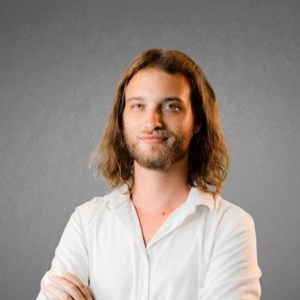 I am a former art teacher, so it is evident to me the importance of art in educating the new generation. We also want to help parents who plan to teach their children and desire the best tools and tips for them.