Over the years, we have developed different ways to express ourselves through art. Glass art is one of those.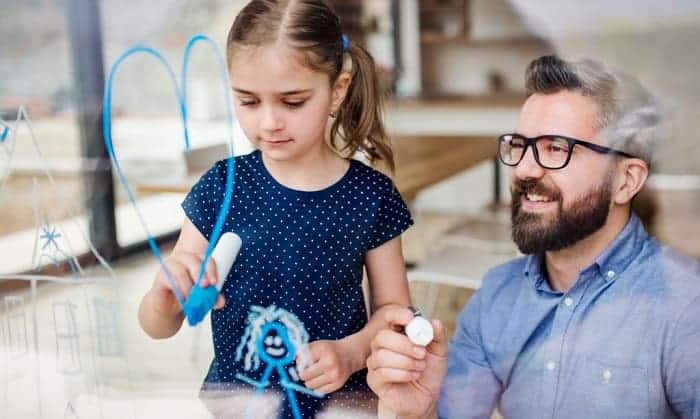 Painting and writing on glass can get messy and tricky if you do not use the correct products. Luckily, we have reviewed some of the best window markers on the market today, so you won't have to go through the trouble of choosing the wrong ones for yourself.
If you are new to glass art and painting, this list is especially for you. On the other hand, if you are a professional artist looking to expand your arts and crafts toolbox, this might help you select what to add to your collection.
Top 12 Window Marker Reviews
1. Chalky Crown Chalk Markers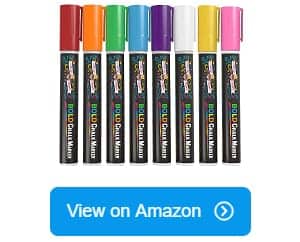 The Chalky Crown pack comes in eight neon window markers. Replace old, dusty, and grimy chalks with these easy-to-clean window chalk pens. Furthermore, these markers are safe for children because they are dustless, non-toxic, eco-friendly, and odor-free. Safe to use around and with children.
I think the product is also great as it features both chisel and bullet tips. It is a reversible tip design to create different shades using bold and thin lines as much as we want. While most other window marker brands only provide us with bullet tips.
I enjoy using this set because I can use any glass surface as my canvas. My window becomes my notepad when I need to remind myself of what to buy, or it can be part of my house's decoration by drawing on it.
It also comes off easily, so when I am ready to start fresh and change the design, I can wipe it off with a wet towel. The chalk markers are entirely and easily erased on most non-porous surfaces.
This set is excellent for students, teachers, parents, business owners, and artists. These markers are one of the most reliable and the best window markers for cars. Use them to decorate car windows after graduation and other special occasions. These are also great to use on store windows to promote products. The ink's colors are bright and vibrant, so it is visible from afar.
I love how these chalk markers are easy to use because its ink flows consistently, so you won't have to worry about ink skipping. There are some instances where I had a hard time erasing the ink from the board. I didn't realize that I had to wait for the ink to dry completely to erase it with ease.
Pros
Comes in vivid neon colors
Safe for children's use
Writes well on most non-porous surfaces
Easy to clean by wet cloths
Cons
Hard to erase if the ink is not completely dry
One of the most favorite window chalk pens you'll ever use. It is reliable and durable at the same time. You can use it on most surfaces, erase when you're finished, and start over. You will have unlimited fun with these erasable window markers.
2. Expo Dry Erase Neon Markers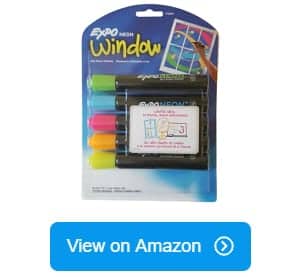 Spread your messages in eye-popping, stunning, and dynamic colors with Expo Neon dry erase markers. The vivid and bright ink writes clearly and legibly on windows, mirrors, glass, and other non-porous surfaces like dry erase boards. It has never been easier for creating striking and dazzling window artworks, making lessons and presentations more exciting and fun.
These neon markers are easy to erase because of its ink's dry-erase formula. I can write notes and messages as much as I want, over and over again. The durable and long-lasting bullet tip is great for writing and doodling using bold lines, which adds a splash of color anywhere I draw.
It is specially formulated to house low-odor ink, making it safe to use inside classrooms. Children can play with to heighten their imaginations. It is a great way to bond with children without using any electronics.
This set comes in bright and electrifying neon colors. It is excellent to use while making engaging and eye-catching chore boards. Make children pay attention in class with the neon ink's commanding and distinctive colors. Use it in the office for reliable and bold pens that creates consistent, dependable, and easy-to-read lines.
I love how I can decorate and design drinking glasses at home, depending on the occasion. It makes beautiful and bold drawings that are easy to use. They are also great for white and blackboards. With its versatility, these pens are one of the right markers for glass.
Like other markers, this product must be stored properly to prevent the risk of ink drying up quickly. Always keep the pens upside down with the cap placed tightly.
Pros
Bold and bright neon colors
Writes well on glass and blackboards
Safe and great work for class, home and office environments
Low-odor and long-lasting ink
A wide array of use
Cons
The ink may dry quickly if not stored properly
If you are in the market for good and stable car window markers, this is the set for you. The colors manifest very well on car windows.
3. Arteza Dry Erase Markers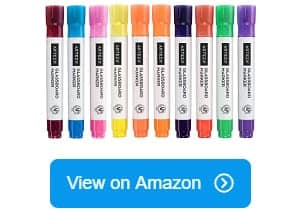 Catapult your creativity with the Arteza dry erase markers set. With ten sparkling and colorful neon markers, you'll have more than enough to create and amplify your imagination. Whether you are decorating your home or classroom windows or giving a compelling whiteboard presentation at work, you are sure to make an impact.
These versatile glass markers write smoothly, evenly, and are wipeable on mirrors, glass, and windows. They also yield good performance on any concrete or non-porous surfaces at the home, office, and school.
I love how these markers have replaceable tips, so I never have to waste a pen again when its tip breaks down. This set comes with ten handy and convenient exchangeable tips and a functional tweezer to remove the old tip and replace it with a new one with ease.
It is non-toxic and low-odor, so it is safe to use around the house, classrooms, and office without the inconvenience of any strong odors. It is also a great find because of their 100% guarantee policy. I can always let them know if I am not satisfied and happy with their products, and they will either replace the items or return my money.
Because of its thick and dense ink, occasionally, it isn't easy to erase. The neon window paint takes a little longer than others to dry completely. But don't worry, once the paint dries thoroughly, it becomes easier to remove.
Pros
Money-saving replaceable tips
Comes in ten bright colors
Safe and risk-free ink
Works on most non-porous surfaces
Decorating your home has never been more fun. Have endless entertainment and happiness with your loved ones while using this great product.
4. Crayola Washable Window Markers
Express your creativity and artistry in a fun and distinctive way with the Crayola window markers. This set comes in eight vibrant and bold colors that you can use on any glass surface. These will make any of your drawings and designs pop and stand-out.
These writing tools are perfect for holidays, special occasions, and seasonal window decorating and painting. I love using these markers to personalize and design my car windows by drawing doodles and writing messages. They are excellent glass window markers because the vivid colors show brightly and legible even when my car moves.
The ink is formulated and made to be easily washable from clothes and other surfaces. I am not worried about stray smudges and smearing because I can wipe it clean with a wet towel. The ink is safe and non-toxic. Children three years old and above can safely play with these pens with minimal supervision.
With this conical and funnel-shaped nib, it is easy to create thin to thick lines by changing the angle of the tip. This product is easy to use, and it gives the flexibility and convenience in adjusting the thickness of each line I draw.
Not all glass is created equally. So when drawing on mirrors, it could be challenging since mirrors use a different grade of glass and don't take to the washable pens and windows. It is still possible to use mirrors, but it takes twice the amount of time to erase, unlike washing off the ink from windows.
Pros
Ideal for car windows
Shows bright, vivid colors
Safe for children three years old and up
Wipeable from clothes and other surfaces
Cons
Harder to erase on mirrors
Overall, I find these writing instruments useful and dependable markers for car windows. They write prominent, visible, and bold lines and shapes. Express yourself through art using this great set of washable markers.
5. MoodClue Liquid Chalk Markers
Draw fine and thick lines with these multipurpose liquid chalk window markers. MoodClue markers have a reversible 6mm tip that helps you draw and write in thin or bold lines. Choose from either a chisel tip or a bullet tip. It is excellent for any artistic situation.
I love how these markers are easy to erase and wash off. They are both dry and wet-erase markers, making the high-quality ink used to prevent ink from smudges and smearing helps the ink to dry quickly.
When I used this marker for the first time, I realized a few steps to activate these pens. The first step was to shake the marker to start the ink-flow, then I pressed and pumped down the tip on a flat surface. The tip starts as white and will slowly turn into the color of the pen I pressed. It took about 90 seconds for it to completely fill-up.
This set comes in 12 bright and bold colors to help you create and decorate eye-catching and dramatic designs. There are several colors to choose from, ranging from colorful neon pens and markers to the standard dark-toned markers like brown and black.
These liquid chalk markers work well on most surfaces, but on whiteboards, the light-colored markers do not write as well as the dark-colored ones.
Pros
Works great on most surfaces
Reversible tips for a variety of use
Easy to start marker
No smear or smudge
Easy wipe-off by dry or wet erase
Cons
Light colors don't work well on whiteboards
This product is perfect for schools, homes, and offices. Since this liquid chalk pen works well on most non-porous surfaces, you can expand and express your creativity using a wide array of different types of canvasses.
6. Chalktastic Chalk Markers
With eight bright and vivid neon colors, the Chalktastic professional chalk pack is excellent for writing restaurant menu boards, cafe and bar boards, LED writing boards, car windows, whiteboards, labeling and marking food containers, ceramic mugs, and more.
This product is ideal for designing, decorating, and teaching because of its convenient reversible tip. While making art, the reversible tip lets you choose between creating detailed and delicate work and drawing big and bold lines.
These pens are similar to a standard wet-erase and dry erase marker, but the ink is more opaque, creating vibrant colors. The neon colors are significant in catching people's attention.
Clean-up is less hassle because these markers are entirely dust-free. Just use a dry or wet cloth to wipe off the chalk without any bleeding, smudging, or smearing.
Even though the name suggests that it is only for professionals, this versatile set is also great for children. It is safe for them to use because these neon ink markers are non-toxic and odorless. Children can enjoy using these window chalk markers on mirrors and other non-porous surfaces.
What I appreciate the most about this product is that I can order this set with risk-free policy. If I am not satisfied with the service or products, the seller will return my money within 90 days.
These markers are very bright once laid on the board or any surface. So sometimes, it might not be easy to erase because it releases plenty of ink during writing.
I love how this company listened to their customer and changed the cap's design completely to prevent any tip damage when replacing the caps.
Pros
Use on various surfaces
Reversible nibs for various strokes
90-day-money-back-guarantee
Good choice for mess-free markers
New cap design
This product is an excellent choice for people who enjoy making and creating art on different mediums.
7. Toru Window Glass Color Markers
Any surface can turn into a canvas with the Toru washable glass crayons. Use it to create unique works of art on any surface like glass, car windows, bathroom tiles, and umbrellas. Go beyond paper and let your imagination take you on a journey.
This set comes with good color options, giving you more flexibility in creating artwork. These 12 colorful and non-toxic colors are perfect for children and adults alike. It is safe to use anywhere in the house, cars, school, and the workplace.
It is easy to remove if you want to start anew. Just use a damp towel and wipe. I like that it doesn't leave any stains on any surface after I pulled the ink from.
I enjoy using these markers to decorate my home during the holidays or special occasions. Using glass crayons makes me feel like a kid again, drawing and filling-in coloring books. But instead of art books, my whole house can be my canvas. It is also great to use outdoors with children to keep them occupied during long drives with the whole family.
These products are perfect for restaurants and cafes. The markers' colors are vibrant enough so that customers can read the menu boards with ease.
These markers use a special wax ink, so be careful not to get them on your clothes and carpet because it is quite challenging to remove once the wax has stained them.
Pros
Any surface can become a canvas to draw
Safe for children's use
No stains after wipe-off
Good color options of 12 distinct hues
Variety of uses
If you are exclusively going to use this set on windows and glass, then this is one of the most affordable washable window markers in the market right now.
8. Chalktastic Mega Chalk Markers
With specially imported, high-quality, vibrant Japanese chalk ink, Chalktastic brings their most trusted chalk markers yet. It houses a durable and long-lasting reversible nib for multipurpose use. The round tip pen is ideal for creating refined and detailed lines, while the chisel tip offers thick and bold lines.
The brand also went back to the board to address an old problem regarding the marker's caps and redesigned their caps altogether to avoid damaging the nib when replacing them after use.
This set comes with a whopping 18 unique and noteworthy colors to mix and match while creating artworks. I can write and draw colorful and attention-grabbing calligraphy and pictures on my car and home windows, mirrors, metal, shop storefront windows, etc.
Cleaning is a breeze for these erasable pens. Its bright and vivid liquid chalk ink is dust-free. I use a wet wipe or a damp towel to clean the ink without any fears of streaking, smearing, and smudging.
With the brand's 90-day-money-back-guarantee, buying these pens are risk-free and safe. In the unlikely and improbable chance that you end up not liking their product, they will either exchange the product or give you your money back with no questions asked.
It is worth noting that some chalkboards are porous, so it is best to try and test it on a small area first before drawing on those types of surfaces. These markers, along with all chalk markers, are designed for nonporous surfaces.
While all colors are vibrant and vivid, the boldest and intense colors are the gold and silver pens, so they take longer to erase and remove certain surfaces.
Pros
Imported, high-quality ink
Changeable tip for multi-purposes
Nice cap design to protect the nib
Vivid and dust-free colors
A wide array of colors to choose from
Cons
Gold and silver pens are hard to erase
Does not write well on porous chalkboards
Overall, I think these are one of the most affordable washable window markers in the market right now.
9. Positive Art Liquid Chalk Markers
A beautiful and stunning collection of colors, the Positive Art set boasts 30 different and unique colors you can use for various artistic tasks. To some, a dozen colors are not enough, so they created a pack with 30 of the most stand-out and one of a kind colors with all the shades you will need. With its reversible tips, the amount of art you can do is endless.
These liquid chalk markers will give your artworks and masterpiece a chalk-like effect while staying vivid and bold. I love the various ways I can use this product. During the holidays, I can decorate the Christmas balls and decorate my windows at home with plenty of festive characters. I can also use it on blackboards to make signs or a chore board.
The ink is non-toxic and odor-free and is designed to keep my designs and works in mint condition for as long as I need them. And when I am done, there is no need to spend hours scrubbing off paint from windows anymore because these liquid chalk markers are erasable with just a quick wipe from a damp towel.
As with other pens, storing properly after use is an essential step in having long-lasting pens and markers. If not stored correctly, the ink might spill out or dry-out wholly when you use it again. Make sure the caps are tightly shut to prevent these from happening.
Pros
Plenty of colors to choose from
A wide variety of use
Odorless and fade-free ink
Reversible tips for all sorts of drawing styles
Easy to erase from a non-porous surface
These markers write and erase well on all non-porous surfaces. Use any glass or mirror as your canvas. You can also use this on a porous surface, but it is permanent. So if you want signs and drawings to stay forever, you can still use these markers.
10. CDDLR Chalk Markers
These fluorescent markers house high-quality and potent liquid chalk ink that gives and provides bright, vivid, and vibrant colors every time you write. It is best used on non-porous and concrete surfaces like restaurant menu boards, chalkboards, whiteboards, blackboards, windows, LED boards, containers, glass, ceramics, etc.
This product also bears a reversible 6mm chisel and bullet tip that comes in handy when drawing thin and bold lines. This set carries eight different, unique, and bold neon colors perfect for drawing decorations for birthday parties, Halloween, Christmas, and other special holidays and occasions.
I love that it is safe for children to use when they create their works of art because the ink is water-based and easy to erase and remove. The liquid chalk ink is non-toxic, xylene-free, and overall safe for the whole family to use and enjoy. The ink can be removed with a wet cloth without leaving any streaks and mess.
This set also comes with free reusable chalkboard labels. Use the eight large labels on your kitchen containers, mason jars, and anything that needs to be labeled around the house, school, or the office.
When using dark-colored markers on chalkboards, they are sometimes difficult to see. Dark-colored markers work best on glass and other light-colored boards. Always prime these markers before using so the ink flows consistently and smoothly every usage.
Pros
Writes well on non-porous surfaces
Safe and chemical-free
Easy wipe-off with streak-free
Reversible nib for different sized strokes
Comes with freebies
Cons
Inconsistent ink unless primed
Create a festive and happy home with these easy to clean liquid chalk markers. Decorate all day and make your house your canvas. Enjoy putting labels on hard to distinguish spices in your kitchen, label your accessories and other trinkets, and keep them convenient.
11. The Rainbow Glass Pens
Brighten up your windows with bold and eye-catching messages and drawings. These glass pens with reversible nibs are long-lasting, durable, and work on various surfaces, perfect for all occasions and any environment. Just pick up any of these markers, pump the tip and wait for the ink to flow so you can color, decorate and write as much as you want.
This set is available in 5mm fine tip or 15mm jumbo top. These markers can produce and create bold, smooth, and flowing paint strokes and lines. The ink's advanced formula is water-based, which is resistant to light mist and rain, at the same time easily removable and washable with a wet towel or cloth.
This feature makes it an excellent paint for car window decorating. This glass pen makes it easier to decorate and create artworks on every inch of the glass and windows.
They are specifically designed to flow smoothly on any non-porous to create designs and calligraphy. Besides glass and windows, I like that I can decorate wine glasses for parties, label items in the kitchen, bedroom, and bathrooms.
These waterproof window markers are non-toxic and safe to use with children in an enclosed area. It is a great way to bond with children without using technology. This way, it encourages them to explore their imaginations and learn at the same time.
Although these markers do their jobs right, one small downside is that they run out of ink quicker than most brands. Good thing, this product is very affordable so that you can get at one purchase rather than just one set.
Pros
Display bright colors on windows
Water-based and non-toxic
Removes easily with a damp cloth
Waterproof to light showers
Perfect for car window decorating
If you are looking for what kind of markers you can use on car windows, then you've found the perfect product. This glass pen will stay on your window until you remove it yourself because its ink is resistant to light rain.
12. Sargent Art Washable Window Markers
Sargent Art Markers is a Malaysian made product that houses non-toxic and safe ink that conforms to ASTM D-4236, making it safe for children and adults alike to use in enclosed and small spaces. With its water-based ink, this product washes off easily on most fabric materials and skin with just soap and water.
Its long-lasting and durable conical shape tips can help you get the wanted strokes by adjusting the angle. It will produce broad and bold strokes when held at an angle, while holding the marker straight will show thin and delicate lines.
This set comes in eight vivid colors such as red, blue, yellow, orange, green, purple, white, and black. The darker colors write well on any non-porous surface, but unfortunately, the white marker doesn't come out as opaque as I would like to look on the surface.
I also like that this pen has a smooth flow of ink, non-skipping to make writing on windows and glasses easier. On the other hand, once they are on the glass or window, they stay on until you decide to erase them. The colors remain bright and vibrant and are resistant to fading.
Storing these markers upside down helps elongate its shelf-life. The ink remains wet and won't dry up quickly when it is not in use. Another great thing about these pens is that the cap is ventilated, so the ink has space to breathe and won't dry up quickly, unlike other markers with the same ink.
Pros
Vented caps to protect the nib and ink well
Non-toxic and safe conforms to ASTM D-4236.
Durable and sturdy conical tips
Free-flow and non-skipping ink
Vivid and fade-resistant ink
Cons
White is not as bright as other colors
If you are looking for a budget-friendly but reliable set, this is the one you are looking for. This is a great pen to use on car windows. You can decorate your cars to your heart's desire because of its consistent and non-skipping ink.
What to Look for When Buying Window Markers
Buying and choosing the right windows and glass markers can be daunting if you do not know what to look for. Here is a list of some factors and characteristics that you can check to know what type of window markers suits you and the kind of art you will create.
Remember that if the window markers write visibly and smoothly on glass and windows and are easily erased without scratching and leaving streaks and smudges, it is considered a good and dependable product.
To ensure that you get and choose the best product for you, check out our comprehensive list to give you some ideas on what to get for yourself.
Versatility of Use
Most people look for a marker's set that has everything they need. Colors, tip-size, and the variety of surfaces you can write and draw on. If you are just starting, I would suggest getting a set that has reversible nibs or tips. It is easier to learn using those types of markers because you can practice drawing and creating calligraphy using both thin and bold lines.
It is best to choose markers with ink compatible with almost all surfaces, so it is better and more comfortable to discover which medium you excel at.
Price Range
Always remember that expensive does not equate to being the best product on the market. Most of the time, the most costly products are the ones with the most famous names and have been in the pen and marker industry the longest.
Do not count out the cheapest ones on this list right away because they are included on this list for a reason. If you plan on giving this set as a gift to a child who is just starting, I would suggest getting the cheapest ones first and seeing if the materials and items make your child more confident and comfortable to use them.
Prices are sometimes irrelevant when it comes to art. Because art is personal so choosing the correct tools for making is still entirely up to you.
Ink
The ink is one of the most important factors to consider when choosing to buy a marker. Inks come in different types, so the liquid ink you select has to be compatible with the material you will use.
Ink should be opaque, bold, and bright. But another thing to remember is that the ink should also be non-poisonous and safe for children to use.
If you are planning on using these markers on your car windows, it is best to choose pens that house ink that is resistant to light showers. If you enjoy decorating your car windows with support messages, get quick-drying, and waterproof ink markers.
Color Options
Color options really depend on what you are looking for in a set. There are marker sets that offer you more color options than other brands.
However, note that these marker sets would be more expensive to purchase. The metallic ones are great because the metallic specks make its ink stand out and eye-catching against darker surfaces. It is a good idea to collect markers with many color options, so you can be as creative and imaginative as you want when writing and drawing on various surfaces.
Other Important Factors to Consider
What is a window marker?
A window marker is a type of pen applied to create permanent or washable drawings and writings on various surfaces and finishes such as windows, metal, stone, paper, ceramic, rubber, glass and plastic.
Window and glass markers are the safest products to use when decorating your homes, schools, office, and cars. Most markers are non-toxic and environmentally friendly. The ink writes and draws just like regular paint because the colors, especially the neon ones, show brightly and vividly against dark and light glass surfaces.
These products have a wide range of colors to choose from at a relatively low and affordable price. Using paint pens and markers for decorations and designs on mirrors and other mediums is cost-effective compared to using standard paint.
How does a window and glass marker work?
These paint pens and markers are utilized for a wide array of purposes and objectives. Their most standard and common usage is on glass windows. They are mostly used for advertising and promotional sales or discounts meant to bring buyers and patrons inside their establishments.
Restaurants, coffee shops, and lounges often hire professional artists to paint and decorate with the use of markers on their store-front windows.
Another widespread and typical use is for tire lettering, a lot of auto enthusiasts and aficionados utilize the markers to customize and personalize their tires' look.
These paint pen products have attained more popularity and generally utilized in the arts and crafts world. These purposes include sign designs, drawing on pictures in scrapbooking, designing clothing and other fabrics, customizing home glass goods, and traditional and conventional art and street art.
Who is this for?
Paint pens and markers are for anyone interested in arts and crafts. These items are versatile and easy to use. So children, students, adults, hobbyists, and professional artists alike will enjoy using these products.
Artists use this for commissioned artworks at several establishments. Students and office workers often use these pens for presentations and meetings. Simultaneously, children and other art enthusiasts use it to decorate their windows and add more personality and joy to their homes. These pens are also great for people looking to make personalized gifts for their loved ones.
What are the different types of window markers?
There are several types of window markers for different and specific types of use. Liquid chalk markers are great for making bold and prominent signs on glass windows because they are easily visible, vibrant, and eye-catching.
Neon window markers are ideal for car windows tinted so the ink can be seen even during nighttime. Washable window markers are perfect and usually used inside classrooms, offices, and homes because they are easy to wash off and remove from glass, mirrors, and windows.
Why do you need window markers?
Window markers and other paint pens allow us to explore our imaginations and express our creativity. These pens help us create, convey, and articulate our innermost feelings and emotions through arts and crafts. It is one of many outlets for people to get lost in their thoughts and creativity.
It is also a great teaching tool for children because it makes it easier for them to concentrate while having fun at the same time. Professional artists also use these types of drawing and writing instruments to show their talents to the world.
Art is an integral part of our lives, and these window markers show the beauty of art and how you can craft and produce art, not just on paper but everywhere.
Frequently Asked Questions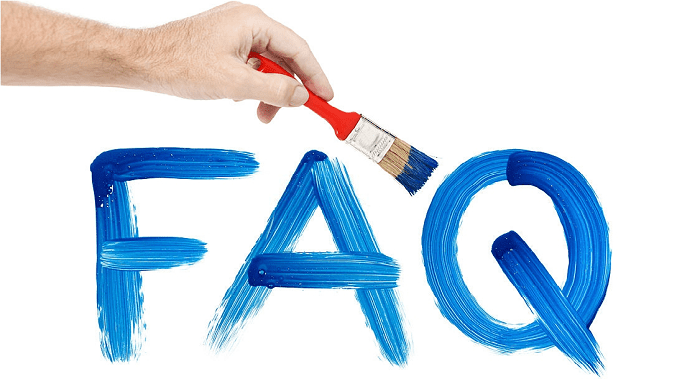 What are the most trusted window marker brands?
There are plenty of window marker brands in the market today, but the ones you have to take a look at are ones from well-known brands like Chalktastic, Arteza, Expo, Chalky Crown, and Crayola. These brands have been much longer in the business than other brands, so you are sure that their products have gone through extensive research and improvements.
These brands have proven to house products with efficient and reliable and safe ink, durable bodies, and a long-lasting effect in general through the years. It is worth noting that although these brands and products are some of the most trusted names in the marker industry, it does not equate to them being the only good companies to produce reliable and dependable window markers.
Some companies like Positive Art and Rainbow are relatively new brands but are worth taking a closer look at their high-quality products.
Choosing the best brand for you depends on the type of art you make and how comfortable you are using a particular product. These reviews are essential to get to know these products, but the firsthand experience is still the best and most useful to know if these pens are really for you or not.
Are markers safe to use on windows?
Plenty of companies have been tirelessly trying to make safe markers to enjoy using windows around the house, school, offices, and cars.
There are products like Sargent Arts washable markers that you can use endlessly because they are made with ink that is non-toxic, chemical-free, odorless, and safe for children to use. These markers are easy to remove from windows with just a simple wipe using a damp towel because its ink is water-based and will not damage the glass.
Washable markers are a much better choice when creating art on windows and glass because they produce bright and vibrant colors just like an ordinary paint would without the hassle of using thinners and scraping paint to remove it. Scraping paint off windows can cause scratches and slight damages.
Another type of marker safe for windows is chalk markers. Chalk markers are one of the safest products to use when writing on your car's windows. These markers and pens come in two forms: water-based and oil-based. Chalk markers are a great non-toxic, water-based formula that you can use on your car's windows without damaging them.
Can you use dry erase markers on windows?
Pens and markers that are used on glass and mirrors can also be used on windows. You can use a dry erase or a wet erase marker or paint pens for glass. They are visible and clear against glass surfaces and can still be washed away with ease.
Dry erase markers write well on most non-porous surfaces like glass and are relatively simple to erase to do just fine on windows and mirrors. Although some dry-erase markers are more challenging to remove than glass paint pens, so choose wisely.
How to care and clean?
A pen's life span depends on the amount of ink it has and how often you use them. If you use these pens regularly, you can get about a month's worth of usage. Window markers are reasonably long-lasting if you know how to prevent its ink from drying out. If you use these products on small areas and write small letters and calligraphy, these pens can last you for months.
Window markers and pens are not hard and difficult to store. You can keep them just like how you would store your other markers and pens. Inside a separate case when you are carrying it in your bag or an upright canister or holder when putting them on a table.
Always make sure to check the caps to see if they are correctly sealed and shut. Listen for the click; otherwise, oxygen will dry up its tips. It is also good to store them tip down so the ink will continue to moisten the nibs properly to prevent the pen from drying.
Where can you buy markers for glass?
It is not that difficult to find markers for glass and windows. If you do not have time to run to the store to buy a set, you can always check out Amazon and other online stores. You can also find them at bookstores and popular chain stores like Walmart and Lowes.
How I keep the ink flowing on my glass markers?
Before starting a new project, always shake the marker to help mix the ink inside. This should be done with the cap on tightly to prevent the ink from spilling and splattering all over the walls.
Some other markers and pens require you to push the nib several times on a piece of paper to pump out the ink inside the barrel. Remember to store the pens properly after using to prevent and avoid the ink from drying up quickly.
Conclusion
Choosing and finding the best window markers can seem simple and easy at first glance, but once you learn about the different types of ink and other factors that involve writing and drawing on glass, you will see that it is more complicated than it seems.
Creating art and making your home your canvas is an experience that plenty of people enjoy doing. Window markers also help in making establishments more attractive to entice potential customers. These fulfilling yet straightforward tasks are done best with the best equipment for the job.
Try one of our recommended products and see where your imagination can take you. Be it in your homes, school, workplace, and even your car.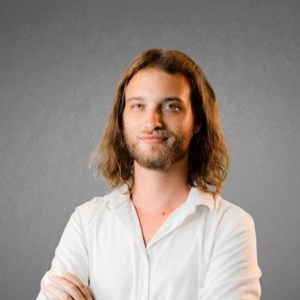 I am a former art teacher, so it is evident to me the importance of art in educating the new generation. We also want to help parents who plan to teach their children and desire the best tools and tips for them.