With art-related hobbies, you would surely agree that purchasing the best board for watercolor painting is a valuable decision. We often consider durable and reliable artboards as our companions when creating and art projects. These items are very versatile, practical, and convenient to use.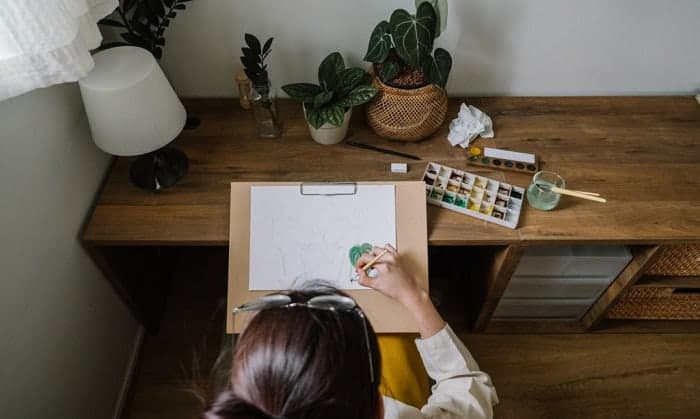 Hence, this post will share some of the excellent watercolor painting boards for you to consider choosing. There are detailed vital features and the likes and dislikes I have experienced with each product. So, Hopefully, you can find the information shared here as a handy guide before you invest in a suitable watercolor painting board.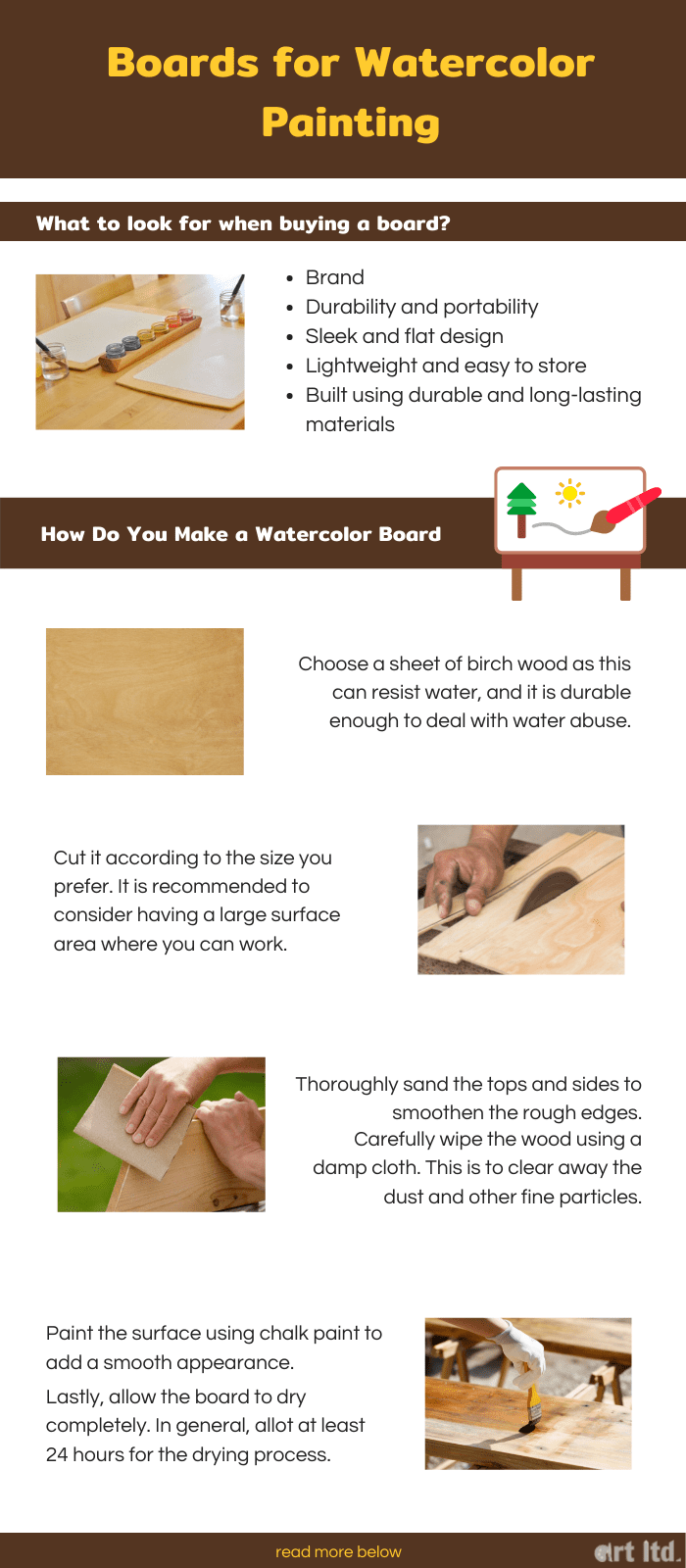 Best Board for Watercolor Painting Reviews
1. Art Alternatives AA17703 Sketch Board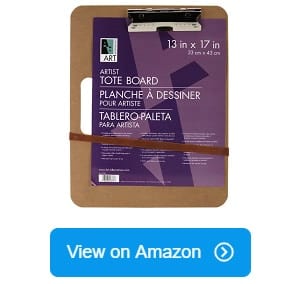 I love this drawing board for watercolor painting for its portability and versatility. It certainly does a great job of holding watercolor paper for painting and sketching. This item is a great value for the money since it is beneficial for indoor and outdoor sketching purposes.
Similarly, the kit includes a low profile grip clip for fastening paper pages or a pad. And, there is an additional strength rubber brand intended for securing papers. I find these features quite convenient whenever I sketch in different locations.
This sketch board is easy to carry around due to its compact dimension, measuring 13 x 17 inches. Thus, you can easily sketch beautiful scenes you catch sight of on the way. Plus, even when you draw something while lying on the bed, this item makes it easy for you to enjoy your craft.
This board is designed with a sleek surface. Hence, sketching, drawing, and painting feel more comfortable, even for beginners like me. Since I've always preferred sketch boards with a handle, this option seems to be the ideal choice for my requirements.
However, it would have been better if the clip was made to be user-friendly. I find it quite tight and firm that it hurts my hands often. Luckily, it functions well to its purpose. I wish the manufacturer could make the clip more ergo-friendly.
Pros
Works well in holding watercolor paper for painting and sketching
Multifunctional and portable hardboard
Includes an additional strength rubber band for securing papers
Practical to use for both indoor and outdoor sketching
Features a sleek surface
Cons
The clip is not designed ergonomically
Overall, I am pleased with this watercolor board. It is well-priced and of premium quality. It does a great job when I paint, draw, and sketch. For beginners like me, this is a great item to get started.
2. Artlicious Parent 11×14 Hardboard
Are you looking for watercolor art boards for long-lasting use? If yes, this option can help you save much money and effort seeking a new replacement after a short time.
This product is a popular substitute for canvas panel boards. The kit contains a total of six-packs of top-quality hardboard that are 1/8-inch thick. Besides, many artists prefer this item because it is made with a robust surface. Thus, it is sturdy enough to stand long-term usage.
You can even utilize this board for several applications. I use it as a drawing board, painting surface, taping down the watercolor paper, and mixing palette.
I am satisfied with the construction of this hardboard. By looking at it closely, you will see that it is cut well with sleek edges. It is reasonably priced, suitable for buyers who are short on budget.
Likewise, the hardboards came wrapped individually. I can store them easily, and it does not make my workspace look disorganized.
On the other hand, I observed that this hardboard seems not the most excellent alternative for professional graded hardboard items specifically designed for oil painting.
Pros
Ideal alternative to canvas panel boards
The kit contains six-packs of durable and 1/8-inch thick hardboard
Designed with a robust surface that could withstand long-term use
Recommended for several applications
Well-cut and comes with sleek edges
Cons
Appears not an ideal substitute for professional-rated hardboard for oil painting
Ultimately, this watercolor board panel is a smart purchase. Its quality and durability are superb. I can feel that it could stand up to years of use. This item is cost-effective and helps me save more bucks.
3. Graphix IAB1624 Art Board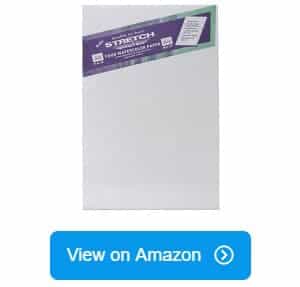 This watercolor painting board works like a charm, justifying its higher price. I was convinced to buy one because many of my friends claimed that this option is a slick and convenient art accessory. Indeed, I found it as a must-have item for painting lovers like me.
Since the board is designed with a dual-sided design, it is excellent for long-term usage. The moisture-proof foam centerboard is not susceptible to buckling, bowing, bending, and solvent-proof. Thus, worry not about repeated taping and stapling.
I utilize it as a painting and drawing board. The surface of the board is sturdy and does not peel even if I do several washes.
I prefer artboards with a lightweight, durable, and portable construction. I am delighted that all these features belong to this board. Remarkably, it looks similar to a standard inexpensive foam board, yet it performs outstandingly to stretch watercolor paper.
I am satisfied with this board's size as it is great to use on a drafting table. More importantly, the surface of the board does wonders in standing up to several tape applications. It does not delaminate, so I am at peace, knowing that it can always serve as my reliable companion when working on my painting and drawing school projects.
Nonetheless, while this artboard features sturdy construction, I still ensure that I handle it with extra care. I noticed that it could be prone to get damaged, particularly if I accidentally hit the edges. So, I highly suggest other buyers do the same.
Pros
Comes with moisture-proof built that inhibits warping
Works as an ideal slick and convenient art accessory
Designed with a dual-sided design that guarantees long-standing usage
Features lightweight, sturdy and portable design
Standard size for hanging on drafting tables and standing up to tapes
Cons
Requires careful handle with its edges
By and large, this painting board is ideal to use for watercolor. It is lightweight, similar to a foam core, but it is definitely sturdier and works exceptionally for its design.
4. Saunders 05607 Hardboard Sketch Board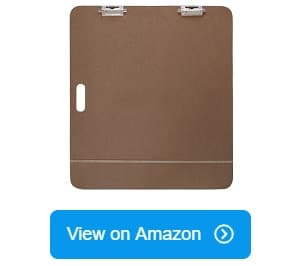 This watercolor painting support board is manufactured using recycled materials with excellent durability. As the piece is an environmentally-friendly product with high quality approved by the Composite Panel Association, I intend to utilize it for a long time.
What I like more about it is that it comes with a sketching and writing-friendly surface. Its large and smooth surface is appropriate for several media sizes. Hence, I consider it suitable for artists who frequently draw and sketch.
The brand adds a stretchy band and dual-clips to the board to deliver a secure hold on your drawing canvas. To my surprise, the clips can keep 1-inch of painting paper stay put. Built as lightweight and portable, this item promotes easy carrying anytime and anywhere. Plus, its handle makes it handy and easy to store.
Many of my friends adore this hardboard's flat surface because it is large enough for them to have a solid surface to work on. It's funny that we have the same stuff whenever we head to our art studio.
Regardless, the dual clips situated at the top of this hardboard require a hand each. They are slightly hard to open up when placing my paper. I needed to clamp them down individually. I hope the manufacturer can make some slight improvements to them.
Pros
Built using sturdy and tough recycled materials
Designed with dual clips and elastic band
Features a lightweight, portable, and built-in handle design
Comes with a large sleek surface that suits several media sizes
Ideal for users who prefer smooth and large surface where to work
Cons
The two clamps at the top are not as functional as expected.
On the whole, I like this recycled hardboard because it offers me a durable sketching and writing surface. I highly recommend it to students, artists, and creatives.
5. US Art Supply 4336950387 Sketch Board
Many teachers and artists vouched for this watercolor painting board DIY due to its lightweight structure and sturdiness. It can provide the support they need when working on drawing, painting, or tutoring projects.
I appreciate the tough-pressed and tempered hardboard as its build is reliable. I love that each board comes with a comfortable cut-out handle, sturdy clip, and a large-sized rubber band that secures my papers.
Featuring a lightweight, handy, and durable design, I have no problems carrying this sketch board to the art studio. It comes with a large enough size that could take nearly all measures of coloring books I own. Whether you are bed-bound like me, you will find this artist board a practical investment that's worth considering for your artwork.
Additionally, it is flat and accessible, so you can rest assured that your artwork is safe all the time. I guess this option is one of the most famous products because you can conveniently use it in the field, studio, or classroom.
It is a bit pricier than other similar products; however, I think what makes it more prominent is its top-quality construction. For buyers like me who want to be guaranteed a second to none sketch board, this item is worth trying. It is not susceptible to bending or folding easily.
Beyond that, the minor gripe I have is about its not so rounded and unpolished edges. Nevertheless, the piece works wonderfully for my needs, so I don't consider this as a serious concern to frown about.
Pros
Built using tempered hardboard
Features a super sturdy and lightweight design
Manufactured with a comfortable handle that offers more portability
More practical to utilize in the field, studio, or classroom
Comes with a durable clip and rubber band that secure your artwork
Cons
The edges were not as rounded and polished as expected
To sum up, I bought this artist sketch board because it is quite handy. It can be your ultimate choice to keep your artwork and teaching paper secure.
6. Artlicious Sketch Tote Drawing Board
My friend recommended this sturdy board for watercolor paper. At first, I was dubious whether this option is the appropriate artboard for my work. Surprisingly, it turns out to be useful for multiple types of mediums, including materials for drawing, coloring, and journaling.
Lightweight and convenient to carry around, this artboard is always in my bag whenever I attend my art class. In my viewpoint, this item is a practical, wonderful, and sturdy alternative for a coloring canvas. Users will benefit a lot from its flat and sleek design, resulting in an enjoyable and creative process.
Not to mention, I love utilizing this tote board for drying my artwork. Besides, it is ideal for sketching and painting my craft on my lap. It is not bulky, the size is just right, and it is easy to store. Young and adult artists will also like this item regardless of the type of medium they use. Whether I work on a couch or the bed, this artboard does not disappoint me.
This is a cost-effective item worth buying because the kit comes complete with the stuff I need. It contains the hardboard for sketching, one rubber band, one metal clip, and a handle. Also, this tempered hardboard is robust enough for long-standing usage.
For all that, the rubber band works fine for keeping my papers from flying away. But, I noticed that the paper slides loosely around below it after some time.
Pros
Practical and durable option for a coloring surface
Comes with a super sturdy clip and rubber band
Features a sleek and flat design
Ideal to use for numerous types of mediums
Lightweight and convenient to carry around
Cons
Minor issues with the rubber band
I adore this
high-quality watercolor canvas board
because it certainly works well for my different hobbies. I consider it my dependable partner for journaling, drawing, and coloring.
7. Art Alternatives AA17702 Sketch Board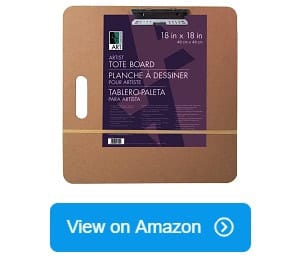 In the past, I already purchased a gatorboard for watercolor painting. It works for my art projects, but I also decided to get a dependable artboard that features a low-profile grip clip. Indeed, this is how I ended up with this product. I prefer it because it is manufactured with Masonite and its dimension is large enough for my craft.
I find the rounder corner useful as they are softer compared to a right angle. I think this makes a huge difference in the way I utilize this board.
Furthermore, the edges are sleek, and I am amazed at how this piece of an item makes my art projects easier to carry out. The board comes with precise size, and the rubber band keeps my papers secure.
With its comfortable and convenient handle, this board allows easy carrying as it fits nicely into your bags. So, you can easily use this watercolor board for sketching in places where you find inspiration. Not to mention, this product comes with an affordable price point, compared to many competing designs.
Since I use the painter's tape to attach photos and sketches for reference as I draw, this board's large surface allows me to do all these. I am glad that it was not designed as too big; otherwise, it won't fit my requirements anymore. I am surprised at its durability, and it works as advertised.
I pick this handy craft tool because it is practical and perfect for painting, drawing, and travel sketching. Students like me will indeed find this item worth-having, especially if they have art classes. All the same, please handle this artboard with extra care. Don't allow it to get severely wet to avoid warping.
Pros
Designed with a low-profile grip clip
Features a solid and reliable build
Comes with a comfortable and convenient handle
Not prone to getting damaged easily
Built with round corners and sleek edges
Cons
Tends to warp if too drenched
To conclude, this watercolor board's large surface area for stretching impresses me the most. It suits my needs well, and I am satisfied with its durability.
What to Look for When Buying Board for Watercolor Painting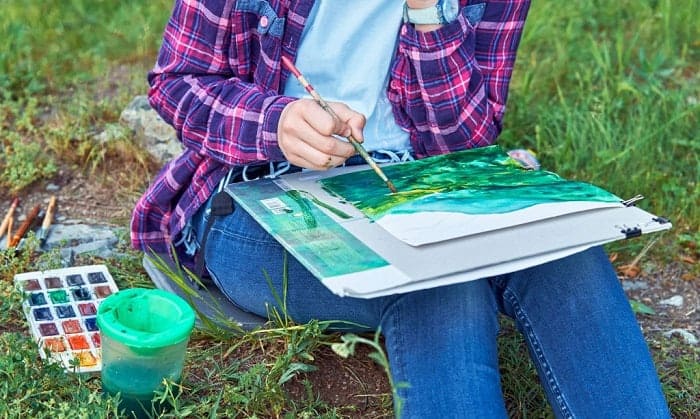 When buying the best board for watercolor painting, you need to contemplate the following:
Brand
Before spending on a certain watercolor canvas board, the first thing you need to do is researching for reliable sources. It is best to pick trusted manufacturers that produce high-quality boards for watercolor painting. This way, you won't put your investments to waste.
Don't merely focus on the price tag of the product.
Always remember that expensive products cannot guarantee you satisfying quality. The same goes for less expensive options. What matters the most is you carefully check out the valuable features, upsides, and downsides of the product you plan to buy.
It is also practical to read customer reviews and feedback to learn more about the product.
Other essential features and specifications that you need to take note of include:
Durability and portability
Sleek and flat design
Ideal for different types of mediums
Lightweight and easy to store
Built using durable and long-lasting materials
Can offer more comfort and convenience
Features a large surface where you could comfortably work
Secure your paper and piece in place
Designed for different applications such as in the field, art studio, or classrooms
How Do You Make a Watercolor Board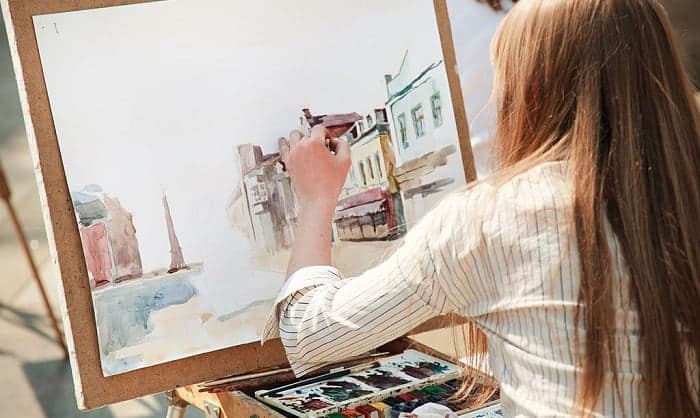 Buy a sheet of birch wood as this can resist water, and it is durable enough to deal with water abuse.
Cut it according to the size you prefer. It is recommended to consider having a large surface area where you can work.
Thoroughly sand the tops and sides to smoothen the rough edges.
Carefully wipe the wood using a damp cloth. This is to clear away the dust and other fine particles.
Paint the surface using chalk paint to add a smooth appearance.
Lastly, allow the board to dry completely. In general, allot at least 24 hours for the drying process.
Conclusion
Conclusively, you have learned in this post that the best board for watercolor painting can make a significant difference in the outcome of your artwork. Hence, it is just right that you choose a top-quality alternative that could serve as your reliable partner when accomplishing your art-related projects. This way, your painting, drawing, journaling, and sketching activities will be more worthwhile.
Hopefully, the product reviews and shopping tips in this article can help you make a well-thought-out buying decision. I recommend that you carefully compare each option's essential features, advantages, and disadvantages before you take the plunge.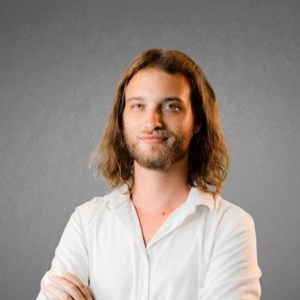 I am a former art teacher, so it is evident to me the importance of art in educating the new generation. We also want to help parents who plan to teach their children and desire the best tools and tips for them.