If you're a charcoal artist, you know how important it is to have the right type of eraser. Since it can be a crucial process to erase charcoal for precise detailing and highlighting, it can either end up as a stunning artwork or an ugly mess! Therefore, what's the best eraser for charcoal?
In this article, I'll walk you through the top choices for charcoal erasers that will suit your preferences, budget, and needs. I've also come up with a comprehensive guide to help you find the best eraser for your buck and artistic demands.
Best Eraser for Charcoal Reviews
1. Faber-Castell kneaded Erasers
Do you want to keep your kneaded erasers free of graphite and dirt? This Faber-Castell kneaded eraser pack is for you as it comes up with a clever resolve to your storage needs: plastic cases.
As every charcoal artist knows, kneaded erasers easily pick up graphite and bits of particles, and can quickly get dirty. I think the individual storage cases are a useful addition to this pack, keeping the erasers clean and properly preserved at all times.
I like how I can store and use it right away every time I need it. Besides that, the superb quality and flexibility make this kneaded eraser an exceptional choice.
It performs well even with light dabbing and quickly lifts charcoal and graphite away, leaving a neat and seamless surface.
Since it is very pliable, it's a lot easier to pull it apart or mold it in any shape you want. I can form a small wedge for intricate highlights and details, and simply fold it to hide the graphite and expose a much cleaner surface.
The eraser's impeccable softness also allows gentle and seamless erasing that does not damage the paper. It lets you correct imperfections without any hassle.
Aside from that, it can eradicate portions or spaces without pushing the rest of the graphite much further and cause accidental erasures. Although the erasers come in assorted colors, they don't leave any residue as rubber erasers do.
The only thing I don't like is that it sometimes leaves me feeling sticky.
Pros
Highly kneadable and super soft
Comes with storage cases for convenient storage
Wards off paper damage
Great for rendering intricate highlights and details
Does not leave residues
If you're looking for highly kneadable and super soft erasers for charcoal that can provide clean and precise erasability, you're in for a treat with this 4-piece set.
2. Tombow Mono Zero Eraser
If you're all about accuracy and messy-free detailing, you might find the perfect charcoal eraser pen with this Tombow Mono Zero Eraser pack.
It's nothing like the conventional clay-like kneaded erasers, but rather it's designed like a pen for maximum comfort and ease of use. It features a slim and sleek design that allows you to get into the smallest spaces and render complex highlights and details. And since it comes in a compact size, it's easier to carry it around or put it away for storage.
One of the reasons why I find this an exceptional alternative for kneaded erasers is that it stays in its shape. It isn't too rigid and I love how I can erase sketches with whether light or heavy pressure while preserving their shape.
It works like a pen; it just needs a gentle push to dispense the eraser. And don't worry when it's all used up because it is refillable. Plus, it comes with an eraser refill for your convenience.
Although the eraser isn't as flexible as kneaded erasers, it is soft enough to create crisp lines and precise detailing without leaving any crumbles or residues. It gently glides on the surface, keeping the paper in its pristine form.
Aside from that, this eraser pen is impressively versatile. While it focuses on intricate features, it also produces thick and thin or big and small erasures.
The only downside is it does not erase graphite completely. If you want to go for faint erasures, you're all good with this one.
Pros
Pen-style eraser for portable and convenient use
Great for creating intricate highlight and details
Can deliver crisp lines and precise erasing
Does not damage the paper
Erases neatly
Cons
Does not remove graphite completely
When all you need is to erase with excellent precision, this eraser pen won't disappoint you. It comes with a sleek and compact design that lets you work on intricate details with ease.
3. Prismacolor Premier Erasers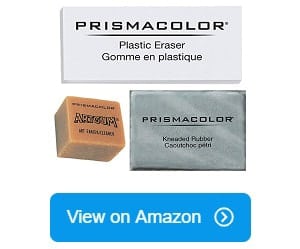 For particular erasing tasks, you might need more than one eraser to use. With that in mind, Prismacolor Premier comes with three different premium erasers for your needs: a gum eraser (ArtGum), a kneaded eraser, and a white rubber.
I like the variety in this set because you can pick and try which eraser works best. Mine's always been kneaded erasers like the one in this pack. It molds easily into any shape I want, especially when I form a wedge and lift some graphite around the eyes, hair, and other complicated areas.
It also stretches out and can be folded over in itself whenever one side gets dirty. It isn't as soft as the Faber-Castell kneaded eraser, but I think it has a moderate softness that can wipe graphite neatly.
On the other hand, the ArtGum eraser is surprisingly great at collecting graphite. The difference between this and the kneaded eraser is the pliability. It is not malleable, but it renders a gummy feel, making it ideal to use for large areas.
You can also tear apart if you need smaller pieces to target tight spaces. It looks like a small cube, and you can use the edges to eliminate pencil marks or graphite completely. However, it's more crumbly than a kneaded eraser and vinyl eraser.
Lastly, the plastic eraser or white rubber also does what it's supposed to do: to remove unwanted marks and correct imperfections without leaving too much smear.
It looks like a typical rubber eraser and has a more rigid shape and texture. You can't tear it apart or mold it into other shapes, but it's
great at erasing graphite
or pencil marks although not as clean as the gum eraser. It may also leave some residue.
Pros
A set of 3 different erasers for various erasing tasks
Includes a soft and malleable kneaded eraser
Has latex-free plastic eraser for efficient graphite erasing
Includes a cube-shaped gum eraser that eradicates marks completely
Prevents paper damage
Cons
The gum eraser is a bit crumbly
The rubber eraser leaves some residues
This 3-piece eraser set is your best bet for diverse yet efficient performance. It can also be a great choice for beginners looking for the ideal eraser type to use.
4. Acurit Vanish Artist Eraser
Why do you have to buy individual erasers when you can have it all one? This multipurpose Vanish artist eraser is probably what you need when tidying up pencil marks and other dry media gets a little tough.
It is designed to efficiently erase charcoal, graphite, pastels, and more. I've also found this a reliable eraser for colored pencils that can leave the surface clean and smudge-free.
Although it is described as a replacement for kneaded erasers, I think that this versatile eraser works better as an alternative option, especially if you don't like the sticky feel of some kneaded erasers and the hassle of molding them.
It has similar physical features to a rubber or vinyl eraser, but this one's much softer that can deliver smooth and efficient erasing.
I like how I can use the edges to clear out some areas without getting very dirty. The graphite or colored pencil markers do not transfer on the surface. It's amazing how it doesn't accumulate too many crumbs or eraser shavings, but rather leaves clean strips that you can easily get rid of ultimately.
It may not be kneadable or pliable like any kneaded eraser, but it offers an ergonomic design and shape that maximizes comfortable use. It's much easier to hold when gliding across the paper. It's not abrasive on paper even on delicate ones, preventing any paper damage.
I also noticed that when used on charcoal, it does a great job removing unwanted marks and pencil lines to create highlights and correct mistakes.
Other than that, the size is neither too chunky nor too small. I like the fact that it's big enough to cover large areas or remove massive lines across your art. Unfortunately, the size can also be a disadvantage; it's hard to use it in erasing small areas and intricate details.
Pros
Multipurpose; Suitable for erasing different dry media types
Features ergonomic size and design for hassle-free erasing
Doesn't leave crumbs; Forms neat strips for easy cleaning
Soft and easy to use
Neatly removes charcoal
Cons
Not ideal for erasing small details and areas
Overall, this versatile eraser is worth a try. It could be your ideal choice for working on various dry media without switching between different types of erasers.
5. Mr. Pen Art Eraser Set
If you can't decide which erasers to use in highlighting the details on your charcoal art, wouldn't it be better to try different eraser types? That's exactly what you'll be able to do with this Mr. Pen art eraser set.
This variety pack includes three erasers of three different kinds: 3 kneaded erasers, 3 artist gum erasers, and 3 vinyl erasers. With a total of nine erasers, I think you can have more than you need with this pack, especially if you're an amateur artist looking for the perfect erasing tool.
I like how you can switch between every kind and get a little of everything until you find the one that meets your artistic needs and preferences.
The kneaded eraser is my favorite in the pack although all of them came in excellent condition. It is impeccably soft and pliable, and can easily be molded into any shape.
There's no hassle forming sharp edges or small edges to get into narrow spaces and complicated sketches. It picks up charcoal and removes it neatly. Aside from that, it can be your ideal pick if you want to achieve faint erasures.
When it comes to clean and complete charcoal removal, I think the gum eraser does a great job on this. Since it's also soft, it lends gentle erasing that prevents the paper from ripping. It also comes in good shape and size, making it convenient to use.
Lastly, the vinyl eraser is more rigid than the two erasers in the set, but it's not harsh on paper. It lends smooth and efficient performance, and perfect for everyday use.
All the erasers are pretty awesome. I just wish they're larger.
Pros
A 9-piece pack of various eraser types
Includes kneaded erasers, gum erasers, and vinyl erasers
Has soft and malleable kneaded erasers for charcoal removal
Includes gum erasers that eliminate charcoal completely
Durable plastic erasers for everyday use
This eraser set offers great value for money. Whether you're a beginner or a professional artist, you'll have a variety of excellent quality erasers that will suit your needs.
6. Faber-Castell 127220 Kneaded Eraser
As usual, Faber-Castell doesn't fail to impress with its high-quality art erasers such as this soft and pliable kneaded eraser. It does exactly what it's designed to do: it effectively erases charcoal without leaving any messy smudges.
I like how it isn't overly soft and has a moderate stiffness that allows you to shape it in any form. With its impressive flexibility, it's easy to roll it on charcoal sketches, especially if you need to lighten some lines and details.
I also notice that when you use it on heavy graphite, the erasability is on point as it clears out the surface without leaving any trace. You won't also see some particles or tons of eraser shavings.
Apart from that, this works if you need to clean slides, create highlights, or add final drawing touch-ups. It's remarkably kneadable and absorbent, so if you want to tear it to pieces or pull it out, you may do so.
Unlike other kneaded erasers, this one's not very sticky. Since it's not too squishy nor too rigid, you can mold it like clay without leaving any muggy feeling in your hand.
The plastic case is also a sweet treat since kneaded erasers are awfully prone to dirt and dust, leaving them dirty and unusable. Therefore, the case promotes neat and convenient storage, so it's always ready for use, and you can securely keep it anywhere you go.
However, the case's durability could've been improved; it's a little flimsy.
Pros
Highly kneadable and soft eraser
Offers excellent erasability
Removes charcoal neatly and efficiently
Can deliver light erasures and creative highlights
Comes with a plastic case
Despite that minor issue, choose this one if you need the best eraser for charcoal. It works great on charcoal and tidies up the surface efficiently.
7. Prismacolor Design Eraser
It's always up to you which design eraser to use when working on your charcoal art, whether it's a super-soft or slightly hard kneaded eraser. If you prefer the latter, you're in luck with this Prismacolor putty rubbers in grey color.
Although soft and clay-like kneaded erasers are ideal for accentuating intricate details and highlights, the harder ones also share their advantages. This kneaded eraser is not as pliable as I want it to be, but it has a moderate softness that allows molding. Plus, it isn't sticky.
Since it isn't melty like some putty rubbers, you can easily roll it on the paper to lighten sketches, pencil shades, and charcoal marks. It's what I do when I want to create some artistic effects and emphasize particular details on the artwork.
The rigid edges can also be used to pick up graphite or charcoal around narrower areas. You can also tear it into smaller pieces or shape it according to the size you need.
This eraser might be a little hard, but surprisingly, it works smoothly on paper and erases graphite and charcoal without causing paper damage. I also like how you can just dab it lightly to remove certain areas without leaving any messy residues.
Another beneficial feature is the size. Because it's relatively larger than the ones I've used before, covering wider areas is effortless. This speeds up the erasing process, but it doesn't compromise its performance.
While there are merits in using this kneaded eraser, its stiffness deters better malleability. It can be molded but there's still a tad bit of struggle in stretching it out.
Pros
A slightly harder kneaded eraser that provides efficient erasing
Does not leave messy eraser shavings
Erases smoothly without damaging the paper
Can lighten and remove pencil marks and charcoal sketches
Able to cover wider areas effortlessly
It may not be the best one out there, but it's a decent kneaded eraser that can tackle various erasing tasks. It's slightly stiffer than typical kneaded erasers, but it effectively and neatly eradicates charcoal.
8. June Gold Kneaded Rubber Erasers
These June Gold kneaded erasers for drawing are among my budget-friendly favorites. It includes six high-quality kneaded erasers that can work on charcoal, colored pencils, and other dry media. The quantity is already an ample offer, but these erasers stand out because of their impressive caliber.
I honestly haven't been quite familiar with this brand, but these putty rubbers have the optimum softness and moldability that charcoal artists would look for in an eraser.
You can stretch it out to a few inches or form it into a shape effortlessly. This flexibility makes it easier to get into tight spaces or intricate areas and create stunning highlights.
It can lift graphite or charcoal even with light pressure, especially if you need to erase it carefully. And whether you're aiming for faint erasures or thorough removal, these erasers do deliver without messing up your work with ugly smudges.
Aside from that, it has that gum-like feel when you mold it, making it a lot easier to fold over every time it gets dirty. The absorbent quality helps correct imperfections, blend shades, or smoothen out charcoal marks without any hassle.
It's also important that the erasers are comfortable to use and hold, which is why these erasers' portable and convenient sizes are a nice treat.
What I don't like about this eraser is it's awfully sticky. It can easily get into your nails or cling to particles and dust.
Pros
6-piece eraser set
Highly kneadable
Erases charcoal without smudges and residues
Able to correct imperfections and create highlights
Can also be used on other dry media
Nonetheless, you'll find premium quality kneaded erasers with this set without spending a massive outlay. Professional and beginner artists will benefit from its superb softness, flexibility, and versatility.
9. Mr. Pen KE16 Kneaded Eraser
My obsession with kneaded erasers has led me to this massive collection from Mr. Pen! Wouldn't it be an exquisite treat to upgrade your kneaded eraser stash with 16 more?
Some may find that way beyond what's needed, but if you're a serious charcoal artist who's constantly working on large-scale projects or multiple artworks, you'll find this an excellent deal.
Instead of typical gray or white colors, these kneaded erasers come in vibrant shades that you can use to assign color-coded erasing tasks, especially if you're working between different art media types. Mine's blue for graphite and yellow for colored pencils!
Besides that, these kneaded erasers are all about maximum flexibility that can ramp up your charcoal eraser drawing's quality. Each eraser is remarkably kneadable, making it easy to use whether you pull it out, fold it over, or mold it any shape you want.
Since it's also exceptionally soft, you can render subtle highlights or erase charcoal without damaging the paper, especially if you're working on delicate surfaces.
Moreover, these erasers are ideally designed to correct mistakes or lighten them to add dramatic effects and highlights to your charcoal art. It's amazing how it efficiently picks up graphite despite light dabbing.
Although these erasers are colored, they don't transfer on the paper nor leave tinted smudges. I like how it erases the surface neatly and only leaves eraser strips that you can easily clean afterward.
Everything seems to be on point except for its sticky feeling.
Pros
16-piece eraser set
Extremely kneadable and absorbent
Erases charcoal and various dry media without smudges and residues
Can provide thorough and subtle erasures
Easily molds and stretches
Despite this minor drawback, this 16-piece eraser set is definitely one of the best deals out there. Besides the attractive vivid colors, these topnotch kneaded erasers can take on various erasing tasks without a hitch.
10. MotBach Kneaded Rubber Eraser
If you want to skip all the greasy and oily feel of kneaded erasers, this Motbach 8-piece eraser pack might just be the one you're looking for.
Each eraser is malleable, and you can fold or pull it out several times without getting your hands stuck with rubber. You can keep your hands clean that can prevent any smears or messy transfers on your artwork.
It delivers excellent flexibility that you can use according to your needs, whether you twist or clamp it. You can even shape it like a wedge or roll it like dough to get into tight spaces and create intricate highlights. And because of its superb softness, it works on various paper types without ruining the paper quality.
When used on charcoal, the eraser renders excellent adhesion even when dabbed on heavy or light charcoal lines or marks.
If you want to eliminate it completely, you may do so, and it erases the surface without leaving a trace and any residues. For faint erasures, subtle touches will do.
One more thing I like is the size. It's also one of the largest kneaded erasers I've tried, and I find this an advantage for covering bigger areas. Plus, it includes eight erasers, which will suffice for various charcoal art pieces.
My only concern is it hardens quickly when not stored properly or exposed to heat or sunlight.
Pros
An 8-piece eraser set
Kneadable; can be molded into different shapes and sizes
Can be used on multiple paper types
Able to deliver light and thorough erasures on charcoal
Can cover large areas
If you want non-sticky kneaded erasers, go for this set. And while they can keep your hands messy-free, these erasers offer promising features that will spruce up the artistic effects on your charcoal art.
What to Look for When Buying an Eraser for Charcoal
Pliability and Versatility
Also known as putty rubbers, kneaded erasers are all about pliability, meaning that you can fold, twist, shape, clamp, or stretch them like bread dough.
When you dab on an area on your charcoal art, the graphite sticks quickly to the kneaded eraser, and one way to remove the dirt or residues is to pull the eraser, tear it apart, or fold it back in. This won't be a struggle if the eraser is soft and highly kneadable.
Tidiness and Erasability
A kneaded eraser's primary job is to collect the graphite and clear a particular surface without leaving any crumbs and residues. Therefore, you should look for a charcoal eraser that effectively and reliably eliminates graphite even with light dabbing or pressure.
On the other hand, poor erasability may result in smearing and inadvertent erasures. But if you want to achieve precise highlights or simply correct mistakes, look for a kneaded eraser that clears graphite with minimal to no mess at all.
Softness and Paper Trauma
The eraser's versatility and flexibility depend on its softness, but this factor varies from brand to brand. Some are soft and melty like clay or dough, while other kneaded erasers are stiff like rubber erasers and not as malleable as they should be.
Stiff or hard erasers may demand heavy pressure and harsh erasing that will rip or tear the paper. That's why it's also better to choose a soft kneaded eraser because it deters paper damage, whether you rectify mistakes or produce highlights.
Art Medium Compatibility
Another quick route to finding the perfect kneaded eraser is to determine whether it's compatible with your art medium. Fortunately, a lot of manufacturers offer a vast lineup of charcoal kneaded erasers, while some are suitable for multiple art media types like pencil, pastels, including charcoal.
Size and Storage
The eraser size can also be another contributing factor for ease of use and versatility. However, it's hard to tell which size is ideal because every artist has their preferences. But no matter what size you choose, it should be easy to hold and comfortable to use.
The optimum size also maximizes the eraser's versatility and therefore, it should be large enough to be shaped, folded, pulled, or torn apart.
Another quick note about kneaded erasers: they easily pick up graphite, particles, and pretty much every bit of dirt if they aren't stored properly. They'll probably turn into a huge chunk of dirt that you'll toss in the bin eventually. That's why some brands come with plastic cases for neat and convenient storage.
What Kind of Eraser is Best for Charcoal
A putty rubber or a kneaded eraser is best for charcoal because it is soft and pliable. These characteristics allow you to easily shape the eraser and dab it on a specific area to accentuate details and produce precise highlights.
When you remove certain details, the kneadable eraser grabs graphite quickly, making the exposed part dirty and unusable. But because of its softness and flexibility, you can easily pull, mold, or fold the eraser to conceal the graphite or any dirt and reveal a clean and usable surface.
Can You Erase Charcoal
Yes, you can as long as you have the right kind of eraser; otherwise, it will leave messy smudges and dirt on your work. You have to make sure you're using a soft and malleable eraser to effectively eliminate small details and create highlights, and prevent any accidental erasures.
Conclusion
To wrap up, an eraser can make or break your charcoal art. Hence, you should choose the best eraser for charcoal to create highlights and remove details. In that way, you'll save your work from chaos and rather present a remarkable piece of art. And when it comes to kneaded erasers, remember to pick out the one that's soft and moldable.
If you're still in search of the perfect kneaded eraser for charcoal, mentioned above are the top-rated erasers as well as in-depth guidelines to help you find the best pick!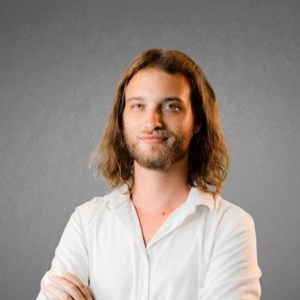 I am a former art teacher, so it is evident to me the importance of art in educating the new generation. We also want to help parents who plan to teach their children and desire the best tools and tips for them.