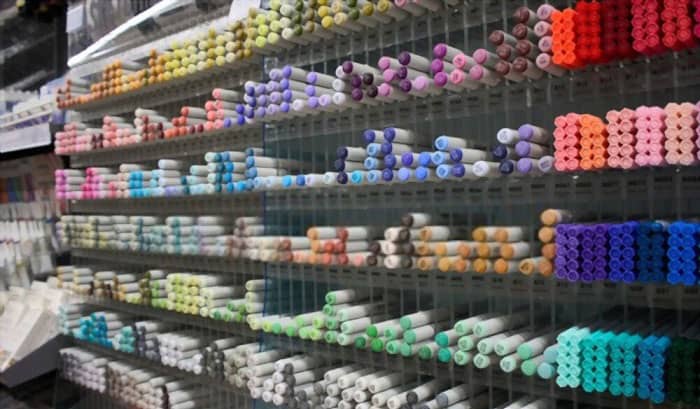 Being an artistic person, I have always invested large amounts of money into purchasing a variety of pens, pencils, and markers. However, there were plenty of times in which I was frustrated because my art markers ran out of ink quickly.
There might be many reasons accounting for this phenomenon, but in general, it was due to the fact that my pens and markers were not stored appropriately. I bet that many of you are in this situation right now.
Don't worry; you are not alone, and the solution is simple: store your pens and markers correctly. Unfortunately, storing pens and markers is more complicated than it lets it out to be. The best way to store markers, such as whether to store pens horizontal or vertical, or to store pens up or down, depends completely on the type of markers.
Thus, this article will be a summary of ways on how to store pens and markers for your reference:
1. Some General Rules on Pens and Markers Storage: Several basic rules about storing pens and markers everyone must know are never leaving their tips open, avoiding extremes, and choosing an appropriate surface.
2. Correct Ways to Store Specific Types of Pens and Markers: This section will provide you with storage methods for certain kinds of pens, including:
Ballpoint Pens: Keep them tipped
Gel Pens: Keep them tipped upward.
Felt-tip, Fineliner, and Highlighter Pens: Keep them tipped down.
Fountain Pens: Keep them in a pen case horizontally.
Marker Pens: Keep them tipped down. Generally, the safest way is vertically putting their tips down. However, it's advised that you store Sharpies horizontally so that alcohol doesn't evaporate.
Sharpies: Keep them in a horizontal position.
Rollerball Pens: Keep them in a horizontal position.
3. Some Recommended Pens and Markers Holders: Consider a table-top carousel, a rotating holder, an art marker portable case, etc.
Not storing your markers and pens properly will lead to their colors being less vibrant and a stifled ink flow. Hence, why not begin this article right now to learn tricks that maintain your art pens and markers for good?
Some General Rules on Pens and Markers Storage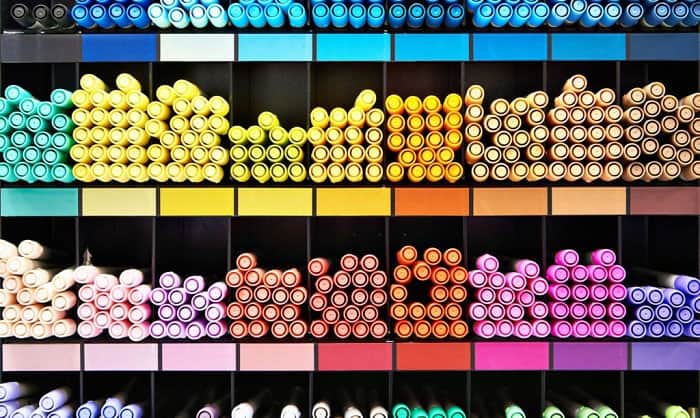 Even though I'm going to have more detailed instructions for a list of pens and markers in the following section, this part is for those of you who are not sure about which specific types your markers or pens are.
1. Which Direction It Should Be?
As I have mentioned earlier, your marker types determine if you should store your marker horizontally or vertically. Nonetheless, when you are in doubt, the best way to store pens is to put them horizontally on a flat surface.
By doing so, the ink can be evenly distributed through the whole pen/marker. Thus, it will be instantly ready for your next use. Moreover, in the case of alcohol-based markers, the alcohol will not evaporate too fast.
2. Don't Forget The Cap!
It is extremely important that you remember to put the marker cap on whenever you are finished with your art tools. Without a cap, your marker will dry out and there is a high chance that you can't use it anymore.
3. Avoid "What Is Too Much"
You might feel a bit confused about what I mean by "what is too much". Well, try your best to keep your markers/pens away from extreme heat or light. That is, all markers and pens should stay away from too high or too low temperatures.
Moreover, they shouldn't be under direct sunlight or a bright source of light, such as under a lamp. The reason is that when being exposed to these sources, the markers will dry out or their ink will be clogged up. Yet, this is not applicable for pens or markers that are specifically designed to work under such harsh conditions.
4. Pick An Ideal Surface
There will always be chances of your markers leaking, so it is best that you choose a surface that you can easily clean up or throw away when the ink leaks. It would be a disaster if you find ink stains on an important piece of paper or your beloved table.
Correct Ways to Store Specific Types of Pens and Markers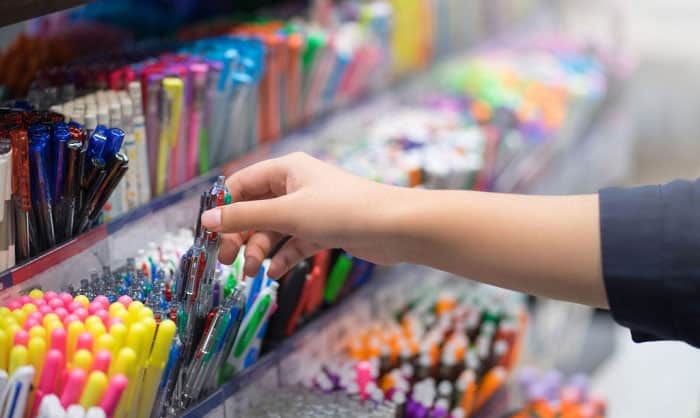 For those who have been able to identify the particular kind of pens or markers, feel free to scroll to the section of your markers/pens for detailed instructions on how to store them.
1. Ballpoint Pens
Ballpoint pens, also known as a biro, have a bearing ball that is located near the tip of their nibs. As we move the tip of a ballpoint pen on paper, this bearing ball will rotate inside the ink reservoir and deliver ink from the inside to the paper.
Thus, you should always keep the tip of a ballpoint pen down so that the heavier ink will flow down to the tip and be ready for your next use. This will also prevent your pen from drying out and keep the bearing ball in contact with ink.
2. Gel Pens
So, how to store gel pens? The most proper way for gel pen storage is tip-up in order to keep the pressure away from their tips. Nevertheless, note that it requires a few strokes to have the pen working after storing gel pens this way. Additionally, you can store the pen horizontally in your pencil case.
3. Felt-tip, Fineliner, and Highlighter Pens
Since these three types of pens all have fiber tips, they are quite easy for storage; whichever way is fine. However, it may be a bit better if you store them with their tips down to prevent them from drying out.
4. Fountain Pens
Among the pens and markers I discuss in this article, fountain pens are probably the most vulnerable. Thus, you might need extra caution when storing these pens. It is important that you NEVER put their tip down vertically since the ink will be pulled towards the nib, which creates clogging, leaking, and even damage to the internal mechanism.
Hence, there are two possible methods to store fountain pens, which are tip up vertically or horizontally but the nibs should be facing sideways. In addition, for extra protection, you might want to keep it in a pen case to keep your pen safe from undesired incidents.
5. Marker Pens and Sharpies
It is a bit more complicated when it comes to storage of markers and Sharpies since you will have to identify the kind of ink in your markers. Once again, play it safe by keeping the marker tip down.
However, the best way to store Sharpies is horizontally since they contain alcohol-based ink. Therefore, I advise you to double-check the type of your marker ink to make sure you are storing them correctly.
6. Rollerball Pens
The last type of pen I would like to talk about today is rollerball pens, similar to ballpoint pens. Rollerball pens use a water-based liquid ink and normally contain a small amount on the tip to avoid leakage.
Thus, store your rollerball pen horizontally, and once you have finished using it, make sure the cap is properly fitted to prevent it from drying out. Another fact you might want to know is that rollerball pens aren't airplane friendly since the air pressure will cause ink leakage. Therefore, keep your rollerball pens vertically with its tip facing up while travelling.
Some Recommended Pens and Markers Holders
There is a variety of pens and markers holders that you can consider buying since it would help create a more organized place for you to work. The Crafters Companion holder can be something worth buying because it allows the markers and pens to be stored horizontally.
However, there are rotatable holders, portable cases, table-top carousels, etc. It's totally up to you which one you find the most convenient and suitable for your financial capability.
Conclusion
That's the end of today's article about how to store pens and markers properly. In short, the marker type as well as the ink inside decides which methods of storage you should apply.
I hope you find this article helpful. Let me know which way you used in the comment section. If you like this article, share it with your friends and family as well.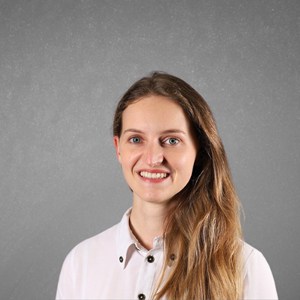 Art has always been a part of my life; it influences my upbringing and later my career choice. For me, it is always a part of my parenting technique. So for whichever purpose that you come to art, you can start here with us.