What is the best way to preserve the quality of your oil pastel painting? If you've been looking for an effective solution to prevent smudges and discoloration, you should consider using a fixative spray.
Oil pastels don't dry completely because of their oils and waxy consistency. Without proper preservation and ample protection, your painting will look tacky. This makes it vulnerable to smudges, dirt, and dust that may ruin your work in the long run. The colors may not also be as vibrant as before.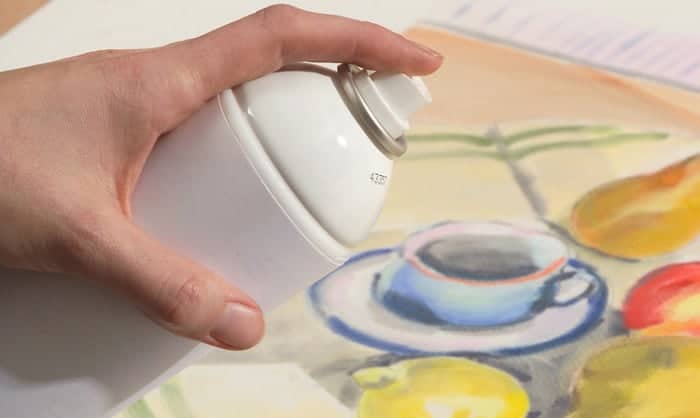 Therefore, what is the best fixative for pastels?
In this article, I'll walk you through everything you need to know about oil pastel fixatives. I've come up with a detailed buying guideline, in-depth roundup, unbiased reviews, and the easiest and correct ways to use a fixative spray.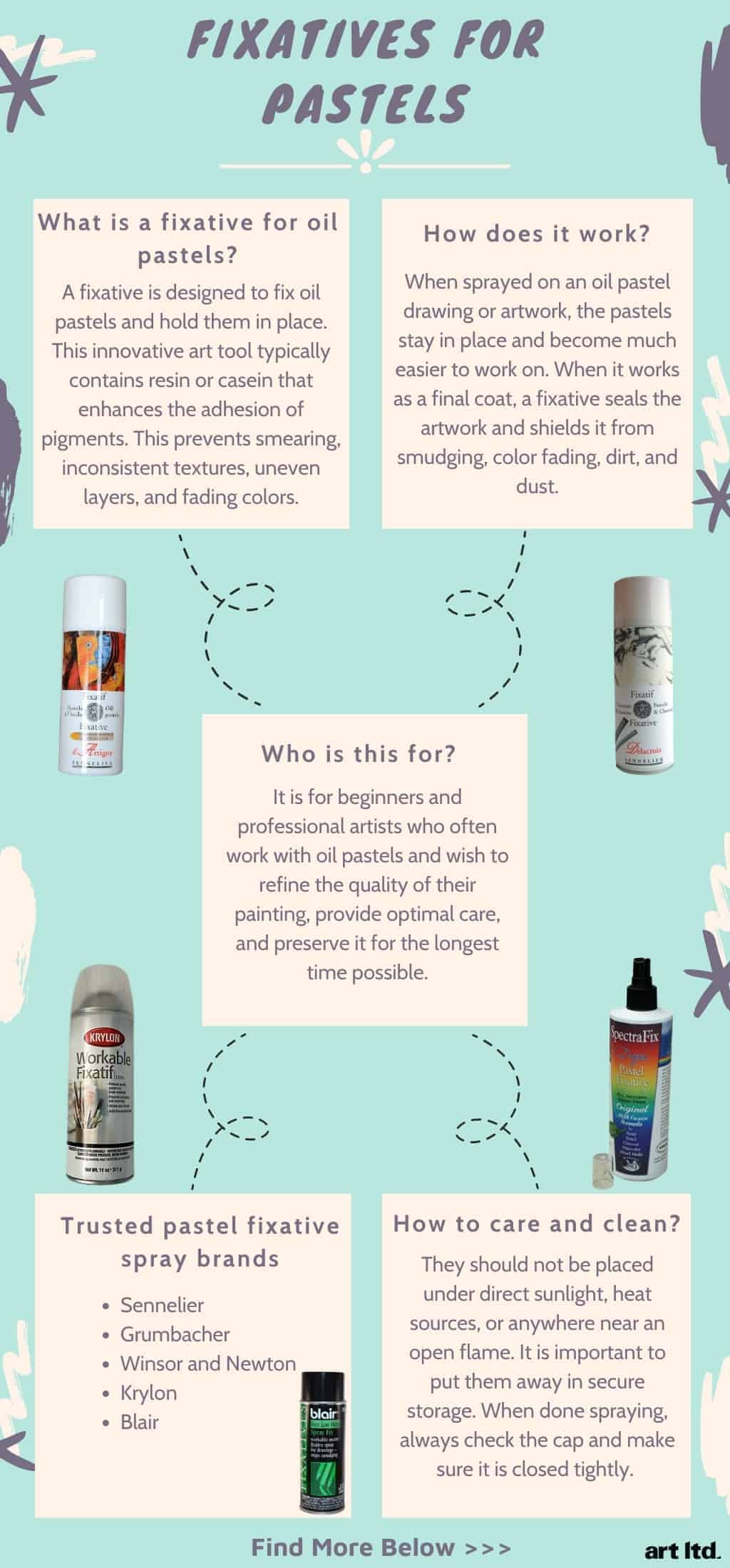 Top 10 Fixative for Pastels Reviews
1. Sennelier Latour Pastel Spray Fix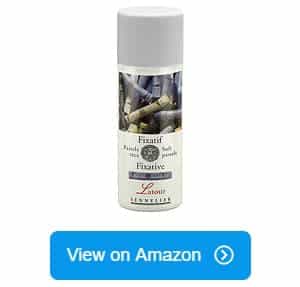 Sennelier has always been one of my favorite brands for high-quality pastels. So when it comes to proper care and preservation for pastel paintings and drawings, I know this Latour Pastel Spray Fixative won't be a letdown.
The label says it is a soft pastel fixative but I've got a nice experience using it with oil pastels. I would spray it on my pastel artwork with a couple of light coats, and it gives off a beautiful, colourless matte finish every time.
Not only does it provide decent protection from smudges and scratches, but it also allows you to work on more layers of pastels. The product didn't say whether it is used as a final or workable fixative but I've tried using it to add more pastels.
As long as I let it completely dry before putting another layer, I can say it does a pretty good job. But sometimes I paint over oil pastels while the fixative is wet to give it a nice and dramatic smudging effect.
Upon application, this one dries right away. I find it an advantage because it doesn't consume too much time and lets you construct creative layers of pastels without difficulty. It can also prevent any accidental drips that could ruin your artwork.
On a different note, you've probably been wondering if it also works as a final coat. You can give it a shot but the results may vary. It also depends on the amount of application.
I've tried using it to seal oil pastels and I think it does what it is supposed to do. But to keep the pastels from smears and any color alterations, I make sure to use it with a few light applications and let it dry.
Another point for its odor. It is neither completely pleasant nor stinky. I like how it doesn't have that horrible chemical smell and hence, makes it applicable for use indoors.
On the other hand, this spray tends to darken the colors when used with an excessive application. I noticed that heavy layers of this fixative won't do any good. That's why it is important to use it very lightly on the painting.
Pros
A neat transparent matte finish
Ables to work with oil pastels
Allows you to layer oil pastels
It has no stinky smell
Dries very quickly and prevents messy drips
Provides optimum protection with moderate and light applications
Cons
It tends to alter the colors and condition of the oil pastels when used with heavy applications
Despite the slight drawback, this product is a versatile fixative tool. With proper and light applications, you can give your pastel work the protection it needs.
2. SpectraFix SFX-31270 Fixative Spray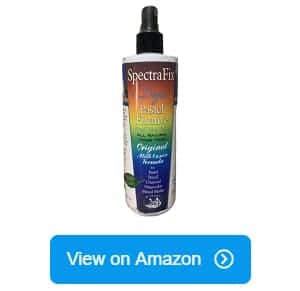 What strikes me the most about this product is the all-natural formula. This Spectrafix spray fixative utilizes casein or a natural milk component mixed with water and alcohol.
I am impressed by how these ingredients work to make it a reliable fixative tool and to eliminate toxic fumes or odors at the same time. It's a nice treat that you can spray indoors without struggling with a dreadful chemical smell.
Besides these benefits, this fixative spray for pastels delivers ample protection. It uses a potent formula that preserves the vibrancy of the colors and shields your artwork from ugly smears.
This odor-free fix highlights its amazing versatility and accommodates almost every type of art media. Apart from oil pastels, it also combines well with soft pastel, pan pastel, colored pencils, charcoal, chalk, and graphite.
Suppose you're looking for a watercolor fixative. In such a situation, this item also does the job of keeping your art in its superb condition—no need to worry about awful stains and smudges.
When using it with oil pastels, I typically build layers between them with light sprays to produce a solid fix. I love that it instantly dries so I can continue working and add more layers of pastels.
I've tried using it on unprimed canvas and oil pastel paper and it works great. But it is also compatible with all gritted or sueded papers, pastel papers, stone, leather, unglazed ceramic stone, and wood panels.
After applying, it turns into a hard coating and leaves a transparent and water-resistant matte finish. This kind of texture also boosts traction, making it much easier to paint over oil pastels.
Take note that this is a workable fixative. The manufacturer does not recommend it as a final coating for your painting. When it comes to the packaging, I think that the spray pump is a clever design that delivers a really nice and gentle effect on oil pastels.
However, as it is not pressurized, it requires more quick sprays to even out the application. It sometimes has tiny drips while spraying, which causes wet spots. That's why one should be extra careful when using it.
Pros
Offers safe and odor-free application with its all-natural formula
Can be applied over oil pastels for hassle-free layering
It has a colorless and water-resistant matte finish
Able to handle different kinds of art mediums
A quick-drying fixative
Cons
May require quick and hard finger sprays to distribute the application evenly
It sometimes drips while spraying
Anyhow, this spray fixative is an eco-friendly option that saves you from the horrid toxic odor commonly found in aerosol sprays. It is a handy tool that works wonderfully with oil pastels and with different types of art mediums.
3. Krylon K01306 Workable Fixatif Spray Clear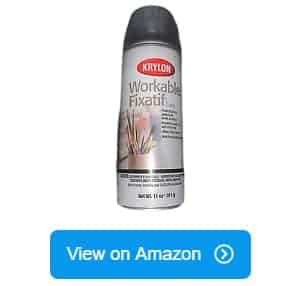 Apart from aerosol primers, coatings, and paints, Krylon is one of the popular and reputable brands to go for when it comes to quality fixatives.
The first thing I like about the Workable Fixatif is the ease of use. This aerosol spray has got a nice handle that makes spraying hassle-free. It keeps the product from getting on your hands while also providing even and lasting coverage.
Besides the handy design, this pastel fixative spray stands out with its reworkable clear finish. You just have to make sure to let it dry before drawing or painting on it. It is good and dry to touch after about 30 minutes.
I've tried it on a pastel painting to hold the colors in place and prevent any smudges as I work on each layer.
It does the trick and it surprisingly won't drip every time. This keeps the quality of the painting and saves it from any horrible mess and wet spots.
It claims to be erasable that allows reworking after spraying it on your artwork. It does what it says it can do as long as it is applied lightly. I find it an advantage, especially when I need to adjust the shades and intricate details of my oil pastels.
This fixative is acid-free, which retains the vividness of the vast range of colors. With adequate application and layering, it won't dull the colors.
But here's a caveat: it smells so bad. It has a very strong chemical smell that burns your nose so be careful. That's why I recommend using it outdoors and avoid any enclosed spaces when you spray it on your painting.
Pros
Offers hassle-free fixes
Holds the pastels in place and prevents smudges
It lets you erase and work through each layer
Does not drip
Can provide lasting coverage
Cons
It has a very unpleasant smell
Nonetheless, this spray is convenient to use. It secures the texture and brilliancy of oil pastel colors with its invisible matte finish without leaving any smudges.
4. Winsor & Newton Artists Aerosols Workable Fixative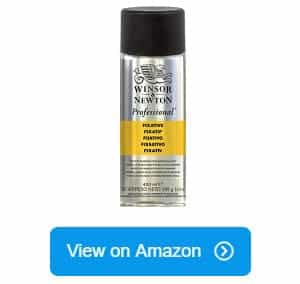 In case you're looking for another excellent protective seal to treat your oil painting, this workable fixative from Winsor & Newton is worth a try.
First of all, it is compatible with oil pastels. Therefore, if you wish to build additional layers of pastels, I can say that this product works like magic.
With just several coats, it fixes the underlayer and prepares a nice texture on top for the seamless application of pastels. It works as described and protects the painting from dust and smudging.
As it enables the top surface for layering, this product also improves the adhesion of particles, keeping the painting durable and carefully preserved for long periods.
It is transparent. I like how it does not darken the colors and just leaves them in their brilliant shades. When you spray it on, it fixes the artwork without leaving any ugly spots.
Although it works efficiently with oil pastels, it can also handle different kinds of art mediums like charcoal, watercolor, pencil, and other types of pastels. I often work with all sorts of art media so I find this a fixing wonder.
What I don't like about this fixative is the terrible toxic smell, which is a common issue among aerosol sprays. You should use this in a well-ventilated area or much better if you spray it outside.
Pros
A dependable workable spray for oil pastels
Does not leave messy marks on the painting
Does not darken or alter the colors
Able to work with different forms of media
Nevertheless, this brand offers an awesome fixative spray for oil pastels and allows you to go on with your desired shades and depths. It sprays effortlessly and provides extra care with your pastels.
5. Sennelier D'artigny Oil Pastel Sprayfix
If there's an impressive thing about the Sennelier D'artigny Sprayfix, it would be its exceptional compatibility with oil pastels.
With the brand's lineup of sprayfixes, this fixative is specially crafted for oil pastels. It knocks it out of the park with its stunning retention of colors and quality.
Although oil pastels are impossible to dry completely, there's something with this product that holds the pastels in place while keeping any dust particles off. This lends the painting with an optimum shield against dirt, dust, and smudging.
The coverage is also sublime. Although the product does not indicate whether it is a workable or a final spray, I've given it a shot and used it both ways.
I love its texture and how it lends a nice sheen on the painting. Multiple layers will do the trick as long as they are thin coats. It also dries very fast, allowing you to continue with your art and make any changes you like.
As the final touch for your artwork, it seals the pastel pigments with essential coating and lets it dry as you touch it. Besides that, I find no trouble using it. It sprays easily and evenly.
In addition to its stunning properties, this aerosol fixative spray doesn't make any significant color change. The beautiful pastel hues neither get darker or opaque. In fact, it enhances lightfastness that can keep your work in its preeminent condition for a long time.
What bothers me with this product is the odor that smells like toxic waste. That's why spraying it outdoors is the best solution.
Another slight pitfall is the price. It falls under a high pricing mark, which could be cumbersome if you're on a tight budget.
Pros
Designed specifically for oil pastels
Ample preservation properties and protection for oil pastels
Holds the pastels in place and keeps dust and dirt away
Does not darken or change the brightness and vividness of colors
Can be used as a workable or final fixative
Cons
It smells very bad
Expensive
Despite these drawbacks, this sprayfix is worth every penny. As it is specifically designed for oil pastels, it can provide the optimum care and protection for your oil pastel paintings.
6. Grumbacher Final Fixative Gloss Spray
Grumbacher houses a vast lineup of fixatives for various art media. And when it comes to final fixatives for oil pastels, this gloss sprayfix works like a charm.
I'm a fan of matte finishes but this brand's gloss coating gives off a stunning sheen on oil pastels. It dries fast and the glossy texture doesn't get too reflective.
Besides these aesthetic perks, this sprayfix boasts its optimal protection that bolsters the durability of the painting. Not only does it keep the colors from smearing but it can also improve lightfastness.
Once applied, it also wards off dust particles and dirt that may affect the overall textures and condition of the artwork. To make sure it won't make major color shifts, you shouldn't over-apply it to your pastel art.
As the final seal for your art and craft, it emphasizes its colorless and non-yellowing properties that ensure the quality of your painting, leaving its vibrant colors the way they should be.
I've always loved using this with waxy media such as pastels. But it's good to know that it can also manage to blend with other types of art mediums such as charcoal, pencils, and other types of pastels.
Its flexibility renders trouble-free application while providing reliable and consistent coverage. If you also intend to use it on other materials besides oil pastel papers, you may do so. It works well with ceramics, printed materials, and photographs.
The only downside is its nasty smell that's usually present in many aerosol sprays. Therefore, the manufacturer recommends using it outdoors or in an area with adequate ventilation.
Pros
It has a nice glossy finish but not too reflective
Colorless and non-yellowing
It has the ability to maintain the vibrancy of colors
Blends well with oil pastels and dries quickly
Lends a protective layer on the painting for enhanced durability
Despite this minor issue, I find it a promising product. It provides a sturdy protective coat and embellishes the painting with a sophisticated glossy finish.
7. Grumbacher 549 Final Fixative Matte Spray Can
If you fancy a matte finish to finalize your oil pastel painting, Grumbacher offers another fine pick for you to try.
Just like the glossy version, this matte variant offers a consistent quality that gives your art an elegant covering. It is transparent and has a non-yellowing effect that cares for the pigmented shades of oil pastels.
It sprays on the subject with no trouble. As it adorns your artwork with a beautiful coating, it keeps your artwork safe from debris and dirt that may cause smudging.
When it comes to versatility, this fixative easily adapts to other types of art mediums such as charcoal, pencil, and pastels. I've also tried it on some of my illustrations and printed materials to keep them firm and prevent color transfer.
For water-based media that are typically prone to bleeding and smearing, this fixative can also provide an essential coating for ample stabilization.
Just take note not to spray heavy coats on your painting; otherwise, it'll darken or modify the shades of your work. This gives me a reason to keep the layers light all the time.
When it comes to its scent, the odorous chemical smell is a headache. That's why it should be used outdoors or in a highly ventilated space.
Pros
It beautifies the artwork with a matte finish
Transparent and non-yellowing
Keeps the painting or drawing from debris and dirt
Prevents smearing and color transfer
Helps prevent colors from fading
Cons
It has a pungent chemical smell
Nonetheless, this final fix is a great find for a translucent and matte finish. It is a quality fixative that protects and retains the rich colors of your oil pastels.
8. Blair Very Low Odor Spray Fix
If you want to avoid the funky smell of aerosol fixatives, this low odor spray fix might be your ultimate pick.
Although the brand endorses its toned-down smell, it does not fall behind with its stabilizing properties. It is carefully crafted to stop smudging and keep your drawings and paintings in their finest shape.
It wraps up your oil pastel painting with a transparent matte finish. As it ramps up the artwork with polished coating, it also helps preserve the deep colors of your oil pastels, keeping them bright and beautiful for long periods.
I also find this product a reliable resurfacing tool for oil pastels. It offers impressive workability that allows you to easily put on another layer and continue working with your oil pastels. It is also fast-drying.
Besides pastels, it also extends its use for other types of media such as pencil, charcoal, mixed media, and watercolor.
It has good consistency and coverage when sprayed on the material. It does what it says it can do and leaves the artwork without any smudges.
However, it sometimes leaves tiny spots which are utterly a bummer. This can ruin the details that may demand a redo.
Pros
Mild odor
Polishes the material with a nice matte finish
Helps stop smudging and discoloration
Provides reliable workability for effortless pastel layering
Can be used with different types of art media
Offers consistent application
Cons
Leaves tiny spots at times
This workable pastel spray fix is still a good buy despite this issue. It sprays easily and maintains the rich colors without getting through a strong toxic odor!
9. Sennelier Delacroix Fixative Spray
For an exquisite alternative for oil pastel fixatives, Sennelier has your back with this Delacroix spray. Although this prominent brand has a wide range of fixatives for particular art media, this one's worth a shot.
As stated in the label, this pastel fix spray is specially formulated for charcoal and pencil. It may seem risky to go on with this for fixing oil pastels, but it surprisingly works as a protecting film. No need to worry about messy smears!
I also noticed that this fixative highlights its resin-based content which is similar to the brand's oil pastel fixative variant, the D'artigny Oil Pastel Sprayfix. It sets the oil pastel pretty well as long as the applications are carefully and lightly applied.
I've tried it to set the oil pastels to create further layers. It worked and the clear film is sturdy and resistant, making the painting or drawing workable. It also lends a matte surface that also helps hold the waxy textures of oil pastels.
When it comes to maintaining the brilliant pastel hues, the non-yellowing varnish doesn't blur or darken the colors.
Although this is an outstanding spray fix, it emphasizes a particular formula that works best with certain art media. The results may still vary and may not always turn out the way you want it to.
Pros
Lends an ample protective layer for oil pastels
Makes the pastels workable
Gives off an artistic matte surface
It has the ability to hold the pastels well
It doesn't modify the colors to darker tones
Highlights its resin-based formula
Cons
The formula is limited to certain types of art media
To sum it up, this fixative spray can also be an excellent substitute for oil pastel fixatives due to its formula. It can still secure your pastel drawings with an essential barrier against smudging and potential damages from dust and dirt.
10. Grumbacher 546 Workable Fixative Spray
Getting through your art to create extra layers could be challenging. But the Grumbacher workable fixative spray preps the surface to let you work on your oil pastels with ease.
I find it a treat to have this fixing spray in a workable variant. It is formulated with flexible content that handles many sorts of art media such as pastel, watercolor, pencil, charcoal, and water-based media.
When it comes to oil pastels, setting it becomes easy as well as rendering additional layers. Plus, it won't take a while to dry. Not only does it save time but it can also get the job done without any hassle.
There's no trouble using it and light sprays will do. The coverage is spot on and the refined matte finish spruces up the quality and look. Hence, the artwork stays in its superior condition longer.
Apart from its aesthetic improvements, this fixative also serves as a protective sheet to stop the colors from smudging.
You can also prepare various surfaces for smooth layering and over-applying. This product is safe to use on acetate, foil, archival paper, pastel paper, wood, glass, and watercolor paper.
However, spraying it excessively may cause adverse effects on bright shades of pastels. Multiple layers can do but it is imperative to use it lightly.
Pros
Prepares your work for seamless and continuous application
Versatile formula that can apply to different art media
Lends a polished matte finish
Able to work with different surfaces
It has the ability to shield the artwork from smears and dirt
Easy to use
Cons
It may alter the colors due to heavy sprays
In spite of this hiccup, this versatile product can save your oil pastel painting from smearing and wearing out. With light sprays, you can nicely prime the surface and continue working with your pastels.
What to Look for When Buying Fixative for Pastels
Type of Fixative
Fixatives come in two types: workable and final.
If you want to modify your art and adjust the depths or shades of your pastels, you'll need a workable fixative. It contains a certain type of formula that sets the oil pastel and enables you to go on with the painting process.
This type of fixative can also refine the surface that will provide extra tooth for the painting. It holds the pastels in place and hence, it can prevent smearing and keep the quality of the artwork in its finest form at the same time.
Oil pastels exhibit a spectrum of bright and vivid colors that deserve diligent preservation. A workable fixative may be responsible for this job but you may also utilize this art tool to revamp the shades or deepen the darker tones.
As the name suggests, a final fixative spray works as a finishing coat that serves as a protective layer for an oil pastel drawing or painting. The preservation properties are typically similar to a workable variant, but this usually holds the pastels for good.
It's safe to say that a final fixative completes your masterpiece so it can withstand the test of time. As it can also stop ugly smudges and protect it from dust and dirt, you'll be able to prep your artwork for framing or secure it for delivery or traveling.
Art Medium Compatibility
Most of the fixatives available on the market are categorized according to their compatibility with different kinds of art media. You can check the labels whether the formula is suitable for your preferred media such as pastels, pencil, charcoal, chalk, watercolor, acrylics, or mixed.
To find the best fixative for pastels, it is imperative to determine which medium you often use. There are particular components in a fixative formula that may not be suitable for your medium and eventually ruin your artwork.
This may result in smudging, discoloration, dull or darkened colors, spots, uneven coverage, and inconsistencies in textures. It may damage the painting rather than serve its purpose to provide optimum care and protection.
I've considered using a homemade fixative for pastel or hairspray before but they don't work as well as the oil pastel fixatives. That's why I settle for a fixative spray for a specific type of medium as much as possible
However, when the options are very limited, I consider the ingredients or formula of a fixative to see whether it has similar content with the variant I'm looking for.
Preservation and Protection
The ability to preserve and protect an oil pastel art is probably one of the primary reasons artists invest in a fixative.
In general, a fixative stabilizes the pigments of your oil pastels to prevent any messy spills and smears due to waxy textures and oils. It holds the pastels in place to bolster its resilience. This allows you to put up your work along with the other pieces in your arsenal for the longest time possible.
If you stumble upon different types of fixatives from different brands, they usually highlight their respective properties in terms of ideal care and sustaining the quality.
As fixatives may sometimes alter the vibrant hues of pastels (due to improper handling and application), a lot of manufacturers elevate the quality of their fixatives with transparent, colorless, and non-yellowing formula. Some samples of this are Daler Rowney Perfix colourless spray and Grumbacher final and workable fixatives.
Some products include UV-resistant and age-resistant components to protect the painting or to draw from discoloration, fading, or yellowing due to wavering temperatures, light exposures, and various conditions.
In addition to these features, every type of fixative offers a certain finish that usually ranges between matte and glossy. It polishes the artwork while topping it off with a sophisticated appearance.
Brand Reputation
Deciding on which fixative to purchase can be challenging, especially if you're planning to use it for the first time. One way to easily sort out the options is to consider the brand.
There are a lot of popular brands that have been pioneers in the field of arts and craftsmanship. Thus, they offer a vast lineup of high-quality and reliable art tools and products such as fixatives. Sennelier, Krylon, Winsor and Newton fixative sprays are some of the well-known brands that I often check out.
Personal Preferences and Needs
It all comes down to your needs and preferences when investing in a worthwhile purchase. That's why it is a prerequisite to identify what you really want to do with your work.
Do you need a tool to fix the oil pastels and apply further layers? Are you looking for a finishing coat that will protect your painting as you put it on display? Do you prefer a glossy or matte finish? Do you want to stabilize the pigments and secure them for safe shipping and traveling? What kinds of art media do you use besides oil pastels?
While these questions may assist you to come up with a decision, there are other factors that you can consider such as the odor, ease of use, your budget, or your skill or experience in using fixatives. There are prominent brands that are popular among amateurs and professional artists.
Price Range
Prices may vary according to brand and type of fixative. Popular and reputable brands usually come around $15 to $20. But this may go higher or lower depending on the type or seasonal bargains. Fortunately, some brands like Lascaux fixative sprays keep up with great quality without breaking your bank. Some of them cost around $10 and below.
Other Important Factors to Consider
What is a fixative for oil pastels?
Oil pastels contain waxes and oils that tend to smear easily when rubbed off or touched accidentally. They never dry and that makes them pretty challenging to deal with. That's when fixatives step in and do the magic.
As the name suggests, a fixative is designed to fix oil pastels and hold them in place. This innovative art tool typically contains resin or casein that enhances the adhesion of pigments. This prevents smearing, inconsistent textures, uneven layers, and fading colors.
A fixative spray acts as a protecting film that preserves the quality of an oil pastel painting, keeping it at its finest condition. It can work as a finishing coat to complete your work or as a workable fixing spray to continue the process and adjust the colors or add layers of pastels.
It also secures the pastels from some elements that may ruin your work such as dust, dirt, and smudging. Besides this, it also has the ability to retain vibrant and beautiful tonal values of pastels.
How does it work?
It usually contains resin or casein that are responsible for holding the pastels and optimal preservation. As fixatives are alcohol-based, they evaporate or dry very quickly.
These fixatives typically come in aerosol spray cans that allow hassle-free application. When sprayed on an oil pastel drawing or artwork, the pastels stay in place and become much easier to work on. When it works as a final coat, a fixative seals the artwork and shields it from smudging, color fading, dirt, and dust.
Who is this for?
It is for beginners and professional artists who often work with oil pastels and wish to refine the quality of their painting, provide optimal care, and preserve it for the longest time possible. It is also an ideal art tool for artists who go outdoors or move places to paint and want to secure their artwork for safe traveling and shipping.
What kind of fixative do you use for oil pastels?
I recommend you go for a fixative that is transparent, colorless, and non-yellowing. It should stabilize the pastels and protect the artwork from smudging.
It will also help if you check the details on the label, whether it is compatible with oil pastels or not. Otherwise, you'll end up with messy spots and dull or darker colors that may ruin your work ultimately.
It still depends on what you want to accomplish with your work. If you want to spruce up your details with more layers or need a final coat, you can choose between workable or final oil pastel fixatives.
Why do you need fixative spray for oil pastels?
You need it because drying oil pastels is impossible. They require a potent compound that will stabilize them and prevent them from smearing, of which fixatives are designed for. It helps set the oil pastel to modify a work in progress and wrap up the painting with a protective film.
With such an innovative tool, you won't have to worry too much about leaving your work in total chaos. It fixes and protects your brilliant pastel pigments from messy splotches and particles.
Frequently Asked Questions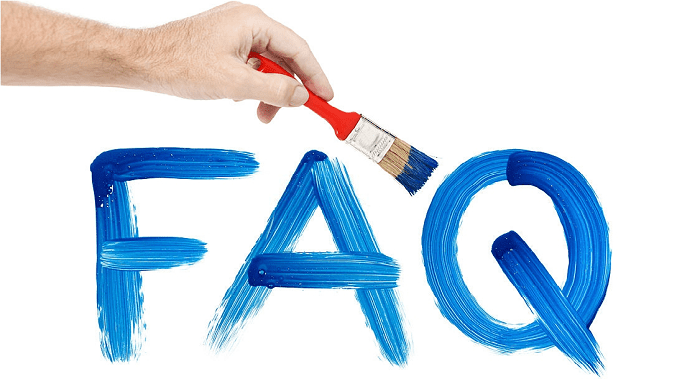 What are the most trusted pastel fixative spray brands?
Sennelier, Grumbacher, Winsor and Newton, Krylon, Blair, are some of the popular and trustworthy brands you can check out for pastel fixative sprays.
As they have established a remarkable reputation in the industry of arts and craftsmanship, they can provide a wide range of art products including fixatives.
The preservation properties, target art media, and highlighted features differ from one brand to another but I find it fascinating on how they can ensure reliable performance that will handle your oil pastel pieces with extra care.
What do you spray on pastel drawings?
I recommend you use a fixative spray that is specially crafted for pastels. Such type consists of ingredients or a formula that can effectively work on oil pastels and other types of pastels.
In consideration of this, you can't just pick out any type of fixative spray unless it contains similar ingredients that may also work with oil pastels.
However, if there are no other options, don't experiment with homemade fixatives or varnishes or be sure about what you are doing.
It's best to keep your drawing that way rather than damage the details and pigments because of the wrong kind of fixative.
How do you use fixative for pastels?
A pastel fixative spray requires a precise and careful application to be effective. Otherwise, your oil pastel piece might end up with spots, accidental drips, smudges, and uneven coverage.
To save your art from a complete wreck, here are some steps you should do:
Check carefully if you're using a fixative compatible with your art media.
Find a well-ventilated space. Much better if you spray outdoors. If you're left with no choice but to spray indoors, you should use a fan to let the air circulate.
Consider using a respirator mask and wearing gloves. Fixatives typically have a strong toxic smell that burns your nose and may cause headaches. You can also use gloves to keep the fixative off your skin as you use it.
Do not spray on your work right away. Test the fixative first on another used or extra material like a board or drawing pastel paper. You may also swatch a few oil pastels on the material to check how the fixative affects the colors, details, and the overall quality of your painting.
Do not place your work on the floor to prevent any accidental drips. You should place it on your easel, against a wall, or someplace with the same vertical angle.
Tidy your finished drawing. Make sure to get rid of any dirt or dust particles before spraying a fixative to keep the drawing smooth and clean. Use a soft brush to do this. Remember to do it gently to avoid smears and damages.
Before spraying, keep the can away about 6 to 8 inches from the drawing. Place the drawing in a vertical angle and start spraying from top to bottom.
Go for continuous strokes and not separate sprays.
When you're done, flip the drawing to put it in a horizontal angle. Spray onto it again. This process makes sure that you get all the areas covered.
Do not spray heavy applications all at once. This may result in significant color changes and other dramatic effects to your work.
If multiple layers of fixatives are necessary, do it lightly. You should also let each layer dry first before applying another.
Evaluate your work. You may check if there are smears or if there areas that have not been covered yet. When the fixative is completely dry, I usually touch my drawing gently to check if it would smudge or if it needs more layers.
Where to buy fixatives for oil pastels?
Fixatives are available and accessible in many particular shops, although you may not always find them in some local art shops or other art establishments.
Some are available at paint stores or hardware. You may also consider checking the particular brand online and look for their store branches.
Fortunately, a lot of brands have established an easier shopping platform through their official online stores. Walmart and Michaels are some of the stores you can check out. You can also find these drawing and painting fixatives on Amazon or eBay.
Apart from convenient shopping from these e-commerce websites, you can also take advantage of their seasonal deals and discounts to save more on the total cost and spend within your budget.
How to care and clean?
Fixatives contain ingredients that are flammable. That's why they should not be placed under direct sunlight, heat sources, or anywhere near an open flame. It is important to put them away in secure storage.
Although some brands offer natural formula, there are fixatives (mostly aerosol sprays) that contain toxic ingredients that may pose potential harm to your health. The fumes are typically strong and horribly smelly which can lead to headaches and eye irritations.
In regard to this, it is recommended to use it in well-ventilated areas or outdoors.
When done spraying, always check the cap and make sure it is closed tightly to prevent any spills and damages around the nozzle. Keep it away from children or pets.
Conclusion
To sum it all up, utilizing the best fixative for pastels is an effective way to preserve and showcase the beauty of your masterpiece. It can provide the best possible care for your art pieces while sprucing up its aesthetic quality. With correct handling and application, you can save yourself from wasted hours of effort and your art from a total mess.
Have you found the ultimate fixative for your oil pastels? If you're still pondering over your options, these comprehensive guidelines and reviews of popular and best-selling fixatives will help you out!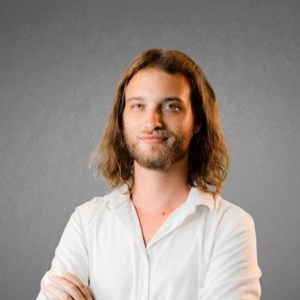 I am a former art teacher, so it is evident to me the importance of art in educating the new generation. We also want to help parents who plan to teach their children and desire the best tools and tips for them.