When you're taking down your notes, studying or working on an important document, it would be nice to have a pen that lets you write with ease while keeping the notes readable and neat.
With this in mind, some prefer gel pens because they render a smooth and effortless writing experience. Their refillable inks also make them more long-lasting than other types of pens. And if you want to embellish your work with fancy colors and complex details, these pens come in assorted colors and a wide range of tip designs.
But how do you select the best gel pens for notes? In this article, you'll find detailed reviews and guidelines that will narrow down your choices and help you pick the perfect gel pen!
Best Gel Pen for Notes Reviews
1. PILOT 31128 G2 Premium Gel Roller
This set of G2 premium gel pens is among the favorite picks because of their high-quality 0.7-millimeter tip design that delivers fine lines.
While these gel pens provide a superb writing experience, they are also among the most efficient and longest-lasting gel pens that I've tried compared to other brands.
Some good quality pens initially work great when taking down notes, but problems appear when the ink starts to skip and fade out. This is where these PILOT gel pens differ in terms of ink quality because they write smoothly without leaving a messy pool of ink.
Aside from that, these pen inks are refillable. It allows you to use them for a long time while supporting your writing needs. Another thing is that each color brings every gel pen to perfection.
The ink flows seamlessly and evenly in highly vibrant colors. This enables you to add fancy details while making every word clear and readable at all times.
Each gel pen's tip design is what makes them the most reliable writing tool. If you like to make your notes very neat and well-organized or create diagrams that require complex and precise details, you can rely on its super-fine tip.
I really love how this gel pen allows me to write down notes with ease and comfort. It also lends a comfortable grip that enhances my writing performance. More than just the best gel pens for taking notes, they are also perfect for drawing and sketching, which truly complement my art techniques.
On the other hand, the ink tends to come out thicker than expected, causing smears at times. I just gently use them when writing on thin papers to avoid this from happening.
Pros
Longest-lasting gel pens among other brands
Refillable gel ink
Provides ultra-smooth and nice writing experience
Helps produce ultra-fine lines
Cons
Ink tends to smear sometimes
Therefore, if you want to effectively and neatly organize all of your important notes without any hassle, you better try these
best gel pens for notes
.
2. Paper Mate 1951636 InkJoy Gel Pens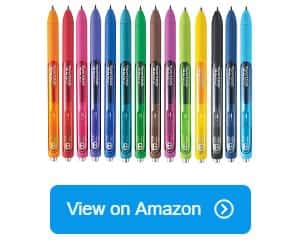 If you want to organize your notes using colorful gel pens, you'll find your perfect choice with this set of Paper Mate InkJoy Gel Pens. It's available in 14 different colors for highlighting whatever projects.
The vast range of soft and vibrant shades allows you to sort out your notes accordingly. As you write down in your journal or notebook, the pens glide on effortlessly, allowing you to ramp up your writing activities and make it more enjoyable to do.
Aside from that, the ink quality of these gel pens is long-lasting and smudge-proof. After every application, the ink dries out 3 times faster than any other gel pens. You don't need to worry about getting your notes or sketches ruined and untidy.
Its 0.7-millimeter medium tip width provides precise ink distribution. I can totally rely on these pens whenever I am writing on porous paper or creating fine details in my drawings and diagrams. I love how they keep my notes and projects clean and organized at all times.
The teal, blue, and purple colors are my favorite colors as they reveal the most vibrant colors in the set. They make every detail so noticeable while keeping the notes clear comprehensible. Even the darker colors such as red and brown also work great on paper as they do not smear and bleed.
I also love the ergonomic comfort grip that this pen delivers because it allows me to write and draw with better precision. It lends a secure and tight grip that even when I'm writing for a very long time, the pen doesn't easily slide out of my hand.
Everything about these gel pens is truly impressive but I guess it falls short when it comes to the longevity of the ink. They aren't that long-lasting and they tend to use an excessive amount of ink every application.
Pros
Available in 14 vibrant colors
Ink easily dries out every after application
Smudge-proof
Great to use for creating fine details
Cons
Ink is not that long-lasting
Nonetheless, these colorful gel pens are worth buying. They can help you be more organized in your work while being creative at the same time.
3. Pentel BL77BP8M Gel Pen
It's a terrible thing to look at those untidy smears and excess ink marks on your notes. Thankfully, this set of Pentel EnerGel RTX gel pens have a quick-drying ink formula that makes them completely smudge-proof.
These high-grade gel pens are available in 8 elegant colors and all of them do not smear and bleed through the paper. Their advanced ink technology merges the gel ink and liquid best qualities to provide an extremely great writing experience. If you are a lefty, this gel pen is an ideal pick for you.
Each gel pen's tip size is 0.7 millimeters, making them a reliable partner for taking down notes and making preliminary sketches. I really find these excellent gel pens for note-taking as they keep my list of activities so neat, skip-free, and glob-free.
Since it has advanced ink technology for a smooth and nice writing experience, it doesn't leave any damages and holes in my notes. These gel pens help preserve the quality and neatness of each page inside my notebooks and journals.
Its grip is latex-free, making this gel pen very comfortable to use. With such a design, I notice that it lends better hand movement and control as you write or draw.
The sturdy pocket clips also add up to its convenience and portability. This allows you to hang the pen in your pocket or attach it to your organizer, journal, or book to keep them within your reach at all times.
What I also love about it is its elegant design. The style of the barrel looks cool, not to mention the metallic accents that make it look stylish.
Its disadvantage, however, is the ink's longevity. I observed that they ran out too quickly.
Pros
Quick-drying ink formula
Smudge-proof and bleedproof
Offers smooth and nice writing experience
Keeps every paper skip-free and glob-free
Despite that small issue, these stylish gel pens can still be your ideal choice, especially if you're into quick-drying and smudge-proof gel pens.
4. Uni-ball 33950 207 Gel Pens
These uni-ball 207 retractable gel pens highlight an innovative technology that can ward off any writing mishaps, especially when you accidentally mess it with water.
These gel pens have a water-resistant ink formulation so you won't have to worry about leaving your writings in chaos just because they get wet. It uses a uni Super Ink technology that provides 3-way protection against water, fraud, and fading. Even if your notes get wet, the ink colors stay clear and vibrant. How amazing, isn't it?
These unique gel pens provide a remarkable writing experience. The specially-formulated pigment-based ink creates a truly ineradicable bond with every type of paper to help produce exceptionally bright colors and extra security. It also makes every mark highly recognizable.
As for the available 12 colors, they are all bright and eye-pleasing to me. They are not that flashy, but instead, they give off a very colorful yet subtle effect on my notes.
Moreover, what makes it more functional is its 0.7-millimeter medium tip. It helps me create super fine details and ultra-vivid lines.
These amazing gel pens also work with every type of paper. All of the colors, even the dark ones, are smudge-proof, making note-taking hassle-free.
Moreover, the newfangled ink technology prevents the ink from wearing out and fading over time, particularly when I need to write permanent signatures on important documents.
When it comes to control and precision, it also stands out with its comfortable grip that prevents your hand from aching every time you write. In terms of style, these gel pens also feature shiny and metallic barrels for a stylish design.
The downside, on the other hand, is that the ink sometimes skips. I just slightly shake it to work properly again.
Pros
Water-resistant
Features uni Super Ink technology for protection against fading and fraud
Smudge-proof
Ink does not deteriorate over time
Nonetheless, these water-resistant gel pens are perfect for permanent writing. It'll do the job, especially when you work on important documents or you need to be extra careful when writing.
5. Pentel BLN73BP3A Gel Pen
Are you looking for a gel pen that can produce ultra-fine lines? You'll probably find your ultimate pick with these 3-pack Pentel EnerGel Retractable gel pens.
This top-grade gel pen uses a 0.3-millimeter ultra-fine needle tip to produce ultra-precise writing. It works best when you're creating intricate lines and crisp strokes.
The first-rate features of both liquid and gel inks are combined in this ink formulation to surely provide you an excellently smooth and effortless writing experience. Hence, allowing you to write and draw with minimized discomfort.
Another important feature of it is that these gel pens are smudge-proof and bleedproof. The ink also dries out immediately right after application.
I highly recommend these pens for their impressive characteristic of being refillable. It's nice that I can easily buy a new EnerGel refill to reload my gel pens.
When it comes to its quality, these gel pens produce dark and rich lines. The black color black gives off a classic vivid shade that looks neat and elegant every time I write in my journal or just doodle in my notebook.
Moreover, it also features a latex-free grip that delivers additional comfort and extended precision, providing a smooth and convenient writing experience.
The barrel design contains stainless steel accents, giving this gel pen a polished and gorgeous look that sets off a professional vibe.
There's just a mild drawback in terms of its durability. You just have to be careful with the plastic parts because they seem a bit brittle.
Pros
Produces ultra-fine lines
Perfect for creating intricate lines and crisp strokes
Refillable ink
Smudge-proof and glob-free
Needless to say, this gel pen can be your ultimate pick for long writing, drawing,
and journaling
. The superb ink quality, comfortable grip, and elegant look make it a must-buy.
6. Crayola 58-6414 Take Note Colored Gel Pens
Do you accidentally stain your clothes with your pen while writing or drawing? Well, that's not going to be a problem anymore with these Crayola washable gel pens.
These gel pens use an innovative ink formula that erases and removes easily from your hands and clothes. You can just wipe them off with a wet cloth or tissue and the stains will easily come off.
Another beneficial feature is that it is quick-drying, making these washable gel pens smearproof. The black, red, and blue colors are some of the darkest gel pens. I've used them on thin paper, but impressively, they do not bleed through.
Amazingly, this set contains 14 medium point washable pens with different vibrant colors that are enough to broaden your imagination and enhance your creativity. If you love to draw, doodle, and create artworks with different colors, you'll probably find these gel pens enjoyable to use.
One more thing is that it can provide a super-smooth and nice writing experience with its 0.7-millimeter medium point. Not only is it reliable for taking down your notes, but also for designing stationery and any other art projects.
I also let the kids in my house use them without any worries since the ink used in these gel pens is non-toxic. It's good to know they're very safe to use.
All of the colors, furthermore, are flawlessly vivid but not that flashy. They're vibrant enough to emphasize each letter or any character you write. The pink and green colors are my favorite because of their seamless texture and superb brightness.
It's really nice how these gel pens keep everything neat and legible. Plus, they have ergonomic grips for more comfortable writing.
The only disadvantage with these gel pens is that the ink leaks if not stored properly.
Pros
Ink can be easily removed on hands and clothes
Quick-drying
Smearproof
Available in 14 different vibrant colors
Cons
Ink tends to leak at times
Despite that, these
colored gel pens
are perfect for making organized yet creative notes and designing your art projects.
7. Kaco K1017 PURE Plastic Retractable Gel Pens
These retractable gel pens from Kaco are truly a good pick when it comes to extra fine line writing. A large variety of 20 colors is already a treat but what makes it special is the ultra soft-touch matte body that promotes a comfortable writing experience.
It produces extra fine lines that can help you accentuate even the smallest letters, details, and characters you write or draw. The tip has a width of 0.5 millimeters, which I find reliable for more precise writing and intricate underlining.
In terms of their design, these beautiful gel pens have slim and soft bodies and matte textures which lend a comfortable grip. Need not worry about sore hands when writing.
The non-smearing ink gets every writing activity done while keeping the notes well-ordered and messy-free. I also use them on my adult coloring books and I never experienced any problems.
The ink quality, moreover, is also long-lasting. I really love how all of this 20-pack set of gel pens offer reliable service that renders satisfaction for various writing jobs.
As for the ink colors, they are recognizable and bright. They aren't too flashy but rather give off a colorful but soft and subtle effect on every line you write.
Another feature I like about these gel pens is their portability. Since they're compact and handy, I can take them wherever I go. They're also very easy to put away inside a pen case, pocket, or bag.
My only concern with these gel pens is that they do not work well with thin papers. Darker colors bleed through them. But if you choose to write with brighter colors, this won't be a problem.
Pros
Creates extra fine lines
Very soft and matte body
Non-smearing ink
Long-lasting ink
Cons
Darker colors bleed through thin papers
Even though that's a slight issue, this set of gel pens is a good choice for a comfortable and hassle-free note-taking experience.
What to Look for When Buying Gel Pens for Notes
Tip Size
Tip size varies from 0.3 millimeters to as thick as 1.0. Your choice depends on the type of writing style you choose or comfortable with. The bigger the tip of the gel pen, the smoother the writing glide is. On the other hand, gel pens with finer tips deliver a more precise detail on most writing jobs or tasks.
Do you usually write small characters or draw precise details? If so, you should consider buying a gel pen with a fine tip. If you prefer large handwriting, a gel pen with a medium tip will be a perfect size. And if you like to make your notes much easier and clearer to read, a pen with a broad tip can help you.
To select the best gel pen, you need to consider the tip size so that you'll know what can perfectly suit your preferences. In that way, you won't be disappointed with the gel pen you're going to buy.
Ink Quality and Line Appearance
It is very important to consider if your gel pen is smudge-proof, quick-drying, and long-lasting. Depending on the type of task, knowing these factors is crucial. There are comfortable pens that do not last long but come with refillable ink to maximize their usage.
Line appearance can be tested on the type of paper or document you wish to use. Solid lines must be consistent with the tip size and must not skip and glob while continuously writing or drawing lines.
Colors
Since there are a variety of colors, its use plays a big factor. Though the most common color used is black, there are certain colors chosen for a particular use. Aside from note-taking, some use different colors for checking, special signatures, in which case they opt for more distinct and vibrant colors for easy identification.
For example, teachers or accountants use red markers. Marketing managers, however, usually choose vibrant colors to easily identify the type of document to sign.
Comfort and Design
If you often use your gel pen, you should consider its comfort and design as well. Ergonomically-designed gel pens are comfortable to use since they are easy on the grip and do not make your hands and fingers calloused.
Finding a pen that comfortably fits your writing style and habit will do the trick, especially if you try using them for some strokes first. On the other hand, gel pen design does not focus only on comfort but mostly on its use, portability, and fashion.
There are pens with pocket clips, laces, or even tabletop holders. Whichever design you choose, it should complement your fashion sense, writing style, and regular use.
Are Gel Pens Good for Note Taking
Yes, they are. Gel pens do facilitate neatness, comfort, productivity, and creativity. Because of their smooth-ink technology, note-taking couldn't be more convenient and enjoyable at the same time.
Conclusion
In a nutshell, the best gel pens for notes should be smooth and clear enough to keep your notes neat and organized. You need to make sure that the gel pen you're going to choose is something that won't glob, skip, smear, and is comfortable to use.
There are lots of gel pens available in every store but do know that it isn't always about the brand reputation or the number of available colors. That's why it is imperative to check these factors first and get more time in considering the ink quality.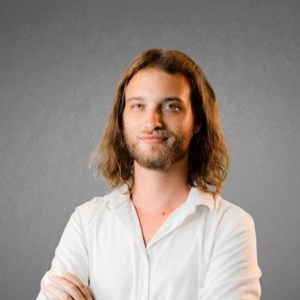 I am a former art teacher, so it is evident to me the importance of art in educating the new generation. We also want to help parents who plan to teach their children and desire the best tools and tips for them.