Markers are used both by professional artists and hobbyists. Designers, illustrators, or those who keep bullet journals either have these artistic tools in their studio or carry them around. Many of them also have blending markers that they use for layering or creating color gradients.
Some of you may already have a go-to type or brand of blending markers. Meanwhile, you may realize that what others consider as the best blending markers may not be your favorite. We all have our preferences.
To help you decide which markers are suitable for you, I'm sharing my reviews of some blending markers that have been tried and tested by many artists and designers from different creative fields.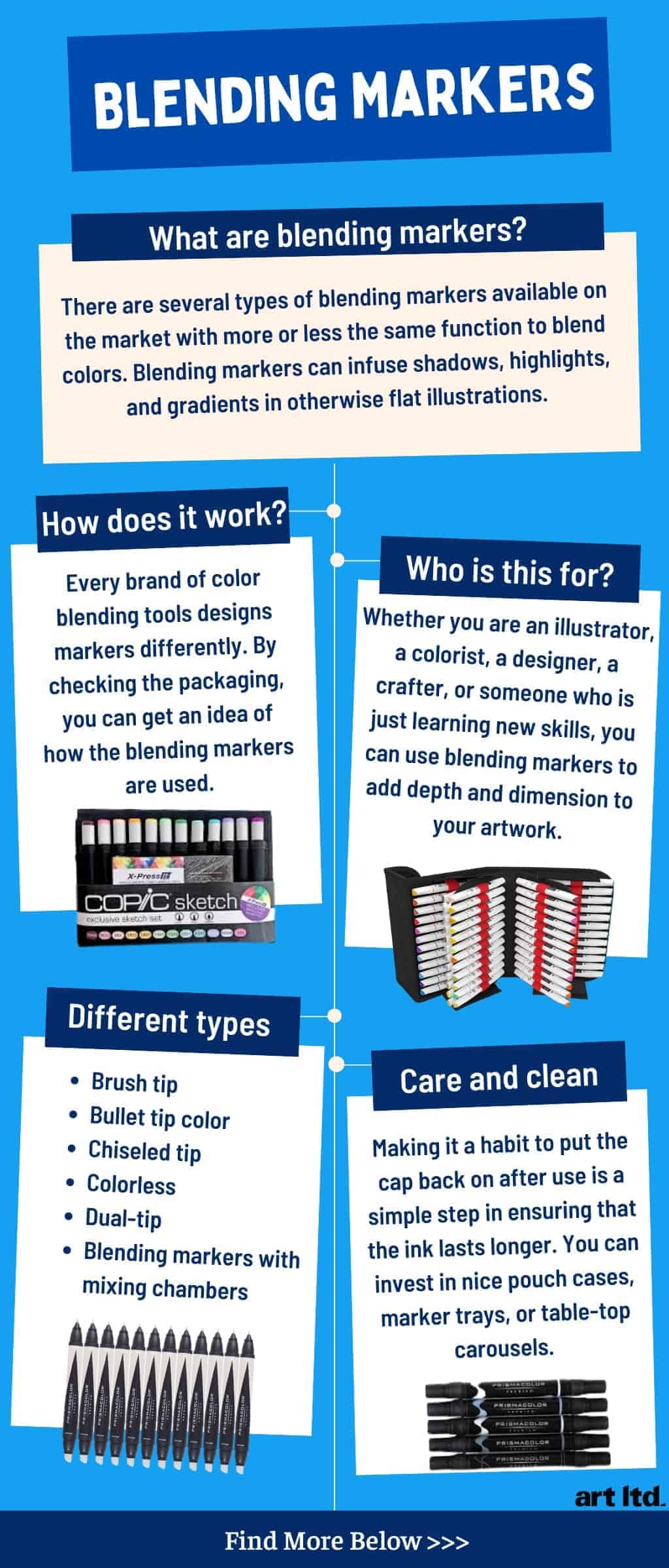 Best Marker for Blending Reviews
1. Copic Markers Sketch Set Blending Basics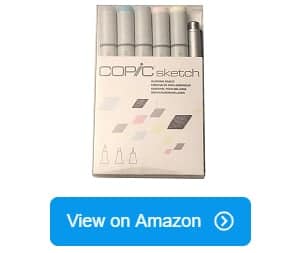 It may not come as a surprise to see this brand on my list because it is popular among artists and designers across many fields. Popularity aside, the company has earned its name for manufacturing the most favorite markers for blending.
Let's start with the features. Each marker is dual-tipped: A brush nib on one end of the barrel and a medium broad chiseled nib on the other. What I like specifically about the brush nib is that it allows for smooth blending that is almost as if I'm painting. Besides, I don't have to worry about the nibs getting frayed as they are replaceable.
Any creative individual can make the most out of this 6-piece sketch set. Whatever color I choose, I can make them darker simply by painting over the first layer. Apart from blending and coloring large areas, these markers are also perfect for sketching.
Another thing that impressed me is the alcohol-based inks flow smoothly and dry acid-free. Also, they are made of non-toxic chemicals. If you have a sensitive sense of smell like me, I recommend these markers as they do not emit an overpowering odor.
More than that, I believe these markers are a great investment, especially if you are thinking of getting something to use frequently. Apart from the refillable inks, you can also replace the nibs. You may not be thinking about getting the Copic airbrush yet, but just so you know, this set of blending markers is compatible with it.
For the price, I wish there were more markers in the set. However, with all the great qualities that these blending markers have, I believe this product is undeniably world-class.
Pros
Flexible brush nib for smooth blending
Refillable blending markers
Replaceable tips
Dual-tipped markers
Compatible with the Copic airbrush system
Cons
More on the expensive side
Trusted by many professionals and enthusiasts in the creative field, this set of six blending markers is one of the best of its kind. The ink flows smoothly, which allows for nice color layering and blending.
2. Crayola Blending Marker Kit
They say "practice makes perfect." This is true for any field you want to pursue, but you will need just the right set of tools to do this. If you are looking for color blending markers to use for practice, then considering getting this kit.
This affordable set of markers includes 14 vibrant colors and 2 colorless blending markers. The range of colors allows for great blending. For example, yellow, peach, and orange can be used as your light, mid, and dark tones.
Unlike regular colored markers, these blending markers fill large areas without visible streaks of the brush nib. I will give you a pro tip in using this: color by moving the marker back and forth and start with the darker tone. Below this, apply a lighter color and overlap it with the darker tones. To smoothen the gradient, reapply the dark and light tones until the desired effect is achieved.
To use these markers, you can use the light and dark tones of color such as peach and orange. Then, blend them by applying with the colorless blending marker in the overlapping areas.
Another feature that made me decide to add this set of markers is the packaging. The tin storage case is perfect. You can bring these coloring materials to school, work, or travel if you like to sketch the places you visit. You can even store paper inside if you remove the plastic pen holders that come with the packaging.
I'm impressed that the barrels are noticeably lighter compared to other brands of blending markers. Initially, I thought the body of the pens was long, but it turns out they are shorter than the regular markers after removing the caps. I'm guessing that the manufacturer made the caps long to protect the brush tips.
One thing I want to mention is that these markers tend to spray the ink when I open the cap. The best way to solve this problem is to cover your desk before you start doing your artwork. As for the quality of blending, I saw some noticeable subtle streaks that appear when the color transitions from light to dark even used on marker paper.
Pros
Has a tin storage case
Features 14 vibrant colors
Comes with 2 colorless blending markers
Suitable for tins and adults
Affordable blending markers
Produces smooth solid colors
Cons
The ink sprays when you open the cap
Subtle tonal gaps are visible
As this kit comes with a nice tin packaging, I think this set of blending markers is the perfect gift for teenagers or your friends who are into adult coloring or crafts. Considering the quality of these coloring materials and the price, it is a pretty good deal if you don't want to spend too much on art supplies but still want something that does the job.
3. Chameleon Art Products Complete Set
Whether you are just beginning your creative journey or have already established your career, you want to nail those shades, highlights, and shadows to add depth and dimension in your artwork. To achieve this, you need reliable tools. This is why I'm including the chameleon markers in my review as they are built to last long.
These innovative versatile pens are great for blending, coloring, and sketching. One key feature that I love about these tools is that they are alcohol-based which can be used on different surfaces apart from paper such as fabrics, glass, plastic, and wood. They can be used as traditional markers as well. I have found that these coloring pens are compatible with other alcohol-based pens and inks; therefore, I can take my artworks further.
To create a seamless gradient, you can use the mixing chamber to produce colorless toning and tints. Just put the mixing chamber onto the tip, wait for five seconds, and you're ready to go! Note that it takes a few seconds to dry and see the full effect of the blending. As a result, you get professional quality of colors. However, what I really love about this product is that I don't need to use multiple pens to produce a gradient.
My experience tells that the barrels of the pens are pretty thick, but they hold more ink than most markers. Meanwhile, the packaging is well-designed as it can be converted into a portable workstation to display all the wide variety of markers it holds. So, It is easier to pull out the pen and return it after use.
For first-time users, there might be a learning curve in using these markers. Once you have mastered it, you will see how convenient it is to use them in producing a seamless gradient to highlight the light source in your artwork.
Although this blending marker set is pricey, it offers more than just colors. In the packaging, you will find extra nibs and tweezers to help you replace them. Moreover, you can access instructions, tutorials, and downloadable guides.
Pros
Works on many surfaces apart from paper
Sturdy packaging makes for a perfect storage
Packaging comes with a strap so you can bring it anywhere
Comes with a pair of tweezers to help replace nibs
Double-tipped markers with brush nib and bullet nib
Markers that are built to last
Cons
There may be a learning curve for first-time users
The product is pricey
For those who want to invest in coloring tools whether for hobby or work, this set of blending markers is worth it. One kit offers more than just coloring materials–it also gives you access to a wide array of learning tools to improve your skills.
4. Keebor Advanced Alcohol Art Markers
With a generous number of markers included in one kit, I would recommend this not only because it has vibrant 80 colors but also for its affordable price. There is a +1 next to the number of markers to indicate one colorless blender that comes with the set.
When it comes to ergonomics, I have to say that holding the pen is very comfortable. The square-ish barrels ensure that the no pen rolls off your desk. For better control over your coloring and sketching, these markers have fine bullet nibs on one side and wide chiseled tips on the other.
Another thing that impressed me is that using the markers is pretty simple. Just remove the cap and start sketching, coloring, or blending. Even without the colorless blender, I can create smooth gradients. The ink flows well when I start stroking or shading the paper. Besides, the wide selection of colors offers endless possibilities in your creative endeavor.
Apart from illustrations, I can see that this set of markers can be used for jazzing up your bullet journal, scrapbooks, or DIY greeting cards. Working school projects with these coloring tools will also get students excited. Speaking of school, the handy zipper pouch makes it easy to store and bring these pens to class.
While I like the fact that the manufacturer included a pouch, it is a little inconvenient that the markers are not organized in any kind of order inside. Nevertheless, this is something I can easily overlook considering that this affordable set of blending markers is of good quality.
Pros
Blending markers with a wide color range
Comes with a zipper pouch for a casing
Barrels are comfortable to hold
Dual-tipped markers with bullet nibs and chiseled tips
Can be used in different types of art projects
Cons
Markers inside the pouch are not organized
Looking at the price and the number of markers included, the flow of the ink is pretty smooth and the colors are vibrant. These blending markers are useful for many types of projects and they come with a pouch, so you can store and bring them anywhere.
5. ARTEZA Everblend Art Markers
If you love adding intricate details and gradients in your artworks, this set of blending markers will come in handy for you. Included in the kit are 60 colors and a clear blending marker encased in a bag with buckle closure.
Made by a company known for its superb quality and affordability, the dual-tipped blending markers are packed with vibrant colors. In my opinion, they can rival art products manufactured by popular brands. Using the fine tips on one end of the markers, I can render colors and details. On the other end, the chiseled tips are perfect for shading and blending colors in large areas. To refine your gradients, use the clear blending marker.
With these coloring and blending tools, I can imagine drawing streets, buildings, or beautiful vistas with ease. Since this set comes with skin tones, making portraits or characters is possible. If you are crafters, the vivid colors can make for beautiful handmade postcards with fancy letterings. Aside from paper, I see that the inks work on glass, wood, and plastic.
One more thing I like is that gripping the pens is comfy thanks to the triangular barrel. It also keeps the markers from rolling off the table. The tips are replaceable. I can easily do it with the help of the marker tweezers. As for the bag that I previously mentioned, I like it as it has garter slots that can hold each marker to keep them organized.
There is one thing that I found missing in the set of blending markers, it's the brush tip. However, I highly recommend this art product due to the plenty of color options.
Pros
Fine tips of markers can color details
Chiseled tips are useful for coloring large areas
Dual-tipped blending markers
60 colors to choose from
Can be used on paper, wood, glass, and plastic
Comes with a portable case
Artists who love to work on details and blending with markers will love this art product. Besides the combination of fine and chiseled tips, the broad range of colors and quality inks give you a creative advantage.
6. Copic Marker Sketch Blending Trio Markers
For first-timers, this is your perfect entry point to the colorful world of art markers. For talented folks who are looking for a new brand to try, there is a lot that you can do with this set of Copic blending markers.
As this blending trio markers set features light, mid, and dark tones of a color, you can practice coloring and blending before buying more colors such as the Copic 12-piece sketch basic set. With only three colors, there are several techniques that you can learn and master. If you let your imagination run wild, you may run out of ink before you are out of ideas. But don't worry, the inks are refillable and the nibs are replaceable!
To make the product convenient for its users, the dual-tipped blending markers include brush nibs and chiseled tips. Let me first draw your attention to the brush nibs. I love coloring using this side of the marker as it feels more like I am painting. At the same time, I can use it to create ribbon-like strokes.
For writing stylish calligraphies, I like using the chiseled tips. I also find it useful when coloring as it fills the large areas faster. This is convenient as there is no need to switch pens when I need different tips of the same color. Going beyond the basics, these markers allow artists to create stunning monochromatic illustrations.
When it comes to color choices for the blending trios, I can find greens, yellows, reds, blues, purples, and even skin tones. Simply choose a color that you need for your project or want to practice with. If you have mastered the art of blending and want to build a large collection of markers, you can always add three more colors that can blend smoothly.
Since a credible brand makes these markers, I am satisfied with the quality of their art products. However, I have to admit it is a little pricey. That is because Copic markers are the top choices of both novices and experts in the creative industries.
Pros
Comes with light, mid, and dark tones of a color
Dual tips with brush nibs and chiseled nibs
Versatile markers for different art projects
Marker nibs are replaceable
Alcohol-based inks are refillable
This sketch blending trio markers proves that less is more. Using light, mid, and dark tones, you can practice your blending skills or come up with magnificent works of art.
7. Ohuhu Alcohol Brush Markers
Brush and chisel tips make the perfect combination for dual-tipped blending markers. When working with these tools, the art projects and ideas you can bring to life are limitless.
Despite its budget-friendly pricing, Ohuhu markers can address several issues that artists, designers, and colorists often have with blending markers. I now stop worrying about tonal gaps as it is crafted with high-quality inks that are capable of producing coloring effects. I am also fascinated by how color mixing and blending can be done so seamlessly with these tools. While the inks dry up fast, the colors also last long once applied on paper, so I am pleased that my artworks do not fade.
In addition to the alcohol-based inks, the blending markers feature dual-tips. The firm brush nibs allow me to manipulate the pen, color the hard-to-reach areas, and draw thin lines with ease. Along with the chiseled tips, I can cover large areas with colors or create hand lettering effortlessly. Did I mention that this kit also comes with a colorless blending marker?
Inside the storage bag, 48 different colors give a good range of light, mid, and dark tones to make the perfect blending. The caps of the markers are colored and labeled, so I don't have a hard time picking out what I need while working on my masterpiece. No wonder many illustrators, crafters, and designers of every skill level prefer these blending markers.
While these markers are arguably exceptional considering the price, there are no ink refills or nib replacements. I consider it the only minus.
Pros
Long-lasting colors on paper
Dual-tipped blending markers
High-quality alcohol-based inks
Includes 48 colors in a set
Comes with a zipper pouch
An affordable set of blending markers
Cons
No ink refills
No replacements for nibs
If you are blending colors with markers for the first time, this art product will make you feel like a pro. Even if you have already established a career in the creative industry, I would recommend this for its quality.
8. Prismacolor Colorless Blender Marker
One of the most useful tools to have in your art supplies arsenal is this versatile colorless blending marker. If you have not used this blending marker before, let me walk you through its features and functions.
As this is a double-tipped marker, it comes with a fine tip and a wedge tip. Using the wide end, I can blend colors in large areas. In contrast, the fine tip helps me with the details or smaller parts of my illustrations and coloring books.
Although this tool is mainly for blending, the colorless marker can work as an eraser for markers used on tracing papers. When using it on marker paper, I can blend colors from Prismacolor markers as I do with watercolor. You can experiment with this by shading an area of the marker paper and create a gradient with the colorless blending marker.
With colored pencils and watercolor pencils, the colorless blending marker functions as a solvent. The colors that pencils produce are textured. Blending two colors you rendered using colored pencils with this tool can reduce the textures. In effect, the results would look similar to watercolor or markers.
Whenever you apply the colorless blending marker on a color, be sure to remove the stains on the tips before moving on to the next color. You can do so by rubbing or scrubbing them on the chipboard of your sketchbook or another piece of paper until the pigment is completely gone.
This colorless blending marker can do plenty of tricks, but you need to know how to use it on different surfaces and media. Though there is a learning curve, I am sure you can get the hang of it with practice.
Pros
Double-tipped colorless blending marker
Works as a solvent with colored pencils
Can be used with colored markers
Functions as an eraser on tracing paper
Blends like watercolor when used with Prismacolor markers
Cons
Needs to be cleaned each time it is used on a color
For first-timers, there may be a learning curve
Whether you want to use this with Prismacolor blending markers or colored pencils, this colorless blending tool can help you create gradients or smoothen the edges of the colors in your illustrations. Don't forget to explore all possibilities as this product can do so much more!
9. Shuttle Art Alcohol Based Art Markers
A wide variety of colors in a set is always an advantage. But aside from ample options, the blending capabilities are also an important factor to consider. This is why I am convinced that this set is useful for anyone who needs alcohol-based blending markers.
Like most blending markers, these also come with dual-tips but their bodies are triangular, so they will not roll off your desk. Plus, they are easy to hold. Using the fine tips of 1mm, you can render sketches, draw fine lines with precision, or color details. On the other hand, the wide chiseled tips that can go from 1mm to 7mm will help you produce lines of different thickness or cover the spaces with colors.
I love to give it a bonus point as this set of 51 colored markers include a colorless blending marker that also has dual-tips featuring a fine tip and a chiselled tip. Additionally, the color-coded caps make it easy to spot the color that I need in the sturdy, lightweight casing. By all means, I think this is the perfect art product for artists who like to sketch on location or students who want to bring this to school.
When you create a work of art, you want the colors to last. For that, I recommend these blending markers because their vivid colors do not fade easily over time. If you use markers frequently, I have good news for you: these markers can go on for 300 meters of continuous use!
Another thing that I love is it's safe for children. The inks are non-toxic and acid-free, which makes this art product a great gift for young aspiring artists. However, one thing to note is that these blending markers are not refillable and the nibs are not replaceable. Moreover, I also wish that the set comes with lighter colors.
Pros
50 vivid colors in one set
Includes 1 colorless blending marker with dual-tips
Comes with a sturdy portable case
Colors do not fade easily
Chiseled tips produce lines with varying thickness
1mm fine tips render thin lines
Non-toxic and acid-free
Cons
No ink refills or replaceable nibs
Fewer light-colored markers
All in all, these blending art markers deliver the quality results that do not quickly fade over time once applied on your go-to marker papers. Since the inks are non-toxic and acid-free, this product is suitable for both adults and children.
10. ZIG Kuretake Clean Color Real Brush Marker
Perhaps you already have a large collection of markers and other coloring materials, and now you are only looking for a blending tool that can be used on a variety of mediums. Well, the search is over! This one-of-a-kind clear brush marker is compatible with not just the coloring tools made by ZIG, but other brands such as Tombows or Tanmit markers.
Some colorless blending markers are not easy to clean when the tips get color on them. This is also an issue that annoys me.With that in mind, the manufacturer of this water-based brush blending marker made sure that the product is easy to clean. After blending colors with this tool, I can simply rub them on a paper until the pigment on the tip fades.
A great alternative to water brush, this blending tool works well with water-based markers, watercolors, and watercolor pens. Just like painting with a brush, I can control my coloring with this marker's brush. One tip I'd like to share is to try moving the darker inks to the blank areas using this tool. In this way, you can achieve a smooth dark to light similar to watercolor.
Both enthusiasts and professionals like to experiment with different media. Thus, a blending tool that works well with many coloring materials such as this brush marker is considered essential. For best results, I suggest using this blending marker with water-based inks and mixed media papers.
One pen can last a long time but if you use it more often, then getting the pack of four instead of one may be beneficial for you. That said, the only flaw that I see with this product is that it has no replacement for the brush tip.
Pros
Brush tip works like a water brush
Blends water-based markers, watercolor pens, or watercolors
Compatible with many brands of art products
Affordable blending marker
Easy to clean
Cons
No replaceable brushes
May not blend smoothly with alcohol-based markers
Versatility is what makes this blending marker a powerful tool for creatives. Considering the price and the variety of applications, I can say that this is a pretty good deal!
What to Look for When Buying Blending Markers
Because there are so many blending markers available on the market, it is understandable that choosing the right one for your need can be nerve-racking. Perhaps you are seeing artists talking about their preferred brands but you know that you are at a very different stage in your creative journey.
To help you gain some clarity, I am sharing these tips based on experience and research.
Suitable for your skill level
Hobbyists have different needs compared to professionals. Even professionals, the skill level of each individual varies.
For first-time users, you should try a set of blending markers with basic colors and focus on mastering technical skills. If you are more experienced, you will be more interested in adding colors to your existing collection or trying out another brand to see how differently they appear on paper.
Key features of blending markers
Like any tools or gadgets that we purchase, it is ideal to determine the types of projects that you want to use it for. You don't need a detailed plan, but having a general idea of what you want to do will help you decide.
Take the time to ask yourself: Do you need blending markers for your hobby, school, or work? Are you going to use them for sketching, coloring, or crafting? If you have answers to these basic questions, you can easily determine the color range and the type of nibs for your project.
Price of the blending markers
Everyone shares the same dilemma: Budget. My advice is to consider all the art supplies that you need in your projects. Remember that you need the right type of papers such as blending cards, or bleed-proof marker sheets.
If you are thinking of long-term investment, it may be practical to get blending markers with replaceable nibs and refillable inks. If you only need the blending markers for a few creative experiments, you can go for the more affordable ones.
Compatibility with other art products
Whether you are building a collection or buying for the first time, think about the other media that you can combine with the blending markers.
Most manufacturers of art supplies offer a wide array of tools that can be used alongside the blending markers. This includes other types of markers and airbrush systems. Others have also manufactured special types of paper that are suitable for their blending markers.
Quality of blending markers
Generally, all the blending markers I reviewed can produce smooth gradients, but artists can be fussy when choosing their tools. Beyond the budget, consider the aspects of the marker set that are also important such as the ink flow, the quality of the colors, or the ergonomics. Whatever you choose, the qualities of the products will affect your experience in coloring and your creative output.
Other Important Factors to Consider
What are blending markers?
Nowadays, there are several types of blending markers available on the market with more or less the same function to blend colors. These creative tools give artists and designers the ability to infuse the shadows, highlights, and gradients in otherwise flat illustrations.
Both alcohol-based and water-based markers can make blending possible but the effects are very different from each other. Take note: the paper you are using also contributes to the overall result.
How do blending markers work?
Color blending markers are one of the top choices of art supplies among artists because they are easy to carry around and do not require too much time to prepare.
Every brand of color blending tools designs markers differently. When blending lighter and darker tones, you may need two markers and a colorless blender. Meanwhile, some products do not require a colorless blender as they include mixing chambers in the kit. By checking the packaging, you can get an idea of how the blending markers are used.
Who are these for blending markers?
Blending markers can make artworks come to life. You may have heard or seen your favorite artist using these art products; however, you don't have to be an expert to use color blending pens. More importantly, these tools are not limited to specific creative industries.
Whether you are an illustrator, a colorist, a designer, a crafter, or someone who is just learning new skills, you can use blending markers to add depth and dimension to your artworks.
What are the different types of blending markers?
You can find plenty of blending markers for your art project. They are either water-based or alcohol-based. Each produces a distinct effect depending on the paper that you apply them on.
For your convenience, I'm sharing a list of the different types of blending markers that is useful for you.
Brush tip blending markers
Bullet tip color blending markers
Chiseled tip blending markers
Colorless blending markers
Dual-tip blending markers
Blending markers with mixing chambers
Why do you need markers for blending?
A great addition to your creative toolkit and blending markers are must-haves for those who want to color their illustrations or designs with light sources instead of flat drawings. To be clear, I am not saying that artworks with good highlights and shadows are better than the ones without them. They are both different in terms of style and aesthetic goals.
In real life, we can see the world around us because of the light. As we know, shadows form in the areas when something blocks the light. Translating these scenes into a paper will require some colors that may not be readily available in regular markers. For character designers, comic book artists, or typography designers, you can add more depth and dimension to your composition with the help of color blending tools.
Frequently Asked Questions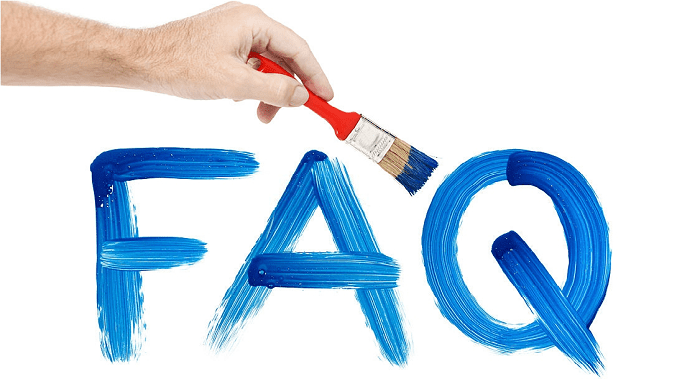 What are the most trusted blending marker brands?
Apart from the color range, the quality of the inks, ease of use, and durability are key factors to consider in choosing blending markers. I recommend Copic, Chameleon, Crayola, Keebor, Arteza, Ohuhu, Prismacolor, Shutter Art, and ZIG Kuretake.They are experts in the art product industries and have designed different tools for artists, including blending markers.
However, keep in mind that I shared the products that have been tried and tested. As the old saying goes, "Different strokes for different folks.", you are more than welcome to try out different brands and see what works for you.
Can you blend markers?
Yes! Thanks to modern technology, manufacturers of art products can innovate tools to keep up with the demands of the creative industry.
Please note that not all markers can blend colors. You need to check the label or the packaging to see if what you are buying is indeed blending markers or colorless blending markers. To achieve the ideal color transitions, make sure to use the right type of paper such as marker paper and marker cards.
There are blending tools that can be used with different coloring materials such as watercolor and watercolor pens. Moreover, most blending markers can be combined with markers manufactured by other brands. By doing research and experimenting with other media, you will discover your art products' full potential.
How to use blending markers?
Remember that tools are tools. Give a professional artist a crayon and scrap paper, he or she will produce a magnificent work of art out of these basic art supplies. Truly, nothing can replace the mastery of skills and tools. You can buy the most expensive blending markers but still produce mediocre results if you do not take the time to practice.
However, you can improve your skills through practice. You can learn techniques found in art blogs, Youtube tutorials, on-demand online art classes, and even books; therefore, let's take time to explore and blend colors. Also, keep in mind that each brand of blending markers works a little differently, so learn how to use them first before applying them to actual illustrations.
To start, get a sheet of marker paper and stroke back and forth or make a circular movement using one light tone. Then, add a layer of mid-tone and dark tone. After that, drawing a random object or your hand. Notice where the light and shadow fall and start experimenting!
Where can I buy blending markers?
Blending markers are usually sold in art supplies shops or the retail shops of manufacturers. For those who prefer online shopping, you can check out the websites of the different brands that sell blending markers or e-commerce sites such as eBay and Amazon. Just ensure that you purchase from a trusted online shop as poor packing of these items may result in damaging the blending markers.
How to care and clean?
Markers, in general, are low maintenance. Making it a habit to put the cap back on after use is a simple step in ensuring that the ink lasts long. Compared to water-based, alcohol-based inks tend to last longer since they are composed of quality dyes that do not easily fade.
When it comes to storage, most markers come with casings, but you can invest in nice pouch cases, marker trays, or table-top carousels. This is great especially for those who keep large collections of pens and markers. One best practice is to keep the colors organized by grouping them according to the color wheel so that you can see the markers you need easily.
For dual-tipped markers, it is ideal to store them horizontally. If this type of marker is stored vertically, the inks may settle only on one side. Meanwhile, single-tipped markers can be stored upright with their caps at the bottom. This way, you can be sure that the inks will remain in the nibs.
Finally, if you buy markers with replaceable nibs and refillable inks, your kit will come with tweezers and other accessories. Make sure to store these accessories where you can easily access them when needed.
Conclusion
Markers are one of the most creative convenient tools as they are generally light and easy to carry around. Since blending has been made possible through this medium, artists can now produce color gradients with smooth transitions to show highlights and shadows.
Creating stylized or realistic sceneries, portraits, comic books, or abstract artworks are just some of the things that you can do with blending markers. Even crafters and bullet journal aficionados can benefit from these innovative pens. With this review of the best blending markers, I invite you to use your imagination and creative skills to experiment with colors.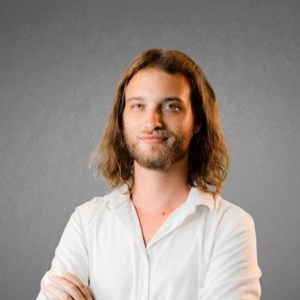 I am a former art teacher, so it is evident to me the importance of art in educating the new generation. We also want to help parents who plan to teach their children and desire the best tools and tips for them.