You'd probably agree that rust is one of the significant problems when working with metal. Due to various elements such as wavering temperatures or moisture buildup, this sneaky menace gradually corrodes metal until you can no longer use it. Luckily, many manufacturers offer durable primers to prevent and fix these rust issues.
Before we get down to our list to find the best primer for rusted metal, it is imperative to consider a few significant factors. This includes the type of primer, rust issues you're dealing with, the amount of primer you need, safety use, and ease of cleaning. In this article, we will discuss the buying guidelines along with a detailed roundup and reviews of the top-rated products.
Best Primer for Rusted Metal Reviews
1. Rust-Oleum 7769502 Rusty Metal Primer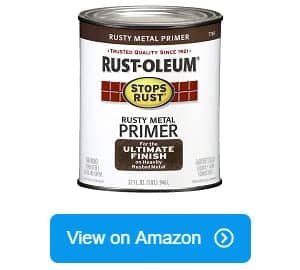 If you're dealing with heavily rusted metal, this primer with anti-rust properties is the one for you. It provides a protective layer that will ward off the present and future rust issues.
Just like one of the Rust-Oleum Rusty metal primer reviews I've read, there's no stubborn rust this primer can't fix. It offers an oil-based compound that effectively penetrates corroded layers, and transforms the rusted metal into a strong adherent surface.
The potent formulation is also one of the reasons why I consider it the best metal paint primer. It multiplies rust protection, giving the surface rigid and resistant to harsh conditions, especially when exposed outdoors.
When it dries, this primer for rusty metals leaves a sophisticated finish that makes the surface smooth and paintable. Therefore, you can proceed with painting or applying a top coat without worrying about recurring rust problems.
Some products like the Rust Converter Ultra may need to be diluted or strenuously prepared, but this primer is the other way around. There's no hassle applying it; all you need is a brush and you're good to go. The consistency is also not very thick, making it easy to use without any leaks or drips.
However, the downside of this primer is the drying process, which can take a while. It takes about 24 up to 48 hours or sometimes a few days before it dries completely, depending on the temperature and air humidity.
Pros
Offers formula that manages tough rust
Provides sturdy adhesion for paint and top-coat
Leaves a smooth surface with a unique finish
Easy to apply
No dilution and preparation needed
If you don't mind the long drying time, this amazing product is probably your best bet for an extensive rust preventive treatment. It's the best primer for rusted metal that can ward off corrosive damages and protect metals because of its consistent solution.
2. Corroseal 82331 Rust Converter Metal Primer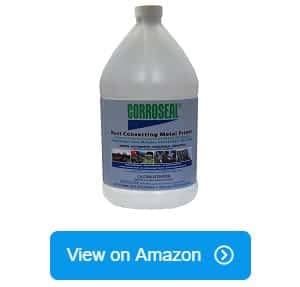 This Corroseal water-based rust converter primer stands out among the other products due to its innovative formula. While this promotes easy clean-up, this type of solution is non-flammable and non-corrosive, making it safer to use than other primers for rusted metal.
Apart from that, the formula's efficacy toward rust repair and prevention is the product's highlight. Rather than remove rust, it offers an innovative solution that converts rust into a stable compound and primes the surface with premium quality latex all at once.
Therefore, you can stop rust and further corrosion, and stabilize the surface with just one step. This saves time and effort, allowing you to cover more work and finish in no time.
Among its outstanding merits is its versatility. Whether you're dealing with industrial, marine, general household rust problems, or looking for a reliable automotive rusty metal primer for restoration and rust repair, this multipurpose product will do the job.
If you're working on a large-scale project that requires extensive applications, you'll have enough with this 1-gallon rust converter. You can purchase 5 gallons if you need more. To give you an idea about the amount of paint is required, a gallon can cover about 200 to 250 sq ft.
One more thing I like about this product is the convenience in use. You can use it with a brush, a roller, or even as a spray can primer, just make sure to read the instructions for proper application and preparation. You have to remove the rust or any flaky paint. And when you're all done, you can simply clean it up with soap and water.
Since it's water-based, it dries a lot quicker than oil-based primers. It's dry to touch for about an hour, but you must leave it for 24 up to 48 hours to fully dry.
I find this a great deal for its volume, but it's not ideal for heavily rusted metals because of its thick consistency. This means that it can't penetrate narrow spaces like metal shingles or loose rust. This works best with moderate rust issues.
Pros
A water-based rust converter and paint primer
Suitable for various applications
Stops rust and prevents corrosion in one step
Safe to use
Easy to clean
Cons
Not recommended for heavy rust problems
Requires surface preparation before use
Nonetheless, this Corroseal water-based product is a non-hazardous rust primer and converter mix in one that can avert corrosive damages and solve your dilemma with moderate rust issues.
3. JENOLITE Rust Converter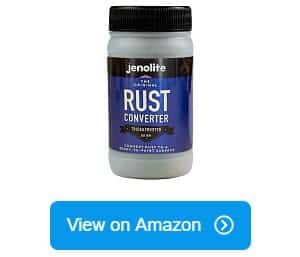 For fast and simple treatment against corrosion, this Jenolite rust reformer delivers a water-based solution that innovatively transforms rust into a stable chemical barrier. This prepares the surface and allows a hassle-free paint job even without using a primer.
I think this product is an ideal choice for first-time users since the steps are pretty straightforward. All you need to do is spray it on the rusted areas and directly apply paint on it once it dries completely.
It's quite impressive that in just a simple process, you can stop rust within a short time. The product formula transforms the surface into a smooth protective polymer coating, and protects it from further damages. Not to mention that this process can be as quick as 15 minutes!
Whether you're dealing with mild to heavy rust, this rust converter ultra efficient solution will do the job even with just a single coat. That might seem insufficient but it's just enough to provide full protection against rust.
This product has a potent formula that can bolster the surface's resistance to various elements, such as a chemical attack, salt spray, harsh weather conditions, and bacterial growth. Therefore, you can achieve a sturdy coating without worrying about rust.
Another reason why it applies so easily is because of its application method. It comes in a spray can that effortlessly dispenses the solution and can cover 6 to 8 square meters per liter.
The only disadvantage with this converter is that the spray nozzle does not work properly sometimes.
Pros
Offers a quick and easy process
Converts rust and prepares a ready-to-paint surface
Can be applied without using a primer
Provides a durable shield against rust-causing agents
Easy to apply
Cons
Spray nozzle can be defective sometimes
Even though that's a minor issue, this rust converter is your perfect pick for a fast and effective one-stop solution against rust.
4. XIONLAB Rust Converter & Metal Primer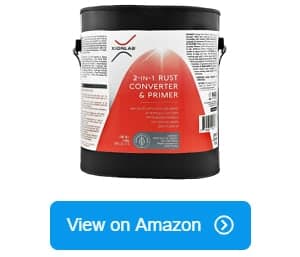 If you don't have time to prep and dry the surface before priming, you can use this XIONLAB 2-in-1 rust converter and primer to speed up the process. There's no need for strenuous scraping and blasting as you can apply it on the surface even if it's damp!
This product boasts a water-based solution that turns rust into a stable compound and essentially primes a metal surface to stop rust and avert potential damages caused by corrosion.
This rust-inhibiting primer provides maximum protection, so you can use it without worrying about rust coming back. You can finish it off with your preferred paint or coating, and enamel. Plus, it's UV-resistant, leaving an impenetrable protective layer that can deter further damages.
In case you don't have any top coating available, you can apply this multipurpose primer alone as a topcoat won't be necessary. It already leaves a smooth and highly pigmented flat red paint that can quickly cover metal surfaces even with just a single coat.
In terms of the application method, you can use a brush or a spray gun to treat a metal surface. Just like the Rust Converter Ultra, you need to dilute this metal primer rust converter with 20% water if you're going to use a spray gun.
Since this comes in a gallon, it can cover up to 1000 square meters per gallon or 125 square meters if you're using a pint, making it reliable for a massive project. Whichever amount or application you choose, this rust metal primer does an incredible job without extensive preparation needed.
Moreover, it's safe to use and does not cause harmful effects to the environment. It is incombustible and does not contain harsh chemical ingredients. Apart from that, you can easily tidy your tools with soap water.
On a different note, the drying process can be critical. It's dry-to-touch at 2 to 4 hours, but you have to wait 24 to 48 hours before applying another coat; otherwise, it won't adhere well and would come off easily. That's why it's imperative to read the manufacturer's instructions first before using the product.
Pros
A metal rust primer and converter
Can be applied directly on rust even when damp
Top coating is not required
Versatile application method
Easy to wash after use
Can cover large rust areas
Overall, this multipurpose product is an effective rust preventive treatment that can cover vast metal without consuming too much time and effort.
5. Rust-Oleum 7582838 Professional Primer
When a primer sprays at any angle and renders fast coverage, it can be a real game-changer. It ramps up convenience and allows you to wrap up the job in no time, and this is what Rust-Oleum metal primer rust spray is all about.
One of its best features is the fast-drying formula. Some brands of primers for rusted metal usually require 24 to 48 hours or even days to dry, which can be quite frustrating. Fortunately, this spray primer dries as quickly as 15 minutes and prepares the surface for a topcoat application. Just remember that it's a must to sand the surface before applying this.
Although it highlights a quick-drying process, this product doesn't fall short of its anti-rust fighting properties that can control rust and prevent the metal piece from deteriorating.
It utilizes a durable formula that works as a high-quality primer and paint. Therefore, this product protects the surface with a non-corrosive and resistant color that can ward off harsh elements, whether indoors or outdoors.
I also think that the 360-degree spray angle is one of its advantages, especially when working on massive structures and projects. Some spray primers don't dispense solution when you take on different angles, but this enamel spray is quite the opposite.
It does a great job covering corroded metals whether you're targeting the nether parts of a vehicle and other metal structures that are vulnerable to rust. Other than that, it's not limited to ferrous and non-ferrous metal surface types. You can make it work on wood, masonry, concrete, and other metal surfaces to prep them for painting, making it the best primer to use for a variety of projects.
It is swift, easy to use, and gets the job done without any runs or drips. However, there's a slight drawback to its odor. The toxic smell is a bummer. Make sure you're wearing protective gear like gloves, a mask, and safety goggles to save yourself from a terrible headache!
Pros
A fast-drying spray primer for metal
Provides maximum protection against corrosion
Can be used at any angle for optimum coverage
Offers long-lasting and high-quality rust prevention
Easy to use
If you're after quick and easy applications, this Rust-Oleum Stops Rust Spray paint must be the best primer for rusted metal you're looking for. It offers a reliable formula that provides tough resistance and heavy-duty protection against corrosion.
6. TotalBoat B013F9SM3Y Rust Primer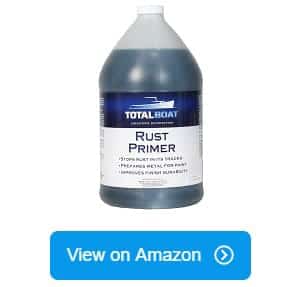 For a heavy-duty metal treatment, this TotalBoat rust primer converter must be the one you need to stop rust from damaging the metal surface effectively. It boasts an innovative formula that converts metal rust into an inert substance, blocking present rust from recurring while inhibiting potential rust spots.
It utilizes a phosphoric acid-based solution that can handle heavily rusted metal surfaces or new metals on automotive parts.
This rust protector primer has anti-rust properties that are ideal for cars, campers, bikes, boat trailers, tractors, motorcycles, and other machine types that require prompt rust treatment. Plus, it comes in a gallon that can cover wide areas.
Another impressive aspect I find is the formula's consistency. The water-thin solution is easy to apply whether using a brush or spray gun. But I suggest applying several layers since the cover is relatively thin.
Before applying this rust primer, you should remove rust flakes, dirt, or grease using a wire brush and smoothen out the surface with sandpaper. After application, you'll notice a color change to the surface, leaving a black finish that indicates chemical transition.
Moreover, the drying process can take about 24 to 48 hours, then it preps the surface for primer and paint afterward. As it makes the surface available for paint, it also ensures maximum adhesion to deter paint from wearing off or flaking.
Unfortunately, the preparation, drying, and reapplying can be crucial. I noticed that white deposits appear when the surface isn't properly and thoroughly prepped.
You should scrub and wash off loose rust first. Leave it overnight or up to 2 days to dry before applying another layer. Sometimes, it leaves residues that you should pressure wash.
Since the formula is acid-based, it is toxic. Therefore, it is important to wear protective gear to avoid any adverse effects such as inflammation and burning sensation.
Pros
Converts rust to stop corrosion and provide metal protection
A phosphoric-acid based formula that handles heavy rust
Can be used on various metal surface types and vehicles
Versatile application
Water-thin consistency for hassle-free application
Cons
Requires meticulous preparation
Toxic
Anyhow, this product does what it's supposed to do. This Totalboat rust primer neutralizes rust and adds a rigid protective layer that restores quality, and wards off corrosive damages.
7. Krylon K05545007 COLORmaxx Primer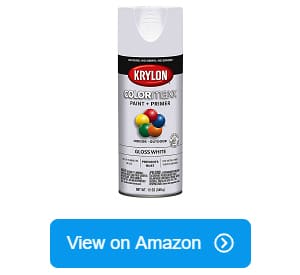 If you're working on a DIY project and need the best primer to spruce up its finish and protect its metal surface from rust, you'll probably find the best rust stopping primer and paint with this multipurpose Krylon COLORmaxx.
Whether you're handling metal, wood, wicker, plastic, glass, ceramic, and other types of metal surfaces, this spray rust metal primer does an incredible job. Plus, it elevates your work's appearance with a sophisticated look.
All you need is to spray this product directly on the object to give it a polished color and glossy finish. You'll achieve a solid and vibrant color, not to mention the wide range of colors to choose from.
As this product delivers quick touch-ups and premium coverage, it can offer ultimate rust protection to prevent further damages due to corrosion. Just make sure to clean the surface and remove the rust pieces and paint, and you're all set for priming.
Some primers for rusted metal should be left to dry within the recommended time before applying paint or topcoat. Thankfully, you can skip this process and get the job done in no time. I like how you can do the priming and painting all at once without the need to wait for hours or days before adding paint. Plus, it's dry-to-touch in as fast as 20 minutes and sometimes, less than that.
Aside from that, the bottle is ergonomically designed with a big button spray tip for versatile application. It also allows you to spray at any angle to speed up painting and cover wider areas. Moreover, this 12 oz can deliver a maximum of 25 sq ft coverage.
I have no issues with this product's performance and quality except for its horrible toxic smell. Make sure to wear a mask when using this. Another downside is that it's not ideal for extensive rusted metals.
Pros
Spray rust primer and paint in one
Can work on various surface types
Easy to apply
Delivers a glossy finish and solid color
Ergonomic spray tip for hassle-free application
Cons
Awful toxic smell
Not ideal for heavy rust
Needless to say, this Krylon rust protector primer is an excellent multipurpose product that can shield your work from rust and beautify the color and quality at the same time.
8. Zinsser 272479 Bulls Eye Spray Primer
If you're on a hunt for a rust-sealing primer that can speed up drying time, you'll probably find your luck with this Zinsser Bulls Eye primer spray can.
Unlike other primers, this one does not need 24 hours or a few days for the surface to dry and put paint afterward. Fortunately, you can apply paint or coat as soon as it dries, which is as fast as 30 minutes.
If you're working with metal, cured plaster, wood, drywall, concrete, brick, and other difficult surfaces, you can rely on this versatile product. Since it is suitable for metal surfaces and other types, it can provide a rust-proof treatment to the metal surface, keeping it protected optimally from rust and further corrosion.
This all-purpose and all-surface primer and sealer use an oil-based formula that seals porous surfaces for superb protection and durability. Another impressive feature is its ability to enhance the surface's adhesion, so top coats can adhere without easily wearing off.
I also like how it delivers a remarkable blocking resistance against imperfections and stains even with just a single coat. In this way, you can maintain a long-lasting paint or coat without worrying about color and quality deterioration.
When it comes to its finish, this rust protector leaves a smooth white coating that preps the surface for seamless painting.
It's also nice that it comes in a spray bottle for convenient application. However, there's a slight issue with its spray tip, which I find defective at times.
Pros
An all-purpose primer and sealer for all surface types
Offers rust protection on metals
Elevates surface's paint adhesion
Fast drying time
Leaves a smooth white finish
Cons
Spray nozzle sometimes doesn't work well
This all-purpose primer could be your ultimate pick for versatile surface treatment. While it can make metals rust-proof, it's also reliable stain protection for various surface types.
9. VHT SP229 Rust Convertor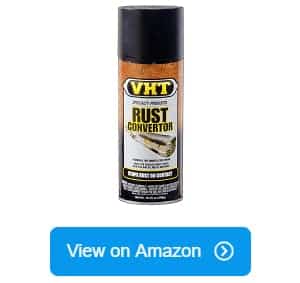 When you're all about salvaging and saving rusted metals, this VHT rust convertor won't be a letdown. It stands out with its powerful formula that stabilizes heavily rusted metals and forms them into a new chemical compound.
This transition deactivates the oxidation process, stopping the rust from spreading. When such chemical changes happen, the surface turns into a black coating that serves as a protective layer against rust and corrosion.
I also find the specialty formula very reassuring. It specifically targets metals and provides them a dependable and ideal solution for exterior and interior touch-ups, especially when working with vehicles.
Whether it's a truck, a car, or even other metal objects that need efficient anti-rust treatment, this reliable product can seal rust and prevent it from coming back.
Once applied, you should let it dry for at least 24 hours and until then, you can apply your preferred topcoat or paint. You can also expect a smooth and even finish from this rust converter, allowing you to ramp up the surface for beautiful and spotless paint.
Since it comes in a spray container, covering large rusted areas is convenient and fast.
On its downside, the formula is toxic and extremely flammable. That's why I strongly recommend wearing protective gear before using this.
Pros
Specifically formulated for metals
Provides anti-rust treatment through chemical conversion
Turns into a black protective coating
Leaves a smooth finish
Easy to use
Cons
Toxic and highly flammable
If you're looking for a specialty formula against rust, this product's worth a try. It is a rust protector that improves the surface's stability and stops rust from escalating.
10. GEMPLER'S Rust Converter and Primer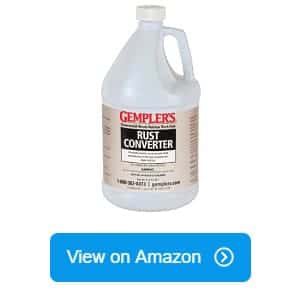 If you can't stand the toxic smell and chemical ingredients, you can consider this Gempler's rust converter and primer. It's an incombustible solution, making it a safe and eco-friendly product that you can use with ease.
Aside from that, this rust converter ultra functional solution can restore rusted metals, even the discarded ones. Thankfully, it uses an innovative formula that chemically converts rust into a stable substance, which then transforms into a black protective barrier where you can paint over.
As this chemical process happens, the converter functions as a primer that renders a sturdy defense against present rust and new rust spots. While it combats and fixes rust, it also enhances the surface's durability for long-term use.
Since this is a liquid form, you can simply use a brush to apply the primer over the surface and allow it to fully dry for 48 hours. I know that this takes quite a while like other primers for rusted metal, but this makes the surface completely ready for re-painting, and you can choose your preferred paint to use.
I also think that the amount makes the job easier as this 1-gallon solution can cover up to 500 sq ft. Plus, it speeds up the whole process as this formula doesn't require tedious preparation – no need for laborious grinding, scraping, and even sandblasting.
The water-based mixture promotes easy cleaning. So, when you're all done with your tools, you can easily clean them up with soap and water.
I don't have any issues with its performance and quality, and probably the only minor issue with this product is the lengthy drying process.
Pros
Eco-friendly and non-flammable formula
Converts rust into a protective chemical barrier
Does not require strenuous preparation
Easy to apply
Wide coverage
Overall, it is a remarkable multipurpose product that can save and restore your projects from extensive rust. The water-based and eco-friendly formula effectively fights rust and keeps it from spreading.
What to Look for When Buying a Primer for Rusted Metal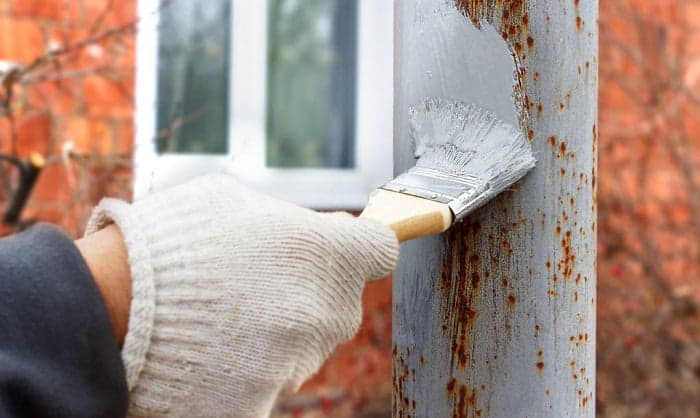 Determine the Rust Issue, Surface, and Primer Compatibility
It is imperative to rule out rust issues before you settle for a certain type of primer. A lot of manufacturers provide a vast lineup of specially formulated products and primers for rusted metal that are intended for particular problems. To prevent any adverse reactions or results, the type of surfaces you're working on would also be a significant factor in choosing the suitable primer.
If you're dealing with extensive metal rust, you should know that it may require heavy-duty primer products that might not be applicable for managing new metal or minor rust issues. It's a different story when you're trying to protect the rusted metal from any possible corrosion. Thus, a rust preventive treatment or a corrosion inhibitor is what you need.
Know the Type of Primer
Different products and types of primers for rusted metal address various rust problems. Among the common types that you can consider are oil-based primers and water-based rust converters.
Oil-based primers are deemed pioneers in preventing and stopping rust, making them a predominant option, especially for anyone working in the commercial production industry and on large-scale projects.
Since they are a lot thicker, these products render thicker bases while inhibiting rust from escalating. This lends a rigid and clean surface where you can apply your top coating, which is why they're recommended for outdoor applications.
Oil-based primers for rusted metal provide excellent adhesion and remarkable properties that bolster the rusted metal's quality and longevity despite exposure to various weather conditions and temperatures.
Water-based rust converters and primers are typically safer to use since they are non-flammable and non-corrosive. You can wash them easily with soap and water. They usually dry a lot quicker, allowing you to wrap up the job in no time. One example of this is Corroseal water-based rust converter and primer.
On the other hand, rust converters like Totalboat rust primer converter or Corroseal water-based rust converter, work as a primer that transforms rust into a stable and protective chemical compound, preventing rust from spreading. This type of product bonds tightly to rust and forms an adherent surface that can provide a sturdy and stronger resistance to moisture and other elements that can lead to corrosion.
Consider the Application and Drying Process
The application method depends on the surface type, project scale, and convenience. Primers for rusted metal may come in the form of liquid that you can apply with a brush or need to be diluted, while some products are available in spray containers for fast applications. Both methods can cover large surfaces but may vary in consistency, drying process, and durability.
If you need to apply a top coating or paint after priming, you might need to consider the drying process. Some products or primers for rusted metal may need as long as 24 to 48 hours before they are completely dry. Water-based rust converters or primers typically dry much faster, which can be as quick as 20 minutes.
Check the Primer's Quality and Effectiveness
Primers are primarily designed to protect the rusted metal or surface rust from potential issues. Therefore, it is important to check the product for potent formulations and promising advantages.
This may also include the primer's durability to prolong paint's resistance to various outdoor conditions and wavering temperatures. One way to do this is to read reliable reviews and consider the brand. In this way, you can invest in a primer that can effectively ward off rust.
Determine How Much You Need
Are you working on a large-scale project? Then so, you'd probably need more than just a spray primer. Some primers come in gallons to ensure even and thorough applications.
Safety and Toxicity Content
Before using a primer, it is important to check its content for safety use. You may consider the toxicity levels; the lower the toxins are, the better and safer it is to use. Fortunately, many manufacturers minimize potential hazards with their lineup of environmental-friendly and non-flammable rust primers.
Ease of Cleaning
Cleaning up is necessary every after applying rust or paint primers. That's why it is important to settle for an easy clean-up primer to save you from a lot of hassle, especially if you're working on multiple projects or engaging in various activities.
Does Rusty Metal Primer Work
Yes, it does. Rust-Oleum's rusty metal primer features a formulation that can effectively combat corrosion and stop rust from spreading whether it is a rusted metal or a new metal. This provides excellent adhesion on the surface for hassle-free applications of paint or top coating.
For best results, it is important to check the instructions for the proper application method and drying time, especially if it's your first time to use this primer for rusty objects.
Rustoleum Rusty Metal Primer VS Rust Reformer, What's the Difference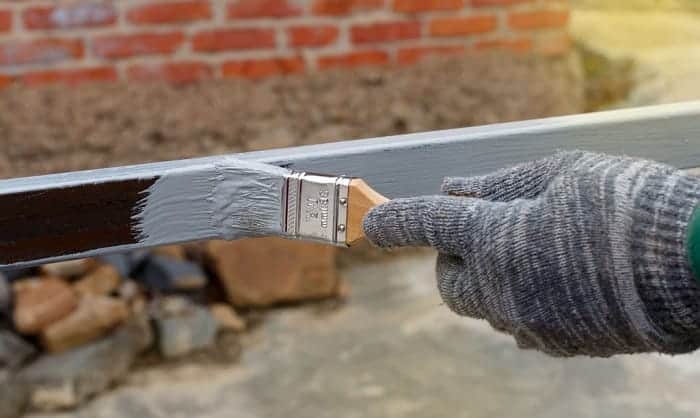 If we compare Rustoleum Rusty Metal Primer vs Rust Reformer, the major differences lie in the target level or degree of rust problem and the application method.
Although both are formulated to solve and prevent metal rust issues, Rusty Metal Primer targets metals or objects with heavy rust but are not completely damaged. On the other hand, Rust Reformer deals with objects with extensive rust that are seemingly falling apart or impossible to salvage.
Here's a quick overview of their features to help you understand their differences:
Rusty Metal Primer
Suitable for moderate to heavy rust issues
Requires sanding and cleaning before applying
Needs at least two coatings
Dry to touch at approximately 15 minutes
Can be painted afterward
Can cover up to 20 sq ft
Rusty metal or reddish-brown color
Rust Reformer
Suitable for heavy to extremely heavy corroded metal rust
Does not requires sanding and cleaning before applying but still preferred
Needs at least one coating
Dry to touch at approximately 20 minutes
The surface should be primed before applying paint
Can cover up to 12 sq ft
Black color
What Paint to Use on Rusted Metal
If you're planning a paint job on a rusted metal, it's a prerequisite to prep the surface rust. You should remove rust pieces and flaking paint, and sand the surface to make it smooth and paintable. The products mentioned in the list are some of the primers to use before painting over rusted metal.
However, if you want a primer and paint in one, you can try Rust-Oleum Professional Primer Spray Paint and Krylon COLORmaxx Spray Paint and Primer. These brands can spruce up the object or metal with creative touch-ups and great quality finishes while protecting against further damages.
How Do You Treat Rusted Metal Before Painting
It is imperative to prepare and clean the surface before applying anything. You can't paint directly on a piece of rusted metal to cover the damaged areas; otherwise, the paint won't adhere and will come off eventually. Take note of the following steps:
Prepare the materials you'll need. This includes a rag or cloth, soap water, sandpaper, primer, and paint. You may use a primer and paint of your choice.
You need to gear up for safety purposes. Some primers contain toxic chemical ingredients that may be harmful to your health. Make sure to wear gloves, a face mask, and protective eyeglasses.
To clean the surface, remove any flaky paints and corroded parts. Use a sandpaper or wire brush to smoothen the surface.
Clean the rust and paint residues with soap and water. Let the surface dry.
When the metal surface is completely clean and dry, apply the primer. If you're using a primer spray like the Krylon rust protector paint primer or Rust-Oleum Stops Rust Spray paint, you should be distant from the object or metal surface for at least 10 inches. Keep it away from any person. Let the primer dry first for at least an hour, then you can add the second coating.
If you're using a liquid primer, use a paintbrush and apply several coats. You have to let them dry before applying another layer, usually taking around 1 up to 48 hours.
Once the primer is fully dry, you can apply a base coat or enamel paint. If you're going to add another layer or coat, you should wait at least an hour for the paint to dry.
Clean your workspace.
Conclusion
In a nutshell, the best primer for rusted metal can save your work or any project from the damaging effects of corrosion. It can transform a rusty object and make it look brand new while keeping it protected from further damages.
It's important to consider the degree of corrosion, type of primer, durability, safety use, and effectiveness when buying a primer. It may take some research to find the ideal choice for your needs and preferences. But I hope that the detailed products, reviews, and guidelines mentioned above can help narrow down your choices.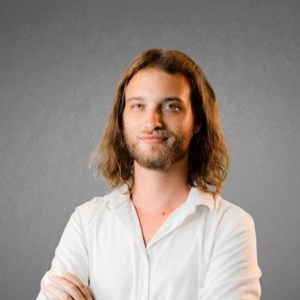 I am a former art teacher, so it is evident to me the importance of art in educating the new generation. We also want to help parents who plan to teach their children and desire the best tools and tips for them.