Are you in the market for the best brush pens? You came to the right place. However, you probably know how many options you have out there and you are feeling a little overwhelmed and unsure of what to buy. The good news is that there are a lot of good brands that will not break the bank. Now all you need to consider is what's best suitable for your personal preference and r your unique needs.
You will not want to waste your money on poorly-made brush pens with brush nibs that will fray easily with just a few uses. Let me help you find the right brush pens for hand lettering that are truly worth your money.
Top 12 Brush Pen Reviews
1. Tombow Fudenosuke Brush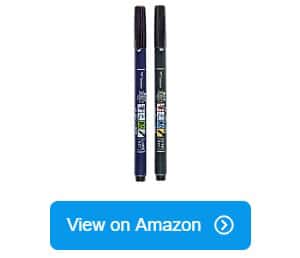 If you are wondering between a hard tip and a soft tip to get, you should try this Tombow Fudenosuke brush pen. This is one of the best brush pens for calligraphy and drawing because it offers two brush types. One is a hard tip and the other is a soft tip.
If you are a beginner, you can start working with the hard tip first. Since it is harder, it will give you more control. Once you have gotten used to calligraphy strokes, you can move on to the soft tip. although for me, It's easy to get used to this brush, and for me, I did not have trouble using the soft tip right away.
I love how clean the strokes these brushes make. They are not streaky, mainly because the brush tips stay intact. They don't fray easily unlike other brush pens for modern calligraphy.
I wish these pens came with more colors though. You can buy the colored ones but the packs only come with one type of tip. You need to choose between a hard tip or a soft tip. On the other hand, you can use this set as a starting point. It will help you figure out what kind of tip firmness is better for you. Its black ink is very pigmented.
Another advantage is that it doesn't require too much pressure to get the strokes you want. The effortless glide on paper is satisfactory and makes calligraphy so much more enjoyable. The pen is also easy to hold. It feels ergonomic – no hand pain from using it for a long time!
The only caveat I see here is the low ink volume. I wish it contained more ink. Additionally, it's also pricier than other brush pens out there.
Pros
Has hard and soft nibs options
Less effort when making fine strokes
Easy to use and feels ergonomic
Pigmented ink
Cons
Not a lot of ink volume
Pricier than others
The verdict? It's worth buying. If you don't know whether to go with a hard tip or a soft tip, use this as a trial pen. It works well as either a practice pen or a beginner pen.
2. Misulove Hand Lettering Pens
If you are looking for a hand lettering brush pen that you can use to practice your calligraphy skills, I would suggest Misulove Hand Lettering pens. This set comes with 6 pens and it offers 4 different brush sizes. You get one extra fine-tip pen for all those small and wispy details, one fine-tip brush for outlining and sketching, a medium-tip brush pen for regular letterings and 3 brush tips for thicker strokes. With such a complete set, you can practice and improve your calligraphy skills with ease.
The brush tips are a bit on the medium-firm side. However, I find that as you use it, it softens up more. That's fine with me because the more you use it, the more your lettering skills are harnessed. You need a more flexible tip by then.
It's very affordable as well. If you are on a tight budget, you won't feel bad about buying this set. It's also refillable, so you don't have to keep on buying them. You just need to buy a bottle of ink. These pens are very juicy. They dispense a good amount of ink, so you don't have to deal with faded ink or gaps when lettering. I have never had issues with their consistency.
The ink is also non-toxic. It won't emit a strong scent. Even older kids can use this safely.
The tips are very useful because they are crisp and consistent. However, I do find that with the brush tips, they tend to fray, especially if you use them often on coarse paper.
As for its pen design, I like the tiny specks of glitter on it. It's very modern. Also, the size of the barrels is easy to hold. Beginners won't feel tired when using these pens.
Pros
Easy to use even for beginners
Different nib size options
Can be refilled
Great price
Makes consistent strokes
Juicy pens
Cons
Bigger brush pens can fray easily
Can become more flexible over time
These pens are worth trying if you are looking for the right calligraphy brush pens for beginners. The different nib sizes make them ideal for those who are just starting to learn how to do calligraphy.
3. Aen Art Dual Tip Brush Marker Pens
If you are looking for the right brush pens for drawing, this set is worth buying. It comes with 18 pens with all the colors you might need for drawing. These pens feature dual tips. One is a fine tip for adding those small lines and details while the other is a brush tip.
These are not the most brush pens for modern calligraphy though. It requires a little advanced skill to create more dimension with this brush. However, it's still good for lettering.
I still recommend getting this because of the vivid colors that you will get. They are accurately depicted, so what you see is what you get. With more color options, you should be able to create beautiful letterings and drawings.
This product also has a good ink flow. The non-toxic ink flow gushes out of the brush pen with ease. I also like that it doesn't bleed through. I have tried this on different kinds of paper and I did not have issues with bleeding. It doesn't have an unwanted smell and all the colors are very pigmented, making this such a great option for coloring and drawing. This product can also be used for journaling.
It has a comfortable grip. The size is just right. My hands don't slip on the barrel. However, the caps are a little difficult to remove and to put back on. If you put too much pressure, the caps might break.
Pros
Vivid colors
Lots of color options
Dual tips
Non-toxic ink
Great ink flow
Comfortable grip
Does not easily bleed through
Cons
Caps are difficult to remove and put back on
Not the best for calligraphy
If you are on a budget and you want more color options, I would suggest these brush pens. They fall short when it comes to calligraphy standards but I would still buy this again to try more colors. The ink quality is superb and it has a good amount of ink that can last for a long time.
4. Pentel Arts Sign Pen Touch
Pentel brush pen is a must-have if you are building your calligraphy collection. These calligraphy brush markers bring a lot of features to the table. First, these are gorgeously-made pens. I like how they are designed. The caps even have a hook to make them easier to insert on pages. I have used these on different surfaces and tried them for coloring, journaling and calligraphy and they deliver the expected quality.
What I like about these is that the brush nibs are more forgiving. I find it easy to create thin upstrokes and thick downstrokes. I have tried other brush pens but it is still a challenge for those brush tips to do these strokes. I didn't experience that difficulty with these Pentel pens.
It doesn't hurt that these pens come with very saturated colors. All the colors included are very pretty. They double as coloring markers as well. I also like that the ink is water-resistant. You can dip them in water if you prefer a watercolor effect. They blend so well, very similar to watercolor paint.
As a beginner, I find these brushes for hand lettering very easy to use. There was a time when I accidentally left the cap off and the nibs and ink didn't dry up. Be warned though because these pens tend to dispense more ink than your average marker. Because of that, it might be trickier to achieve precision. It's not a big turn-off but it's worth noting if you are striving for perfection.
These markers do not bleed through. However, you can still see some slight ghosting effect.
Pros
Easy to create thin upstrokes and thick downstrokes
Saturated and vivid colors
Water-resistant ink
Can be used for water coloring
Easy to use
Comes with flexible tips
Tips do not dry up easily
Cons
Releases a lot of ink, so the precision might be compromised
You can see a little ghosting
You won't regret buying these markers. I highly recommend beginners to buy these modern calligraphy hand lettering markers. They stand out from the others with their vivid colors and easy to use brush tips.
5. Dyvicl Hand Lettering Pens
I don't know about you but when doing letterings, I love having more options when it comes to size. It gives me more flexibility and range when it comes to what I can do. This set of typography pens does just that. It's one of the most value-for-your money pens because this one comes with 8 pens, all boasting of unique sizes. It includes 1mm, 2mm and 3mm nib sizes. The soft brush tip is great for letterings while the extra small, small, medium and large nibs are good for creating more dimensions and strokes in your calligraphy.
I don't find it very pigmented. If you look closely, it's more of a dark grey color rather than a jet-black hue but it's not a big deal. If you find that it's not too heavily black, you can always add a second layer.
On the other hand, it has a nice ink flow. The ink is also non-acidic, so it stays vibrant for a long time. There is no fading to deal with.
The brushes in this set also come with a soft tip and a hard tip option. I find that ideal because if you are a beginner looking to improve your skills, you can just buy this set and start with the hard tip. Once you become more experienced, you can use the soft tip ones.
All the pens are appropriately labeled. It's easier to find the tip size you want to work with.
It's not a refillable ink kind of pen, which is a disappointment. You would want these kinds of pens to have a refillable ink. However, it is inexpensive and it seems to have a large ink volume.
Pros
Comes with different sizes of nibs
Come with a hard tip and a soft tip option
Affordable set
Great for both beginners and experts
Has labels at the tip
Smooth ink flow
High ink capacity
This is a great choice for both beginners and professionals. Go ahead and check out what else it can offer you.
6. Ohuhu Art Markers
These modern pens for calligraphy are a must-buy for artists. One set comes with 60 different colors to create beautiful letterings. It's the perfect option for the modern-day calligrapher because the pens have tips. One is a fine tip and the other is a brush tip. I find this great for drawing and watercolor art as well.
All 60 markers come in a barrel-style casing. I love this packaging because it's very compact and I can easily fish out the markers that I need. The colors are all beautiful. There are no duplicates but there are some that are close to each other, which can become transitional colors when blending or making gradient art. The caps are color-coded and labelled, so you can easily see the colors that you want to use.
The brush tips are quite flexible. As a beginner, I find this easy to use. It does have a learning curve. You need to get used to the stiffness of the brush but after much practice, creating the strokes that you want is easier.
I like the fluidity of the ink. It's not overly thick, which makes blending a dream. If you are planning on using this for artworks and drawing, you will like the consistency of the ink as well. But like other markers, it needs to be activated. You need to press down the tips and then shake it to ensure that the ink will flow. It might also occasionally need to be shaken if you find the ink flow somewhat obstructed.
The caveat is that some of the colors are not as pigmented as indicated on the caps. It's only just a few colors and I rectified that by just doubling the shading or adding more pressure when writing. Additionally, some of the brush tips come imperfect. You might need to fine-tune the shape of the tip by writing it on paper.
Pros
Great color choices
Flexible tips
Great transitional colors
Easy to remove caps
Can be blended with ease
Cons
Some of the colors are not very vivid
Some of the brush tips are imperfect
All in all, this is a good set of brush lettering pens. It's very versatile and you can do many things
7. Arteza Real Brush Pens
If you are looking for brush lettering pens that come close to the real brush calligraphy pens, you won't be disappointed with this set. This set comes with 48 different colors. I love all the colors included. They are all vivid and saturated. The pens all look elegant and the brush tips are long and uniform. These pens also have a nice and sturdy packaging.
What I appreciate the most from this brand is the brush tip. For a modern calligraphy marker, it has soft and flexible brush nibs made from soft nylon. It allows users to create different strokes and it's also very easy to work with. The set helps do letterings and watercoloring with ease. If you prefer thinner lines, you can angle it so that the edges of the tips don't touch the paper. If you want thicker strokes, you should lean it down more.
The set comes with a colorless blender. The colors blend nicely although I find that if you use too much water, it tends to scatter. A little bit goes a long way. I suggest just misting the paper with water and that will do the trick.
There are times when the ink will not flow well although it's not such a big caveat. You can give it a little shake and the ink will pour out.
It's nontoxic as well. It doesn't have a smell, at least none that I can easily detect. I can even work in poorly-ventilated rooms without worrying that the smell from the ink is too overpowering.
Pros
Closest thing to real calligraphy pens
Vivid colors
Soft nylon brush tips
Comes with a sturdy packaging
Can be used to create watercolor effects
Blends nicely
Cons
The ink sometimes doesn't flow smoothly
These are professional-looking pens. There are not a lot of bad things I can say about these pens. If you are looking for brush pens that are very close to real calligraphy pens, you should set your sights on these ones. It comes complete with everything you need to learn how to do calligraphy. The color options are also superb.
8. Talens Ecoline Brush Pens
If there is a contest for the juiciest pens, the Ecoline brush pen can easily win. Indeed, these pens are juicy. They pack a lot of punch when it comes to ink volume. It has more character as well when it comes to ink quality.
When you lay it down, the first ink that comes out of it is vivid but fades as you finish your strokes. I actually like this effect because it gives the strokes so much more character. It also creates a watercolor-like effect without actually dipping the pen in water.
I love the design of these pens. It's easy to identify the colors. The barrel is thicker than standard markers, so they are actually easier to hold.
On the other hand, the brush nibs are not as beginner-friendly as I hoped. It's particularly trickier to do thin upstrokes. I would say practice will make these brush pens easier to use. Just give yourself more time to adjust to the use of these pens.
Just a warning though – the ink dries up easily, leaving you with not enough time for blending. If you want to blend, you need to work quickly. However, I do like that it sets quickly. I do not have to worry about smearing wet ink all over the paper. When using standard marker paper, it doesn't bleed through. There is some slight ghosting effect on thinner types of paper though.
The color selection of these pens is just right for basic calligraphy and coloring needs. If you are looking for more options, get the set with more pens included. But for those just starting to build their calligraphy pen collection, this should be a good buy.
Pros
Rich and vivid ink
Thicker barrel
Does not easily bleed through
Sets easily
Has a faded effect
Cons
Not the best for beginners
Not ideal for blending
You can't go wrong with these pens. They might be a little bit more difficult to use for beginners but you will eventually get the hang of it. The quality of these pens trumps the slight difficulty of using them.
9. Tombow Pen Dual Brush Markers
While on the hunt for brush markers that can be used for both coloring and calligraphy, I came across this set. It's very affordable, so it wasn't hard to buy it. I was glad I purchased because these are perfect for the purpose I had in mind.
This set comes with 9 different colors and a blender pen. These are dual tip pens. One side is a brush tip and the other side is a fine tip.
Unlike other similar markers with a brush tip, this one doesn't come with a felt tip but a nylon fiber brush tip. I think that comes really close to real calligraphy pens. However, the tips are quite flexible so they are a little tricky to use for beginners. I find that it's easy to make thick strokes. However, if you are transitioning from thin strokes and then going to thick strokes, it can be more difficult.
I do like that it has very vivid colors. If I dip it in water, it dilutes the color a little bit but doesn't take away its vividness. With some markers, once you water down the ink, the color will get washed down. This one remains vibrant. It can be a good alternative to watercolors.
It blends nicely, especially if you dip it in water. The blending pen included does its work. Make sure you clean the blending pen after using it.
I also find the fine tips good for detailing. If you also need markers for sketching, the fine tips of these markers will serve you well.
Pros
Colors are vibrant
Easier to make thick strokes
Creates a pretty watercolor effect.
Easy to blend
Affordable
Dual tips
Cons
Transitioning to thick lines from thin lines can be tricky
Overall, it's a solid set. It has some flaws but those can be easily overlooked by its fine points such as the vividness of the colors and its easy blending abilities. It's a set that you will love to use over and over again even if you have more expensive markers in your arsenal.
10. Aen Art Dual Tip Brush Marker Pens
I've had good experiences with this brand and this set did not disappoint. This set comes with 24 different color options, just right if you are a beginner and you don't really need to have a lot of transitional colors. Everything is pigmented and rich. I did not have issues with broken lines because the ink comes out well.
The ink has a nice consistency. It's not very thick. It's also non-toxic, so there is no need to worry about inhaling toxic fumes from the ink. You can even lend this set to kids or give it to them as a gift.
These pens have dual tips. The brush tip option is firm and is very pointed. I like this for making thin lines. However, when it comes to doing calligraphy, it can be quite difficult to use if you are a beginner. It's harder to control its longer tips.
I can say that these pens are quite sturdy. They have been used often and subjected to a lot of rough usage but they still held up well against damage.
Unfortunately, the ink is quite strong and tends to bleed through paper. I would suggest using a thick kind of paper.
Pros
Very rich colors that last for a long time
Pointed tips for thin lines
Sturdy pens that can withhold rough usage
Ink comes out nicely
Doesn't leak
Cons
Might be more difficult to use because of the long tips
Tendy to bleed through
These markers are great for people on a budget but still need reliable brush tip markers. They are more ideal for coloring and for drawing and not so much for calligraphy but if you are starting to build your calligraphy pen arsenal, they would be a good addition because there are a lot of good color options. It might be more difficult to get the hang of using them but you will eventually get used to them.
11. Art-n-Fly Dual Tip Black Brush Pens
This is a dual-tip pen that is a great choice for modern-day calligraphers. You have two options when it comes to doing calligraphy. One is the long brush tip that is capable of making bold strokes. The other is a thinner end which is better for making upstrokes and correct minor mistakes.
What I noticed right off the bat is how well the ink flows. It has a beautiful consistency. It's not too thick that you will be left with clumps but not too thin either that the ink gets too runny.
The ink lays down beautifully on paper. It has one of the smoothest inks I have ever tried. I did not have issues with streaking. There are also no gaps. Even beginners will find this brush pen easy to use.
Despite how thin the barrel is, it actually holds a lot of ink. It's also easy to hold, so even if you use it for extended periods, it's not tiring on the hands.
On the other hand, the ink tends to oxidize and fade after some time. It's not a dealbreaker but it's definitely worth noting if you are using this pen for professional use.
Pros
Dual tips
Great consistency of ink
Ink flows easily
Writes smoothly on paper
Has a nice ink capacity
Firm brush tips
Easy for beginners to use
Cons
Thinner than standard markers
Ink tends to fade a little
Give this brush pen a try. It has the right features and firmness that you will like in a brush pen. Its ink consistency and quality are some of its best features. It's definitely a value for your money.
12. MisuLove Hand Lettering Pens
I would suggest getting these pens for beginners. If you are not sure what kind of tip to use for your letterings, you can try practicing with these pens instead. This set has 8 pens with different kinds of tip sizes. You can choose the thinner tips for your upstrokes and the brush ones or the thicker nibs for creating thicker letterings.
What I like about this is its smooth ink. It has a good consistency. However, it tends to dry up easily, so if you want to blend, make sure you do it quickly. I do like its quick-drying ability though. That way, it won't get streaky. If you are left-handed, you will not have to worry about smearing wet ink all over the paper.
The ink, once it sets down, doesn't budge. It's waterproof. It can be a good partner for watercolor pens when coloring. If you need to use a black ink but don't want it to get washed down, you should use this first.
It also doesn't bleed easily. I have tried it on different kinds of papers and it did not bleed through. I guess that's because it dries up quickly.
As a beginner, I did not have issues using these pens. The brush tip is more on the medium-firm side, so it is easier to direct where I want it to go.
The only thing that I noticed is that under brighter light, it's not very pigmented. I prefer something more solid. It's not very noticeable but if you want a real black hue, this might be a bit of a letdown.
Pros
Smooth ink that doesn't skip
Comes with different tip sizes
Waterproof
Doesn't bleed easily
Dries up easily
Ideal for beginners
Whether you are a professional or a beginner calligrapher, you will appreciate these pens. The various tip options make them a versatile choice. You can practice different strokes with these pens which are also long-lasting andare easy to control. If you plan on expanding your calligraphy arsenal, you should consider getting MisuLove pens and team it up with
colored marker pens
for a complete collection.
What to Look for When Buying Brush Pens
If you use the following factors as a guide in choosing the right brush pens for lettering, you will not have a hard time picking out the ones that are perfect for your needs.
Permanent versus Water-Soluble Ink
The ink type is an important factor to consider. Some brush pens come with thick and permanent ink. That means the ink will dry up easily and will stay there permanently. An alternative is the water-soluble ink. These are brush pens for watercolor. If you spray a bit of ink or you dip the tip in ink, it has a watercolor effect. These brush pens are perfect if you want a watercolor effect on your art or you are looking for more blending capability.
Also, you need to check whether the pens dispense a good amount of ink without the need to constantly activate the ink. It should dispense uniform amounts of ink so that you won't be left with big globs of ink or have to deal with faded lines and strokes.
Line Consistency
Isn't it annoying when the brush tips can't stay intact? If it spreads out or goes in different directions, it's hard to create clean strokes. This is why you should look for those with uniform tips to make sure they go in the direction that you want them to go.
Level of Brush Nib Firmness
Brush pens come with different kinds of nib material. Some make use of real brush tips with fibers that are soft and flexible. Others come with firmer nibs. They are made from synthetic materials. For beginners, it is better to get those that are more flexible. That way, you have more control over the brush tips. They are also easier to use even for experienced artists and calligraphists.
Size of Nibs
Think about the sizes of brush nibs that you will use when doing calligraphy or art. Do you need thick brush tips? What about thin ones? The thick ones are good for making bold letterings while the thin ones are ideal for adding small details and creating more dimensions.
Replaceable Nibs and Refillable Ink
Ideally, you would want to pick brush pens that have replaceable nibs and refillable ink. The nibs, no matter how durable they are, will still wear off after some time. Rather than buying the entire set again, you can choose a set of brush pens with nibs that can be replaced.
You will also save a lot of money if you get those that come with refillable ink. You need only to buy ink bottles and refills. These brush pens can last for years.
Also, we should consider how much ink it can hold. If the barrel can hold more ink, it saves you so much trouble from having to refill it.
Comfortable Barrel
It is important that the barrel is comfortable to hold. Therefore, you should pick a barrel design that you find the most comfortable. Some people find those with contoured edges more comfortable because they have more surfaces to grip. You should be able to angle the brush pens to your preferences without struggling. Also, kindly remember to go for those that will not cause hand fatigue.
Other Important Factors to Consider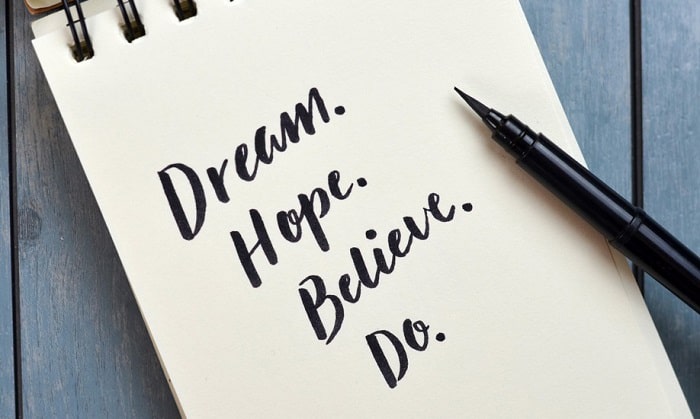 What is a Brush Pen?
A brush pen is similar to a marker or a regular pen. The difference is that it has brush nibs. The nibs can be made from real brush fibers or from a felt material that is made to look like a brush. These brush pens can be used for calligraphy as an alternative to the traditional dip pens. Since they already have ink in their barrel, they are much easier to use.
How Does It Work?
These pens can be used in the same way as regular markers. Simply open the cap and then use the pen directly. There may be some pens with ink that need to be activated. This means you need to press down the tip lightly to allow the ink to flow.
You can angle your hands when you need to do different kinds of strokes. These pens have flexible tips, so they should be able to create different types of strokes and fonts.
Who Is This For?
These pens are for artists and calligraphists. If you are a newbie and you are just beginning to try calligraphy, these pens can be a great option to get used to doing the strokes before you start using the dip style pens. Those can be hard to control for beginners. But with these pens, you have much better control over the pen.
This can also be used for journaling or artwork. You can dip the pen in water to create a watercolor effect. Rather than use a separate brush and watercolor palette, go for a brush pen instead. It's perfect for coloring your drawings, making landscaping art, and doing beautiful calligraphy.
Unlike dip style pens with a limited option for colors, these pens usually come with different color options. There is no limit to what you can do with these pens.
What are the Different Types of Brush Pens?
There are different types of brush pens for coloring and calligraphy when it comes to the materials used. You can choose from natural hair, felt and synthetic bristle. Natural hair pens are usually crafted from animal hair while synthetic bristles are made from fabricated materials such as nylon. Felt tips are usually better for beginners because they are firmer and very similar to regular marker tips. Once your skills advance, you can switch to synthetic or natural hair.
They can also be categorized when it comes to their firmness. You can choose between soft, medium-firm and firm bristles. Felt tips have stiffer properties, so you can have more control over your strokes. Nylon tips that are loosely packed tend to have better flexibility.
Why Do You Need Brush Pens?
Brush pens are indispensable if you love coloring and you love making art. You also need them in your arsenal if you plan on doing a lot of calligraphy. They are easier to bring compared to traditional sets of calligraphy pens since you no longer need to bring bottles of pens. They are more convenient to use.
Frequently Asked Questions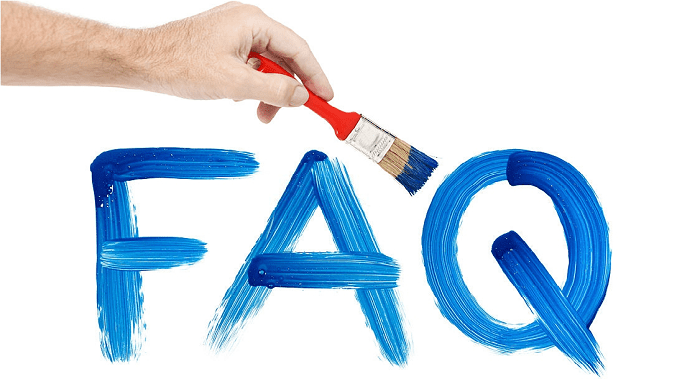 What are the Most Trusted Brush Pen Brands?
You won't have a hard time finding good brands of brush pens because there are a lot of quality options out there that will not break the bank. Try brands like Tombow, Aen Art, Pentel and Ohuhu if you are looking for good brush pens that will not cost a lot of money. If you have more room in your budget, you can go for the more expensive ones such as Copic. They are pricier but you will get your money's worth with their replaceable nibs and refillable ink systems.
What are Brush Pens Good For?
Brush pens are good for calligraphy. Because the brush tips mimic the tips of calligraphy pens, they can copy calligraphy strokes. They can also be used for coloring. You can use them on their own or you can dip them in a little bit of water to create a watercolor effect.
Anyone can use these brush pens. You can also use them for writing and journaling. Also, they can be used for coloring on coloring books or creating letterings on cards. There are so many great uses for these pens.
Are Tombow Brush Pens Worth It?
They are worth the price. What sets a Tombow brush pen apart with others is the versatility of their brush tips. You can find those that come with both a hard tip and a soft tip. If you are a beginner, you can start with the hard tip so you can control the pen better. Once you get used to it, you can switch to the soft tip to create different kinds of strokes.
How Do You Write Calligraphy with Brush Pens?
Beginners can start by printing some guides. You can follow the strokes indicated in these guides, making sure that you angle your brush pens accordingly. Brush pens can be used directly on paper. There is no need to do preparations because the ink will flow right away.
Another technique that you can do is to dip the pen in water. This will water down the ink to create a watercolor effect. You can start writing as soon as you dip it in water. Some people like spraying the paper with some mist and then applying the brush pen directly on the paper. The water droplets will water down the ink. You can spread the ink with a blender or a colorless brush.
Where to Buy?
These markers are available everywhere. They are available in book and stationery stores. You can also easily find them in the art supply aisle in Home Depots and Walmart. If you don't want to go to shops anymore, you can buy them online. Amazon has them in store.
How to Care and Clean?
Remember to place the cap back on. You risk drying the nibs and the ink if you leave it open for too long. Store it in a case to prevent losing them. You can also wipe the barrel clean with tissue paper soaked in a little bit of alcohol to remove ink residues.
Conclusion
Finding the best brush pens doesn't have to be difficult. You can start with the above-mentioned brush pens. Try different brands because you never know what really works for you if you don't give them a try. Keep honing your craft. You might not be an expert in calligraphy and drawing right now but if you keep using your tools and you try different techniques, you will eventually improve your skills.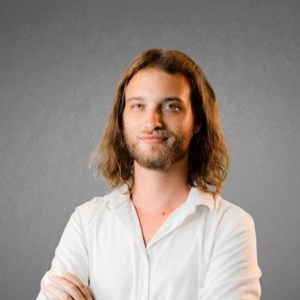 I am a former art teacher, so it is evident to me the importance of art in educating the new generation. We also want to help parents who plan to teach their children and desire the best tools and tips for them.