Colored markers are handy during meetings and presentations. I could just stick to the plain black pens, but colored ones effectively highlight points and draw attention. Plus, they are more satisfying to use as they are the perfect way to kill dullness in the office.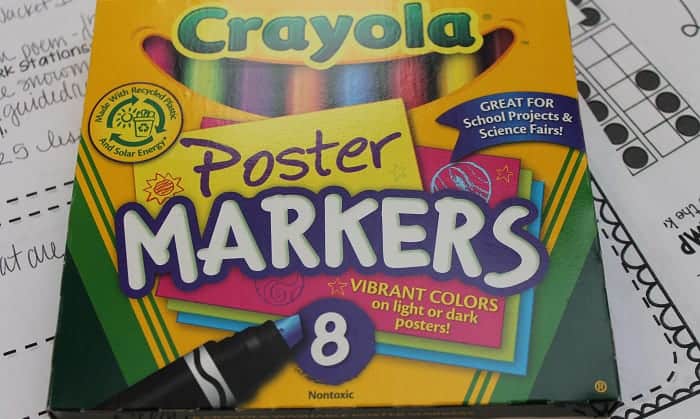 Arts and crafts enthusiasts may ask, "do markers work on poster boards?" Of course, they do! Numerous art pens cater to this purpose, with colors designed to be more outstanding and long-lasting.
So, here are my reviews and buying guides on the best markers for poster boards, as I would be glad to share some of my experiences with different brands.
Best Marker for Poster Board Reviews
1. Sharpie 38250PP Permanent Markers
Sharpie is one of the best ways to start with when it comes to reliable brands for markers, pens, and highlighters. The classic seller is the Sharpie Chisel Tip Permanent Markers that come in eight colors: Red, Orange, Lime, Green, Blue, Turquoise, Purple, and Black.
This set is worth the price for its multi-purpose poster markers. Firstly, the chisel tip draws more than one way. In detail, its pointed end is ideal for detailing or writing, while the broad tip offers wider coverage. You can draw strokes of different weights depending on the tilt of your hand.
Secondly, the ink is generous, making every color pigmented right at the first swatch. Similarly, the application is smooth and easy. While the spectrum of colored caps is already impressive, wait until the pens actually touch the poster board. The results are clean lines and strong colors. Best of all, the ink is resistant to fading and smudges, ensuring long-lasting brilliance of shades.
The versatility of these art markers is tested. Aside from poster board, they work well on different materials such as plastic and metal. This way, they are helpful with any kind of work, such as writing labels or marking surfaces.
However, the application of these materials will take time to dry. This is because they are non-porous; hence absorption of ink takes longer. Eventually, it will dry and come out nice on the surface.
Pros
Multi-purpose chisel tip
Pigmented, long-lasting colors from red to purple
Resistant to fading and smudges
Can be written permanently on different surfaces
Cons
Drying on non-paper materials takes a longer time
Overall, this pack is a basic choice with exceptional performance. We can create wonderful visuals of different colors and details all in one marker.
2. Crayola XL Poster Markers
Another go-to brand for markers is Crayola. We loved and enjoyed it for its crayons when we were kids. As adults or college students with demanding hours of notes and write-ups, we can still experience the joys of colors with the Crayola XL Poster Markers.
It does not lie when it says it's made for people from six years old and up. From the cute packaging to its bold colors, these pens suit all tastes of different generations.
This bundle is suitable for children. As advertised, it has extra-large poster markers, making them comfortable to grip with their tiny hands. Moreover, the chisel tips are wider than ordinary ones. Kids will surely love scribbling with them given their enthusiasm towards drawing or coloring big pictures.
Better yet, these markers are made with a safe and non-toxic formulation. It is also washable from skin and clothing. Parents won't need to worry about messy hands and surfaces because the ink can be removed instantly.
This set comes in four colors of Black, Green, Blue, and Red. At work, these classic colors are just the right tones that will make you and your presentations sharper while keeping things professional. The casing design may be a bit childish for corporate use. Then again, for young people at heart, these board markers are just right in sprinkling a little amusement at the office.
Other users commented that these are a bit big. We should remember that this is Crayola – an art supplies company that was originally catered to kids. It only fits for them to be jumbo poster markers. Even so, you would still adore them for their charming packaging that is reminiscent of childhood.
Pros
Comes in four basic colors
Easy to use and non-toxic for kids
Wide chisel tip creating thick and bold lines
Suits the tastes of different generations
Cons
A bit oversized for adults
In general, I highly recommend this collection for all ages. Whether it be for science projects or business meetings, it will outstandingly serve its purpose with a hint of fun.
3. ArtSkills Bright Poster Markers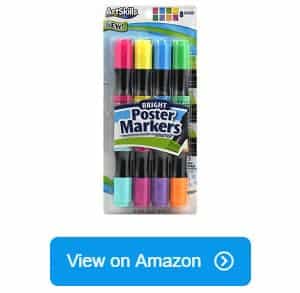 Make your whole art process fun with the ArtSkills Bright Poster Markers. It is composed of four dual-tipped colored pens with eight vivid colors. Yes, you read it right: you get more shades in just a small pack.
This bundle is one of its kind. It is the only product on this list with dual-toned pens. As mentioned, it has eight shades: Pink, Orange, Yellow, Green, Blue, Magenta, Teal, and Purple. This means that one pen has two sets of colors found at each end.
Because of this, the poster markers are convenient to use and organize. Instead of searching over a big stack to switch colors, you can just turn them over, or look through a smaller pile of pens. As a kid or a grown-up, the novelty of flipping over a marker is unmatched.
This collection embraces creativity. On top of its brilliant range of colors, the wide-angled tip allows flexibility. You can draw thick strokes with the flat side and thin ones using its fine point.
What I also love about this brand is its advocacy for children. As a family-owned and operated company, ArtSkills donates a portion of its sales to the Kids In Need Foundation. It is rewarding to know that we contribute to this charity every time we buy a product from the company.
On the downside, it may be a little tricky to use the angled tip. The same goes for other brands since most markers have a chisel nib. You'll eventually get used to it with a little practice.
Pros
Comes with eight bright colors in just four marker sets
Easy to store and arrange due to a compact pack
Dual-tipped for different strokes written
Contributes to the Kids In Need Foundation with every purchase
Cons
Angled tip may be tricky to use
Ultimately, your designs will be endless with varying colors and flexible tip. Moreover, your purchase will be appreciated by children in need.
4. Mr. Sketch Scented Washable Markers
Create illustrations of tropical colors and fruity aromas with the Mr. Sketch Scented Washable Markers. This set has 14 water-based pens with a wonderful range of vivid and flavorful shades that will stir your imagination.
This brand is one of a kind. It is known for manufacturing poster markers of sweet smells. This set is a classic composed of core colors with distinct scents, including Pink Watermelon, Yellow Banana, Purple Grape, and Black Licorice. They remind me of Charlie and the Chocolate Factory, where everything is made of edible chocolate and candy. Sadly, these aren't.
The colors are also captivating. The ink is water-based, which makes them safe on hands and clothing. Its application is smooth, with minimal bleeding. While the ink has a lighter consistency, the shades still turn out as fun as their unique scents. You could almost taste their stunning shades!
If you loved this product, there are more Mr. Sketch colors and scents to choose from. It offers Ice Cream, Movie Night, and Holidays. Collect all marker sets to expand your colorful world of food flavors.
Children will surely enjoy these thick markers for posters because they cater to their use. They have a wide barrel for easy handling, and their chisel tip is also versatile for coloring wide areas and drawing thinner lines. What's more, the ink has a safe formulation, so it is non-hazardous on the skin.
While the ink is washable from fabric, you may need to repeat cleaning stained clothes to remove it entirely. Take note that these pens should be stored away from surfaces that cannot be washable such as wood and wallpapers.
Pros
Good range of fruit-scented paint markers
Water-based, washable, and non-hazardous ink
Smooth and rich color application with minimal bleeding
Thick barrel and versatile tip for kid's use
Cons
Repeat washing of stained clothes may be needed
Nonetheless, this product is one of the
best markers for poster board
. The irresistible colors and a hint of fresh fruit scents will keep your imaginative mind inspired!
5. Sharpie Flip Chart Markers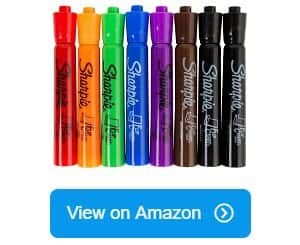 For professionals who want to up their presentations, opt for the Sharpie Flip Chart Markers. This pack has seven water-based colored pens that will improve your visuals and impress your boss and workmates.
The shades of poster markers are impressive as any product from this brand. The ink flow is generous with bold colors that would make any poster pop out even from a distance. It is only reasonable that Sharpies has become a household name to refer to pens and highlighters.
What makes them different from the first Sharpie mentioned earlier are its tips. While the classic permanent markers have chisel ends, they have bullet tips for detailed and precise lines. Users will find this easier to use when writing or journaling.
Since the ink has a water-based solution, the shades do not bleed on paper, much more on poster board. It also glides smoothly on the surface, making handwritings neat and orderly. Designed for flip charts, it lives up to its name of creating and maintaining clean lines both at the front and back of papers.
Moreover, the odor is minimal, unlike some alcohol-based markers. The bullet tip is also designed to avoid squeaking as you write. These features make them a suitable writing tool in schools where silence and cleanliness are always observed.
A minor drawback is the caps, which I find a little difficult to remove. They're sealed tightly, so you need a bit of extra effort to pull them out. Nevertheless, this only means that they are secured well; hence the tip and ink will not dry easily.
Pros
Ink flow with generous, bold colors
Water-based, low-odor ink for safe and convenient use
Will not bleed on paper
Glides smoothly on the surface, making handwritings neat
Bullet tip draws detailed and precise lines
Cons
Caps are a bit hard to remove
All in all, these sharpie poster markers are ideal for professionals. They are effective writing tools that will add clean colors and style to your presentations.
6. Crayola Washable Poster Markers
The next item is for artists struggling to search for the perfect markers for black poster board. Expand your collection with the Crayola Washable Poster Markers. It is a pack of eight colored pens that strikingly works well even on dark poster boards.
In terms of colors and application, these board markers are equally remarkable as the classic permanent markers. They have dense and vivid tones that can brighten up any drawing art.
Notably, the shades also last on the medium right at first swipe. Similarly, they have a chisel tip that provides flexibility for coloring and detailing.
An exceptional feature is its applicability on dark-colored poster boards. I'm sure we have shared moments when we were kids of wanting to draw a scene at night or in outer space. Unfortunately, we could not do so before because the colors will not be visible. Children today are lucky because they can get a hand on this palette and use them to draw stars and planets on a dark sky accurately.
The environmental advocacy of the company is admirable. As shared on the box packaging, Crayola conducts initiatives to save energy and minimize waste from its products. Its efforts include tree planting, recycling, and the use of renewable sources. Brands like this are worth supporting.
As much as I adore the colors, it's a bit disappointing that the ink runs out fast. This must be because they are initially made for children and their small, cute doodles. Since this bundle works on opaque surfaces, I suggest saving them for drawing on dark poster boards.
Pros
Dense and vivid colors for brightening artwork
Shades lasts on the medium right at first swipe
Chisel tip creates both broad and fine strokes
Applicable on light and dark poster boards
Comes from an environmentally responsible company
Nonetheless, I would purchase these crayola poster markers again without hesitation, and you should, too! You can further experiment on drawing on a darker medium and improve your art skills with them.
7. Avery Marks-A-lot Desk-Style Marker
If you're looking for multi-purpose markers, then the next product is for you. The Avery Marks-A-lot Desk-Style Marker Set is a collection of all-around colored pens suitable for work, home, or school.
This product has 12 desk-style markers with eight basic colors. In comparison to other desk-style markers, they contain more ink, thus lasting longer. Moreover, this pack is equipped with extra black, red, and blue shades, which are commonly used for presentations. You won't need to worry about running out of ink.
I have to add that the ink astonishingly lasts long. I once forgot to put the cap back on one of my markers for an hour. Surprisingly, it still works. I just had to swatch a bit to recover the little areas that dried out.
Similar to most poster markers, they have a chisel tip for drawing lines of different widths. An improved feature is its pressure resistance, meaning the durable tip can withstand regular use without deteriorating its quality.
Because of this, we can use the markers on many surfaces, whether smooth or rough. These include paper, board, wood, metal, plastic, ceramic, and more. It is a practical option that can be used for arts and crafts projects or naming containers and folders.
These board markers are perfect for labeling because the ink is resistant to water and wear. It is beneficial for outdoor use where materials will be exposed to natural elements such as sunlight and rain. It is indeed an all-around choice for everyday use.
Notably, these pieces are non-toxic and without an unpleasant odor. It is qualified by ACMI and ASTM D4236 for its safe formula. So you can rest assured that the markers are suitable for use around kids.
A minor inconvenience is the need to reapply the ink on rough surfaces. This is only normal because they are textured or uneven. You will need to add more pressure and spend a few seconds to reveal a full color on the material. It's a good thing the markers are equipped with a sturdy tip and plenty of ink.
Pros
Contains more ink than ordinary desk-style art pens
Equipped with extra poster markers
Durable chisel tip withstanding pressure without damaging
Works on both smooth and rough surfaces
Endures water and wear well
Qualified by ACMI and ASTM D4236 for its non-toxic and odor-free formula
Cons
Need to reapply on rough surfaces
All in all, this collection is a practical alternative. They are multi-purpose markers with long-lasting ink and colors that can withstand water and fading.
8. BIC Intensity Metallic Permanent Marker
I'm ending this incredible list with sparkles and flair. Add drama and personality to your art with the BIC Intensity Metallic Permanent Markers. Its pretty glitters will leave your creation and audience bedazzled.
This set of eight poster markers is a variety of glistening shades. Named after gemstones and metals, the luminous colors range from Emerald Green, Pink Topaz, Yellow Gold to Platinum Silver. You won't get enough of its lovely metallic palette!
The colors really pop on black poster boards. They already look good on light-colored materials, but the glitters shine better on dark ones. Nothing is stopping you anymore from expanding your craft.
Besides, the board markers guarantee comfort and convenience. The barrel is equipped with soft rubber for a relaxed and controlled grip. Notably, their caps match the actual colors, and they tightly snap on the casing to prevent the quick drying of the tip and ink.
I usually choose these when I want to give an extra and detailed feel to my lettering. They have a sturdy fine tip, which is ideal for intricate styles. I've had my own set for years, and they still work great as the first time I bought them.
A problem with this collection is the mess. Even if you try to keep things clean, you will still find glitters smeared on your arms and other surfaces, especially if you write on smooth materials. This is unavoidable, but it's best to let the ink settle once you finish before moving your art around.
Pros
Bold & sparkly colors: Emerald Green, Pink Topaz, Yellow Gold, Platinum Silver,
Metallic shades pop on dark poster boards
Soft rubber on the barrel for a comfortable grip
Tight cap to prevent drying out
Cons
Glitters spread on other surfaces
To conclude, this bundle is the perfect way to touch up your art. It will elevate your designs and keep them glowing the whole time.
What to Look for When Buying Markers for Poster Board
The markers mentioned above are some of the best markers for posters that I invested in. All of them are worthy investments, but your conscience and budget might be telling you to stick to a few first. Then again, everything is a must-have!
I got my markers from Amazon or Walmart. They are convenient online shops with amazing deals and discounts. But if you still want to prioritize your shopping list, then these are three helpful buying guides:
Pen sets have varying color ranges from 4 to 12 tones. For writing or highlighting points, a small pack will suffice. But for full coverage of posters, we should opt for a bigger palette. Ultimately, your purpose of use will affect your selection.
Markers usually have two types of tips: either chisel or fine. An angled chisel tip offers more flexibility and variation to the width of strokes. However, some people find it tricky to get accustomed to.
A fine or pointed tip might be a safe choice when you want even or controlled strokes, mainly when writing. On the other hand, your styles might be limited to them.
As previously stated, this factor will affect your final decision. These include the decisions on coloring or detailing; rough or smooth surface; light or dark poster boards; classrooms or office use; and plain or glitter pens. I've already discussed the pros and cons of each pen above. These will help narrow down your top choices.
Conclusion
I hope my product reviews and buying guides on the best markers for poster board cleared your minds. I am confident that you will love whatever you pick from this list. Better yet, get various pens because they have unique shades that will serve your different needs.
Every set in this post has incredible colors. If you spend enough time with your markers, you will create a bond and the best kind of artwork you can. Dare to explore and express yourselves with these poster markers!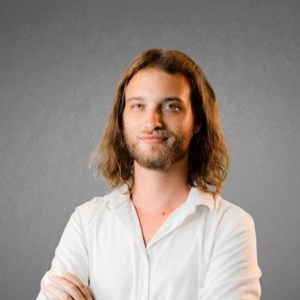 I am a former art teacher, so it is evident to me the importance of art in educating the new generation. We also want to help parents who plan to teach their children and desire the best tools and tips for them.