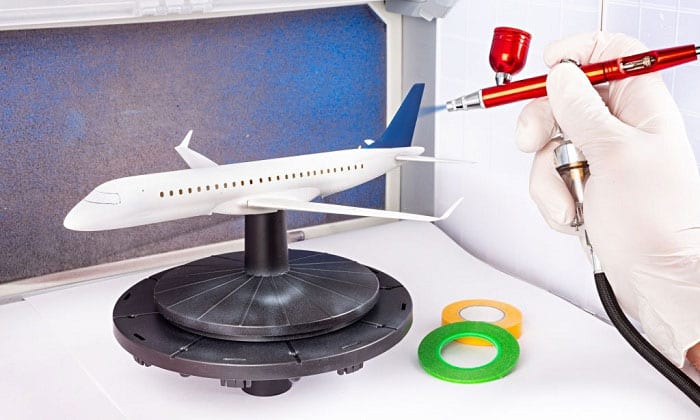 Many artists resort to airbrush painting to achieve smooth and sleek paint coverage. This painting technique is incredibly versatile, allowing you to work on various surfaces whether it is for miniature models or large artistic projects.
If you are going to try your hand at this, there are two things you must have: a respirator mask and an open space or a well-ventilated area to deter the inhalation of paint particles and fumes. But what if you have everything you need except for a suitable workspace for all your airbrush painting sessions? It is probably time to find the best airbrush spray booth.
An airbrush box or paint booth is typically portable and innovatively designed to provide an ideal space for airbrushing. Therefore, it is imperative to sift through the key features, such as ventilation, size or capacity, and lighting.
Eye and nose irritation and other health issues may occur if you are exposed to fumes and paint particles for extended periods. Thus, proper ventilation is a must when buying an airbrush booth, especially when you have a small workspace or studio.
Speaking of your airbrushing studio, you need to determine whether it can accommodate a large booth or compact airbrush booth. Hence, it is a significant factor to consider the size or capacity of the product you are buying. Fortunately, a lot of brands offer different booth sizes, allowing you to choose the most suitable unit size for your space.
In an enclosed box or space, such as an airbrushing booth, lighting makes a lot of difference. Much more so when rendering and polishing intricate details on miniatures. Good thing many paint booths feature LED lights that provide optimum lighting, letting you work more comfortably anytime. You will probably just have to compare the lighting capacity according to the level of brightness you prefer.
Apart from these primary features, there are other fundamental factors to consider when looking for a spray booth for models and miniatures. This article will unravel them as well as list best-selling products and their reviews to help you narrow down your choices.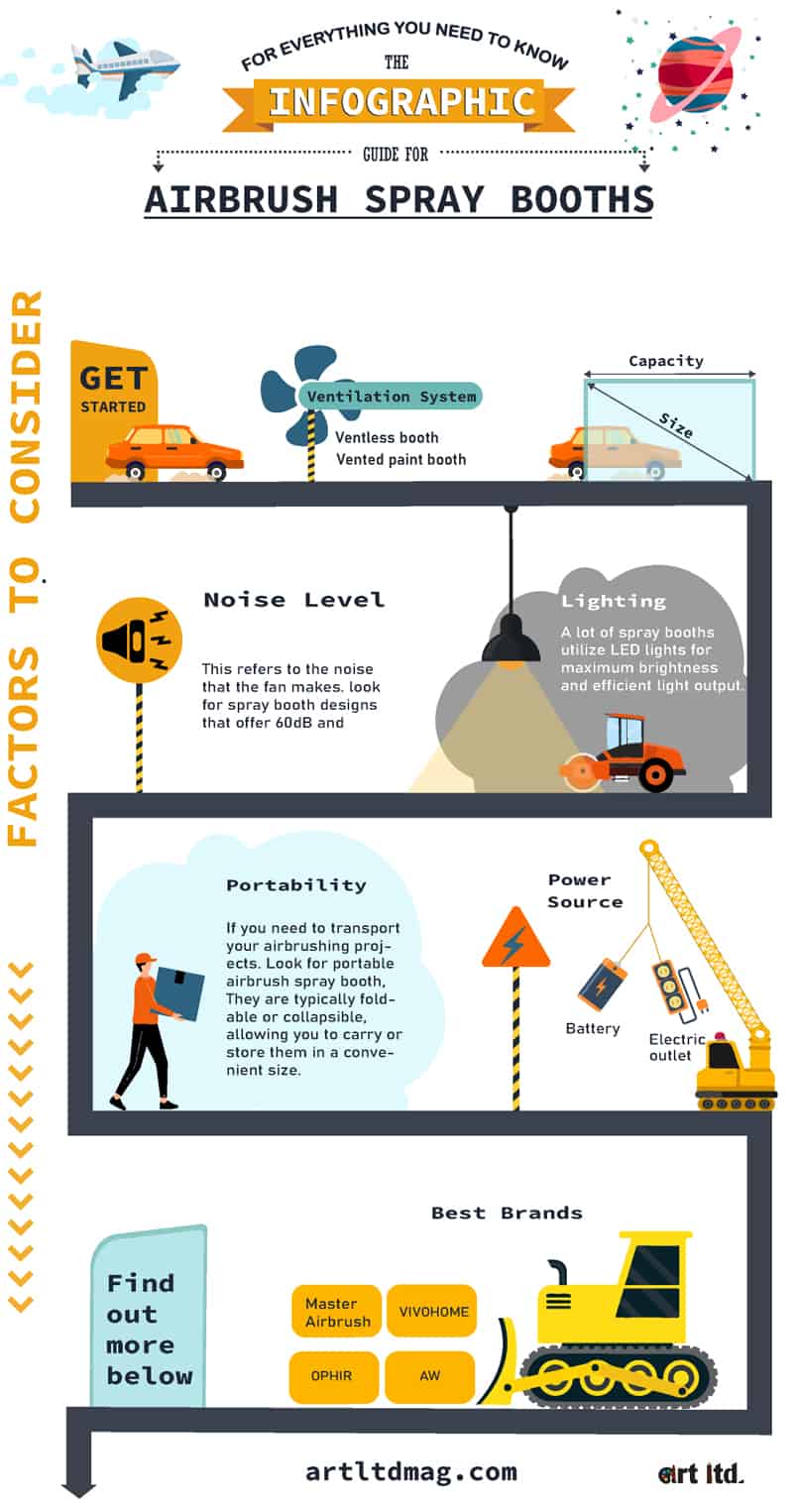 Top 11 Airbrush Spray Booth Reviews
1. Master Airbrush Portable Airbrush Spray Booth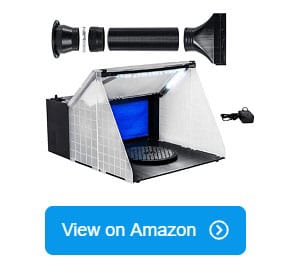 When it comes to convenient size and storage, this Master Airbrush portable airbrush spray booth is definitely a favorite. It features a compact design and folds into a suitcase, allowing you to store and carry it around easily. Plus, it is lightweight and has a handle for hassle-free transport.
With such an innovative design, I recommend this airbrush booth for artists or painters who need to set up their paint booth in different places. Although it is compact, it provides sufficient space for painting miniatures and various arts and crafts.
Above all that, this unit highlights its ventilation system that utilizes a 12V DC motor, enabling the fan to function with optimum power. Since it uses electricity, it can operate smoothly without worrying about batteries running empty.
Aside from that, it comes with a 6-foot extension hose that you can set up near the window to exhaust all the paint fumes. The extension hose is flexible and rigid, letting you shape or arrange it to your preferred angle. This is quite useful, especially if you have limited space.
If you sift through the booth's structure, it boasts a 2-layer high-density fiberglass booth filter to collect paint particles efficiently. So far, I have found the filters very effective in clearing out the paint particles.
One more thing, I like how it operates quietly, allowing you to work at any time of the day without waking up or disturbing others. As it runs at only 47 dB, this unit is relatively quieter than other spray booths.
Furthermore, this airbrush box comes with three powerful and extremely bright LED lights. However, the lights look very blue rather than white, making it difficult to determine the airbrushing progress between different colors.
Pros
Folds into a suitcase for easy transport and storage
Has ideal size and capacity for miniatures
Has 2-layer thick fiberglass filters that collect paint particles
Has a motorized fan and an extension hose for optimum ventilation
Operates quietly
Cons
The LED lights give off blue colors that make it a little hard to render colors
Despite that, this is still an excellent portable airbrush booth. It is easy to assemble and offers an ample ventilation and filtration system, providing a suitable area for airbrushing.
2. VIVOHOME VH496 Portable Airbrush Paint Booth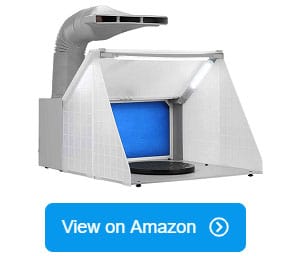 As I was browsing through airbrush spray booth reviews, I found that this unit from VIVOHOME is one of the best designs for compact paint booths. I must say that there are a lot of similarities between this booth and the one from Master Airbrush.
Both types are foldable; they convert into a suitcase for convenient transportation and storage. The only difference I noticed is that this unit is relatively smaller. Therefore, it is ideal for small spaces or apartments.
Aside from that, the 14-inch depth renders ample room to work on various projects, particularly miniatures. Thanks to its ventilation system, you can spruce up your working space without worrying about harmful fumes and paint particles.
In addition to that, the ventilation is backed by a 12V DC motor that bolsters the inner fan for efficient power. This expels airbrushing fumes, especially when you are in an enclosed area. The flexible extension hose can easily be connected with just an inch of a window or door gap.
Another impressive feature is the pre-assembled 2-layer blue fiberglass filter sponge that collects all the particles as well as the absorption of oil fumes. Therefore, you can have a cleaner and healthier space when airbrushing.
No one also wants to work in the dark. That is why the three built-in LED lights lend a well-lit area, allowing you to see your models much clearer. Plus, you can place your miniatures or models on the revolving turntable for even paint distribution.
Contrary to the Master Airbrush spray booth, this unit produces white LED lights, making it a lot easier to check uneven patches and identify the colors applied.
Everything seems to be impressive except for the noise level. It should run quietly at 47 dB but it does not seem that way. It is louder than expected.
Pros
Compact and portable design that fits in small spaces
Provides ample ventilation that expels p[aint fumes
Features a 2-layer blue fiberglass filter sponge that collects particles and oils
Designed with three built-in LED lights for excellent lighting
Easy to set up
Overall, this airbrush spray booth kit lets you paint safely and effectively. It also features a portable and compact design, perfect for limited working spaces.
3. OPHIR Super Power Airbrush Spray Booth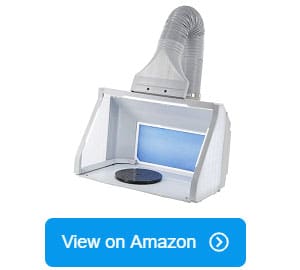 Larger models require larger working space. With that said, I am glad that this OPHIR airbrush spray paint booth is big and wide enough to accommodate miniatures and bigger models.
Although the size is relatively larger than other brands, this booth is innovatively designed to be portable. It is foldable and converts into a compact and handy size for effortless storage and transport.
One of the impressive features of this booth is the dual-mode option for power and LED lights. You can choose between low and high settings to optimize the unit's function as well as its efficiency.
Since the volume of paint applications may vary, this unit highlights a ventilation system that allows you to switch between one or two fans. Whether you are working with large or small airbrushing projects, this spray booth keeps the particles and vapors away from your work environment.
It includes a flexible exhaust hose that can extend up to 67 inches or 5.6 feet. Impressively, the assembly is hassle-free; you can simply connect the hose to a small window or a door gap.
The filter also helps with the ventilation, capturing the paint particles from the booth. Mind you, it is not washable like many other spray booth filters. But the good news is the filter is replaceable and the replacements are very accessible.
One more thing I love is the adjustable lighting, which some airbrush booths do not have. This booth is built with LED lights; there is one panel at the top and two on both sides. Although they emit bright white light, you can switch the brightness level to a low setting.
However, the 53dB noise level might not be appealing for some users. Just some heads up, this unit is a bit loud. Because the size is wide and big, it may consume more space in your room too.
Pros
Has adjustable light and power settings for efficient function
Has a large size and capacity that can accommodate larger models
Has a powerful motor for maximum ventilation
Has a filter that captures paint particles
Collapsible and portable
Cons
A bit loud
May consume too much space because of its big size
Nevertheless, the amazing features of this large airbrush spray booth outweigh the aforementioned setbacks. Unlike other paint booths, this one stands out for its adjustable power and light settings, capacity, as well as effective ventilation design.
4. AW LED Light Portable Airbrush Spray Booth
If it is all about super quick and easy assembly, the first airbrush hobby paint booth that comes to mind is this item from AW. With that said, beginners can spend more time painting rather than setting up the booth.
Its foldable design lets you set up an airbrush studio with quick folds. Afterward, you can fold it into a carrying case whenever you need to move places.
Although it shifts into a compact and portable design, it unfolds into a spacious workplace. Therefore, you can use it for airbrushing miniatures, various models, and even decorating cakes or customizing shirts.
Thanks to the three built-in LED lights, you can revel in clear visibility under sufficient lighting. Moreover, the revolving turntable serves as a platform for the models, allowing you to paint all areas for smooth paint distribution.
When it comes to the ventilation, I must say that this unit is strong enough to reduce paint fumes and particles, stabilizing airflow for a healthier work environment. It comes with an exhaust extension hose that stretches up to 67-inch long.
Furthermore, the noise level is 47 dB, it does make noise but not too loud to wake others around in the middle of the night or early in the morning.
But guess what? This kit includes a 0.3mm airbrush streamlined with a dual-action trigger for maximum control. The nickel-plated copper material also makes it durable and resistant to corrosion. My only issue is the stability of the extension hose. You might need to
use duct tape
to keep it from moving.
Pros
Quick and easy to assemble
Has a foldable design for maximum portability
Built with a powerful fan for ample ventilation
Designed with bright LED strips for sufficient lighting
Provides a spacious room to accommodate miniatures and different model sizes
Cons
The hose is not steady sometimes
If you have just started with airbrushing and spray booths, I suggest going for this kit. Besides the airbrush, this set offers trouble-free assembly and a portable design for a pop-up airbrush studio anywhere you go.
5. Master Airbrush MAS B550LK Airbrush Spray Booth
This Master Airbrush portable model spray booth boasts an extra-large dual-fan motor that provides sufficient power for ventilation and filtration. Fortunately, this unit does not disappoint and fully exhausts paint fumes through the tube. Moreover, you can simply connect the tube to a window or door gap and you are all good.
To ramp up the ventilation and air filtration, this spray booth has a 2-layer high-density fiberglass filter. It sifts through paint particles, leaving a healthy workspace without any strong smell and harmful elements from an airbrush.
If you need an airbrush spray booth with light fixtures, this item features three LED lamps that give off bright white light. They lend optimum lighting, allowing you to see your work clearly and determine various color mixtures.
In terms of size and capacity, I must say that it has the ideal size for offices, apartments, or studios with limited spaces. This airbrush paint booth is compact enough to fit in dainty spaces. Moreover, it folds into a suitcase and can be easily carried when you travel or move places.
Since it has two fans running, I was worried about the noise it would make. Surprisingly, it was not as loud as I thought it would be. Running at only 47 dB, it operates quietly, letting you work with ease for extended periods.
Overall, this is a decent spray booth for beginners and experienced artists. But just a heads up, it is a bit expensive.
Pros
Designed with a dual-fan motor for sufficient power and ventilation
Offers a foldable and compact design for enhanced portability
Built with three LED tubes for bright lighting
Has a 2-layer fiberglass filter to collect paint particles and dust
For airbrush painters that demand effortless results, this spray booth offers features that will do the job. It is portable, easy to set up, and powerful for hassle-free and consistent airbrushing.
6. T TOGUSH Professional Airbrush Spray Booth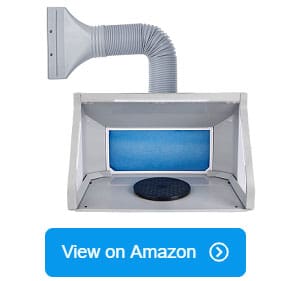 This T TOGUSH airbrush spray booth is a merge of superb power and large capacity. Backed by dual fans, this model paint booth ensures strong suction every time you are painting, providing optimum ventilation for a healthier working area.
It includes an exhaust extension hose that can stretch up to 6 feet. Impressively, assembly is no trouble. Thanks to its flexible design, you can just set up the hose through a window or door hole.
The blue filter sponge bolsters the efficiency of the unit's ventilation system. It can absorb any particles and paint fumes during the painting process, allowing you to revel in a healthy environment and purified air.
In case you prefer a low motor setting, this booth lets you adjust it. You can easily switch between low and high settings for optimized motor function. Hence, you can opt for a low setting and run a single fan or otherwise for dual fans.
Furthermore, this product highlights its large capacity, similar to the OPHIR airbrush spray booth. It is big and wide, making it suitable for painting large models and artistic crafts. Although it is relatively larger than other model booths, it is still portable.
The lighting is sufficient with its three built-in LED tubes. In this way, you can spruce up the brightness in your working area, letting you paint complex details and apply different colors without any hassle.
Moreover, it comes with a rotating turntable that facilitates painting sessions. Thus, you can paint your miniatures and models in multiple angles and sides.
Here is a caveat: if you need a whisper-quiet spray booth, this booth might not be the ideal pick. It is significantly loud when it operates.
Pros
Offers large capacity that lends enough space for various model sizes
Engineered with dual fans for maximum power
Has a blue filter sponge that collects any particles
Designed with LED lights for a clear and bright workspace
Portable
Cons
It is loud when being used
This spray booth for model painting is all about powerful performance and substantial capacity. It can accommodate models of different sizes while providing ample ventilation for a healthier working environment.
7. Master Airbrush Portable Hobby Airbrush Spray Booth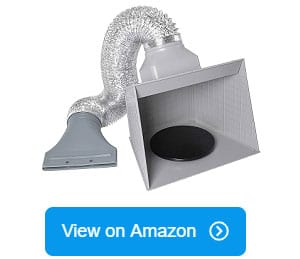 As I was searching for a small paint booth for cramped working spaces, I came across this Master airbrush spray booth review that I know would fit just perfectly. I am glad that it does not compromise its features when it comes to ventilation.
Amazingly, this booth utilizes a 28-watt exhaust fan that operates efficiently to expel paint particles and vapor away from your painting area. Apart from that, it comes with an extension exhaust hose that expands up to 7 feet. For a compact spray booth, this is relatively longer than other ventilation tubes.
Therefore, there is no trouble locating an ideal spot for ventilation, such as a mini window or door opening. On the top side, a fiberglass filter collects paint particles and fumes to purify the air in your room.
Besides that, it consists of a single LED lighting, bright enough to illuminate this dainty tabletop spray booth. In addition, it has a revolving turntable to paint your miniatures on all angles and sides for smooth and efficient paint distribution.
This booth requires some assembly. Although it is not foldable like other model booths, installation is not difficult. The parts are detachable and can be quickly put together or disassembled for convenient storage. Setting it up is effortless, making it an ideal pick for beginners.
However, there are some drawbacks with this unit. It is incredibly loud and there are no separate buttons for the fan and the light. Therefore, the light turns on and off only when the fan does.
Pros
Features a straightforward and convenient design ideal for beginners
Has built-in fan and a fiberglass filter to exhaust paint fumes and particles
Has an LED light for ample lighting
Includes a revolving turntable for even paint applications
Cons
Incredibly loud
Lights and fans cannot be operated separately
It is one of the straightforward hobby spray booths that promotes simple, fast, and useful features for airbrushing indoors. It can be pretty loud but it does a great job filtering fumes and particles from paint.
8. TUFFIOM Airbrush Spray Booth
This sleek and stylish TUFFIOM airbrush cabinet is more than just its aesthetic features and solid quality. It showcases customizable light and airflow level settings to provide ideal brightness and ventilation according to your needs.
These features are pretty impressive since it is not always easy to find an airbrush ventilation booth with variable settings. This unit has a dual fan extractor that expels dust and other harmful compounds when airbrushing. It features a knob to adjust the airflow level.
The fiberglass filter also helps with the ventilation, bolstering the booth's ability to reduce particles and other elements during painting sessions. Besides that, this unit has a 6-foot expandable exhaust hose to use as a ventilation outlet.
In addition to the booth's attractive soft blue color, it has built-in LED lights for a bright and clear working space. Included is a revolving turntable that you can spin to paint all sides of your miniatures and models.
Another superb feature is the adjustable light settings. Unlike other airbrush booths that have fixed brightness levels, this product does otherwise. You can modify the settings to achieve the brightness level you want.
Moreover, the capacity is very spacious. Whether it is for miniatures or larger models and artistic crafts, there is enough space for airbrushing. The booth might be big but the foldable design makes it more portable for effortless transport and storage.
In terms of noise level, it is surprisingly quiet at a 53dB rating. I do not have major issues with this one although I guess the size could be a problem for those with limited working spaces.
Pros
Highlights adjustable settings for brightness and ventilation power
Has LED lights to illuminate the airbrush box
Foldable design for easy storage and transport
Designed with a fiberglass filter to sift through harmful paint particles
Quiet operation
Cons
Not ideal for small spaces
Nonetheless, this is an excellent spray booth that can deliver amazing results. Besides the appealing exterior features, it stands out for its reliable ventilation, sturdy structure, and customizable settings.
9. Paasche HSSB-16-13 Hobby Spray Booth
For an expandable desktop paint booth, I found this unit from Paasche among the best ones out there. Setting up is hassle-free; therefore, you can always purchase another booth to maximize the size and capacity.
However, the booth itself is simple and dependable for airbrush painting sessions. It regulates air circulation with its powerful fan, allowing you to work comfortably every time. Although this unit does not come with an extension exhaust hose, it has an exhaust hook-up to attach a hose to it.
Delving into its ventilation properties, the blue fiberglass filter does a great job collecting paint particles and reducing fumes. Besides that, it features a stand for your models and miniatures.
It is nice that the booth has sufficient capacity to accommodate different model sizes. But if you need to put it away or take it to another place, it folds seamlessly into a suitcase. The handle makes it a lot easier to carry it around. It shifts into a compact and portable size. Thus, storage is not a problem.
When it comes to the noise level, it runs at 47dB, which is quiet enough to keep others around from waking up. Night owls and morning painters can go on with their projects at any time of the day without causing too much disturbance.
It is just a little disappointing that LED lights are not included. However, the walls are white and clear, attracting natural light or external lamps to provide enough lighting when painting.
Pros
Designed with an exhaust fan that stabilizes airflow
Has a blue fiberglass filter that expels paint dust and fumes
Very easy to set up
Has an expandable design
Has a foldable and portable design
Operates at a low noise level
Cons
No LED lights
Extension exhaust hose not included
Although some features are missing in this booth, I still recommend this if you are after the basic features or just starting with airbrushing. It is easy to set up and does what it is supposed to in terms of adequate ventilation.
10. T TOGUSH Airbrush Spray Booth
The best thing about adjustable settings is getting everything personalized. That is how it is using this T TOGUSH airbrush spray booth.
Since it has double fans, you can decide whether to use it to the maximum power, especially if you are dealing with large volumes of paint. Otherwise, you can opt for a low setting or use one fan only.
Impressively, both settings deliver efficient power for excellent ventilation. It includes an exhaust tube to drive all the particles and fumes away from your space. The added fiberglass filter ramps up its function to expel paint particles, fumes, or fog. This leaves a neat, clear, and healthy environment while airbrushing.
To make your space much more comfortable, the embedded LED lights render bright lighting. What is more amazing is that they are adjustable. You can modify the brightness depending on your preferred level, allowing you to revel in optimum lighting when painting and rendering intricate details.
How about the size? You will probably have more than enough with this airbrush box's capacity. It is larger and wider, providing a spacious room for miniatures and different model sizes. Although it is big, it folds into a compact size for trouble-free storage and transport. It is also lightweight but sturdy enough to do the job.
I am not a fan of loud spray booths when being used, and good thing this unit does not fail to impress. At a 53dB rating, it operates smoothly and quietly. Therefore, if you need to work in the garage late at night, there would be no problem using it.
There is just a slight pitfall with its price: it is expensive.
Pros
Offers adjustable light and power settings for a custom performance
Has excellent ventilation to eliminate fumes and particles
Large size and capacity for models of all sizes
Has a foldable and portable design
Operates quietly
This is a good option for a spray booth with variable settings. It offers innovative adjustable light and power settings to accommodate your airbrushing needs.
11. ZeHuoGe Portable Airbrush Paint Spray Booth Kit
Of all the spray booths I found, this ZeHuoge portable spray booth is probably the quietest among them. Running only at a rating of 40dB, you can work freely at any time of the day without disturbing others around you.
But besides the low-noise performance, this booth stands out for its 25-watt fan power that can purify the air with its consistent ventilation. Engineered with built-in fiberglass filter sponges, it ensures a clean and healthy environment during painting sessions.
The size is large enough to handle miniatures and larger models. If you prefer a bigger airbrushing studio, this booth is expandable. You can always buy another set to maximize the space.
It is nice that it has a removable turntable that serves as a platform for your projects. You can spin to paint all sides and angles of your model. When you are all done, this booth can fold into a compact size for swift transport and storage. It has a handle to carry it around effortlessly.
This booth does not have any built-in LED lights. However, the clear walls or corners allow external or natural lighting to enter and illuminate the airbrush box.
Pros
Very quiet operation
Delivers good ventilation to improve air circulation
Foldable and portable
Has fiberglass filters to collect paint particles and clear out fumes
Expandable design to maximize working space
Has a removable turntable that serves as a platform for projects
Cons
Has no LED lights
Exhaust extension hose not included
This might be missing some aspects but it has the necessary features to establish a safe working environment. It offers excellent ventilation and filtration that makes airbrush painting sessions more enjoyable to do. So, it surely will not disappoint you.
What to Look for When Buying Airbrush Spray Booth
Ventilation System
There is no fun in showcasing your creativity through airbrush painting and ending up with eye, nose, and throat irritations and other health issues. Moreover, you will be vulnerable to these adverse effects without a suitable area and proper ventilation to do all your airbrushing.
Therefore, to resolve these highlighted airbrushing pitfalls, most hobby spray booths are integrated with a ventilation system to bolster airflow and promote a healthier workspace. You usually have two options for the ventilation system:
a unit with a motorized fan that you can simply switch on or off to filter air and promote air circulation in the room (also known as a ventless booth) or;
a unit with a tube or an exhaust extension hose to expel the air and fumes out (also referred to as a vented paint booth).
Both types provide efficient ways to establish a comfortable environment when airbrushing. The significant difference between these two is the installation whereas the units with tubes are typically harder to set up. However, vented units or the ones with tubes are ideal for longer or higher volumes of airbrush sprays.
Size and Capacity
To identify the perfect size of an airbrush spray booth, you should determine the type or size of your models or miniatures. Providing the most suitable size for your models allows you to distribute the paint evenly as well as promote better air circulation in your studio.
Lighting
Precision is key to showcasing creative color combinations and fine details, especially when working with miniatures or models with complex features. However, rendering accurate applications and airbrushing techniques could be quite difficult without proper lighting to guide you.
Therefore, a spray booth with efficient and reliable lighting is the best option. A lot of spray booths utilize LED lights for maximum brightness and efficient light output. But for those units that do not have lighting features, you may opt for an airbrush paint booth that can accommodate additional or DIY lighting.
Noise Level
This refers to the noise that the fan makes. To know whether this is a significant aspect to consider, you may take note of how long and when you will be working. It is probably best to go for quiet spray booths if you usually work at night and want to avoid causing any disturbance to others in your household.
Moreover, some users do not mind this but if you have sensitive hearing and easily get bothered by the noise of a motorized fan, look for spray booth designs that offer 60dB and below. Any level higher than that can be too noisy and annoying for some painters and artists, especially when being used for long periods.
Portability
If you need to transport your airbrushing projects, take it someplace else to maximize your workspace, or prefer a more compact unit for hassle-free storage, look for portable airbrush spray booths. They are typically foldable or collapsible, allowing you to carry or store them in a convenient size.
Power Source
A paint spray booth can either be battery-operated or through an electric outlet. Keep in mind that larger booths require more power to bolster motorized fans and provide maximum ventilation. With that said, electric-powered booths are the ideal option.
On the other hand, battery-powered airbrush spray booths are a practical choice whenever electric outlets are not available. Portable designs usually feature this type of power source. However, battery-powered units are not as powerful as electric-powered ones.
Price
The price range for airbrush spray booths usually starts at around $100. You can already find quality products at this rate. However, the prices may vary and cost a bit higher than usual depending on the brand, structure, and size. Typically, larger booths are more expensive. Thus, it is important to consider how much you are willing to spend.
Can You Use Spray Paint in an Airbrush Booth
I do not recommend using an airbrush booth for spray paints and primers or aerosol spray cans. Airbrush or hobby booths are specifically designed for airbrushing. Thus, they might not provide adequate ventilation to expel paint particles and harmful fumes out of your space.
Another reason is that most spray paints contain harsh chemical compounds or volatile organic compounds (VOCs) that are not easily filtered or eliminated by basic filtration or ventilation systems found on hobby spray booths. Inhalation of spray paint fumes may result in detrimental effects on your health.
Aside from that, these compounds are flammable. Spray painting indoors in an airbrushing booth is exposing yourself and others around you to safety hazards. If you must use spray paint or aerosol cans, I suggest spraying outdoors or in a well-ventilated space. Do not forget to use gloves and a respirator mask as well.
How Do You Use an Airbrush Spray Booth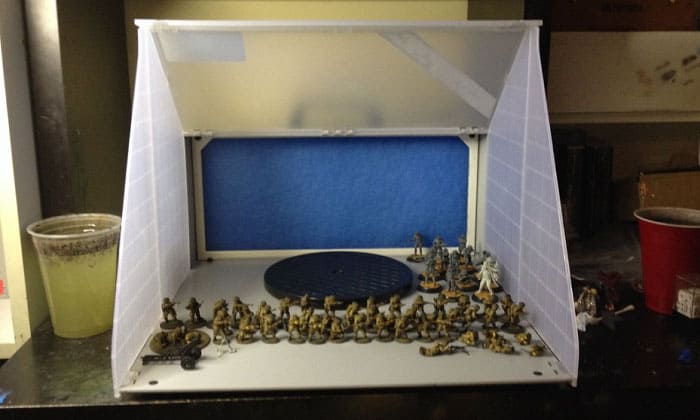 It is best to refer to the manufacturer's manual for the instructions. In general, spray booths have basic controls to switch it on and power up the fan.
If you are using a foldable indoor airbrush booth, unfold it and set it up properly. Make sure that all sides are sturdy and completely open.
If it has an extension exhaust hose, make sure to set it up properly. It should be connected or mounted on a window or door gap to take all the fumes and particles out of your working area.
If an extension hose is not available, choose a location where the air will circulate properly.
Plug it in an electric outlet and turn the switch on. If it is battery-powered, simply turn the switch on. This sets off the ventilation system to expel paint fumes and particles during the airbrushing process.
Some units have adjustable power settings that let you choose whether to use two fans or just a single fan. Deciding the fan power depends on the volume of paint when airbrushing. More applications mean more fumes and particles. Thus, it may require stronger power for maximum ventilation.
Turn on the switch for the LED lights. A separate LED light switch is available on some units. Some only have a single switch that turns the light and fan at once.
Other brands feature customizable settings that allow you to adjust the brightness levels using a knob. Simply rotate the knob to modify the brightness according to your preferred level.
After the painting session, take the filter out for cleaning. Wash it with dish soap until the particles and dust are gone. If it gets totally worn out, consider replacing the filter.
Fold the spray booth into a suitcase or compact size. Put it away for storage.
How Do You Make a Cheap Airbrush Booth
If you want to build your own airbrush booth without spending a massive outlay, here are the things you need:
A large plastic container or storage box
A vent adapter (3 or 4 inches)
A lamp cord (4 inches or longer)
A 100 V on and off switch
A bathroom fan
A flexible vent hose (3 inches)
A disposable furnace filter (should fit the bottom of the container)
An indoor spray filter
Instructions:
Make a hole at the bottom of the container.
Install or mount the bathroom or exhaust fan to the bottom of the container where the hole is. Use screws and nuts. Make sure to read the manufacturer's instructions on how to set up the fan.
Use the lamp cord and attach it to the fan.
Connect the lamp cord to the 100V male-to-female or on/off switch.
For the filter, put it on the bottom of the tub or where the hole and fan are. Tape it down to keep it in place.
Use the adapter to connect the fan to a dryer vent tube or hose.
Place the container under a fluorescent lamp or bright LED lamp for sufficient lighting.
Use cardboard or a lazy susan for the platform or turntable.
Conclusion
The best airbrush spray booth depends on your airbrushing demands and preferences. Remember that features for every product differ from one brand to another. But what matters are the primary aspects that make an airbrush spray booth reliable: excellent ventilation, sufficient capacity, and optimum lighting.
The products and reviews mentioned in this list have the necessary features, leaving you only with the top-notch airbrush spray paint booths to choose from. The detailed guidelines should also help you weigh the pros and cons and find the perfect pick for your painting sessions. Besides, you also can refer to other art accessories such as watercolor brushes or oil paint brushes if you are interesting.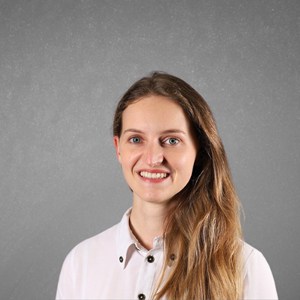 Art has always been a part of my life; it influences my upbringing and later my career choice. For me, it is always a part of my parenting technique. So for whichever purpose that you come to art, you can start here with us.