No matter how old you are, markers are among the most versatile writing tools that we already have at home and even at work. These pens come in various colors, shapes, and sizes, but not all are child-friendly. For instance, some of these creative tools are hard to erase. Meanwhile, other brands have toxic ingredients that are not safe for kids. With curious kids drawing and writing on every surface, this can be problematic.
As a parent, looking for the right type of coloring materials for your little ones can be stressful, but don't worry! In this article, I have gathered and reviewed some of the best markers for kids so you can easily decide which one to buy for your young artists.
Top 12 Marker for Kids Reviews
1. Crayola Washable Markers
Getting creative can be messy. With these washable broad line markers, kids can make works of art without giving their parents a hard-time washing and cleaning afterwards.
With a box of 40 children's markers of warm and cool colors, you can let your child's imagination run wild! Unlike the colored pens that I had when I was a kid, the colors of these markers do not fade after months of frequent use. Moreover, the tips do not wear away over time, which is useful when you are helping your preschoolers develop their motor skills through art projects.
One feature I want to highlight in this product is the conical tips. This type of tip comes in handy for shading big areas. At the same time, it is useful for drawing lines, dots, and ribbon effects. On top of that, both kids and adults would love how these colors do not bleed through any paper.
When it comes to washability, all I can say is that it is definitely easy. Washing the markers off from the skin can be done with soap and water. If you want to wash the colors on fabrics, all you need is cold water and detergent. For painted walls, simply soak a washcloth in cold water and wipe off the colors.
Lastly, I just want to mention two minor drawbacks of this product. In my experience, it is much harder to scrub off the markers on wood, but it can still be removed using a washcloth and an all-purpose cleaner. The other thing is that the pen's cap is a little tight, which requires some force to remove.
Pros
Durable pen tips
Wide variety of colors
Conical tips can be used to draw or color large areas
Easy to wash when colors get on skin, fabric, or painted walls
Suitable for all ages
Cons
Colors are harder to remove when used on wood
Caps of the pen can be a little hard to pull out
Making a mess is part of the children's creative journey but with these crayola washable markers, you don't have to worry about cleaning.
2. Mr. Sketch Scented Stix Markers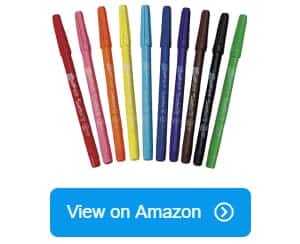 Not only do these water-based art markers help your child draw, but they also make creative projects more memorable through its fruity scents.
Let me guess, you are wondering why markers that smell good exist. Well, scents can trigger memory according to science. I bet the 90s kids out there will find themselves reminiscing their childhood once they smelled a whiff of one of these scented markers.
Nostalgia aside, the pens have AP-certified nontoxic inks, which make them safe for children as young as 3 years old, but grown-ups are welcome to join the fun. Each marker has a juicy scent linked to a bright color, making any kid's learning experience enjoyable.
Drawing details and lines with ease is possible, thanks to the pen's 0.8mm bullet tip. Great for practice writing and doodling, your young ones will find the slim barrel comfortable to grip and control. Using these markers on notebooks, padpapers, or sketchbooks is not a bad idea as the inks don't bleed on the pages.
These markers come in washable and non-washable versions, so be sure to check the package before purchasing. Generally speaking, the inks in these pens are not difficult to clean. Just wash the skin with soap and water if you see your kids have colorful inks all over their hands or body. For more tips on stain removal on different surfaces or fabrics, the company's website has plenty of information that could help you.
However, I do wish that the set of markers comes with a variety of colors as there are only 10 pens in one pack.
Pros
Pleasant fruity scent in every marker
AP-certified nontoxic inks
Easy to grip markers
Great for writing and drawing details
Inks don't bleed on papers
Cons
Limited color options to choose from
Since the inks are nontoxic, I can assure that it is one of the top-rated coloring markers for toddlers. With the nice fruity scent in each pen and sturdy bullet tips, these drawing tools are a great addition to your child's creative toolbox.
3. Crayola Twistables Crayons Coloring
Crayons tend to break in the hands of preschoolers who are learning to write and draw, which is why some prefer coloring markers for kids. Now you can kiss those broken crayons goodbye!
Known for making crayons for over a decade, Crayola has perfected creative tools for kids, as well as parents and educators. There is no doubt that this brand is credible but allow me to walk you through the features of these coloring materials.
Using these twistable crayons is very intuitive, even for young children. In contrast with this coloring tool's predecessors, you don't have to sharpen or peel off the wrapper. When the crayon gets blunt after use, just twist the barrel to let out more color. The plastic casing also allows you to see how much color is left.
Another advantage of having a casing is that using the crayon will not leave residue on your kid's hands. These twistables are recommended for 3 years old and above but even as an adult, I find the plastic barrel convenient. I never have to struggle with holding a crayon that became short after frequent use.
Each box comes with 24 vibrant colors that your child can use both for creating works of art. The packaging is big enough to fit all crayons and small enough to fit in your kid's school bag.
This brand has come up with so many innovative ideas that help children become more creative. In the future, I would like to see a refill of these twistables, so I don't have to throw the plastic casings away.
Pros
No more broken crayons and peeling labels
Plastic casing makes coloring material easy to grip
Comes with 24 bright colors
Size of the box can fit inside the bag
Cons
No crayon refills available at the moment
The plastic barrels have significantly improved the experience of using crayons. Apart from the ease of use, these casing ensures that no color will ever go to waste due to breakage.
4. Dab and Dot Washable Markers
The first step to mastering the art of coloring is to learn the basics. With these washable paint markers for kids, your children can develop their motor skills in a fun and creative way!
The key feature making this set of dot markers toddler-friendly is its ergonomic design. The easy-grip barrel is comfortable to hold, especially for the tiny hands of the three-year-olds. Meanwhile, the large sponge tips in every pen are excellent for dabbing, dotting, and doodling.
In every set of markers, there are 8 vibrant colors to choose from. On top of that, every purchase gives you access to 101 printable activity sheets so it will take a while before your kids will run out of artworks to color.
As a parent, you are most likely familiar with the case of broken art supplies. I'm sure you will love these durable markers as they are made specifically for kids who can be a bit rough. These coloring tools are made to last, so they don't break easily, and the paint does not dry up right away when your children forget to put the cap back on for a while.
Whether you are a parent or a teacher, you don't have to worry about mess as the paint dries pretty quickly once applied on paper. Getting some of the colors on your child's clothing or furniture is not an issue since washing off the paint is easy.
Nonetheless, I strongly suggest covering your tables with old newspapers when you and your child are going to draw using these dauber markers as the paint can leak through the papers.
Pros
Washable paint markers
Comfortable easy-grip barrels
Suitable for developing a child's motor skills
Comes with 101 printable activities
Made with non-toxic paint
Cons
Paint leaks through paper
Using this set of washable dauber markers hits two birds with one stone: learning new creative skills and having fun at the same time.
5. RoseArt Washable Markers
There is nothing more exciting than using colored markers for school projects or work. This 100-pack assorted washable colored marker wins the hearts of both young students and professionals alike.
Apart from the wide array of colors available in one set, I find the colored marker's 'super tip' very convenient. I can render lines with varying thickness by adjusting the pressure applied on the marker against the paper. Since the tips are versatile, these markers are the perfect tools for illustrations, mind-mapping ideas, and journaling.
When used on my notebook, the color does not bleed on the rest of the pages underneath. For those of you who want your supplies neatly organized, you can use these as writing tools to label your children's things. On the other hand, kids and teens can use this for school work or just make art for art's sake.
Packaging wise, I love that I can see all the 100 colors by opening the lid of the box. Pulling out a marker and putting it back is not difficult at all, even for children.
Although these markers are non-toxic, toddlers may find the barrels difficult to hold. These school markers may be more suitable for kids whose motor skills are more developed. You may find that some shades seem lighter on paper that some colors may appear almost similar.
Pros
Made to last a long time
Packaging makes it easy to pull out a marker
Great for school projects and work
Can render thin and thick lines depending on the pressure applied
Does not bleed on papers
Cons
Some shades look almost similar
With versatile 'super tips', these fun markers that come in 100 colors per set are all-around art supplies suitable for both adults and kids. The only limitation in using this is your imagination.
6. CrayolaMess Free Coloring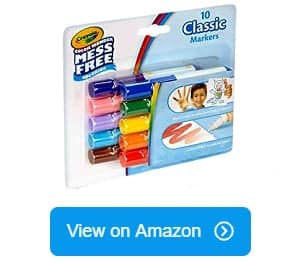 This innovative coloring set has been invented exactly for parents who want their children to get creative without making a mess whenever they get carried away.
Cleaning up after your children finished their artworks can be cumbersome. Yet, at the same time, I know that you don't want to get in the way of fun and learning. As the product name indicates, this set of art supplies is mess-free, but the real magic is that the Mini Markers only work on the Wonder Pads that come with the kit.
Before handing the markers to your kids, I invite you to test it on furniture, clothes, or even the skin to see if it really does not color on the surfaces other than the Wonder Pads. (Hint: It does work!)
In one kit, you will find two sets of 30-page color wonder pads for creative painting. Also, there are 10 classic-color, and 10 pastel-color Wonder mini markers for the kids to draw.
What I love about this product is you can refill your supplies with the Color Wonder Mess-Free Refill Bundle. Suitable for ages 3 and above, parents don't have to worry about these kids' markers as they are non-toxic.
This art supplies kit is designed for toddlers and preschoolers. As you can see, the barrels of the markers are larger than regular pens, making it easier for the kids' small hands to grip. One thing that I wish this kit has is a more diverse set of colors.
Pros
Mess-free creative tools for kids
Comes with 2 sets of 30-page of Wonder Pads
Suitable for kids ages 3 and above
Easy to grip for young children
Refillable bundle is available
Cons
Colors that come with the set are not diverse
Overall, I recommend this Wonder Mess-Free Coloring Kit for children as it works wonders! Parents can rest easy knowing that their kids will not leave colors all over the house, the clothes and the skin while they draw and color.
7. Ohuhu Dot Markers Kit
Parents who are helping their toddlers develop better hand-eye coordination and color identification will find these vibrant paint pens for kids very easy to use.
Built for comfort, your children can draw and color these ergonomic kid smart markers for long sessions of art-making without leaving their hands feeling sore afterwards. The 8 bright colors included in the kit are attractive for children, making their creative learning experience lively and engaging. Plus, these paint pens are made with eco-friendly, non-toxic materials so your kids are safe.
Young ones who aspire to become artists can practice their creative skills with product's the printable activity sheets or go freestyle with the blank 30-page marker pad. Either way, you can be sure that the premium inks in the pens dry up fast so the colors won't smear on the paper while they are drawing.
Another feature that parents will love is that the markers' size can fit in the bag so you and your kids can bring these art supplies when traveling. Also, I like how the caps of these paint pens are easy to pull and secure when I put them back. The markers' tips are protected and the inks would last long.
When using these dauber markers, however, be sure you and your kids are wearing aprons and put some covering on the table or floor before starting your art project. While the paint does not stain, working with young kids can be messy. It is generally easy to wash it off, but some surfaces may be difficult to clean.
Pros
Kit includes printable activity sheets and blank marker pad
Premium ink that dries up quickly
Toddler-centric ergonomic design
Made with non-toxic and eco-friendly materials
Useful practicing hand and eye coordination
Great tool for learning to identify colors
Cons
May be hard to remove the paint on some surfaces
Your kids should never be tired of making artworks and feel sore after gripping markers when finishing their creative projects. Luckily, you can now have these paint markers that have ergonomic barrels to make drawing painless!
8. U.S. Art Supply Crazy Dots Markers
It may take some time for a child to get better at gripping pens and drawing. Truly, art should never be rushed, but that does not mean we can't make it easier for our young ones to master the craft. This is why I am adding these markers on my review.
Let's start off with the ergonomics. To prevent the markers from slipping off your child's grasp, the cylindrical barrel is made a little narrower in the middle while the ends are broader. Moreover, the inks contained inside the paint pens are secured in place. This feature guarantees no-spill and mess-free creative sessions with your young aspiring artists.
A great addition to a toddler's art supplies, each set comes with 8 dot markers with bright colors. I also love the round tips of these coloring tools as they make perfectly round dots. Whether your children want to color shapes using dots or practice making lines, these paint pens can deliver!
If you are using this for the first time, make sure to shake the pens before removing the cap. To start drawing, press the pen on to paper until the color appears. Lastly, don't forget to put the cap back on after use to keep the ink from drying.
As for washability, don't stress over it as the inks are all easy to clean. Simply wash color off the skin with soap and water. If your toddler accidentally put some of the ink on the clothes, it can be easily resolved with a detergent or a stain remover.
While these markers are easy to use, keep an eye out for the caps as some of them can be loose.
Pros
Barrels are designed to suit the toddlers' small hands
Mess-free and no-spill paint pens
Round tips make perfect dots
Great tools for learning and play
Easy to clean inks
Cons
Caps of the markers may be loose
This set of markers are a must-have for parents who want to train their toddlers to color and draw. The easy-grip features of the barrels make learning art comfortable and mess-free!
9. Mr. Sketch Chiseled Tip Marker
Scented kids' marker sets are quite popular for both children and adults who grew up using markers with whiffs of fruits themselves. What makes this one different compared to the ones that I already reviewed is the chiseled tip.
The chiseled tips of these markers can be used to draw lines with varying thicknesses. Simply adjust the angle of the pen as well as the pressure as you draw lines. You will be able to produce at least 3 different line thicknesses.
Although this scented water-based coloring set is suitable for 3-year-olds, teenagers and adults may also want to have one of these in their creative toolkits. Personally, I use these pens to practice lettering or jazzing up my own journal and planner with these pens' fun colors.
Even though adults can use these markers, they are designed for children. If you notice, the barrels are chunky. Toddlers and preschoolers who are just learning to hold writing and drawing tools can comfortably grip these non-toxic colored pens.
The aromas of these scented markers are generally delighting. However, I do find the nacho cheese scent a little different than usual markers. Other than that, I am pretty sure that your kids will love these coloring tools.
Pros
Non-toxic markers for kids
Chiseled tips give you three different line thicknesses
Each brightly-colored marker has a corresponding scent
Comes in 22 different colors
Thick barrels are easy to grip for children
Cons
Nacho cheese scent smells different than usual markers
With twenty-two colors and scents, kids will love to draw, doodle, or even practice writing with these markers. The chiseled tips make it easy to render lines with varying thickness, which is for great letterings.
10. Crayola Glitter Markers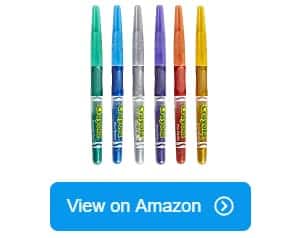 If you are looking for the best glitter markers for kids, consider having this assortment of shimmering colors in your children's arts and crafts supplies.
There is only one rule when using these glitter markers: Let your children experiment! Using these coloring tools is very easy. Just writer or draw like you do with other markers. You may have to press it down every now and then to make sure the ink keeps flowing.
Make greeting cards, draw colorful postcards, decorate a scrapbook, or put some accent to an illustration. These are just some creative ideas that I can suggest on what you can do with the glitter markers. I'm sure you and your children can come up with more.
Now let me go through some of the features that I love about these magic markers for kids. First, there are six different colors to choose from, and they are all sparkly. Second, fat tips can color large areas. Third, the inks of the pens do not bleed through the paper. Fourth, the dotted barrels of the markers make it easy to grip. Lastly, it is non-toxic, so it is safe for children to use.
In my observation, the ink sometimes gets stuck in the tip once in a while. When this happens, I just test it again by pressing it a little harder on a scrap paper or by shaking the pen. This minor issue is easily resolved.
Pros
Can be used in a variety of creative projects
Comes in six different sparkly colors
Fat tips of the pens are great for coloring large areas
Inks do not bleed through the paper
Easy-grip barrels
Made with non-toxic materials
Cons
Ink of the pen is sometimes stuck at the tip
Creating artworks can be a magical experience when you add some sparkle to your children's masterpieces. With six glitter markers, kids can add shimmering accents to artwork or create cards to send during the holidays.
11. Crayola Silly Scents
Making art does not always have to be serious. In fact, it would be so much memorable if your children are enjoying their artistic journey and self-expression. Why not try these markers with silly scents?
Your kids will have a blast drawing and writing using these vibrant colors with unique aromas that come with the set of 12 markers. Each marker has a distinct smell of either a fruit, marshmallows, or soda to stimulate the imagination and creativity of your children. Besides that, the character-themed coloring tools make these pens all the more fun to use.
Since this set of crayola markers are made for kids, the barrels are thick so holding and controlling them would be easy. Meanwhile, the chiseled tips are perfectly suited for drawing lines, coloring, and even writing with more precision. Did I mention that these are washable, too?
Kids tend to forget putting the caps back on their markers, but don't fret! The inks do not dry up fast. Like all of the art supplies I reviewed, this set is also non-toxic.
The only drawback that I found in these water-based art markers is that the smell fades over time. For me, it's no big deal. As long as they do a great job of coloring and writing–and that they are safe for children–I believe it is worth having.
Pros
Includes 12 markers in one set
Each marker has a distinct scent
Easy to wash on both skin and fabrics
Chiseled tips are great for drawing lines and coloring with precision
Inks that last long
Non-toxic markers that are safe for children
These markers with silly scents and chiseled tips are a winner. For kids who are refining their artistic skills, these are the creative tools that they would definitely need.
12. Cameron Frank Washable Markers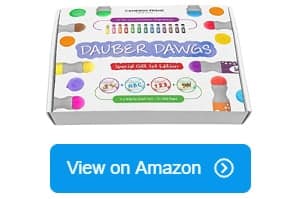 There are so many things that you and your children can do with these washable dot markers. Even though this set of art supplies does look like it is made for kids as young as 3 years old, adults can also use this in several ways.
Aside from introducing colors to toddlers and preschoolers, parents and educators can take advantage of the 121 activity sheets with themes that include numbers, alphabets, animals, and the 50 states in America.
Furthermore, children can learn new painting techniques, such as mixing, layering, and blending. At the same time, dotting has a calming effect as kids concentrate on filling in the images with colors.
Designed for children, the tips of the kids' paint markers are made of soft sponge that also prevents paint leakage. Meanwhile, the barrels are thick and comfortable for your kids' tiny hands to hold. The round caps keep the tips and paints protected and are easy to pull out. In terms of washability, parents do not have to worry about the mess because the colors are easy to clean.
While the markers have several child-friendly features, you are never too old to use them to make artwork. These dauber pens may be "kiddie", but in the end, tools are just tools.
One minor issue that I have with these markers for toddlers, special paper may be needed as the inks tend to blot and bleed on other papers. I find the paint is a little runny, but like I said, this is just a minor issue. When it comes to helping your kids develop new skills, this set of art supplies definitely delivers!
Pros
Comes with 121 activity sheets
No-leak tips with a soft sponge
Suitable for all ages
Barrels are comfortable to hold
Caps are easy to pull out
Cons
Runny paint that bleeds through paper
This child-centric set of art supplies is a great tool to learn not just about colors, but also numbers, alphabets, animals, and places!
What to Look for When Buying Markers for Kids
Markers are creative tools that are commonly used both by children and adults. Many of us grew up owning these art supplies, and those of us who continued our creative pursuit may have a set or two in our bags. Choosing the right one for specific projects may require a little bit of technical knowledge of an artist, but I know you just want your kids to enjoy making art.
To make your decision process a breeze, I compiled a list of things to consider when buying markers for children.
Formula that is safe for children
Kids are still developing their immune system, but when it comes to improving their creativity and motor skills, there is no reason why parents would not want to start them young.
Luckily, a child-safe formula has been invented. Many markers have toxic chemical solvents like xylene or are alcohol-based. Be sure to look for the keywords "non-toxic" and "water-based" in the packaging or labels.
Children's age and interests
Growing up means outgrowing certain things, and children grow up fast! As they turn a year older, they will surely look for more interesting and challenging things. For example, mess-free markers for toddlers with activity sheets may no longer be attractive for eight or nine-year-olds.
Be aware of your children's interests and skill level as these factors will determine if the art supplies are suitable for them.
Types of projects your children can do
Many of us are guilty of impulse-buying pens and markers. Because many of these art supplies are affordable, we sometimes do not consider the types of art projects our children would use.
Some markers are great for drawing lines or writing, while others are more suitable for coloring. There are tons of ideas for creative projects that you can do with your kids that you can find online. It would be wise to plan out your activities first before buying water-based markers, so they do not go to waste.
Price of the markers
With a wide range of markers to choose from, you will surely find prices that range from affordable to expensive. I'm sure you all have heard of the saying, "You get what you paid for," but parents naturally want to invest in their children's learning.
However, before making any decision, do check the products' reviews to see if they are what your children need. Also, keep in mind that kids tend to forget putting caps back on the pens or break them. Another thing you should be able to determine before making a purchase is to know how much you are willing to spend.
Quality of the coloring materials
Children can be rough. In some cases, it would take them some time to develop the habit of taking good care of their belongings. This is why the quality of the markers is important.
Poorly-made coloring markers affect the experience of making art. Your kids will not enjoy drawing when the inks dry up quickly. Pens that are hard to grip may hurt your children's hands when they draw. The best way to figure this out before buying is to read the reviews.
Washability of the inks
Creating masterpieces is a messy endeavor, but parents don't have to stress out. Washable markers have already been invented for your youngsters. When buying art supplies for kids, be sure to look for the keywords "washable," "no leak," or "no spill" in the packaging or labels.
What are the markers for kids?
Inks have been widely used for writing and drawing since ancient times, but it was Lee Newman who patented the first felt-tip marking pen in 1910. With Sidney Rosenthal's invention of Magic Markers in the 1950s, markers became popular as many people began using these writing tools for labeling, lettering, and poster-making.
Markers became primarily accepted as an art medium. Eventually, manufacturers began designing markers made of non-toxic materials and barrels of different sizes intended for children.
How does it work?
Each marker has a body, a cap, and plugs that are made of plastic resin. Inside the marker is a reservoir that holds the ink, typically composed of polyester. Water and powder are used to create the tips, while pigments and other synthetic substances are combined to make inks.
There are three types of colorants, namely, alcohol-based, water-based, or solvent-based markers. These are solutions that are mixed with ink or dye. Some synthetics used in dyes such as toluol and xylol are solvents that can be toxic. These solvents have been replaced in the markers that are made for children.
Markers are 'ready to use', and what I mean by this is that all you need to do is remove the cap and start writing, drawing, or coloring. Unlike other art supplies, these do not require long preparation for you to start making art.
Who are kids markers for?
Both children and adults, students and professionals, will find themselves needing markers either at home, in school, or at work.
Children's markers, in general, are made with child-safe formula. Markers that come with large barrels are mostly intended for toddlers and preschoolers who tend to grip pens with their whole hand. In contrast, pens with slender barrels are designed for children who have more refined motor skills and adults.
What are the different types of kids markers?
Manufacturers of kiddie art products are now even more in tune with the needs of not just children but also the parents and educators. Let me reiterate that water-based and non-toxic are the two things you need to look for when buying markers.
For this list, I have come up with a list of different children's markers that you will find in the market.
Dauber or dot markers for toddlers
Chiseled tip markers
Bullet tip markers
Brush tip markers
Scented markers
Double-ended markers
Gel pen for kids
Glitter markers
Why do you need markers for kids?
With the advancement of technology, many children spend more time using phones, tablets, and computers to play and learn through apps. As a result, educators and pediatricians have observed that more and more kids lack hand dexterity.
To be clear, gadgets are not bad, but the excessive use of this technology can be limiting. There are tons of skills that youngsters can learn with traditional learning tools such as toys and art supplies. Since this article is about kids' markers, let's focus more on the benefits of this type of drawing tool.
Developing hand-eye coordination, muscle dexterity, and creative thinking are essential skills that children can develop from doing art projects. These abilities are not just "nice to have." They will come in handy even as the kids become adults.
Using markers is one of the many ways your toddlers or preschoolers can practice the hands, wrists, and fingers' movement. Dotting, doodling, drawing, and coloring using different art materials also introduce children to colors, shapes, and textures.
Frequently Asked Questions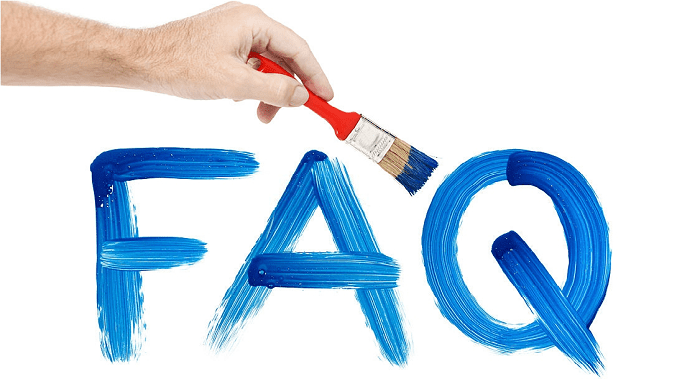 What are the most trusted markers for kids' brands?
The variety of markers you will find online and in retail stores are overwhelming. Most manufacturers have become more innovative and have invented many different coloring materials to help kids develop their artistic skills.
However, I would naturally have a strong preference for the ones that have been tried and tested not just by me but also by children. These brands include Crayola, Mr. Sketch, Doodle Hog, Rose Art, Ohuhu, U.S. Art Supply, and Cameron Frank.
It is worth noting that markers, as with most tools, should feel like an extension of your hand. I gave recommendations based on personal experience, but your kids are welcome to try other brands to see which ones they find more comfortable.
When can kids use markers?
There is no one-size-fits-all approach to art. While there are kids ready to use some art supplies as early as 12 months, some may show interest in creative projects a little later. At any rate, there are plenty of products that are intended for different age groups.
When parents start introducing them with different art supplies, it is ideal to start drawing tools with thick barrels. For ages 15 months to 2 ½ years old, toddlers may start painting with their fingers or produce large scribbles on paper with a crayon or a marker. The lines they draw are often big as they move with their shoulders while gripping the coloring tool with their hands.
Children at this age can connect lines they draw with the movement they make. At the same time, they can feel the textures of the tools they use. Some kids may find this sensory input overwhelming and end up not enjoying the activity. This should not be a cause for concern. Parents can slowly introduce the coloring tools again later on when preschoolers can take in more sensory information.
Once youngsters reach 2 to 3 years old, their scribbles are more controlled as they can control their hand and wrist movements improve. As they grow older, children will be able to manipulate art products with repetitive practice. Eventually, they would also be able to hold slender barrels.
Let children experiment with these creative tools at varying speeds but make sure that they do it under the supervision of an adult. This may be a no-brainer for parents, but I could not stress enough to supervise kids when making art.
How to use markers for children?
Most markers do not come with a manual because they are easy to use. However, you may find some sets of markers that come with guided activities such as printable coloring sheets to help your children identify the areas to shade.
Educators and parents can hold the toddlers and preschoolers' hands to guide them in coloring and drawing shapes. As the children become more acquainted with these tools, they can eventually use them on their own.
Generally, markers have the same function, but each type has a specific purpose. For example, dot markers for kids make perfect large dots but can also be used to scribble, doodle, and color shapes.
Meanwhile, markers with chiseled tips can be used for making lines with varying thickness and stylish letterings. On the other hand, rounded tips often produce a consistent thickness and can be used to draw outlines or color shapes. To make art projects more attractive, glitter pens can do the job.
Where can I buy children's markers?
Markers are not hard to find. There are plenty of dedicated art supplies shops out there where you can find every type of writing and drawing tools for those who want to buy from retail stores. You can also find markers even on the shelves of some groceries, convenience stores, toy stores, and even bookshops. I like buying from physical stores because I could check the packaging or the markers before making any decisions.
If you prefer online shopping, you can check out the websites of the specific brands of art products you want to buy. Other e-commerce stores, such as Amazon and eBay are selling markers and many other art supplies for kids.
How to care and clean for these markers for kids?
It is important to remember that the inks of the markers dry up fast when exposed to light, oxygen, and humidity for a prolonged period. Also, the tips can be sensitive and easily damaged. My advice would be to always put the cap back on after use.
When you teach your preschoolers to use a marker, you can help the kids remove the caps and put them on the pens. Eventually, they will learn to do this on their own. There are also markers with caps that tend to be loose, so it is best to check if they are properly put back in place before storing them.
In terms of storage, most markers come in packaging that can be used as storage. Make sure that all markers are placed back in the box after use. If the packaging is not sturdy, you may transfer them to another container such as pencil holders or zipper pouches that are big enough to hold all markers. This way, you can be sure that you and your kids do not lose a pen or two.
Conclusion
Whether your children end up pursuing a creative profession or not is entirely up to them. However, many experts recommend art projects where kids can pick up skills that will come in handy as they grow older. Apart from teaching them colors, shapes, and textures, toddlers and preschoolers can refine their motor skills by using coloring materials such as markers. This paves the way to more advanced skills such as writing and drawing shapes or simple images.
While creative activities can be messy, the best markers for kids are washable water-based inks and easy-grip barrels. In this review, I hope to share enough useful information to help you find the one that fits your children's needs.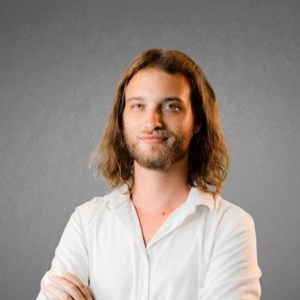 I am a former art teacher, so it is evident to me the importance of art in educating the new generation. We also want to help parents who plan to teach their children and desire the best tools and tips for them.