Because of the wide selection of colors and finish, spray paints have become popular among DIYers and artists, as well as professional contractors. Just so you know, not all aerosol paints work on glass.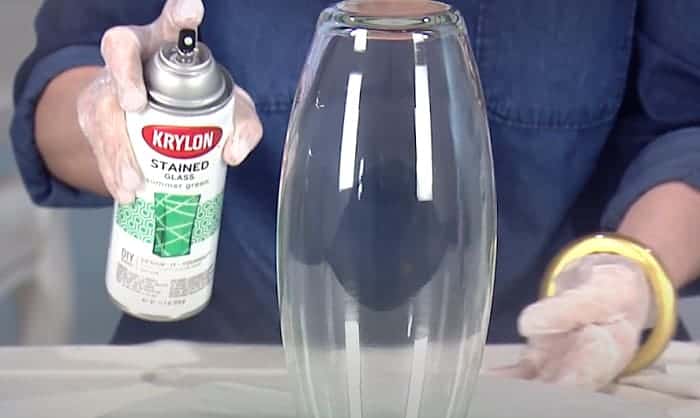 Due to its smooth surface, the paint struggles to grab and hold on to the glass object. As such, it can drip, run, or peel but you can prevent these issues with the right spray paint! Although aerosol paints work more or less the same, each brand and variant performs differently.
You've most likely stumbled on this article while searching for the best spray paint for glass on the internet. For that, I've rounded up 12 products to help you with your glass painting project.
Best Spray Paint for Glass Reviews
1. Krylon K09033000 Looking Glass Silver
Looking Glass is one of my favorites among Krylon's impressive line of spray paint. Both decorative and functional, this aerosol spray can turn any glass into a faux mirror.
After five coatings of this spray paint on a glass object, I'm amazed that I can see my reflection on it. Note that I wiped the surface with a glass cleaner before applying it to the surface to ensure that the paint does not settle on dust or dirt. Still, the preparation did not take up too much time!
Once I started spraying it on the reverse side of the glass, the paint dried within minutes. If I look closely, the faux mirror has some fine crackle on the surface, which gives a rustic feel to the glass item. Considering its durability, applying a protective sealant is optional.
Of course, there are other techniques that you can use with this product to achieve different designs besides turning a glass object into a faux mirror. I can see that this is useful for making props and home ornaments, such as vases, jars, windows, and so on. For me, it comes in handy for making mercury jars.
As far as ergonomics goes, I don't need to exert too much effort in pressing the nozzle. Consequently, it is easier for me to disperse the paint evenly as I move my arm in a back and forth motion.
Since I used this glass spray paint, the only problem I encountered is that the cap is quite difficult to remove. Other than that, I think this product is a great investment for DIYers!
Pros
Produces a faux-mirror glass surface
Useful for home decors and props
Provides long-lasting paint
Requires minimal prep work
Has an easy-to-press nozzle
Cons
The cap can be difficult to open
Mercury jars and faux mirrors are just some of the DIY projects that you can do with this aerosol paint. By all means, this product will transform your glass items into opulent home ornaments.
2. Rust-Oleum 1910830-6 PK Spray Paint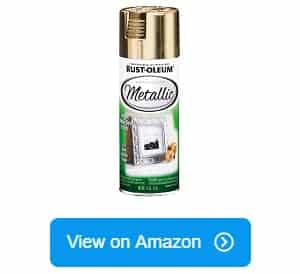 Just because this aerosol paint is at number two doesn't mean it's second best. If you fancy a metallic finish, this is arguably one of the most exciting products for spray painting glass and other materials that you can try.
Ideal for small-scale DIY projects, the aerosol paint covers up to 12 feet. I can spray paint quite a handful of glass mason jars. Made for interior surfaces, this aerosol spray adheres to non-porous materials like glass and metal; I also recommend this on drywall and wood.
Given the variety of materials compatible with this product, I can use this for home improvement, crafts, and even scrapbooking projects. Formulated to last long, none of my DIY projects has chipped or peeled so far.
According to the manufacturer, this metallic paint does not require a clear topcoat. So that means less work for me! To spread the paint uniformly, I just press the nozzle and move my arm continuously back and forth. Once dried, the vibrant and metallic finish makes my glass items look extra gorgeous.
Despite containing metal flakes, the nozzle hardly clogs, keeping me from abruptly stopping in the middle of spraying to check what's wrong. It lessens the chances of applying the uneven coating. Plus, the paint dries pretty quickly!
While the paint indeed has a metallic finish, it is not reflective as indicated in the product description. Don't get me wrong, I adore the paint's sheen but I just had to write it down in this review so you know what to expect.
Pros
Applicable to glass and other materials
Does not need a clear topcoat
Great for indoor surfaces
Has a clog-free nozzle
Gives a vibrant metallic finish
Cons
Does not have a reflective finish
Will spray paint stick to glass? If we're talking about this particular product, the answer is yes! More than that, it works with materials like wood, unglazed ceramics, metals, and many more.
3. Krylon K09035000 Stained Glass Aerosol Paint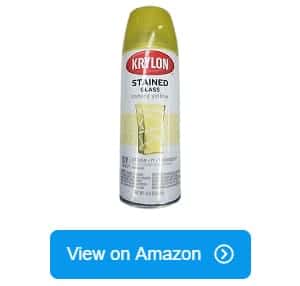 It takes a highly skilled glass artist to create those beautiful stained glass windows that you see in churches. For interior home decor projects, you can use this transparent spray paint for glass!
Available in different colors, I can add vibrant hues (up to 9 shades) to my clear glass bottles, vases, or mason jars with this offer. Instead of discarding bottles of wine or vinegar, I wash them and give them a brand new look. The only prep work required is to wipe off contaminants before spray painting.
Even if I apply multiple coating, the paint remains translucent but the color deepens. To start, I apply a light coat and then wait for a minute to set. Then I work on the next layer until I'm satisfied with the way it looks. Using this painting technique will make the coatings look uniform and not affect the glass's natural glossiness.
It helps a lot that the nozzle does not get clogged. By pressing the nozzle gently, I move my arms in alternating directions. Because this product is meant for indoors, I don't need to apply a clear top coating. Quality-wise, I have no doubt that this paint is durable.
I have no issues with the paint itself but the cap takes some effort to remove. It seems like this is a common issue with Krylon spray paints. Overall, I'm very satisfied with this product!
Pros
Excellent for creating stained glasses
Offers a vibrant color selection
Multiple coating deepens the color level
Allows for uniform coating
Ideal for indoor glass items
Cons
The cap is hard to take off
Don't throw away your old clear glass bottles just yet! With this Krylon spray paint for glass, you can turn them into stained glass ornaments.
4. Rust-Oleum 1913830-6 PK Spray Paint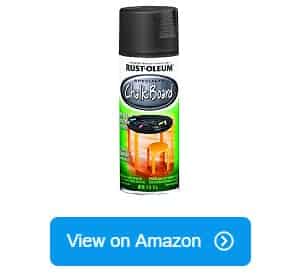 Black is a beautiful color but this Rust-Oleum allows DIYers, as well as professional crafters, to convert surfaces into a chalkboard. Apart from its 100% solid opacity, this product is suitable for both ornamental and functional pieces.
Rather than buying chalkboards in the retail stores that come in fixed sizes, I create custom pieces with this specialty chalkboard aerosol spray. As such, I can create chalkboard-like surfaces on cylindrical, round, or custom objects.
Keep in mind that this is not strictly a black spray paint for glass as it works on materials such as wood, metal, drywall, plaster, concrete, paperboard, masonry, and hardboard. The paint quickly bonds to the surface without dripping or running issues. I usually wait for up to 24 hours before I can write with chalk.
As soon as it is completely dried, the coating is extremely durable yet smooth. For those who do not intend to use the surface like a chalkboard, this is still useful if you are going after a beautiful matte finish. Out of curiosity, I tried writing on the newly painted surface and was amazed by how it grabs the chalk.
For best results, each material requires different prep work so be sure to follow the instructions! Based on experience, I find this aerosol spray very easy to use. I can instantly give any home decors or furniture a makeover.
With glass or mirror surfaces, you need more coating, or else the chalk will scrape the paint. It's not exactly an issue you have to worry about but it takes up more time and more paint to finish a paint job.
Pros
Makes surfaces writable using chalk
Works well on a variety of materials
Produces beautiful black matte finish
Suitable for decorative and functional pieces
Product design allows you to spray easily
Cons
Requires more coating on glass or mirror
Offering endless creative possibilities, this aerosol paint lets you convert objects into sketchable surfaces. You can make fine works of art with your glass items!
5. Minwax 33333000 Water-Based Polycrylic Clear Spray
Although not commonly used for glass, this clear water-based spray can work on glass and plastic ornaments. Boasting ultra-fast drying time and originally formulated to preserve the paint or stain you applied on wood.
I have a bias for satin because it can be both glossy and matte depending on the lighting but the product comes in different finishes. At any rate, this Polycrylic clear does not affect the wood stains or paint as it appears almost invisible. For glass and plastic surfaces, I find this extra useful to make glitter ornaments.
Using this water-based spray, I was able to bond glitters to glassware. Of course, this technique requires a much longer drying time. Unlike other brands, this one does not turn yellow; thus, the colors of the glitter come through gorgeously.
While the product description says that this Polycrylic is clear, don't be surprised if you see the white fluid as it dries transparently. To prevent bubbling, I try to spray in short bursts on wood and hold the spray paint at least 18" away from the surface. For glassware, I tend to let it spread all around the areas where I need to glitters to stick.
When it comes to durability, I'm giving this product a thumbs up. None of my DIY projects has seemed to show any signs of aging after a couple of years now. Despite the instructions provided, however, it poses some learning curve for first-time users.
Pros
Applicable to wood and glass
Helps bond glitters to glass surfaces
Dries up transparently
Protects wood stain and paint
Highly durable spray
Cons
Poses some learning curve for beginners
Are you surprised that this water-based polycrylic clear spray can work on glass? Well, you're not alone. Even though this product is crafted for wooden items, you can use this to add glitters to your glassware.
6. Krylon K09057007 Sea Glass Spray Paint
For a tumbled glass look, nothing comes close to what this aerosol paint can do. It gives any glass object a charming blue color that reminds me of the pristine seas.
What takes years for the waves to toss and topple will only take me less than an hour using this product. Unlike the other types of paint, this product adds a smooth powdery matte finish to the glass surface. Crafted for indoor items, I can spray this paint on any glass objects and instantly create decors to jazz up any living or commercial space.
As I applied more coating, I noticed that the opacity increases and the color deepens. For the record, I don't think there is any fixed number of coatings to follow. It gives me the option to create translucent or opaque glass objects.
I'm glad that this sea glass aerosol paint comes in plenty of color options! Besides coastal, I can also use the other hues for other themes such as rustic, Christmas, or industrial chic. It's great for upcycling old jars, bottles, and other glass items.
What makes this the best spray paint for glass jars is that the application is super easy that anyone can do! After cleaning the surface, I hold the spray can upright. I make sure that it is about one foot from the while spraying to cover the surface evenly.
Let me point out that the product claims that the color of the paint is aqua but it looks more like teal blue to me. I just want to give you a heads up as I know that some color geeks can tell the difference.
Pros
Gives a tumbled glass look
Lets you produce a translucent or opaque coating
Adds a matte finish that is smooth to touch
Offers colors to match different themes
Promises easy application
Cons
The aqua color looks more like teal
Offering a variety of colors to choose from, this semi-translucent matte spray paint for glass lets you produce decors to suit your desired motif. Moreover, it allows you to adjust the level of opacity as you apply more coating.
7. Design Master 241 Premium Metallic Spray Paint
What I love about this spray paint is I can use them for crafts and home improvement projects. On top of that, the paint color looks exactly like what the manufacturer advertised: A true rose gold with a magnificent sheen.
Even without a spray primer for glass, l like that this paint covers the slick surface evenly. It helps me accomplish the painting job faster. Just don't forget to clean the glass surface before coating. Based on experience, the paint dries fast and does not drip or run.
I'm surprised that one bottle contains very much paint inside that I managed to paint several objects. From glass to plastic baskets, any cheap decor from the dollar store can turn into a posh centerpiece. Best used for indoor surfaces, my newly painted items look eye-catching inside my living space.
With or without experience in painting, I know that everyone can use this aerosol spray and produce professional-quality results. Pushing the nozzle down as I move my arm to disperse the paint across the surface is painless. One coat is sufficient but you're free to add more if you want a darker shade.
Although the product does not indicate that it needs a clear topcoat, I still think it does. Despite being fully dried, the sheen rubs off when I touch the surface. Nevertheless, I fancy this product for
its rose gold plating finish
and ease of use.
Pros
Has beautiful rose gold metallic finish
Suitable for glass, plastic, and other materials
Useful for crafts and home improvement
Does not require a primer
Disperses paint on surfaces evenly
Cons
The metallic sheen rubs off when touched
Spray paint glass vase or plastic organizer, this product can spice up your room with its rose gold metallic finish. Don't be anxious about being a beginner; simply using this aerosol spray to guarantee professional results.
8. Rust-Oleum 257465 Specialty Frosted Glass Spray
Another option for achieving that sea glass effect, this Rust-Oleum spray paint for glass fits the bill. Known for its durability, the product has a faint green tint that can blend well with any interior pieces.
Before anything else, I want to praise the manufacturer for giving detailed instructions. For a first-timer, I don't have to waste time figuring out how to use this frosted aerosol spray to achieve my desired results. As always, cleaning the glass is a must to make sure the paint sticks on the surface instead of the contaminants.
In terms of usage, this frosted spray paint is versatile as it can work on home decors and large surfaces like bathroom partitions or windows. With ornaments, it mimics the sea glass to match the coastal-themed interiors.
On the other hand, the frosted paint lessens the transparency of the glass window to give privacy to a room. Moreover, I can work with stencils to produce patterns on the glass partition to enhance the design of my bathroom.
Like any Rust-Oleum spray, the nozzle is very easy to press. I hold it down for a while as I spread the paint without feeling any soreness in my arm. Thus, I can control the amount of paint that I apply to each coating.
Just a heads up, the aerosol paint has quite a strong odor. Whenever I use this product, I would cover my nose and work in a well-ventilated area.
Pros
Suitable for decors and windows
Adds privacy to rooms or sections
Gives a sea glass finish to ornaments
Highly durable paint for indoor pieces
Good ergonomics allows for easy application
To add some privacy in the rooms or sections of your house, use this spray paint for glass windows! Thanks to the easy-to-follow instructions, you can customize your decors or work on home improvement projects without hiring a professional.
9. Krylon K09040 Frosted Glass Paints
If you prefer a pure white frosted glass finish, look no further than this aerosol spray from Krylon. Aside from adorning glass objects, it lets you create a clean and stylish private space.
Usually, I apply this using stencils to embellish glassware like mason jars or wine glasses. Sometimes, I just cover the entire ornament with this paint. Either way, I love how the semi-transparent frosted finish appears on the glass surface as it blends well with any motif.
For this paint, it takes about 2 or 3 coatings for me to flesh out that frosted look. I would add one more layer if my goal is to make a room feel a little bit more private or hide away the clutter in a cabinet.
From my experience, the paint does not run or drip as it seems to hold on to the slippery glass surface. The drying time is impressive but I particularly enjoy using this aerosol paint because the results look generally neat. As long as I've cleaned the glass properly, the frosted finish looks tidy and very smooth to touch.
One unit of this white glass paint can cover around 12″ x 18″ surface area with multiple coatings. My only gripe is that this product has a strong chemical smell — a common issue with many spray paints. Be sure to work in a well-ventilated space!
Pros
Has an elegant white frosted finish
Great for glassware and ornaments
Can be used to add privacy
Contains sufficient amount of paint
Does not drip or run on slippery surfaces
Cons
Has a strong chemical odor
Anyone can create frosted windows and etched glasswares using this spray paint. The product's simple yet exquisite white frosted finish can suit any interior.
10. Seymour 620-1425 Industrial MRO Spray Paint
Most of the spray paints that I featured here need a couple of coatings before seeing its full effect but not with this industrial-grade product. In a single coat, it gives solid coverage and thus saving me money.
With loads of colors and finish to choose from, this spray paint is probably one of the most versatile products I've ever used. For one, its quality suits home, industrial, marine, and construction applications. For another, it works well on a variety of porous and non-porous surfaces, as well as interior and exterior items.
That said, this paint is strong enough to withstand weather conditions and corrosive chemicals. When applied on metal surfaces, it keeps the object from rusting. A real game-changer, it resists heat and abrasion.
By all accounts, the performance of this paint is top-notch. Given that it does not splatter, run, or sag while I spray, it is easier for me to even out the coating as I go over the surface. Flat, round, or irregular, this paint settles on the object uniformly.
Pro tip: the glossy finish makes the surface so sleek it almost looks like it's made of glass. I don't even need a clear coating to achieve that look.
Perhaps the product's only downside is that the cap's color is slightly different from the paint's actual color. Considering the quality of the paint, it is not a big deal. What matters is that it works well!
Pros
Works on porous and non-porous surfaces
Great for interior and exterior items
Has outstanding durability
Applies uniformly on flat and non-flat objects
One coat gives solid coverage
Cons
The cap's color is slightly different from the paint
Coming from the "inventor of spray paint," this brand sets a high standard. With one coating, the paint can cover your indoor and outdoor items, as well as protect them from the elements.
11. Rust-Oleum 245197 Universal Satin Spray Paint
Do you plan to work with different materials? This Rust-Oleum primer and paint spray can work on both textured and slick surfaces. Besides giving full creative control, this variant is available in different colors and finishes to suit your style.
Among the aerosol's strongest points is that it is suitable for both interior and exterior objects. In other words, I can add color to my outdoor pieces without having to deal with chipping, fading and rusting as they age. Besides small DIY projects, I also find this spray paint is useful for home improvement jobs.
When applying this spray paint on glass, it lays down smoothly and uniformly on the surface. Even as the coating dries, I don't see any dripping or snagging. Just so you know, I followed the instructions and applied light layers on glass bottles and waited about 5 minutes in between to get awesome results.
If you have arthritic hands, I'm sure you will enjoy using this product for spray painting. Designed with comfort in mind, the trigger is very easy to press. My hand did not feel the slightest pain.
Moreover, the clog-free spray paint does not stop or slow down even if I tilt or hold it upside down. Whether I'm painting flat, curved, or irregular objects, I can cover every nook and cranny.
Since the aerosol paint requires more coating to get solid coverage, one unit may not be enough for bigger surfaces. Consequently, you may need to spend a little bit more on spray paints.
Pros
Reliable for indoor and outdoor items
Applies smoothly on different surfaces
Has superb ergonomics
Can be held at any angle
Offers a wide selection of colors and finish
Cons
Requires multiple coatings for solid coverage
In my opinion, this best spray paint for glass bottles due to its even application and durability. Not only that it protects outdoor objects against the elements, but it also comes in different colors to be compatible with any design.
12. Montana Cans Crackle Effects Spray
Sometimes, flat colors can look boring, but adding texture can dramatically enhance the room's overall appearance. The good news is you don't always have to use other tools to create a texture. Let Montana Cans' crackle effects spray do the work for you!
Apart from house decors, I use this spray paint to create costumes and props. What I notice is that the crackle effect looks rather organic. On glass objects, it makes the surface appear vintage even if I just bought it from a dollar store.
Remember, the "distressed" look can only be achieved with acrylic lacquers or nitro combi formulas as base paints. I would let the pre-painting dry for more than 45 minutes but no more than 24 hours. Then I would apply the 2 or 3 layers of the crackle effects spray and let the texture appear.
Another reason why I'm very eager to use this product is that it lets me produce fine with a light application. Meanwhile, heavy application results in bigger crackles. I can also over paint the crackle once dried and cured with nitro combi and acrylic lacquers.
The manufacturer highly recommends sealing after fully cured for good measure. So far, I have not run into any issues with the nozzle as it helps me disperse the paint evenly. Plus, it never clogs. As a result, I managed to achieve the texture that I needed to add texture to the glassware.
However, the product seems to work best if you follow the instructions strictly. For inexperienced painters, it may pose some learning curve but I guarantee you that the results are worth all the effort!
Pros
Produces "organic" crackled effect
Works with any paintable surface
Great for decors, props, and costumes
Can create fine and bigger crackles
Has a clog-free nozzle
Cons
Can be challenging to apply
If you're tired of the usual glass painting techniques, try this crackle effects paint for a change! Regardless of the size of the "crack," this spray paint can get the job done.
What to Look for When Buying Spray Paints for Glass
Even after reading all the reviews on spray paints for glass, I'm sure you still have some burning questions. Perhaps you still want to explore other options or you simply want to learn more before buying spray paint. Let me help you with that!
Colors
On top of the regular colors, manufacturers offer a wide array of spray paints for glass that have a metallic sheen. Some products even allow you to create frosted tumbled glass, stained glass surface, reflective, or crackled effect.
Finish
Just like any regular paint, aerosol paints for glass are available in matte, gloss, semi-gloss, and satin. In this review, I included a black matte chalkboard finish that lets you write on the surface using chalks! You can even find some spray paints that do not require top coating.
Drying time
Drying time varies depending on the brand and type of spray paint you use. Of course, we want to finish painting as fast as we can. However, regular aerosol paint with opaque hues will require different techniques compared to paints with frosted or crackled effects.
Surfaces
While there are spray paints that work solely on glass, many brands have come up with products that can work on various surfaces. This type of paint is ideal for those who intend to color objects made of different materials like vinyl, metals, fiberglass, wood, and so on.
Quality
Another important factor to consider when buying aerosol paint for glass is where you intend to display the items. Some paints are meant for indoor objects while others are formulated for the outdoors as they are exposed to the elements.
What is the Best Spray Paint to Use on Glass
Considering the products on this review, you will notice that some spray paints are crafted specifically for glass surfaces. I find that enamel, acrylic, and oil paint optimal for glass. Just the same, pay attention to how you clean, paint, and dry.
How to Spray Paint Glass
By now, you know the answer to the question "Can you use spray paint on glass?" So let me give you an overview of how to make it work.
Before spraying paint on your glass object, read the instructions provided on the label so you can prepare the materials needed for the project. Generally, you need to clean the surface and let it dry completely.
To ensure that the object is free of residue from the cleaning process, apply rubbing alcohol on the surface. You don't need to wipe the surface with a cloth since alcohol can dry fast.
Remember to paint in a well-ventilated area with a controlled temperature. Apply the paint per the manufacturer's instructions. Note that the temperature will affect the drying time.
Is Spray Paint Dishwasher Safe
While spray paint that sticks to glass are durable, they are not necessarily dishwasher safe. It is best to dust or clean your newly painted glassware with a damp cloth.
Conclusion
Each aerosol paint has something unique to offer. Crafted for different purposes, the spray paints let you decorate glass objects, repurpose old bottles, and even add privacy to a room or a section of your home. With all the colors and finish to choose from, you can definitely find one that suits your taste.
When choosing the best spray paint for glass, consider what you need for your project. Manufacturers provide instructions on the label or their websites to guide you in the process. Whether you're a pro or a beginner, I assure you that DIY glass paintings are doable!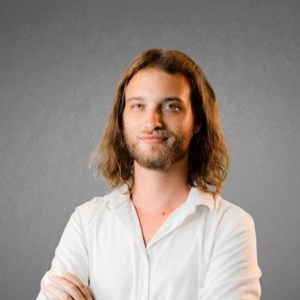 I am a former art teacher, so it is evident to me the importance of art in educating the new generation. We also want to help parents who plan to teach their children and desire the best tools and tips for them.