Artists inspire us to make our artworks. Many of us have started watercolor painting by copying an artist's work. If you are serious about your craft, the smart move is to invest in several watercolor classes and the best watercolor books.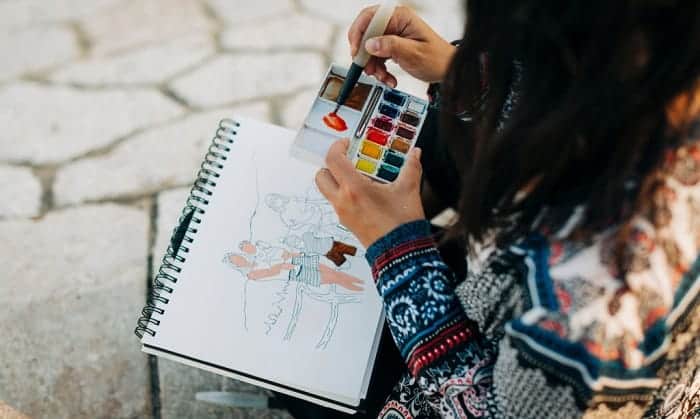 Several professional artists have authored books to share their knowledge and watercolor techniques with the rest of the world. Moreover, books are convenient for those who want to learn at their own pace.
Books on watercolor painting cater to different age brackets, skill levels, and interests. This is because no one is ever too young or too old to make art. Whether you are just starting a new hobby or looking for fresh ways to approach your artwork, you will find everything you need to know in this article.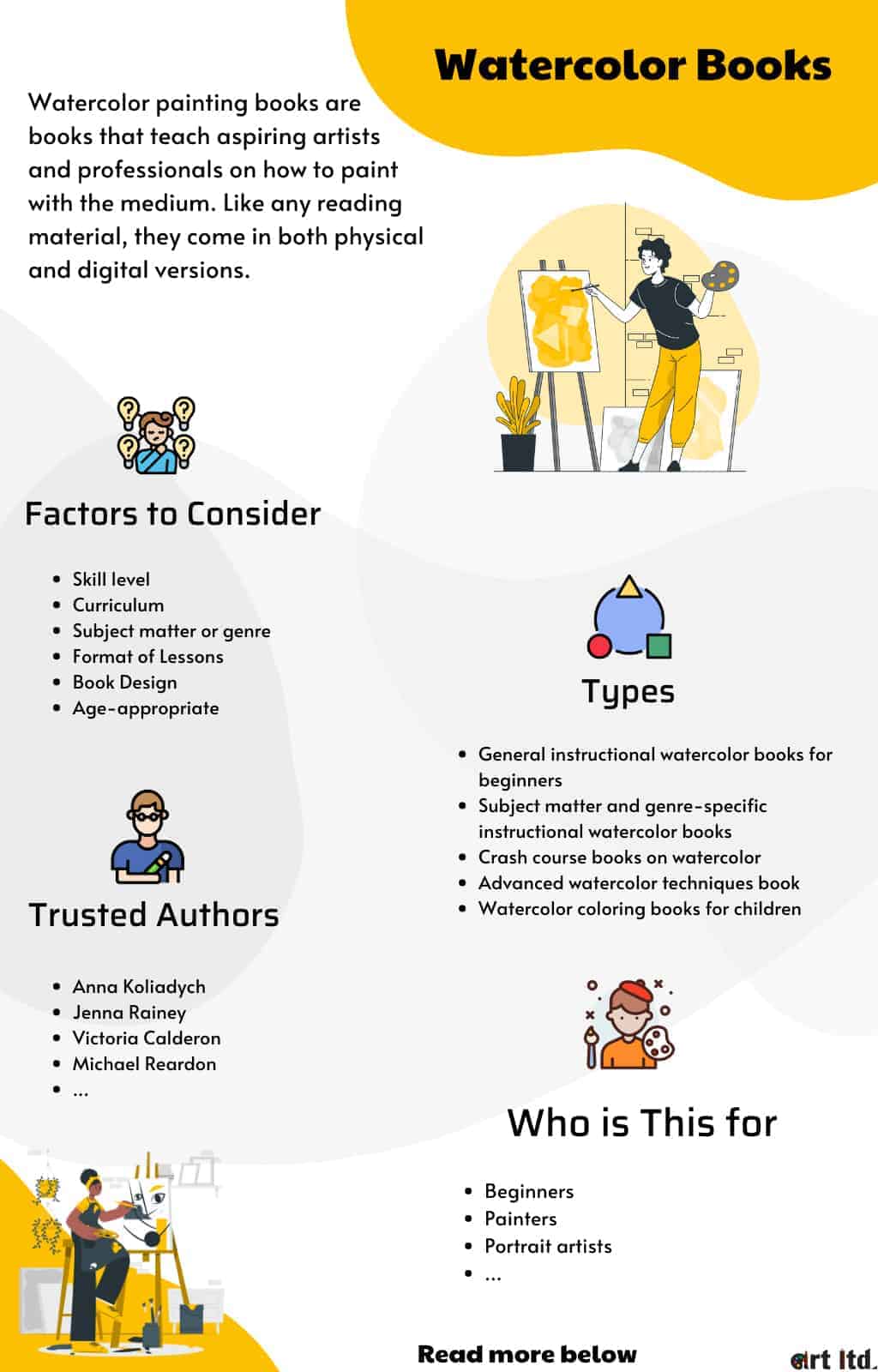 Best Watercolor Book Reviews
1. 15-Minute Watercolor Masterpieces
Perhaps you have started painting recently and now you find yourself stuck in a rut. If this situation sounds familiar to you, then this book can get you back in the groove.
One of the reasons why I highly recommend this book to hobbyists is that it provides step-by-step instructions. True to its promise, I managed to accomplish a "watercolor masterpiece" in less than an hour. It is easier for me to commit to practicing since I don't need to set aside half a day just to learn.
There is no dull moment with this watercolor book by author Anna Koliadych. She helps me explore different themes and subjects. On top of that, she discusses how different techniques work in certain scenarios. This approach gives people a better understanding of when to apply a particular technique.
While the topics are in chronological order, I can pick a project to do for the day at random. Each project includes specific materials so I can prepare beforehand. Since watercolor painting involves experimentation, mistakes are expected. Thankfully, the author includes a "Note" and a "Tip" section since it helps me minimize errors.

Even though this book is intended for beginners, I get the impression that you need to have prior knowledge of art and painting because of the way it is written. On the bright side, it offers an eBook, spiral-bound, and paperback format. My favorite is the spiral-bound version because the book can lay flat while I work on my paintings.
Pros
Perfect book if you want to get yourself "unstuck"
Includes easy-to-do projects
Features a variety of themes and subjects to paint
Helps you better understand the techniques
Provides materials, "Notes" and "Tips" that helps in minimizing errors
Cons
Some chapters are not beginner-friendly
Perfect for sharpening your painting skills, these books for beginners provide a more contextual approach to teaching you techniques. You not only gain to paint a variety of subjects, but you also get more specific instructions to lessen mistakes.
2. Everyday Watercolor
Learning the basics is key to advance your skills, and this can be done if you paint watercolor daily. Using this book by Jenna Rainey as a guide to practice for 30 days, you will surely see a significant improvement.
Many people claim that watercolor is the hardest to master but this book simplifies complex techniques. You don't have to practice watercolor in 30 days consecutively but it is more effective if you do not skip a chapter. In my experience, doing this daily improves my muscle memory.
The author incorporates some visual aids that correspond to the instruction. As the illustrations get harder in the later chapters, these images give me an idea of what my rendition should look like at every step. They are convenient, especially when it comes to complex layering techniques.
On top of that, the book also provides all the materials that you need to complete the guided activities for the month. One advantage of this was that I didn't have to wonder if I got the right brushes, watercolor paint, or paper. However, some of the materials were only used toward the end of the book.

Also, the lessons should be taken in chronological order. Sometimes the author references techniques from previous chapters. Since watercolor paint dries fast, I hesitated to find the pages she mentioned. My advice would be to read the instructions a couple of times before you start painting.
Pros
Simplifies complex techniques to help you practice
Includes basic exercises aid in improving techniques
Gives you an idea of your work should look like in every step
Provides a specific list of materials to use
Accentuates daily activities that improve muscle memory
Cons
Does not provide alternative materials
You have to stop painting to find a technique from another chapter
Deemed as one of the best watercolor books for beginners, Jenna Rainey includes materials, fundamental techniques, and color theory. Guiding you to paint watercolor for 30 days, you will certainly be better than when you began.
3. Creative Watercolor
Dabbling in diverse themes and techniques often leads to discovering a niche that you can pursue. Writer and artist Ana Victoria Calderón will walk you through the process in this guide for beginners.
Even creative individuals who want to go back to basics will find tons of useful tips in this book. Interestingly, some chapters show how to use materials like washi tapes, glitters, pens, and markers alongside the usual watercolor supplies. Moreover, it gives me ideas on how to compose paintings on greeting cards, monograms, and other craft projects.
Nowadays, self-promotion on social media and other platforms is part of being an artist and the author knows that! I love that she presents ways to digitize my artworks. She discusses a few basic digital editing so I can make sure that my painting looks nice on screens.
Each lesson provides a unique subject matter for users to paint but one reason why I like this is that it also includes hand lettering. Thanks to the accompanying visuals, detailed instructions are easy to follow, which makes me feel less intimidated by the creative process. Plus, she includes warm-up exercises to help beginners catch up with advanced lessons.

Although a few lessons that she covered are readily available on the Internet, this beginner's guide contains a lot of valuable information and insights that you won't find elsewhere.
Pros
Loaded with valuable information and insights on watercolor painting
Covers the basic techniques and watercolor application on projects
Includes ways to digitize artworks
Offers a variety of subject matter to paint
Combines text and images in instructions
Cons
A few lessons can be found on the internet
For those who want a complete course, this watercolor painting for beginners book is ideal! It can certainly turn anyone into an artist! Beyond the basics of illustrations, you also get to create gorgeous invitations, greeting cards, other projects, as well as digitizing your work!
4. Watercolour for the Absolute Beginner
Our tools help us produce dramatic effects but mastering the fundamental techniques is still pivotal to creating stunning paintings. Sharing his painting process in this book, I encourage you to learn straight from seasoned artist Matthew Palmer.
Watercolor instruction books typically cover the basics like color theory, coloring basic shapes, and tonal values. What sets this book apart is that it includes perspectives that are applicable across most genres. As a result, I had an easy time following his instructions.
The majority of the pages contain visual aids that are captioned. Instead of writing in paragraph form, the author wrote most of his instructions and tips in bullet points. While painting, I can quickly glance to read the necessary information while painting and be sure that my painting does not dry up.
Another feature that makes this book great for beginners is that it includes tear-out templates. It speeds up my drawing and minimizes erasures since I can trace the outlines. More importantly, the author indicates the brush sizes and the amount of water and pigment needed in rendering something.
Besides the fundamentals, I like that the author also included some scenes to paint. For me, they are like the culminating activities where I have to apply everything that I learned in the previous lessons. Even in this portion of the book, he reveals more tips and tricks to improve my skills.

If you are a beginner looking for variety, you might find this watercolor techniques book limiting as it focuses on landscapes. I think this is a great reference for those who want to paint breath-taking vistas. Moreover, I wish this book is available in eBook so other people can access this as well.
Pros
Great for beginners who want to learn to paint landscapes
Contains captioned visual aids
Lets you glance to read while painting
Includes tear-out templates to speed up drawing
Guides you in applying the techniques in more complex paintings
Cons
Lacks variety in the subject matter
Does not have an e-Book version
Starting something can be the hardest part of an artist's creative journey. However, these books for beginners by Matthew Palmer details a variety of methods that are easy to digest.
5. Melissa & Doug Paint with Water Bundle
Start while you're young, as many experts say! With this set of watercolor painting books for kids, your child will enjoy learning more about colors, as well as animals in the barn, jungle, and ocean.
Suitable for kids ages 3 to 6, each book in the bundle includes a paintbrush. Furthermore, every page has dry paint that you need to moisten. In other words, buying painting supplies separately is optional for parents. Besides, the amount of pigment provided on a single page is just enough for the artwork. There will be no spilled paint on your furniture!
Helping your child develop motor skills, the illustrations are big so they can get used to painting within the shapes. For older children, I can guarantee that it is safe to leave them while they paint on their own since the materials are non-toxic. At the same time, the pages are very easy to tear so they can work on a separate sheet.
Making the activities more engaging, the kids will find the cute creatures fun to look at. Since the images include the environment as the background, children will also learn where the animals live. Once the youngsters finish painting, parents can tear off the page and remove the section that holds the pigments.

The only drawback is the quality of the paintbrushes included in the set. It seems to me that the bristles struggle to grab pigments. But then again, this product is for kids so it is expected that the materials are neither student nor professional-grade.
Pros
Provides non-toxic materials
Comes with watercolor pigments and paintbrushes
Helps in developing motor skills
A fun way to introduce animals and their environment
Features easy-to-tear pages
Cons
The bristles of the brushes struggle to pick up the paint
Thanks to this mess-free watercolor activity book for kids, parents don't have to deal with stained furniture. More importantly, children will enjoy learning more about animals and their habitats.
6. The Joy of Watercolor
Some watercolor artist books for beginners ask you to buy expensive materials, which can be impractical for those who just want to take up painting as a hobby. If you want a more practical approach, Emma Block's book may be the right one for you.
Although the book is meant for novices, I am sure that even hobbyists who are looking for a fresh approach to watercolor can find some inspiration here. The author indicates the level of skill appropriate for each "happy lesson". Even with basic materials and techniques, she teaches a variety of ways to make captivating artworks.
In terms of instructions, the writing is jargon-free so I can follow along without stopping to wonder what the writer is talking about. Before diving into the 40 projects, the book covers tools, layering, and mixing techniques to prime me for art-making activities. Featuring a broad range of subject matter, I'm not stuck with one particular theme.
Leaning on modern watercolor, I don't worry about working on the projects. Even the most "intermediate" lessons do not require highly advanced skills. With the simplified style, I can paint fruit, pets, plants, people, and locations at a relaxed pace.

All in all, this book can boost anyone's confidence in watercolor painting because of the easy-to-do pieces. However, I just wish that the instruction is not in a long paragraph format. It is much easier to quickly read something in bullet points but that's just my experience.
Pros
Does not require you to buy expensive materials
Prepares you with layering and mixing techniques
Has a broad range of subject matter
Provides jargon-free instructions
The painting can be done at a relaxed pace
Cons
The instruction's paragraph format can be hard to read while painting
Assisting you to maximize basic tools and techniques, this book offers watercolor painting activities that are both enjoyable and relaxing. Since it is free of jargon, simply follow along and make beautiful artworks.
7. Learn to Paint in 100 Experiments

Experimenting is an important part of the creative process. In this book, aspiring artists receive guidance from a professional illustrator Sasha Prood to explore various traditional and modern watercolor projects.
Starting with the conventional approach, the book equips me with basics like color theory and paint testing. As such, I am more prepared to tackle traditional painting methods like wet-on-dry, wet-on-wet, and washes. Since I picked up many new techniques from these chapters, I'm confident to try the harder projects as the lessons progress.
The book gives me plenty of projects to look forward to. For those who have never taken art classes in the past, I can assure you that the instructions are beginner-friendly. Each lesson provides images alongside the written instructions that are easy to follow.
While painting, I do not have to spend a lot of time reading because the instructions are short. This way, I can render the painting more accurately because I don't run the risk of drying up liquids on the paper. Besides painting techniques, I learn about watercolor paper and other materials needed.

Within the book, I also found spaces for learners to practice their watercolor techniques. Often this is located within the same spread where you find the instructions. My only concern is that the paper is not ideal for watercolor. If you want to practice, I recommend that you
use mixed media
or watercolor paper to avoid damaging the pages of the book.
Pros
Loaded with watercolor techniques
Provides beginner-friendly instructions
Uses short sentences that are easy to read while painting
Prepares you to do more challenging techniques
Includes information on materials you can use for your project
If you want to go outside of the box and experiment, this book offers plenty of resources for techniques and watercolor inspiration. Whether you prefer traditional or modern approaches, you will get the guidance you need to produce stunning paintings.
8. DIY Watercolor Flowers
Botanical watercolor painting is one of the most popular subjects and according to this book, beginners can do it, too! Written by artist Marie Buodon, the author leads you throughout the process and its application.
Although the book explicitly says it is about DIY watercolor flowers, I can see that this is widely useful since the methods can work across other themes. The first 50 pages begin with the author discussing art supplies and basic painting techniques in depth. It also includes digitizing the artwork so I can use my watercolor paintings on invitations, greeting cards, and gifts.
As for the projects, the author takes me to how the methods work on a variety of flowers. What's even more exciting is that she shares a handful of ways to compose flowers in frames, bouquets, patterns, and many more!
Format-wise, each page includes a photograph of a hand that's holding a brush in the instruction. It gives me an idea of how exactly the painting is done, which is very convenient. The page references save me the trouble of having to flip back and forth while painting.

Overall, I highly recommend these books for beginners and hobbyists who want to paint flowers. My only complaint is that the font in the instructions is small. If it was a little bigger, I can read quickly while I work.
Pros
Provides an in-depth discussion on basic painting techniques
Teaches different forms of floral composition
Includes various ways of digitizing artworks
Shows how each painting is done through text and images
Techniques are useful for other watercolor genres
Cons
Small font can be hard to read for some
Whether it's a greeting card or a gift item, flowers can make anything instantly delightful. Learning how to paint floral composition is a satisfying experience with this book!
9. A Comprehensive Approach to Mastering
There is no single way to master watercolor painting but you can turn to experts who abundantly provide frameworks that budding artists can use. More suitable for painters looking to level up their skills, this book by Tom Hoffman offers more than just technicalities.
Unlike watercolor teaching books for beginners, the text in this book is not in a step-by-step format. Rather, the author presents concepts for artists to improve. Then, he inserts questions to encourage readers to think for themselves. To make these concepts easier to visualize, he shares work by a motley of watercolor painters.
Plus, the author discusses composition, colors, texture techniques, and other factors that make paintings compelling. In doing so, he injects humor into his essays. Even then, he successfully helped me understand the art and science behind watercolors as a medium and as a discipline.
What I appreciate about Hoffman's writing is that he admits his errors and imparts the ways he resolves them. It reassures me that mistakes are part of the process and that there are things that artists can learn only through experience. This is something that instructional books do not teach as they only ask the audience to copy.

The only reason why I am not giving this book a perfect score is that the book format does not translate well on the eBook version. I have to go flip through another page to see the image that the author talked about on another page.
Pros
Encourages artists to think for themselves
Guides painters with useful concepts and insights
Tackles factors that make paintings compelling
Provides context through the works of pro painters as examples
Shares common watercolor mistakes and suggest ways to resolve
Cons
The eBook format is a little inconvenient to navigate
Loaded with important concepts and frameworks, skilled watercolor artists can refer to this book for inspiration and guidance. While this book does not teach a specific formula, you get a better understanding of watercolor painting.
10. Watercolor with Me in the Ocean
Bringing out the creative side of every individual, this book caters to anyone with no experience in art. Presenting lessons in a unique way, author Dana Fox shows how you can paint adorable underwater creatures.
I find the author's instructions comprehensible as they are broken down into bullet format. By just glancing, I can read and paint at the same time. Even though I can work on the paintings without pencils, the book provides outlines of each illustration to give me an idea of what it should look like.
Besides the simplified approach, I like that the author suggests a specific brand of watercolor paint used for the projects. No one is obligated to buy the same brand, but for me, this information sets my expectations in terms of output. Moreover, it is not hard to find the materials since they are available in retail stores.
Since the author arranged the projects according to 3 major techniques, I don't have to go through each lesson in chronological order. I can start with any project without feeling like I'm missing out on anything. Although the majority are easy, each illustration has varying degrees of complexity. This way, I can take on new challenges.

Rather than doing the watercolor painting exercises on the book, I suggest that you work on a
sketchbook
or
the watercolor paper
. The book's paper will not be able to withstand a wet-on-wet technique. Other than that, I think this book is fantastic for adults and children who are new to watercolor paintings and learn to paint watercolor.
Pros
Simplified instructions are easy to read while painting
Offers doable projects with varying degrees of difficulties
Lets you work on the projects in every order you like
Provides easy to find watercolor supplies
No pencil sketching required
Cons
The pages of the book cannot withstand watercolor techniques
Appropriate for both adults and kids, painting fun sea creatures can make anyone create pieces of art. Even if you don't know how to draw, you can surely learn from the techniques that this book offers.
11. Modern Watercolor Botanicals
There are many ways to approach botanical paintings. For a modern aesthetic, you will not regret picking up Sarah Simon's book.
Skill levels are the last thing you have to worry about. I love how the author makes each instruction not intimidating for beginners, yet it does not bore highly-skilled artists. Everything I need to complete a project is specified in the book, which minimizes the need for cross-referencing in other books or websites.
Moreover, the author l shares how I can incorporate wet and dry mediums, such as gouache and fineliners. As this is no ordinary watercolor techniques book, she also included how to prime paint brushes so I can produce better paintings. Not to mention, she lets me in on industry secrets that are often hard to figure out on my own.
After diving deep into materials and techniques, I'm geared up to paint charming foliage. Aside from the painting instruction, the book contains ready-to-trace line drawings to guide non-artists.
Aside from that, I appreciate that the author generously shares more resources. This includes watercolor painting books written by other artists and online courses. Even after I finished the lesson on Modern Watercolor Botanicals, I can continue to develop my artistic skills.

Perhaps the only downside to this book is that the instructions are wordy. I'm all for the in-depth discussion but I need to read the directions more than once before jumping into a painting. Otherwise, I'd probably dry up the liquids while reading.
Pros
Suitable books for beginners and advanced artists
Provides very detailed information and instructions
Teaches mixed-media techniques
Includes ready-to-trace line drawings
Recommends other resources to develop your artistic skills
Cons
The instructions are wordy
Anyone can be a self-taught artist with this one-stop-shop book on botanical watercolor painting. Packed with plenty of tips and tricks, it teaches you how to advance your artistic skills.
12. The Complete Watercolorist's Essential Notebook
Arguably one of the best watercolor instruction books, Gordon MacKenzie imparts his artistic knowledge as he challenges you to grow as a painter. In this 10th-anniversary collection, you get two guide books to boost your skills.
In the first book, the author presents the key principles and techniques that I can use for any genre. In a detailed discussion, he enables me to compose artworks on my own. With that said, the book gives a solid foundation for beginners who want to go beyond recreating other artist's paintings.
Rather than promising readers that they can master watercolors instantly, the author sets realistic expectations. Made for painters who are in for the long haul, he reassures that people don't get things right on the first try and provides useful tips for improvements. Furthermore, the diagrams in the book make it easier for me to digest his writing.
I find this book useful for watercolor artists who need references to review concepts and principles as they progress. The exercises the author designed can make anyone become a better painter. Venturing into the landscape in the second book, I get the opportunity to explore various ways of portraying sceneries.

This collection deserves a perfect score, except that some lessons in the first book are echoed in the second book. Thus, it feels repetitive. However, I must say that this is as comprehensive as it gets and the information I get from this so-called "essential notebook" is timeless.
Pros
Enables you to compose artworks on your own
Presents key principles and techniques that apply to any genre
Provides useful tips to help artists improve
Packed with diagrams that make lessons easy to understand
Dives deep into landscape painting in the second book
Cons
Some lessons in the two books are repetitive
In honing a painter's skill, this is one of the best
watercolor books for beginners
that every self-taught artist should have. Gordon MacKenzie illustrates each principle, concept, and technique to guide you as you begin your watercolor paintings journey.
What to Look for When Buying Watercolor Books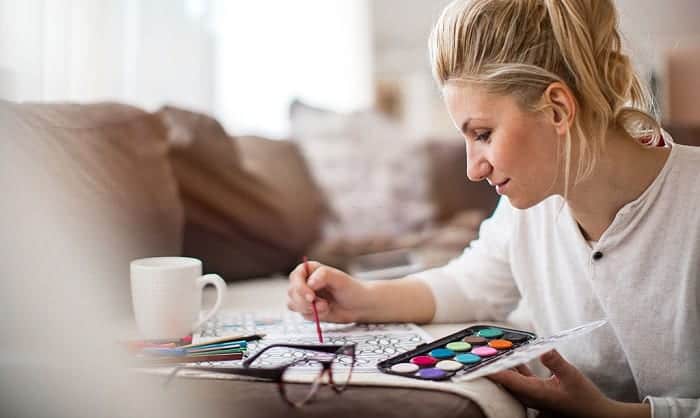 Granting the fact that there is free information on Youtube, Reddit, and other websites, the lessons you can pick up from books are worth investing in. Reading a watercolor art book is not just for inspiration as it also offers effective methods that artists have used for years. The only challenge for you now is to find the one that you need.
If you are a fan of a watercolor artist's work, you would most likely buy the books they authored. However, newbies would probably get lost in a bookstore when they look for the best watercolor books. After all, there's only so much that the fancy book cover and synopsis could tell you. For that, check out these pointers to guide you in selecting books that match your needs.
Skill level
Just as an easy watercolor project could bore you, a difficult technique could leave you feeling like you never had artistic talent in the first place. Aside from that, you need to determine whether you want to take up watercolor paintings as a hobby or as a profession. Luckily, plenty of authors and artists have written books that are targeted to very specific readers.
Books for beginners often share basic information on watercolors, such as color theory, brush techniques, and materials. With simplified instructions, hobbyists can follow along. On the other hand, books that are meant for art students and professionals are written with the assumption that the reader is already aware of the jargon.
Most of the books that you will find in the market indicate the skill level in the covers or packaging. For example, you will find book titles with keywords like "beginners" or "intermediate." The synopsis will also show you a glimpse of the content of each book so you can see if it is appropriate for you or not.
Curriculum
Although the techniques and materials are more or less the same, watercolor painting books specialize in very specific topics and projects. Besides, we all have diverse interests, skill levels, and intentions for taking up watercolor.
Even books for beginners differ from one another. A "beginner" could be a child, an adult with zero background in art, or someone who just wants to have a self-paced refresher course. You may need to start from scratch and learn about paint, watercolor sketchbook, or paper.
The same can be said for books that are intended for a watercolor artist who has been painting for years. Perhaps, you are no longer interested in materials and want to study color theory or composition.
Before buying anything, be sure to check the table of contents, synopsis, or pages to see if the book covers the topics or techniques that you want to learn.
Subject matter or genre
You can paint anything with watercolor but just like a doctor or an engineer, an artist specializes in a particular subject matter. From landscapes to portraiture, each book shares the nuances in watercolor or brush techniques that apply to the subject matter.
Furthermore, watercolor is a medium that lets you play with different styles. Whether you prefer a realistic portrayal of scenery or a whimsical creature, you can find a book that helps you achieve the work that defines the artist you have always wanted to be.
Format of Lessons
Some authors write in long paragraphs to provide the reader with very detailed information on principles, concepts, and materials. Meanwhile, others provide step-by-step instructions in bullet points.
Keep in mind that these methods of presenting lessons have their pros and cons. For instance, books for beginners simplify instructions and include visual aids to make it easier for you to read and paint at the same time. Nowadays, some books provide traceable shapes and patterns for folks who have no experience in illustrations.
If you are way past the beginner stage, you may want to establish a personal style rather than copying another artist's painting. In this case, you should opt for books that provide an in-depth discussion of concepts and techniques.
Authored by professional artists, they share useful insights based on years of experience. Since these books are meant for painters with advanced skills, the exercises are not always presented in a step-by-step format. They are designed to challenge you to think for yourself.
Book Design
These days, most books are available in both physical and digital forms, especially the newer ones. One of the advantages of reading on a device is that you can enlarge the fonts of the watercolor books pdf files.
Still, some people prefer an actual book since the page layout can be hard to navigate on an eBook version. When the author refers to a specific illustration, you might need to scroll through the pages just to find it, which can be inconvenient.
Apart from that, it is also a good practice to consider the binding and cover as it is much easier to read while painting if the book can lay flat on the table. Both eBooks and physical books have pros and cons so choose the one that suits your habits.
Age-appropriate
Watercolor is for everyone but the supplies and books should be suitable for a particular age group. One obvious example is children. Parents or educators can introduce this wet medium to toddlers or kids with child-friendly watercolor coloring books or watercolor paint books.
Some books provide projects that are meant for both adults and kids. Learning to paint together is a fun way to bond as a family.
Other Important Factors to Consider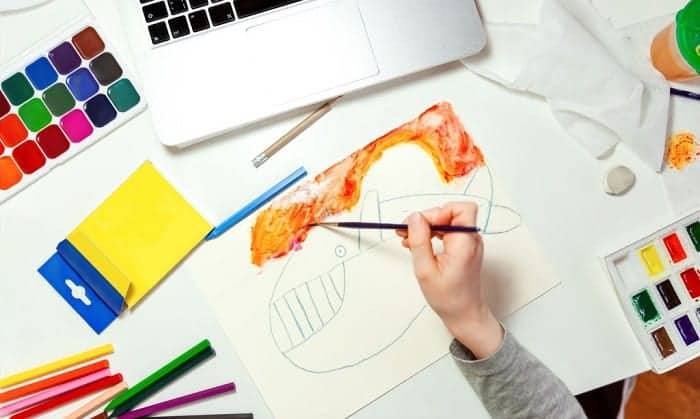 What is a watercolor painting book?
Watercolor painting books are books that teach aspiring artists and professionals on how to paint with the medium. Like any reading material, they come in both physical and digital versions.
These books cover a diverse range of topics, which can include informational, instructional, inspirational, and philosophical discussions. With authors who have dedicated most of their lives to the craft, you can expect that these books have the answers to your burning questions.
How does watercolor books work?
For any artist, books on watercolors are good sources of inspiration, new methods, and fresh perspectives. Each book serves a different purpose.
Let's take books for beginners as an example. Toddlers and children who have not learned how to read would benefit from coloring books with the guidance of an adult.
Meanwhile, teenagers and adults can study techniques through instructional books. Through a step-by-step guide, aspiring artists can copy artworks until they develop the skills that are necessary to create their original paintings.
Hobbyists who have some level of experience may be looking for new ideas and inspiration. They may benefit from a book that provides daily watercolor projects to refine their skills.
On the other hand, professional painters can take advantage of books that push them to get better not just in painting, but as an overall artist. These books often tackle art concepts, theories, and advanced techniques.
Who is this for?
Occupying the art section of bookstores, books on watercolor cater to anyone who wants to take up watercolor as a hobby or career. Some of them come in the form of a manual that instructs beginners to buy specific materials, follow specific water to paint ratio, and recreate an artwork. Whereas other books encourage painters to think for themselves so they can create something original.
Many books cover specific subject matter or style. Nature lovers would be interested in botanicals, landscapes, or animals. In contrast, people who love to draw portraits would go for books that teach them to paint faces. The range of style spans from realistic to abstract. Just take your pick!
What are the different types of watercolor books?
Thousands of professional artists share their expertise through books. From a simple everyday watercolor pdf to thick reading material on theories, you will find loads of them in bookstores and online shops. While these resources are extremely useful, many of us can feel overwhelmed, especially when we do not even know where to start.
To make the search more convenient for you, here are the different types of books on watercolor available in the market:
General instructional watercolor books for beginners
Subject matter and genre-specific instructional watercolor books
Crash course books on watercolor
Advanced watercolor techniques book
Watercolor coloring books for children
Why do you need watercolor instruction books?
Books are just as important as the materials you use. Many seasoned watercolor artists have gone to art schools where they learned principles, theories, history, materials, and techniques. However, not all of us plan on getting a degree in art.
Instructional books for beginners come in handy if you want to get creative in your past-time or if you don't have the time to attend a painting class. For intermediate artists, watercolor books provide valuable pieces of advice straight from the experts that you will not find elsewhere.
Another reason to buy books is that the lessons are timeless. Even as you move forward, you will always find yourself looking for guidance or inspiration. Having a collection of references will help you move forward as an artist.
Frequently Asked Questions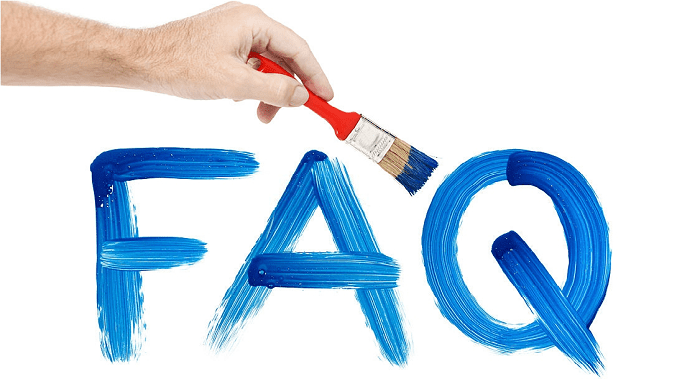 What are the most trusted watercolor book brands?
You can learn a lot from "15-Minute Watercolor Masterpieces: Create Frame-Worthy Art in Just a Few Simple Steps" for short painting sessions at home. "Everyday Watercolor: Learn to Paint Watercolor in 30 Days" is also a good book for those who want daily creative exercises. Meanwhile, kids will enjoy "Melissa & Doug Paint with Water Bundle".
If you don't have an artistic skill, don't worry because there are books like "Watercolour for the Absolute Beginner: The Society for All Artists," "Creative Watercolor: A Step-by-Step Guide for Beginners," and "The Complete Watercolorist's Essential Notebook".
For those who want to paint flowers or animals, try "DIY Watercolor Flowers: The Beginner's Guide to Flower Painting for Journal Pages, Handmade Stationery, and More," "Modern Watercolor Botanicals: A Creative Workshop in Watercolor, Gouache, & Ink," or "Watercolor with Me in the Ocean".
You can also pick up "The Joy of Watercolor: 40 Happy Lessons for Painting the World Around You," "Watercolor Workshop: Learn to Paint in 100 Experiments," and "Watercolor Painting: A Comprehensive Approach to Mastering the Medium".
Keep in mind that these books are suggestions. Based on my experience, I find them reliable. You are free to try out books that are written by other artists like Michael Reardon, Leslie Frontz, Shirley Trevana, Nita Engle, Hazel Soan, Ray Hendershot, Cathy Johnson, and many more.
How to paint watercolor books?
Instructional books for beginners have short instructions that are broken down into bullet points so you can paint as you read. Of course, it's always good to read the directions thoroughly before doing anything. This way, you have a better idea of what to do and avoid flipping through the pages while working. But essentially, all you have to do is to follow what the author says to get the best results.
It's a different case for children's watercolor paint books. Here, the instructions are minimal and they are mostly meant for parents to read. As for kids, they usually just go ahead and paint.
Meanwhile, advanced watercolor painting books dive deep into key principles to help you flesh out your style rather than copying another artist's artwork. As such, there are more reading materials than actual painting exercises.
Where to buy books on watercolor?
Books on watercolor are not hard to find. Most bookstores sell these books and they are always found in the art section. Alternatively, you can order these references from e-Commerce sites like Amazon, where the e-Book versions are available.

Conclusion
With thousands of watercolor books sold in the market, it is hard to tell which ones you can count on. Sometimes, buying a book can be risky because you don't know where to start. Do you want to create paintings of plants in various settings? Or, do you want to learn different methods so you can compose your own artworks?
The best watercolor books are the ones that are easy to understand and generous in imparting techniques, art theories, color mixing, and materials. Regardless of the path that you intend to take, these books written by experts can contribute to your growth as a watercolor artist. They answer all the questions you have in mind so all you have to do is focus on perfecting your paintings.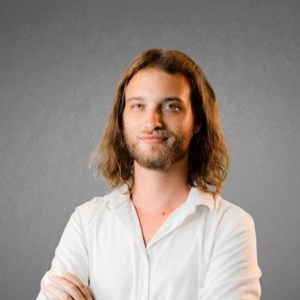 I am a former art teacher, so it is evident to me the importance of art in educating the new generation. We also want to help parents who plan to teach their children and desire the best tools and tips for them.