What is a marker collection without the best metallic markers? They are the perfect additions to marker collections because of the sparkle that they bring. With a little bit of gold, silver or bronze, you can make those boring letterings look more festive and more interesting.
It doesn't matter whether you are a professional or a hobbyist. You still should have metallic markers to bring more flexibility to the art and letterings that you do.
Thankfully, there is no shortage of the top-rated metallic pens out there. I'm here to show you which pens out there would be a great choice and how you can choose the ones that are most suitable for your needs.
Top 10 Metallic Marker Reviews
1. Nianpu Premium Metallic Marker Pens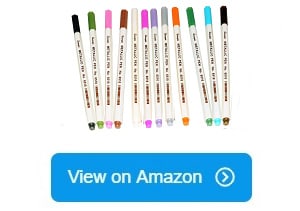 This is one of the best value-for-your-money metallic marker pens out there. You are getting 12 different colors of the pen at a very reasonable price. Even if you have a student budget, you will surely find this marker a good choice.
One thing to like about this is its color options. These are fun and useful colors that will be in heavy rotation in your marker collection. I find myself enjoying these colors on a variety of mediums. Since they are opaque, I like the look they offer, especially on paper.
These are pen-type markers. They are as thin as pens. I don't find this size the most comfortable when doing coloring but it's a good thing, because these have contoured bodies so they are easier to hold. It lessens hand fatigue that way.
I have no complaints about the vividness of the metallic colors. All of them are opaque. Even with one shad, the color comes through.
The ink is very rich. I like how I was able to achieve the thickness of the color that I want even with just one swipe. It makes it easier to do letterings and shading.
Speaking of shading, I think the bullet tips of these markers are great for such a purpose. It doesn't provide good coverage though but for adding fine details and special touches, these are quite handy to have around.
The tips for these marker pens are finer though so I don't recommend them for doing bold letterings. For everyday writing styles, they would work more effective.
The manufacturer backs up your purchase with a 100% satisfaction guarantee. If you are not satisfied with your purchase within 30 days after getting it, you can get your money back. That's a good feature if you want to feel secure with your purchase.
I would suggest waiting a bit longer for the ink to dry up when using this on glossy surfaces such as ceramic or glass but if you are using it on paper, these markers do dry up quickly. So far, I haven't experienced major smearing and smudging. Just test it out a little bit if you are not sure.
Pros
Affordable but good quality
Provide vivid colors even with just one swipe
Great for writing and adding finer details
Ink dries quickly on paper
Great color choices
Cons
The fine bullet tips are limiting
I would suggest these metallic colouring pens if you are looking for fine-tipped pens that you can use for writing. They are great for people who do journaling. I recommend these to art students who need trusty metallic pens as well.
2. Sharpie Metallic Permanent Markers
If you are looking for a starter metallic pen kit, these permanent metallic markers would be a perfect choice. It comes with two pieces of gold, two pieces of silver and two pieces of bronze pens that should last for a long while.
I can always trust Sharpie to produce vivid-colored markers and these ones have not disappointed me. All of them delivered. The metallic sheen really stands out even on surfaces that are already shiny or are darker.
I am particularly smitten with the gold ink pen. It looks nice and elegant when doing calligraphy for signages. I have had much success using it even on non-porous surfaces such as glass.
What makes these pens stand out from all the others is that it doesn't need shaking or activating. The ink actually dispenses without spending too much time and effort shaking the pens first. They are ready to be used anytime, anywhere.
I also like this feature because if you have had pens in the past that needs shaking, you probably know how messy it can get. There are pens that tend to dispel too much ink one go, leading to a big glob of mess.
The ink also has good water-resistant properties. Even after being exposed to a little bit of moisture, it holds its own and stays as vibrant as when you first applied the ink. Its quick-drying functions are also commendable. There were no issues with smearing.
These markers are also pigmented. In fact, I usually just use one pass of these markers. No need to do a double shading because one shade usually suffices to get the look that you want.
The gold and bronze colors do look very similar to each other. If you use them on dark-colored surfaces, the difference in colors might not be that great. The bronze closely resembles the gold and gives off a nice shine.
Keep in mind though that the ink for these markers doesn't seem to last as long as the ink used in other Sharpie markers. That said, I would recommend using these for special occasions only if you want them to last long.
Pros
Vivid colors that stand out even on dark surfaces
No shaking required
Dispenses ink evenly
Easy to use
Reasonable price
Cons
Might not be that long-lasting
I highly recommend getting these markers if you want a basic metallic set that will not fail you no matter what medium you plan on working on. Use these on different surfaces with much success.
3. Pilot G2 Metallics Refillable & Retractable Rolling Ball Gel Pens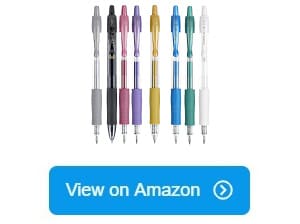 On the lookout for metallic glitter gel pens? Get your hands on these pens from Pilot. Each set comes with 8 different colors including a metallic gold pen. You will not just get basic metallic colors but fun and exciting ones like purple, pink and blue as well. It even comes with a white metallic pen option that can serve a variety of purposes.
I have never encountered pens that write as smoothly as these fine tip metallic pens. These glitter and metallic gel pens glide seamlessly on paper and even rough and porous surfaces like wood. It's really such a joy to use these.
The gel ink is thick but manageable. I don't have issues with how it dispenses ink. The ink comes out smoothly all the time even without shaking the pen.
The pens come in a transparent barrel where you can clearly see how much ink you still have left. This makes it easier to see if you need to start looking for other metallic calligraphy pens because your current ones are running out of ink.
Like most gel pens out there, these ones last for a long time. I also like the idea that the ink is refillable. I don't have to buy the whole set. If I use up the gold and silver pens, for instance, I can just buy a refill for them and not the entire set. This is great if you only use a couple of these pens.
These pens are also user-friendly. They are retractable, dispensing the need for annoying caps that sometimes get lost. If you often lose the caps of your metallic pens for black paper, you will find these pens convenient for your needs.
The only downside to these ones is the white pen. It's not as strong as I would prefer. I bought a black post-it specifically so I can test out the white pen and it just didn't deliver. I did not have problems with the other colors. They look opaque and vivid on paper.
Pros
Writes smoothly and evenly
Comes in a retractable form
The ink is refillable
Can save you a lot of money in the long run
Great color choices
Cons
The white one isn't as good as the others
These pens are great for people who want the consistency of gel pens. They can be your go-to metallic pens when it comes to a variety of writing projects.
4. Crayola Metallic Markers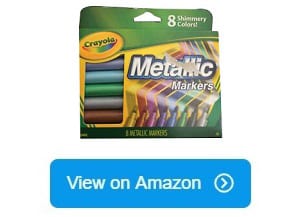 On a tight budget? Get these metallic markers from Crayola. They are more affordable compared to others and you are getting 8 different colors.
The design is similar to old school crayons from Crayola but in a plastic barrel that depicts its color. I actually like the design of these pens. They are nice to look at.
The color options are also great. Aside from the usual gold calligraphy pen and silver metallic pens, there are other metallic options such as black iron, purple steel, green machine, copper mine, and pink bling. These pens actually have a pearly sheen to them more than metallic, so if you are looking for one that is truly metallic, you might be disappointed.
I would use these sparingly or when just doing special projects. They are not great for heavy usage because the tips can get worn-out easily. They are not recommended for children to use since heavy pressure can flatten the tips easily.
The size of these pens is unique. They are not as thick as the regular markers out there but they are thicker than your regular skinny marker.
That said, you will love the colors of these markers. I can say it is the most favorite gold pen I have tried because the gold really shines through. Once it dries up, it holds its pearly or metallic look. I also like the texture once it dries up. It doesn't get chalky like many markers out there.
These pens seem to have a safe formulation as well. I can't detect any unwanted odor. I would recommend putting this on top of another marker ink to give it a nice shiny finish.
I can say that these metallic markers for black paperwork. They definitely shine even when you use it against a black surface. The pen also glides smoothly and seamlessly without chafing or snagging.
I do find the silver tricky to use sometimes. It occasionally needs to be shaken to get the ink to flow to the tip. But other than that, the rest of the markers seem to work well with no issues.
Pros
Great to use on top of other marker inks
Glides smoothly
Beautiful color choices
Affordable for its quality
Consistent functionality
Cons
The tips can wear out easily
Go ahead and buy this if you don't fancy spending too much money on metallic pens you might just occasionally use. They can last long if you take good care of them.
5. Dyvicl Metallic Markers Paint Marker Pens
Don't be fooled with the utilitarian look of these pens. These pens deliver covet-worthy metallic colors and even have some colors that you can't easily find in other marker brands.
Right off the bat, these pens will strike you as professional pens. They did not disappoint because the ink quality is top-notch as well as the opacity and the coverage of the ink deliver. I love how pigmented the ink is.
I can't detect a chemical scent in the inks as well, so I can assure you that this is safe to use. The manufacturer also said their ink formulation is free from acid and is eco-friendly. It won't leave a harmful residue behind.
I like the bullet tip of these pens. They are great for making a variety of designs including shading. Although they have good coverage because of the thickness of the tip, I find that they are still comfortable to use even when making fine details. The tips don't wear out easily as well.
I have tried using these pens on different surfaces such as rocks and wood with a lot of success. They still look visible even when used on dark surfaces. The gold brush pen is the best, in my opinion. It stands out even when used on a black paper or rock.
It's actually easy to use. Unlike other markers that still needs to be shaken before the ink will flow, these ones don't.
You can also buy this comfortably because it is backed by a 100% satisfaction guarantee. If you have any issues with the product, you can contact them through their email address and they can send you a replacement or they can give you a refund.[/su_note]
Keep in mind that these pens are not permanent. If you use them on glass or ceramic, they will still wash off. When using them on paper, these pens have a tendency to bleed.
I would say that these pens are long-lasting. I use the metallic gold ink pen all the time and I haven't run out on ink just yet.
Pros
Good quality ink
Has a lot of good metallic color options
Good coverage
Backed by a good warranty
Does not cost a lot of money
These pens are a value for your money. If you are looking for more color options without, you should get these high-quality pens.
6. DealKits Premium Metallic Marker Pens
Premium quality without a premium price. This is what you can get if you buy these metallic marker pens. They are budget-friendly but they have functionalities that will give more expensive brands of metallic marker pens out there a run for their money.
It comes complete with 10 different marker color options including a red metallic pen, which is something you don't easily see in other marker sets. These have fine tips that are used for creating thinner letterings and for adding more details to your artwork.
These pens are on the thin side. They are very similar to a regular ball pen. I can do a lot of things with these such as use them for journaling and for stenciling.
The ink is water-based. It is easier to dispense compared to the oil-based ones. I find that the ink flows smoothly each time. I did not have problems with gaps or bubbles. There is consistency with how it dispels ink each time.
You get opaque and vivid results each time. I did not have issues when using this on paper. I have tried it on other surfaces as well such as glass and wood and while the colors might not be as vibrant, they still pop out.
You can rest your worries because the manufacturer offers a 45-day money-back guarantee if you find anything wrong with your purchase. You also get a 24-month replacement if the markers fail during that time. Simply contact their customer service and let them know what your problem is.
I think when it comes to the metallic components of these pens, they truly deliver. The metallic sheen really comes through. However, the metallic sheen is not as noticeable on more porous surfaces such as wood.
Another thing I like about these pens is the shape of the tip. It has an angle that makes it versatile. Although it has a fine tip, I can angle the pen in such a way that it provides more coverage. I also like that even on thin paper, these pens don't easily bleed through.
Pros
Great metallic sheen
Angled tip is easier to use
Has a good ink flow
A lot of color options
Does not bleed through
Cons
Might not be as great when used on wood
Whether you need a set of marker pen for journaling, for calligraphy or for your art, these pens are a must-have. They won't break the bank and they provide the same quality as more expensive pens.
7. Frienda Gold and Silver Metallic Marker Pens
If you are looking for a trusty set of gold and silver metallic marker pens only, this would be your best bet. It doesn't include other colors, just these two popular choices. You get three pieces of each color so this set will last you for a long time.
These are fine point tip pens, a favorite of mine when it comes to jazzing up my journal and creating sharp and clean lines. I love this for making borders as well. The design of the tips and the barrel of the marker reminds me of calligraphy brushes. If you do calligraphy and you want something handy to bring with you, these pens would be a perfect alternative.
I am smitten with how smoothly these pens write. The ink just flows and flows consistently with no annoying gaps. They dry up quickly which means you don't have to deal with unsightly smears. I also like that the ink doesn't bleed through.
The tips of these pens, although fine tips are still good when it comes to shading. They are versatile enough that you can angle them slightly and get more coverage when shading.
These are marker pens that can also work on surfaces that are not completely dry. If you accidentally spill some water, the ink doesn't run. It's not permanent though. If you use it on glasses, it will still wash off. This would actually make great markers though since they are washable.
I do find these markers vibrant. They stand out even when you write it on glass or other surfaces where ink tends to look washed out. Of course, these markers will look best if you use them on black paper but for other mediums, they are fairly good.
I also like the gold of this brand. Some markers have gold markers that tend to look bronze or have a yellowish tint to them. This one truly delivers when it comes to its gold colors.
The tips are long-lasting as well. I haven't experienced wear and tear on my marker tips yet. It helps though that I don't subject them to a lot of damage. You will wear these out if you put too much pressure when writing.
Pros
True gold color
Comes only in silver and gold, which is great for some buyers
Flexible tips
Vivid colors even on different mediums
Cons
These pens are more on the medium bullet tip side rather than a fine tip pen
These are the markers you should buy if you want only gold and silver metallic pens for your projects. They are affordable and they produce the prettiest gold and silver hues you will ever see.
8. Sunshilor Metallic Markers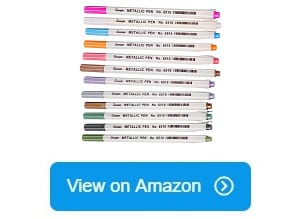 These are the markers to go for if you are looking for a diverse range of colors. There are 12 different colors of markers in this set and that includes colors you can't find elsewhere such as fuchsia and orange.
I quite like the fine tips of these markers. They are easy to work with and they don't dry up easily. They are a tad small compared to others I have tried before but I haven't had issues with its writing capability even with the size of the tip.
Keep in mind that these are metallic markers. That means if you use them on surfaces, they will stay. You can use them on different surfaces and mediums such as glass, metal, and wood. They will dry up fast and settle so they are resistant to water. I have tried using this on ceramic glasses and they truly stayed even after being washed in the dishwasher.
I like the hexagonal shape of the barrel. It stops the markers from rolling if you set them down on the table. They are also easier to hold this way.
Another thing that makes these markers astounding is their vividness. They never seem to fade even after some time has already passed. They stay as vibrant as when you first used them. They work equally on any kind of surface.
The ink just goes out of the tips seamlessly. It doesn't require shaking or whatever other things needed to keep the ink flowing. In fact, ink consistency and quality are comparable to those expensive brands.
I like how these pens did not leave a streaky mess. The ink stays where they should be. I haven't experienced any leak issues and there is no glob of watery ink mess when I use it the first time. It has a lot of good control over how much it dispenses ink
On shinier surfaces, I would suggest waiting for a few more minutes to let the ink dry better. If you apply a topcoat, it might smear a little.
Pros
Vivid colors that look great even on darker surfaces
More color options for artists
Hexagonal barrel that stays in place
No-leak design
Easy to use and doesn't require shaking
Cons
Might not dry up well on non-porous surfaces
I think these pens would be a great alternative to all the expensive marker pens out there. If you can't afford those more expensive high-quality markers, get these instead.
9. Morfone Metallic Marker Pens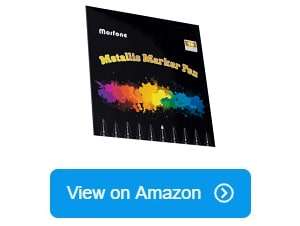 At a reasonable price, you are getting 10 different colors of metallic marker pens. There are a lot of interesting colors in this set. It's a good mixture of basic and fun colors, which will appeal to different kinds of customers.
If you like coloring, you will love the selection of colors in this one. It will give your art more dimension. The colors show up easily, even if you layer them on top of other marker colors. The ink consistency is on the watery side, this being a water-based paint, which means I have had no issues with usage. It just dispenses ink effectively.
The colors aren't as vibrant as they are depicted on the cap. They are more muted. I do find this useful when adding more dimension to your art.
I haven't tried it on all surfaces but the manufacturer said this could be used on stone, paper, metal, wood, glass, and plastic. It works well on paper and stays on glossy surfaces like glass. I think its weak point is fabric because the metallic component doesn't come through.
Some of the colors look similar to each other. That might be a downside to others who are looking for more variety but it is actually useful sometimes when you shade and you want to create more color depth to your work.
I would suggest waiting for a bit of time before you try touching the ink. These have a slight tendency to smear, especially on a non-porous surface. Give it more time to dry up to avoid making a mess.
These markers are leak-proof. The cap has an airtight seal that prevents the ink from leaking. The durability of the nibs is just right. I don't suggest using them all the time on rough surfaces even though they don't wear out that easily.
The manufacturer gives more peace of mind to buyers with their 100% satisfaction guarantee. If you are unsatisfied with your purchase, you can get a replacement if you escalate your concern within 12 months of purchase. They will also give your money back.
Pros
Has a leak-proof
Dispenses ink easily
Affordable choice
Durable nibs
I would recommend these pens if you want more color options and you want something that can work on different mediums. They are affordable and they can last for a long time.
10. BIC Intensity Metallic Permanent Marker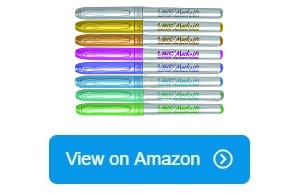 You won't regret adding these markers to your collection. It comes with 8 metallic colors with fine tips for these writing, lettering and calligraphy needs.
I love the formulation of the ink. They don't emit a strong odor and they do not have an acid formulation that bleeds on paper. I think these markers will be great no matter what medium you are using.
The fine points are just right for my various writing and drawing needs. I can do a lot of fine detailing and intricate writing. The tips also remain intact even if they get subjected to a considerable amount of wear and tear.
If you angle the tips a little bit, they can create a bolder and thicker line. I would suggest adding a second layer to get more definition to the color and metallic sheen of the ink.
One of the things I like about this is how comfortable they are to hold. The thickness of the barrel is just right. It also has a rubber grip, which makes this easier to hold if you have clammy hands.
The colors are more on the darker side but the metallic sheen really comes out. The gold is more of yellow gold and the silver has a slightly chalky white look to it but they are true metallics.
These would make a good starter marker kit. If you are looking for reliable and versatile markers that you can use for different kinds of projects, you will like these markers.
The ink always comes out consistently. It doesn't leave behind an unsightly and messy glob. However, make sure you store them with the tip side down. That will prevent the tips from drying out.
The colors do not fade over time. When I go back to the markings I made with these pens, they are still as vibrant as when I used them the first time.
Pros
Bold colors
Does not leak
Can stay on surfaces for a long time
Easy to clean when you make a mess
Cons
The tips have a tendency to dry up so they should be kept with the tips downward
These would make a good starter marker kit. If you are looking for reliable and versatile markers that you can use for different kinds of projects, you will like these markers.
What to Look for When Buying Metallic Markers
When looking for metallic markers to add to your art or writing repertoire, you should keep the following factors in mind:
Metallic Sheen
Not all metallic markers are true metallics. Some might not have a visible metallic sheen or might have a metallic sheen on certain surfaces only. There are those pens that look more vivid against dark surfaces but can look washed out when you use them on paper.
Choose metallic markers with a metallic sheen that really comes out no matter what medium you are using. Whether you need to use it to paint rocks or write on paper, it should be able to show off its metallic sheen.
Color Choices
Do you need more color options or are you only looking for true metallics such as gold, silver, and bronze? There are products that only include these three basic metallic colors but there are also those with more color choices.
The specialized metallic gold, silver and bronze markers tend to be better for special projects such as writing on glass, wood or metal. They are great for doing calligraphy projects such as wedding signages. I would suggest getting those with white and black metallic markers as well. They are useful in labeling glass jars and doing all sorts of projects at home.
Ink Consistency
One important thing to look for is consistency. You don't want the ink to have gaps whenever you are using the pen. It's annoying to trace back to the gaps.
Look for those inks that are water-based and devoid of acid as well. They are the ones that work better.
Long-Lasting
Pick a metallic marker with long-lasting ink. If you are going to use your markers for a long time, make sure it has a good volume of ink. Find out how much ink is inside. That should be included in the back label of the product.
Make sure the ink doesn't dry up inside the barrel easily. Even if it has a large volume of ink, if it dries up easily, it still will not serve you well for a long time.
Leak-Proof
Check the seal of the cap. Is it airtight? You should be able to hear an audible click whenever you close the cap. If air gets inside, it can dry up the nibs and cannot prevent the ink from flowing out.
Ergonomics
Choose pens that are easier to hold. These marker pens come in different designs and shapes. There are those that have hexagonal shape that prevents the pen from rolling off of the table and allows easier grip for those with poor hand dexterity such as children. There are also those with a rubber grip that allows a firmer grip if you have clammy or sweaty hands.
Affordable
Choose pens that are within your budget. Of course, you also need to make sure that these pens are worth the money. They might be cheap but if they will wear out easily, they are still not value for your money.
Other Important Factors to Consider
What is a Metallic Marker?
A metallic marker is a kind of marker that has metallic colors. They usually have a metallic sheen to them much like the shine you can see from metal surfaces, hence their name. This is actually achieved by mixing different kinds of materials. There may be specks of glitter included to create that sheen.
These markers also tend to be bolder and thicker than regular markers. Because of the added materials, they have a more viscous ink consistency compared to solid-colored markers that look flat when applied on surfaces.
How Does it Work?
Metallic markers are no different in usage and functionality than other markers. You basically just remove the cap and start writing with it. The pens will dispense ink as you write. These pens usually have a water-based ink consistency which makes it easier for the ink to flow out of the pen.
Who Is This For?
Metallic markers are for anyone who needs markers to write or draw. They also work on a variety of surfaces such as ceramics, glass, stone, metals and even fabrics.
This can be used by students who need bright and shiny markers to highlight words in their notes. It can be used by professionals who need to make their reports look more interesting.
Metallic markers can also be used by artists when designing ceramic mugs, doing wedding signages, creating art on stone and doing metal works. They can also be used to label wine glasses or glass jars at home for organization.
There are many uses for these metallic markers, which is why they are very versatile.
What are the Different Types of Metallic Markers?
There are standard metallic markers that make use of water-based and acid-free ink. They can be used on different surfaces. They are easy to work with and do not require activation such as shaking the pen.
There are also gel-type metallic markers. The ink is more viscous. This thicker type of ink usually has a longer staying power and has a more vivid output.
Metallic markers also differ when it comes to their design. Some come with a cap that you take off whenever you need to write. There are those that come with a retractable design. Simply press a button at the end of the marker and the tip will come out.
There are metallic markers with refillable inks as well. You can save money if you opt for these markers since you don't have to replace the entire thing if the ink runs out.
Why Do You Need Metallic Pens?
There are many uses for metallic pens. They can be used to label boxes, jars, and canisters. If you want to organize your pantry, kitchen, or closet, these would be fun to use.
Metallic pens are also great for adding dimension to your colors. You can use it to add a shiny detail on your colorings. If you do some letterings or calligraphy such as those who style weddings, these would be great to use as well.
Frequently Asked Questions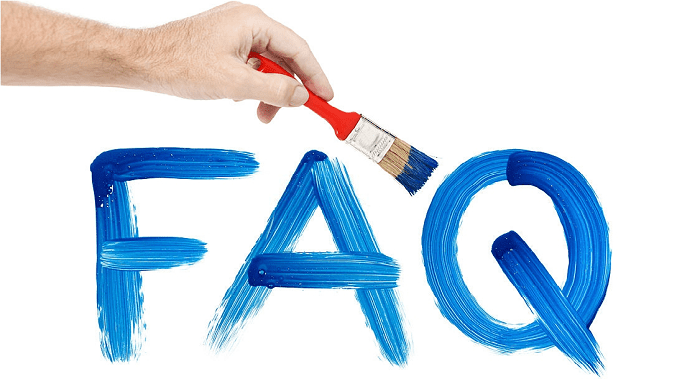 What are the Most Trusted Metallic Marker Brands?
Crayola, Sharpie, Sunshilor, Staedler, and Faber Castell make some of the best metallic pens today. If you are looking for reliable markers, you can start with these brands. Make sure you also look for other lesser-known brands. They might not be as popular as other brands but they might still offer the vividness and ink consistency that you are looking for.
How to Use?
These markers are ready to be used the moment you remove the cap. Just take off the cap and start writing. These markers usually don't need to be shaken before use like other markers. Once you are done using them, put the cap back on to prevent the ink from drying out.
If you get the retractable ones, simply press the top button to reveal the tip. Press it back to retract the tip.
You might have to wait for few seconds for the ink to completely dry up before touching it. Not all the markers out there dry fast.
Where to Buy?
These markers are available in various stores including online stores such as Amazon. If there is a particular brand of marker you prefer, you can go to their official website or store and find the markers you want there. These are also usually available at arts and school supplies stores as well as home depots and merchandise chains like Target and Walmart.
What is the Warranty?
Many of these markers come with a warranty. The warranty depends on the manufacturer. Some offer a 30-day warranty where you can get your money back if you have any problems within 30 days. Some will also replace your product in addition to giving you a refund.
Their customer service center is usually open 24 hours a day so you can contact them any time you encounter problems with your markers.
How to Care and Clean?
Keeping your markers clean shouldn't be difficult. Simply wipe the streaks on the barrel or the cap. You can also use a Q-tip to clean the inside of the marker cap.
How to Prevent Smearing When Using Metallic Markers?
To prevent smearing, try blotting out the marker on a piece of scrap paper first. That way, you can get an even supply of ink when you use it on your coloring book. Give the ink enough time to dry properly. Don't touch it. You can also try applying a clear coating if you use it on materials such as stone to seal the marker in.
Do Metallic Markers Work on Non-Porous Surfaces?
Yes, they can work on a non-porous surface. Just make sure you check the specifications of your metallic marker and see if it is permanent. If it isn't permanent, it might wash off easily. If you want the markings to be permanent, go for the permanent ones.
How Long Can Metallic Markers Last?
Most metallic markers, when used occasionally can last for months. It depends on how often you use them though. If you use them all the time, they should last for a couple of weeks. But if you only use them for letterings or underlining words when doing journaling, these should last even longer.
What is the Best Way to Store Metallic Markers?
The best way to store metallic markers is in an upright position with the tips facing downwards. That will help keep the nibs moist with the ink. Keep it in a box for markers or a pencil case to prevent them from getting squashed in your bag with your other things. This also makes it easier to find the colors you want when you need them. Keep them away from direct sunlight and make sure the cap is placed on all the time to prevent the tips from drying out.
Conclusion
The best metallic markers are indispensable when creating more festive art or when elevating your writing and coloring style. They are aesthetically pleasing. But with all the metallic markers out there, you might feel overwhelmed with the options. make sure you take into consideration the products recommended above and consider which ones would best suit your needs. Don't be afraid to try different brands to see which ones will complement your coloring style.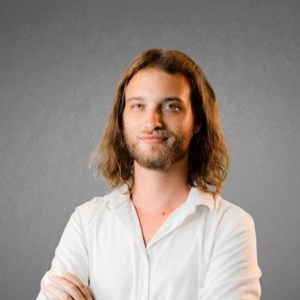 I am a former art teacher, so it is evident to me the importance of art in educating the new generation. We also want to help parents who plan to teach their children and desire the best tools and tips for them.