In the different types of markers, paint markers still remain supreme when it comes to longevity. They are heavily pigmented and they won't budge on any surface you use them on. This is why they are a great addition to your art repertoire.
If you are looking for the best paint marker, you came to the right place. I know it's hard to find the right paint pens out there just because of the sheer number of choices we have. But to make it easier for you, I narrowed it down to the markers suitable for different mediums. Stick around to find out what your best choices are.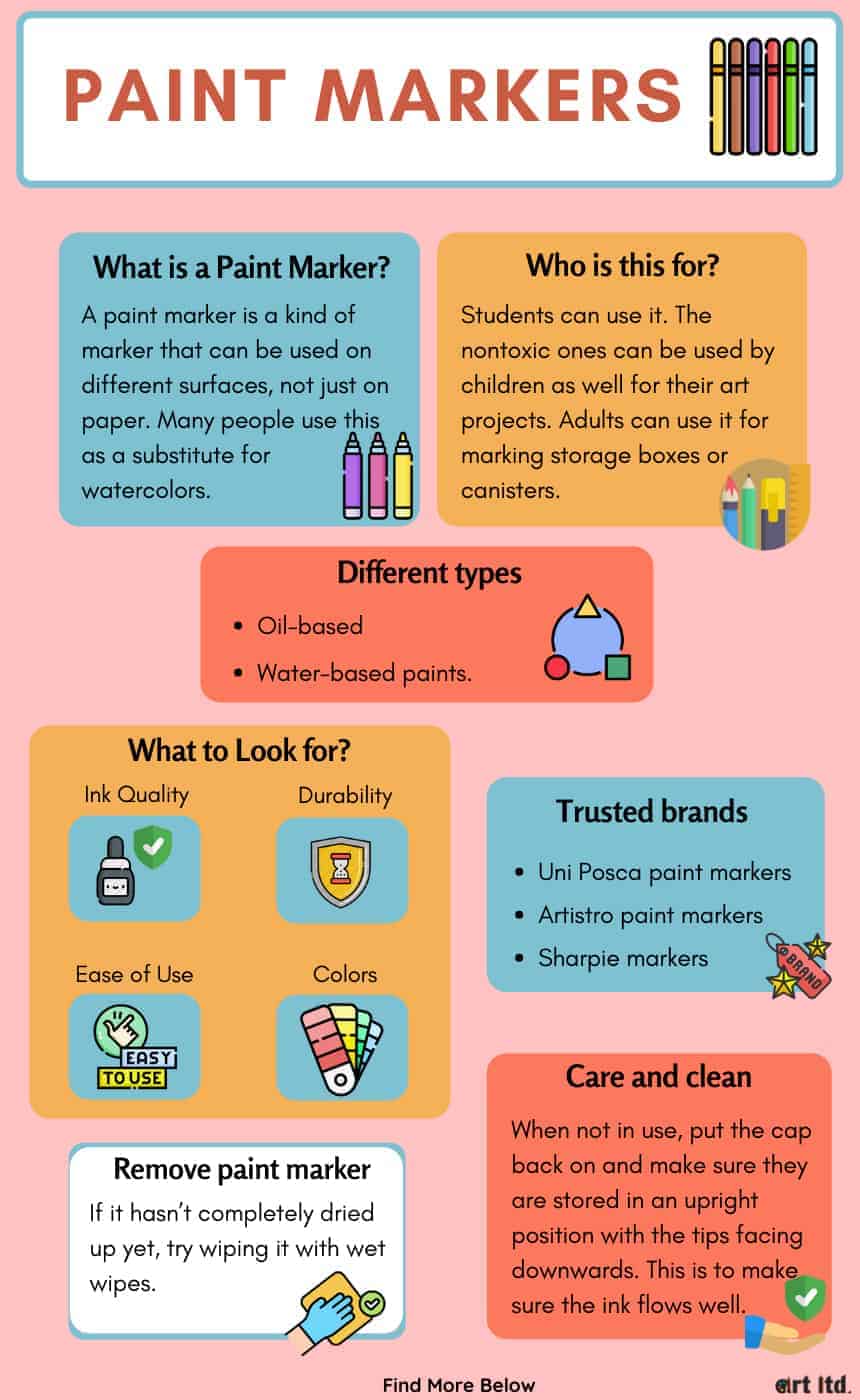 Top 12 Paint Marker Reviews
1. Sharpie 37371PP Oil-Based Paint Markers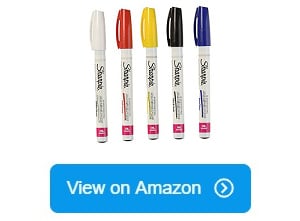 When it comes to markers, one should never pass up the opportunity to check out Sharpie paint pens reviews. Over the years, this brand has built an impressive reputation. They are known for their high-quality markers that hobbyists and professionals can use.
This set of oil-based pens isn't an exception. If you get this, you will be getting 5 different colors of pens. It comes with basic colors like red, yellow, blue, white and black. If you do a lot of painting but don't want to bring with you your painting set, this should be a good alternative. It can be used on various mediums like rocks, glass, posters, and regular paper.
Let's talk about the design of these pens. They have the regular rounded shape of a marker. But unlike other markers, this one has a white barrel with the caps and the tip of the pen indicating the color. I like how thick these markers are. They are easy to hold and they don't slide off easily. Even little children who are not experienced with writing yet can easily grip these pens.
These pens have fine points. They are perfect for making straight lines but not so much in creating bold letterings. The coverage is good but it's not for thicker writings. I'd say you should use this for drawing but if you want to use it for writing, you might need to add a second or third coating to make the lines thicker.
The instructions to "activate" these pens are clear. As per the instructions of the manufacturer, you need to place the tip in an upright position; with your finger, push the tip down with your finger, put the cap back on and then shake the pen. Uncap it and give it a try on a piece of paper until the ink comes out.
It is also well-packaged. The plastic packaging is sealed tightly, likely to prevent leaks.
It's very good on different surfaces. If you are looking for the best paint pens on glass, this should be an excellent choice. It works on glossy and slippery surfaces like ceramic as well but it holds its own on rough surfaces like rocks.
The ink flow is good. I did not suffer from inconveniences like having big globs of ink. It just seems to dispense ink easily even with moderate pressure.
I also like that it doesn't have an awful smell, so even kids can use it. It does take a bit more time to dry up but once it dries, it doesn't budge.
Pros
Packaged well
Can be used on different surfaces
Works well with medium pressure
Has a decent ink flow
Doesn't have an awful smell
Once dry, it doesn't budge
Cons
Does not dry up as quickly as expected
This marker should be a staple in your collection. Whether you need paint markers for paper or for other mediums, it will deliver. That is to be expected from a brand as reliable as this one. You won't regret spending your money on this.
2. Artistro Paint Pens Permanent Oil Based Paint Markers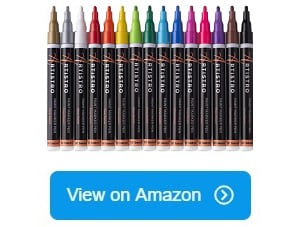 This should be an excellent option if you intend to get more colors for more extensive options when working on your projects. Although a little pricier than others, it's worth it considering that you are getting 15 different colors of paint markers for paper and other mediums.
This painting pen set has an interesting line-up of colors. It even comes with metallic colors such as copper and silver, which can't be said with other paint pen sets. With its color options, you can do a lot more artwork using this.
Because these are oil-based paint markers, they can last for a long time on surfaces. On porous surfaces, they are hard to remove. The colors also come out vividly. Everything also seems to be true to color and accurate, so I didn't find the need to swatch every time I needed to use them.
The design of the pens is interesting as well. The long tip makes this easy to use for shading. I can angle the pen without the edge snagging on the surface.
The nibs are good for fine detailing as well. They are 1-1.5mm, which provides decent coverage for details. It's not the best to make bold lines but it should be good for shading and making drawings.
It tends to pool ink at the tip when not in use. As a result, paint can get on your hands when opening the cap. It is a little difficult to clean up, which makes this a nightmare when used by kids.
However, once it dries up, it looks great. It has a glossy appearance and it remains vivid even after a long time. Once you activate the ink, the ink also writes smoothly.
It doesn't have the quickest drying time though. If you plan on adding a second layer, I suggest letting it dry completely first to avoid having a streaky result. It also has a more even outcome if you let it dry properly first.
My only wish is that it comes with more ink. After a while, some of the pens have run out on ink. The ink consistency for the other colors is also runny, which is probably why some have a tendency to run out faster than the others.
Pros
Great color selection
The ink writes down smoothly
Holds its color for a long time
Nibs have a good coverage
Has a glossy finish
Cons
Doesn't dry up quickly
Consistency of ink is not uniform
Despite its flaws, I would still recommend this to anyone who wants to have a reliable painting pen. Although there is much to be desired, the result is still beautiful. I still like how lovely the colors are and how good the finish is.
3. Flymax White Paint Pen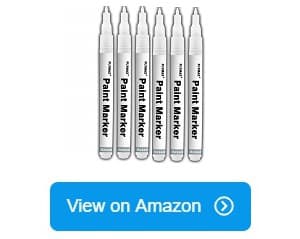 Not all of the top-rated acrylic paint pens out there come with a white pen. I would suggest getting a white pen separately so you can choose a good brand. Many brands are experts in making colored paint pens but not as experienced in making a white pen.
One set of this comes with 6 markers. Keep in mind that these are water-based paint, so the ink's consistency is more on the watery side. It's not too thick like oil-based paint markers, so if you don't like runny paint markers, you might not find this ideal.
It has a non-toxic formulation. Since it is devoid of harmful chemical ingredients, it can be used by children as well for art classes.
It doesn't have a big coverage since it only has 0.77 mm of extra fine tips. I would say this is better for adding some details to your artwork but not so much on lettering or shading.
I do like how consistently the ink flows. It takes a bit of time to activate the pen though. You need to repeatedly perform the instructions to get the ink to flow for the first time. But once it is activated, the ink flow is nice and smooth. It also has a substantial amount of ink. It doesn't run out fast like other markers.
I can say confidently that it is one of the right paint markers for glass. You can use this to label glasses when having a party. It can be used on rough surfaces as well such as rocks but it has a tendency to spatter, so you need to be careful when using it on these surfaces.
Once it dries up, it has a good staying power. It doesn't fade easily, which is why it can double as a corrector pen at home as well. You can fix minor issues on your walls or stains on a white wall easily with this.
Pros
Fine tips great for precise writing
Works great on different types of surfaces
Ink doesn't run out fast
Consistent flow of ink
Ink doesn't fade away easily
Cons
Has a tendency to spatter when used on rough surfaces
If you are on the lookout for a white paint marker, get this one. It's one of the most reliable ones out there with its good ink consistency.
4. Uni-Posca Paint Marker Pen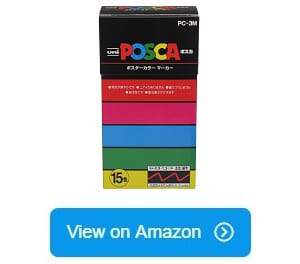 This Japanese brand marker pen gets a lot of positive paint markers review and has garnered quite a cult following because of the reliability of their pens. Right off the bat, you will be impressed with their color selection. All the colors included in this set are beautiful.
What I like most about these pens is how heavily pigmented they are. They are very opaque so there is no need to add a second coating to achieve the color you want. In fact, the lighter ones can be used on top of a black ink and it will still cover the black one. That's how pigmented these are.
These pens have fine tips but they do offer a good coverage very similar to bullet tips. The nibs glide smoothly on paper and other glossy and non-porous surfaces. This is why if you are looking for an excellent paint pen for plastic, this should be a good candidate.
The ink also stays vibrant for a long time. It doesn't fade away. I have used this on rocks and the colors really come out vividly. It also has a substantial ink volume. I have used this for a long time and I haven't run out of ink yet.
The drying time isn't very long. I would suggest waiting a bit longer because it tends to smear if you touch it prematurely.
Before using it, it needs to be primed as well. It would be best if you did that every time you use it, which can be a deal breaker for some but to me, it's a small price to pay for the opacity and vividness of these markers.
They can be used as paint markers for canvas as well. You can use this to draw on canvas bags. It also works on wood and acrylic materials.
Pros
Beautiful color selection
Applies smoothly and doesn't snag
Colors are very opaque
It stays vibrant
Long-lasting ink
Cons
Needs some priming before you can use them
These waterproof paint pens are slightly more expensive than other markers but I think these are worth buying if you want pens that will last you for a long while. They are versatile and a great value for your money.
5. Niutop Acrylic Paint Pens for Rock Painting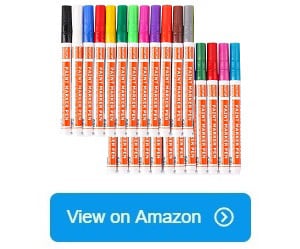 I think this is a great deal. At a reasonable price, you can get 24 different colors of the most affordable acrylic markers out there. You get 12 basic colors, 8 metallic colors and 4 pastel colors. With such an extensive selection of colors, you will surely be able to do a lot. Use this on any kind of medium but I like it on paper, rocks, wood and even non-porous surfaces like glass or ceramic.
These are waterproof paint markers as well. Once you let the ink dry, it stays in place. You can use it on cups, glasses and the ink doesn't wash off. It is dishwasher-safe. It's even oven-safe.
The opacity of these markers is comparable to oil-based paints that are more expensive. I like how heavily pigmented the colors are. They come out vividly even when you don't use too much of it. One swipe already has a bright and noticeable shade.
It is quite tricky to activate. There is a need to shake the pens before using them even though you already initially activated them. The ink has a tendency to roll back down. But once you get it to work, it dispenses ink evenly so that there are no annoying globs of ink coming out at first.
the nibs are resistant to wear and tear. These are good paint markers for wood because they don't dry easily like regular markers. They retain their shape even when you use them on rougher surfaces such as wood.
The fine tips are great for drawing and adding fine details but they can be hard to use for shading. I have tried it before for shading and it still does the job but can take some time. It's not such a deal breaker though because it has a lot of ink volume. I have used these markers heavily for months and they are still going strong.
This is also one of those markers ideal for arts crafts. There are more colors to choose from. There are even metallic and pastel colors to choose from, so it is flexible enough to be used in various projects. Personally, I like to use metallic ones for letterings. They are great on ceramic mugs. I have also used these to label glasses for storage.
Pros
Has a lot of ink, can last for months even with heavy use
All colors are vibrant
The ink flows nicely
Lots of color choices
Cons
You need to shake it every time you use it
Want to have more color options? Get this set. It is practically complete with everything that you might need. The metal and pastel hues are perfect for different craft projects.
6. Forney 70822 Marker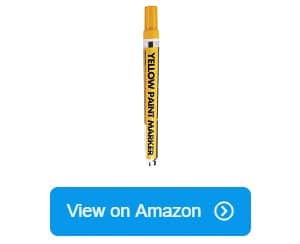 If you don't like to buy one set or you just need one color, you can go for this one instead. This is an oil-based paint, so if you apply it on surfaces, you most likely won't be able to erase it anymore.
Out of all the oil-based paints I have tried in the past, this is the one that is most resistant to weather and moisture. Even when you splash it with a little water and leave it for a long time, the color still stays intact and vibrant.
I didn't have a hard time getting it to work. It works almost right away and it has a good flow of ink, thanks to its precision valve that controls how much ink oozes out. However, I find that if I lay it with its tip down, the ink tends to ooze out. It is best to store this lying down flat rather than vertically.
This is one of those paint pens for metal that can also work on other surfaces like wood, ceramics, plastic and even textile materials like canvas. It comes out vividly on different surfaces. Even on glossy and non-porous surfaces like metal, the color is still vivid.
It is opaque as well. Once swipe of the marker should suffice. It also has plenty of ink inside. If you use it sparingly, this can last for years. It also has fine tips that make it easier to write on smaller spaces.
Once the ink has set, it stays there for a long time and it doesn't fade easily. I also like that it resists cracking. Some paint markers, when used on wood, have a tendency to crack when the wood dries up. This one doesn't have such a problem.
Just make sure you allow it to dry completely. If it's still wet, it can smear.
Remember to put the cap back on before shaking it as well. The nib has a tendency to fly off when you shake it with its cap on. That can be disastrous.
The tips are also not as resistant to wear and tear. They can still fray especially if you use it on rough surfaces a lot.
Pros
Works great on various surfaces
Dries up quickly
Has fine tips for writing on smaller surfaces
Lots of paint volume
Cons
Make sure you store it flat and not vertically because the ink will just pool at the tip
Felt tips can wear out
The longevity of these markers makes them such a great buy. I would buy it in a heartbeat, especially if I need just one or two colors.
7. Vickay Paint Pens for Rock Painting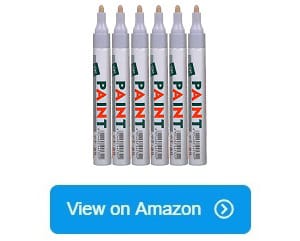 Despite not being too familiar with the brand, I gave these markers ago because of their neat packaging. These are oil-based paints with one set containing 6 pens. You can go for the all-white markers, all-black or the assorted ones. I like to use the all-white markers for labeling on glasses and ceramic containers.
What I love about these markers is how long they last. When used moderately, these pens can last for ages. It has a rigid construction as well. It doesn't feel flimsy at all, especially the tips that are made from an acrylic material imported from Japan.
I also like the barrel design. It has anti-roll properties that I find convenient because it prevents the pens from rolling over when using it.
The ink quality is good, albeit a bit on the odorous side. It says that it is non-toxic but I would still caution users about letting children use this because of the strong odor.
On the other hand, you won't be disappointed with the longevity of the ink. It stays in place, particularly on wood, rocks, glass and ceramic. These can even be used as acrylic paint pens for canvas. I don't recommend these paint markers for plastic though. This material is not as stable since it tends to move.
It's not difficult to prime as well. Once you have the pens primed, the ink flows out generously but controllably. I did not have issues with paint splashing everywhere. It's not messy to use.
The ink is vivid enough to work even on materials like tires. You can also use these as paint markers for shoes because they work flawlessly on textile and other similar materials. Moreover, it can be used as alternative markers for construction or automotive industries.
Pros
Vivid color
Lots of volume, can last you for a long time
Can resist wear and tear
Can be used on different surfaces
It is not that difficult to prime
Not messy to use
Cons
Not so good on plastic
Tends to have a strong odor
These are reliable markers. If you are looking for a basic set or you prefer just one color, you can rely on this brand of markers. Although not as recognizable as other brands, it makes up for it with its quality.
8. Asani Paint Pens Acrylic Markers Set
This is a basic 12-piece set that gives you the colors you might initially need for your art projects. It also comes with metallic colors, which I appreciate. They are great for those special letterings and to add some sparkle to my artworks.
These markers have fine tips. Aside from drawing, they are also great for letterings and doing calligraphy. Each pen comes with 3ml of ink and it's not just regular ink. The manufacturer specifies that they use Italian ink. It's supposed to be a premium kind of ink that is resistant to fading and has waterproof properties.
I can say that the ink quality is nice because it is vivid and opaque. It does have good staying power. However, I find that when used on glass, it doesn't stay. It can still be washed off. On paper and other porous mediums though, this works nicely.
It doesn't emit a strong odor like some out there so I can confidently let younger kids use it. I can also use it for hours and not get a headache.
I like the durable nibs. The fine tips allow me to create straight lines seamlessly without worrying about spatters or ink bleeding.
One thing I would like the manufacturer to change is the way they package it. The markers are individually wrapped, so it can be annoying to unwrap them one by one. It's unnecessary given how the caps already have a tight fit. Additionally, the nibs can wear out faster if you use it on canvas. You can still use it but make sure you apply only a light pressure.
Pros
Great customer service
Heavily pigmented
Creates neat lines, does not bleed or spatter
Beautiful colors
Tight caps to prevent the nibs from drying out
Cons
Pens are individually wrapped
Doesn't stay on glass
These pens are just as good as their more expensive counterparts. The quality is excellent although it's not always ideal for all mediums.
9. Zeyar Premium Acrylic Paint Pen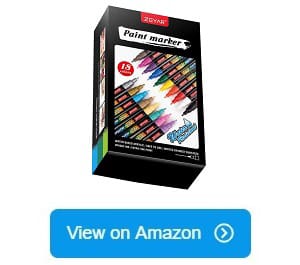 Give these pens a try if you are looking for more color options. One set will give you 18 markers with different colors. I love this paint pen because the colors are vibrant and accurate. Aside from the basic colors, you will also get pastel and metallic pens.
The pens are noticeably longer than your average paint marker. This means that they contain more ink. I also find these pens easier to hold since they are longer.
The ink opacity is good. I don't need to add a second layer just to get the vividness I want. I can also use it on darker surfaces such as rocks and still get a vivid color. Once it dries up, it turns matte and has a powdery finish to it. Some might not find this good but it's nothing too annoying.
Once you have these markers primed, they're no longer difficult to use. There is no need to shake them to get the ink flowing repeatedly. There is a steady flow of ink with no big globs of ink coming out and making a mess. I also like that I can let kids use this because it is non-toxic.
They are easy to use even if you are a beginner. The tips are flexible so they can be used on different mediums. I like them best on paper. The nibs run smoothly on paper.
There are just some pens that tend to dispense too much ink if you store them with the tips down. This doesn't often happen and to all pens but can happen occasionally.
Pros
Vibrant colors
It dries up to a nice matte hue
It's non-toxic
Runs smoothly on paper
No need to keep on shaking after priming them
Easy to use
Cons
Paint has a tendency to pour out of the nib
Paint names are not indicated on the pen
The color options you will get from this set makes it such a great buy. I love all the color options, especially the pastel and metallic ones. It's such a great addition to your collection if you are an avid fan of coloring.
10. Artistro Paint Pens for Rock Painting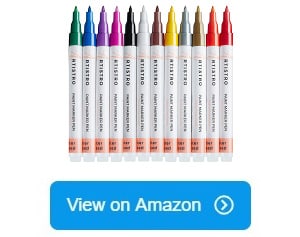 When it comes to reliable brands for markers, this one is the go-to brand of many people. These water-based markers are suitable for paper and other mediums like canvas, fabric, wood, polymer clay, plastic and even terra-cotta. There is just a long list of things that you can use with this.
Keep in mind that these are fine-tip pens. They have 0.7 mm size for the tips, so expect that these markers are best used for detailing and outlining. I can use it for writing and calligraphy as well provided that you use a thicker kind of paper. It won't bleed then.
All the colors included in here are vibrant. I like that they come off bright and vibrant even when using it on rougher surfaces like wood. Since the ink dries up easily, I did not have issues with smearing, even on smooth and non-porous surfaces like ceramic or glass.
The ink formulation is smooth and distributes nicely. It's also non-toxic and doesn't emit a nauseating odor. Even when working closely on paper, I can't detect a foul smell.
It also has a considerable ink volume so you can use this for a long time. Other markers have a tendency to run out on ink fast, so it's good that this one uses ink sparingly. I think it also helps that the colors are very vivid and vibrant. You don't need to use too much of it to get the vibrancy that you want.
I find these pens easy to use. They don't create a big glob of ink the first time you use them. I can spot the color I want to use easily since they are indicated on the barrel. They are also easy to hold. I didn't suffer from hand strain even after prolonged use.
The only thing you should do is ensure that the caps are tightly closed and that you give them a test run every now and then when not using them for a long time. Some of the pens have a tendency to dry up when not in use.
Pros
Fine tips are perfect for small spaces
Ink does not bleed
Reasonable price
Vibrant colors
Has a lot of ink
Cons
The ink tends to dry when you are not using them for a long time
Good price and great quality – these are the reasons why you should consider trying these pens. You won't be disappointed.
11. Chalkola Acrylic Paint Pens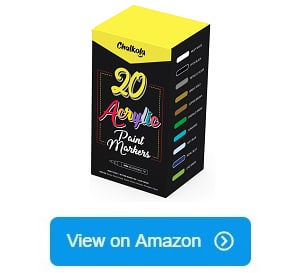 Arguably the prettiest set of markers in this list is this one. I am smitten with the barrel design. These ones come in colored barrels and have a cap with a nice hook to which you can put your pen on paper.
These are water-based paint but unlike the other water-based paints I have tried before, these have a very runny consistency. A little bit goes a long way. There is a tendency for the ink just to dispense a lot of ink but you can control that by adjusting the angle of your hands.
The clear barrel allows you to see how much ink you have left, which is great. You know if you are running out on ink. The barrel seems to be filled to its maximum which means you can get more use out of these pens. They can last for a long time.
Priming these markers are the same with the others. Once you have them primed, they should not give you any issues anymore when it comes to how quickly they will dispense ink.
The colors are very vibrant and vivid. When using it on rocks, the colors really come out strong.
It takes a bit of time to dry up though. You might need to set it under a bright and sunny area to dry up quickly if you want to add a second layer to it. The runny consistency also does not make this such a great option for non-porous surfaces like ceramic.
Pros
All the colors are vibrant
Lots of ink inside
Easy to prime
Nice barrel design
Good flow of ink
Cons
Not great for smooth surfaces like ceramic
A little bit on the runny side, so you need to wait for the ink to dry
The vividness of these paint markers is what's best about them. If you want vibrant colors in your markers, these are the ones you should get.
12. Lelix 15 Pack Oil Based Permanent Paint Markers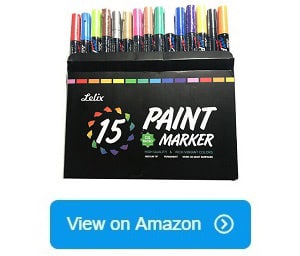 Here is another good option for you if you want more colors without spending too much money. You will get 15 different colors from this set, which should suffice in helping you achieve your art projects. It can be used on various surfaces such as rocks, paper, canvass, ceramic and glass.
This set comes with a lot of basic colors. It even has colors that are difficult to find in other sets such as copper. Because they are oil-based paints so they are long-lasting. They don't easily wash away even if you use them on non-porous surfaces.
The tips have good coverage. I can use them for shading and covering. The colors also come out rich and vibrant and there is a reliable flow of ink.
The ink formulation is nontoxic but I can still detect a harsh smell. This might be off-putting for some, especially when working in enclosed spaces.
It dries up quickly as well. If I like to add a second layer to the ink, I can do that with ease. I also love how the ink doesn't spatter. Even when you work on rough surfaces like wood or rocks, the ink does not get everywhere.
Pros
A lot of color options
Dispenses ink consistently
No spatters of splotching
Inexpensive
You won't regret buying these markers. They are easy on the budget but they deliver when it comes to quality of ink.
What to Look for When Buying Paint Markers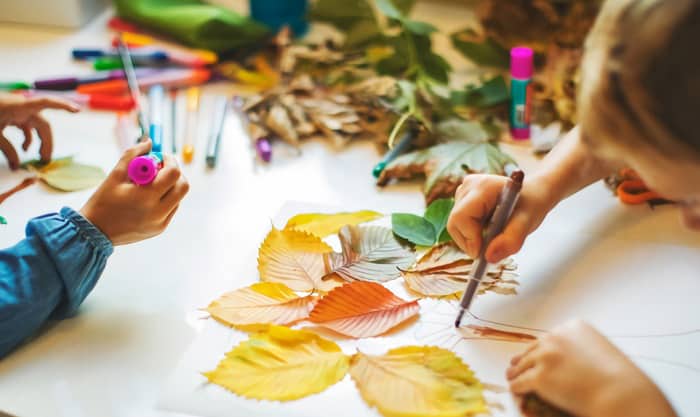 When buying paint markers, here are important factors that you should keep in mind:
Ink Quality
The paint quality will tell you a lot about how well the markers will work for you. If they are poor in quality, they won't have a vivid effect and you will have a hard time achieving the look you want. Make sure you pick a brand that produces the best ink quality that can be gauged based on its opacity, vividness, consistency and drying time.
Moreover, make sure it will also work on the materials you work with. For instance, if you want it to work on wood, look for a marker designed to work on wood. Some markers don't adhere so well on non-porous surfaces like glass or ceramic.
Durability of Nibs
First, check out the size of the tips. Many paint markers come with fine tips. That means they are best used on smaller surfaces and can be used for lettering or calligraphy but not the best for making bold letterings or shadings.
Additionally, you would also want to check the durability of the nibs. If you are going to use them on rough surfaces like rocks or wood, they should be able to withstand constant wear and tear. Some nibs have a tendency to fray when used on surfaces that can cause friction.
Ease of Use
Can you remove the cap and put it back on with ease? Is it easy to find the colors that match the caps? Does priming the paint marker take a lot of time? Priming is the process of activating the ink. Usually with paint markers, you need to press down the tip and then shake it to get the ink flowing. But there are cases when this will not suffice. You might have to do this step repeatedly until the ink starts flowing.
Color Choices
Go for those that come with the colors that you want. If you want to have more color options, go for sets that come with 15 or more marker colors. Otherwise, basic colors will suffice.
Other Important Factors to Consider
What is a Paint Marker?
A paint marker is a kind of marker that can be used on different surfaces, not just on paper. Many people use this as a substitute for watercolors. Those who find using watercolors messy might find these paint markers easier to use.
These markers also have a stronger staying power, which is why they are used for projects that require the ink to stay on the medium for a long time.
How Does It Work?
These markers need to be activated first. To do that, you need to open the cap; then using your finger, press down the tip for a few seconds. Put the cap back on and then shake the pen vigorously. Take off the cap and then press the tip of the pen down on a paper. Shake the pen until the ink starts flowing.
It would help if you usually waited for a few seconds to allow the ink to dry up before layering or blending. This is to prevent the ink from smearing or streaking.
Who Is This For?
It can be for anyone who needs permanent markers. Students can use it. The nontoxic ones can be used by children as well for their art projects. Adults can use it for marking storage boxes or canisters. There are also paint markers that work as marking tools when doing woodworking or metalworking. Some even use it to retouch chipped paint.
What are the Different Types of Paint Markers?
You can find two types of paint markers out there: oil-based and water-based paints. Oil-based paint markers have a thicker and more viscous consistency. This is why many people have a hard time priming them. They are also more difficult to work with. However, they do have a longer staying power and they don't fade away easily.
Water-based paints, on the other hand, tends to be runny. They can still have a long staying power but might not work quite as well on ceramics or glass.
Why Do You Need Paint Pens?
You need paint pens for your arts and crafts activities. It is important to rely on paint pens rather than regular markers just because they tend to have a better quality of ink. They are more vivid and they can stay long on surfaces.
Frequently Asked Questions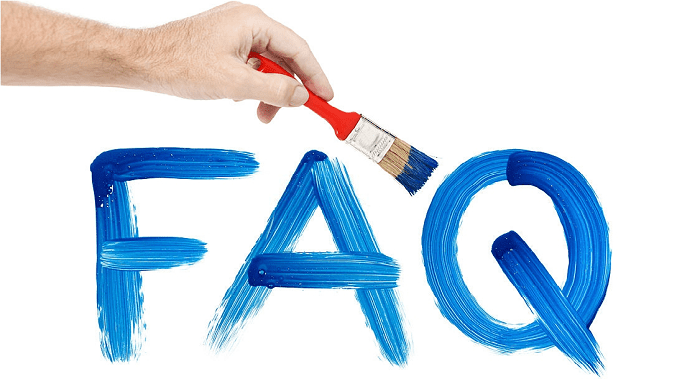 What are the Most Trusted Paint Marker Brands?
There are a lot of good brands out there such as Uni Posca paint markers, Artistro paint markers and Sharpie markers. There are even lesser-known brands that are still worth buying. You can go for those that are more recognizable and have seen them in your local stores for the longest time.
What are the Top-Rated Paint Markers for Graffiti?
If the marker works on rocks, it will surely work on other surfaces. If you want to make graffiti, try the markers from Uni-Posca, Sakura or Montana. But regular Sharpie or Artistro will still work well.
What Do You Use Paint Markers For?
You use paint markers for coloring and for outlining. It can be used for calligraphy or lettering as well. You can use it for art activities like drawing on wood, canvas or rocks. There are those permanent paint markers that can also be used to correct chipped paint in your house.
What Paint Marker Works Best on Wood?
You can use oil-based paints. They won't bleed easily and will still create crisp lines without bleeding through the grain of the wood. When using water-based paints, choose those that will dry up easily.
Are Paint Markers Waterproof?
Not all paint markers are waterproof. Oil-based ones tend to withstand moisture more than the water-based ones but you can still find water-based formulations that are resistant to water. Make sure you check the specifications from the manufacturer to find out if it is waterproof or not.
How to Use Paint Markers?
To use paint markers, prime it first by pressing down the tips with your fingers for a few seconds and then shaking it. Now press the tip down on a piece of paper. Do this repeatedly and keep on shaking until you get the ink to flow out. Use it like how you would use a regular marker.
How to Remove Paint Marker?
If it hasn't completely dried up yet, try wiping it with wet wipes. You can't remove it any more if you used it on a porous surface. But for non-porous surfaces like glass or ceramic, you might be able to remove it using nail polish remover.
Where to Buy Paint Markers?
They are available in stores that sell art supplies. You can find them at Target, Home Depot, and Walmart. You can also check out different brands of paint markers from Amazon.
How to Care and Clean?
When not in use, put the cap back on and make sure they are stored in an upright position with the tips facing downwards. This is to make sure the ink flows well.
Conclusion
The best paint marker depends on what you are looking for. There are different types of markers out there and they are not the same when it comes to ink quality and consistency. It is up to you to find the one that works better for you.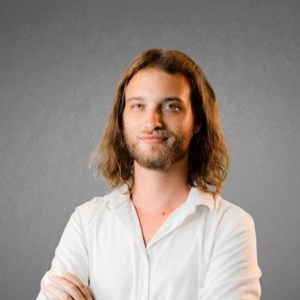 I am a former art teacher, so it is evident to me the importance of art in educating the new generation. We also want to help parents who plan to teach their children and desire the best tools and tips for them.