Whether you're a kid or a professional, you probably love to get your hands on markers. These wonderful writing tools are ideal for various purposes. Right now, you're probably looking for the best markers for black dry erase board. I'm here to show you my best findings.
The market is flooded with brands that have created unique wet erase markers and other types of writing tools to choose from. Picking one that fits your creative and professional needs is a tough job.
Check out this list of the best markers available to find out.
Best Marker for Black Dry Erase Board Reviews
1. Expo Dry Erase Neon Markers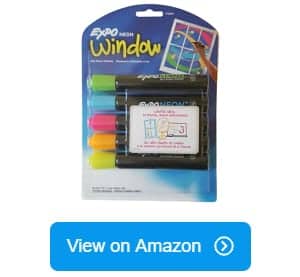 Expo has been regarded as one of the top brands for markers, so you shouldn't be surprised to see their name on this list. One of their best in the lineup currently is the Expo Dry Erase Neon Markers. The collection is AP certified for safe use at home, school or the office.
This five-marker package of dry erase markers for black dry erase board and other surfaces come in vibrant neon colors. This product is perfect for keeping kids engaged during those long lessons. Aside from that, it helps you highlight your texts even in the most cluttered boards.
Speaking of standing out, these markers have a bullet point tip, which leaves behind a think line. It helps you write lines and texts that can be visible even from afar. If you're a teacher handling a large class, these markers might be what you need to make sure everyone sees the notes.
Unlike most solid color markers, Expo's Dry Erase markers have low odor. Kids will have no worries when using these as they can barely smell the ink. It's the perfect set of markers for those that feel dizzy or nauseous after inhaling that strong marker odor that other brands have.
Some users have a minor issue with these neon dry erase markers for black dry erase boards because the ink tends to fade out after a while. You'll have to set it standing tip down after a few minutes to have the ink run down again.
Pros
AP certified product for safe use at home, school and office
Comes in five engaging neon colors that stand out
Think tip makes for large lines and text
Nearly odorless, causing dizziness and nausea
Cons
Ink runs out after a while, so it needs to be rested
Expo Dry Erase Neon Markers are one of Expo's prime offerings currently. This five-marker package is well worth it for teachers, office employees, and many others. If you like having your texts stand out, then this is the marker for you.
2. Chalky Crown Bold Chalk Markers
Some markers are best for artistic work and other creative tasks. In this light, I highly suggest checking out Chalky Crown's Bold Chalk Markers. These are high-quality wet-erase markers perfect for many occasions, but mostly, I prefer using them for art and even signage text.
Although this is a chalk marker, this collection from Chalky Crown is dustless and odor-free. If you have kids that are a bit crafty, you may want to give them these markers. As they have no dust and odor, they are safe for kids to use. You can let them have all the fun they want without worrying too much.
Even if your kids get too rowdy with these pieces, fret not, as these markers leave a trail that comes off non-porous boards easily. All you need to do is grab a piece of wet paper and wipe down whatever your kids drew. They're free to start over and have fun once again!
One of the highlights of these markers is the colors. I've said that they're great for keeping kids busy, but beyond that, these markers are a good design choice as they're easy on the eyes. I used it to write down a menu for cafe signage I was working on, and the results were vibrant and outstanding due to these neon colors.
On the other hand, you might want to be careful when using these makers since they are wet and need time to dry.
Pros
Ideal for various uses: creating arts, signage text, and more
Non-toxic, odorless, and dust-free – perfectly safe for kids
Can be cleaned off non-porous surfaces with a piece of wet paper
Comes in bright neon colors
Cons
Needs some time to dry completely
The obvious key features of these markers are the colors they come in. They'll keep your kids busy on a good day. On other days, you can use these to highlight things that you want to stand out.
3. Starsource Chalk Dry Erase Marker
Whether you are looking for something for work or something to create art with, it's best to find dry erase markers for blackboards and other surfaces in a set. That being said, Starsource is offering an 8-piece pack of markers that will help you accomplish an assortment of tasks.
This set from Starsource comes in eight vibrant colors for you to create beautiful craft books, decorate cafe boards, draw school boards, etc. There is no limit to how and when you can use these bright markers.
One of the unique features of these Starsource markers is the reversible 6mm bullet and chisel tip. Such a feature allows us to make thin and intricate linings or thick words for large boards. We can flexibly switch the writing angle to achieve the desired results. The specialized tip makes the marker very easy to handle regardless if you are drawing or writing.
Aside from being easy to erase, the ink inside the markers is also non-toxic. You can use these markers as much as you want as they don't pose a threat to your health.
These are neon markers for black dry erase boards, but they're more versatile than leading brands. These are also fluorescent window marker pens that can be used on glass. This makes them the perfect way to spice up your windows if you own a cafe or any other shop.
One thing to keep in mind is that these markers can dry out quickly. Some users report that these markers can dry out within three months, even when not in use. As a rule of thumb, make sure to keep the caps on when you aren't using these markers to make them last longer.
Pros
The package comes with eight vibrant colors
Easy-to-clean and non-toxic
The reversible tip allows various writing and drawing styles
Works perfectly well on glass surfaces
Cons
Prone to drying out quickly
This Starsource marker set is an excellent package for your overall needs. If you want a set you can use for various tasks, then buy this as the vibrant colors and perfect tip lets you have a marker for all occasions.
4. CDDLR 8-Pack Marker Set
One of the best marker sets I've found online is the CDDLR 8-Pack Marker Set. It comes with everything you need all in one package.
One of the highlights of this marker set is that it comes with a reversible tip. In detail, one end is chiseled, while the other is a pointed tip. This means you can have a marker that fits your needs, be it writing or drawing. The chisel point is perfect for making lines. The pointed tip, on the other hand, is ideal for drawings and other creative pieces.
US and EU safety standards have approved these markers. This means they are non-toxic and Xylene-free, making them free to use by people of all ages, including children. Plus, as these are water-based makers, you can quickly erase their lines off surfaces without making a mess.
To make sure each stroke is as vibrant as possible, the liquid chalk content is made fluorescent. The markers give vibrant shades when used, and they last as long as well due to its super-concentrated formula. Moreover, it is perfect for various surfaces, such as menu boards, cade boards, chalkboards, and whiteboards. If you're looking for a great set of black whiteboard markers, then this is it.
Lastly, this marker package comes with free reusable chalkboard labels. These are 3.5-inch labels that can be placed on your kitchen containers, menu boards, and other belongings that need a label. The markers work excellently with the chalkboard labels.
I find out that its yellow color does not seem to work as well as the rest. Maybe it's just the problem with some packs.
Pros
The tip can be reversed between chisel and point
Passed US and EU safety standards
Water-based colors allow breezy wiping
Flurescent colors are very vibrant
High-concentrated formula for long-lasting colors
Comes with free blackboard labels
Cons
The yellow marker might not be as vibrant as the rest
This marker set is perfect for various uses, thanks to the wide selection of colors. CDDLR did great by adding those free chalkboard labels to complement the markers, making the overall package a fantastic steal.
5. Chalkala Fine Tip Markers
When it comes to chalk markers, Chalkala remains to be one of the top brands. The company is known for its safe and convenient markers that are worth every penny. A great package from the company is the Chalkala Fine Tip 10-marker set.
Chalkala's finest marker collection is perfectly designed as a lettering tool. You can use it for creating signages, menu boards, and much more.
Best of all, its ink is water-based and dustless, hence safe for use around small kids. You can purchase this pack for your little ones and let them play with these beautiful neon colors.
This marker set works perfectly well on almost every surface. Moreover, it can be cleaned either by a dry or wet eraser. Not many markers have this versatility when it comes to cleaning, and it's good that Chalkala considered this when making the marker set. These neon pieces are the best markers for black glass boar.
A common issue with markers is that the tip frays quickly after repeated use. For this thin marker set, fraying is not an issue. Chalkala made sure that the tips are long-lasting to don't crack or break even after multiple uses.
The
fine tip markers
are great for tasks such as writing and highlighting notes. However, if you are a teacher doing his job in a large classroom, then those at the end might find it hard to see what you have written if due to the thin strokes this produces. As such, I recommend partnering this set with a set of thick markers.
Pros
Designed specifically as a lettering tool with a fine tip
Works on almost any surface and can be erased with dry and wet erasers
Non-toxic and dustless ink for safe use around small kids
The thin tip is long-lasting and nearly invulnerable to fraying
Cons
The thin tip can be a problem for large classroom or office settings
Chalkala values durability and useability when making these wet and dry erase markers for black surfaces. While it's perfect for those that love doing lettering, you can still use this for various purposes as well.
6. Mattel The Board Dudes Markers
Mattel is one of the trusted names in the marker industry; you can read more to know why. Their easy-to-handle dry erase markers are beautiful, safe, yet affordable. If you're looking for your first set, I highly suggest getting this one.
This marker set is constructed in the right size. It's great for home, school, and office purposes. Small kids can comfortably hold these markers in their hands to draw.
Whether you are using it professionally or just for a hobby, the medium-sized tip and the neon colors give you just the right amount of exposure you need for your text or drawing.
As Mattel makes this, you can expect the markers to have low-odor and be non-toxic. This means that this collection can be used by people of all ages, including your kids who want to do some art independently.
Of course, the markers are a breeze to clean. Simply wipe it down on any dry-erase surface, and then you are already good to go. This makes the markers perfect for school. If you're a teacher that gets handsy on the board, then you may want to pick this package up.
Users have commented that these markers aren't well-suited for blackboards. The main complaint is that the colors don't appear beautifully when used on a black surface as the white one. As such, you may want to press harder when using this on a dry erase blackboard.
Pros
Ideal size of markers for a comfortable grip
Medium-point tip and beautiful neon colors
Low-odor and non-toxic – perfect for all ages
Can be easily cleaned with dry paper or wipe
Cons
Colors are less visible on blackboards
Mattel is already a tried and tested brand for markers; you shouldn't be surprised at the quality of this medium-point set as the manufacturers have already mastered the craft of making excellent markers.
7. WriteyBoard Store Fine Tip Chalk Markers
If you're a fan of fine tip markers, then we suggest checking out WriteyBoard Store's chalk markers, which come in a great package.
These fine tip markers perfectly fit your hands. It makes them easy-to-handle, and it causes less strain as well.
The WriteyBoard is already a premium brand, but it has also partnered with the Mark Cuban Company to deliver this amazing package. Hence, you know that you are getting high-quality products when purchasing this package.
The markers are loaded with vivid neon-colored liquid chalk. The colors and the quality of the trail they leave is perfect for chalkboard signs, labels, home decor, and even glass surfaces. This reason alone makes the markers an ideal fit for those looking for a multi-purpose marker set.
If you get a little too rowdy with the markers, you have nothing to worry about. These markers are easy to erase. They have dry erase and wet erase properties, which means you can erase them whichever way you prefer.
WriteyBoard also made these markers non-toxic, dustless, and odorless. You can use them anywhere, and they can be used by anyone as well. I gave these markers to my kid for him to play with. I wasn't worried about any adverse effects as it is non-toxic and it's easy to clean!
One problem you might experience with this marker set is that you have to press harder than usual to have the ink come out. However, once you've done that, the ink comes perfectly, letting you work with ease.
Pros
Comes with a fine tip, easy to handle with less strain
Made in partnership with two top-notch brands
Features vivid neon-colored liquid chalk
Has dry erase and wet erase properties
Non-toxic, dustless, and odorless
Cons
You have to press harder when using for the first time
Writey Board's marker set is excellent for artwork considering its quality and the brand it's from. You're sure to get your money's worth with this marker set.
What to Look for When Buying Markers for Black Dry Erase Board
It all depends on what you are looking for, but it's best to buy from well-known brands. These include Starsource, Writey Board, The Board Dudes, and Chalky Crown, just to name a few. These manufacturers create high-quality markers that are worth every bang for your buck.
When looking for a marker set, watch out for ones that give you a selection of vibrant colors. An 8 to 10-piece package will help you get more versatility in terms of your output. If you want fewer colors for your work, you can go for a 4 to 6-piece pack.
In terms of the markers' performance, check the reviews if the markers are easily frayed. In markers, fraying is what measures the durability of the tip. Frayed tips are harder to work with, making it harder for the ink to spread on the surface evenly.
Markers should also be easy to clean on any surface. The best markers out now can be cleaned with dry and wet erasers. This feature comes in handy as there are certain types of erasers that work better for some surfaces. So some either look for white dry erase markers or black dry erase board markers.
Perhaps the essential features you should look for when buying a marker are odorless and non-toxic. The fumes that come out of low-quality markers might cause nausea. The case is even worse if the ones using the markers are kids. So make sure you pick water-based markers that pose no health dangers when using them around your children or students.
Conclusion
It can be challenging to find a suitable pack marker nowadays, considering there are many options available. A simple search on Amazon will already direct you to a large selection of vibrant markers; be it dry erase markers for black glass boards or chalkboards, the options are limitless.
I highly suggest taking time to research more about the best markers for black dry erase board and other surfaces. It's not just enough for the ink to be vibrant; these markers must also come with additional features that affect your overall experience with them. Hopefully, this short guide leads you to the marker of your choice.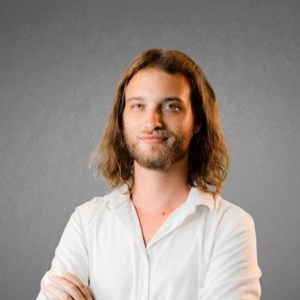 I am a former art teacher, so it is evident to me the importance of art in educating the new generation. We also want to help parents who plan to teach their children and desire the best tools and tips for them.