One thing that I hate the most when doing coloring is when ink settles on the surface of the paper and refuses to dry up quickly. I occasionally smear this wet puddle of ink and get it not just on myself but on my precious artwork! Enter the best alcohol-based markers.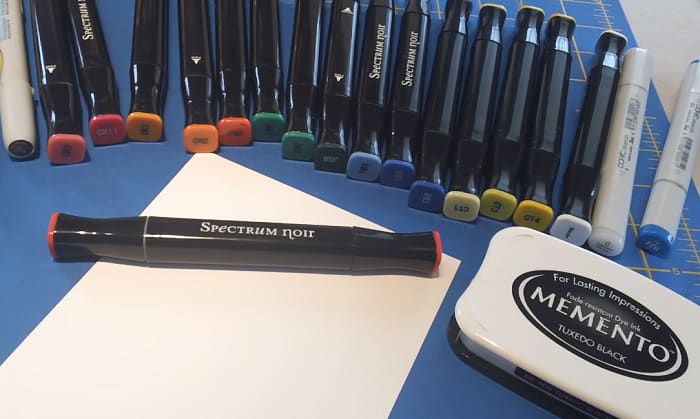 These markers are a godsend because they dry up quickly. I turn to them whenever I need to color real quick and don't want the tedious waiting time. I can turn up new art faster. Today, I'll help you find the alcohol based markers that fit your needs.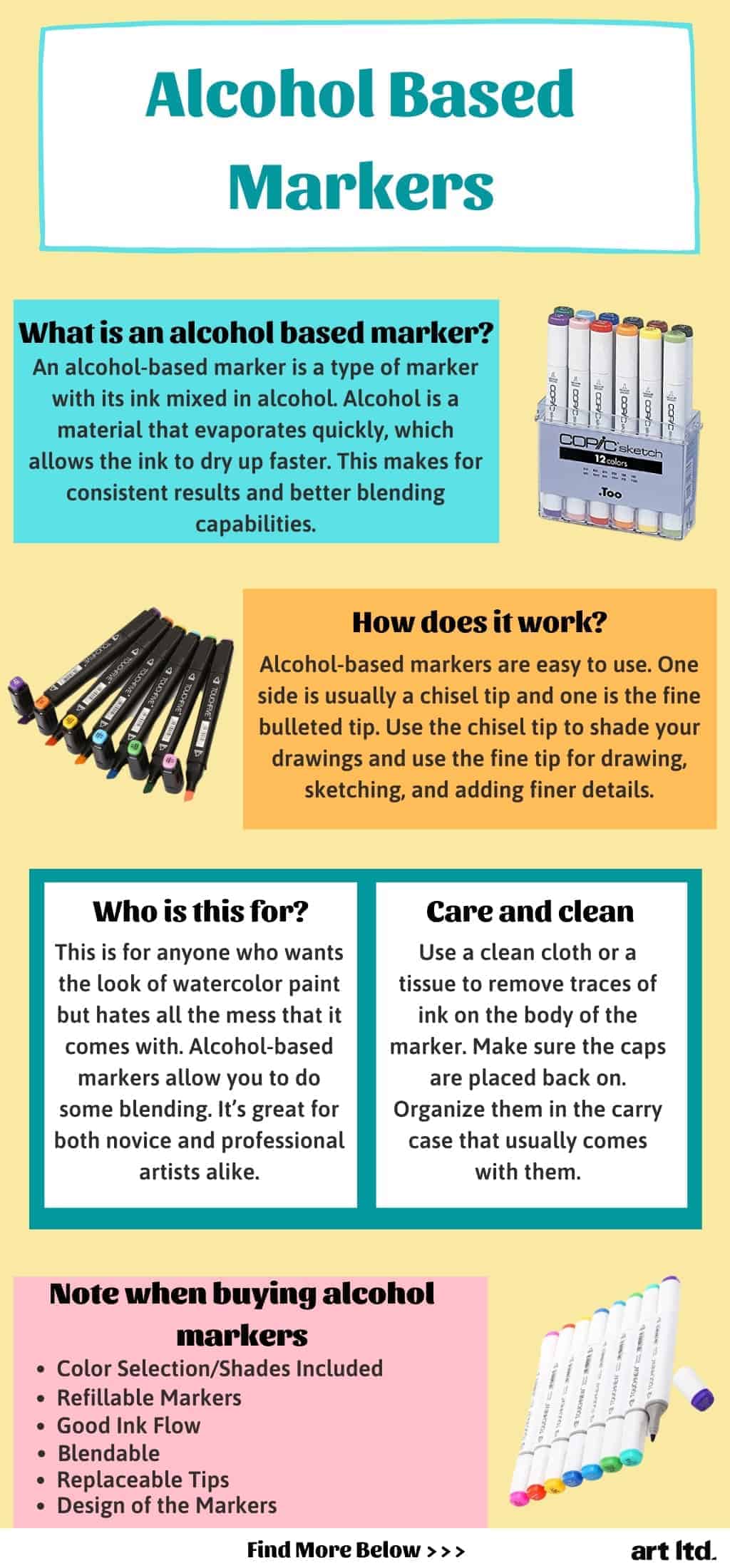 Best Alcohol Marker Reviews
1. Caliart 41 Colors Dual Tip Art Markers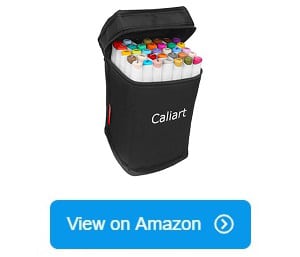 One of the top-rated alcohol markers I have tried is 40 Colors dual tip art markers from Caliart. This 40-color set comes in a beautiful zippered case that is very convenient in storing them upright and in preventing me from losing some of them. It just makes it easier to bring the entire set. Although there are 40 colors in it, it doesn't take up so much space in my bag at all. It's for people who are always on the go.
Each marker is indicated at the top of the cap with a label on it, so it helps the user identify colors much easier. I don't have to take them all out and rummage through them to find the color I want. I just zip it open and take out the color I want. It's so much easier to stay organized.
The selection of colors is good. I also like that there are similar shadows of nude colors. I like that small variation of the shades, nothing too drastic which makes it easier to choose the best shade for shading skin.
Each of these alcohol based brush markers is dual-tipped. One tip has a broad chisel that measures 1-7mm and the other side is a fine tip that has 0.7 mm of size. Because the ink dries up quickly, I find this easy to use when doing journaling. The broad chisel tip gets a lot of use with shading while the fine tip is just perfect for underlining and making tables.
I absolutely love the design of these markers. They are thick enough that I can grip them easily but not too thick that they wear my hands out easily. The thickness makes it easier to draw intricate designs and make calligraphy.
The ink does tend to bleed, so make sure you use this on a thicker paper or if you are using a thinner one, put a scrap of paper behind it to prevent it from bleeding on the next page.
I also like the minimalistic look of the pens. It highlights the color indicated on the cap so it isn't distracting when looking for the color that you like. I just think some colors are not consistent with the colors indicated on the cap.
Pros
Great value for your money
Vibrant colors that don't easily bleed
Ergonomic design of the markers
Mild scent that isn't annoying
Cons
Some colors are too similar
Cap doesn't stay if you put it on the other end
Convenient and easy to carry with you, these markers are a great choice for serious artists and beginners who like to do art anywhere.
2. Ohuhu 40-Color Alcohol Marker Dual Tips Permanent Art Markers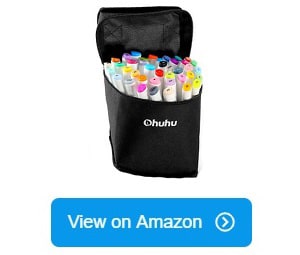 I got a lot of bang from my buck with these cheap alcohol markers because they lasted me for a long time. Even after using these alcohol ink markers all the time, they held up well and dispensed ink like no other. I think this set lasted me twice as long as the other.
I also love the light colors of these architecture markers. I love the pastel selection. They are so dainty and perfect for making dreamy and ethereal artwork. They are also great for layering since the base isn't too dark. I can add more shade to make it darker. It's a great set of alcohol based pens for layering.
This is a dual-tipped marker as well. One is a chisel tip and the other is a fine tip. Both are great and offer flexibility when coloring, drawing or writing.
This set also comes with a rounded bag. It's very convenient and handy because I can stay organized when drawing.
I find that these are the most favorite markers for architectural rendering because they don't bleed easily. They have amazing color retention and the colors are just vivid although they are more on the pastel side.
One gripe I have about these markers is that the tips aren't as flexible as those I have tried before, especially the chisel tip. It tends to grate on the surface of the paper. It's not a big issue, just something worth thinking about if you are an avid artist.
Also, it is worth noting that the shades tend to be closer to each other in color. Some might find this bad but others might like it because it allows them to build the tone they want and layer the colors to achieve the look they prefer. Additionally, the color variety is a tad disappointing. For instance, the purple shade offerings leave something to be desired. That could have been good at making landscaping.
These do have a noticeable smell. I think that might put off some people, especially if you are sharing this alcohol based marker set with your kids.
Pros
Beautiful light shades
Easy to use
Long-lasting
Affordable
Comes with a case
I would highly recommend these markers to anyone who wants seamless and problem-free markers that create the smoothest ink flow.
3. Shuttle Art 30 Colors Dual Tip Alcohol Based Art Markers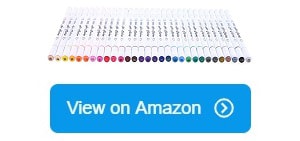 I would suggest this starter kit if you are looking for inexpensive but good alcohol based markers. This set gives you 30 different color choices, all unique and vibrant to create art. Some of the colors are close to each other for more effortless blending and layering.
Like the previous sets, this marker set has dual tips. One tip has a broad chisel tip with a size of 4mm and the other is an excellent tip with 1mm size. Whether you do a lot of drawing or whether you need this for journaling, it will serve its purpose well.
If you do an alcohol markers comparison, these markers are slimmer. However, they are still comfortable to hold even when you shade or color for a long time. I had no problems removing and putting the cap back on as well. I also like the design of the caps. There are ridges to it, so it's not smooth. It stays on the table if you set it down and doesn't roll over, which is convenient.
The colors of these most favorite markers for architectural rendering are vivid. If you like more vibrant colors, you will like this. The ink also dries up quickly without bleeding to the next page. It does bleed to the back of the paper so make sure you only use this on one-sided illustrations.
Its drying power also depends on the paper you are using. Some types of cardstock don't work well with this marker set. The ink takes a long time to dry up and tends to sit on the surface of the paper. I suggest trying this out on different articles to identify the best writing medium that will work best for you.
This is one of the alcohol marker brands that produce inexpensive but safe markers. The formulation for the ink is acid-free. It also does not emit a strong odor, so even children can use these markers to do alcohol marker art.
I did not experience premature wear and tear on the tips of the markers. Even when used frequently and even with intense pressure, the tips still retained their original shape.
Do get this if you are on a tight budget but you still want a marker set that will last you for a long time without compromising on the quality and vividness of the ink.
Pros
Inexpensive choice
Good color choices
Vivid and pigmented colors
Does not bleed easily
Ridged cap
Cons
Can be streaky on certain types of paper
You will love how you can easily blend different colors with these markers. It's really a versatile choice for artists and hobbyists.
4. Bianyo Classic Series Alcohol Based Dual Tip Art Markers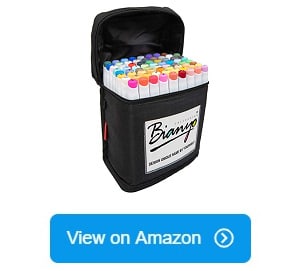 This Bianyo set is a must-have for art enthusiasts. It is a little bit more expensive than the others but it's worth it because you are getting 72 different colors of markers all packed in a neat travel case.
I love all the color choices and it offers me more flexibility for all my drawing needs. It's easy to create dimensions to your drawings when you have these colors that are close to each other. You can add shading and contours for that in-depth look.
These are dual-tipped pens. One side has a chisel tip with 7mm of size and a fine tip size that has 1 mm of size. It's practically all you need to create your drawings. The fine tip works well in outlining drawings while the chisel tip is perfect for shading.
What I like about this set is that it comes with a barcode on the body of the marker that will tell you the color name. Thanks to this, it helps users identify the markers even without the caps on faster. They also included a colorless blender marker. You can use this to distribute the color to get the look you want.
These alcohol based markers amazon have a great blendability. Other alcohol markers just dry up easily but these will give you some more time to smudge your colors and achieve the perfect balance of hues. The ink quality is one of the best I have seen. These would make the best rendering markers as well if you are an architecture student. It has a smooth application with no streaks or smudges. The ink seems to dispense easily.
Like many of the alcohol based markers Walmart out there, the cap colors do not really accurately match the real colors of the ink. You might still need to swatch the markers on a paper to see what it really looks like. I do like how saturated the colors are. They are more vivid and pigmented, which makes for some interesting artwork.
The beige selection of these architectural rendering markers is also great. They are perfect for creating flesh tones. It's hard to find the same selection of beige colors in other markers.
Pros
An affordable price with a great choice of colors
Comes with a carrying case
Has a barcode with color indication on the body
Vivid colors
Easy-to-blend ink
Cons
Colors are not too close to each other, which might make achieving gradation more difficult
These markers are a must-have for those who need more extensive color options when coloring or drawing. It has everything you might need in a marker set.
5. Copic Marker Sketch Basic Set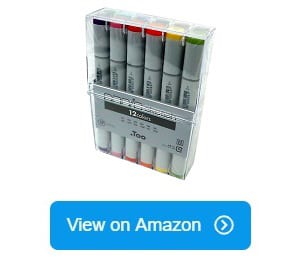 If you don't mind spending more money to get the quality of markers you want, go for Copic marker sketch basic set. This set is just a 12-piece set but these markers are the highest quality alcohol markers in the world. I think this is worth investing in if you are serious about your art output.
The markers come in a clear plastic box. These are refillable alcohol markers so even if you are spending a lot of money, you can save in the long run because you only need to get the refills if you run out. The nibs can also be replaced. I know some artists make use of the same Copic marker set for decades, so that says a lot about their durability.
The flawless application of ink is unmatched, thanks to its flexible brush. It is more forgiving and has more softness to it than your average cheap marker. The brush nib does not wear out easily but just in case it does, replacing the worn-out nibs isn't a problem.
Of course, I would have to shell out more money to buy the other color choices. I think this 12-piece set doesn't really offer much flexibility in terms of the colors you can achieve. It's great as a starter set but not for those who are looking to achieve perfect shading in their work.
I like the watercolor effect. If you like the same look that watercolors give, you will like these markers.
I wish these came with a fabric marker instead of the hard plastic case. The case can crack easily if you accidentally drop your bag or drop the marker set.Also, be careful of the black marker because it tends to leak as well as when using it for the first time. You might want to test it out on a piece of paper first as there is a tendency that the ink will come out in a big blob.
Pros
Good quality markers
Refillable ink
Replaceable nibs
Can last for a very long time
These markers can last you for a long time, especially since the nibs are replacement and the ink is refillable. You can save so much money buying these markers.
6. Artify Art Supplies Marker Set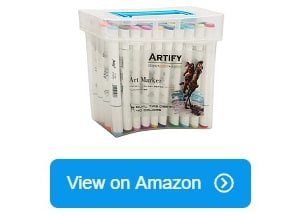 One of the accessible markers sets to bring is this one from Artify. It's so simple to be organized with its plastic carrying case that also comes with a top handle. It can house all 40 of the markers included in the set.
This Artify artist alcohol based art marker set has a unique shape. They are triangular with the edges flaring out a little bit so that they are more comfortable to hold and they don't roll easily when you set it down on a surface. The caps also have a small hole on them to make them effortless to take off. Sometimes, a smooth surface makes it trickier to remove the cap. This one doesn't have such a problem.
This is a dual-tipped pen as well. It comes with a broad trip that makes this much easier to use for shading and a fine tip for making smooth outlines. The tips are made from a fiber material that is resistant to wear and tear and does not fray easily. I have used these pens a lot and still are not seeing signs of damage.
As with many alcohol based markers, these tend to bleed through thin paper. This is why you should use heavy duty paper to prevent this from happening. I think this is a good set if you like copic markers but can't afford them. They are close enough in quality and ink consistency.
I did not have issues with the blending of the colors as well. The colors blended well with no signs of streaking. It can be used by professionals as well.
One downside to these if you want alcohol base drawings is that color variety. Some are just not as vibrant and there are some colors that are just right but nothing too impressive. There are also a lot of grey hues with almost similar shades which I find unnecessary.
There is a blending pen included. However, it's not as great as those I have tried before. There is only a small window of opportunity to blend the colors or else you will get these unsightly with spots when working with the blending pen.
Pros
Good quality ink
Comes with a varying case
Easy to use
Durable tips
Easy to blend
Cons
Some of the ink can get on the cap and the rest of the marker
You will like the ink quality of these markers. These make way for smooth and convenient coloring.
7. Prismacolor 3620 Premier Double-Ended Art Markers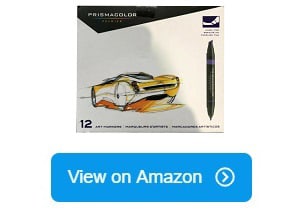 Not too expensive, not too cheap, these art markers are great for both novice and expert artists alike. It's a starter kit for anyone who aspires to take their craft to the next level. Each set comes with 12 different colors of markers. The color options are quite basic, which is just right for a starter kit or as a supplementary kit if you need a trusty set as a backup.
Just like many of the alcohol based markers out there, this one has a dual tip with one tip sporting a chisel tip and the other one a fine tip. The ink consistency is quite impressive considering its price point. It is comparable to the more expensive brands out there, even better if you are looking for something of its blending capacity.
The colors of these markers always come out right and consistently. They are newbie-friendly as well. It's quite easy to blend even when you don't have a lot of experience doing so. The markers are surprisingly streak-free. My colors often come out clean and precise.
Watch out though because some of the colors come a bit dry. However, I find that applying rubbing alcohol on the tips and then setting them down on a vertical position will reactivate the ink. Just leave it there overnight with the cap on after soaking in alcohol.
I also like how these markers are compatible with other alcohol based markers. I can blend these with other marker brands such as Copic. They do have a tendency to bleed through, so make sure you use a thicker paper.
So far, I haven't experienced any clumping. The tips stayed resistant to constant rubbing. Even when I got a bit heavy-handed with the coloring and abused my markers occasionally, they held up pretty well.
I would suggest these markers if you are looking for the best quality of colors. They always come out vividly. If you like watercolor as your medium but you also want something handier and easier to use especially if you are on the go, you will find these markers great for you.
Pros
Amazing quality of ink
Durable tip
Writes smoothly on paper
Vivid colors
Doesn't smudge or get streaky
Cons
You might need to reactivate some colors upon arrival
These markers will last you for a long time given how durable these are. You will have hours of fun coloring if you use these markers.
8. Caliart 100 Colors Artist Alcohol Markers Dual Tip Art Markers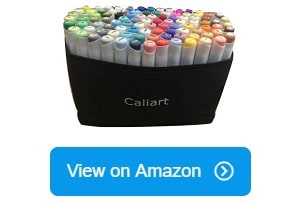 With 99 colors plus one colorless blender in this set, you will have endless hours of fun and exciting coloring. I don't know but I do like color variety. I like that there are many different shades in one color family so that I can do subtle gradations with ease.
Just like most alcohol markers, these have dual tips as well. The broad chisel tip has a 1-7mm size and the fine point tip has 0.7mm measurement. The design of the pens is pretty nondescript, following the usual designs of dual tip alcohol markers.
It's a good thing that they included a black case for this set. It's easier to find the colors I like because the ends are exposed. It is where the colors are indicated.
There are a lot of good points about these pens including how long they lasted. It's a right choice for avid artists who do much coloring whether for their hobby or professional use. It will just give you more mileage.
It also has a squared body, which I find very convenient. I can set it down on my table and not constantly worry that it will roll off. If you have a child who also likes to do coloring, this is a feature that you will find useful because it stays on the table and doesn't roll off.
At first, the cap was a little too tight. It makes it more difficult to remove them. It's not a big deal but can be hard for people who have weak hand dexterity such as kids.
The color also has a tendency to come off a little too strongly. You do need to use a little bit at a time and blend it in. But just like the others, this also does not have accurate color representations. The color on the cap does not match the color of the ink so there is still a need to swatch them.
It's also a good company to deal with. I've heard some stories of people who asked for a refund because they were not satisfied with their purchase and the customer service team was able to process their request right away.
Pros
Lots of color options
Vivid and pigmented ink
Squared body
Long lasting
Affordable find
I had a lot of fun using these markers for a variety of things such as coloring and lettering. You will surely have the same experience if you get these markers.
9. Arteza Everblend Art Markers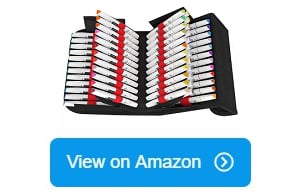 It's understandable why these markers have gotten many rave reviews. It's a little pricier than others but I think it's worth it because you are getting 60 colors that come with a cool art case. It's not just a simple case either. There are individual slots for the markers so you can keep them in place and stay organized easily.
It has a triangular shape as well, making this more comfortable to hold and to keep in place because it will not roll off of your table. I like that they also included the name of the color instead of just the number on the cap. This makes it easier to place the right cap back to the marker.
The color options are not disappointing. Everything comes out vividly even on your first swipe. It's a very buildable color as well. If you prefer a darker shade, just add another shade and you will get a darker and more vivid color. It's very easy to control.
It also comes with colors that you can't find elsewhere. There is also a blender to make it easier to mix and match all your colors without those annoying lines in between.
These markers will last you for a long time, especially since the tips are replaceable. Simply take them out and put a new one in.
I just find that if you are a pastel lover, you will not be too pleased with the color selection. It doesn't contain enough pastel or nude tones. When you are shading skin tones, it is difficult to find a good shade.
That said, I think these markers blend so easily. That's one of their best selling points. They blend nicely and effortlessly so even novice artists will find these easy to use.
I do find that the ink doesn't dry up as fast as I would have preferred. They still have a tendency to smear and mix up with the new color you are putting in so you need to give it more time to rest. However, if you are a slow worker and you like something that provides you with more time to blend it, these would be a perfect choice.
Pros
Triangular shape of the pens
Great color options
Useful case that makes it easier to organize
Blends easily
Vibrant and applies smoothly
Cons
There is a need to clean and blot it out to avoid smearing
These markers are so easy to use. Both newbies and experts will have fun using them.
10. Aspire Color Alcohol Markers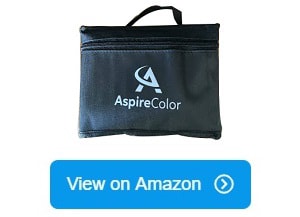 Get these markers if you are looking for more color choices. The fine selection of 80 different colors ensures you have the perfect shade for what you are working on. These markers also come with dual tips, one for shading and the other for achieving those finer details.
These pens are organized in a carrying case that is made from a nylon material. You can bring all 80 markers with you anywhere you want with the help of the nifty carrying case.
The marker caps are also color-coded to make it easier to find the colors you need. If you need more help with the color selection, there is a color chart that you can download from their website and print out.
This brand is offering a reasonable price for this alcohol based marker but if their ink quality has any indication, you would think this is expensive. I would recommend these to beginners and professionals alike. It has good blending capabilities that even pro artists will like.
I can work for hours with these pens in tow. They are easier to hold because the pen shape is squared. It has more angles that provides more surface for gripping. They are also lightweight.
They have a long life as well. I did not experience any problems with the ink drying up. Even after a long time of use, it still dispenses ink like no other. You might find that some of the caps have the inside part saturated with ink but that's just at first and you can clean it up easily.
Although you are getting many colors, this set will not break the bank. I recommend those who are on a tight budget to get this set. It's an investment that will not cost you much money.
The only problem I had was with some of the nibs. There are those with crooked nibs. It did not affect the functionality too much but that can be a hassle for other people.
It is worth noting that although the nibs are replaceable, the manufacturer doesn't manufacture replacements. You will have to find other brands that will fit.
Pros
Extensive selection of colors
Very vivid colors
Dispenses ink easily and has a smooth flow
Square markers for more ergonomic grip
Easy on the budget
Cons
Replaceable nibs but they don't sell replacements
I can say that these markers are a value for your money. They don't cost a lot of money but the quality is up to par with more expensive products.
11. Keebor Advanced 80+1 Colors Dual Tip Alcohol Art Markers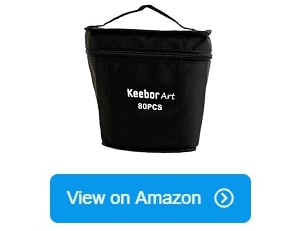 Keebor is another brand which provides an alcohol marker set that comes with 80 different colors. It's from a brand that is practically an institution in the industry, having been around for more than 20 years. I think that's a testament to their reliability.
Again, these markers have dual tips. The fine bullet point tip is useful for sketching, writing and drawing while the chisel tip is great for shading.
One thing that sets this marker apart is its rectangular shape. It's easier to hold so if your hands have a tendency to be sweaty, you will find these better.
It's also unbelievably cheap. It has the same price as other marker brands with only 60 colors. This one offers 80. If you want more color options without paying more, this should be a good choice.
What I find great about these markers is that they contain more shades of blues and greens. There aren't a lot of markers out there that have more extensive selection of blues and greens. There are also more of the rainbow colors rather than the neutral ones.
They work right off the bat. They did not need time to reactive and did not dry up in storage as well.
All the colors are vivid. I often did not find the need to layer but this still has good blending capabilities if you want darker shades. The blender included works well. I have had no issues with it.
The plastic case it came with is a little flimsy though. It loses its shape once you have more of the markers out.
Pros
Extensive color selection
Vivid colors
Good quality tips
Does not dry up easily when stored
Blends well
Get hours of fun with these markers. Add these to your coloring arsenal whether you are just doing it as a hobby or whether you are a professional.
12. Darice Studio 71 Dual Tip 48 Pieces Alcohol-Based Marker Set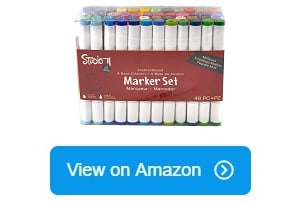 This Darice set comes with 48 pieces of markers. When doing arts and crafts projects, you will not be disappointed with these ones because of their varied colors. Each marker comes with a chisel and a fine tip to provide you with everything you might need for your art projects.
I recommend this set for beginners. It's easier to use because the tips are flexible. The ink just comes out smoothly and the tips don't chafe against the paper, which is sometimes the case with other cheap marker sets.
The colors are quite vibrant. I haven't had issues with it. The blending capability is on the mediocre side if you compare it with more high-end markers but for beginners, this might be an okay marker set to get for blending.
If you have a heavy hand and your color with heavy pressure on your pen, these are going to fray. It might not be suitable for long-term use but for occasional usage, I find this set just right for my needs. It's hard to beat that quality in its price range.
I also love all the flesh tones in this. It is easier to get accurate skin tones with the colors they offer. The shading is also great. The chisel tip has a good coverage so it was not a problem for me to do shading.
Pros
Easy on the pockets
Great skin tones
More flexible tips
Chisel tip covers more area
Cons
Tips can fray after some time
The flexibility of the tips of these markers make them such a good choice for coloring that requires blending.
What to Look for When Buying Alcohol Markers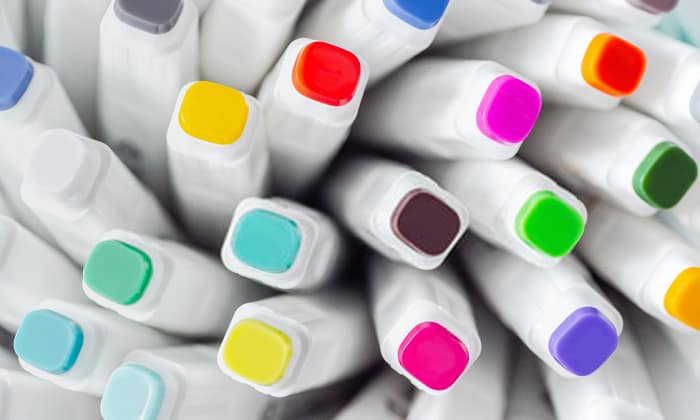 Choosing a good alcohol marker takes a bit more scrutiny. Here are some of the factors you need to take into consideration when buying:
Color Selection/Shades Included
The most important thing you should consider as an artist is how many colors are included in the set. This will tell you just how much you can do with the marker set. A few colors won't give you so many things to work with. If you want to achieve more in-depth colors, more is often better.
However, when scrutinizing what colors are included, check out what colors are instead of just knowing how many markers are included in the set. Sometimes, the colors are too close to each other that you can't really tell the difference.
There might also be a difference to what kinds of colors are included. One marker set might contain more shades of blue while another marker set might contain more shades of grey. It all boils down to personal preferences.
Refillable Markers
Not all the marker sets out there are refillable but if you have a bit more money to spare, consider buying these markers that are usually pricier. Copic is a brand that makes refillable markers. You can use the same markers for years. Just buy new ink. It's also great because you don't have to buy a new set if you run out of a specific color. You can just buy that particular color for a refill.
If it can't be refilled, make sure you look for those markers that have a long life span. They should last you for a long time.
Replaceable Tips
Having replaceable tips is also a good choice. If you are a professional artist or you do a lot of coloring, you definitely need to invest in a trusty brand of markers and simply replace the tips once they wear out. The tips will eventually wear out no matter how sturdy it is. Everything wears out, after all. This is why this feature comes handy if you want your marker set to last for a while.
Good Ink Flow
Another vital factor to consider is the ink flow. You would want the ink to flow smoothly and consistently but you would not want it to spew out a lot of ink either. You don't want a big glob of mess on your coloring book. Go for those that don't dry up quickly as well.
Blendable
One of the things that draw people into using alcohol based markers is their ability to blend with other colors, even different brands of markers well. Some also come with a free blending marker to help you achieve a smooth gradation of colors. But choose those with ink formulations that are much easier to blend.
Design of the Markers
Most markers are circular but it might be better to go with those with angles such as the triangular or the rectangular ones. They don't roll over easily and they are more comfortable to hold.
Other Important Factors to Consider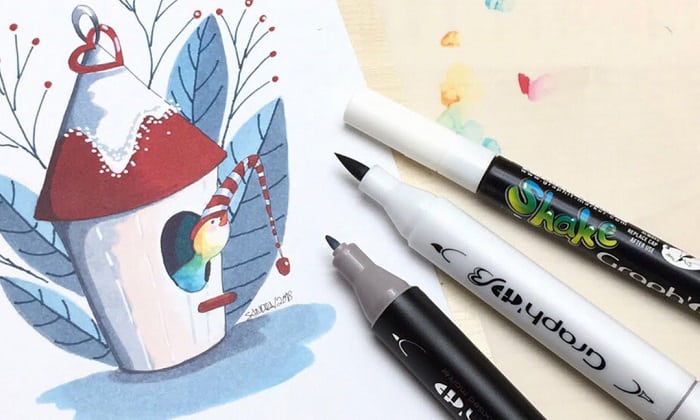 What is an Alcohol Based Marker?
An alcohol based marker is a type of marker with its ink mixed in alcohol. Alcohol is a material that evaporates quickly, which allows the ink to dry up faster. This makes for consistent results and better blending capabilities.
How Does it Work?
Alcohol based markers are easy to use. They can be used in the same way as regular markers. They typically come with dual tips. One side is usually a chisel tip and one is the fine bulleted tip. Use the chisel tip to shade your drawings and use the fine tip for drawing, sketching and adding finer details.
If it comes with a blending marker, use that to blend the colors. Just rub it against the colored area to achieve the look you want.
Who is This For?
This is for anyone who wants the look of watercolor paint but hate all the mess that it comes with. Alcohol based markers allow you to do some blending. It's great for both novice and professional artists alike. Moreover, most alcohol markers have an acid-free and non-toxic formulation, hence even children can use this.
What are the Different Types of Alcohol Markers?
There is no specific type for these markers but you can get either the refillable or the non-refillable ones. The non-refillable ones are long-lasting since you can refill the ink once it runs out without changing the entire marker set. There are also those alcohol makers with removable nibs. If the nibs fray or wear off, simply take them out and replace them with a new one.
Why Do You Need Alcohol Based Markers?
You need alcohol based markers for coloring. If you prefer the look of watercolors but want it in a more convenient form, alcohol based markers are a good substitute. It can also be used for journaling. You need alcohol based markers if you prefer to do some more bleeding with your colors.
Frequently Asked Questions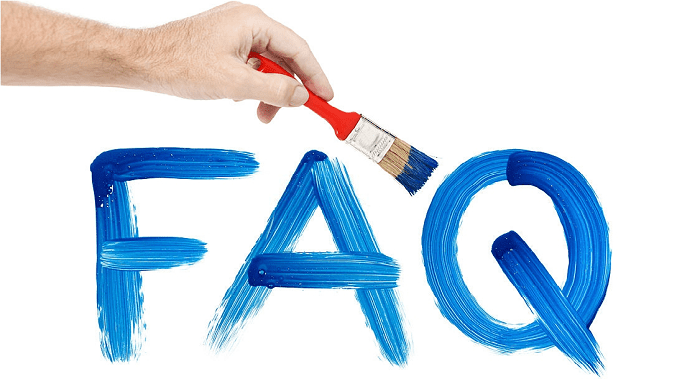 What are the Most Trusted Alcohol Based Markers Brands?
If you check Firefly alcohol markers reviews, you will find that many people trust them. However, there are also a lot of good brands out there such as the ever-popular Copic markers. They make refillable ones and many people have been using the same markers from this brand for years.
Prismacolor also makes high quality markers. They are similar in quality with Copic markers, sometimes even better, but less expensive.
What Paper is Best for Alcohol Based Markers?
Choose non-coated papers, they are better because the surface is smoother. It preserves the nibs and prevents them from fraying easily. The marker ink will inevitably bleed through the other side. That is a characteristic of alcohol based markers no matter what paper you are using. Just put another paper underneath so that it will not bleed through the other page.
What are Alcohol Based Markers Used For?
These markers are great for coloring. They can even be used for architectural rendering. Professional artists who cartoons are also known to opt for this type of markers.
Are Sharpies Alcohol Based Markers?
Not all Sharpies have alcohol formulations. Some are water-based and the others are oil-based. Their Sharpie Le Pen Markers are alcohol based though. To be sure, check whatever you are getting so you know if it is alcohol based or not.
Are Copic Markers Better Than Prismacolor?
Many would say Prismacolor is better than Copic Markers because of the vividness of the ink. The colors are also highly blendable and very easy to dispense. They are also less expensive but offers roughly the same quality. Copic markers, on the other hand, offer refillable and replaceable nib options.
It depends on your personal preferences. I find that Prismacolor is a better choice if you are after the color quality. But for overall functionality, Copic markers are a great investment.
How to Use?
Just simply use them as a regular marker. You can choose from either the chisel or the fine tip. You might occasionally need to reactivate the dried up ink by soaking the tip in alcohol.
Where to Buy Them?
These markers can be bought from local stationary stores, Amazon, Walmart, Home Depots and many other shops that offer writing supplies.
What is the Warranty?
Many of the brands that make these markers offer a long warranty. If you have problems with your markers, call their customer service and they will refund your money.
How to Care and Clean for Your Alcohol Based Markers?
Use a clean cloth or a tissue to remove traces of ink on the body of the marker. Make sure the caps are placed back on. Organize them in the carry case that usually comes with them.
Conclusion
The best alcohol based markers are out there. I suggest trying different ones, opting for the smaller sizes only to test the quality of the ink before investing on the ones with more color options. Buy those markers that have the colors that will be in heavy rotation in your coloring repertoire. You don't need to spend a lot of money. There are less expensive brands that still offer good quality markers. If you are a beginner, start with a less expensive set and then work your way to the better ones once you have gotten the hang of coloring.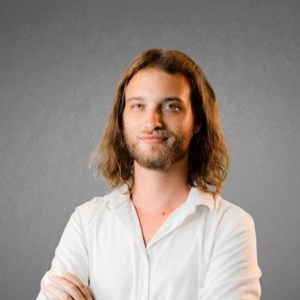 I am a former art teacher, so it is evident to me the importance of art in educating the new generation. We also want to help parents who plan to teach their children and desire the best tools and tips for them.