Selecting the right paper is just as important as the ideas you have for your next project and the medium you choose. This is especially true for watercolor as it behaves differently on various types of paper. It affects how you control the pigments and, by extension, the appearance of your artwork.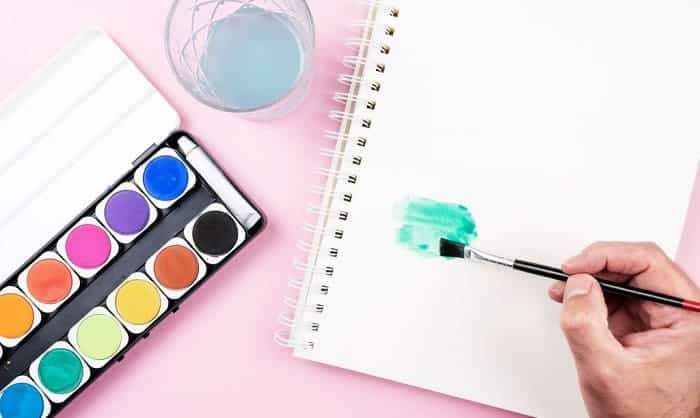 Think of the paper as the foundation where you lay everything to build something. Even if you want to focus on the artistic side of things, you need to know the science behind how each material works to use them to your advantage.
The general rule is to choose the best watercolor paper that matches your style and habits as a watercolor artist. Since each brand manufactures watercolor paper in different ways, let's look at all the characteristics of the papers so you can decide which of them suits your needs.
Best Paper for Watercolor Reviews
1. Arches 1795098 Watercolor Paper
The Arches paper is one of the products I love as this brand has set the standards in terms of quality. Some even go as far as considering this brand the benchmark when they compare papers.
Made of 100% cotton, the hot-pressed watercolor paper possesses a smooth texture that is ideal for minute details. When I used it, I could bring out the crisp edges in my painting as it absorbed the pigment evenly. On top of that, it allowed me to make beautiful granulations, drips, and splatters.
Another thing I like is that the paper did not buckle when I applied several washes. I'm also impressed that the hues appear more vibrant on these hot-press sheets since more pigments settle on top. This characteristic makes it convenient to digitize artworks as the scanner can pick up more colors on less bumpy sheets like this one.
As a painter, I also prefer this cotton paper when I want to use other drawing instruments alongside watercolor, acrylic, and gouache. Its smooth texture grabs graphites and color pencils evenly, whereas my fineliner's nib glides smoothly across the surface. Aside from its superb handling of mixed-media, it gives me a durable space for my experiments as it withstands multiple erasures.

Other than the annoying faint smell that this paper pad has, I think it does not have any major issues that will affect your work. Its fine quality can help you save the product for finished pieces as each paper is acid-free. Besides, the 10" x 14" surface gives you sufficient space for both dramatic broad strokes and intricate elements.
Pros
The smooth surface bringing out details and crisp edges
Ideal for granulations, drips, and splatters
Produces more vibrant hues
Great for mixed-media artworks
Paper quality withstands multiple erasures and several washes of paint
Appropriate for finished artworks
Arguably the most trusted watercolor pad, its durable 100% cotton paper is the best surface for artists to experiment with a range of dry and wet mediums. Preferred by many notable painters for the past centuries, you can never go wrong with Arches papers.
2. UCreate P4943 Watercolor Paper
Beginners often feel intimidated when working with professional-quality art products. If you are looking for watercolor paper for beginners, then check out this pack of student-grade watercolor paper.
Geared towards learners of any age, the thickness of the paper does not disintegrate with multiple washes of watercolor paints. You can expand your choices of materials since it also works well with acrylics and gouache. When I tried Copic markers with this paper, I found that they got along well as the inks did not bleed through the paper or feather.
With a smooth texture, you get more control in handling your brush to add details to the watercolor painting. Aside from a wet medium, I see that it also takes in dry mediums like pencils and colored pencils beautifully. Moreover, I can produce neat, sharp lines using felt-tip pens or markers as the nibs glide swimmingly on the surface.
Offering 50 loose sheets in a pack, this inexpensive product is a practical choice for arts and crafts activities in classrooms or at home. Its decent quality affords you a conducive space to refine their skills and roughly sketch ideas before rendering them on a canvas. Since the paper is acid-free, you can count on the fact that your artworks will never fade.

The watercolor paper's only flaw is that it buckles with the heavy wet medium application. As with any student-grade art supply, this is expected. However, what makes this product special is that it is recyclable, which means you can use the paper in other ways even after painting over it.
Pros
Perfect for learning watercolor and mixed media techniques
Appropriate for any age
Durable thick paper endures multiple washes
Material is recyclable
Cons
Buckles with heavy washes wet medium
Considered as the most suitable watercolor paper for beginners, this product is also recommended for any artist who wants to practice or explore ideas. Due to its affordable price, you will not feel like you are wasting paper while you learn artistic techniques to develop your skills further.
3. Canson 100510941 Watercolor Pad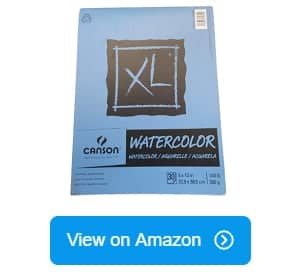 One of the most popular choices across the globe, this variant of Canson watercolor paper is affordable and available in most retail stores. Regardless of your skill level, the product has tons of things in store for you.
Although advertised as cold-pressed watercolor paper, I see that the texture is more like fine grain. I like this feature as I can use markers and pens alongside my watercolor. Toothier than a hot press paper, I can lay down the pigments and execute basic techniques effectively.
Rated as student-grade paper, it allows you to experiment as it thrives with a variety of wet and dry mediums. One of the things I love is that it does not peel off with multiple erasures. Instead, the watercolor paper retains its fine grain so you get consistent texture despite making mistakes.
Each sheet has a natural white tone that emphasizes the rich hues of the mediums' pigments. Its acid-free composition ensures your artworks last for several years. Designed as a watercolor paper pad, you 30 pages of drawing spaces at a modest price.

However, it is hard for me to do heavy layering and wet on wet since the sheet is not as toothy as cold-pressed paper. So I think this watercolor paper pad is appropriate for anyone who wants to refine their skills and render rough ideas.
Pros
Excellent for both wet and dry mediums
Best use for practicing and rough ideas
Ample drawing space at a modest price
Retains texture despite multiple erasures
Cons
Fine-grain poses limits to watercolor techniques
Whether you are a beginner or an intermediate artist, this decent-quality watercolor paper is a good surface to play with pigments and quick painting.
4. Arteza Expert Watercolor Pad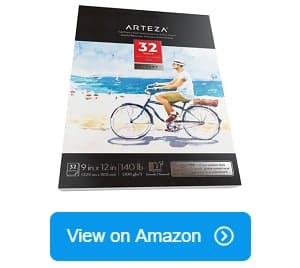 Aside from advancing your skills, you gain confidence in manipulating watercolor by putting in hours and hours of practice. In that case, you will need a supply of good watercolor paper that responds well with the paint. With this watercolor paper pad, you get an abundance of drawing surfaces to play with.
Each page is smooth on one side and rough on the other. Not to be confused with the actual cotton rough watercolor paper, with its texture, I can execute more techniques. In many ways, you can think of it as an "all-purpose" watercolor pad because it will let you render details and dramatic washes.
For beginner watercolor artists, I think this is a good starting point as the rough side makes it easier to spread the liquid and the pigment. I also see that it is strong enough for masking fluid and several rubs of erasers. Maintaining a flat surface, the paper weight of 300 gsm can take multiple layers of paint without buckling too much.
Because the sheets are bound by glue, I can remove a single page without damaging the rest of the pad. I really like that its size is suitable for most genres of illustration. I do not have to worry about fading since the sheets are acid-free.

As I see, this product's only weakness is its smooth side. Multiple erasures and tapes can peel off the paper. If you plan to paint on the rough side of the paper, then this is not a real problem.
Pros
A good all-purpose pad for wet medium
Easy to spread liquid and pigment
Durable paper
The rough side can handle multiple erasures
Suitable for most genres
Cons
Smooth side peels off when removing tape or rubbing with the eraser
Learning to apply watercolor on paper requires a lot of practice. A practical choice for artists who want to improve their skills, this cold press paper pad offers plenty of good quality drawing space.
5. Strathmore Ready Cut Watercolor
Renowned for its high-quality products, it is not surprising to know that Strathmore is one of the go-to brands for artists of any skill level. For those who want to frame finished artworks, this pack of cold press watercolor paper is a great choice for you.
Saving artists the trouble of cutting large watercolor papers, the ready-cut 5″ x 7″ sheets fit the frames that are available in retail stores. I like that its size is perfect for me to make hand-painted postcards. Since it is reasonably priced, you certainly would not mind using it for thumbnail sketching with a splash of water media.
Deemed as high-quality watercolor paper, the 100% cotton sheet has the right texture for all the tricks you have up your sleeve, like blending and lifting. I can also rework or corrections without breaking down. Moreover, I can avert common issues like buckling and warping.
Another thing I like about this product is that I can use both sides of the sheet. Note that this part of the paper is smoother, making it more apt for detailed illustrations. Both acid-free and archival, this paper retains the rich colors of your artworks so you can sell or keep them for your portfolio.

Just like any product, this paper has its limitations. While it performs generally well, the areas you overworked with paint can be prone to pilling. By being aware of this, you can plan on how you will use your watercolor accordingly.
Pros
Paper quality suits most watercolor techniques
Good for framing, postcard-making, and thumbnail sketching
Both sides are usable
Archival quality retains rich colors
Hardly buckles or warp
Cons
Overworked areas are prone to pilling
The manufacturer rightly labeled this product as a premium professional-grade paper as it lives up to its claims. Due to its size and quality, these versatile sheets can be framed, sent as a postcard, or serve as spaces for sketching ideas.
6. Arches 1711600 Watercolor Paper
This brand does not need introductions if you are in the painting industry. For those who are new to this practice, Arches watercolor paper is the most sought-after art product for many generations of painters. Let me explain why these cylinder mold-made sheets are one of the versatile of its kind.
I can spread the paint much easier on the cold-pressed paper because of its tooth. This ability affords artists the control they need to execute various effects. Coupled with the paper weight of 300 gsm, what I like most is that it takes in several washes of watercolor without disintegrating.
Compared to a rough paper, this has a lighter grain so I have no difficulties in making details. Besides, the texture maintains the transparency of the paint. Because of the even distribution of the fibers, warping or buckling will not shift my pigments in places where I do not want them to be.
As this is a watercolor block, the sheet does not need stretching before use. I did not have to trim the edges after painting. Convenience aside, I did not have to worry about the wet medium seeping through the paper since the gelatin sizing boosted the durability of the paper.

Not to nitpick but let me just point out that this cotton paper has a bit of a stinky smell. Rest assured, it does not get in the way of painting. After all, this one of the most favorite paper for watercolor ever made.
Pros
Versatile paper
Prevents warping and buckling
Light grain makes detail work easy
Maintains transparent nature of the watercolor
Convenient to use
Cons
The stinky smell is a nuisance
Setting a gold standard, you can expect nothing less from this product. Crafted as a high-quality cold-pressed watercolor paper, you will never have to deal with major issues like bleeding and buckling. Just focus on what truly matters: Your vision.
7. Fluid 821722 Watercolor Paper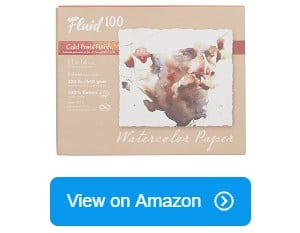 Whether you are a professional, a hobbyist, or a beginner, you deserve to have high-quality watercolor painting paper. At some point, you will want to have some of your artworks displayed at home, if not in a gallery. Looking at the features, this paper may be just what you need for a finished watercolor painting.
Among its strongest suits is the paper's ability to accept liquids without buckling. It should not come as a surprise because the paper weighs 640 gsm. In other words, you can skip the prep work stretching and just paint.
Made of 100% cotton, this rag paper is cold-pressed and gelatine-sized. Simply put, its degree of durability supports plenty of techniques. I'm also pleased that this is the perfect watercolor paper for wet on wet. I can freely compose my illustrations however I want and use other mediums like pens and markers.
Thanks to the fine grain, I can render intricate details and smooth graduated washes. Since the paper displays splendid well-saturated colors, your artworks will most likely be pleasing to the eyes. In conjunction with the archival quality of the paper, your painting will endure the test of time.

I think the only challenge in using this is that it is hard to remove from the block, partly because the paper is so thick. In any case, you can resolve this by using a butter knife or similar tools to detach the sheet. Needless to say, this is a good candidate for the top-rated watercolor paper.
Pros
Highly durable paper that supports most techniques
No need to stretch the paper
Accepts wet and dry mediums
Perfect for intricate details and smooth graduated washes
Displays well-saturated colors
Cons
Challenging to remove from the block
No matter where you are in your artistic journey, you will surely have artworks that you are proud of. A top choice in the art industry, this high quality watercolor paper helps you maximize your mediums, time, and talent.
8. Winsor & Newton 6663273 Watercolor Paper
At a glance, the packaging looks fancy, which instantly gives the impression that the product is aimed at professionals. As far as quality is concerned, Winsor & Newton is one of the leading brands in the art industry. In any case, let's find out how exactly the water color paper benefits artists like you and me.
Pre-stretched gummed watercolor block products are the ultimate time-savers. In my experience, this format relieves me from having to stretch the paper so I can work right away. Removing the paper is a breeze since I can just detach the sheet with a palette knife after finishing my artwork. Thus, I managed to prevent damaging both my artwork and the rest of the watercolor block.
With a rough grain, this paper for watercolor painting helps me edit or correct your application tidily and smoothly. Not to mention, I can uniformly disperse the paint across the paper and lift the color neatly even when it's dry. Moreover, the color quality of your initial washes will not be affected if you ever decide to apply another surface wash.
Given the level of control you get, the watercolor paper lets you concentrate on building your next masterpiece. Although tagged as professional-grade, it is suitable for any beginner or art student who wants to try out different types of watercolor paper texture. Even better, its white surface displays vivid colors of other mediums like graphites, pens, and markers.

Although this is a cylinder mold-made, the sheet does feel handmade because of the texture. The product is relatively pricier compared to other brands. On the bright side, it is worth every penny you spent!
Pros
Pre-stretched watercolor block format eliminates stretching
Easy to neatly detach a sheet from the entire block
Works well with a myriad of painting techniques
Lets you concentrate on the work rather than fixing issues
Displays vivid colors of any medium
Cons
Expensive watercolor paper
In a nutshell, this rough watercolor paper is essential if you want to make frame-worthy illustrations. Even if you are a beginner or a student, it is an art supply worth saving up for because of its high quality.
9. Crayola 99-3403 Watercolor Pad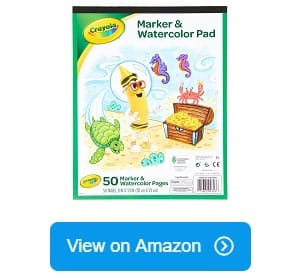 When it comes to creativity, it is always a good idea to teach children to use different materials. Not only do these activities familiarize them with textures and effects, but it is also a fun way to introduce how different colors work together. This marker and watercolor pad is a great place to start.
As I see, the pigments of the watercolor and marker inks will naturally appear more vibrant on this paper. So I think that this is a plus since kids can see the true colors of the medium, which helps in their learning. Moreover, the artworks on this type of paper translate well on a scanner so you can digitize and share them on social media.
On the smooth surface, the markers glide effortlessly so children can color an area easily. I also find that the paper can hold up to light washes of watercolor. Since this is an inexpensive product, young artists can practice drawing without parents feeling worried about wasting money on an art supply.
Children have yet to develop their motor skills so they tend to move their elbows and arms as they draw. Thus, working on a wider drawing surface like this 8″ x 10″ paper is appropriate. At the same time, it fits standard frames sold in most retail stores. Your child will surely feel proud to see their masterpieces on the wall!

Designed for kids, this paper thin watercolor set is not for advanced techniques. Aside from that, it cannot prevent bleeding. For basic home or classroom art activities, I think this product is sufficient.
Pros
Shows vibrant watercolor pigments and marker inks
The bright white sheet is good for scanning
Paper lets markers glide
Can withstand light washes of watercolor
Wide drawing surface for practice artworks
Cons
Not suitable for advanced techniques
Not prevent bleeding
By equipping them with the right tools, children can learn to turn their wild imagination into stunning pieces of art. For starters, Crayola's smooth watercolor paper pad is very useful for practicing their strokes.
10. Bee Paper 1153P50-609 Watercolor Paper

Among all watercolor papers, cold-pressed is the one that gives artists the flexibility in terms of techniques. If you are looking for decent quality sheets in the affordable range, the Bee Paper is a viable option.
Performance-wise, the water paint paper is sufficiently thick and textured. I think this combination is great as I can control better in dispersing the pigment, blending hues, and many more. Weighing 300 gsm, the sheet relieved me from problems like buckling and warping as it takes in multiple washes.
Unlike other watercolor paper that tends to produce duller colors, this one enhances the vibrance of the pigment. Even with pen and ink or marker, I can render crisp lines that do not feather when they are in contact with liquid. Consequently, this results in a cleaner and smoother rendition.
As a practice paper for watercolours, you can maximize this high quality product by using both sides of the sheet. While it has the perfect texture of cold-pressed paper, the other side is a bit smoother. Yet, the paper's material is also appropriate for finished pieces so you can keep this stash for any artistic endeavor.

As I see, the watercolor paper did hinder me in achieving certain techniques because it dried up the liquid faster. That said, it is wise to plan your composition accordingly so you can make the most out of this pack.
Pros
Provides better control
Relieves from issues like buckling and warping
Makes watercolor pigments vibrant
Pens and markers do not feather when in contact with liquid
Both sides of the sheet are usable
Cons
Limitation in techniques you can apply
Even though this is not the top-tier watercolor paper, it is a great addition to your art supply for both practice artworks and finished pieces. Aside from the affordability, the rag paper has a decent quality that you can count on.
11. Meeden Cotton Watercolor Paper
If your style includes a lot of details, then the hot-pressed paper is your best bet. Beyond that, the sheet still needs to have the ability to withstand multiple washes. Factoring in these characteristics, this product fits the bill.
I like this product as it is composed of 100% cotton, the smooth surface aids me a lot in rendering illustrations with sharper edges. Preferred by most botanical painters, it has an even texture that is optimal for painting very fine details. But I think what sets this watercolor paper pad apart is that it also supports other mediums like markers, pens, charcoals, and pencils.
Another thing I like is that the nibs of the markers and pens move on the surface without issues like skipping or feathering. Using watercolor paints, I can render seamless blends and blooms. Apart from that, it can stay wet until I successfully spread the pigment across the paper.
Durability is not an issue since the 300 gsm sheet accepts heavy washes of watercolor. I can bring this along with my painting paraphernalia since the papers are only 5″ x 7″. More than that, this is an archival watercolor paper, which is why my artworks will never fade.

Bound by glue, so the only drawback I have found is that the sheet can be hard to remove from the pad but it is not impossible. Because of the sheet's thickness, the liquid and the pigment will not bleed through the pages underneath it. I believe this watercolor paper is a must-have for beginners, enthusiasts, and professional artists.
Pros
Best paper for fine details
The durability of the sheets accept heavy washes
Stays wet to spread the pigment
Inks of markers and pens do not feather or skip
Perfect size for traveling artists
Cons
Detaching a sheet from the pad can be hard
In terms of performance, this watercolor paper product is reliable for detailed artworks, thanks to its thickness and texture. Plus, its size is suitable for nomad artists who want to paint scenes from their travels.
12. Art-N-Fly Fold-Over Watercolor Paper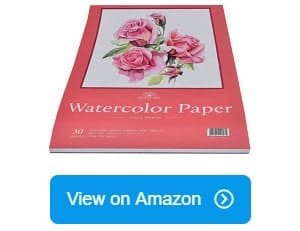 Professional or not, everyone could use some student-grade watercolor paper. Most of the time, these low-cost products are affordable for artists so they can buy bulk for everyday use. Having a stash of the good quality watercolor paper pad like this is strongly recommended.
Thick and heavy, the 300 gsm cold-pressed paper supports a wide array of mediums. In short, it enables you to apply a broad range of techniques to help you hone your skills until you improve. You get an experience closer to working on professional-grade papers because of the quality of its texture and weight.
Speaking of the texture, I love how the paper responds to my strokes and paints. For me, this makes it manageable to disperse the pigments because the sheet can stay wet for a while. Despite its tooth, I can still produce fine details, smooth gradients, and vibrant hues. The same is true for pens and markers since I can draw without skipping.
Although this is suitable for practicing, I think the quality of the paper is also suitable for finished artworks. The acid-free composition reassures me that the color quality will not suffer. As it comes in a paper pad format, I have the option to work on individual sheets. The good news is that the pages do not require a lot of effort to detach.

Remember, this product does not belong to the professional-grade category and must be treated as such. While it bleeds and buckles minimally, I found some small valleys forming when I applied wet-on-wet techniques. Even so, I see a lot of good qualities in this watercolor paper pad that anyone can take advantage of.
Pros
Gives an experience close to a professional-grade paper
Supports a wide array of mediums and techniques
Best paper for practicing and final artworks
Responds well to your strokes and mediums
Sheets are easy to detach
Cons
Prone to warping with heavy washes
Proving that you should never equate price point and quality, this cold-pressed paper is appropriate for practicing and finished artworks. With its awesome acid-free quality, your artwork's vibrant hues will never be compromised.
What to Look for When Buying Watercolor Papers

As if working on a new piece is not hard enough, picking the right type of paper is often easier said than done. Even watercolor artists with well-established careers find themselves in this conundrum from time to time.
Sometimes, walking into an art supplies shop would only complicate things because of all the brands of papers that are displayed on the shelves. The description on the packaging does not often say enough about the product. It can be hard to tell which one offers the most reliable paper to match your project, your artistic style, or your habits as an artist.
In this section, I will be sharing some pointers to guide you in your next purchase.
Texture
Watercolor papers are generally categorized as hot-pressed, cold-pressed, and rough. Since each brand manufactures paper differently, there is no standard finish. A cold-press from Arches paper will be most likely different from a Canson XL.
By definition, the hot-pressed paper has fine grain but it is the smoothest among the three. Often the top choice for botanical watercolor painting, the sheet allows artists to produce intricate details and crisper edges. Pens and markers glide well on this type of surface. In terms of color quality, the hues are more vibrant because more pigments settle on top.
Cold-pressed can support most watercolor techniques. While professionals love to use this watercolor paper, it is an ideal starting point for beginners before moving on to explore others. It lets artists paint details, although it tends to soften the edges because of the texture.
Last but not least is the toothiest of all: The rough paper. As the name suggests, the texture is coarser compared to the other two. This characteristic makes watercolor papers an ideal surface for dramatic washes and dry brush effects, both of which are hard to do on a hot-pressed paper.
Paper Production
Manufacturers have different ways to make watercolor papers. Knowing how they are made will help you understand more about how to use them.
For starters, the three most common processes are hand-made, mold-made, and machine-made. Hand-made and mold-made are more durable and stable. Often tagged as professional-grade, many painters love the irregularity of their textures but they are often more expensive.
Machine-made papers tend to be cheaper but they are more prone to buckling and warping when they get too wet. These are considered student-grade because they are best suited for everyday use.
Just because you are a student or a hobbyist, does not mean you should settle for student-grade. Likewise, professionals could use some machine-made papers for their rough compositions. Both types of paper can be beneficial for anyone, depending on how they are used.
Content
You have probably noticed that some brands indicate "100% cotton paper," or the "rag paper" on the label. Stronger and more flexible, these sheets do not deteriorate or tear even when they receive several washes. Most, if not all, professional-grade watercolor papers contain purely cotton.
On the flip side, there are watercolor papers that are made of wood pulp. Other products combine the alpha-cellulose, which is found in wood pulp, with some cotton.
In terms of a variety of techniques, you can do more with 100% cotton papers. That's because it can take color lifting, masking, scraping, and scrubbing without breaking down.
Weight
When it comes to papers, the weight refers to the thickness of the sheet. Usually, this information is found on the cover of a pad or the packaging of the paper product.
In conjunction with the texture and the content, the weight is a crucial factor to consider because it tells you how much water the paper can take in. For example, mixed-media papers that weigh between 150 gsm to 250 gsm can take in light washes. Anything more than will cause the paper to bend or warp.
Heavyweight watercolor papers that are at least 300 gsm can take a beating. They are less likely to warp or buckle. As such, the pigments will not move to the valleys that are formed when a wet paper distorts.
Format
Watercolor papers are commonly sold as loose sheets, pads, and blocks. Functional in many ways, these formats are more than just a fancy design.
To give you an idea, a watercolor block offers convenience because the papers are pre-stretched and gummed on all sides. As a result, it effectively prevents distortion even if the paper is made of wood pulp. The only issue is detaching a page can be hard because of the strong glue.
Watercolor pads suit the needs of traveling artists as the sizes fit in most bags. Meanwhile, students and professionals who need more papers for their projects may prefer reams of loose sheets. The only challenge with pads and loose sheets is that these papers may need stretching.
Other Important Factors to Consider

What is a watercolor paper?
Unlike blending cards and printer papers, watercolor papers are heavier and more textured.
While the texture and the weight vary, these are the most tangible properties of a watercolor paint paper. Contents and production also contribute to the overall quality of the paper, thereby affecting how artists paint.
How does it work?
Initially, the first things you notice when you touch a watercolor paper are its texture and weight. Unless you are a paper geek, you may not even realize what it is made of or how it was made if you did not read the label or pay close attention to the grains.
Everything you see and feel on the paper, including the "invisible ones", work together to make pigment and water control possible. The weight is responsible for making sure that you do not soak up your paper. Otherwise, the sheet will disintegrate like a tissue that you wet with water.
However, the weight alone cannot hold the water or pigment in place. With the texture, the paint you put on the paper will be easier to disperse in the directions you want. Of course, the level of control you have will also depend on how rough or smooth the paper is.
Who is this for?
Anyone who wants to use watercolor should buy watercolor paper.
You could be a parent or a teacher who wants to buy for your children. Perhaps, you are professional artists who earn a living from making art. Maybe, you are just looking for a new hobby to try or an art student who is exploring new materials.
Understandably, terms like "professional-grade" or "artist quality" can sound intimidating, especially if you are relatively new to watercolor. These keywords only refer to the quality of the paper and not the type of consumer.
A professional-grade watercolor paper is not exclusively for professionals. Even creative individuals with well-established careers do not use expensive sheets all the time. Famous artists started learning the basics using machine-made student-grade papers.
Likewise, hobbyists and beginners are welcome to buy professional-grade paper for their finished artworks that they want to frame or give as a gift.
What are the different types of watercolor paper?
One of the good things about having a plethora of brands in the market is that you can choose the one that is suitable for your style and your project. Regardless of the format, production, and content, watercolor papers are classified as:
Hot-pressed paper
Cold-pressed paper
Rough paper
Why do you need watercolor paper?
Paper distortion is the bane of every watercolor painter. When a paper buckles, it will form a valley where the pigments will settle, which makes it hard for you to manipulate the medium. This happens when the paper you use lacks texture, weight, and other elements like gelatine sizing.
You can buy the fanciest set of brushes and paints but if you cut corners with the paper, you will be facing many problems. Hence, it is important to use watercolor paper even if you are only practicing.
Frequently Asked Questions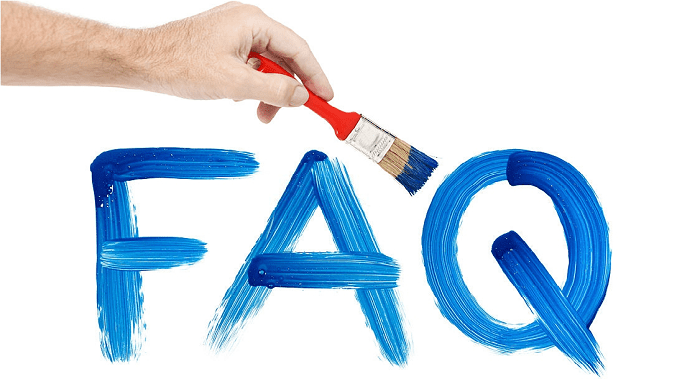 What are the most trusted watercolor paper brands?
Trying out a brand of watercolor paper for the first time involves some sort of risks. Sometimes, no amount of research will ever give you all the information you need. After all, the paper you use will always be a personal choice.
Of course, some brands have already won the trust of diverse watercolor communities across the globe. Within the industry, names like Arches, Strathmore, Canson, Arteza, Winsor & Newton, UCreate, Bee Paper, Crayola, Meeden, and Art-N-Fly are synonymous with high quality. At the end of the day, you need to test out the product to know for yourself.
What is the best weight for watercolor paper?
To prevent buckling, the watercolor paper weight should be 300 gsm or heavier. As you know, a heavier paper usually costs more but it may not require stretching. Keep in mind that the criteria for the best paper hinges on your project type, artistic habits, and sometimes, even your budget.
Do you have the patience to stretch papers before you work? Do you plan to produce pieces of art for an exhibition or school work? These are just some of the questions that you need to ask yourself before making any decision.
Which is better? Cold press or hot press watercolor paper?
Each watercolor paper has its unique qualities just as every human being has his or her distinct personality, style, and purpose. Ergo, cold-pressed is not necessarily better than hot-pressed watercolor paper. Just the same, rough watercolor paper is not better than the two.
When choosing a watercolor paper for your artwork, you should determine what the project entails so you can plan accordingly. If you want to include plenty of details and combine watercolor with inks, a smooth hot pressed paper is more appropriate for the project. If you want to play with various watercolor techniques, a cold pressed paper can help you bring out more effects because of its texture.
On a side note, you can use either of them as paper for watercolor pencils as well.
Which side of watercolor paper do you use?
Some brands manufactured watercolor paper that explicitly indicates in the packaging that you can use both sides. As in the case of 100% cotton paper, its back and front can be different in terms of texture but it is not always obvious. Unfortunately, this is often the case with mold-made and handmade.
Traditionally, the two sides of a watercolor paper are known as the "felt side" and the "wire side," which are derived from the production process. Handmade papers are crafted with the use of a hand-held mold that has a wire mesh. When drying the sheet of pulp, it is placed in between sheets of felt.
Fun fact: The felt is responsible for producing the texture of the cold-pressed and rough paper. To make the hot-pressed paper, the sheet undergoes another process.
There is no right or wrong side but the difference between the two sides impacts the way your watercolor paints behave on the paper. On watercolor blocks, the felt side is usually the one on the top and its texture is coarser and random. With some experiments, you may find which side works better for you.
How do you keep the watercolor paper from warping?
The easiest way to prevent warping is to use 100% cotton watercolor paper that weighs 300 gsm at the minimum. However, this product is often expensive. It is better to buy watercolor blocks that are made of wood pulp. Compared to a pad or a loose sheet, this format can keep the paper flat while you work.
If you have to use watercolor paper, you can stretch the sheet before painting. One approach is to soak the paper with water, tape all sides down on a board, and leave it dry. You should be careful since this process can make the sheet more fragile.
In some cases, the paper would still buckle. But don't worry, you can spray the back of the watercolor paper with water and place a heavy flat object on top of it. Then leave it to dry overnight.
Another way is to place a piece of fabric on top of your wavy paper and iron it at a low heat setting. This method is shorter.

Conclusion
Watercolor paper is such a broad subject that cannot be memorized overnight. Veteran artists know that it takes years of watercolor painting to master the use of materials.
If the technical aspects of watercolor art paper confuse you, remember that there are online resources like this to guide you. Although nothing can replace the first-hand experience, reading about watercolor paper gives you a better idea of how to approach your art projects. After all, your choice of materials will affect the output.
Lastly, keep in mind that you are not limited to the brands I featured above. We all have our definition of "the best watercolor paper", be it cold-pressed, hot-pressed, or rough paper. You are on the right track as long as the paper quality suits your style and vision.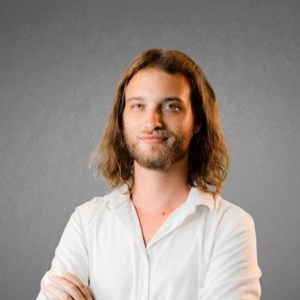 I am a former art teacher, so it is evident to me the importance of art in educating the new generation. We also want to help parents who plan to teach their children and desire the best tools and tips for them.