Stamps and markers work well together. Many artists and crafters combine stamping and coloring techniques to create illustrations, greeting cards, bookmarks, and other DIY projects. The challenge is finding the ink that is compatible with Copic markers.
Copic markers have quick-drying alcohol-based inks. You can't use regular ink pads that you see in the arts or office supplies shops. Some products have inks that bleed or smear, which can ruin your artwork.
The good news is that finding the right ink is not impossible. If you are a Copic user, then you've come to the right place! In this article, I will walk you through the features of the best ink to use with Copic markers.
Best Ink to Use with Copic Markers Reviews
1. Tsukineko ME000900 Memento Fade Resistant Inkpad
Nothing beats giving a loved one a handmade memento on a special occasion. Memento ink pads and Copic markers are a match made in heaven.
Whether I use water-based or alcohol-based markers, the ink neither smears nor bleed. After stamping a shape, I only had to wait for about 3 seconds or less before I started coloring, which is not too long. The shape remained crisp and vivid, even if the marker went over the lines.
Meanwhile, the pad's surface is firm and not too spongy. Thus it is easier to get all the colors on the stamp evenly. When I pressed it on to the paper, the lines and the small details appeared crisp and clear. In other words, I do not have to go over the lines with a fineliner to make the shape appear more solid.
Plus, I'm not limited to using a few types of paper. The ink shows up nicely vellum, coated, uncoated, and regular printer paper, giving us a versatile product. Even on regular notebooks or bullet journals, the ink does not "ghost" on the backside of the page. Besides crafts, I can use the same ink pad for office-related tasks.
Another reason to use this is that the ink is fade-resistant. Using it with the archival inks of Copic markers, I can make sure that my artwork lasts long. If there is one thing that I do not like about this is the lid, which is a little tough to open.
Pros
Prevents smearing and bleeding as it dries almost instantly
Has a firm pad surface that helps cover the stamp with color
Renders crisp and clear details
Compatible with different types of paper
Has a vivid ink that is also fade-resistant
From stamping dates on documents to making personalized cards, Memento ink will definitely help you make a lasting impression. With superb coverage, every detail in your stamped artwork will appear neat and sharp.
2. Ranger AIP-31468 Archival Ink Pad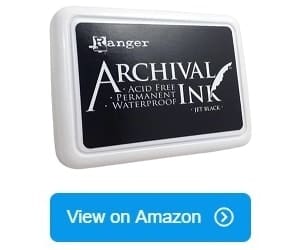 As the name implies, this craft product has permanent ink, making it perfect for artwork that you want to sell or give away. Still, this ink pad has a lot more to offer.
Let's start with the feature that I love the most, which is the color quality. Rich and dark, the black ink contrasts nicely on most surface and background colors. Even when the stamp has an intricate image, the color is consistent on every detail when I stamped it on paper.
Because the ink is also waterproof, it opens up to a whole new world of creative possibilities. I had a blast while I used wet media like watercolor. While Copic is not exactly considered a "wet medium," I was delighted to see that the marker did not pick up the stamp ink.
Aside from that, I like how it works both on glossy and matte paper. Note that there are specific instructions on how to dry them on each type of paper. However, this is a great feature since crafters like to use different materials.
Since this is made of non-toxic ingredients, this ink pad is safe for children. For educators and parents, you can teach your kids colors and shapes through stamping! Best of all, this ink does not bleed or smudge, so you don't have to worry about your kids making a mess.
On that note, I just want to mention that you need to let the ink dry completely before applying alcohol markers. While experimenting, I found that the marker picked up some of the stamp ink. Nevertheless, I think this still works well for as long as you do not color with your markers immediately.
Pros
Has archival ink that prevents fading
Covers every detail of the stamp evenly
Suitable for mixed media artworks
Works on glossy and matte papers
Safe for children
Cons
Needs to be completely dry
Stamping with this ink pad is fun for both children and professional crafters! Combine this archival ink with alcohol markers, and you can count on this product to create artworks that will stand the test of time.
3. Tsukineko SZ000031 StazOn Multi-Surface Inkpad
If you want to turn any surface into art, then this ink pad is a must-have. Besides paper, it works on acetate, acrylic, metal, and plastic. Truly, this is one of the most versatile craft products you can find in the market.
Although drying time is different for every material, I turn to this ink pad for craft projects like home decors and card-making. Whether I use matte or glossy paper, the ink sticks well on the surface. Upon testing this on cardstock, I was amazed that it took only a few seconds to dry.
Besides the firmness of the pad, the surface is also even. This is a plus because I do not have to go over an area of the stamp repeatedly just to make sure that I got everything covered with ink. With one press on paper, the image on the stamp is imprinted on paper.
Even more impressive, the stamped image looks crisp and the color contrasts beautifully on the paper. On top of that, it works on regular notebooks, bullet journals, and printer papers. While this stamp pad uses a solvent ink, the odor is faint that I hardly noticed it.
When using
Copic markers
with this ink pad, I highly recommend giving the ink some time to dry completely. Hence, the marker will not pick up and spread the stamp ink while coloring. It can be a little annoying but the results are worth it.
Pros
Perfect for DIY home decors
Has a firm surface that ensures the ink is applied evenly
It only takes one press to stamp an image
Produces crisply stamped images
Has a faint odor that is not off-putting
With this ink pad, you are not limited to using papers and Copic markers. Compatible with porous and non-porous surfaces, you can expand your portfolio of craft projects!
4. Hero Arts AF248 Hero Hues Ink Pad
Made by a brand that has set the standard for precision in stamping, you can only expect the best from its ink pad. For artists and crafters, this is the weapon of choice for mixed-media art projects.
What sets this ink pad apart is that it is safe to use with most alcohol-based markers, including Copic and Prismacolor. Since this has pigment ink, I have to use a heat gun to dry so that it may take extra time but the results are fantastic. I am amazed by the sharpness of the details of the stamped image.
Once dried, the stamped image did not smudge or feather when I started coloring with Copics. Thanks to its waterproof formula, the ink remained crisp even if I used watercolor. Because of its acid-free composition, the mixed-media illustration I make will not discolor or deteriorate, which is great if I want to sell my crafts.
Applying the ink on the stamps is also easy since the color is highly saturated. All I have to do is press the stamp lightly on the ink pad and it picks up the colors on every surface. Plus, the stamp pad did not dry up fast when I mistakenly left the lid for a few minutes.
My only gripe is that wiping off the ink from the stamp is difficult. This is okay if you are not switching colors using the same stamp. For me, it is a trade-off I am willing to accept. Compared to other brands, this ink pad produces high-quality imprinted images.
Pros
Safe to use with most alcohol-based markers
Produces sharp and well-saturated stamped images
Compatible with watercolor
Offers fade-proof ink to keep artworks vibrant for a long time
Does not dry up fast when you accidentally leave the lid open
Cons
Can be hard to wash the ink off the stamp
When it comes to precision and cleanliness, look no further! Besides its archival quality, this ink pad can stand up to the juiciest alcohol-based markers and wet mediums like watercolor.
5. Ranger AAI-19787 Adirondack Alcohol Ink
Creative folks love to mix colors! Whether you want to expand your palette or create gradients, this set of alcohol inks is your best bet. I know this is stating the obvious but Copic markers are alcohol-based as well so there is no issue on compatibility.
Besides the paper, I can also use these inks on other materials like metal, foil, glass, resin, and many more. Moreover, I can produce a polished effect on non-porous surfaces. In terms of paper, this type of ink works best with synthetic paper such as Yupo.
Apart from stamping, this ink allows me to approach my art using other techniques that cannot be done with markers alone. For instance, I can "drop and pour" the inks on paper, which produces random circular shapes.
Alternatively, I can also use this ink to spread the color to make across the paper with cotton swabs and rounds. If I want to create foliage, I can simply use a paintbrush to manipulate the ink, which is very easy to do. Regardless of the surface, you apply these inks on, and the colors show up vibrantly.
By all means, this set of inks is great for experimenting with colors. The problem I have with this ink is that the bottle tends to leak. This is not a hassle if I am not going to bring this to another place. I just have to be careful in handling and storing the bottles.
Pros
Great for producing various color effects on glossy paper
Renders polished effects on non-porous surfaces
Works well with stamps, brush, and cotton
The consistency of inks is easy to manipulate
Has vibrant and well-saturated colors
Overall, this is an excellent set of inks that can go hand-in-hand with Copic markers. More than just inks, this helps you produce a rainbow of colors and a myriad of effects to take your artworks to a whole new level.
What kind of Ink Do You Use with Copic Markers
In terms of compatibility, the first thing to remember is that Copic markers use alcohol-based inks. Ink geeks know the chemistry behind how each substance reacts to each other. For those of us who just want to create artworks and want to skip the technicalities, let's make it simpler. What you need is something that doesn't smear or bleed.
The inks I featured in this review are safe to use with Copic markers. Alcohol proof ink is essentially dye-based and pigment inks. This can be in a form of ink pads or ink bottles.
However, it must be noted that each product comes with a different set of instructions. The drying process and drying time also vary depending on the surface and type of ink you use.
Can You Use India Ink with Copic Markers
In my research, many artists have discouraged the use of India ink alongside Copic. However, certain brands of India ink claim that they are "Copic-proof." Before buying an India ink, be sure to read the label of the product. If you want to stay on the safe side, dye-based inks are your best bet.
Conclusion
One of the advantages of using Copic markers is that it helps us produce beautiful blends of colors. On top of that, these alcohol-based markers are the top choice for mixed-media illustrations and crafts. Aside from watercolor, you can venture into crafts that involve alcohol-based stamp ink or produce various coloring effects.
For beautiful results, I highly recommend using the best ink to use with Copic markers. Coloring and stamping will never be the same again. As you know by now, these products let you work not just on paper but also on other types of materials.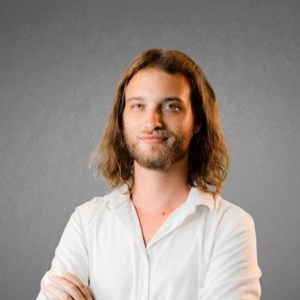 I am a former art teacher, so it is evident to me the importance of art in educating the new generation. We also want to help parents who plan to teach their children and desire the best tools and tips for them.