Having an assortment of colored pencils for drawing is the dream. And we also need to pack an eraser to remove the lines made by mistake to perfect our work. However, seeking the right product can be challenging due to various options available, yet just a few deliver satisfying results.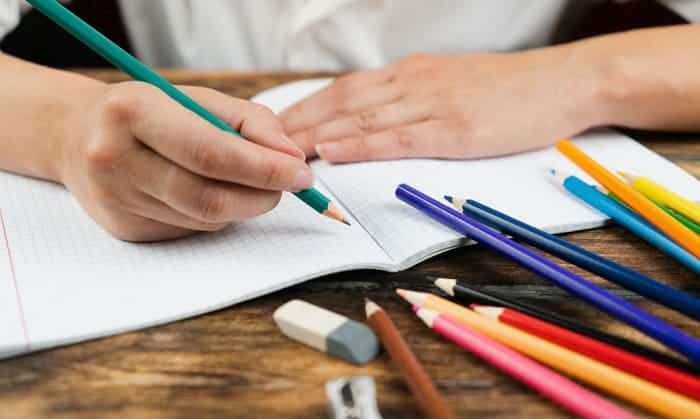 To not leave ugly residues or crumbs everywhere on your drawing sheets, it is advisable to pick the best eraser for colored pencils. If you are still in the dark about what products to consider, fret not, as we will review some of the widely-loved ones in the market. Check them out and decide for yourself.
Best Eraser for Colored Pencils Reviews
1. Pentel Hi-Polymer Block Eraser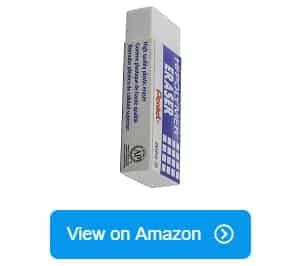 It is rare to see an eraser getting nearly perfect ratings on eCommerce-websites. But the Pentel Hi-Polymer Block Eraser can achieve such hype with its soft feel yet durable use.
When working on my journals, I often make lots of mistakes, like choosing the wrong words or creating incorrect graphic illustrations. But I do not want to tear the page every time that happens; fortunately, this premium piece allows me to perform the work smoothly.
Its rectangular shape features sharp edges that easily get to the trickiest spots. As a result, I can remove unwanted lines or wrong letters without deleting a large part of my current work.
Furthermore, if you prefer a soft rubber, this one might be your ideal option. But do not mistake it for being a weak eraser that cannot stand up to pressure. In contrast, it remains durable when working on stubborn marks without breaking into small pieces.
More importantly, its softness can afford no wearing down or tearing paper while erasing colored pencil parts. It also leaves minimal to no smudge, preserving your art piece for coloring or highlighting by markers later.
The only gripe I have with this piece is that its body gets a dark cover after erasing black pencils. Other than that, it works superbly on different colors in my assortment.
Pros
Rectangular shape with edges to remove small spots
Soft rubber for delicate erasing
Durable enough to withstand pressure without breaking
Promises no wearing down or tearing paper
Leaves no smudge afterward
Cons
Its body getting a dark cover after erasing black pencil marks
It is safe to say that this high-quality Pentel eraser gives great value to our money. I never regret testing and settling for this one to correct my important journals and notes.
2. Tombow Mono Zero Eraser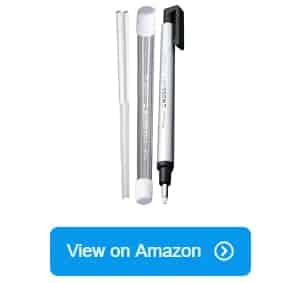 Tombow calls their product a value pack containing a Mono Zero Eraser pen and two refill pieces. I couldn't agree more with that claim from the brand, especially after experiencing its ultimate convenience and precision erasing.
Numerous users vouched for this piece's easy use following its pen-style design. You can hold the tool comfortably in hand and make a straight line when deleting colored pencil details from the paper. Plus, since it is lightweight, measuring around 0.3 ounces, there is no hassle in handling the eraser, even for kids.
I never doubt Tombow art supply's quality, and this product lives up to the expectation. In detail, this eraser pen is made in Japan, while the refills are manufactured in Korea. You might also notice its core is a bit longer than a standard eraser tip, thus offering extended use.
An amazing attribute of the piece must be its flexibility. For instance, you can cut it diagonally to produce even more precise and intricate erasing. If not, its default dimension is enough to work in tight spots, as its round tip measures 2.3 mm only.
It is important that your rubber should not damage your current work by ruining the paper texture. And this Tombox eraser can ensure just that. It allows you to continue shading and marking over the removed areas without smearing.
Still, some users think this bit is more rigid to their likings as they prefer soft and delicate erasers.
Pros
Value pack with one eraser pen and two pieces of refills
Pen-style tool for easy holding and sliding
A lightweight piece, measuring 0.3 ounce
High-quality pen made in Japan with refills made in Korea
Flexible eraser tip that can be cut diagonally for higher precision
Leaves no paper texture damages
All in all, I can easily hold and use this pen-style eraser to get rid of unwanted colored pencil lines. If you seek a sleek tool for long-lasting and flexible use, look no further than this Tombow product.
3. STAEDTLER Mars Plastic Vinyl Eraser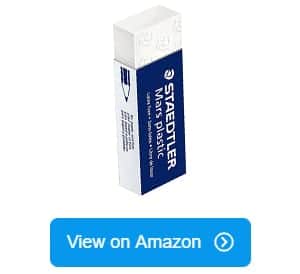 Needless to say, STAEDTLER's reputation of producing quality stationeries is undeniable. And this Mars Plastic Vinyl Eraser is among their best tools yet for artists, office workers, and students.
The rubber beats numerous competing models from other brands with its impressive performances on colored pencils. No matter how hard you write, with a smooth slide from this eraser, there will be no ugly or smearing traces left on your sheets.
Notably, it erases nicely unwanted marks on sketchbooks, journals, and multiple paper kinds without scratching the textures. Artists can indeed utilize this non-abrasive piece for their artwork on expensive paper. This is due to its latex-free formula that promotes powerful cleaning without wearing the surfaces.
Many buyers are loyal fans of this accessory from STAEDTLER for many years. They only have good things to say about how convenient this one is. In detail, it comes with a cellophane wrapper with a sliding sleeve that helps us control the eraser better.
Besides, its design of sharp corners can afford high-precision deleting of tiny parts and intricate lines. This premium white vinyl rubber is sufficient for the professional use of sketchers, architectures, etc. Yet, it is affordable enough for students to use daily with a pack of 4 pieces at a reasonable price.
Just a side note, this one is a firm eraser that offers a solid feel. So if you often work with soft rubber, it might take some time to get used to the piece.
Pros
Quality performances leaving no ugly residues and smears
Non-abrasive eraser for minimal scratching paper textures
Convenient use of a cellophane wrapper with a sliding sleeve
Sharp design for high-precision erasing
A package of four at an affordable price
Cons
Not as soft as some users might like
Some users deem this one the best colored pencil eraser that supports their art creation. If you love its function, you can settle for the piece for many years to come.
4. Prismacolor Scholar Latex-free Eraser
Prismacolor is a well-trusted brand for drawing supplies, especially colored pencils. You might already have in hand a beautiful assortment from them, so maybe not miss out on their Scholar Eraser.
Latex-free rubber is popular among users for its soft and smudge-free erasing. As I looked for such a piece, I came across this Prismacolor rubber offering those features. Also, it does not contain a hazardous phthalate plasticizer, resulting in a PVC-free eraser for safe use.
Cleaning after tiny crumbs from rubber is never a fun thing for us. Luckily, this accessory leaves little dust when clearing the wrong drawn lines on our paper. It feels nice having a clean table after a long session of drawing.
You will love it more when holding the triangular piece comfortably in your hand. Its edges are designed for easy holding and erasing even the smallest detail. You can press a little harder with different angles to avoid clearing the wrong parts.
The notable thing is no matter how durable and sturdy the piece is, it does not damage the sheet. You can confidently use this rubber on important projects without worry. Plus, it is ideal for flat and large surfaces, so any work is a breeze with the product.
However, with colored parts in dark shades, this eraser might not remove all traces. I often use it to layer colors for special effects, thus getting the best out of its minor drawback.
Pros
Latex-free and PVC-free rubber for soft & smudge-free erasing and safe use
Leaves little dust and crumbs after clearing
Triangle shape with edges for a comfortable hold and small details removal
Does not damage paper even when used with force
Sturdy eraser, ideal for large and flat surfaces
Cons
Might not remove all dark-color drawings
Overall, this accessory from Prismacolor is an excellent pencil eraser for artists. It is among the few pieces that accompany me for a long while.
5. Derwent Battery Operated Eraser
Suppose your traditional erasers made of rubber and plastic cannot effectively get all the colored pencils marks off the page. Then, I suggest you give this Derwent Battery-Operated Eraser a go.
This small device is more than just an eraser; it is among the essential accessories that support your drawings. The piece can help you blend or burnish existing colored space for special effects.
Its versatility also shows in the eraser tip stabilized by a metal holder. The solid and small point can remove tight spots and intricate lines. Such a high level of precision is appreciated by artists who love to utilize this rubber as their creating tool.
I can attest to this product's convenient use as its design comes with a control button on the top. You can press the mounted button to turn it on when erasing unwanted parts and immediately turn it off at the finishing line. Plus, both right and left-handers can have full control over this eraser due to such a smart function.
You should know that this device runs on 2 AAA batteries, which can be easily found in a local store. So, although there is no battery included in the package, you will have no problem getting prepared to use it right away.
Besides, eight eraser tips packed in the kit allow changing when the current one wears down entirely. You can watch the instruction video provided by the brand to replace it properly.
Pros
Helps blend or burnish existing colored space for drawing effects
Features a small tip stabilized by a metal holder
Works well for tight spots and intricate lines with high precision
Convenient top control button for both righties and lefties
Includes eight erasers for replacement
Cons
AAA batteries are not included in the package (yet easy to find)
You will be even more surprised when looking at the price tag of this electric eraser for colored pencils. As it can serve multiple purposes, I find such a purchase worthy for artists.
6. Tombow 67304 MONO Sand Eraser
The Tombow 67304 MONO Sand Eraser is truly a life-saver for removing watercolor, ink marking, and color pencil messes. Such a versatile rubber is every calligrapher and drawer's essential companion.
This product is a combination of rubber latex and silica grit, ensuring excellent clearing capability. You can rely on it to remove drawing lines without leaving color residues whatsoever.
In truth, I used to panic when making mistakes in important work written in ink marks. But after having this powerful tool in my arsenal, such issues can be solved easily by some quick cleaning.
You would be amazed to know that this eraser is excellent at deleting marks of ballpoint pens, thick brush pens, and even permanent markers. That means the piece delivers various applications besides erasing colored pencils, so you can utilize it for lots of work involving presentations, journaling, or note-taking.
Also, the brand packs two compact-sized rubber in one set at a reasonable price. This small piece fits nicely in our hand for breezy clearing with minimal fatigue. It is also made to be environmentally-friendly, so worry not about its formula causing harm to our surroundings.
Just a heads up, make sure you do not press too hard while erasing, as this powerful tool can damage thin paper when used with much pressure.
Pros
Made of rubber latex and silica grit for potent cleaning
Leaves no color residues on paper
Removes colored pencils, ballpoint pens, brush pens, and permanent makers
Packs two compact erasers for comfortable holding
Environmentally-friendly product
Cons
Requires gentle use on thin paper
With its functional use, you can continue your project after deleting the wrong parts without starting anew. Artists will indeed appreciate the versatility of this well-made Tombow Mono colored pencil eraser.
7. Ohuhu Electric Eraser Kit
Another lightweight and easy-to-hold design, which effectively removes colored pencil marks, is the Ohuhu Electric Eraser Kit. Due to such distinct features, this product is widely loved among students, artists, and architectures alike.
Its five-star quality never ceases to amaze me, till these days, as it is compatible with numerous colored pencil brands. I have a Prismacolor and a Crayola collection, and this rubber does an excellent job of removing wrong lines without smudging other parts.
Such precise deleting property is possible thanks to its strong motor creating circular movements at an impressive speed. This electric kit's function promotes effective cleaning in tight spots, which few traditional rubbers can achieve.
With just a gentle press on its barrel, you can quickly work your way through the unwanted parts, even with large areas. Hence, this product is the favorite accessory of many architects when they use both black and colored pencils on their drafts.
Apart from its endless capabilities, this electric eraser also does not disappoint users with its long-lasting feature. You can utilize up to 20 eraser tips included in the package and purchase more when using up all of them. When the battery runs out, replace with 2 AAA batteries, and it will work without interruptions.
My only complaint is with its metal holder that is not as tight and solid as expected. Sometimes, I have to give up a good amount of eraser left to avoid the metal holder touching the paper.
Pros
Easy-to-hold and lightweight electric eraser
Compatible with numerous colored pencil brands
Precise clearing with a strong motor creating circular movements
Leaves no smudge and cleans the right spot nicely
Breezy use by pressing gently on the barrel
Long product life with 20 eraser tips and replaceable batteries
Cons
The metal holder should be a bit tighter and more solid
No matter what colored pencil assortments you are currently using, this eclectic eraser can take care of them all. Indeed, you can
use it as an eraser for canvas
or architectural drafts, etc.
8. Vanish 4-in-1 Artist Eraser
If you want an all-around product that does more than just deleting unwanted lines, the Vanish 4-in-1 Artist Eraser can be your perfect pick. In truth, you can enjoy the function of several traditional rubbers in just this one.
Artists usually use a kneaded eraser to perform their subtractive drawing technique. Instead of purchasing another eraser, they can take advantage of this Vanish rubber. In detail, this piece can easily remove details on a surface covered in colored pencils.
Notably, it can replace gum erasers to clear graphite or charcoal messes on paper, yet its product life outshines those other ones. This piece can also rub off ink or chalk marks as an eraser made of rubber does, ensuring no smudges afterward.
Since this Vanish model comes with tough cleaning as a vinyl eraser, it can remove almost anything. But worry not about it tearing your sheets, as the product proves to work well on expensive paper without damaging its surface after clearing.
If you share with me the same irritation of all-over-the-place crumbs after clearing by rubbers, you would surely love to try out this eraser. It slides smoothly on the paper and rids of colored pencil marks in one clean strip. Hence, we are promised no trouble of gathering crumbs and dirt after drawings.
However, measuring 2.5 x 0.75 x 0.75 inches, this eraser is slightly longer and larger than the usual pieces we use. Yet you can get used to its size real quick to enjoy its smooth clearing.
Pros
Replaces kneaded erasers for a subtractive drawing technique
Removes colored pencils, graphite, and charcoal
Deletes ink and chalk marks like a rubber eraser
Does not damage expensive paper surfaces
Leaves no smudges and rubber crumbs
Cons
Slightly in a bigger size than usual easers
Its minor drawback should not prevent you from experiencing its incredible use. Plus, you can rely on the piece for various applications other than deleting colored pencils.
9. Prismacolor Premier Magic Rub Eraser
As its name suggests, the Prismacolor Premier Magic Rub Vinyl Eraser can do wonders on colored pencil messes on your sheets. For such a reputation among drawers and its affordable price, I was eager to try it for the first time.
I was satisfied seeing how this eraser effortlessly cleared up the wrong lines in my presentations. In fact, its effectiveness is no surprise to me since Prismacolor is a reputable brand for art supplies, and because eraser made of Vinyl is the toughest among others. Some people even use this piece to take off wax residues on their vehicles.
Yet, what amazed me more was its delicate rubbing on thin paper without abrading the surfaces. Hence, you can rest assured that using this one poses no surface texture damage for further coloring or highlighting.
You should also know that this Prismacolor eraser excels at absorbing graphite. So, blending and pulling out highlights with the tool is possible. Make sure to take advantage of its sharp corners for tight areas and intricate lines. Besides, this rubber does not smudge your important artwork due to its latex-free construction.
In its package, there are three erasers with a dimension of 2.25 x 1 x 0.43 inches each. This budget-friendly set will allow us to perform for multiple uses to complete our work nicely.
However, this rubber is a soft piece for erasing colored pencils. So if you want a solid feel with its bits clumped together, this one might not cater to that requirement.
Pros
Vinyl eraser proves powerful and effortless deleting
Delicately rubs off pencil marks without abrading the paper textures
Absorbs graphite for use in blending and highlighting
Does not smudge due to latex-free formula
Packs three erasers at an affordable price
Cons
Feels delicate and soft, not giving a solid feel
I find no issues working with this Prismacolor colored pencil eraser, be it drawing or writing. Plus, at this price point, the pack is a real bargain.
10. Art-n-Fly Battery Operated Pencil Eraser
Decent quality and a great price will make up a must-try accessory. For users who write and create with colored pencils, this Art-n-Fly Battery Operated Pencil Eraser is the must-try eraser that you look for.
This product comes in a pen-like design for comfortable holding. Due to its lightweight and compact size, measuring only 2.5 ounces, carrying and storing it inside your handbag is a breeze.
Also, handling this one is a piece of cake, whether you have experience with battery-operated erasers before or not. All you need to do is press the button positioned near your usual thumb placement on a pen body. Then, you can slide it smoothly on the paper surface to remove unwanted lines.
With its small tip and stable movements, we are guaranteed precise and accurate cleaning even in tight spaces. Such a premium performance makes it the ideal tool for creating highlights on graphite and colored-pencil work.
It is worth mentioning that this eraser ensures no damage to your paper. Either it is a translucent Vellum paper for crafting or thin Mylar paper, the model can work wonders in deleting without tearing it.
Apart from that, I am happy with this electric eraser's total of 51 refills. A huge amount of eraser tip promotes long-lasting use, sparing you the trouble of purchasing new ones every time a piece runs out.
However, you need to buy 2 AAA batteries separately since the package does not include them for use right away.
Pros
Compact pen-like design for comfortable holding and carrying
One-button conveniently positioned for easy handling
Stable movements and a small tip for high precision
Great for highlighting on graphite and pencil colored works
Leaves no damage on Vellum and Mylar paper
Cost-effective investment with 51 refills available
Cons
No AAA batteries included in the package
Some buyers are doubtful about leaving traditional rubbers behind to try something new. If that's the case for you, worry not as this electric color pencil eraser might exceed your expectation with its affordability and convenience.
11. Prismacolor Premier Erasers Set
Are you exploring different art styles and looking for an eraser collection? If yes, check out this set from Prismacolor offering you three pieces: a Premier Kneaded, an ArtGum, and a Plastic eraser.
As expected, the kneaded piece is moldable into any form you prefer to erase certain parts. If you wish to remove tight spots, shaping it to a triangle with sharp corners makes excellent sense. Otherwise, a large rectangle shape is ideal for handling large areas.
Regarding the Artgum, this one does more than erasing details. It excels at creating highlights and shadows emerging from black or dark backgrounds. The brand recommends using this piece on graphite, charcoals, chalks, or pastels for the best subtractive artwork.
Lastly, the plastic eraser that contains no latex in its formula does a decent job of removing colored pencils. You would be satisfied when seeing no ugly smudges and smears when using this piece. The model promises a mess-free performance besides its powerful erasability.
Notably, these three wide-ranging erasers are priced reasonably for users with a tight budget. So if you are on this shopping spree with a limited expense, this collection is among your best bets.
Plus, please note that, among these three, the Artgum's lifespan is much shorter than the other two.
Pros
Comes in a set of three: a kneaded rubber, an Artgum, and a plastic eraser
Moldable kneaded rubber for flexible erasing
Artgum for subtractive work on graphite, charcoals, chalks, or pastels
Latex-free plastic eraser leaving no smudges and smears
Affordable package for people with a tight budget
Cons
The Artgum offers shorter usage than the other two
Overall, a convenient set of erasers serving multiple purposes cannot get better than this. You will get more than just a color pencil eraser.
12. AFMAT Electric Eraser
The final option in our list is the AFMAT Electric Eraser for Artists. This one has in store an adequate erasing power, other than its sleek design.
It is hard to resist this modern-looking rubber pen that is comfortable to hold. The ergonomic design left a deep impression on me when I tried it for the first time. Such a great experience was highlighted with its sensitive control button that required a gentle press to work effortlessly.
Not to mention, its small tips at 0.09 and 0.19 inches are perfect for intricate details. You can choose between these two types to get into tiny spots without hassle. Plus, when a tip wears out, just replace it with either one among the pack of 100 small refills and 40 bigger pieces available.
For me, the model's biggest catch is its use of a 600mAh Li-on battery, meaning the eraser is rechargeable. You can use the USB cable included in the package to power this small device and enjoy its performance for an extended time. The brand indeed promotes an environmentally-friendly approach by reducing the discard of batteries.
You can be sure that this piece gets the job done without ruining the sheet textures in the process. It operates in circular movements that touch the paper surface slightly yet rub off the pencil marks. However, it might not be the most powerful tool with impressive moving speed.
Pros
Pen-style eraser with an ergonomic design
Easy operation with sensitive control button
Offers 100 refills at 0.09 inches and 40 ones at 0.19 inches
Runs on a rechargeable 600mAh Li-on battery
Preserves the paper textures while erasing
Cons
Does not move at a powerful speed (yet still gets the job done)
All in all, this electric eraser suffices when used for colored pencils. Plus, the rechargeable function that prevents too much battery discard is enough of a reason for me to stick with it.
What to Look for When Buying Eraser for Colored Pencils
When choosing the best tool to erase colored pencil marks, we should consider several important factors. Based on our needs, those can be erasability, shapes, types, tidiness, or paper trauma the piece might leave.
Many artists are loyal to Vinyl, rubber, or silica erasers formulated to remove pencil marks. These pieces are often made in the perfect size for holding and sliding. If you opt for erasers with sharp corners, deleting intricate lines is a breeze.
Besides, some users opt for an electric eraser for its convenience and high precision. Such products can make circular movements to remove unwanted lines quickly. They are perfect for tight spots and small lines, too.
Whichever type you choose, make sure it has great erasability since colored pencil messes are more challenging to rid of than usual. The notable thing is that some powerful erasers can handle marks in ink, graphite, charcoal with ease. They will be of great use for a subtractive drawing approach.
Furthermore, ensuring the eraser does not wear out your sheets is essential. If you work on expensive or thinner paper, an abrasive eraser can damage the textures and leave smears while handling the spots. Thus, you should go for products that do not leave severe paper trauma by too-hard erasing.
Other features such as the rubber shape and its left crumbs can be crucial. For instance, people who work on large surfaces are recommended to use broader-shaped erasers. Also, we will not want to clean dust and crumbs that are everywhere after every drawing session.
Can You Erase Colored Pencils
Compared to black pencil, colored pencil messes are trickier to remove. That is why we need tough pieces formulated to lift off stubborn marks. Hence, as long as you pick the color pencils with erasers offering good erasability, deleting their lines without leaving residues is do-able.
How to Erase Colored Pencils
The first step is choosing the right pencil for this task, as hopefully, you can achieve after checking out our recommended list above. Then, you should test the piece on a small spot before carrying on to delete large areas. Make sure to rub gently not to scratch the paper and ruin your work.
Conclusion
Working on an art piece, a presentation, or important notes with your colored pencils requires high concentration. Yet, we can not avoid making mistakes. That is where the Best Eraser For Colored Pencils come to the rescue. You can rely on the product to finish your work with great ease without starting over every time something goes wrong.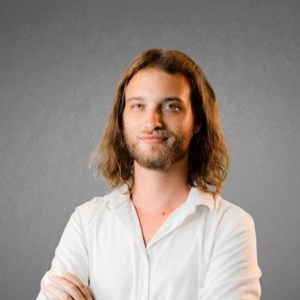 I am a former art teacher, so it is evident to me the importance of art in educating the new generation. We also want to help parents who plan to teach their children and desire the best tools and tips for them.