Some call it rock painting while others refer to this new trend stone painting. Either way, it literally means painting on smooth, round rocks using colored paint pens or traditional paint brushes. Besides practicing creativity and self-expression, your colorful rocks are the perfect hand-made home decors that you can display at home or give as a gift.
Smaller compared to most canvasses or papers, finishing a piece can take a shorter amount of time. Moreover, since rocks come in different shapes and sizes, the activity challenges you to think outside of the box. So it left a challenge for you to look for a kind of special paint pen for rocks.
In this article, I am providing you with a list of the best paint pens for rocks that you can consider buying for your creative project.
Top 12 Paint Pen for Rocks Reviews
1. Artistro Paint Pens for Rock Painting
Artistro Paint Pens is the first product I want to introduce to you. Voted as one of the favorite pens among the rock painting community, you would be surprised that this art product is affordable considering its excellent quality. Moreover, thanks to the paint pens' versatility, artists and crafters can experiment with different materials, such as paper, cardstock, canvas, fabric and so on.
Speaking of the tips, I can draw, color or write my favorite quotes as the pens feature extra-fine 0.7mm tips. If you love patterns and mandalas, I can guarantee that you will love working on the details with these tools. I am also amazed by how sturdy they are because they do not fray despite frequent use. So no matter how many times I use the pens, I can draw or color with precision.
One leading-edge feature that excites many rock painters is how bright the colors are.
Artistro has not only produced bright colors but also added silver and gold in the set to help accentuate your illustrations. Moreover, the premium water-based inks dry quickly so you can apply another color over the first layer without pausing your rock painting session for too long.
Although using these pens is simple, this brand still recommends peeling off the plastic instead of twisting the cap to remove it. Then shake the pen and let the air out. Before starting with your drawing, test it first. These steps ensure that you produce opaque colors with a nice glossy finish.
If there is one that I'd like the brand to improve on, it is the consistency of the ink. When applying them on rocks, sometimes a blob of paint would appear or the line gets thin. As I use the pens more often, I learned to work around this minor inconvenience.
Pros
Multi-purpose paint pen for a variety of surfaces
Water-based ink that dries fast
Includes silver and gold color
Produces vivid opaque colors and glossy finish
Paint markers with extra-fine tips for detailing
Cons
The thickness of the lines can be inconsistent
Because rocks are small and sometimes uneven, it is much easier to use paint pens when illustrating and painting on them. With this set, any creative ideas can easily be translated into a wonderful work of art.
2. TOOLI-ART Paint Pens Acrylic Markers
What makes the top-rated markers for painting rocks is the overall experience you get from the tools. From something carrying the pen to the colors' choice, the brand has put a lot of thought in designing the features of the markers.
The first awesome feature of this pen is the ink. These acrylic paints are highly-pigmented so you can easily make nice solid colors as well as color the dark surfaces of rocks with no fuzz. You will also love that the inks are fade-resistant and generally quick to dry.
Talking about application, you will be pleased to know that the inks work on most surfaces like glass, wood, paper, fabric, plastic, porcelain, and many more! Moreover, the acrylic paints are water-based and acid-free so it is safe to use.
Comfort is a key when it comes to painting rocks so it is not surprising that this brand made them light. At 0.7mm, the nibs help you draw outlines or color the hard-to-reach areas without difficulty. After all, rendering your illustrations on rocks is not the same as sketching and painting on flat surfaces like paper or canvas. It is important to use tools that are easy to control.
With 30 paint pens in the set, you get a wonderful range of vivid primary and secondary colors as well as 2 blacks and 2 whites. Despite spraying the sealer on the rocks after painting them, the colors are intact and they did not smear at all.
As with any tool, nothing is perfect. Sometimes, I notice that the paints tend to clog so I have to shake the pens once in a while to get ink out. Other than that, I am very satisfied with this art product as they do a perfect job in decorating the rocks.
Pros
Includes primary and secondary colors
Spare pens for black and white
Sturdy 0.7mm nibs
Barrels are comfortable to hold
Opaque colors can cover dark areas
Beyond coloring, this art product offers pens that are comfortable to hold and sturdy nibs that do not fray easily. These are the important features that paint pens must have especially when used on rocks.
3. JR.White Acrylic Paint Pens for Rocks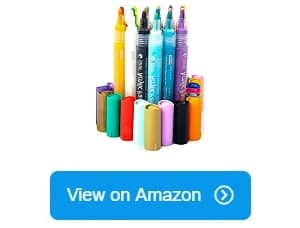 Rock painting is a fantastic way to teach kids creative skills and I'm sure that parents are looking for child-friendly paint pens for this type of activity. For this reason, I include this art product in this review. Before anything else, I'd like to clarify that adults are welcome to use it as well.
Proving with 12 bright colors, this set will surely capture your child's imagination. With these sets, you or your children can paint on multiple materials like fabrics, canvas, shoes, metal, enamel, leather, plastic, and paper.
Another reason to love this product is that it is leak-proof. Regardless of who is making art, you can be sure that it will not be messy. Since these pens are designed with kids in mind, the inks are water-based and non-toxic.
The barrel, on the other hand, is bigger compared to regular paint pens so your children will find it comfortable to hold. However, it is still important to make sure that they are supervised by an adult when they are working.
Like most acrylic paint pens for rocks, you have to shake them well before use. To start drawing or coloring, press the pen for a while onto the surface until the ink appears on the tip. Be sure to put the cap back on to protect the tip and avoid drying the ink.
When it comes to detail work, it can be a challenge because the tips are a little broad. Still, the paint pens are extremely useful if you are making illustrations that require coloring and thick lines.
Pros
Offers 12 bright colors
Works with many surfaces
Leak-proof paint pens
Child-friendly water-based inks
Cons
A little difficult to use when working on details
No doubt, these paint pens are the perfect tools for anyone who wants to get extra creative and paint on different surfaces. Great for both adults and children, the art product can help anyone turn any rock into a charming work of art. If you are running out of rocks, you can try them on other materials.
4. Uni Posca Paint Marker Pen
Going beyond traditional paint brushes, Posca paint pens for rocks are widely used by many artists. Boasting the inks great ability to resist fading, the brand ensures that the colors of your artworks last a lifetime.
There are 15 bright paint pens including black and white but don't let these numbers limit your creativity. As the manufacturer had taken rock painting to a whole new level, they made these paint pens that enable you to mix, layer, blow, and create gradients.
Opening the cap for the first time reveals a white medium-sized bullet tip. In case you are wondering, this is because the inks are still inside the barrel. So just simply start priming your pen by pressing the tip on a scrap paper until the ink settles on the tip. You can tell that the ink has made its way to the tip when its color appears.
If you like writing messages or quotes on rocks, your lettering will instantly pop against the dark background due to the bright opaque colors and thick lines. Additionally, these paint pens are perfect for coloring or drawing thick outlines. Even if you plan to use these tools on mineral materials, know that these pens can work on other surfaces such as wood, cardboard, paper, textiles, ceramic, glass, metals, plastics, and canvas.
One thing to note is that there is a learning curve in using these paint markers and storing them. To keep them at their best, you can go to the company's website to find the steps on how to use and store this product properly. This is necessary to prevent the inks from gushing out of the tips.
Pros
Great tool for mixing, layering, blowing, and creating gradients
Applies on multiple surfaces
Can be used for lettering and coloring
Cons
There is a learning curve in using the pens
Before you think about buying a new set of colors to add to the 15 colored pens in this set, I highly suggest that you try out all the effects that you can produce with these paint markers. Mastering the use of these tools will definitely give you a creative edge.
5. Artiqo Paint Pens for Rock Painting
So far, I have reviewed water-based paint pens. To add variety for this review, I'm including these oil-based paint pens in this list of rock painting supplies for experts and enthusiasts of any age.
Known for its professional quality, many rock painters love the fact that this art product is waterproof and weather-resistant. Vibrant and opaque, the inks flow through the tips without clogging or leaking making these paint pens easy to manipulate.
Plus, they work on most surfaces so you can decorate other materials apart from rocks. More than that, these paint pens have the 15 bright colors included in one set and come with metallics such as silver and gold.
In order to avoid inks or paints fade, the manufacturer crafted superb oil-based paints to help you bring your unique ideas without worrying about whether or not they will last. Besides, rock painting is not just something that you would do in the past-time–you want your masterpiece to stand the test of time.
Another great point about this set is that you can download the free Rock Painting eBook that comes with the kit. There, you will find plenty of inspiration, tips, and tricks to get your creative juices flowing.
However, I noticed that some of the darker inks were picked up by the light-colored pens when I tried to layer. When this happens, it can easily be resolved by cleaning up the tips. Still, this art product has so many positive qualities that outweigh the negative.
Pros
Oil-based pens
Waterproof and weather-resistant colors
No clogging and leaking
Inks or paints do not fade easily
Includes a free Rock Painting eBook
Cons
Light-colored pens sometimes pick up the darker inks when coloring
Stone painting newbies will love that the kit includes a free eBook to guide them in their first projects. Meanwhile, experienced rock painters will love that they can preserve their artworks because of the waterproof and weather-resistant inks.
6. Niutop Super Paint Marker Pens
If you are thinking of giving away rock paintings on gift-giving occasions such as birthdays, make them extra special using these water-based rock painting markers.
Rich in pigments, the bright colors can make what seemingly ordinary gray rocks look like treasure. Aside from being water-resistant, the premium quality inks will ensure that your vibrant artworks will never dull.
This set offers 24 different colors in a set, 8 of which are metallics. Moreover, on rocks, you can draw and color smoothly with these paint pens but they also work on most surfaces including paper or cards.
Now let me turn your attention to the features of the pen itself so you can understand why many rock painters prefer these. For those of you who love to work on intricate details, the 0.7mm tip is useful as it can draw fine lines or narrow color areas. Then, there is the "unique valve action" that simplifies the process of priming your pens.
To prime these pens, start by shaking the pen for a few seconds and then press the tip onto a piece of spare paper. Keep pressing for a couple of times until the tips are inked. Once the ink is flowing, you can begin to draw on your rock. Be sure to wash your rocks before drawing on them for best results.
One common issue among paint pens is that they sometimes produce small blobs of inks while you draw lines. You have probably noticed that in my reviews of other pens as well. This particular issue is present even in this brand of pens. Fortunately, it does not happen often.
Pros
With 24 different colors in one set
Includes 8 metallic paint pens
Tips are at 0.7mm that makes for great details
Applicable to most surfaces
Cons
Blobs of ink appear from time to time
Not all sets offer a wide variety of metallic colors in addition to the basic colors in acrylic paint pens. Because of that, you now can accentuate your designs and illustrations with these unique stone painting pens.
7. Asani Paint Pens Acrylic Markers
Whether you draw on canvas or a piece of rock, you know that art is more than just the process of creating something. Working with different surfaces, however, requires a reliable set of tools. If you are using mineral materials as canvases, you will need the right paint markers for rocks to make your artwork stand out.
Trusted by diverse communities of artists and crafters, the 12 colored pens are loaded with premium water-resistant Italian ink that does not fade quickly when exposed to the elements.
As with any paint marker, you would need to shake the pens well and test them on paper before using them on your rock. Because these are acrylic markers, they can be used on different surfaces apart from stones.
After applying paint on the rock, you will notice it dries up quickly so you can add another layer of color without waiting too long. Meanwhile, the brand also promises a consistently smooth ink flow. Drawing outlines and coloring details will be so much easier this way.
A pro tip for those who want to use this art product for stone painting: The pen works better on smoother rocks. Because the tips are rigid, they may cause the paint to splatter on uneven surfaces. Otherwise, if you still want to use it on textured rocks, just be careful with it.
Another tip in using these pens is to apply a couple of coats when using lighter colors to produce a solid color. If you plan to use light colors for the most of your artwork, cover the whole surface of your rock with white first. Note that the colors are generally vibrant and opaque.
Pros
Inks dry quickly
Multi-surface acrylic markers
Works best on smooth rocks
Premium water-resistant Italian ink
Produces consistent smooth lines
Cons
Can be hard to use on an uneven surface
Light colors need a few more coatings to make them opaque
The premium Italian inks that dry quickly is an advantage for artists and crafters. Moreover, the ability to produce lines with consistent thickness makes line drawing on rocks uncomplicated. Thus this set is an ideal one for you.
8. Reaeon Acrylic Paint Markers
Arguably one of the best pens for rock painting, this set enables artists of any skill level to turn ordinary stones into marvelous works of art. Starting a new hobby such as rock painting can be daunting but you don't have to worry. There are tools like this one that can help you.
One reason why I am recommending this for both novices and seasoned rock painters is that this set includes 18 vivid colors. Having a variety of acrylic pens to draw on stones will help you come up with so many ideas and bring them to life. Furthermore, you will find coloring as an activity surprisingly calming.
Great for details, the 0.7mm nylon tip renders fine lines but if you need color larger spaces, just gently press the pen a couple of times on scrap paper to get more ink flowing.
On the other hand, as the inks dry quickly, you do not need to wait for a long time to start drawing on top of another color. If you are traveling around the neighborhood or parks looking for rocks to decorate, this set is the perfect travel companion since each paint pen is more or less the size of a pencil.
Another awesome feature that I appreciate is the transparent barrel that shows how much ink is left. Recommended by rock painters and crafters alike, the paint pens work on most surfaces including treated wood, plastic, glass, fabric, leather, ceramic, porcelain, and even on the pages of your scrapbook.
Coming with so many great features, it is not hard to understand why this brand of pens is preferred by many. For parents who want to teach their children rock painting, these are suitable for the youngsters because of its no-drip feature.
However, I just want to add that young kids may find it hard to get the paints out by shaking and they may need the help of an adult to prime these pens.
Pros
Includes 18 paint markers in a set
7mm nylon tips for detail work
Quick-dry premium quality inks
No drip, mess-free paint pens that are suitable for kids
Works on many types of surfaces
Cons
Children may need the assistance of an adult to prime the pens
All in all, the features of this set of paint pens are impressive. Ensuring that your rock painting is mess-free, the company made sure that no paint would drip from the pens while you work. With 18 vibrant colors, you are unstoppable!
9. Sutoroo Acrylic Paint Pens for Rock
Are your kids feeling inspired? Let them unleash their creativity on rocks and many other surfaces with these acrylic paint pens! Regarded as one of the most favorite paints for rocks, youngsters can use this art product on other materials aside from stones such as canvas, plastic, enamel, grip tape, wood, and many more.
With a child-centred design, kids can use them without the help of an adult to prime the pens. However, the company urges adults to accompany the youngsters throughout the session to be on the safe side.
Another safety tip from the manufacturer is to store this away from children. But rest assured, the inks are non-toxic water-based acrylics that do not emit a strong smell of chemicals.
To use the pen, you need to shake them well with the tip facing upward. After shaking, gently press the tip up and down against the scrap paper to let the ink out, and that's about it! Once you start seeing the acrylic paint oozing out of the tip, you can start jazzing up your mineral materials. How simple is that?
As for color rage, the set offers 12 colors, including metallics like gold and silver. At 2mm medium point, these acrylic markers will help you and your children create thick line drawings and cover the rocks with paint as well.
It is undeniably a great purchase but if there is one I could not do with these pens is drawing thin lines for details. I suggest that you compliment these pens with a set of fine-tipped pens.
Pros
Renders thick lines with 2mm tips
One set includes 12 colors
Metallics such as gold and silver included
Inks are non-toxic and water-based with no strong odors
Cons
Difficult to use for detail work
Parents only want the best for their children and these acrylic markers are just the right tools to help them bring out their creative potential. Introduce your kids to new materials such as rocks and they will learn so much more than just coloring.
10. Chalky Crown Acrylic Paint Markers
Using the same pen to draw and color large areas is just one of the things that you will like about this set of paint markers. Achieving this is possible thanks to their 6mm reversible tips!
Compared to all plethora of acrylic markets, this set is probably the most versatile. The reversible tip has a bullet nib on one side and a chiseled tip on the other. If you want to write thoughtful, uplifting messages, you can use the bullet nib. Meanwhile, the chiseled tip can be used to color large areas in your artworks.
Consisting of 12 vivid colors, artists and crafters love the opaque paints of this set as they work just fine on mineral materials, metal, canvas, fabric, ceramic, polymer clay, wood, terracotta, and more.
Creatives from different fields enjoy coloring using these markers because the paints dry pretty quickly so you can be sure to get the job done fast. On top of that, the water-based acrylics generate solid bright glossy colors on the gray surfaces of rocks. In spite of all these features, I am pleased that this set of acrylic paint pens is affordable.
They do not leak so even if children use them, adults do not have to worry about them making a mess. Despite painting 100 rocks, somehow these pens are not showing any signs of running out of inks. As for longevity, you will find it impressive that the colors do not fade even after exposing them to rain for a long period of time.
Just to make you aware, the pens tend to produce blobs of paint occasionally. Additionally, I hope the manufacturer considers adding more cool colors and flesh tones to include in a set.
Pros
Reversible nibs with bullet tips and chiseled tips
Affordable paint markers set
Colors are bright, opaque, and glossy
Weather-resistant inks
Can be applied on multi-surface
Cons
Lacks cool colors and flesh tones
Tend to produce blobs of paint
This is one of the top-tier pens for rock painting due to many great features. Hence, do not hesitate to get this set.
11. ArtShip Design Acrylic Paint Pens
So you want a set of paint pens that lets you work on details and color on porous surfaces. Well, let me introduce you to these paint pens that allow you to do both!
One of the great things about this set is it offers variety not just in terms of colors but also the choices of nibs. Inside the double-boxed packaging are two sets of pens: one set of 25 fine tips and another set of 15 with medium tips. Moreover, you can store the pens in its original packaging because the box is durable.
Despite the fact that the inks are permanent, they are not a pain to clean and are safe for children because they are made of non-toxic materials. Furthermore, in order for you to check how much ink you have left, the company designed the pens with transparent barrels. Like any acrylic paint pens, you can also use this art product on nearly any surface so you are not limited to painting on rocks.
For a smooth coloring experience, the inks flow out of the tips continuously. Other than that, there is no huge learning curve to overcome, which is why this brand is a favorite among the many arts and crafts communities.
Another thing to keep in mind is that the inks are a little watery in terms of consistency. This can be both good and bad, depending on your preference. For me, I do not find this an issue since I can learn to control it.
Pros
2 sets of markers in a box
Includes a set of 25 fine tips and 15 medium tips
Durable double-box packaging
Works on many surfaces
Made with clear barrels
Cons
Some may find the consistency of the ink watery
A generous selection of paint pens with two options of nibs, this company has put a lot of thought into crafting an excellent art product. No wonder this set of acrylic pens are winning the approval of many hobbyists and professional artists.
12. Sanxia Acrylic Paint Marker Pens
The last product I want to offer is the Acrylic Paint Marker Pens from Sanxia – the one is seen as the right pen for drawing on rocks. All the features of this affordable art product seem to meet everything that rock painters need, especially knowing that the inks are waterproof.
Bright and opaque, these paint pens are fantastic tools that you can use for several surfaces which includes rocks, ceramics, glass, fabric, and even wood. With 2mm tips, the inks flow smoothly without leaks.
Believe it or not, writing quotes or encouraging messages on mineral materials with these tools is easy as ABC, especially when you add layers of new colors because of the quick-dry inks. On the hand, these sets work well on both light and dark backgrounds.
When it comes to color range, there is a nice combination of warm and cool colors, along with silver and gold. Given these choices, the possibilities are endless. I'm sure that rock painters can produce vivid illustrations and designs using 12 colors.
Perhaps I am nitpicking but I noticed that the 2mm tips may be a little thick for detail work. Although, I must say that it is useful for coloring large areas or creating thicker lines. Other than this, I see no real issue that would get in the way of completing your projects.
Pros
Colors pop on light and dark backgrounds
Works on a variety of surfaces
Has 12 colors, including silver and gold
Loaded with fast-drying inks
Cons
Quite difficult when used for detail work
Amazing quality at an affordable price, this set of paint pens gives you every reason to draw and paint. Because of opaque inks, you can work on any rock of any color.
What to Look for When Buying Paint Pens for Rocks
By now, you probably have so many questions in your head. "What supplies are needed to paint rocks?" You wonder. Some of you have searched this question on the Internet: "Can you use gel pens on rocks?" While others ask, "Can you use paint pens on rocks?"
To keep you from guessing, let me share some things to look for when buying paint pens based on my research.
Water-based acrylic inks
Pens and markers look more or less the same but the inks inside the barrels are different. Water-based acrylic paints cover rocks and other mineral materials perfectly. With a nice coating of varnish or sealer after applying the paint, your artworks will be protected against the elements.
Oil-based paint pens
Oil based paint pens are a great alternative to water-based inks. These types of pens produce glossy colors that make your rock art stunning. While they can be a little bit messy to use, these coloring tools have the ability to retain the colors after applying sealers.
Suitable for other materials
You may only be thinking about painting rocks but there are tons of projects that you can do when you get multi-surface coloring materials. Luckily, most paint pens for rocks also work on other surfaces such as plastics, ceramics, fabrics, glasses, cards, and papers. This way, you can add some variety to your lineup of art projects.
Easy and comfortable to use
Drawing and coloring on paper can already be a handful. Now, imagine drawing on rocks! This is why I recommend finding paint pens that are not complicated to use.
Pens that only require you to shake and test on spare materials before applying them on rocks are the easiest ones to use! Anything that requires more than that may be a little inconvenient for you.
Variety of colors
Whether you buy 12 colors or 50 colors, the success of your art project will still depend on how you use your resources to your advantage. Naturally, you can do a lot more with 50 colors compared to 12 but you can definitely come up with something using two or three colors.
My suggestion is to buy a set of 12 paint pens if you are just starting out as a rock painter. If you are more used to painting on canvases or papers, you might find it a little challenging to paint on a textured surface.
What paint markers can do
By "versatile", I mean being able to draw or paint using different techniques. In my review, you will find some paint pens that let you do layering, mixing, and blowing. Meanwhile, the fine nibs enable you to draw outlines or color details. By determining the art projects that you want to accomplish, you will be able to identify the paint pens that you need to buy.
Other Important Factors to Consider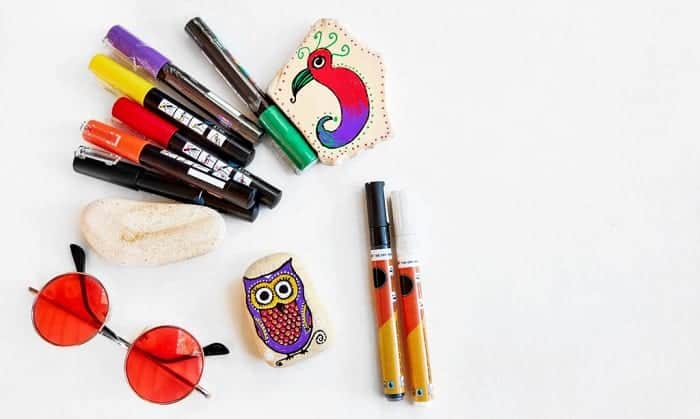 What are paint pens for rocks?
Everyone knows what rock painting is as the term is pretty self explanatory. For those who are not familiar with it, this is a craft project that involves painting on mineral materials. This practice has existed for thousands for years. Our ancestors began painting rocks and caves during the Paleolithic Age.
Nowadays, you need art supplies such as paint pens for rock painting sealers, varnish, and of course, some rocks! Just like the paints sold in tubes or jars, these paint pens contain water-based acrylics or oil-based paints. Moreover, markers are much easier to hold and control especially when drawing on an uneven surface.
How do paint pens for rocks work?
Paint pens work best when you clean your rock with soap and hot water before you decorate them. If you skip this step, the dirt on your stone will make it hard for the paint to stick and this will ruin your artwork. Even if you can technically paint on textured surfaces, you will find it easier to draw and color on smooth stones.
Before you start painting your rock, you seal the rock with a spray sealer or apply white paint first because rocks are gray or black. Rendering your design or illustration may require several coats of paint but this really depends on the brand of paint pens you are using. Some do not require multiple layers of paint as they are opaque.
Who are the paint markers for?
Just because you have not tried painting on canvases does not mean you can't paint on rocks. Rock painting is for everyone no matter how old or young you are. Even kids can try this!
There are plenty of rock painting communities across the globe and their members are quite diverse. Regardless of your skill level, you are welcome to start your creative journey through this craft.
What are the different types of pens for rocks?
Thanks to technological advances, we now have plenty of paint pens for rocks that are available in most arts and crafts supplies shops and popular e-commerce sites.
For your reference, I am sharing different types of paint pens and markers that you can consider buying.
Water-based acrylic paint pens
Oil-based paint markers
Gel pens
Chalk markers
Chalk crayons
Why do you need paint pens for rocks?
Acrylic pens or oil-based pens are the easiest to use among all the coloring materials that you can use on rocks. This is not to say that paint pens are better because other art supplies such as paint brushes are just as useful in many ways.
Unlike paint brushes, you do not need to wash your paint pens after coloring your rocks. Plus, you do not need a pallet when you decorate your rocks. When you're done with the pen, simply put the cap back.
Frequently Asked Questions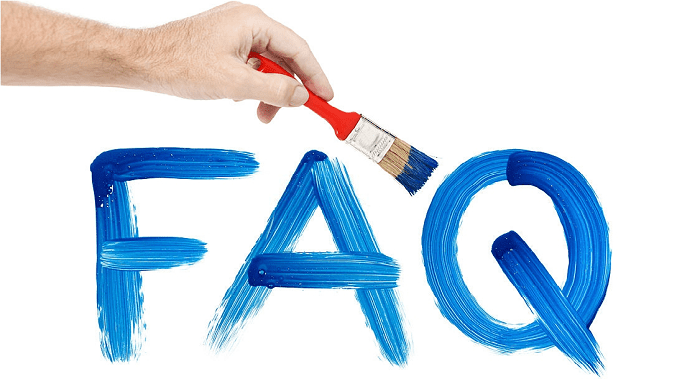 What are the most trusted brands of paint pen for rock?
There is no such thing as a perfect paint pen. Each is built for a specific purpose and many brands innovate to address the needs of their customers.
When it comes to paint pen brands, I usually go for Artistro, Tooli-Art, JR. White, Posca, Artiqo, Niutop, Asani, Reaeon, Sutoroo, Chalky Crown, ArtShip, and Sanxia. You can find them in art supplies shops, retail stores like Walmart, or e-commerce stores like Amazon and eBay.
While I highly recommend these brands, you can try different brands as well so you can find your own go-to pens!
How to paint on rocks that will be displayed outdoors?
Painted rocks are fabulous decorative pieces that you can give away as presents or display in your house or in your garden. Meanwhile, there is also a big community whose members write uplifting messages on rocks and drop them somewhere for people to pick up and read.
Although paints can chip off or fade when exposed to the elements over a period of time, there are ways to prevent this. The most obvious one is to buy paint pens that are water-proof and weather-resistant. Once you have finished your painting, spray some sealer on the rock or add some varnish to make sure that your artwork will not lose color.
How to permanently write on rocks?
Joining rock painting communities can motivate you to create more artworks. One of the most popular communities has members writing uplifting messages and quotes on rocks. Now, you're probably wondering, "What pens write on rocks?"
The answer to your question is paint pens! To write permanently on rocks, the same technique used in rock painting intended for display outdoors. You will need reliable paint pens with quality inks that do not fade. By adding a coat of sealer or varnish, you can be sure that your artworks will not fade.
How to care and clean?
Knowing how to keep your paint pens in good condition ensures that your tools are always ready to use when you need them.
Everyone who uses art markers or pens knows that the caps protect the nibs and tips, as well as keeping the inks from drying out. Unlike other pens and markers that need to be kept in their cases vertically, you need to make sure that your paint pens are stored horizontally. Remember that the acrylic inks are dense and they can clog at the tips. Once this happens, you will have a hard time shaking and priming them.
If you have a large collection of paint pen markers, you can purchase a marker tray or acrylic drawers to keep your tools organized.
Conclusion
Artists want their artwork to last many lifetimes. There is a reason why paintings from centuries ago are still displayed in museums and galleries. More than a legacy, these artworks highlight the creativity and ingenuity of human beings. Hence, preserving your painting on whatever canvas you use is important.
You do not need an advanced skill to paint on rocks but you will definitely need the reliable tools to make meaningful artworks or write inspiring messages. My hope in reviewing some of the best paint pens for rocks is to guide you in your journey towards becoming the rock painter!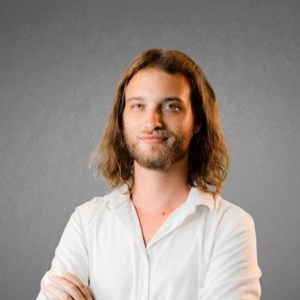 I am a former art teacher, so it is evident to me the importance of art in educating the new generation. We also want to help parents who plan to teach their children and desire the best tools and tips for them.